(Last Updated On: April 11, 2022)
When it comes to most green food superfood powders. you're pretty much getting a mega salad smoothie/juice… and that's about it. Sure, in most cases that's pretty much all you're signing up for so there's no harm and no foul happening. Still, in terms of things like protein and calories (the stuff that makes your body run), most superfood powders are NOT the place to go.
Well, that _used_ to be the case, anyway…
Kylea Health & Energy has made some incredible middle-ground supplement creation that offers the best of both worlds: a highly nutritious green food superfood powder, and a dense calorie-packed protein shake. They call… the "Total Living Drinks Green" and it is certainly a sight to see.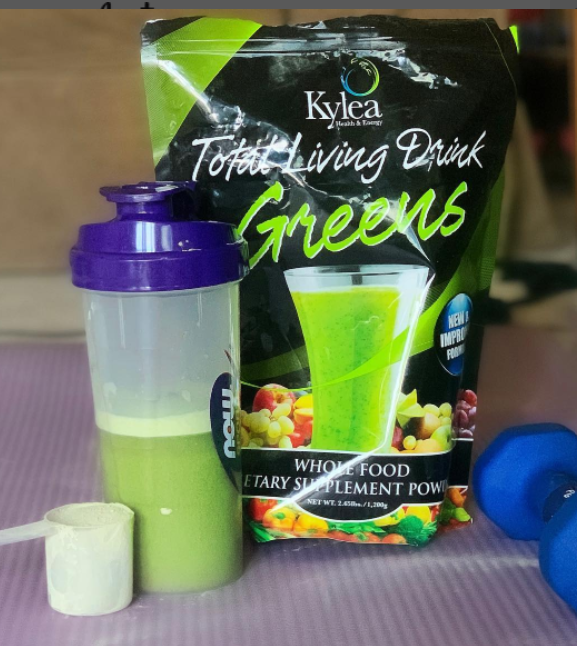 Not Your Average Superfood Shake
The Total Living Drinks Green comes with quite the resume in terms of what it's packing per serving size. beating out both standard superfood green and whey protein powders that you'd find in even the higher-end health food stores.
Each serving scoop weighs in at 40 grams, with 120 calories per serving. The superfood protein powder also comes with 11 grams of vegan-sourced protein powder. The protein comes from several vegan sources, including rice protein, pea protein, and pumpkin seed protein powder. There are also 10 grams of carbs, 5 grams of fiber, and 2.5 grams of fat.
Related: 11 Best Greens Powder Superfood Drinks
That's Not Even Talking About the Vitamins and Minerals…
Considering the amount each serving size comes with, it's obvious that there'd be a ton more you could cram in each scoop, especially when compared to the average superfood powder scoops. And so what WAS crammed in each scoop? None other than a crazy batch of vitamins and minerals, that's what!
In addition to all the benefits that come from taking a superfood smoothie/juice powder, Kylea Health & Energy decided to add in vitamins A, B1, B12, C, D3, E, and K. They also threw in some super important minerals, such as calcium and magnesium, manganese, as well as zinc selenium.
Not only are these vitamins and minerals "in" each scoop, but they're also added in at insane levels. What I mean is that you're not just getting what you need, you're getting what you need – plus! For example, each serving offers over 8,000% OF the recommended minimum daily intake of vitamin B12. Let that sink in. Even if you want to cut it because you don't want to deal with the calorie bump, you're still getting a pretty hefty bang for your buck.
…Or the Antioxidants and Amino Acids…
All of this so far has just been vitamins and minerals, protein, and calories. We haven't even had the chance to talk about the different cocktail of amino acids, like taurine and glutamine – both of which work to regulate energy levels as well as improve workout recovery – or the blend of antioxidants, probiotics, and digestive enzymes, all of which making serious headway on improving your physical health.
Roughly 15 grams of each scoop is made up of several fruits and vegetable superfood powders. Things like spirulina, alfalfa, fenugreek, broccoli, chlorella, barley, and wheatgrass (along with so much more) are all ground up and added to the powder pile, with some pretty insane results.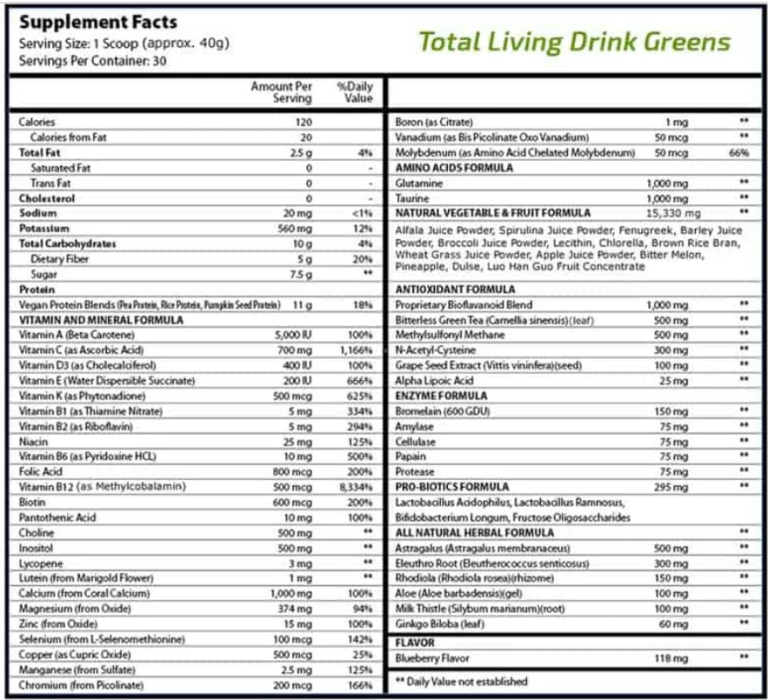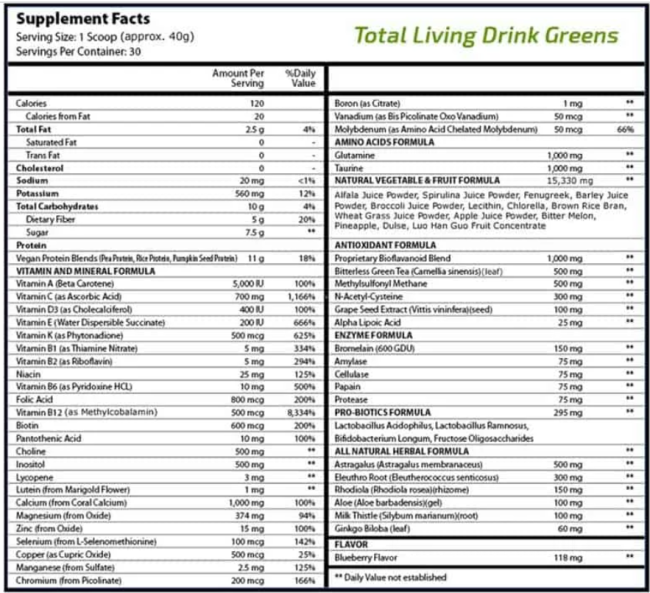 —Or the Adaptogenic Herbs
And if you thought things stopped at just a plethora of digestive enzymes, antioxidants, and amino acids, I can say that you're still thinking about standard supplements out there. Kylea Health & Energy wasn't quite finished with "just" all of that. In addition to everything else, they also decided to throw in a blend of different "adaptogenic" herbs. Adaptogenic herbs are a special compound concoction made up of different plants used to help the body react to and handle stress and illness. Some of these plants include astragalus as well as Rhodiola Rosea, both of which have been shown to affect a person's cognitive ability.
Simply put, between the high levels of calories, protein, vitamins, minerals, digestive enzymes, antioxidants, amino acids, and special herbs, The Total Living Drinks Green powder supplement has just about everything you'd want in a protein shake, a superfood smoothie, and a health food supplement, all at the same time.
How Effective Are We Talking Here?
Of course, there's a question about whether the supplement is a bit "too" nutritious – at least to be effective at fueling the body. After all, there's only so much that you can absorb before it gets thrown in with the body's waste.
Well, as it so happens, the Total Living Greens Drink is some pretty potent stuff. Not only is all non-GMO and vegan, but the powder is entirely synthetic-free as well. That means every one of the added vitamins and minerals are coming from a real whole food source. On top of that, the probiotics, digestive enzymes, and antioxidant sources are all highly varied. For example, there are four different types of helpful probiotic bacteria as well as five different digestive enzymes that are included in each serving.
All of this translates to one of the most powerful and effective supplement offerings out there, offering just about everything a health or fitness nut could ask for.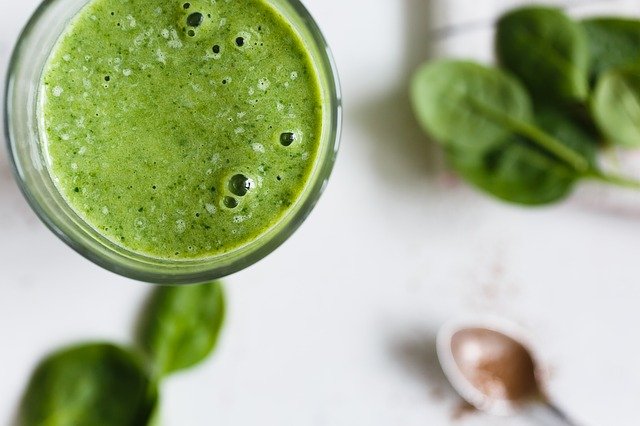 What's it Gonna Cost?
So, you're getting a mega superfood powder, a mega protein powder, a mega multivitamin, a probiotic powder, and a specialty juice powder all rolled into one. That's a pretty extensive list of perks offered here.
So what's the catch?
Well, while I wouldn't say "catch", there is one thing that may turn some people off, and that's its price tag. Each tub comes with about 30 servings with a base price of around $100. And while this isn't "the" most expensive supplemental option out there, at a cost breakdown of $3.33 per serving (compared to the $1-$2 per serving elsewhere) there are not a whole lot of other powders as competition.
Still, when you compare what you're getting with what you're spending, it's really hard to argue with the price being what it is. Yes, it's a bit more expensive, but when you consider that you're getting a lot more of everything the other powders offer, along with a lot more additional supplements, the price tag starts to look more and more like a bargain in your favor.
So, What's the Verdict?
Honestly, this one's a no-brainer. Seriously. There's not a single hiccup or issue with this supplement powder outside of the "it's expensive" argument, and even that only sticks if you actively ignore the value being offered here. They tell you to take half the serving size initially so that your body can get used to the "high levels of nutrients."
Let that sink in.
This stuff is so good, that they literally gave it a warning label!
I'm not quite willing to say that Kylea Health & Energy Total Living Drink Greens is the best superfood powder supplement out there. However, until I find said supplement option, I don't think I can go back to the standard fare stuff anymore.
Official Website: KyleaHealth.com