(Last Updated On: May 28, 2022)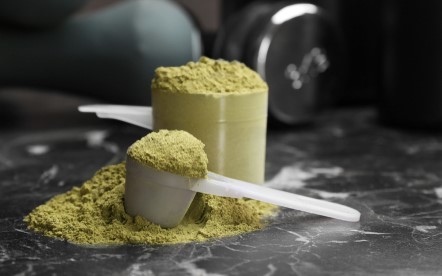 One of the biggest fears most people have about veganism or "going vegan" is that they will miss out on vital nutrients and minerals primarily found in meats, poultry, and dairy. And while there is often talk about getting a lack of vitamin B12, l-carnitine, or creatine phosphate, the biggest conversation point is, and has always been protein.
Protein is a vitally important building block in the body that is known to offer a myriad of benefits for your regular health. From building and increasing muscle mass, bone density, and healthy skin; to healing and repairing from physical injury; to oxygenating the body via an increased red-blood-cell count; to even helping produce digestive enzymes in the body and helping with hormone regulation, it's very clear that there are a lot of things we need protein for just to stay alive. Not only that, but we need large amounts; much more than what plants alone can offer if you believe the general sentiment.
While this used to be true years and years ago, today we've managed to spend more time understanding different vegetarian and vegan options and have determined that you can get all the protein you need and more while never once needing to take in foods like beef, cheese, eggs, or chicken. And, while there is a list of different methods available, for most people it can be a serious inconvenience and time commitment just to make sure you're keeping your protein levels up, especially if they've just recently transitioned into veganism.
The best way to maximize your protein intake alongside ease of use and time freedom is by consuming a vegan-based protein powder. Not only can most vegan protein powder gives you your daily intake of required protein, but they often will include a variety of other vitamins, minerals, and other nutrients that your body will benefit from. Below, we have curated a list of the top 11 best vegan protein powders on the market today so that you can make veganism simple, easy, and most of all, enjoyable!
#1. Organic Vegan by Transparent Labs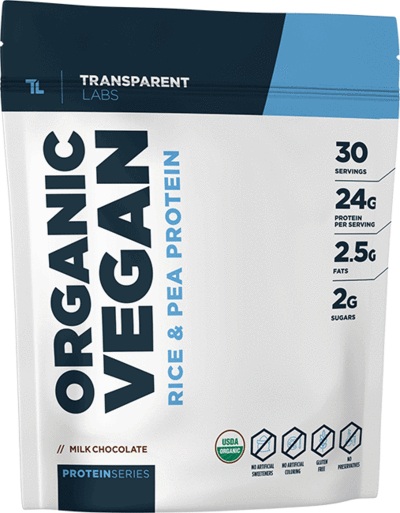 Starting off our list, we have to talk about Transparent Labs' very own ProteinSeries Organic Vegan protein powder. This thing, true to its name, is one of the best and fastest ways to get your full intake of protein without any fillers or artificial ingredients that can often be prevalent with other brands. What's more, they come with two delicious flavors that make consuming it, not only great for your health but also great tasting.
One of Transparent Labs' biggest selling points with their Organic Vegan protein powder is its remarkably low amount of existing carbohydrates. Carbohydrates can certainly be a useful tool for those interested in having a boost in fast and immediate energy (for example, runners and body-building athletes). However, for the average person, taking on too many can be a recipe for disaster, particularly for those looking to lose weight or maintain their current figure.
Organic Vegan is a great option for just about every type of vegan and vegetarian. If you're someone just looking for a good protein supplement, it works. If you're interested in not taking in an excessive amount of carbs through powdered shakes, it works. IF you're someone that is currently doing the ketogenic diet but want to make sure they are getting as much protein as possible as a vegan, it works.
Simply put, the reason why we have this as the #1 spot is that, strictly as a protein supplement, there aren't a lot of alternatives out there that can realistically compete with it, either in the amount of protein per serving or its heavily reduced amount of carbohydrates. Not only that, but it also does all of this while being completely vegan, tasting amazing, and being free of any GMOs, preservatives, artificial ingredients, or preservatives.
Pros
Price goes down when buying multiple tubs
Discount code TL10 saves 10% at checkout
Contains No GMOs, Soy, Gluten, Cholesterol, or Preservatives
Is Keto-Friendly
Contains Over 24g Of Protein Per Serving & Only 3g Of Carbohydrates
The Vanilla Flavor Tastes Great
Cons
Does Not Include Any Additional Vitamins Or Minerals
Only Has Two Flavors (Chocolate & Vanilla), Which Can Get Stale After Awhile
---
#2. Future Kind Organic Vegan Protein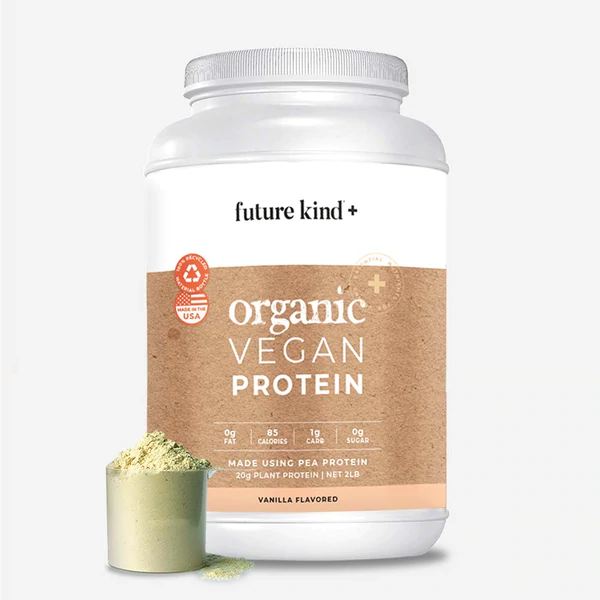 Coming in as a close second is Future Kind Organic Vegan Protein. This organic pea protein supplement, despite only being on the market for around a year, has received thousands of rave reviews from customers across the country. Not only does it pride itself on being a great vegan organic protein powder, but it does all of this while tasting incredibly delicious and flavorful too!
Considering vegan protein powders generally can have a "chalky" taste no matter what (vegan or otherwise), many companies have to throw in a ton of different artificial flavors and sweeteners so that it's at least palatable. That's not the case here. Despite its impressive taste and smoothness, Future Kind has put together a vegan protein shake that is entirely GMO-free, soy-free, and gluten-free. Not only that, but it is a great keto-friendly option with no sugar and only 1g of carbohydrates per serving!
The vegan protein powder comes with a complete amino acid profile along with around 85 calories per serving. This means that it's a great option for people that are looking to lose or maintain their current weight while also keeping their metabolism up and helping boost energy levels and overall health.
The one area where it falters (and the only reason it's #2 and not #1) is that it has a bit more sodium than we'd like, with 288mg. That's not a ton of sodium by any means (and it is salt-free) but it is just a bit more than TL's 260mg of sodium for their vegan protein shake.
All in all, there's a reason this powder has blown up in only a year and is being loved by vegans and carnivores alike. It's delicious, it's nutritious, and it's affordable!
Pros
Completely Keto-Friendly, GMO-Free, Soy-Free, Gluten-Free, And Salt-Free
Surprisingly Quite Affordable At $45/Month With A Subscription
Low In Calories But High In Protein
Contains Iron, Calcium, & Dietary Fiber
Cons
Only Has Two Flavors, One Of Which Only Recently Being Added (Vanilla & Chocolate)
Is Slightly Higher In Sodium Than We'd Want
---
#3. Plantein by Kaged Muscle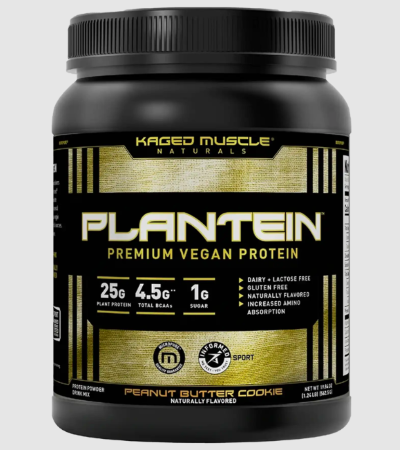 It may surprise you, but not all people that take a vegan protein powder are, themselves, vegan. In reality, there are a growing number of people that simply don't do well when consuming whey (present company included) and simply have an easier time digesting plant-based protein powders like pea, rice, or sunflower seed. Because of this reason – more so than for vegans themselves – many vegan protein powders are made with as much care as possible. This is the case here with Kaged Muscle's Plantein protein powder.
Plantein focuses on offering as much protein as possible for those that plan to push themselves as hard as possible during their gym workouts. Here, not only does Kaged Muscle push in yellow pea protein (one of the most easily absorbed protein types) for their powder, but they also have added quinoa and MCT powder, additions you rarely ever see in a protein powder. The organic quinoa is an additional protein that is complete, offering all of the essential amino acids while also being high in fiber. The MCT powder, on the other hand, is great for helping with digestion (so you don't have those gut issues) as well as helping to improve mental cognitive brain function. It also helps reduce cholesterol and helps with all-around fitness gains.
Plantein has a very high amount of protein per serving, coming in at 26g while also having around 160 calories per serving and 5g of carbs. It's a useful option for those looking to get into keto, though you'll need to be a bit more careful here than with others on this list, as there is a gram of sugar.
From a taste and flavor perspective, I do have to say that Kaged Muscle has certainly outdone themselves. I won't say they have the "best" option here, and the extra sugar is a bit of an unfair advantage, but still, good is good. They've got three unique flavors that step away from the tried and true (and sometimes bland) vanilla, chocolate, and unflavored. Instead, they offer peanut butter cookies, cinnamon roll, and banana bread. My personal favorite is banana bread, though peanut butter cookie is a surprising runner-up.
All in all, it's a great option, with one of the only downsides being that there aren't a lot of servings per container and there includes that fun little word, "natural flavors" which always gives me a bit of pause when left unexplained. Still, for $29.99, one of the most affordable options on this list, it's a perfect gateway option for those interested in something non-whey.
Pros
Tastes Pretty Great
Very Affordable
Has 160 Calories & 26g Of Protein, Making It Great For Bodybuilders
Soy, Dairy, Lactose, & Gluten-Free
Cons
Despite Affordable Price, You're Not Getting As Many Servings As Others On This List
While Vegan, I Can't 100% Confirm If It's GMO-Free, Which Is Worth Noting
---
#4. Authentic Vegan by Jacked Factory

Probably one of the more unique entries on this list, not only does Jacked Factory's Authentic Vegan offer 22g of complete protein per serving, it does all of this with one of the most complex and varied blends imaginable, including organic peas, sunflower seeds, pumpkin seeds, watermelon seeds, and mung beans.
You'd think with a list that extensive, they'd have made something that, while nutritious, wouldn't be all that tasty. In reality, it's quite the opposite. While they only have two flavors (chocolate and vanilla), those two flavors are both incredibly delicious while not being too sweet or chalky. Especially when mixed with almond milk or coconut milk, this vegan protein powder becomes a secret chocolatey treat that you'd swear you were breaking your diet over (I promise you aren't no matter how good it tastes).
Not only does this taste great while offering a complex set of protein sources, but it is keto-friendly as well, having a gram of sugar and only 4 grams of carbohydrates. In addition, you're also getting 62mg of calcium and 37mg of potassium. In addition, it does all of this in 120 calories, making it just good enough to be a replacement meal while on the go.
The only real downside to this is the incredibly high amounts of sodium. Earlier we talked about Future Kind's 288mg of sodium as nudging a bit higher than we'd like. Well, if that was a little too high, 560mg of sodium is "more" than a little too high. Is it enough on its own to make it bad? Not. Still, if you're trying to watch your sodium intake, you'll want to consider taking this with water over a milk substitute.
Pros
Tastes Amazing (Especially Chocolate)
Great For Keto
Offers Complex Blend Of Protein Sources
Ideal As A Meal Replacement In Your Day
Uses pumpkin seed protein
Cons
Price Is Just A Bit Higher Than You'd Expect
Does Contain A Fair Amount Of Sodium (Like, A Lot Of Sodium)
---
Related: Best Casein Protein Powders on the Market
#5. Naked Pea by Naked Nutrition

One of the bigger challenges, when it comes to supplements or food of any kind, is getting around that magic phrase "proprietary blend". The truth of the matter is that, while this term in and of itself isn't bad, it's so much of a catch-all phrase, you can hide just about any ingredient you don't want to be known inside of it. While I don't recommend just ignoring the supplement entirely, at the same time, I don't necessarily agree with blindly believing that it's good for you either.
Though there are often when everything's aboveboard, you ideally want to get a supplement that lists everything open and in your face. That's what Naked Nutrition's Naked Pea is all about. This vegan protein powder doesn't sneak in a myriad of different ingredients that you have to hope will be good for you. Instead, this five-pound tub of protein goodness comes with one ingredient and only one ingredient, and that's yellow pea protein.
Why only one ingredient and why pea protein? The answer to that is simple. By keeping things as simple and as basic as possible, NN can both ensure you aren't dealing with any funky additives, sugars, or other nasty ingredients while also able to more fully focus on the ingredient that matters – the protein itself.
And boy does it give you protein! Compared to a vast majority of options on even this list, Naked Pea is the one to beat, with 27 grams of protein per serving. Not only that, but because it is pea protein, it is can be absorbed into the body much faster than any other type of vegan protein option.
Simply put, if you're trying to gain muscle, lose weight, repair your body, or just want a supplement powder that isn't bogged down by a ton of ingredients (some of which potentially being bad for you), and are willing to spend a bit more for it, then this is the supplement for you.
Pros
Only Contains One Ingredient, Making It Sugar, Dairy, Gluten, GMO, & Additive-Free
Has Some Of The Highest Protein Per Serving Available
Comes With Three Flavors (Standard, Chocolate, & Vanilla)
Great For Body-Builders & People On Any Diet
Cons
Because It Only Is Pea Protein, It Isn't Quite As Tasty As Other Powders
Definitely On The Pricier Side Of Vegan Protein Powders
---
#6. Plant Jym by Jym Supplement Science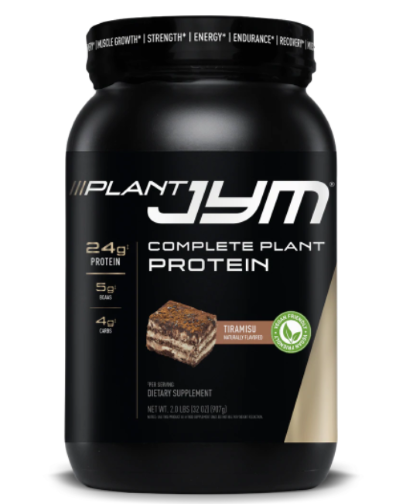 An awesome option for those that are looking for a good-quality vegan protein powder for their workout sessions, Plant Jym Vegan Protein Powder is two pounds impressive. Offering 24g of complete protein per serving, Plant Jym is meant for the person that is looking for a good boost before hitting the gym, or a great recovery drink immediately after finishing up in the gym.
In addition to the protein, the powder supplement also comes with 5g of BCAAs, all of which are in the 2:1:1 ratio. There are also 5g of carbs and no sugar or sugar alcohols included. This makes it a good option for those looking to get involved with keto, though you'll need to be a bit mindful of what other carbs you're taking in throughout the day.
Plant Jym, while not unique on this list, makes a point of bringing in BCAAs while straining out much (though not all) of the excess carbs into their shake. This makes a pretty good-tasting protein shake that has greatly reduced the amount of "gritty aftertaste" that you're liable to experience when blending with just water.
Flavor-wise, Plant Jym has gone for some pretty fun changes to the formula. Instead of the standard vanilla and chocolate, they've instead put out tiramisu, chocolate hazelnut, and oatmeal cookie. For me, while tiramisu and oatmeal cookie were fine, I will have to say that chocolate hazelnut certainly lapped them in the taste department.
Pros
Available As A 2lb Tub For $39.99; A Pretty Reasonable Price, All Things Considered
Has 0 Sugar & Sugar Alcohols, Making It Great For Those Avoiding Sugar
Ideal For Pre & Post-Workouts
Despite No Sugar, It Is Still Quite Tasty (Especially Chocolate Hazelnut)
Cons
Has A Pretty High Amount Of Sodium (420mg Per Serving)
While No Sugar Is Involved, The "Natural Flavors" Should Always Be Noted
---
#7. Vega Sport Premium Protein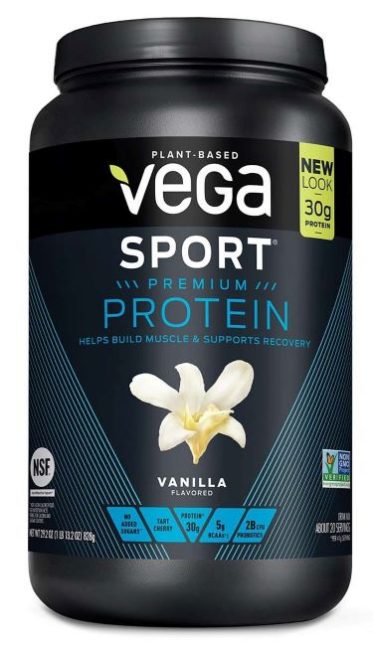 So far, in addition to a powder's protein amount and the additional add-ons it may have, we've talked a great deal about the importance of the powder also having a good taste. While many have managed to find a way to taste anywhere between "tolerable" to "pretty good", you can't expect to go too much further than that without having to deal with some fun little inclusions like sugar or artificial sweeteners, or at least you'd think so.
Cut to Vega Sport Premium Protein. Not only is this protein powder slated as your best option when it comes to being a post-workout shake, but they've also been reported to have the best-tasting vegan protein powder option on the market, getting the title back in 2020 and holding it ever since.
So let's talk about it.
All without carrying any sugar or artificial sweeteners, this incredible protein powder comes in over five different flavors (vanilla, chocolate, mocha, berry, and peanut butter). What's more, unlike some other options which may need to be added to plant-based milk to have a solid texture, Vega's protein powder does just as well with a coconut or almond milk as it would with just water.
But surely, if it's got so much going in terms of taste, it can't be "that" good when it comes to the protein side, right? Wrong again! Not only does this act as a great post-workout shake, a great-tasting shake, but also Vega Sport Premium Protein is a phenomenal protein shake all on its own, with 30 grams of protein per serving. This is because they use a plethora of different protein sources ranging from pea protein, to alfalfa protein, to even pumpkin and sunflower seed protein.
The one downside to this is that the price is pretty insane. There are two options (large and extra-large), with the smaller of the two costing $59.39. That's pretty much high on the list of prices, no matter how you slice it. Still, for what it's offering (great taste, keto-friendly, and tons of protein) it may just be worth it.
Pros
Has Over 30g Of Plant Protein Per Serving
Offers Over Five Different And Delicious Flavors
Optimally Ideal As A Post-Workout Shake
Entirely GMO-Free, Soy-Free, & Sugar-Free
Cons
Price Is Pretty High, Even For The Smaller Of The Two Sizes
Has A Whopping 410mg Of Sodium (That's A Lot!)
---
#8. Garden of Life Raw Organic Protein

Another well-known option that you've probably seen in most health food stores, Garden of Life has always had a pretty stellar reputation in terms of their products, and their Raw Organic Protein powder is no different. Offering 22g of protein per serving and an additional 4g of BCAAs to supplement the body, this is a great option for those looking particularly to deal with muscle repair or as a post-workout shake.
In addition, Garden of Life's Raw Organic Protein comes with a ton of probiotics and digestive enzymes so that your gut health is as good as your physical health. Rather than just using a single type of protein source, GoL offers a blend of peas, grains, legumes, and raw sprouted sunflower seeds. This results in faster absorption of the protein as well as a higher amount of protein per volume.
Each tub comes at a fair price of between $38 and $47. It's entirely sugar-free and contains only 4g of carbohydrates, making it a great option for those looking to get into keto. Despite this, they've got several flavors ranging from unflavored, chocolate, vanilla, and vanilla spiced chai – all of which taste pretty incredible, in my humble opinion.
Pros
Offers A Plethora Of Vitamins & Minerals, Ranging From Iron; Calcium; Vitamins D, A, K, and E; Magnesium; Selenium; Zinc; and Potassium
While The Base Price Is A Bit High, They Constantly Offer Specials & Discounts
Ideal As A Post-Workout Shake
Keto-Friendly, Vegan, & Gluten And GMO-Free
Cons
Base Price, While Often Discounted, Is Still A Bit Too High
Best When Taken With A Plant-Based Milk, As Some Have Had Issues With The Texture When Taken With Water
#9. Orgain Organic Protein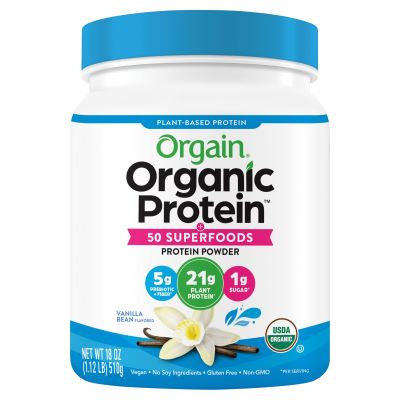 Full disclosure, I have a personal soft spot when it comes to this protein powder. For me, this was the first organic vegan plant-based protein powder I ever took and it was the supplement that started me on my health journey even to this day. I owe a lot to them and felt the need to call it out now.
That said, just because I have fond memories of this protein supplement doesn't inherently mean it's crap and not worth your time. Far from it, in fact. The truth of the matter is that, while there are better options available, Orgain Organic Protein is a delicious vegan powder that gives a respectable 21 grams of protein per serving. Not only that, but you are also getting 6gs of probiotics, assisting with gut health, a rarity even amongst the higher-tiered options.
In addition, Orgain also offers various vitamin and mineral inclusions, like calcium and potassium, as well as iron and some dietary fiber. The powder comes with a myriad of different protein sources, including brown rice, chia seeds, and pea protein. It also offers a complete amino acid profile and works to improve your overall health and wellbeing.
Lastly, not only is it one of the most affordable options on this list, but it's also one of the tastiest and with the most number of flavors on this list. Yes, they've got your standard chocolate, vanilla, and unsweetened, but they also have peanut butter, iced coffee, chocolate peanut butter, chocolate coconut, and chocolate caramel sea salt just to name a few.
While, today, there are other protein powder options I take over Orgain if you're just starting and need a legit powder that tastes great, is entirely vegan, and doesn't come with any fillers – all while at an incredibly competitive price point, this is the option for you.
Pros
Comes With Over 11 Different Flavors
Very Beginner-Friendly With A Reasonable Price Rate (Around $21/Month For Subscription)
Offers Calcium, Potassium,& Fiber With Each Serving
Includes Probiotic Assistance For Optimal Gut Health
Cons
Has A Good Amount Of Sodium
Not Keto-Friendly Due To The Carbohydrate Intake (Ove 15g per serving)
---
#10. Vegan Protein Powder from Isopure

Isopure has been in the health food game for a good while now, and their Nature's Best vegan protein powder is pretty darn exceptional. Made from a pea and rice blend, this vegan powder supplement comes with 20g of protein per serving. What's more, it does this without the inclusion of any artificial colors, flavors, or sweeteners. There's also only 1.5g of fat while having no sugar or cholesterol.
Isopure's vegan protein powder is available in both vanilla and chocolate and offers a comprehensive profile of essential amino acids.
Pros
Offers 20g Of Protein, Making It Ideal As A Meal Replacement
Available In Multiple Sizes (1lb, 1.37lbs, & 3lbs)
An Ideal Option For Those Interested In Keto
All Protein Sources Are Completely Organic
Cons
Can Only Be Found In Chocolate & Vanilla
Has More "Fun" Ingredients Than I'd Personally Like
---
#11. Legion Plant +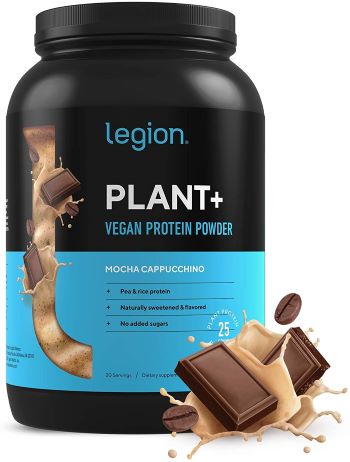 Last up on our list of vegan protein powders is Legion's very own Plant+ protein powder. If you were looking for something that was truly filling, yet keto-friendly, I'd be hard-pressed to point to any other one than here. Not only does this give you 130 calories – enough to be mildly filling while not enough to give you extra pounds – but it also has 24g of protein and 2.5g of fat per serving. It also comes with only 3g of carbohydrates, which is pretty low on the scale of options.
Plant+ doesn't come with any sugars in it while instead offering 5.6g of BCAAs. They offer a pea and rice protein blend that works well enough for most situations, be it as a meal replacement or even a pre-workout shake. They have three flavor options, ranging from vanilla, chocolate, and mocha, all of which taste fairly good.
One point that does hurt this is the price tag. It's a pretty good product overall, however, its $49.99 cost can be a bit high for what it's offering. If you want, you can opt for the monthly subscription, which knocks off 10%, especially if you end up liking it.
Pros
Ideal For Meal Replacement Or Pre-Workouts
Comes With 5.6g Of BCAAs & 24g Of Protein
Completely Vegan-Friendly & Sugar-Free
Well-Liked By Hundreds Of People Across The Country
Cons
Price Is A Bit High
Has High Sodium Content, So Keep That In Mind
---
Things To Consider Before Buying
When looking for vegan protein powders, there are a few key factors that you should consider. Some of the most important considerations include the quality and type of protein in the powder, as well as its calorie content and nutritional profile.
Additionally, you may also want to look at reviews from other users, as well as the price and availability of the powder. Ultimately, selecting a vegan protein powder that meets all your needs and is right for your individual health goals will help you get the most out of your vegan diet.
Final Word
So, there you have it – our top 11 vegan protein powders. We hope this article has helped you to find the perfect one for your needs. If you're still not sure which one is right for you, leave us a comment and we will be more than happy to help. And remember, always consult with a doctor before starting any new diet or supplement regimen. Happy shopping!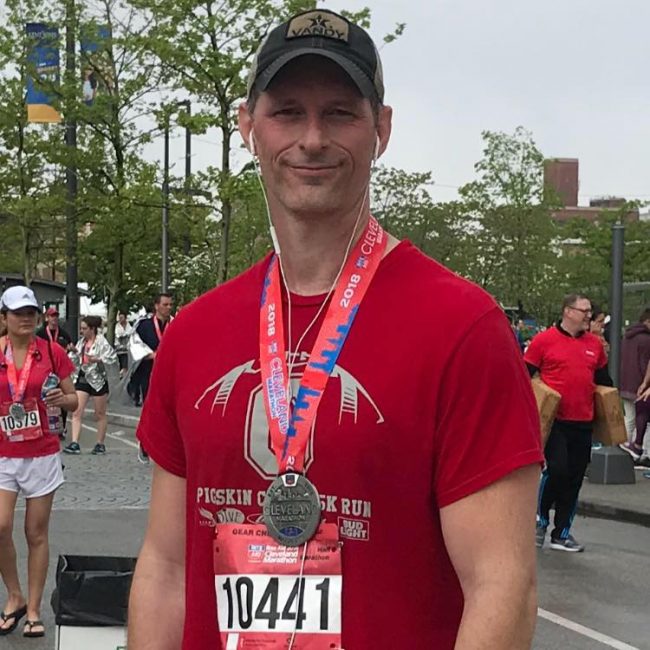 Ryan is a former college wrestler and lifelong fitness fanatic. He has run half marathons, done mud runs, placed in body transformation contests, coached wrestling and now coaches girls soccer. Not to mention he has also tried literally hundreds of supplements over the years and has a vast and thorough supplement knowledge. He has written for Muscle & Strength, Testosterone Junkie, The Sport Review and other publications. He is also the editor in chief of this website. Feel free connect with him on his LinkedIn page below.