(Last Updated On: April 27, 2022)
We all know the benefits of whey protein and how it promotes huge muscle gains while torching fat, but what you may have overlooked is whey's lesser-known cousin, casein.
Casein is just as important as whey when it comes to building muscle, especially during the 'resting' phase in workouts. Contrary to popular belief though, casein isn't actually whey (more on this later), and those who want maximum muscle growth should supplement with both whey and casein.
Let's save the specifics of casein for later. Right now, have a look at the best casein protein powders available today.
Related: Best Post-Workout Supplements 
The 15 Best Casein Protein Powders
These are the best casein protein powders on the market today.
#1 100% Grass-Fed Casein Protein by Transparent Labs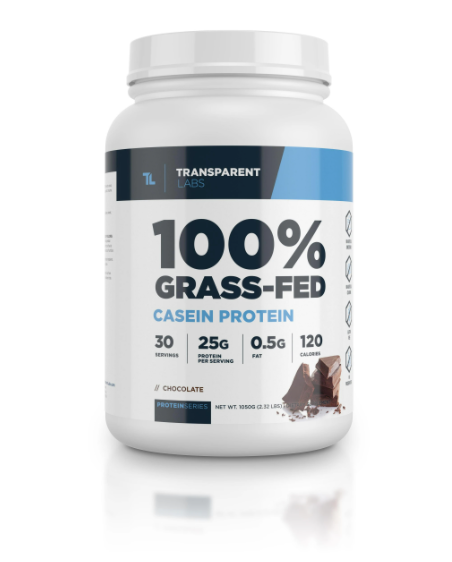 The number 1 pick for best casein protein powder goes to my absolute favorite. Transparent Labs is my preferred brand because they do workout supplements right!
100% Grass-Fed Casein Protein is the gold standard on what a casein protein powder should be. You can't just slap a 'casein powder' label on a product and call it a day- you'll need to back it up with quality ingredients and proper dosage too.
The one thing that separates the ProteinSeries' 100% Grass-Fed Casein is its source. Instead of an inferior mix of grain-fed cattle and calcium caseinate, Transparent Labs has chosen micellar casein sourced from grass-fed cattle.
For the uninitiated, grass-fed is better than grain-fed in so many ways. A clean intake of pure casein equals up to eight hours' worth of anti-catabolic and pro-anabolic status. Also, your body gets much-needed phosphorus and calcium for building strong bones.
You'll know the 100% Grass-Fed Casein is clean as it doesn't cause side effects such as gas, stomach cramps and bloating. I love how Transparent Labs was able to come up with a superior supplement without adding artificial compounds, preservatives and GMO. It's truly one of the best-rated casein protein powder on the market today.
Website: TransparentLabs.com
#2 Naked Casein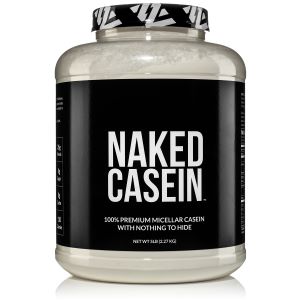 Naked Casein deserves second place because it's a no-nonsense casein powder that focuses only on results. Even the product name speaks volumes about the brand's commitment to delivering pure casein in powder form.
If you're big on getting your supplements only from the US, Naked Casein is a solid choice. It's sourced from US farms and thus ensures quality. Speaking of which, Naked only has one ingredient listed on its label- pure Micellar Casein. That means there are zero artificial colors, flavoring, sweeteners, or soy, GMOs, gluten and unwanted hormones. Naked Casein is also low in calories so it could be the best casein protein for weight loss.
I'd have to say that the 'Naked' brand is consistent on just about every aspect of the supplement, from the simple packaging to how they present information on their website. There's a lot to like about the manufacturer and how they assume an anti-culture stance. However, it's still best to do your research on which casein supplement will work for you.
On the plus side, you can often get discounts on bulk orders and when you buy directly from their website. There are even a few protein powder recipes posted there to get you started.
Website: NakedNutrition.com
#3 Optimum Nutrition Gold Standard 100% Casein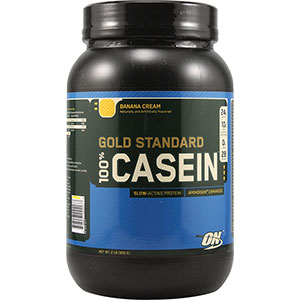 Packed with the good stuff, Gold Standard 100% Casein does not disappoint.
Optimum Nutrition Gold Standard 100 percent Casein sounds like a product name generated by a bunch of random words. Kidding aside, I'd like to think that the brand did a good job in terms of including the right ingredients for a casein supplement.
It seems that the 'gold standard' in casein supplements is packing as much of pure micellar casein in each scoop, which is about 24 grams per serving. All in all I believe that's just the right amount for you to get the benefits.
Optimum Nutrition's claim to fame is that theirs take longer to be broken down into its amino acid sub-components. There's also nearly 5g of glutamic acid and glutamine per scoop, as well as nearly 5g of naturally-occurring BCAAs to help build those muscles along.
For some people, the taste is a huge deciding factor. Gold Standard 100% Casein comes not just in one, but eight(!) distinct flavors. You can choose from Chocolate Peanut Butter, Banana Cream, Strawberry, Mint Chocolate Chip, Creamy Vanilla, Cookie Dough, Chocolate Supreme and Cookies and Cream. There's a bit of a trial and error though as you find the one you like.
See this product on Amazon
Related: 13 Best Meal Replacement Shakes for Weight Loss, Weight Gain, Keto, Vegan and more…
#4 Kasein by Kaged Muscle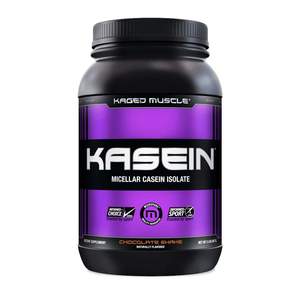 Scientific formula and premium ingredients sound like a big marketing ploy, but how does Kasein stack up against the competition?
Take your eyes off the liberal use of the letter 'k' for a moment and listen closely. Kaged Muscle proves that it's not kidding around when it comes to producing a casein protein supplement. A quick look at the lineup should be enough to impress those who are new to the casein game.
25g of micellar protein isolate sounds just about right, and 5g of glutamic acid and glutamine, 10.5g of essential amino acids, 4.75g of BCAAs and finally 10g of conditionally essential amino acids round out the list of what makes Kasein a probable contender in the top casein powder title.
What looks good on paper may not translate well in real life, and Kaged Muscle is a steep investment as it uses 'gold-standard' ingredients compared to others that use generic ones. Still, it could be a worthy try especially for those who are just starting out or have been burned by inferior casein powders before.
See this product on Amazon
#5 Elite Casein by Dymatize Nutrition
What comprises an 'elite' casein protein powder? According to Dymatize Nutrition, it's about providing pure micellar casein (a plus in my books), using cross-flow microfiltration processing and in-house formulation by development and research scientists.
You know it's serious when Dymatize advertises their casein supplement as having been tested for banned substances. That said, Elite Casein is marketed towards athletes and professional bodybuilders who are looking for clean protein products to get massive gains. It's worthy to note that there's zero gluten and all the ingredients are tested for safety and purity.
So, what's inside Elite Casein? 25g of protein, 2.3g of leucine and 5.3g of BCAAs per serving. And yes, it comes in several tasty flavors, including Cookies and Cream, Smooth Vanilla, Rich Chocolate and Cinnamon Bun. Frankly speaking, I'm not a big fan of flavored powders and would rather take a plain one and mix it with iced water or a few slices of fruit, but hey it's your preference.
Obtaining a 2- or 4-lbs pack is easier than most since Elite Casein is available online and in stores. Also, make sure to read reviews first before jumping the gun.
See this product on Amazon
#6 Casein Pro by Universal Nutrition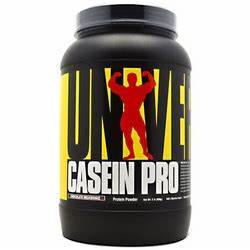 Finding a tub of Casein Pro may prove to be a challenge since they don't have an official website. Well, they do but there's no product listing and whatnot. To add to the confusion, there are about half a dozen more websites that have the same name.
Under the magnifying glass, Casein Pro is billed as 'the best nighttime casein' for several reasons. You get the standard 24 grams of micellar casein for the slow-digesting benefits. Its sustained, time-release mechanism works best when you take it before you sleep and in-between meals. Casein Pro also helps stave off muscle catabolism and improves anabolism as long as it's in your system.
With all those upsides, there's bound to be a few cons. Casein Pro is advertised as one that comes in several flavors and sizes, to which there's the 2- and 4-lbs package and Chocolate Milkshake, Vanilla Soft Serve, Cookies and Cream and Chocolate Peanut Butter Banana. They all sound tasty, but all those flavors come from artificial sources.
Still, if it can get you to down your nutritional needs without gagging, then feel free to try it. For those who are prone to allergies, you may want to look somewhere else. Casein Pro is made in a cGMP facility that also processes wheat, shellfish, fish, tree nuts, peanuts, egg, soy and milk.
See this product on Amazon
Related: The 15 Best Creatine Supplements for Muscle Growth
#7 Nitro-Tech Casein Gold Protein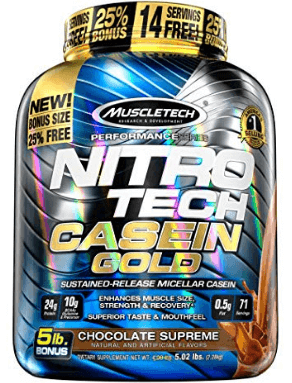 If there was a contest on the best-looking packaging MuscleTech's Nitro-Tech Casein Gold will probably win. That shiny gold and blue combination is certainly easy on the eyes, but does it deliver on what matters most?
I'd like to think that Casein Gold tries to improve the reputation of protein powders tasting like sand. One of the features of their casein supplement is that there's no gritty texture, and on the label, they say their product offers 'superior taste and mouthfeel', which is a boon for sensitive taste buds.
MuscleTech then builds up their reputation further by saying how the inclusion of flavors won't add unnecessary fat, carbs or sugar. All right, so they may have me convinced in the taste department, but how about the ingredients?
In each scoop of Casein Gold Protein are 24 g of Micellar Casein Plus Blend, followed by cocoa powder, calcium caseinate and more. All these things can contribute to better muscle recovery and gives you the macronutrients you need post-workout and during downtime.
Casein Gold also promises an 8-hour sustained release formula so your body and muscles continue getting fed even while you sleep.
See this product on Amazon
#8 Native Fuel Micellar Casein by Ascent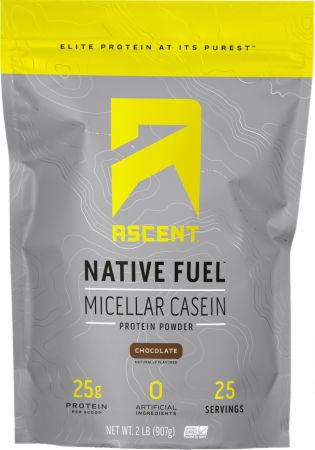 Ascent is a relative newcomer to the casein powder market, but they've already generated some buzz among athletes and social media. Is Native Fuel as good as their sponsors say it is, or is it just good marketing?
A quick deep dive to the ingredients list shows that their formula is the same as others- 25g of protein, 5g BCAAs and 2.7g of leucine. To attract users who only buy from trusted sources Ascent shows off their 'Made in USA' tag.
The brand even goes as far as to say they're the 'official sponsor of Hard Work' and setting the benchmark for 'protein purity', but then again I'd beg to differ. The gluten-free and sport-certified mix is certainly welcome, as are the zero artificial ingredients and free shipping. You can also choose the package size, e.g., 2 or 4 lbs and the flavors, e.g., Chocolate, Vanilla Bean and Chocolate Peanut Butter.
Related: Different Types of Protein Powders Explained
#9 Casein Protein by Six Star Pro Nutrition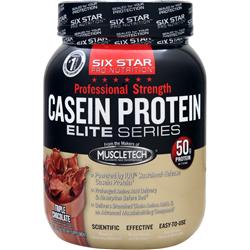 I wanted to rank Six Star's casein product higher on the list. I really do. However, there are some issues with the dosing and the actual muscle recovery performance.
Casein Protein is a good starting point for budding athletes and active men and women. Heck, it can even be used by fitness enthusiasts and CrossFitters. The 24 grams of protein and 4.9 grams of BCAAs are good, if not vanilla and standard in most powders.
Six Star gets plus points in the flavor department. They've turned to American Masters of Taste to make sure their powder does not have that yucky taste. Though there's only one (Triple Chocolate), it's good enough to be mixed with iced water or a bit of skim milk.
Like most casein protein manufacturers Six Star goes with pure casein compounds to provide that sustained slow-absorption of essential BCAAs into your system. The result is less muscle loss and a faster recovery post-workout.
Those who have severe allergic reactions to soy, egg, tree nut, milk and wheat may have to look elsewhere. Casein Protein also comes only in a 2 lbs. pack and is available in select retail stores.
#10 Casein+ by Legion Athletics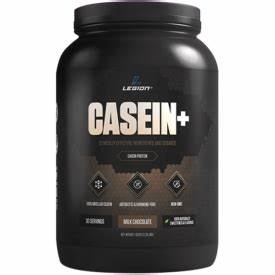 Casein+ answers the question, 'is there better quality casein outside the US?' with a profound yes. Turns out, pure and natural micellar casein protein can be had from Ireland and its small dairy farms.
What's so special about Casein+ aside from where it gets the casein source? Legion Athletics goes the roundabout route to explain why you need more protein in your diet, then offers their product as a great choice for healthy protein shakes.
Casein+ is 100 percent natural and thus doesn't contain artificial fillers, dyes and sweeteners. Its flavors (Strawberry, Banana Cream Pie, Milk Chocolate and Vanilla) are naturally sweetened and work well even when mixed with just iced water.
In terms of being free from GMO, contaminants and all that Casein+ gets my vote. It's one of the cleanest casein powder supplements I've had, and the taste isn't too bad either. There's also the SDAS, or Sustainable Dairy Assurance Scheme certification which all but assures that what you see is what you get.
What I don't like about Casein+ is the absence of digestive enzymes and vitamins and minerals. Plus, it doesn't taste as good compared to the top brands in the list. Lastly, the price can make you think twice about investing in the supplement for the long term.
#11 Iso Casein PM by Beyond Raw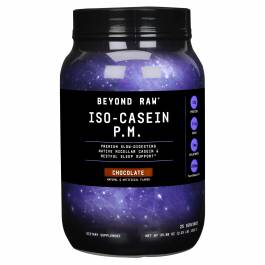 Coming in at number 11 is ISO Casein PM from manufacturer Beyond Raw. It's a curious title and makes you think about what PM and ISO represents. Well, let's do some digging, shall we?
The ISO, as it turns out is a form of casein isolate. As for the PM, it's not explained but if I had to make a guess then it's to remind people to take it during nighttime. In the product description, it offers restful sleep support by means of native micellar casein, slow protein (at 25g per scoop) for building skeletal muscles and a welcome dose of Suntheanine and melatonin.
The addition of melatonin is certainly a nice, unique touch. The manufacturer, Beyond Raw has also listed 5.5 grams of BCAAs for a faster metabolism. You get to choose from two basic flavors, Vanilla or Chocolate depending on how you like your protein shake to taste.
My caveat with Iso Casein PM is that it contains carrageenan, a compound that's linked with bloating, digestive problems and inflammation. What's more, some users reported having trouble getting quality sleep after some time taking the supplement.
#12 Grass-Fed Micellar Casein by Muscle Feast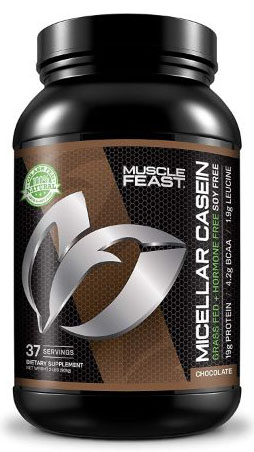 Having the same title as my number 1 casein protein powder doesn't necessarily equate to greatness. Case in point- Muscle Feast's Grass-Fed Hormone isn't as good as 100% Grass-Fed Casein Protein by Transparent Labs' is.
For one, the amount of protein per serving isn't as much as I'd like. The BCAAs' aren't quite up to standards (at just 3.4 grams). Muscle Feast tries to make up for it with bioactive compounds such as vitamin D, calcium and a bunch of essential amino acids, but those aren't as important as having the right casein dosage.
One thing Muscle Feast does right is sourcing its casein from grass-fed cows. This means you won't get any unwanted antibiotics, hormones and impurities in your casein supplement and can focus on your muscle-building goals. As for flavoring and size, you can choose Vanilla, Chocolate or Unflavored and get it in 2 or 4 lb containers.
#13 Casein Protein by Nutricoast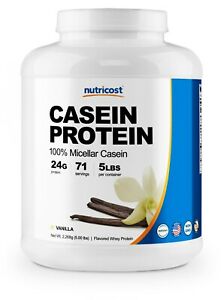 Nutricost's Casein Protein has a simple label and explains clearly and concisely what's in each container. You get 26 servings of 24 grams of casein in a 2 lbs jar, and 64 servings of 24 grams of casein in the 5 lbs jar.
Turn the container around and you'll get to see the ingredients behind the product. Micellar Casein is in full force here, but wait- where's the BCAAs?
Barring the amino acids aside (which I don't really get), the product manages to include calcium to build strong bones to go along with that muscle. Other than that there's nothing else to be excited about.
Oh yeah, and there's the 90-day money-back guarantee if you need to return the product. Nutricost is nice enough to provide the refund minus shipping and handling.
#14 Casein by Promix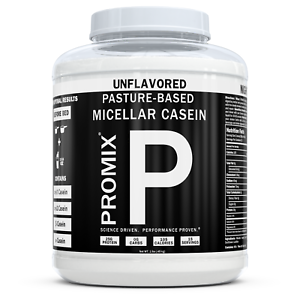 Promix Nutrition's Casein is somewhat a strange contender in our top casein protein powders list. Yes, the price is actually better than most and you get a slew of high-quality ingredients, mainly the full spectrum of casein (kappa, beta and alpha), but what looks amazing on paper doesn't necessarily translate well to real life.
To start, the effects don't last as long as advertised and 'full spectrum' could very well be a different meaning. I didn't notice any difference even when I took it for a week. The manufacturer's website didn't help, either- there's a lack of information and most of the information there was generic.
As far as serving size and flavors go the choices are pretty generic. You get the Unflavored version or the Chocolate one, then pick whether to get the 1 lb container or the 5 lb one. The price is also a bit on the steep side, and you can definitely get a higher quality casein supplement with that money.
#15 Combat 100% Casein by MusclePharm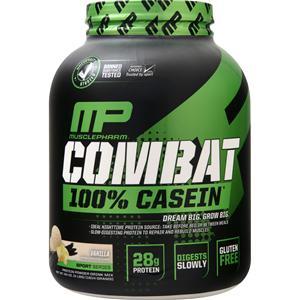 Now we're finally down to the last entry on the list, and it's the intimidating Combat 100% Casein.
The army green and black combination is certainly easy on the eyes, and there's more than enough information on the label to entice you to buy. It's banned substance tested and billed as 'the athlete's complete protein'. You can drink it pre-workout, post or just before going to bed.
The ingredients are hidden under a digestive blend, but with a quick check, these are what came up- whey protein concentrate, whey protein isolate, micellar casein, egg albumin and BCAAs, among others.
Combat 100% falls short in performance though, notably in the taste and dosage department. It's generally not a good idea to mix whey and casein as the effects of whey will be mitigated.
Why Use Casein Protein Powder?
By now you should have an idea of what casein can do for you and your bodybuilding or athletic goals.
If not, think of casein as the Robin to whey's Batman. They're partners when it comes to promoting muscle growth and complement each other in many ways.
The main difference between them is the timing of intake. With whey, you'd typically take them pre-workout as they're fast-burning fuel, whereas casein is taken way later (think bedtime) as they release amino acids over a sustained period of time.
Casein also has the benefit of giving your body what it needs to cut the recovery period by a huge margin. If you're looking for a well-rounded approach to turning fat into lean muscle then I'd suggest getting the right casein protein powder for the job.
What is Casein Protein?
In the simplest terms, casein is a dairy-based protein and often used as a supplement.
Milk is typically made of two protein types- whey and casein. Milk protein is divided into 80 percent casein and 20 percent whey.
Whey protein is digested by our bodies quickly and provides a nice performance spurt. Casein, on the other hand, is digested slowly and releases amino acids over time instead of in one massive burst.
Drinking casein protein gives you a nice and steady supply of BCAAs, or essential amino acids you'll need for faster muscle repair and growth.
Let's get into the compound a bit deeper. Cell-wise, casein helps produce protein and is often called an 'anti-catabolic' because it stops the body from cannibalizing its muscle cells for fuel.
In short, you get reduced protein burn over a long period of time and an improved protein balance as a result. Your body gets to enjoy higher protein levels consistently and not just before or during workouts.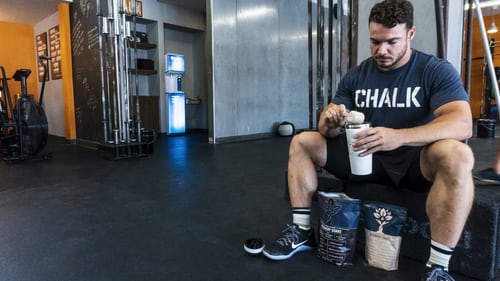 What is the Best Time to Take Casein Powder?
It's important to note that whey can't take the place of casein, and vice versa.
Both milk proteins are equally crucial to building muscle in their own right and should complement each other. The best way to do this is to not overlap in terms of supplementation.
Whey is at its best when you take them before exercise and during athletic performances. The fast-acting protein source provides a huge burst so you won't tire as easily and can push past plateaus.
Casein plays a support role and takes care of the post-workout building phase. Its slow-release mechanism makes casein the absolute best in supplementing in the rest period. By rest, I mean not doing strenuous activities such as sitting down, sleeping or working a 9 to 5.
That said, casein supplementation is best done before retiring at the end of the day. When you read up on casein powders the manufacturers often recommend taking it just before bedtime. This way, the hours-long release works perfectly with the self-repair your body is doing as you snooze through the night.
Any Side Effects with Casein Protein?
In general, casein protein powders do not induce unwanted side effects whatsoever.
This is true for casein protein products that contain pure casein and without GMOs, fillers and additives. However, you may experience some slight issues with inferior casein supplements.
There are rumors on the web saying how high protein intake is not good for the body, but this simply isn't true. Reviews and scientific studies show that you have nothing to be afraid of when you take a scoop or two of casein powder daily.
However, the same cannot be said in products that contain ingredients other than pure casein.
In your search for the best casein protein powder, don't just get the one that comes up first on the list, or the one that's cheapest. You'll usually pay for it with a horrid taste, gas problems, bloating and other digestive issues.
Also, a word of warning- individuals with liver or kidney disease will want to limit their daily protein intake or get advice from their doctors on what supplements could be better for their condition and performance goals.
Other than that, feel free to get the best casein powder supplement. They're safe to consume and can even provide many other health benefits, such as fat loss, free radical reduction, an immune system boost and lower triglyceride levels.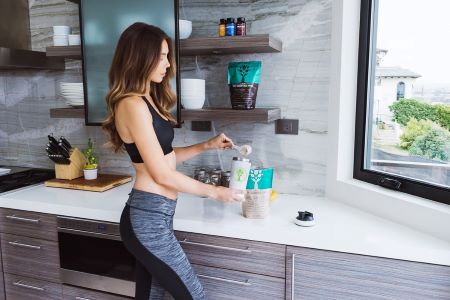 Casein Protein vs Whey Protein – What's the Difference?
Casein is classified as an 'anti-catabolic' compound because it prevents muscle tissue breakdown by providing a steady supply of amino acids. During instances where your body starts eating its own muscle tissue for fuel, casein saves the day, thanks to its inherent digestive mechanism.
Whey is termed 'anabolic', or an active muscle-building compound because it provides a welcome boost in the blood amino acid department, a necessary process in protein synthesis.
Looking at it microscopically, protein synthesis must be higher than the rate of muscle breakdown to be successful in growing muscle. The one-two punch of whey and casein work together to make this happen.
Here are a few more things you should know about whey and casein breakdown. Whey, when taken is absorbed quickly and metabolized in just 20 minutes or so. Your body will use it to produce protein or through oxidation. The rush of amino acids facilitate muscle protein synthesis and puts you well above a catabolic state, such as when you're lifting weights or exercising.
Casein, when taken will require about 3 to 4 hours to reach protein synthesis and blood amino acid peak. However, it won't spike as much as whey, which is a good thing. Protein synthesis won't dip as much that it's lower than the rate of muscle breakdown, and therefore protect the muscles you've worked so hard to build.
Is Casein Protein Lactose-Free?
Technically, the answer is yes. The simplest answer I can come up with is that lactose is a sugar, while casein is a protein found in milk.
Casein protein is lactose-free since it's a different compound altogether. Thus, if you're lactose intolerant you can take casein protein supplements knowing well that you won't have a reaction. The only problem is, you'll have to do your research on which product has pure casein and zero milk by-products.
Check the manufacturer's website to see if their products contain traces of lactose. The best ones won't have additives, fillers and ingredients that could cause an allergic reaction.
Conclusion
So there you have it- a complete guide on the best casein protein powders to supplement your muscle growth goals.
Casein plus whey protein in its purest form is a combination that's hard to beat in the muscle-growing department. As long as you're supplementing with whey, why not maximize potential by having casein act as your balancer in off-training hours?
It certainly won't hurt to try, and the gains will speak for themselves over time. If you'd have to choose one, then I'd recommend 100% Grass-Fed Casein Protein by Transparent Labs.
Good luck and happy muscle gains!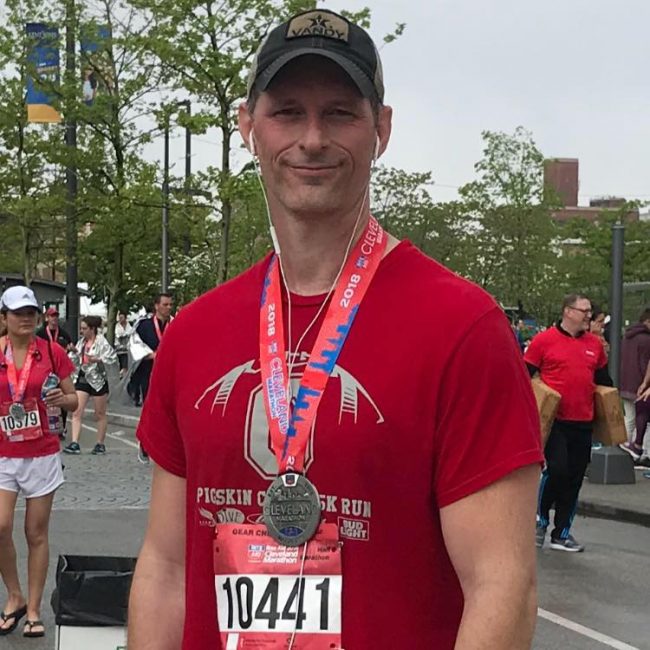 Ryan is a former college wrestler and lifelong fitness fanatic. He has run half marathons, done mud runs, placed in body transformation contests, coached wrestling and now coaches girls soccer. Not to mention he has also tried literally hundreds of supplements over the years and has a vast and thorough supplement knowledge. He has written for Muscle & Strength, Testosterone Junkie, The Sport Review and other publications. He is also the editor in chief of this website. Feel free connect with him on his LinkedIn page below.