(Last Updated On: May 5, 2022)
Suppose you ask any fitness expert what their thoughts are on branched-chain amino acids (BCAAs). In that case, you're likely going to get a pretty consistent answer.
While not a requirement for your health or fitness goals, BCAA supplements are an incredibly useful tool for getting and maintaining skeletal muscle mass while you are in a calorie deficit. As such, from bodybuilders to fitness models, BCAAs are widely regarded as a virtual necessity if you want to reach optimal physical performance.
The only problem is that there are countless BCAA supplements out on the market today, many of which are made from synthetic, low-quality ingredients that can actually harm the body. Understanding what products are good and what you should be taking can directly translate to better, more impressive, and more sustainable results in the gym as well as for your body in general.
Below, we've gone over the 15 Best BCAA Supplements and why you should be using them over any other product currently on the market today.
15 Best BCAA Supplements on the Market
CAA Glutamine By Transparent Labs
Best Overall BCAA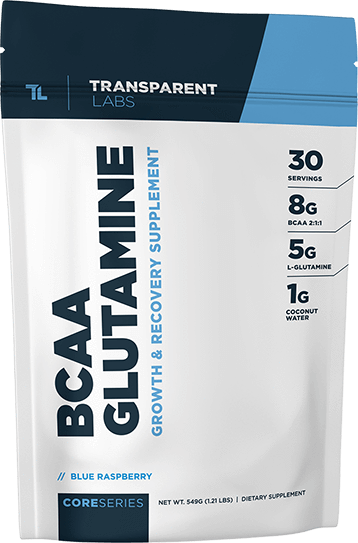 While Transparent Labs CoreSeries BCAA Glutamine has been shown to host a myriad of different benefits, it mainly operates as a repair and recovery supplement and is great for reducing muscle fatigue as well as post-workout pain. This is done by stimulating protein synthesis in the body and helping improve a person's glucose metabolism, thus quickly building muscle growth while also reducing the amount of time they spend healing. The supplement has no artificial dyes, fillers, additives, or sweeteners, instead opting for an entirely vegan ingredient list. Men and women can use the supplement to great effect.
In terms of serious side effects, there have been no reported showings from anyone that has taken BCAA Glutamine. Still, suppose you are suffering from low blood pressure, diabetes, Parkinson's', ketoaciduria, or have any alcohol issues. In that case, you should consult your healthcare physician.
Pros
Surprisingly Affordable Considering What It Offers
Zero Harmful Ingredients Or Substances
Incredible Muscle Recovery
Cons
Available only at: TransparentLabs.com
---
BCAAs by Gnarly Nutrition
Best Tasting BCAAs With Natural Flavoring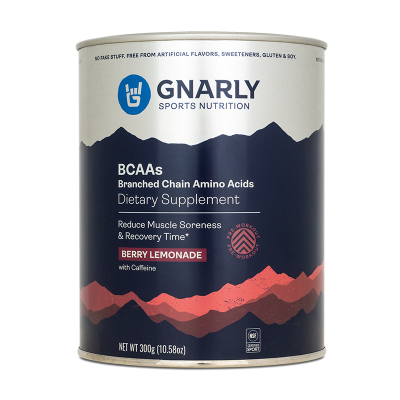 Another stellar product is GoGnarly's BCAA supplement. A vegan-based supplement, Gnarly Nutrition, uses 5 grams of vegan branched-chain amino acids in a 2:1:1 ratio. This translates to 2.5 grams of leucine, 1.25 grams of isoleucine, and 1.25 grams of valine. The supplement also comes with 35 mg of green tea leaf natural caffeine per serving.
Gnarly Nutrition's BCAA does all of the expected things that come with a BCAA. They aid in recovery, reduce the amount of time your muscles take to heal damage, and improve muscle growth. In addition to this, however, Gnarly Nutrition's BCAA, due to being completely vegan, is also very light on the stomach while not causing any stomach cramps or pains. It also absorbs into the body much faster than other options.
Finally, every flavored version of their BCAA is NSF Content Certified. This means that they must go through a toxicology review test for heavy metals, pesticides, and microbes, with a "Zero Contaminants" result. In addition, the "Berry Lemonade" flavor has gone through an additional NSF Sport Certified test, which looks for over 270 banned pro-sport substances both across national and international organizations.
Pros
All Natural Ingredients
Very Affordable
Effects Are Immediate And Noticeable
Vegan-friendly
Cons
Not Quite As Much BCAA Per Serving Than Others On This List
Available only at GoGnarly .com
---
IntraSurge by Jacked Factory
Best Tasting BCAAs with Artificial Flavoring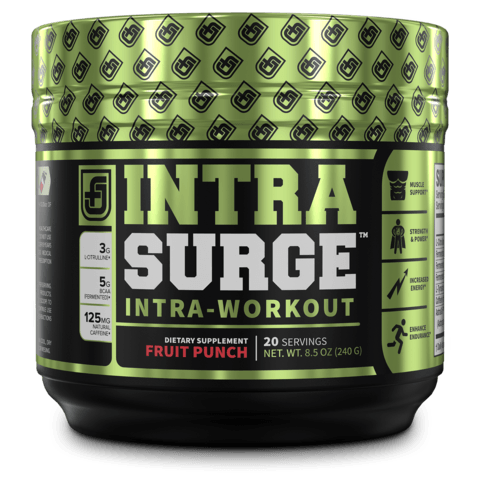 While pre-workout and post-workout supplements are the most common forms of supplementation, as it stands, there is also a "peri-workout" (aka, an intro workout) supplement. These supplements are great because they help keep you moving throughout the workout itself rather than giving you the gas before or after you've done your set. The jury is still out, but the belief is that this will allow you to keep going longer in your sets as your muscles are getting fed in real-time.
IntraSurge, in particular, is great because it includes Leucine, Isoleucine, and Valine in each serving while also including several other muscle-building ingredients like L-Citrulline, L-Tyrosine, and 125 mg of caffeine. In addition, the supplement also comes with a special ingredient known as AstraGin, which is reported to increase both amino acid absorption by 62% and ATP-producing and muscle glycogen.
In terms of side effects, while there aren't any huge or serious side effects, so long as one follows the recommended dosage, there are some stimulatory ingredients. As a result, this can potentially lead to nausea, heart palpitations, headaches, and stomach pains.
Pros
Incredibly Inexpensive For What It Offers
Comes With Over 6,000 mg of BCAA
Utilizes AstraGin, Which Greatly Improves Amino Acid Absorption
Tastes Amazing
Cons
Does Use Artificial Ingredients For Taste
If Abused, It Could Lead To Stomach & Body Ailments
Available at JackedFactory.com
---
BCAA Glutamine By Transparent Labs
Best BCAAs for Muscle Growth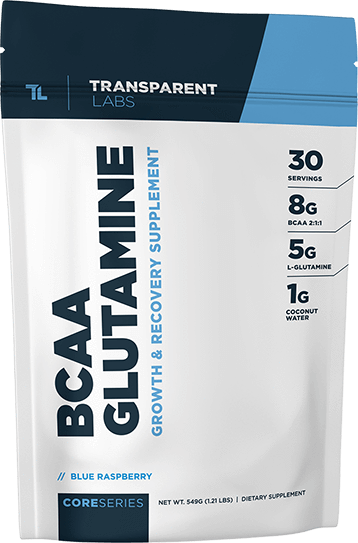 There's a reason we have Transparent Labs' BCAA Glutamine on here twice and it's not because there weren't other ones that would make this list. The fact is that they are the best overall BCAA supplement available on the market today, (no matter what your situation is) but they are also able to produce some of the best muscle growth of any other BCAA option out there.
The reason goes back to what we said before about how it operates. Because BCAA Glutamine speeds up your body's glucose metabolism, your body can quickly begin turning it into fuel for muscle growth.
Each serving comes with 5,000 Mg of L-Glutamine, 8,000 Mg of BCAA at a 2:1:1 ratio (4 grams of L-Leucine, 2 grams of L-Isoleucine, and 2 grams of L-Valine), and coconut water powder.
Pros
Surprisingly Affordable Considering What It Offers
Zero Harmful Ingredients Or Substances
Incredible Muscle Recovery
Cons
Available only at: TransparentLabs.com
---
Onnit Total Strength + Performance Blend
Best Total BCAA Blend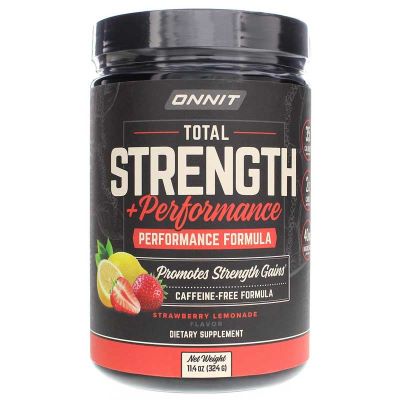 While there isn't anything inherently bad about using caffeine in a workout supplement, it can sometimes be regarded as a needlessly included product for those with a sensitivity. That is where Onnit steps in. A unique fitness company, Onnit has developed a BCAA supplement blend that not only doesn't include artificial ingredients but eschews any caffeine or stimulant as well!
They can do this despite producing similar effects to retain muscle growth and improve physical endurance while working out. The reason it can do this is all in its ingredients. In addition to the standard branched-chain amino acids and beta-alanine, the supplement also doesn't contain any artificial ingredients. However, the real star of the show is the natural plant ingredients that have been added in. Things like Mucuna Pruriens (also known as "velvet bean"), Japanese Knotweed, and Red Clover – just to name a few – are all used to create a sort of health and endurance cocktail that offers many of the same benefits as some of the other BCAA supplements on this list.
Still, it is not a perfect alternative. Many of these exotic (and proprietary) inclusions are hardly free. As a result, the Total Strength & Performance Blend is a bit more expensive than the others on this list. It also is missing out on zinc and Vitamin D3, two of the more universally expected supplements for something like this.
It isn't the best option on this list. However, if you don't want caffeine or any stimulants, it does have a lot going for it.
Pros
No Caffeine
No Artificial Ingredients Of Any Kind
Hosts A Huge Number of Anti-Estrogenic And Health-Improving Compounds
Cons
Price Can Be A Bit High
Proprietary Blend Does Leave Some Questions On The Table
---
BCAA Fermented by Jacked Factory
Best BCAAs on a Budget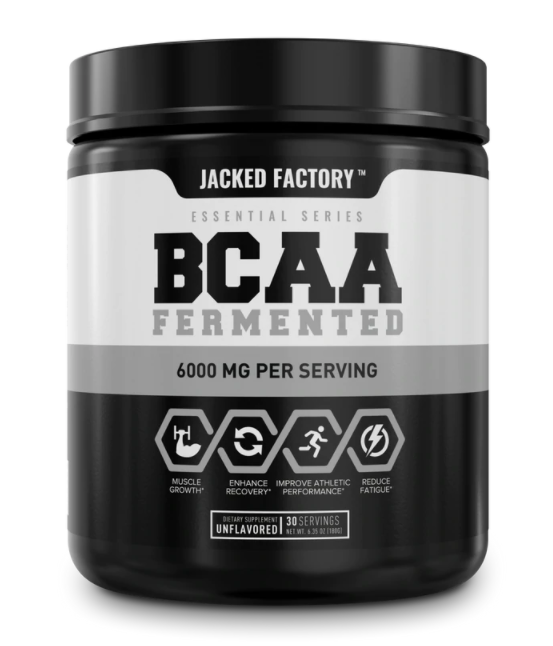 Jacked Factory's BCAA Fermented is a great option with a lot going for it for those on a budget but still want to see dramatic gains in their physique. It follows the 2:1:1 BCAA ratio, with 3,000 mg of fermented leucine, 1,500 mg of fermented valine, and 1,500 mg of isoleucine.
One thing that makes BCAA Fermented unique from other BCAAs on this list is that they are fermented. This fermentation process helps the body further metabolize the amino acids, supporting muscle growth and synthesis happen to a much faster degree than otherwise. You can take it at any time, be it before, during, or after your training to see results, though how it affects the body will vary based on when you take it.
However, because it is cheaper than other options, there are a few snags here and there. For one, there aren't a lot of additional ingredients or chemical compounds available here, with the few extras being artificial flavors and sweeteners. Similarly, there are only two flavors available, Fruit Punch and Blue Raspberry.
Still, if you're someone looking to start, this is an excellent beginner BCAA to try jumping into.
Pros
Very Inexpensive
Tastes Great
Gives A Good Amount of BCAAs Per Serving
Cons
Only Includes BCAAs With No Additional Supplements
What Other Things It Does Add Are Artificial Sweeteners
Available at JackedFactory.com
---
Naked BCAAs
Best Vegan BCAAs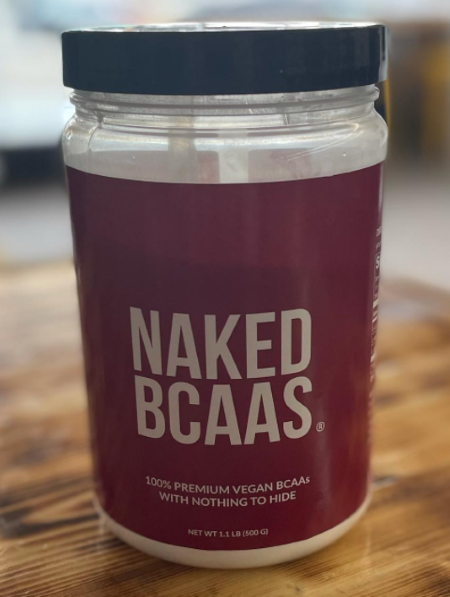 If you are a vegan, there are some good BCAA options out there. That said, even some of the better ones aren't wholly perfect, often using chemicals and artificial ingredients to make up the difference. One of the best vegan options we've seen, by far, is Naked Nutrition's Naked BCAAs. These are some of the highest pharmaceutical grade BCAAs available, being fast dissolving and rapidly absorbing.
Because they do so well to absorb into the body, Naked BCAAs are incredibly effective in promoting muscle development and improving overall exercise performance with faster recovery times after a workout. Unlike other vegan-friendly BCAA options, Naked BCAA doesn't have any artificial additives or sweeteners to deal with, meaning you're consuming something that's pretty clean.
Finally, while not the cheapest option out there, for what it offers, Naked BCAAs are surprisingly affordable, costing well under $40 for over 100 servings.
Pros
Surprisingly Affordable For What It Offers
Is Vegan and Keto Friendly
Is Very Clean With No Additives Or Artificial Chemicals
Cons
Does Not Have Any Flavors To Help With Taste
---
Finishline by 6 AM Run
Best BCAAs for Runners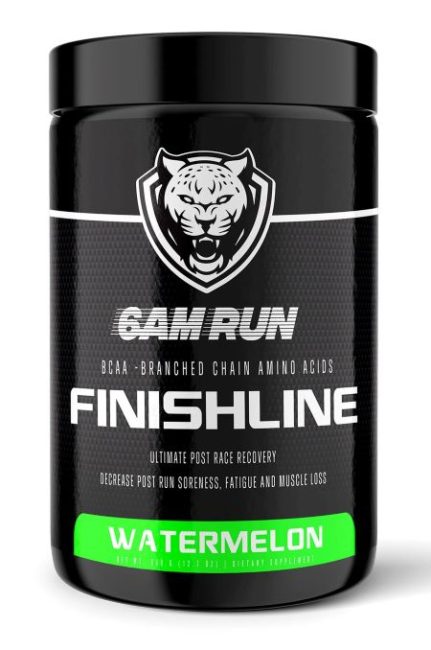 Whereas many of these other options primarily help those looking to grow and retain a muscular build, Finishline is meant specifically as a Post-Run BCAA formula, working to heal muscle cramps, fatigue, and training soreness.
Finishline Recovery is a caffeine-free drink made up of pharmaceutical-grade branched-chain amino acids and glutamine. This helps to build lean muscle while also aiding in recovery. Finishline uses the 2:1:1 ratio when delivering its BCAA, with 2,000 mg of leucine, 1,000 mg of isoleucine, and 1,000 mg of valine. This isn't a lot per serving, but you also have to remember that this is not meant for bulking but for a more lean build and recovery.
In addition to BCAAs, Finishline Recovery also includes Vitamin B6, which also greatly helps the muscles, in this case by increasing muscle absorption. While it only comes in two flavors (watermelon and lemon/lime), both are tasty despite not having any sugars. If you're looking for something that tastes good while easing any physical soreness, this is the option for you.
Pros
Has No Caffeine
Great For Runners & Those Looking To Reduce Soreness
Helps Build Lean Muscle
Cons
Does Contain Some Artificial Flavors and Sweeteners
Not Ideal For Those Looking to Bulk Up
A Bit Overpriced
---
Huge Supplements Huge BCAA
Best BCAA for Men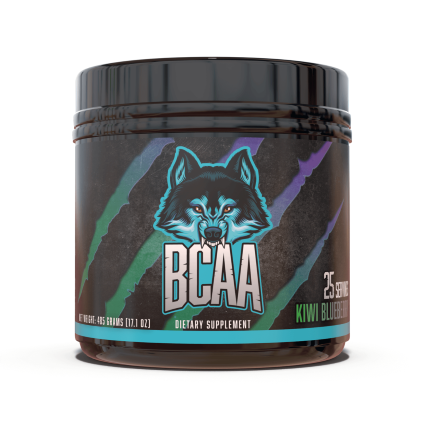 Though many of the options on this list are universal for either gender, the fact of the matter is that a man's body and a woman's body do function differently. This means while these other BCAA supplements will give you improved results, BCAA blends that specifically go for men or women will help push those results to the next level. That is what has been shown with Huge Supplements Huge BCAA.
They provide an impressive 8 grams (8,000 mg) of BCAA per serving under the 2:1:1 ratio. In addition, each serving also includes potassium, sodium, calcium, and coconut water powder. As far as taste is concerned, it comes in either Kiwi Blueberry or Bomb Popsicle flavor. As such, you shouldn't expect a huge variety the same way you could with others on this list.
More than anything, Huge Supplements Huge BCAA is meant to be taken by anyone looking to push themselves at the gym, being able to take it before, during, or after their workout for dramatic gains. It also does come with other additional ingredients like L-Tryptophan, L-Threonine, and L-Methionine. And while none of these are harmful, if you are looking for something a bit cleaner, this may not be up your alley.
Pros
It contains A Large Amount OF BCAAs
Can Be Taken Before, During, Or After A Workout
Cons
Only Has Two Flavors
Maybe Has A Bit Too Many Ingredients For Some
---
Transparent Labs Bulk
Best Pre Workout with BCAAs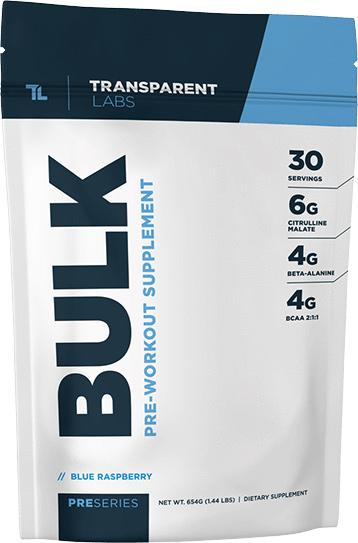 If you are looking for a hard-hitting pre-workout supplement that will help increase your size and strength even as you cut your calories, then Transparent Labs Bulk is for you. This pre-workout supplement is backed by scientifically proven and published research. Their formula carries no artificial sweeteners or flavors and has no harmful additives or color dyes. In a word, it's as clean as possible.
Included with its instantized and fermented 4,000 mg of BCAA, the supplement also carries another 4,000 mg of Beta-Alanine, 2,500 mg of BetaPure (Betaine Anhydrous), as well as 25 mg of AstraGin. This is just a small list of the many proven and healthy ingredients added to this performance blend.
While on the upper side of costs, when you consider how much you get and how effective it is, the price seems more of a steal than not. There are a total of 19 ingredients in every tub and seven different flavors to choose from, meaning you'll never be bored while bulking.
Pros
While A Little Pricey, You're Getting A Real Bargain
Has Over 7 Flavors & 19 Muscle Building Ingredients
Meant Specifically For People Looking To Bulk Up
Cons
May Not Appeal To Those That Want Only BCAAs
Not Ideal For Runners And Those That Don't Want To add muscle
Available at: TransparentLabs.com
---
Xtend Sport BCAA Powder
Best BCAAs for Electrolytes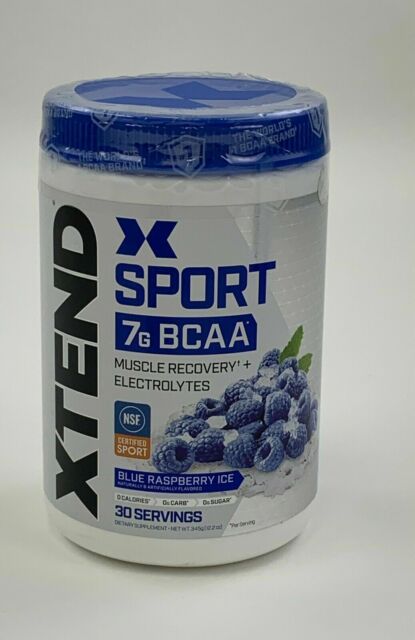 BCAAs are a proven and hugely helpful tool for those in fitness. However, just because they play an essential role in improving one's health, that doesn't mean that is the only area you should focus on. Just as BCAAs have a part, so too do electrolytes. This is where the Xtend Sport BCAA Powder gets its chance to shine over everyone else.
The Xtend Sport BCAA Powder helps keep the body flooded and fueled with electrolytes. This allows you to keep your performance as tight as possible, with next to no dips in performance quality.
Of course, this isn't the only place where the Sports BCAA Powder excels. In terms of BCAAs, Xtend follows the proper standard of 2:1:1. This gives 3500 mg to leucine, 1750 mg to isoleucine, and finally 1750 to valine while having a running total of 7 grams (7,000 mg) of BCAA.
Suppose you are looking for a quality supplement that improves your muscle growth while keeping you properly hydrated. In that case, Xtend Sport BCAA Powder may be worth checking out.
Pros
Is Super Affordable
Offers Over 7 Grams Of BCAAs
Has No Sugar, Calories, Or Carbohydrates
Is Very Hydrating
Cons
Has Artificial Flavors & Sweeteners
Serving Size Is On The Small Side
Available at OfficialXtend.com
---
IdealLean BCAA
Best BCAAs for Weight Loss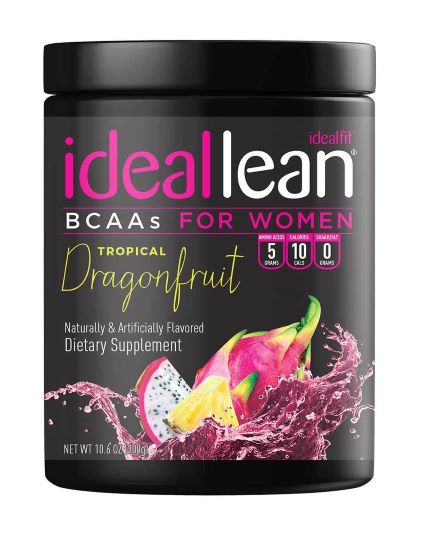 The IdealLean BCAA is a wholly dedicated BCAA blend that is made primarily to help lose weight instead of growing or retaining muscle. In addition to the BCAA 2:1:1 ratio, IdealLean BCAA also includes the berry extract, Evodiamine. This extract has been shown to help in fat loss. In addition, the supplement also contains green tea extract as well as CLA, a known fat that has been shown to help with weight management.
IdealLean BCAA is a fairly inexpensive supplement and has over seven different flavors to choose from. These range from Strawberry Kiwi and Grape, to Apple and Blueberry Pomegranate. With this impressive list of flavors, they offer a much more variety to choose from than others on this list. This is so important because, because they taste as good as they do, you're more likely to take it when doing your workout.
Unfortunately, they do teeter a bit between whether they are good for you or not. In addition to many of their good ingredients, there are a fair amount of sweeteners and artificial flavorings that you can likely be seen as the culprit for why they taste as good as they do. Still, despite this, you won't be dealing with any hard sugars, so you shouldn't have to deal with an insulin spike.
Pros
Fairly Affordable
Comes In A Variety Of Flavors
Great For Those That Want To Slim Down While Holding On To Some Lean Muscle
Cons
Does Include Its Fair Share Of Artificial Ingredients & Sweeteners
Not Ideal For Those Looking To Bulk Up Over Lose Weight
---
Cira Aminos
Best BCAA for Women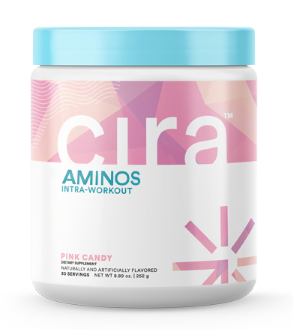 Just as there is an ideal BCAA option for men, so too is there one for women. Cira Aminos is specifically designed to help women lose weight while building lean muscle. The supplement contains 3 grams of branched-chain amino acids per serving. As well as a dose of taurine and tyrosine, both of which are known to help with focusing. The supplement also comes with a fair amount of coconut water powder to help with hydration during workouts.
The product comes in three different flavors: Pink Candy, Glow-jito, and Pop & Rock. You'll have to deal with a few artificial ingredients and sweeteners in the supplement, yes; however, the good that is included far outstrips the bad. In addition, while not the cheapest option on this list, Cira Aminos is still fairly reasonable, so you won't have to worry about breaking the bank to stay healthy.
Pros
Great For Women Looking To Build Lean Muscle While Losing Weight
Comes With Some Unique Flavors
Zero Calories & Zero Sugars Mean You Won't Deal With Any Potential Weight Gain
Cons
Not Ideal For Those Looking To Get More Physically Capable
Not The Cleanest Option Available, With A Considerable Amount Of Artificial Ingredients
While Not Terribly Expensive, It Isn't All That Cheap Either
Available at CiraNutrition.com
---
Xtend Keto Energy
Best BCAAs for the Keto Diet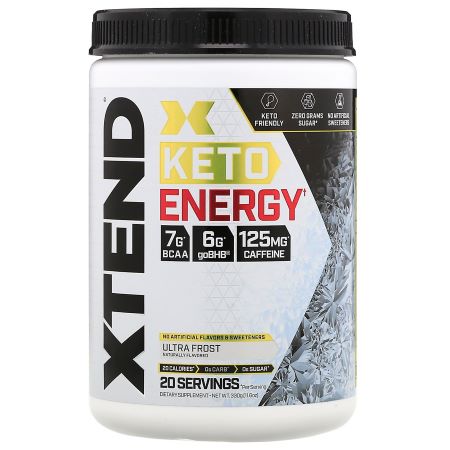 One of the challenges that many fitness enthusiasts had to contend with when many of the benefits of a ketogenic lifestyle became widespread, was whether they wanted to continue their BCAA supplements or fully commit to the keto diet. This was because, while many BCAAs didn't have sugar or carbs directly, the amino acids would often simulate an insulin spike, actively forcing a person out of ketosis.
Luckily there has been a remedy for that with Xtend's Keto Energy BCAA. Coming with absolutely zero sugar or artificial flavorings, Xtend Keto Energy fully enhances a keto dieters' energy and recovery. This allows them to stay in ketosis and enjoy the benefits of exogenous ketones.
Each serving comes with 7 grams of BCAAs, all of which follow the 2:1:1 ratio. In addition, each serving also comes with 6 grams of their goBHB Beta-Hydroxybutyrate Salts, as well as 125 mg of "Quick and Delayed" caffeine.
Pros
Completely Keto-Friendly
Has A Very High Amount of BCAAs
Has No Sugars, Carbs, or Artificial Sweeteners & Chemicals
Cons
Pretty Expensive
Only One Flavor
Available at OfficialXtend.com
---
BCAA Fermented by Jacked Factory
Best BCAAs for Beginners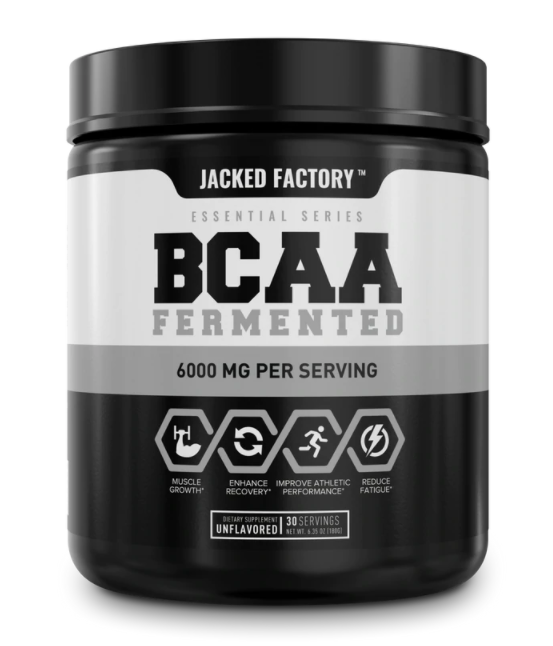 We mentioned the BCAA Fermented before with the cheaper option and how it did pretty good considering its price tag. Just as it is the best option for those on a budget, it is also a stellar option for those just getting started in the BCAA fitness world.
As mentioned before, it offers 3,000 mg of leucine, 1,500 mg of valine, and another 1,500 mg of isoleucine. This gives its BCAAs the 2:1:1 ratio that most optimally improves muscle growth. Because BCAA Fermented is meant for beginners on a budget, they have worked primarily to make it taste great while not having any sugars or calories to deal with.
BCAA Fermented is also vegan-friendly and hypoallergenic, meaning just about any person can take this to see dramatic results. You will have to deal with some artificial chemicals. However, they aren't any worse than most of the others on this list, and the fact that everything else is relatively clean should be worth mentioning as well.
Pros
Very Cheap & Beginner-Friendly
Good For Vegans & Is Hypoallergenic
Can Be Taken At Any Time For Good Results
Cons
Contains Chemicals And Artificial Sweeteners
Available at JackedFactory.com
---
What Are BCAAs?
Branched Chain Amino Acids, or BCAAs in short, is man's best friend when it comes to building muscle. Aside from playing an integral part in making your muscles bigger and stronger, this group of essential amino acids allows for faster recovery when taken after a tough session at the gym.
BCAAs can be grouped into 3 categories- leucine, isoleucine and valine, with each one having its unique benefit to the human body. 30% of your body's total muscle protein is made up of these amino acids, which should give you an idea of what you'll be missing out on when you skip BCAA supplements.
Leucine is the MVP as it regulates muscle protein synthesis. You'll quickly find that the best BCAA's are ones that have a significantly higher ratio of leucine to either valine or isoleucine.
It's important to note that our bodies cannot produce these essential acids, but they are super important for human function. Even if you're not actively developing huge muscles or going into intensive training mode, BCAAs should be incorporated into your daily diet. The good news is that BCAAs are quite abundant in protein-rich foods such as meat, grains, nuts and beans, but it takes time before your body can make use of what you ate. BCAA supplements, on the other hand, are designed to be absorbed quickly into the bloodstream, so they're more dependable.
In short, anyone over 18, whether you're a man or a woman, can significantly benefit from a good BCAA supplement. It works particularly well for vegetarians as they don't eat meat and therefore aren't getting the essential amount of amino acids in their diet.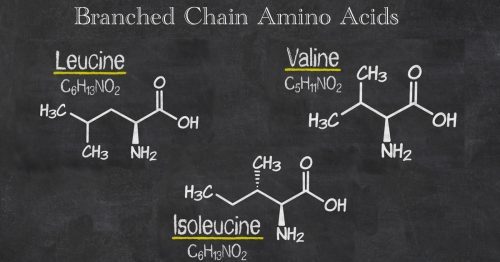 The Benefits of BCAA Supplements
BCAA supplementation is the perfect complement to those who want to lose weight, build muscle and gain more strength. Bodybuilders and athletes may think that the pre-workout phase is where it all happens, but it's important to know that post-workout is just as valuable. BCAA's allow you to recover from muscle fatigue built up during exercise and protect your muscles from damage. The less damage you experience, the more you can build them up for truly huge gains.
Here are the following benefits of BCAA supplements.
Increases Muscle Endurance
When we work out, our muscles eventually get tired because of the increased serotonin levels. A dose of essential amino acid can bring down serotonin levels, allowing you to extend and push further than before.
BCAAs work to fuel and protect your muscles as you complete your gym routine. Numerous studies have found that branched-chain amino acids are proven to help reduce physical and muscle pain during workout sessions. The harder and longer you can push, the better the results, and for this reason, BCAAs are especially useful. In some cases, BCAA's can even improve athletic performance.
Clinical trials have also concluded that these amino acids are quite effective in delaying muscle fatigue during exercise.
Promotes Protein Synthesis
BCAA users maximize their muscle gain as this supplement prevents muscle breakdown during intense weightlifting sessions.
Research has found that branched-chain amino acids promote protein synthesis, which is the process of rebuilding damaged protein blocks in the body. The better you can repair proteins, the more your muscle can rebound after training workouts.
Increases Muscle Growth
Do you spend more and more time at the gym in hopes of getting more pump and bigger muscles without noticeable results? BCAA supplements can prove to be the missing link to that.
BCAAs boost muscle growth and muscle mass by activating your body's muscle-building enzymes and increasing muscle mass as you exercise them. Improved protein synthesis means your muscles are primed for maximum growth; less fatigue equals more productive time spent lifting iron at the gym. Moreover, you'll notice better muscle tone and definition after just a few doses.
Scientific studies reveal that BCAAs are good at helping your body increase its muscle mass, especially if they have a higher leucine ratio than valine and bioleucine.
Speeds Up Recovery
Muscle recovery is significantly faster with the help of BCAAs. It can do the following:
– Reduce muscle soreness and its perception in the post-workout phase.
– Lower the presence of lactate dehydrogenase and creatine kinase, the two worst offenders when it comes to muscle damage.
– Speeds up recovery time after a tough gym session.
Studies have found that soreness after strenuous exercise is reduced by as much as 33% after participants started taking BCAA supplements. With significant cuts in downtime, you can get back to the gym and pump iron that much sooner.
Increases Fat Burning
Stored fat will be tapped and turned to energy as you exercise. BCAAs will help you burn fat and you can achieve your target weight while leaving behind lean muscle mass.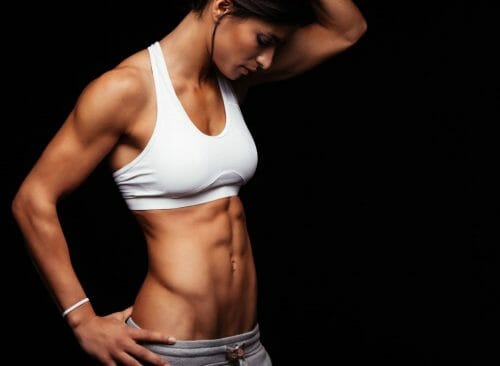 Types of BCAAs
Branch chain amino acid supplements are sold in either capsule form or powder form.
BCAA Powders
The earliest forms of BCAA supplements started out in powder form. You measure out a correct dose, mix it with water or milk and drink it. Powder BCAAs were initially without flavor and can be mixed along with protein or post-workout formulas. The problem with unflavored BCAAs was that the taste was so bad even when you mix it with flavored protein shakes!
Today, BCAA powders are manufactured and sold in delicious flavors that make them more palatable.
BCAA Capsules and Pills
BCAA supplements are now available in pill form and are an excellent alternative to the powder variant. Though easier to take, pills need a longer time to be digested and absorbed by the body. Plus, they are larger than most supplemental pills and you'll need to ingest multiples to achieve the desired dosage.
Conclusion
Supplementing with the best BCAAs should be your goal if you want maximum results in a short time. Branched-chain amino acids can help you burn unneeded fat, speed up the metabolic process and protect your muscles from damage. In short, they can reduce the time spent in recovery and make each gym workout that more effective!
BCAA Glutamine by Transparent Labs is the one to get if you want a no-nonsense BCAA powder that's designed by experts. What's more, it's the best value for money because of the perfect dosage and how it contains zero fillers, artificial ingredients and extra substances. You'll actually look forward to training again instead of waking up with your body aching all over after an exhausting gym session!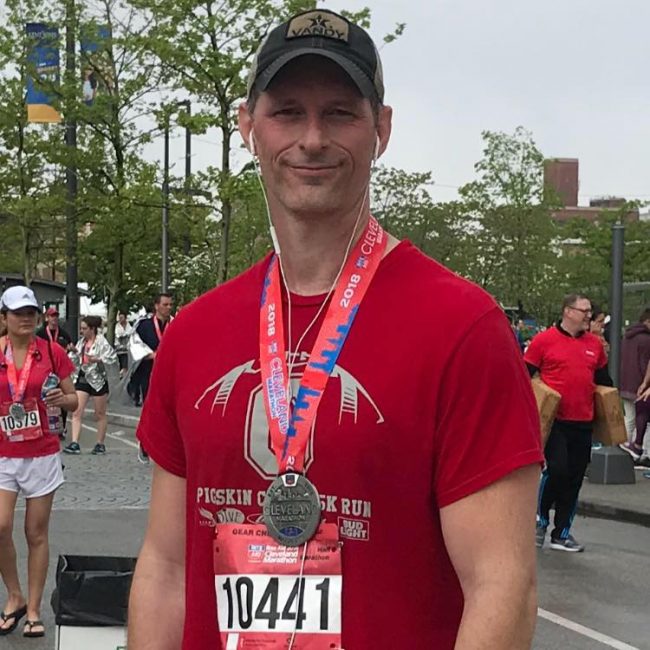 Ryan is a former college wrestler and lifelong fitness fanatic. He has run half marathons, done mud runs, placed in body transformation contests, coached wrestling and now coaches girls soccer. Not to mention he has also tried literally hundreds of supplements over the years and has a vast and thorough supplement knowledge. He has written for Muscle & Strength, Testosterone Junkie, The Sport Review and other publications. He is also the editor in chief of this website. Feel free connect with him on his LinkedIn page below.