(Last Updated On: January 17, 2022)
If there is one thing bodybuilders, weightlifters and athletes need more than the average person, it's protein.
After all…
Isn't protein considered as an essential building block for developing and strengthening muscle?
And when you turn your attention to getting optimal levels of protein, you'd naturally turn to branched-chain amino acids also known as BCAAs.
In this article, we will go over the benefits of BCAAs along with the best BCAA supplements on the market.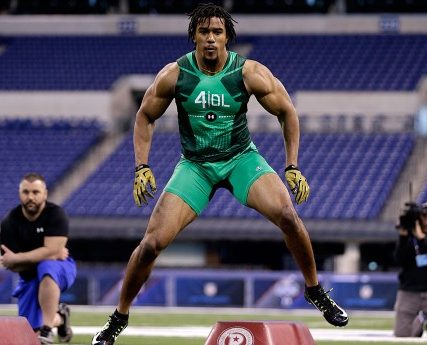 What Are BCAAs
Branched Chain Amino Acids, or BCAAs in short, is man's best friend when it comes to building muscle. Aside from playing an integral part in making your muscles bigger and stronger, this group of essential amino acids allows for faster recovery when taken after a tough session at the gym.
BCAAs can be grouped into 3 categories- leucine, isoleucine and valine, with each one having its own unique benefit to the human body. 30% of your body's total muscle protein is made up of these amino acids, which should give you an idea of what you'll be missing out when you skip BCAA supplements.
Leucine is the MVP as it regulates muscle protein synthesis. You'll quickly find that the best BCAA's are ones that have a significantly higher ratio of leucine to either valine or isoleucine.
It's important to note that these essential acids cannot be produced by our own bodies but they are super important for human function. Even if you're not actively trying to develop huge muscles or go into intensive training mode, BCAAs should be incorporated into your daily diet. The good news is that BCAAs are quite abundant in protein-rich foods such as meat, grains, nuts and beans, but it takes time before your body can make use of what you ate. BCAA supplements, on the other hand, are designed to be absorbed quickly into the bloodstream so they're more dependable.
In short, anyone over 18, whether you're a man or a woman, can greatly benefit from a good BCAA supplement. It works particularly well for vegetarians as they don't eat meat and therefore isn't getting the essential amount of amino acids in their diet.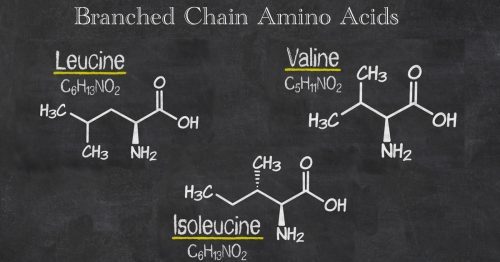 The Benefits of BCAA Supplements
BCAA supplementation is the perfect complement to those who want to lose weight, build muscle and gain more strength. Bodybuilders and athletes may think that the pre-workout phase is where it all happens, but it's important to know that post-workout is just as valuable. BCAA's allow you to recover from muscle fatigue built up during exercise and protect your muscles from damage. The less damage you experience, the more you can build them up for truly huge gains.
Here are the following benefits of BCAA supplements.
Increases Muscle Endurance
When we work out, our muscles eventually get tired because of the increased serotonin levels. A dose of essential amino acid can bring down serotonin levels, allowing you to extend and push further than before.
BCAAs work to fuel and protect your muscles as you complete your gym routine. Numerous studies have found that branched-chain amino acids are proven to help reduce physical and muscle pain during workout sessions. The harder and longer you can push, the better the results, and for this reason, BCAAs are especially useful. In some cases, BCAA's can even improve athletic performance.
Clinical trials have also concluded that these amino acids are quite effective in delaying muscle fatigue during exercise.
Promotes Protein Synthesis
BCAA users maximize their muscle gain as this supplement prevents muscle breakdown during intense weightlifting sessions.
Research has found that branched-chain amino acids promote protein synthesis, which is the process of rebuilding damaged protein blocks in the body. The better you can repair proteins, the more your muscle can rebound after training workouts.
Increases Muscle Growth
Do you spend more and more time at the gym in hopes of getting more pump and bigger muscles without noticeable results? BCAA supplements can prove to be the missing link to that.
BCAAs boost muscle growth and muscle mass by activating your body's muscle-building enzymes and increasing muscle mass as you exercise them. Improved protein synthesis means your muscles are primed for maximum growth; less fatigue equals more productive time spent lifting iron at the gym. Moreover, you'll notice better muscle tone and definition after just a few doses.
Scientific studies reveal that BCAAs are good at helping your body increase its muscle mass, especially if they have a higher leucine ratio than valine and bioleucine.
Speeds Up Recovery
Muscle recovery is significantly faster with the help of BCAAs. It can do the following:
– Reduce muscle soreness and its perception in the post-workout phase.
– Lower the presence of lactate dehydrogenase and creatine kinase, the two worst offenders when it comes to muscle damage.
– Speeds up recovery time after a tough gym session.
Studies have found that soreness after strenuous exercise is reduced by as much as 33% after participants started taking BCAA supplements. With significant cuts in downtime, you can get back to the gym and pump iron that much sooner.
Increases Fat Burning
Stored fat will be tapped and turned to energy as you exercise. BCAAs will help you burn fat and you can achieve your target weight while leaving behind lean muscle mass.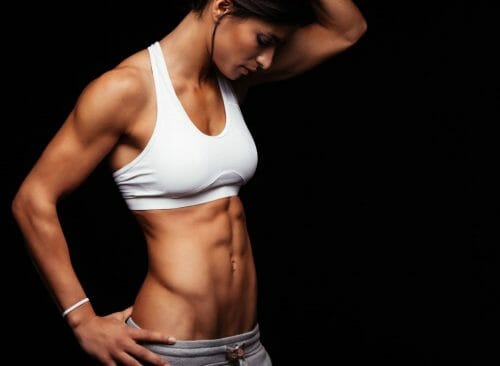 Types of BCAAs
Branch chain amino acid supplements are sold in either capsule form or powder form.
BCAA Powders
The earliest forms of BCAA supplements started out in powder form. You measure out a correct dose, mix it with water or milk and drink it. Powder BCAAs were initially without flavor and can be mixed along with protein or post-workout formulas. The problem with unflavored BCAAs was that the taste was so bad even when you mix it with flavored protein shakes!
Today, BCAA powders are manufactured and sold in delicious flavors that make them more palatable.
BCAA Capsules and Pills
BCAA supplements are now available in pill form and are an excellent alternative to the powder variant. Though easier to take, pills need a longer time to be digested and absorbed by the body. Plus, they are larger than most supplemental pills and you'll need to ingest multiples to achieve the desired dosage.
The Top 5 BCAA Supplements
Here's a list of the top BCAA's according to product quality, brand reputation, ingredients and effectivity.
1. BCAA Glutamine by Transparent Labs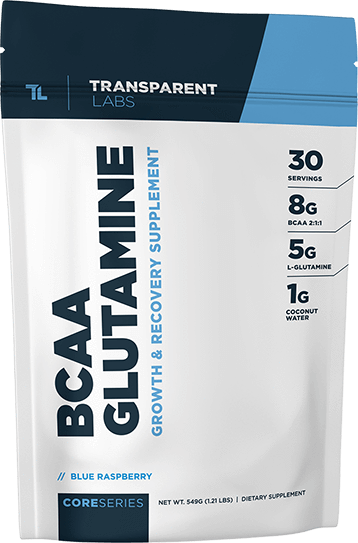 BCAA Glutamine is touted as one of the best BCAA's ever made when it comes to "Repair and Recovery". 6 grams of potent BCAA is divided into a 2:1:1 ratio with added coconut water powder and glutamine. Transparent Labs has stated that all their active ingredients are dosed just right for maximum potency and efficacy. What's more, you can be sure that there aren't any fillers, artificial compounds or colored dyes.
You can read up more on the list of ingredients in the manufacturer's website and how they mixed BCAAs with ingredients such as coconut water and valine to make for a better BCAA formula than most supplements out there. If you're dead serious about maximizing gains on each workout and want to reduce the time it takes for your body to recuperate, then BCAA Glutamine is for you!
The benefits of taking Transparent Labs' BCAA powder are many, including increased glucose uptake, glucose metabolism, accelerated fat loss and better protein synthesis. Gym performance is boosted and you'll be able to smash records and plateaus quite easily!
Pros
Contains real clinical dosage of BCAA
Great for both men and women
100% formula transparency
Has a great taste
Less expensive
Coupon code TL10 save 10% at checkout
Cons
 May be too strong for some
Only available on the manufacturer's website
Website: transparentlabs.com
2. Intra Surge by Jacked Factory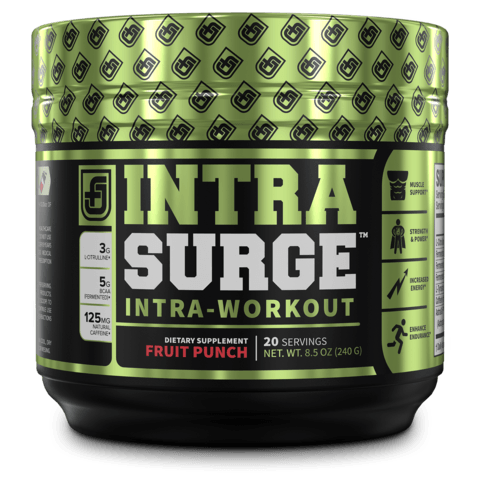 Intra Surge by Jacked Factory is another great choice when you need effective, long-lasting results.
This BCAA powder is a bit different from the others on the list in that it is meant to be taken during your workout. It is also made to boost your stamina, focus energy and workout performance.
This beast not only contains 5 grams of fermented BCAAs but it also has a nice dose if L-Citrulline, L Tyrosine, Ginseng and 125 mg of caffeine to give you an extra boost during your workout that you wouldn't get from just taking BCAAs alone.
Intra Surge is also the best tasting BCAA powder on our list so if the taste is important to you then this might be an option for you. On the negative side, they do use artificial flavoring to give it its great taste.
This product is also manufactured in the USA in a cGMP and it comes with a money-back guarantee.
Pros
Made to increase focus, stamina, and energy
Uses 5 mg of fermented BCAAs
Also has L-Citrulline, ginseng and caffeine
Best tasting BCAA powder on the list
Manufactured in the USA
Cons
Uses artificial flavors
Shouldn't be taken at night due to its caffeine content
Only available on the manufacturer website
Website:  JackedFactory.com
3. BCAA 3:1:2 by MusclePharm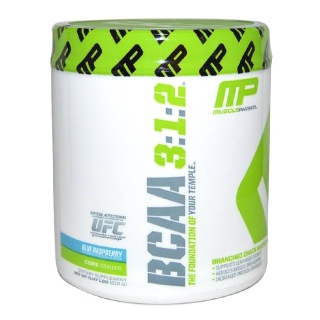 MusclePharm has created essential BCAA supplements in pill form with the BCAA 3:1:2 product. You may be surprised to find that it takes 8 pills to get a full dosage, but that may still be better than mixing up BCAA powders and drinking it up.
You get 6 grams of branched-chain amino acid in a 3:1:2 ratio. MusclePharm is one of the biggest names in the bodybuilding supplement industry, so quality won't be an issue when you buy from the manufacturer's website.
Pros
A convenient way to take your BCAAs, no mixing
Large 6-gram dose of BCAAs
Contains valine for focus and concentration
Cons
May contain allergens
Has artificial sweeteners and soy
Not suitable for people who don't like swallowing pills
See this product on Amazon
4. Best BCAA by BPI Sports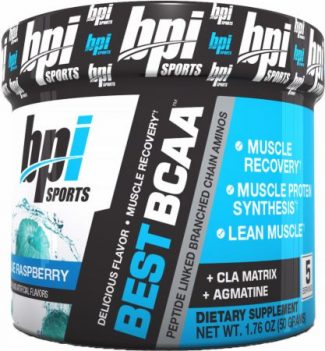 BPI Sports' offering comes in powder form, with 5 grams of branched-chain amino acid and other ingredients such as agmatine and 1 gram of CLA.
Best BCAA powder contains a heaping of healthy fats to enhance testosterone production, fat burning and training recovery. You get the CLA, or conjugated linoleic acid matrix which consists of CLA, coconut oil, avocado oil and safflower oil and 250 mg of agmatine which is an L-Arginine metabolite. The presence of a vasodilator means that this supplement may be used in the pre-workout phase for an added pump and enhanced blood flow. As a post-workout drink, you can enjoy the improved mood and optimized restive state.
BPI Sports is a relative newcomer in the sports nutrition industry. Their offering, Best BCAA, is made of quality ingredients and are reasonably priced.
Pros
Has the CLA Matrix blend
Affordable
Uses isoleucine valine
Sugar-free and comes in 10 different flavors
Cons
No caloric information
Under-dosed
See this product on Amazon
5. BCAA 6000 by Gaspari Nutrition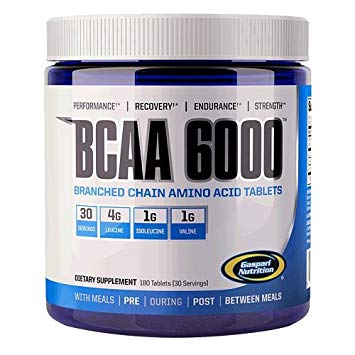 With BCAA 6000, you get a dose of heavy leucine, with 6 grams of branched-chain amino acid spread out in a 4:1:1 ratio. Gaspari Nutrition has favored the amino acid leucine and added useful nutrients such as vitamin B6 along the way.
Gaspari Nutrition is a well-known fitness supplement company that started out in 1998. Consumer reviews and reports say that the company makes quality supplemental products.
BCAA 6000 is one of the few BCAA supplements that come in a capsule form. The added vitamin B6 increases glycogen and protein metabolism. Taking BCAA 6000 is convenient because you just need the capsule and a glass of water. The only downside here is that you'll need to plan well ahead in advance as capsules take a longer time to be absorbed by the body.
Pros
Has the BCAA ratio right
Has added vitamin B6
Easier to take than powder
Cons
Expensive
Large pills to swallow
See this product on Amazon
Conclusion
Supplementing with the best BCAAs should be your goal if you want maximum results in a short time. Branched-chain amino acids can help you burn unneeded fat, speed up the metabolic process and protect your muscles from damage. In short, they can reduce the time spent in recovery and make each gym workout that more effective!
BCAA Glutamine by Transparent Labs is the one to get if you want a no-nonsense BCAA powder that's designed by experts. What's more, it's the best value for money because of the perfect dosage and how it contains zero fillers, artificial ingredients and extra substances. You'll actually look forward to training again instead of waking up with your body aching all over after an exhausting gym session!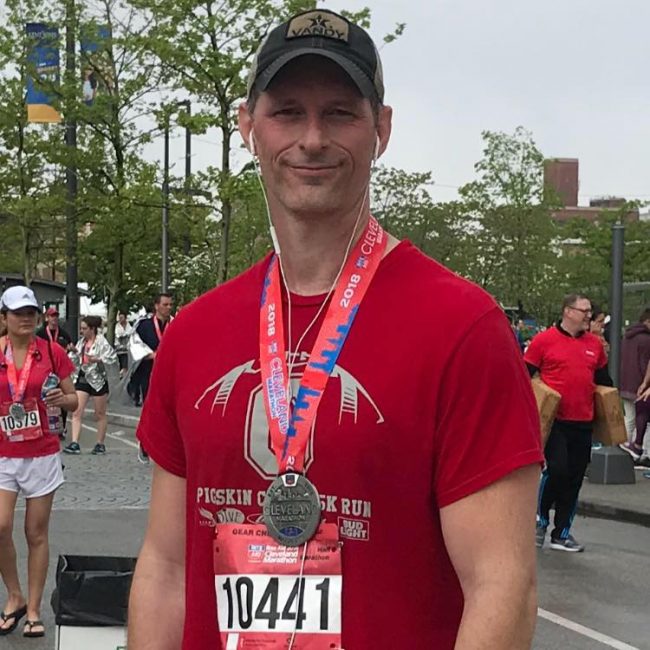 Ryan is a former college wrestler and lifelong fitness fanatic. He has run half marathons, done mud runs, placed in body transformation contests, coached wrestling and now coaches girls soccer. Not to mention he has also tried literally hundreds of supplements over the years and has a vast and thorough supplement knowledge. He has written for Muscle & Strength, Testosterone Junkie, The Sport Review and other publications. He is also the editor in chief of this website. Feel free connect with him on his LinkedIn page below.