(Last Updated On: April 24, 2022)
Ok everyone, time for a quick review.
In this review, we will be taking a look at the ISO100 by Dymatize.
Does this protein powder measure up and is it worth your hard-earned cash?
Let's find out.
See ISO100 by Dymatize on Amazon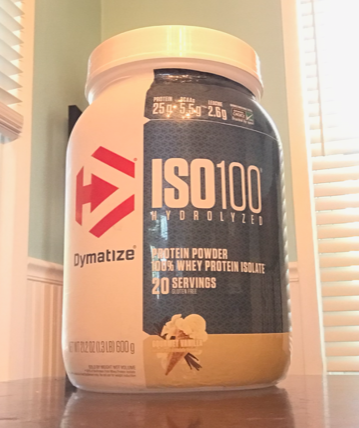 What is ISO100 by Dymatize?
ISO100 by Dymatize is a whey protein isolate supplement made by Dymatize.
Whey protein isolate is different from the regular whey protein concentrate you normally get.
Whey protein isolate is different from the concentrate in that it undergoes what's called 'cross-flow micro-filtration", which separates lactose, cholesterol and fat, thus ending up with a 'leaner' product.
The whey protein isolate has a higher concentration of protein than the concentrate. It is also better when it comes to fat, caloric and carb intake.
It is also more expensive than concentrate protein powders.
Related: The 15 Best Whey Isolate Powders
Where to buy ISO100
I bought mine from a local grocery store.
I was looking to get the best protein powder they had, which isn't saying much.
There were only about 4 different kinds to choose from. Muscle Milk which is pretty much like drinking a flavored mud puddle, a concentrate whey protein from Optimum Nutrition and a couple of generic protein powders.
I picked whey protein isolate by Dymatize. It was the most expensive choice but I had heard good things about it so I crossed my fingers and made the purchase. Purchase price was just under $25.00.
If it's available in the grocery store by me that pretty much means you can get it anywhere. Any supplement store will likely have and many larger grocery stores. You can also find it pretty easily online.
What Flavor did I get?
I bought the vanilla flavor and it was good. I usually stick with the basic flavors like vanilla, chocolate or peanut butter cup when it comes to protein powder. Those are the safest bets out there. Some companies make interesting flavors like cinnamon roll or cake batter. These fancy flavors sound great but in reality, they aren't as good as the basic ones. Plus it really sucks when you get a bad flavor and have to either choke down 30 servings of it or throw it out.
I also like vanilla because you can add a banana, strawberries or other fruit to it and it tastes great. You can't really do that with a smore's flavored protein powder.
Also, there are plenty of companies out there that can't even get the vanilla or chocolate to taste good. If they can't do that how are they going to make their exotic flavors any good?
Let's take a look at the label


One thing to note, this isn't the actual label from the one I bought. I threw my tub out when I was done and didn't get a pic of the label. This image I found online. It is the same except for the number of servings. My tub only had 20 servings while the one in this image has 76.
It's your traditional protein powder label, nothing stands out really. The protein is 25 grams which is about average for protein powder. the cholesterol is low at just 10mg. Both the calories and carbs are low, everything looks good.
One thing to note is that it does contain sucralose, if you don't like artificial flavoring that will be a negative for you.
What I liked about it
Overall I thought the protein powder was very good. The Gourmet Vanilla flavor was tasty and the powder blended up easily.
I mixed mine with about 8 ounces of milk and it worked great. The shakes were smooth and went down easy. Not like Muscle Milk that's like drinking a vanilla flavored mud puddle. The ISO100 blows Muscle Milk out of the water. I know, that's not saying much.
Overall I would say that I have zero complaints about the product itself. That doesn't mean I don't have any complaints though.
What I didn't like about it
Right from the second I picked the tub off the shelf I noticed something I didn't like about it, The tub was only half full.
They had given us this big tub to make it look like we were getting a lot but only filled halfway so they could give us less but still charge more.
I actually thought about not buying it because I was insulted that the company thought I was too stupid to realize I was paying $25 for a half-full tub.
In fact, if I were at a store with a better selection than a grocery store I probably would have bought something else for that reason alone.
Either fill up the tub and charge more or make the tub smaller. I think most people are smart enough to realize this (although there are some really stupid people out there), seems like the half-full tub is a really bad idea.
The tub only had 20 servings in it and it was very noticeable how fast we ran out.
They also used artificial flavoring, I'd prefer if they didn't but I have to admit it tasted great.
Conclusion
Overall ISO100 by Dymatize is a good protein powder that tastes great, mixes well, and goes down smooth.
I only had the Gourmet Vanilla flavor. It was solid but I can't speak for any of the other flavors. I see they also have some new Fruity Pebbles cereal flavor. I have tried other cereal flavors in the past with other protein powders in the past and they weren't all that great so I would think twice before buying that flavor.
Really the only thing didn't like about ISO100 was that they tried to deceive me by selling me a tub that was half full, they figured I was too dumb to notice. As you can tell it irritated me. I would probably have given them an A for a grade if it wasn't for that.
Grade: B
See ISO100 by Dymatize on Amazon