(Last Updated On: October 18, 2021)
Many people assume they won't need a protein powder to start gaining muscle.
That is until they've spent day after day pumping iron with no results to show for it.
You can put in an endless amount of time at the gym in an effort to gain muscle, but without the necessary components, you won't have much success. Don't forget, the food and nutrients you take in can play a huge role in your physical development, including building strong muscles.
Bodybuilders recommend increasing your protein intake to carve up a huge physique. To maximize your growth potential, you'll need to supplement with protein powder. Thankfully, there are a number of brands that give you exactly what you need to push further.
In this article, we'll talk about how protein plays a vital role in the muscle-building process when to take protein powder and finish it off with a list of the best protein powders for muscle gain.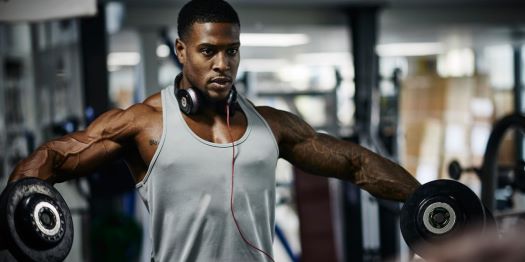 Related: 13 Best Meal Replacement Shakes for Muscle Gain, Weight Loss, Vegan and More…
Protein Builds Muscle
Looking to build huge muscles that last? You'll need plenty of calories and of course, protein. Eating more of the good stuff is encouraged, and frankly speaking, protein is one of the most delicious food types you'll ever come across.
Salmon, chicken meat, salmon, seeds and nuts are packed with nutritious protein. Problem is, you can eat these foods all day and still fall short of your protein intake goals. You will need more than just protein-packed foods, especially if you're planning to bulk up and start a heavy training workload.
This is where protein powder supplements come in. They're specially made so you can get your recommended amount in just one or two servings. More importantly, protein powders can be mixed in with water or your favorite smoothie to deliver nutrients quickly and without the need to chew.
These supplements have high counts of BCAAs, or branched-chain amino acids, necessary building blocks for muscle growth. Amino acids are also responsible for repairing damaged muscles after tearing it via intense gym sessions, making it bigger and stronger than what it was before. Moreover, they serve as fuel to stop your muscles from consuming its own when you run out of calories.
The key to muscle growth is taking both protein and supplementing with a ton of calories so you won't ever run out.
Today's protein supplements can serve a variety of purpose. If your goal is to build muscle mass, then you should look to buy protein powder that has a higher ratio of calories than fat and carbohydrates. These are sometimes labeled as "mass-gainer shakes" and are better than their standard whey protein counterparts. Moreover, they come with several kinds of proteins such as egg, casein and whey for a well-rounded approach. Calorie count should be as high as it can go so as to protect the muscles you've already built.

When To Take Protein Powder
Putting on body weight means you'll have to take in more than you're burning every day. For this purpose, muscle gain proteins have large serving sizes and are very filling, which makes them ideal partners when you're doing strength training.
It's recommended to take in protein powder after a workout because this is the time when your tired, torn and exhausted muscles need it most. Quick-digest protein forms such as whey can replenish nutrient stores before your body starts turning on itself. A whey protein shake taken 30 minutes after a session starts the recovery process by infusing cells with amino acids and turning them into new muscle.
Moreover, amino acids prevent muscle tissue from breaking down especially for individuals who have fast metabolism or those who are on a low-calorie diet. It makes total sense to drink protein shake just before you go to sleep so your body can utilize extra food stores. Casein, a slow-release protein is perfect for this. You get enhanced muscle recovery as you sleep, and wake up refreshed and ready for another training session.
Other than that, protein powder can be taken however you like. Mix them in pancake, with egg or banana for an ultra-nutritious meal. You can make a huge batch and put it in a water bottle, then sip it throughout the day.
Related: The 15 Best Creatine Supplements for Muscle Building
Best Protein Powders For Muscle Building
If you are looking to build muscle these are the best protein powders on the market to consider.
1. Mass Gainer by Transparent Labs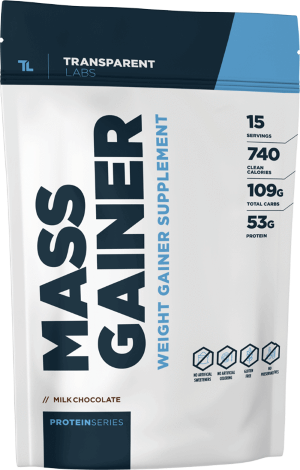 Mass Gainer by Transparent Labs is what all protein powders for muscle building should be.
Transparent Labs is a well-known supplement company that time and again produces excellent results, and the Mass Gainer is no exception. The purity of protein, added nutrients, and a reasonable price tag makes it the best protein powder for building muscle, bar none.
You won't have to buy several protein powders to get what you're looking for. ProteinSeries Mass Gainer has everything- 750 calories packed with a large 53g of protein, 109g of carbs per serving, 12g fat for serious muscle building. The whey protein is super high quality and is sourced from 100% grass-fed cows in New Zealand and they use sweet potato, oats and organic tapioca for a well-rounded approach. You also get healthy MCTs and coconut milk powder for added strength and definition. On top of that this bad boy also uses creatine monohydrate, which is one of our favorite muscle and strength building supplements.
Another reason why Mass Gainer tops the list is that it's the only one that has zero artificial coloring, flavoring, additives and sweeteners. You get a natural, pleasant-tasting protein shake courtesy of the product's monk fruit, stevia and coconut powder. The clean ingredients make it the go-to protein supplement for everyone who doesn't want GMOs in their diet. Moreover, each package has passed stringent lab tests and are made in a cGMP-certified facility for maximum potency and efficacy. Not only does this product help you build lean muscle but it is also super high quality as well.
You can choose from two flavors- Chocolate and Cookies & Cream, and both taste great. Mass Gainer should be your choice, whether you're just starting out or if you're looking for a replacement to your old protein powder. The price tag is the icing on the cake, not too expensive for and the value is exceptional for a product this good.
You can also save money when you buy in bulk with this product. Buy 2 bags and you get $10 off, buy 3 bags and get $25 off.
On top of that, they have a coupon code that can get you extra savings. Use coupon code TL10 and get 10% off of your order.
Pros
Coupon code TL10 saves you 10%
You can save when buying in bulk
Pure protein source from 100% grass-fed cows
Excellent mix of protein, carbs and calories
Uses creatine monohydrate, one of our favorite muscle building supplements
Superb value for money
Zero artificial ingredients, fillers and additives
Cons
Expensive
Only available on the manufacturer's website
Website: transparentlabs.com
2. True-Mass by BSN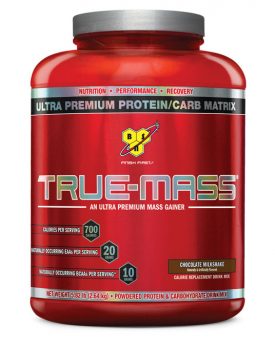 True-Mass Ultra-Premium Mass Gainer is a protein product by BSN, a respectable name in the protein powder business. The carb and protein matrix makes growing lean mass easy, all while supporting muscle growth and recovery for athletes, bodybuilders and weight lifters alike. The formula suits those who need an excess of calories they can depend on. Tru-Mass has a 2 to 1 ratio of muscle-building protein at 50g and 90g of carbs in a 700 calorie package. There's also 6g of dietary fiber and MCTs to round up the nutritional value.
BSN, the manufacturer recommends taking Tru-Mass in-between meals, before going to bed and as a post-workout routine for the best results. The wealth of amino acids serve to replenish cell fuel and allow your muscles to recover at a faster rate than normal.
If you're worried about the taste, then BSN assures you that their products are more "mouth-watering" than the others. The protein material is made up of Syntha-6 and Syntha-6 isolate, both proprietary compounds that contain a small number of carbs and fats.
700 calories per serving is a lot to take in, and you'll find yourself prone to skipping meals when you're feeling full. BSN offers their protein powders in Chocolate, Strawberry, Cookies & Cream and Vanilla and in only one size (5.82 lbs).
Pros
Adds weight
Good formula ratio in protein, carbs and calories
6 Grams of fiber per serving
Cons
Not as high quality
Bloating and fat gain
Fewer amino acids
See this product on Amazon
3. Mass-Tech Extreme 2000 by MuscleTech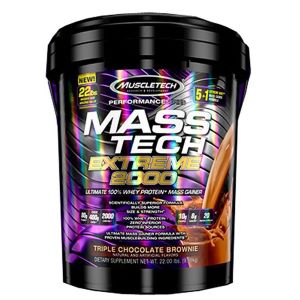 Mass-Tech Extreme 2000 sounds more like a killer robot than a protein powder supplement, but once you get past that you'll find a good product that could replace the one you have now. It's billed as the "Ultimate Whey Protein & Weight Gainer", with 80g of protein, 10g of creatine and more than a dozen vitamins and minerals.
Researchers at MuscleTech have come up with a 5-in-1 formula designed to provide extreme amounts of mass in as little time as possible. It comes in two flavors- Vanilla Milkshake and Triple Chocolate Brownie and boasts best-in-class taste. The manufacturer claims that the whey protein used in the Mass-Tech 2000 has been filtered using a multi-phase technology. Each bottle comes out verified and lab-tested for consistency, quality, and purity.
The reason why you're getting more per serving is due to the fact that serving size is about double or triple than that of normal powders. This turns each session into a chug-a-thon that can prove to be inconvenient, especially if you intend to drink protein on the go. Excess calories can be a downer as you might be too full to enjoy a proper meal.
The price is pretty steep on this product as well at $99.99 per tub and that's not even the worst part. Each tub contains only 6 servings. That breaks down to a mindblowing $16.66 per serving. Overall it's a pretty good product but the price tag is a bit ridiculous.
Pros
High nutritive content
Loaded with protein and creatine
Cons
Excessive serving size
Both flavors take a while to get used to
Costs $99.99 for a tub that contains only 6 servings
See this product on Amazon
4. Gold Standard Gainer by Optimum Nutrition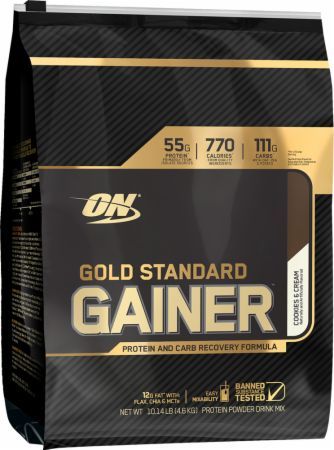 Gold Standard Gainer by Optimum Nutrition is the company's solution for those who want to gain muscle fast. It comes in four flavors- Colossal Chocolate, Cinnamon Bun, Vanilla Ice Cream and Cookies & Cream and in either 5 or 10 lb. variant. Each serving provides 112g of carbs, 760 calories and 55g of essential muscle-building protein.
A closer look reveals that Optimum Nutrition has employed various protein and carb sources for their powder, including dairy, potato, pea and oats and MCTs, flax and chia seeds. This can be a double-edged sword for some who don't like taking extra ingredients in their protein supplements. The company has also made it easy for people to mix the powder easily in a shaker cup. Users can take it post-workout, between meals or when they need a calorie boost in their daily regimen.
Now, let's check out if the Gold Standard is really what it says. Protein to carb ratio is quite good, but there's still room for improvement. The flavor may take some time getting used to, and the effects take longer than our recommended protein supplement. In terms of being good value for money, it's rather expensive and difficult to sustain, especially if you're on a budget.
Pros
Good protein to carb ratio
Has four flavors to choose from
Cons
Expensive
Contains dairy, soy and wheat
See this product on Amazon
Related: Best Mass Gainers for Muscle Building, Vegans, on a Budget and more…
5. Real Gains by Universal Nutrition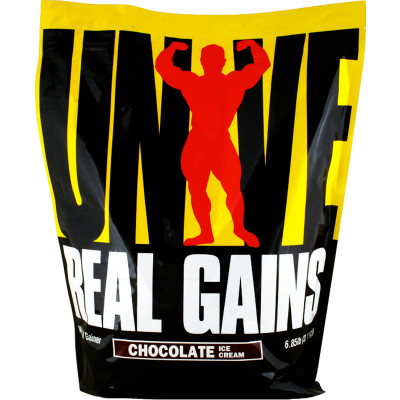 Real Gains by Universal Nutrition comes in a tub measuring 3.8 lbs, or 1.73 kg. At its core, Real Gains is a weight gainer product that uses a mix of casein and whey protein as its main ingredient. Complex carbs, essential amino acids, flaxseed powder and inulin are included as well. Users can get 600-plus calories per serving to build up on fuel reserves.
Other ingredients include Phosphorus, Iron, Vitamins A and C, Calcium, Potassium, Manganese, Magnesium, Iodine, Riboflavin and Dietary Fiber.
Universal Nutrition's Real Gains promises quality protein sources for clean results. The weight gainer product offers both fast and slow-release protein via the whey and micellar casein combined with hefty calorie intake. Healthy fats are in the form of inulin, EFAs and MCTs. Each serving size is on a 3.5 scoop basis, with each bottle giving about 11 servings total.
What looks good on paper may not translate well in the real world. Real Gains has a few serious flaws that bump it to the number 5 spot. For instance, the chocolate ice cream flavor is artificial and may prove to be a dealbreaker for those who want only organic compounds. The product's protein source is good, but there are others that offer better. Last but not least, it's more expensive and only has 11 servings per bottle.
Pros
Has both micellar casein and whey protein
Good taste
Cons
Has artificial ingredients
Very high cost per serving
See it on Amazon
Conclusion
We pick Mass Gainer by Transparent Labs as the best protein powder because of overwhelming reasons. It's simply the best out of the lot and has a clean formula with zero artificial compounds. To say that Mass Gainer works will be an understatement. It will work and even exceed expectations when you want outstanding muscle gain quickly and in as little time as possible.