(Last Updated On: March 24, 2022)
Mass gainers are a key component in training for more muscle mass. You can experience favorable results sooner as long as you know how to get the most out of them.
In terms of product selection, there are mass gainers that offer exceptional gains, and there are others that are just 'meh'. Consider our recommendations as you shop for the best weight gainers available right now.
Best Mass Gainers: Quick List:
See below for details about each.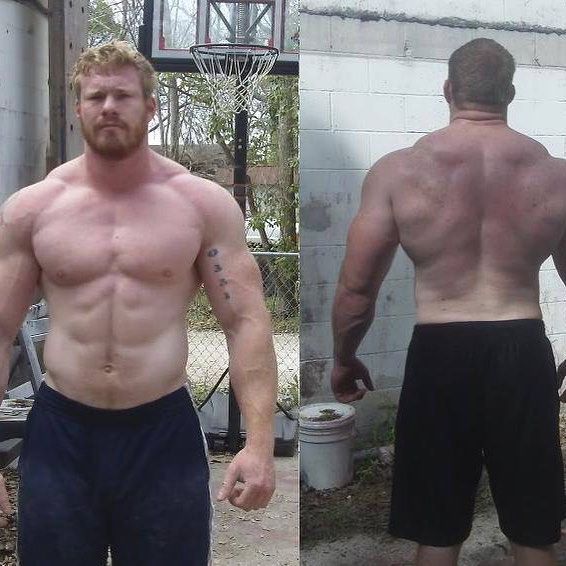 10 Best Mass Gainers on the Market Today
These are the 10 best mass gainers you can buy. No matter what kind of mass gainer you are looking for you will find it here.
Best Mass Gainer Overall
Mass Gainer by Transparent Labs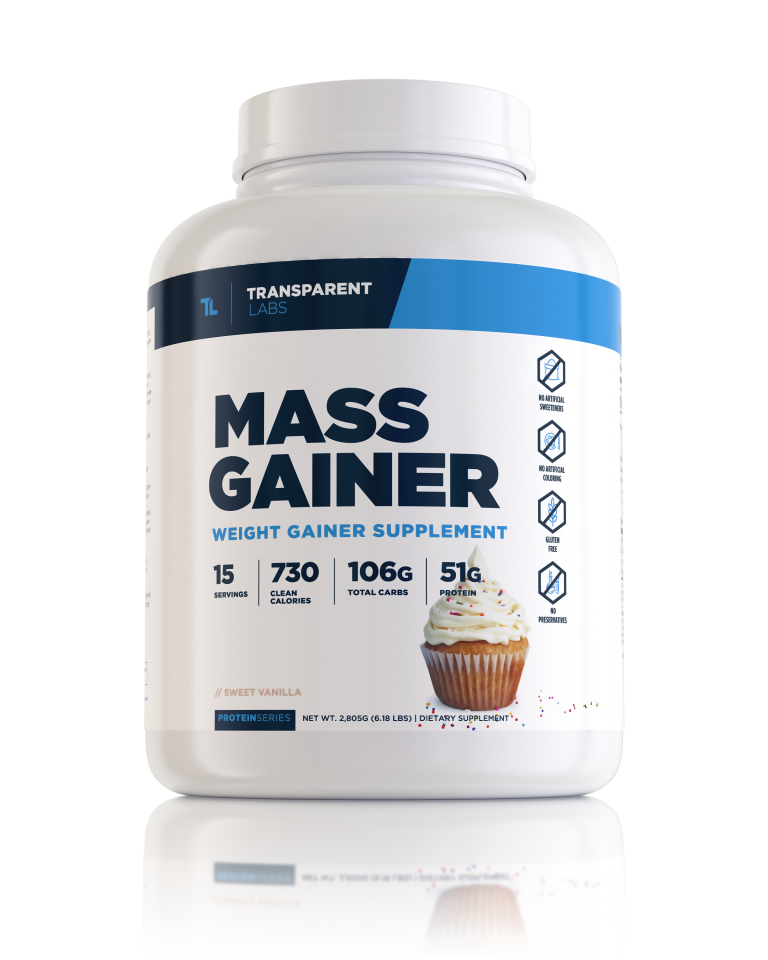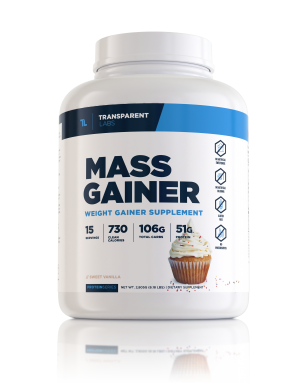 We love how Transparent Labs makes its mass gainer just the way we like it- with an eye towards the best ingredients, having the right protein to carb ratio and packing the most nutrients in every serving!
Add to the fact that ProteinSeries has a fully transparent label makes it the best mass gainer in our opinion. If you don't want to experiment with different kinds and are looking for the best product to try, here's our recommendation.
For every serving of Mass Gainer, you get a substantial 750 calories and 53g of protein, as well as 109g of carbs from effective sources. That's a 53/12/109 gram ratio in terms of protein/fat/carbs on grass-fed whey protein and sweet potato, oat and tapioca ingredients. Along the way, Transparent Labs puts in just the right amounts of MCTs and coconut milk powder, Creatine Monohydrate (for that explosive power while working out) and dietary fiber. Keep in mind that there are zero additives, food dyes and artificial sweeteners- it's absolutely clean in every sense of the word.
We recommend using milk instead of water to really maximize the effectiveness of mass gainers. You can choose from one, two or three tubs and flavors that range from Cookies N Cream and Sweet Vanilla.
This mass gainer is above average in price but you can save money when you buy multiple tubs and you can also save 10% at checkout when you use coupon code TL10.
Pros
The best mass gainer from a trusted brand
Pure, grass-fed whey protein at 53g
Excellent complimentary nutrients
Coupon code TL10 save 10% at checkout
Cons
Cookies N Cream not gluten-free
Only available at the manufacturer's website
Available at: TransparentLabs.com
Best Mass Gainer on a Budget
Mass Gainer by Crazy Nutrition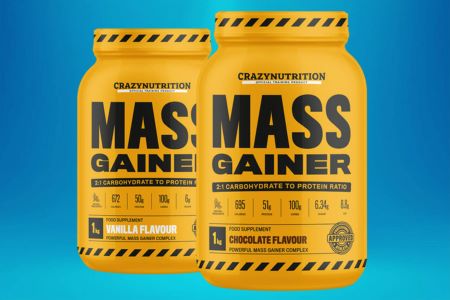 We were pleasantly surprised at how Crazy Nutrition kept its mass gainer accessible to anyone looking to gain weight. Even more surprising was the fact that Mass Gainer can compete and outperform other products at a fraction of the cost.
Mass Gainer provides 390 calories, 50 grams of protein, and 100g of carbs for each serving. Its top-notch sources come from whey protein, sweet potato, and flaxseed. Crazy Nutrition even added creatine monohydrate, which we love for muscle and strength building. On top of that, there are even added digestive enzymes to fight against bloating.
The flavor of Mass Gainer is something to write home about. Although it comes in only two options (Vanilla and Chocolate), the taste is nothing like a protein or meal replacement shake. Mass Gainer is also all-natural and gluten-free.
Mass Gainer is easily the least expensive product on the list and comes with free shipping if you spend over $50. They also reduce the price when you buy multiple tubs so you can save that way as well.
It isn't quite the quality of our top selection, but your wallet won't mind.
Pros
Easy to digest, no bloating
Vanilla and Chocolate taste great
Uses creatine monohydrate
Buying multiple tubs lowers the price even more
Free shipping on orders over $50
Cost-effective, and it works
Cons
Only available at the manufacturer's website
Available at CrazyNutrition.com
Related: Best Protein Bars for Building Muscle, on Amazon, Low Carb and more
Best High Carb Mass Gainer
Beast Mass by Beast Sports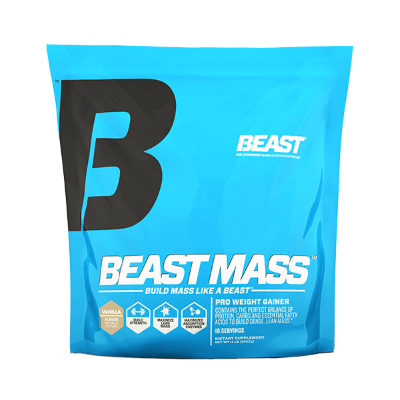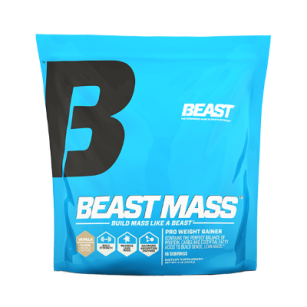 Having an excess of carbs can be a good thing if you know what to do with it. For those who want the absolute max fuel for their workouts, we'd wholly recommend Beast Sports' Beast Mass.
Two details immediately stuck out when we looked at the label- a whopping 263 grams of carbs and an equally monstrous 1,276 of calories! It's a meal replacement in every sense of the word, and a legitimate contender for most foods you eat come mealtime. Beast Mass isn't just about the carbs and calories, though- you get a smattering of nutrients to help you achieve the body you want.
The pro weight gainer touts essential fatty acids and protein to promote lean muscle gains. There's 55g of protein in each serving from 5 different kinds, EFAs and clean carbs. Beast Sports has even added a digestive enzyme so you can convert and make the most of the nutrients you take in.
Every purchase of Beast Mass comes with a 60-day money-back guarantee, fast shipping and the 'made in the US' label. Each packet is made in a GMP-certified facility for purity and quality. As for the flavors, you get the usual Vanilla and Chocolate, both of which taste good enough for the palate.
Pros
1,300 calories and 260 grams of carb
Has digestive enzymes so you can absorb the nutrients better
Shipping is faster than the others
Cons
Not keto-friendly
Not always in stock
Best Mass Gainer for Building Lean Muscle
Mass Gainer by Transparent Labs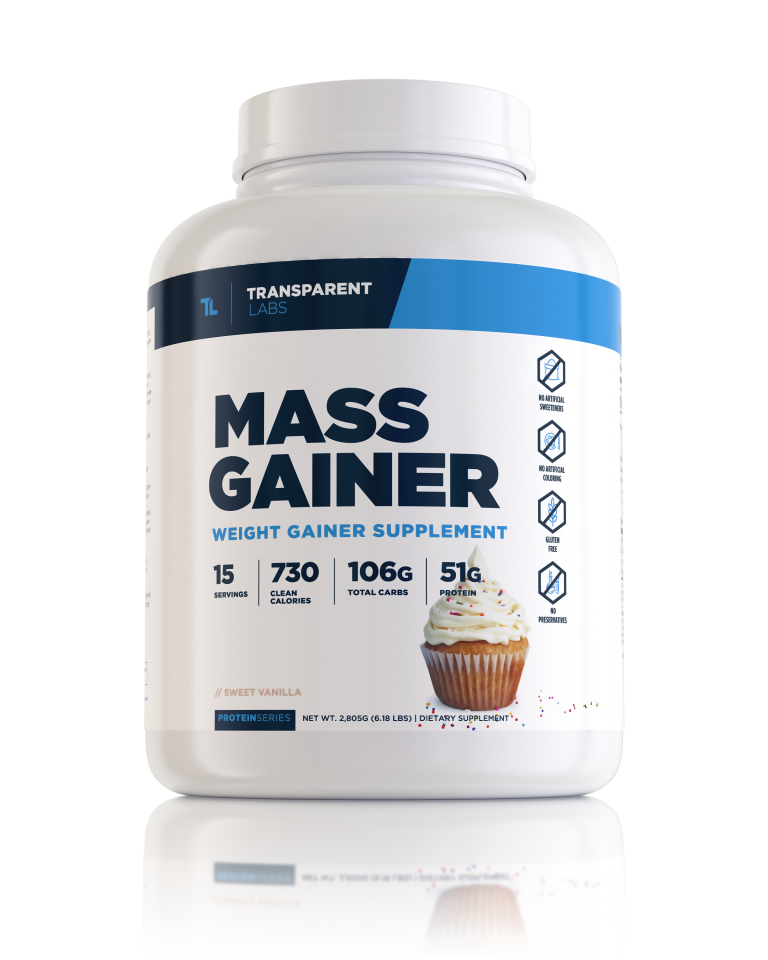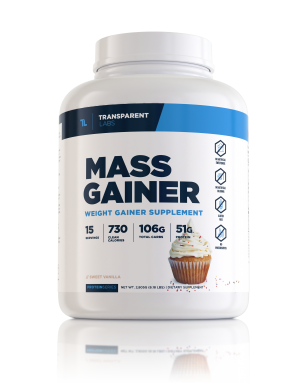 Mass Gainer earns the top spot in our 'best mass gainers' list because it offers something so much more than your typical mass gainer product. It's also the best for those who are looking to pack on lean muscle and gain significant size over a short span of time.
We all know that to build lean muscle effectively, you'll need high-quality protein and lots of it. Mass Gainer by Transparent Labs ticks that box by putting in 100% grass-fed whey concentrate that's free of hormones and steroids. This, plus 740 calories means you won't stand to lose muscle through caloric deficit or thru protein in your diet. As an added bonus, we recommend you use milk as the liquid medium for more calories and faster results.
The ProteinSeries label may be too simple for some, but that's its strength. This only means that you're getting the purest ingredients and nutrients without having to deal with undisclosed components hidden under 'proprietary' tags and artificial fillers. It's also one of the few that has Creatine Monohydrate, which acts as an energy booster for when you're converting bulk to lean muscle in the gym.
Pros
Has Creatine Monohydrate for boosting gym performance
Simple yet clean and pure ingredients
55g of grass-fed whey concentrate
Cons
Doesn't ship to some countries
Available at: TransparentLabs.com
Related: Best Meal Replacement Shakes for Muscle Building, Weight Loss and More…
Best Vegan Mass Gainer
Vegan Naked Mass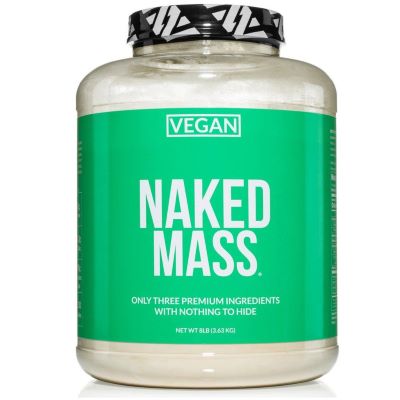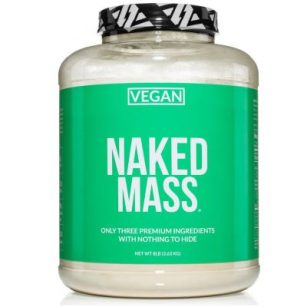 Vegan Naked Mass caught our attention early on and ultimately became the best mass gainer for vegans for several reasons. The first one was a nice combination of two plant-based proteins. Secondly, the inclusion of organic maltodextrin to provide an explosive anaerobic power during exercise.
It's a solid choice for the 'hard gainers', or those who struggle to put on weight because each serving packs a wallop- 1,250 calories and 250 grams of carbs, which makes bulking up significantly easier.
The core ingredients are organic maltodextrin, pea protein and rice protein, with essential amino acids thrown into the mix. We like the fact that Naked Nutrition observes sustainable practices and puts in enough complex carbs and macronutrients to promote lean muscle growth and development. Not a lot of vegan mass gainers can successfully claim these benefits, and this seals the deal in our books.
It's worthy to note that the maltodextrin is sourced from tapioca, which is gluten-free and gives it that naturally sweet taste. The peas are sourced from Canada and the US, and are free from GMO components. You can also choose from natural, chocolate or vanilla in terms of flavor.
Pros
Truly vegan and free of animal-based proteins
Organic maltodextrin is an excellent addition
Substantial numbers in the protein and caloric department
Cons
Costs a bit more than the non-vegan varieties
Available at NakedNutrition.com
Best Tasting Mass Gainer
Authentic Mass by Jacked Factory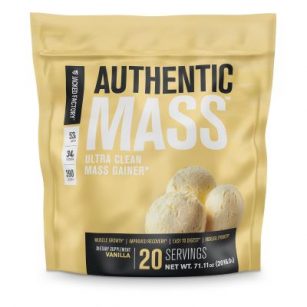 Taste could be a dealbreaker depending on your preference in weight gain powders. We truly understand this- it won't help if the mass gainer tastes like chalk and your mouth tries to reject the stuff every time you drink. That's why we dedicate a whole category to the 'best tasting mass gainer' you can buy right now, which is Authentic Mass by Jacked Factory.
Authentic Mass may only come in two flavors, Chocolate or Vanilla, but we absolutely assure you that these will be the two most delicious drinks you've ever come across!
Adding milk can give you that depth, while ice-cold water is just as good. The upside is that milk can give you extra calories for when you need to overcome a deficit. What we love about the product is that there are no artificial fillers and sugars involved- there's just sweet potato powder and tapioca maltodextrin to give it just the right amount of sweetness. Oh, and the label is fully transparent and there are no hidden ingredients too.
On the nutrients side, you get 53g of carbs, the usual MCTs and digestive enzymes to ensure your body can utilize what you're taking in. Calories round out at 390 (which is a bit low), but then you'd be using that as an excuse to add an extra scoop of delicious goodness.
Pros
Best-tasting mass gainer in the market
No added sugars or artificial sources
Has digestive enzymes for better absorption
Cons
Available at JackedFactory.com
Best With Nothing Artificial
Naked Mass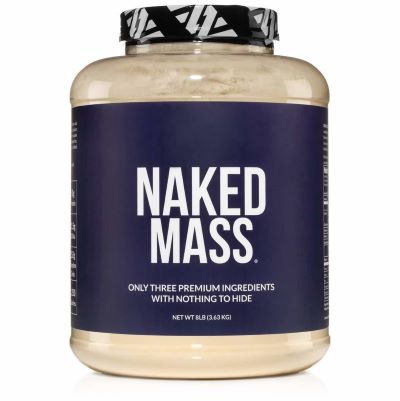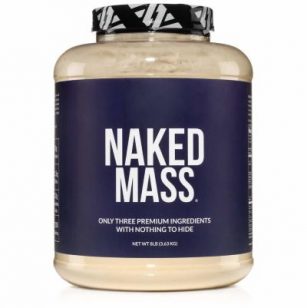 Naked Mass is exactly what it says, with the label showing only three main ingredients and 'nothing to hide'. After trying it out, we say the claims are true and you have nothing to worry about when it comes to additives, fillers and whatnot.
So, what are these three things that make up Naked Mass? It's casein, whey and maltodextrin, a blend of both slow and fast absorbed proteins and complex carbs. We like how Naked Nutrition didn't put all the proteins in a single category- slow and quick is the best, especially when you want to be sustained throughout the day with protein (and calories).
The total protein is 50g and 1,250 calories per serving, which should be enough to put on mass if you do it consistently. As for the flavors, you get the usual Vanilla, Chocolate and Unflavored variants depending on your preference.
Of course, with a zero artificial product, it has to be GMO, gluten and soy-free, which is exactly what Naked Mass does. You also get a smattering of essential vitamins and minerals, including magnesium, phosphorus, calcium and vitamin A, among others.
Naked Nutrition has some pretty good deals for its product, with savings options and installments available for those who need it. For instance, you can subscribe and save 8%, or get a packet and pay for it in four installments.
Pros
No artificial flavors, palm oil, xanthan gum, etc.
Made by a reputable brand
Has a mix of both slow and fast absorbed proteins
Cons
Not for the lactose intolerant
High cost per serving
Available at NakedNutrition.com
Best High-Quality Mass Gainer
Mass Jym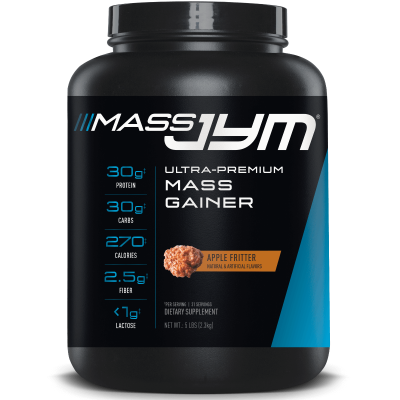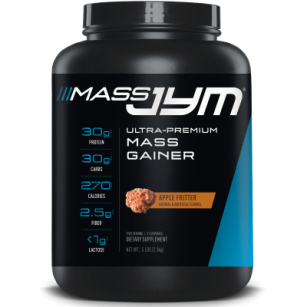 Mass Jym is quality through and through, with a superb protein blend leading the pack quickly followed by a carb blend and a great supporting cast of fatty acids.
It's easy to see that Mass Jym pays special attention to detail, with not just one but three blends for its macronutrients. First, there's the protein blend which consists of slow- and fast-digesting proteins in the form of casein (from milk protein isolate and micellar protein), whey protein from whey isolate and egg white protein. All of them combine for a complex protein chain at 30 grams per serving.
Let's move on to the carbs blend. The 30 grams contains high glycemic and low glycemic content at a 1:1 ratio for lean muscle development, made from oat fiber, isomaltulose and pea starch to round out the details. There's also a 5g fat blend, including CLA and both saturated and unsaturated fat.
Very few other mass gainer products offer this kind of quality, and for this reason, Mass Jym is undisputed in the 'best high quality' department. Oh, and before we forget, it boasts some of the most interesting flavors too, with Apple Fritter, Tahitian Vanilla Bean and Chocolate Mousse all having great profiles.
Pros
Multiple, high-quality protein sources of both slow- and fast-absorbing variety
Interesting flavors
Equal parts carbs and protein
Lower cost per serving
Cons
Uses artificial flavoring
Best Mass Gainer on Amazon
Optimum Nutrition Serious Mass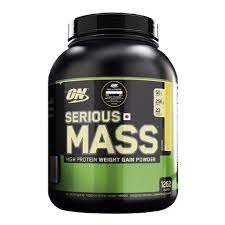 Love shopping on Amazon and getting your mass gainer there? We respect that. Aside from exclusive discounts, Amazon Prime customers can get theirs sooner with faster shipping. As long as you're on the platform, we recommend picking up Serious Mass from Optimum Nutrition.
Why Serious Mass, though? Its numbers speak volumes when it comes to adding much-needed weight. Each serving contains 250-plus carbohydrates, 50g of protein and 1,250 calories. It's a good option for when you need an in-between or post-workout shake and to avoid getting caloric deficiency.
Serious Mass has a plethora of supporting nutrients as well, with 3g of creatine monohydrate and 25 essential vitamins and minerals for overall health.
Customer reviews are mostly positive, which means Optimum Nutrition is doing something right with its product. Most of the complaints are about the taste, but it's cost-friendly and priced much lower than premium mass gainers.
Flavor-wise, you can choose from Chocolate, Chocolate Peanut Butter, Vanilla and Strawberry. You can also pick the size- either 6 lbs. or 12 lbs., but we recommend the smaller pack if you're just starting it out.
Pros
Available on Amazon
Good value for money
Lots of carbs and calories
Cons
Maybe too many carbs
Too sugary for some
Best Oat-Based Mass Gainer
Muscle Feast Whole Oat Powder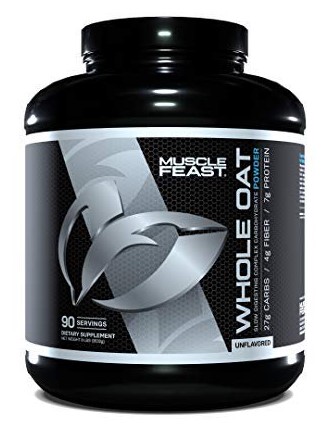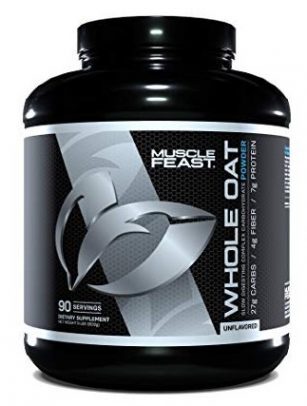 Oat-based mass gainers have a lot going for them, but Muscle Feast has somehow elevated it to a higher level. The clear winner is the healthy carbs from the oats, which make you feel fuller for longer and allow you to work out without feeling tired or sluggish.
Muscle Feast's product is certified vegan by the American Vegetarian Association and gluten-free by the Gluten-Free Organization. It's pure, clean and 100% natural, with the oats sourced from whole products and contains zero additives and GMOs.
Oats are good for those who don't want blood sugar spikes, either for their health condition or for experiencing highs and lows during training. Slow digesting complex carbs round out at 27g and come from North America.
Calories per serving are 142, while protein is only at 7 grams. You'll probably need to supplement with extra protein from grass-fed and natural sources to really get that lean muscle mass, but you might have a different goal that doesn't need an addition.
At the end of the day, you're getting high-quality, oat-based complex carbs that can supplement your lifestyle or training goals. If this is the case, make no other purchase but Whole Oat Powder Nutrition!
Pros
Made from 100% natural, non-GMO and vegan whole oat powder
Mixes easily and can be used for baking
Ships nearly worldwide
Cons
Low in the caloric and protein department
How We Decided
Price or Cost Per Serving
The process of gaining mass doesn't necessarily happen overnight, or for a few weeks either. That said, investing in a mass gainer is somewhat a long-term commitment since you'll want to take it consistently.
This brings us to the point of cost per serving, or the price. We do not recommend using mass gainers as meal replacements because they're meant to supplement your caloric, carb and protein intake. This means you'll be spending extra money, which is actually okay if you have a mass gainer that works for you.
Paying too much is not an option for most of us, so we cut out mass gainers that are expensive and those that are overpriced.
Protein to Carb Ratio
Protein and carbs go hand in hand as they're two of the three macronutrients you should be counting every day.
The ideal ratio of protein to carb is somewhere around 1:2, which means if a mass gainer product has 50g of protein it has to have 100g of carbs for the best effect. You'll need protein to convert all that mass to muscle and carb for the fuel you'll need to turn it that way (via workouts, training and exercise).
The ratio can be a bit skewed depending on your personal nutritional needs, but for building lean muscle we recommend the 1:2 ratio.
Nutrients
The 3 major nutrients we looked at are protein, carbohydrates and calories, all of which are essential in gaining weight and packing on muscle.
It should go without saying that these three should come from high-quality and clean sources. Digestive enzymes that help absorb them are a welcome plus, as are amino acids and MCT.
Generally speaking, the more nutrients packed per serving the better. However, it has to come from clean sources, and it has to have zero fillers.
Manufacturer Reputation
This is pretty straightforward. We look at mass gainers from brands such as Transparent Labs, Naked Nutrition, Muscle Feast, Jacked Factory and Beast Sports and favor them above no-names because they have established themselves as leaders in the world of sports and bodybuilding nutritional products.
How to Get the Most Out of Your Mass Gainer
Count Your Calories
It's not enough to chalk up your calorie count as a 'crap ton' because then you'd be committing a cardinal sin.
If you're really serious about mass gain, then you better brush up on your math and start counting your calories in a day-to-day manner. This prevents caloric deficits and puts you on a nice path to building the body you want.
Watch Your Micronutrients
The good thing about mass gainers is that they tell you exactly how much macronutrients you're getting per serving. However, you shouldn't let it be the end-all as you'll need to watch your micronutrients as well.
Vitamins, amino acids and all those goodies round up your bulking phase and can mean the difference between getting the results you want and failing spectacularly. In this case, actively seek essential micronutrients in real food, aka your breakfast, lunch and dinner.
Get Plenty of Rest
Rest is actually an important element in building mass. It serves as the springboard for accumulating protein and letting our muscles repair themselves after training or exercise.
It's not recommended to work out each day and push as if it's your last. Get some rest time in and let your body and muscles breathe. It's during this period that your body builds lean muscle, not when you're breaking it with movement.
Train for Gains
Also, don't just do mindless training. Do it smart- more compound lifts and less cardio equals more impressive gains. Follow all these steps and you'll be huge in no time!
Conclusion
That's it for the best mass gainers. You can't go wrong with Mass Gainer by Transparent Labs as it's the most balanced and one of the cleanest products available right now. The fact that it has the right ratio of protein to carbs cements our conviction. For filling in a more specific niche or need, check out the rest of our best weight gainers.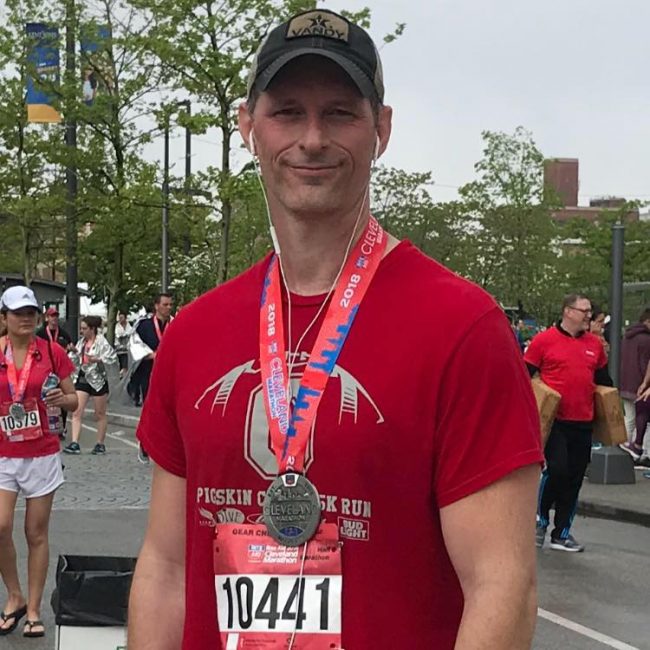 Ryan is a former college wrestler and lifelong fitness fanatic. He has run half marathons, done mud runs, placed in body transformation contests, coached wrestling and now coaches girls soccer. Not to mention he has also tried literally hundreds of supplements over the years and has a vast and thorough supplement knowledge. He has written for Muscle & Strength, Testosterone Junkie, The Sport Review and other publications. He is also the editor in chief of this website. Feel free connect with him on his LinkedIn page below.