(Last Updated On: April 24, 2022)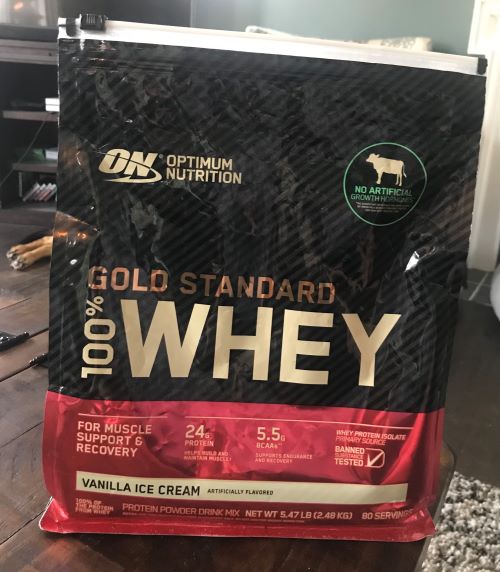 If you've been in the weight-lifting and bodybuilding world, whey products are the name of the game when it comes to fueling your body with as much protein as possible between gym sessions.
And of those different products, one of the most well-known and highly acclaimed options is none other than Optimum Nutrition Gold Standard. Considered a top-seller on most platforms where whey is available (like Amazon and Bodybuilding.com), Optimum Nutrition whey has made a point of being, for many people, their go-to protein powder even despite the considerable number of different available shakes and brands available.
Yes, with rare exceptions, if you're thinking of a high-quality protein powder, most would suggest Optimum Nutrition.
But is that accurate?
In this review, we're going to take a serious look at what's in Optimum Nutrition Gold Standard whey protein powder and see if it's deserving of all the hubbub surrounding it.
By the end of this review, you'll know if the Gold Standard is the gold standard, or if Optimum Nutrition is only good at advertising and marketing themselves to the public.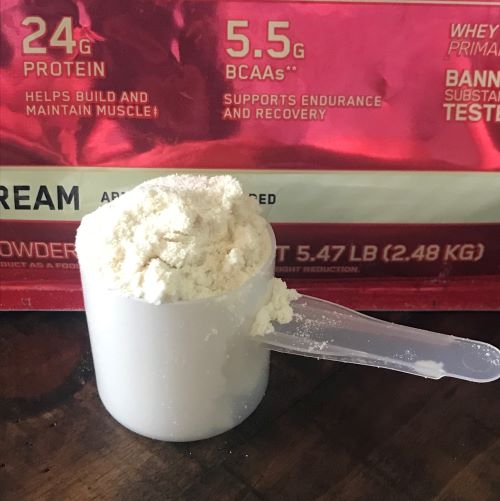 What's Inside The Product
First up, let's take a look and see what's in this thing. The sad reality is that companies often market themselves off as being incredibly useful whey powders only to be loaded with a ton of sugar and artificial chemicals. And while it's easy to assume that isn't the case for Optimum Nutrition (ON), it's very important to do the due diligence.
One thing worth noting is that when compared with most whey products out there (and many non-whey products) ON's Gold Standard has much of what it's offering going to all the right places, with very little going anywhere else. The powder includes:
Between 21 – 24gs of Protein
Around 3gs of Carbohydrates
1g of Sugar and Fat
In addition, as it pertains to its ingredients list, ON includes:
Aminogen
Whey Protein Blend (Isolate, Concentrate, & Peptides)
Lecithin
Lactase
Acesulfame Potassium
Whey Protein Isolate vs. Concentrate vs. Peptides – Which Is Best?
One thing you may have noticed with ON's Gold Standard is that, rather than just having a single type of whey protein (like many other powders out there) available, they are using all three. This is interesting since, as mentioned, most other brands tend to stick with one over the other. Each type of whey protein has its specific pros and cons. As such, knowing how the three operate can give you a better understanding of why you'd pick one over the other, as well as why ON decided to capitalize on all three instead of just choosing one.
Whey Protein Isolate is known for having the highest percentage of protein in the group. The problem, however, often comes in the process used to make it, as it often reduces much of the other beneficial ingredients in whey, such as whey peptides, which are known to improve health and overall immunity.
Whey Protein Concentrate is considered the cheapest of the three due to it having the lowest amounts of available protein when consumed. Conversely, it also has the most amount of fat, beating out both whey peptides and whey protein isolate. This isn't necessarily a bad thing, as there is also a high amount of conjugated linoleic acid (CLA) which is known for burning fat in the body.
Whey Protein Peptides are more of the "middle man" of the three, having more protein than concentrate yet less than whey protein isolate. It is also regarded as the most expensive of the three as, despite not having the most available protein per serving, the protein it does have can be absorbed into the body much faster than either of the other two options.
As you can see, each of the whey proteins options has its advantages and disadvantages. Generally, if you're specifically trying to lose some weight, you'll want to focus on concentrate. On the other hand, if you're looking to build up your lean muscle mass and see real gains while bodybuilding, investing in whey peptides and isolates is your best bet.
By Gold Standard taking all three blends and combining them into one protein powder, you get all of the benefits of each, while simultaneously ignoring much of their respective weaknesses. In truth, it's an incredibly smart tactic that most other brands should seriously consider.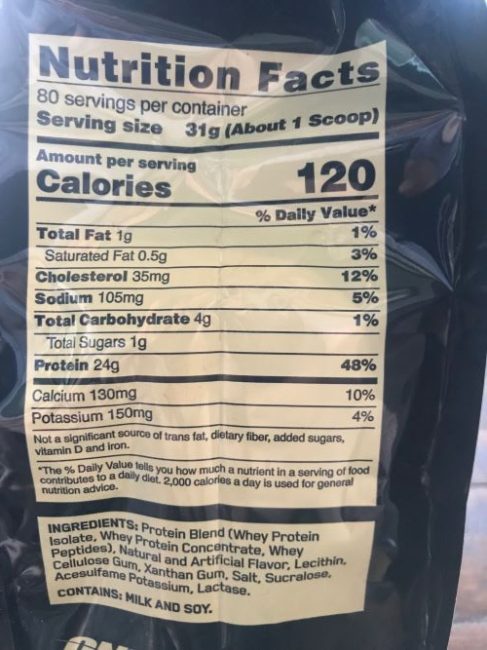 What Else Is In It?
In addition to the whey protein blend, there are several other ingredients. While many of them are certainly good, some are considerably less than good.
Aminogen
Regarded as an enzyme blend, aminogen is used to help with protein digestion and gas reduction. This is especially useful, as many powders are known for giving regular consumers "protein farts", which can be embarrassing.
Lecithin
Lecithin has always been known as a method for improving the mixing process when blending different ingredients. It is a very useful and natural emulsifier that is produced both in plants as well as animals.
Lactase
Lactase is a specific agent which works to make the consumption and digestion of lactose easier.
Acesulfame Potassium
A chemical sweetener that is found in over 4,000 different foods and beverages around the world, acesulfame potassium is a sugar alternative that is very, very sweet, carrying roughly 200 times the sweetness of regular table sugar per serving.
While it does not contribute to any calories when consumed, it is technically considered an artificial sweetener. There is still a lot of research being done on acesulfame potassium and exactly whether it's still safe or not, with just as many people for it as there are against it. If you're someone that wants as few artificial ingredients in your supplement as possible, you must be aware of its inclusion here, regardless of the amount.
How Does It Taste?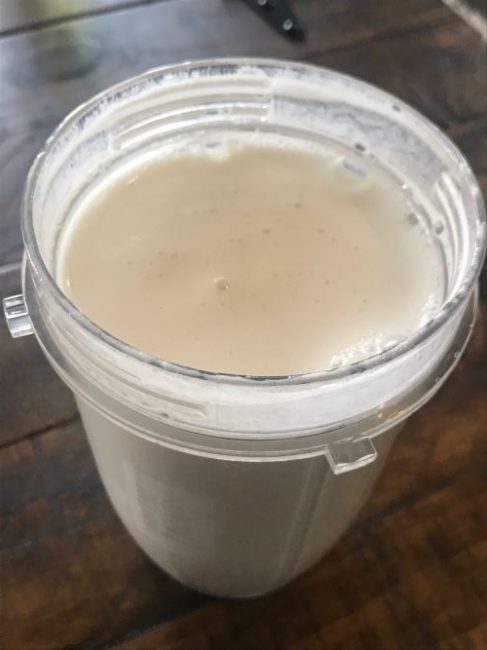 If you're someone that tends to be a bit wary when it comes to whey protein powders due to their taste (or lack thereof), I've got some good news for you. ON's Gold Standard doesn't only come with a flavored option, it comes with 20.
In addition, if you're a fan of chocolate, you're in for an even bigger treat, as, of their 20 flavors, seven of them are specifically related to chocolate or have chocolate as the main flavor ingredient.
As far as the taste itself, because there's such a huge variety, it's hard to classify every single flavor. Generally, all the ones I tried (the standard Vanilla Ice Cream, Cake Donut, and Double Rich Chocolate flavor) were good and tasty without quite tipping over into the sickly sweet category or to the point where I'd get tired of drinking them for my workout. Still, outside of the Vanilla Ice Cream default option, I could imagine you'd want to switch things up from time to time, which could get expensive based on the number of tubs you'd want.
Artificial Flavorings
I also have to mention that, depending on the flavor you get, you're pretty much guaranteed to have some "natural and artificial flavors" in your powder. Since it's impossible to know how much is "natural" and how much is artificial, I pretty much just consider it all artificial (literally 1% could be natural and it could have that label).
Again, while I'm not saying this as an outright stinging indictment on the product itself, if you're looking for something super clean and transparent, between this and the acesulfame potassium, you'll want to consider that before jumping into it.
How Much Does It Cost?
ON's Gold Standard has several different tub options to choose from, generally ranging between two pounds and five pounds. If you get the larger five-pound serving, you're getting around 73 servings per container at a price of just under $60. When you break it down, that means you're spending around 79 cents per serving. If compared with most other products on the market, that's kind of insane when you think about it. Even the more standard two-pound option has a $1.03 per serving price point, which is still below even the most reasonable of powders out there.
They also have giant pouches at Costco which is where I the Vanilla Ice Cream flavor. The pouch has 80 servings and cost me $50. It is currently listed on their website for $62.99 though. Their website also states "Item may be available in your local warehouse for a lower, non-delivered price". Translation: It's cheaper to go to Costco and buy it rather than buying it from them online. Either way, it's a great price.
Put simply, from a price perspective, you're practically buying this stuff for free.
The Final Verdict – Should You Buy It?
Ok, so when it comes to Optimum Nutrition Gold Standard, I can say that it passes, but only for the person out there that doesn't mind a "bit" of dirt in their sundae. If you can get over the artificial sweeteners and flavorings and enjoy what ON's product has to offer, this is a pretty dependable, inexpensive, reliable, and very tasty whey protein powder that can help build lean muscle mass.
If, on the other hand, you're someone that wants a clean option with no junk, no extra sweeteners, and no "artificial" added to their product, I can't necessarily recommend this in good conscience.
All in all, while ON's Gold Standard is certainly good when compared to many of its competitors, I don't think it "quite" lives up to its namesake.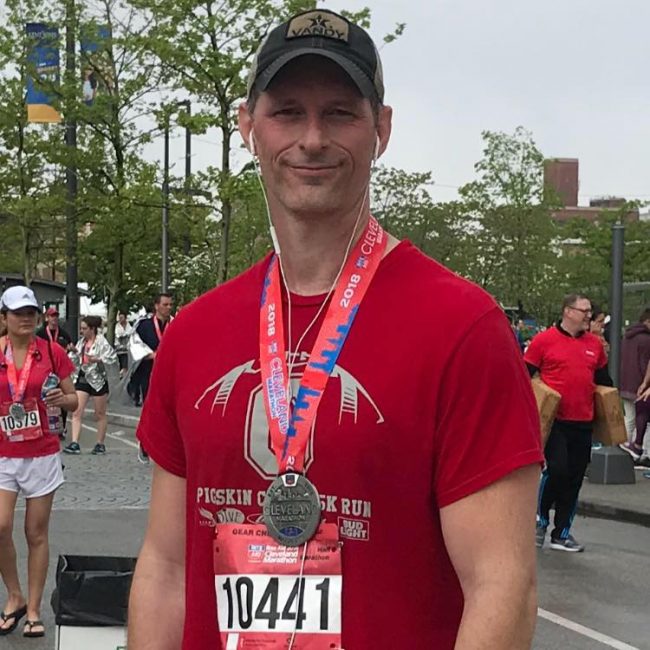 Ryan is a former college wrestler and lifelong fitness fanatic. He has run half marathons, done mud runs, placed in body transformation contests, coached wrestling and now coaches girls soccer. Not to mention he has also tried literally hundreds of supplements over the years and has a vast and thorough supplement knowledge. He has written for Muscle & Strength, Testosterone Junkie, The Sport Review and other publications. He is also the editor in chief of this website. Feel free connect with him on his LinkedIn page below.