(Last Updated On: June 28, 2022)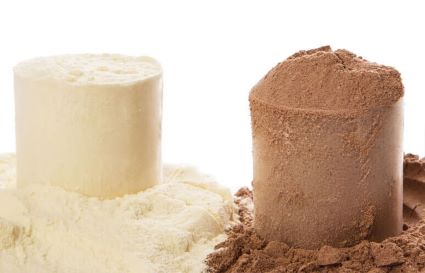 Did you know that there's more to life than whey protein?
Now before you label me a heretic and start waving your pitchforks, hear me out.
Today I'll be discussing whey protein isolate and why it deserves your attention.
Whey protein isolate is a close cousin of whey protein, with a few notable differences.
For those who are thinking of making the shift, stay awhile as I will be discussing the pros and cons, as well as telling you when to take whey protein and when to take the isolate form.
Plus, I'll be listing the best whey protein isolate powders you can buy today.
Sounds fun? Let's dive right in and get to the nitty-gritty.
The 15 Best Whey Protein Isolate Powders
These are the 15 best whey protein isolate powders on the market today.
#1 100% Grass-Fed Whey Protein Isolate by Transparent Labs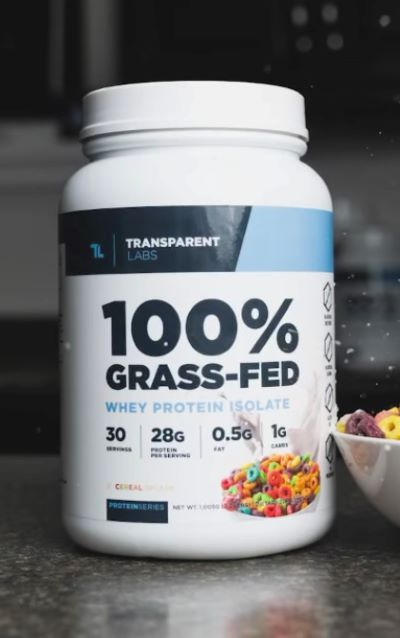 There's whey protein isolate and then there's 100% Grass-Fed Whey Protein Isolate by Transparent Labs.
Let me lay it down right here- Transparent Labs' whey isolate product wins the race, hands down. There's a lot to love, from the transparent label to the perfect mix of ingredients and their respective dosages.
We start with the most important part- the protein content. 100% Grass-Fed Whey Isolate boasts an industry-leading protein-to-weight ratio of 88 percent, which equates to a whopping 28g of protein on every scoop (32g).
Now to the grass-fed part. Whey protein sourced from other countries may (and usually) contain impurities and compounds that aren't supposed to be there. For this reason, serious athletes and bodybuilders choose whey protein products sourced in the US. Transparent Labs understands this and has made their whey isolate come from grass-fed American cows to ensure quality. It's one of the cleanest proteins we've had, and that's saying a lot!
Nutrition facts state 28g of pure protein is added per serving, and only 1% total fat (at .5g) and 1g of carbs, which is excellent in our books. You also get trace amounts of magnesium, phosphorus, calcium and potassium which helps supplement daily dietary goals.
Speaking of which, the 'clean' part doesn't just apply to the protein content. The cows that provide the ingredients are free of hormones and are grass-fed to provide maximum purity. There are no preservatives, artificial coloring or sweeteners, and it's non-GMO and gluten-free as well.
Pricing is very reasonable for a whey protein isolate of this caliber and to make it even better you can take 10% off of your order at checkout when you use the coupon code TL10. On top of that, you can save even more when buying in bulk. Buy 2 tubs and they will knock $9 off of the price, buy 3 tubs and they will knock off $38.
You can choose one, two or three tubs and flavors such as Cinnamon Pastry, Strawberry, Mocha, Salted Caramel, French Vanilla, Milk Chocolate, Chocolate Peanut Butter and Cereal Splash.
I currently have the Chocolate Peanut Butter and the Cereal Splash (Fruit Loops) in my cupboard. Of those two flavors, I prefer the Chocolate Peanut Butter, which is very good. The Cereal Splash is decent but clearly not as good.
Overall this protein delivers 28 grams of protein, has only 1 gram of carbs and .5 grams of fat and it tastes better than any other protein powder we tried. It may cost a few bucks more, but it's worth it.
Pros
Coupon code TL10 save 10% at checkout
Buying multiple tubs reduces the price
Sourced from grass-fed cows in the USA
28 grams of protein per serving
Comes in 7 different flavors (we like the chocolate peanut butter)
Mixes extremely well
Not too thick
No artificial flavoring
Cons
Only available on the manufacturer's website
---
#2 Micropure Whey Protein Isolate by Kaged Muscle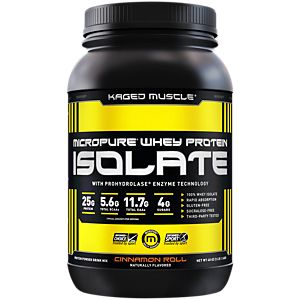 Micropure by Kaged Muscle is a no-nonsense whey isolate product for building lean muscle. It's naturally flavored and doesn't contain acesulfame potassium, protein concentrates, artificial colors, soy lecithin, and amino spiking.
Kaged Muscle says its products are processed using micro and ultrafiltration technology to take out unwanted components such as lactose, cholesterol, and fat.
Each serving has 11.7g of essential amino acids, 5.5g BCAAs, and 25g of whey protein isolate. Unique flavors such as Natural Cinnamon Roll, Natural Coffee Latte, and 'Smores are offered.
Overall this one is another really solid choice, it delivers 25 grams of protein and the taste is pretty solid although not quite as good as our top choice.
It is still a very solid protein powder that you will really like.
Pros
No artificial flavoring
Ultra-filtered for purity
Uses 5.5 grams of BCAAs
Cons
No savings when buying in bulk
---
#3 Whey Protein Isolate by Swolverine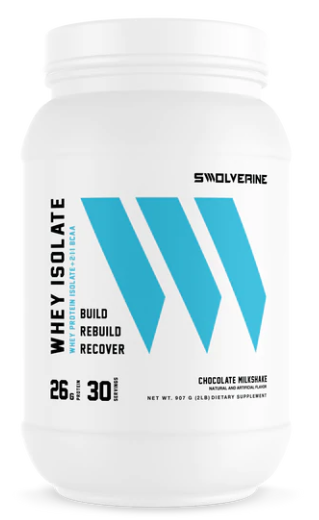 With 26 grams of ultra-pure, cold pressed protein per serving, Swolverine's Whey Protein Isolate is the perfect building block for any athlete's diet.
The whey has been sourced from happy cows without rBGH (recombinant bovine growth hormone) or other artificial ingredients so it can help maximize muscle growth while post-workout recovery gets accelerated with added digestive enzymes.
Athletes will find that one scoop provides them all they need in terms of strengthening and increasing lean mass–including increased immunity!
If you are looking for one that tastes great this one could be for you, we recommend the Honey Cinnamon Peanut Butter, it tastes so good it will bring you to your knees.
Pros
Sourced from grass-fed cows in the USA
Includes digestive enzymes
Superior taste
Subscribe and save 15%
Cons
---
#4 ISO100 by Dymatize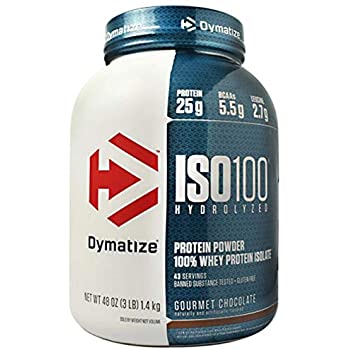 The 'ISO100' in the label means the whey isolate is 100% hydrolyzed and made to be absorbed quickly when you take it. That and the usual suspects of amino acids serve to boost muscle building to greater heights.
It's gluten-free and banned substance tested, which means pro bodybuilders and athletes can take them without any problems. Each serving gives 25g of protein, 5.5g BCAAs and less than a gram of sugar, fat and lactose.
ISO100 comes in many sizes ranging from 20 servings to a huge 6 lbs. What impressed us most was the available flavors- Gourmet Chocolate, Gourmet Vanilla and lots of interesting options such as Fruity Pebbles, Orange Dreamsicle and Birthday Cake.
The protein itself was very good but the tub was only half full. They tried to make me think I was getting a low price but instead, all I got was a half-empty tub with fewer servings. That is a major pet peeve of mine.
Pros
Gluten-Free
Uses 5.5 grams of BCAAs
Has some unique flavors
Super fast-digesting
Cons
Sold in smaller tubs to make it appear cheap
Many flavors out of stock
---
Related: Best Pre-Workout Supplements for Muscle Building
#5 Syntha-6 Whey Protein Isolate by BSN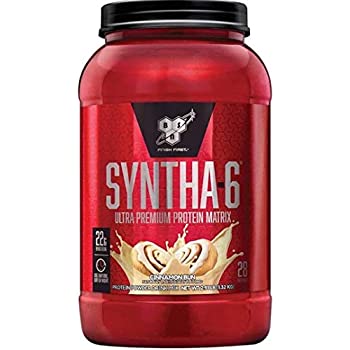 BSN's Syntha-6 is unique in that it contains 50 percent milk protein isolate and 50 percent whey protein isolate. The ISOLAST matrix combines both slow- and fast-digesting sources without the sugar, fat and other 'undesirables'.
The manufacturer says that Syntha-6 tastes the same as the original, thanks to the exclusive flavor technology and contains 25g of pure protein and 11g of essential amino acids per serving.
You get standard flavors such as Chocolate, Vanilla, Strawberry and exotic ones such as Peanut Butter Cookie, Chocolate Peanut Butter and Strawberry Milkshake, among others. The only downside is that it's a bit more expensive than others on the list.
Pros
11 grams of essential amino acids
Lower cost per serving
Uses both slow and fast digesting proteins
Cons
7 grams of carbs
No BCAAs
---
#6 Pro Whey Protein Isolate by Xtend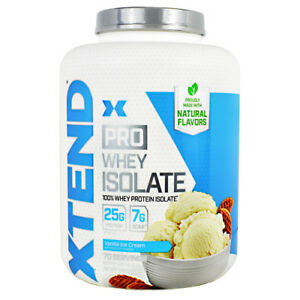 Pro Whey Protein Isolate has a shiny white and gold package that stands out, but can it do the job of providing pure protein?
Dubbed 'official recovery brand of champions', the whey protein isolate powder offers 150 calories, 7g of BCAAs and 25g of isolate compound, which should be more than enough to facilitate a faster recovery period. Soon, you'll be back training and getting better than ever.
Information on the official website is detailed, and there are reviews saying how Pro Whey Protein Isolate has helped them with their fitness goals. There's also a section of nutrition facts, recommendations for use and a warning for people who shouldn't take it.
Pros
Uses 7 grams of BCAAs
No artificial flavors
Less than 150 calories per serving
Cons
No savings when buying in bulk
---
Related: The 15 Best Protein Bars on the Market Today
#7 100% Whey Protein Isolate by Evlution Nutrition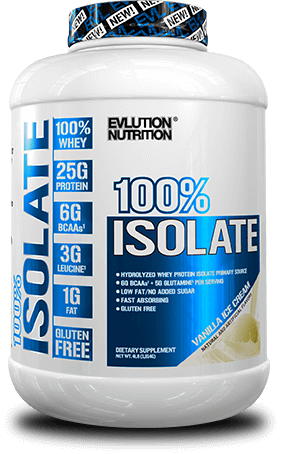 We've always applauded EVL for having an easy to use website, and their presentation of 100% Whey Protein Isolate gets the same high marks. On the right side you can pick a flavor, then quantity and check out quickly with the 'buy it now' and 'add to cart' options.
100% Isolate Protein is sourced from pure ingredients and offers the best fuel during post-workout. Evlution claims to use the best-in-class components to deliver what matters most- muscle building and recovery.
The product is GMP certified and free of gluten, fillers and sugars. It's made in the US and won't spike amino levels once taken.
Pros
6 grams of BCAAs
12 grams of essential amino acids
No fillers
Cons
Most expensive on the list
Boring flavors
Often sold out
---
#8 Grass-Fed Whey Protein Isolate by Musclefeast
Muscle Feast's Grass Fed Hormone Free Whey Protein Isolate comes in 2 or 5 lb package and has flavors such as Pumpkin Spice, Mocha, Cappuccino, Strawberry Cheesecake, Vanilla, Chocolate and Unflavored.
The supplement boasts a whopping 21.5g of pure whey protein isolate (depending on the flavor) for every serving. It also has some of the highest concentrations we've seen at 90%. The protein comes from grass-fed cows that are free from artificial hormones such as rBST and rBGH and processed via ultrafiltration and microfiltration.
It's certified OU-D Kosher and helps meet daily requirements for those who are building muscle.
Pros
7 different flavors
Cold microfiltered
No additives or artificial flavoring
Cons
---
#9 Whey Protein Isolate by Bodytech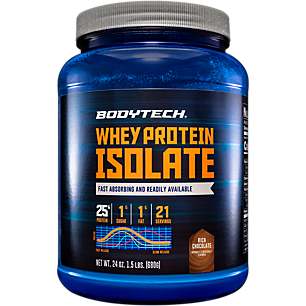 Bodytech isn't a standalone brand but rather an in-house name of Vitamin Shoppe. It has more than 700 stores in the US and houses a variety of supplements.
Whey Protein Isolate is a post-workout product designed to grow muscle and help with recovery processes. The filtration is such that it's easy to absorb and works within the body in just a few hours.
Every serving provides 25g of protein and BCAAs in powder form. You can mix it with plain cold water or go fancy and add it to milk or your favorite beverage.
The good news is that it's available to buy on Walmart and other physical shops and not just on the official website.
Pros
Features 12 flavors
Only 1 gram of carbs
Has buy 1 get 1 50% off offers
Cons
Sells this product in a smaller container to make it appear cheaper
Many negative reviews on the taste on their own website
Packaging looks like a 1980s video game
---
Related: Best Post-Workout Supplements for Muscle Growth
#10 ioWhey by Performix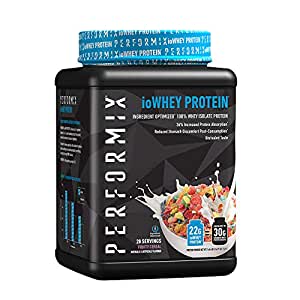 ioWhey is a tasty whey protein isolate supplement for post-workout recovery and strength. It's low in carbs, fat and calories and a good alternative for whey protein concentrate.
On the label, Performix boasts 36% more bioavailability, which equates to your body absorbing 22g of whey as with 30g from other brands. Users report feeling less bloat as the powder is easier to digest.
Every serving of ioWhey gives you 22g of isolate, less than 3g of carbs, .5g of fat and a hundred calories in total.
Pros
High bioavailability
Low carb and low cholesterol
Cons
Negative reviews on the fruity cereal flavor
Uses artificial flavors
---
#11 Social Whey Protein Isolate
Social Whey Isolate protein is sourced from high-quality whey protein and undergoes a multi-processing technique called triple-filtering and hydrolyzing to weed out sugar, cholesterol and fat.
The whey protein isolate collected is broken down into amino acids which gives it a fast-digesting characteristic. The end result is 80% pure protein, 1g of carbohydrates and less than one gram of fat.
Each serving gives you a respectable 25g of protein, and it's good enough to be mixed with just cold water. Furthermore, the powder is tested for banned substances and is free of gluten compounds.
Less Expensive
Reputable manufacturer
Triple filtered
Low Carb
Cons
No discounts available
Shipping is extra
---
Related: The 15 Best Casein Protein Powders on the Market
#12 Whey Protein Isolate by Nutricost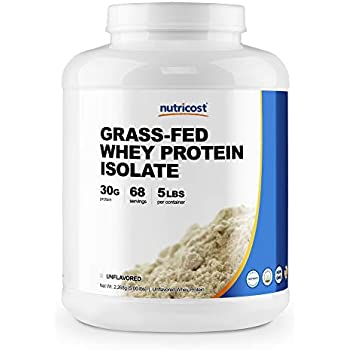 True to its brand, Whey Protein Isolate is cheap but that comes at a cost. There's an unflavored variety for those who want to mix their protein powders in fruit smoothies and flavored ones that can be mixed with cold water.
Every serving gives you a whopping 30g of protein and a complete amino acid profile. However, the actual numbers are much lower when we tried it out. Nutricost has a 90-day money-back guarantee if ever you aren't satisfied- just send the remaining product back and you'll get refunded without the shipping and handling.
Whey Protein Isolate by Nutricost comes in 2 and 5-lbs variants and flavors such as Chocolate Peanut Butter, Salted Caramel, Mocha, Chocolate and more.
Pros
30 grams of protein per serving
90 money-back guarantee
Low carb
Cons
Generic labeling with a 1980's look
Uses artificial flavoring
---
#13 Whey Protein Isolate by Now Sports Nutrition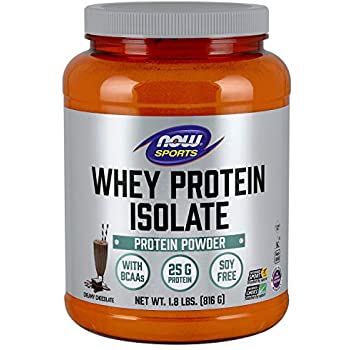 Next on our list of the best whey protein isolate powders we have Whey Protein Isolate by Now Sports Nutrition and they have a size for everyone. First-timers will want to try the 1.2 lbs bottle first, while others will want the standard 5 lbs. package. If you're comfortable enough with the whey protein isolate then by all means get the max package of 10 lbs.
Whey Protein Isolate provides the same numbers when it comes to protein content and BCAAs. The ingredients are soy-free and comes with 25g of protein isolate. It's bioavailable and ready to absorb in just a few hours. Now Sports Nutrition recommends a level scoop of the whey protein in a glass of milk, cold water or juice. You can stir to taste or blend as necessary.
Whey Protein Isolate also has a 'keto-friendly' tag and is tested for steroids and GMOs. Each bottle is manufactured in a GMP certified facility for purity and efficacy.
Pros
Comes in multiple sizes
Keto-friendly
Easily digested
Cons
Plain design
Only comes in unflavored
---
#14 100% Whey Protein Isolate by Biochem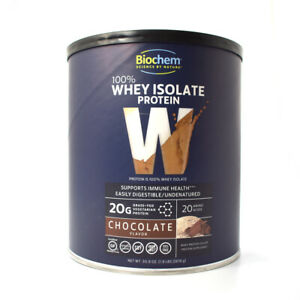 100% Whey Protein Isolate boasts the same level of quality and purity of protein isolate as other brands. The manufacturer claims each package is scientifically formulated to support immune health and can be easily digested due to its undenatured characteristic.
Each serving packs 20 amino acids, 20g of grass-fed vegetarian protein and 100% whey isolate source. There's no gluten, soy and artificial flavors, which is always welcome.
Digging further, we found that the ingredients are kosher dairy and certified by the AVA, or American Vegetarian Association. It's good for those who want to consume plant-based protein.
Pros
Less expensive
Keto-friendly
No Artificial flavors
Cons
Only 3 flavors
Not low carb
---
#15 Whey Isolate by Promix
Last but not least we have Whey Isolate by Promix. The presentation on the manufacturer's website is neat and shows the product in two flavors- Chocolate and Unflavored.
Promix says their protein isolate comes from free-grazing cows out on the pasture. Each serving packs 30g of protein and comes directly from local farms. Also, the bottles are batch-tested and packaged via a GMP certified facility.
Promix has a quality guarantee and offers a 30-day money-back guarantee if you're not satisfied. It's worthy to note that 1% of sales are donated to environmental conservation.
Overall it's pretty decent for the money but not the best iso protein.
Pros
30 grams of protein per serving
Sourced from grass-fed cows
Nothing artificial
Cons
Only comes in unflavored and chocolate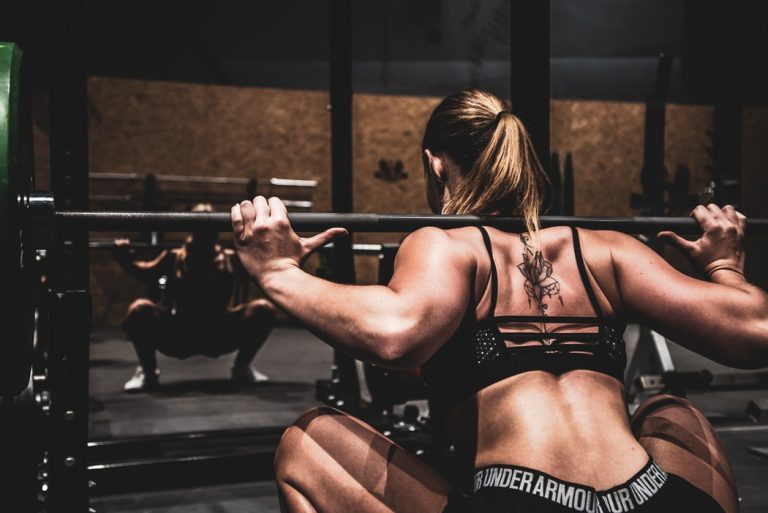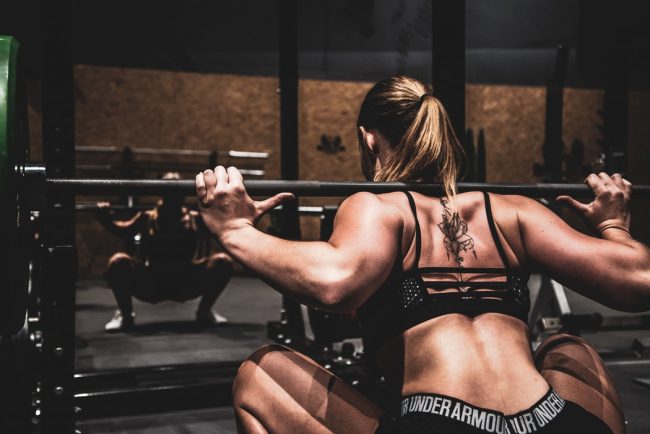 Whey Protein Isolate vs Whey Protein
So, what's the difference between whey protein isolate and whey protein?
If you've always associated whey with protein, then you're on the right track.
Whey supplements contain fast-digesting proteins that are primarily derived from milk.
In the sports and athletic nutrition world, whey protein is the more popular option. It's sometimes called whey protein concentrate, and everyone who wants to achieve a lean and muscular physique will have tried it at one point or another.
The term 'concentrate' is associated with how whey protein is processed. The mixture undergoes a micro-filtration process that preserves as much amino acid as possible. From there, it's turned into powder and sold in the market.
If it's your first time hearing the words, 'whey protein isolate', you're not alone. Most protein supplements come as the concentrate kind, but isolate has a unique advantage in that it has a higher protein concentration.
Let me put it this way- the highest protein content a concentrate can have is 80% max, while an isolate can have a 90% max. How did this happen, you ask? Well, it all boils down to how they're processed.
Whey protein isolate undergoes what's called 'cross-flow micro-filtration', which separates lactose, cholesterol and fat, thus ending up with a 'leaner' product. It's worthy to note that there's a bump down in calorie count as well, something that can be beneficial for those who are watching their weight.
Now you may think that it's just as simple as saying that whey protein isolate has higher protein content than whey protein, right?
Well, it's a yes and no. They're similar in structure when it comes to protein content but their functions are uniquely different.
Whey protein concentrate gives you a mix of macronutrients so you can build more lean muscle and shorten recovery downtime. It's relatively low in carbs and fat and high in amino acids, which is always a plus in our department.
On the other hand, whey protein isolate is for those who want to keep a strict eye on their fat, caloric and carb consumption and still want to get the maximum amount of protein in their diet. All that protein gives your muscle a boost in terms of growth and recovery, and the inclusion of amino acids means you get the same benefits.
Related: 13 Best Meal Replacement Shakes on the Market
When to Take Whey Protein Isolate
Protein is such an incredibly versatile macronutrient that it can be taken with breakfast, as an afternoon snack and even before you go to sleep!
However, the right time depends on what your health and fitness goals are.
I recommend taking whey protein isolate right after working out if you're an athlete. The reason is this- muscles break down after physical activity, and protein will be in full demand so it can grow back up, and thereby make you stronger. What's more, recovery time will be shorter and you can get back to training sooner.
The same rule applies to those who want to bulk up and build muscle. A few studies claim that taking whey protein late at night is optimal, but then anything you take after a workout should give your muscles a big boost.
Now, this may come as a surprise to you, but whey protein isolate can help supplement weight loss programs and slimming diets. By itself, protein is a natural suppressor, and replacing your usual calorie-laden breakfast with it is always a good idea.
Aside from my suggestions you can always check the instructions on the best whey protein isolate powders and read the label on when you should take them.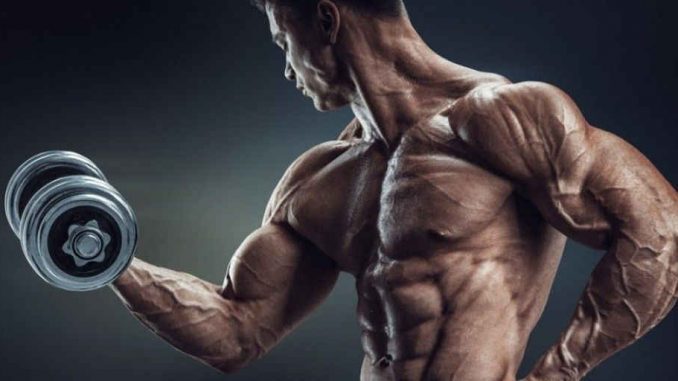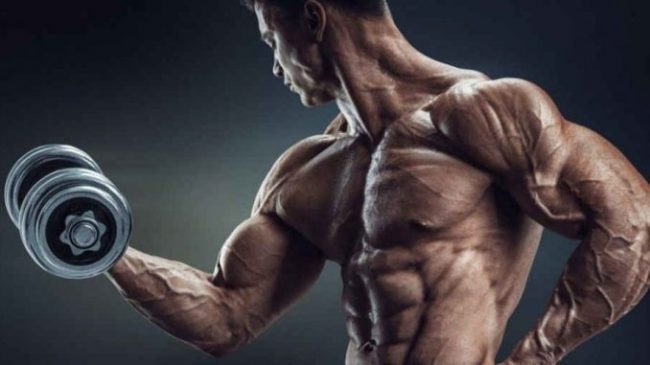 Will Whey Protein Isolate Make Me Gain or Lose Weight?
Whey protein and its amino acids are designed to help people gain muscle. Keep in mind that the muscle we're talking about is primarily the lean kind.
As more and more muscles are gained through workouts and training fat gets pushed out. Remember how I said that whey protein isolate is different from the usual whey protein in that it has a higher protein content and none of the fat, carbs and calories?
Also, protein is considered the most satiating nutrient among the three and can boost energy expenditure throughout the day. In layman's terms, whey protein can help you eliminate hunger pangs and make you eat fewer calories.
The answer to the question is that whey protein isolate tends to make people lose weight, mainly by allowing them to replace fat with lean muscle. Whey protein isolate is best taken with regular exercise for optimal results. It's beneficial in that you get to retain muscle build while flushing out unwanted fat from your system.
Is Whey Protein Isolate Keto Friendly?
To understand the link between whey protein isolate and keto diet we must have a clear definition of the two.
In a keto diet, the practitioner must follow the 'high fat, low carbs' rule, which means they focus on protein and fat macronutrients and avoid carbs as necessary. This is done so a ketogenic state can be achieved, thus allowing the body to burn stored fats as its primary source of energy.
Now a whey protein isolate undergoes a filtration process that takes out the fat, carbs, and calories in favor of a higher concentration of protein content. This ticks the requirement for ketosis (fewer carbs the better) and helps turn that fat into lean muscle.
You could be wondering if whey protein concentrate fits the ketogenic bill better. The answer is that they're quite the same, with isolate getting a slight edge. You get premium protein content, but it has to be supplemented with other high-quality fat foods for the diet to work.
Conclusion
There you have it- the 15 Best Whey Protein Isolate Powders you can buy today. Isolates are excellent for when you need full, concentrated protein for muscle-building and athletic gains without the extra calories, fat and carbs standard whey protein offer. That said, I'd wholly recommend 100% Grass-Fed Whey Protein Isolate by Transparent Labs as the top-rated whey protein isolate. It's truly the best in every sense of the word.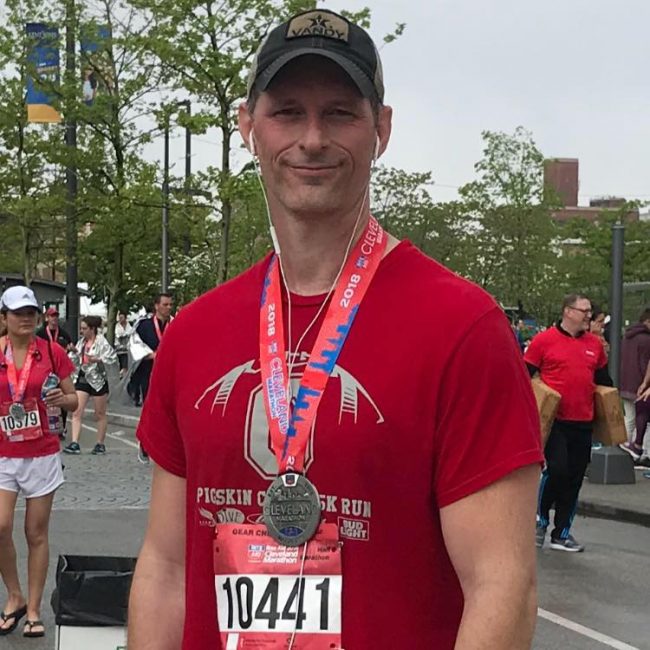 Ryan is a former college wrestler and lifelong fitness fanatic. He has run half marathons, done mud runs, placed in body transformation contests, coached wrestling and now coaches girls soccer. Not to mention he has also tried literally hundreds of supplements over the years and has a vast and thorough supplement knowledge. He has written for Muscle & Strength, Testosterone Junkie, The Sport Review and other publications. He is also the editor in chief of this website. Feel free connect with him on his LinkedIn page below.