(Last Updated On: January 29, 2020)
If you know much about wrestling, you likely know who Jordan Burroughs is.
And we aren't talking about that scripted WWE wrestling here either, we are talking Olympic wrestling, the real deal.
Jordan Burroughs is one of the faces of USA Wrestling and is one of the top-ranked wrestlers in the world. Today we are going to take a look at Jordan Burroughs workout and diet to find out how he stays at the top of his game as a world-class athlete. But first a little bit about Jordan who Jordan Burroughs is.
Related: 5 Essential Lifts for Wrestlers: Get Strong and Dominate
Who is Jordan Burroughs?
Jordan Burroughs was born on July 8, 1988. He grew up in Sicklerville, New Jersey and was the youngest of 4 children.
He started wrestling at age 5.
In a 2013 interview about how he got started in wrestling, Burroughs said "I started at five. I brought home a flyer one day from elementary school. No one in my family had ever wrestled. My teammates became friends and I got more into it. I was super tiny growing up, a late bloomer in terms of physical development, but I didn't have to be big to excel."
He sure was right about that, while he was small Burroughs would eventually become dominant.
Jordan went to Winslow High School where he won three district titles, two regional championships, and was a state champ in 2006 in the 135 lb weight class. He would also go on to win senior nationals that year which is a tournament of the best wrestlers in the country.
After his senior season, he went was ranked the 52nd best senior overall in the country and he accepted a scholarship to attend the University of Nebraska.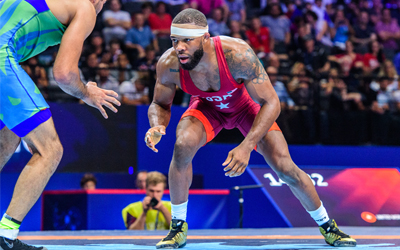 Jordan Burroughs in College
College wrestling wasn't all rainbows and puppy dog kisses for Jordan when he started at Nebraska.
He finished his freshman season with a 16-13 record. While it wasn't as successful as he had hoped he did learn more about the work ethic needed to succeed and he also improved his skills.
It paid off…
Over the next 3 seasons, he was an impressive 111-6 and went undefeated for his junior and senior season. He would win three Big 10 titles and 2 National Championships. He also won the Hodge Trophy which is equivalent to the Heisman Trophy.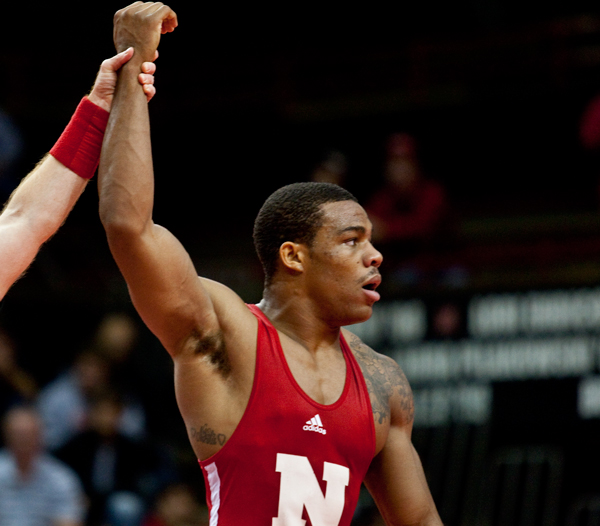 Jordan Burroughs Freestyle Career
Jordan moved right into his freestyle career after graduating from Nebraska and his success was immediate. He continued his winning streak and made the United States World Team in just a few short months after graduating. From there he would go on to win his first World Championship title on September 18, 2011, in Istanbul, Turkey.
This made him the 4th wrestler ever to win an NCAA and the World Championships in the same year.
That's not all…
The following year Burroughs made the 2012 Olympic team went to the Olympic Games in Beijing. He would return from Beijing with an Olympic gold medal after defeating Sadegh Saeed Goudarzi of Iran.
Then in 2013, he returned to the World Championships where he won another gold medal, and he did it less than a month after breaking an ankle in training. This made him only the second person, along with John Smith, to win three Olympic or World gold medals in a row.
Jordan went an incredible 3.5 years without losing a match before he finally lost in February of 2014, This was the longest winning streak in US wrestling history at the senior level.
In 2015 he defeated 4-time NCAA champ Kyle Dake in 2 consecutive matched to make the World Team and went on to win his 3rd World Championship becoming only the third American wrestler to win 3 World Championships.
In 2016 Jordan qualified for the Olympics in Rio and was a big favorite to win gold but he was beaten twice and would leave the Olympic Games without a medal.
He would bounce back though…
Jordan qualified for the 2017 World Championships and would win his 4th gold medal.
He is now one gold medal away from the US record of 6 held by wrestling legend John Smith.
Burroughs goal is to become the winningest wrestler in US history, he will need 2 more gold medals to pass John Smith and achieve this goal. At the rate he is going we think he has a pretty decent chance accomplishing his goal and we hope he does.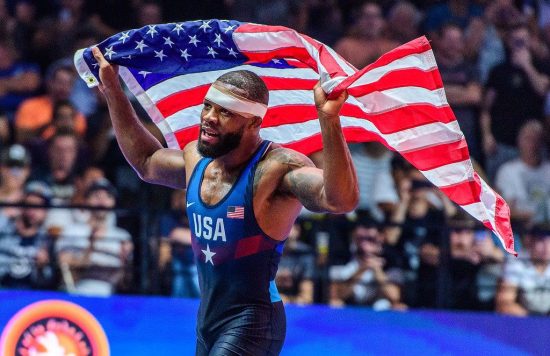 Jordan Burroughs Outside of Wrestling
Outside of wrestling, Jordan is married to Lauren Mariacher and they have 2 children, one boy, and one girl.
When he isn't wrestling Jordan likes reading and spending time with his family. He also enjoys business and would like to become an entrepreneur when his wrestling career is over.
Jordan also likes watching other sports and is a huge Buffalo Bills Fan, some of his favorite athletes include Lebron James, Roger Federer, and Serena Williams.
Burroughs is also very active on social media and is pretty well known for his engaging Twitter page where he posts everything about his life inside and outside of wrestling.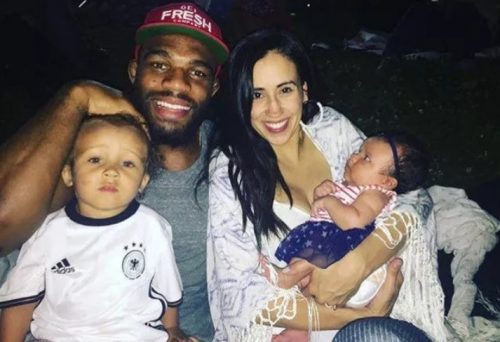 Jordan Burroughs Workout
As you can imagine, you need to put in an incredible amount of work to be a full-time world-class athlete.
You need to live, eat and breathe your sport if you want to stay on top and that means doing a lot of training.
Being a wrestler, Jordan needs to be explosive, quick, strong and have superb endurance. You need to be a jack of all trades really and it is a combination that requires a unique way of training.
Simply doing your typical bodybuilding exercises is not going to cut it, it will make him strong but slow.
Here's the deal:
Jordan does a combination of weight training, plyometrics, speed training, and conditioning to keep himself at his physical peak.
Some of the most common exercises he performs are:
Chest press
Jerks
Cleans
Chest passes
Box jumps, hurdle jumps and other jump variations
Rope Climbs
Battle Ropes
Agility Ladder Training
Med Ball tosses
Below is a pretty good video of Jordan working out that gives you a  good idea of what his workouts are like.
This video is from 2012. It is before his first Olympic Games, you can see some of the training is done at the University of Nebraska which he graduated from in 2011.
In this video, you can see him doing a nice combination of jumping exercises for explosiveness, weight training, and med ball tosses mixed in with some wrestling.
Related: Saquon Barkley Bio, Workout, Girlfriend, Net Worth
I know what some of you might be thinking. That's all fine and good but can I get the actual workout that he does?
There's good news…
We have his workout plan from 2012 that he tweeted out, this is only the lifting portion and I am sure is more cardio and other exercises on top of this but this will answer a lot of questions you have about what Jordan Burroughs workout looks like.
Here is Jordan Burroughs lifting schedule:
Exercise                                                Sets x Reps
Day 1
Box Jump                                                   4 x 3
Side Box Jump                                          4 x 2 each side
Hang Clean                                                4 x 3
Squat                                                          3 x 5
Dumbbell Row                                          3 x 10 each side
Dumbbell Lunge                                       3 x 8 each side
Pull-ups                                                      3 x  Max reps
Bicep (Curls)                                               3 x  10
Day 2
Kneeling Chest Press                                 4 x 3
Side Med Ball Throw                                 4 x 5 each side
Jerk                                                               4 x 3
Bench Press                                                 3 x 5
Dumbbell Romanian Deadlift                  3 x 10
Dumbbell Incline Press                             3 x 10
Leg Curl                                                        3 x 10
Triceps exercise of choice                         3 x 10
Day 3
Long Jump                                                     4 x 5
Single-Leg Box Jump                                   3 x 5 each leg
Lateral Bounding                                         4 x 5
Power Clean                                                  4 x 3
Single-Leg Squat                                           3 x 5 each leg
Dumbbell Press                                             3 x 10
Barbell Rows                                                  3 x 10
Barbell Romanian Deadlift                          3 x 10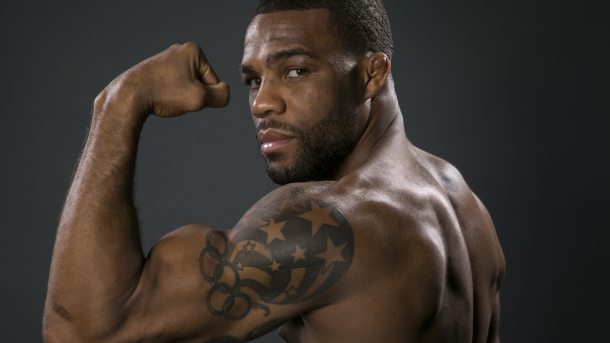 Jordan Burroughs Diet
Jordan's diet can obviously vary depending on if he is trying to make weight or not. You would think that an Olympic athlete is on a strict diet of nothing but the best health food on the market, but you would be mistaken.
In this video from 2012, he said that his favorite foods are pizza, chicken wings and milkshakes.
It's not all junk food though…
He eats 3 hearty meals per day. They consist of a lot of pasta, rice, and veggies to deliver the carbs he needs energy at practice. For protein, he eats beef, steaks, chicken, fish, and turkey to keeps strong and lean.
He is also sure to eat foods that are higher in sodium because he sweats a lot during each practice needs to replace the fluids and sodium/electrolytes that are lost.
When it comes to making weight he starts his cut about a month before the competition and eliminates all the bad foods from his diet and eats smaller portions while drinking plenty of water to be sure he is hydrated.
Overall he doesn't really have a set diet but he does focus on hearty foods that are packed with carbs and protein to fuel his training.
Let's Wrap This Up
There you have a pretty good look at Jordan Burroughs workout and diet. That is part of what it takes to make a world-class athlete.
Combine this information with the right work ethic and determination and you can go a long way.
We look forward to watching Jordan compete for the rest of his career and hope he achieves his goal of winning more gold medals. It couldn't happen to a nicer and more deserving fellow.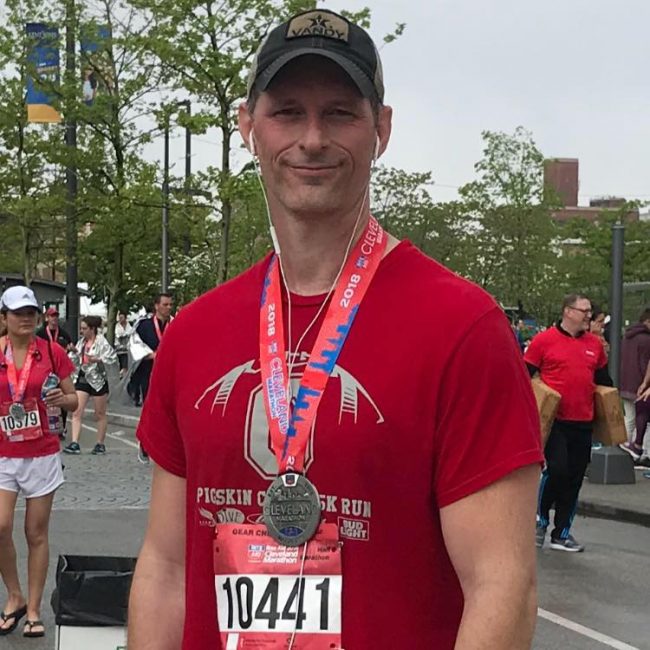 Ryan is a former college wrestler and lifelong fitness fanatic. He has run half marathons, done mud runs, placed in body transformation contests, coached wrestling and now coaches girls soccer. Not to mention he has also tried literally hundreds of supplements over the years and has a vast and thorough supplement knowledge. He has written for Muscle & Strength, Testosterone Junkie, The Sport Review and other publications. He is also the editor in chief of this website. Feel free connect with him on his LinkedIn page below.
References
http://www.jordanburroughs.com
Jordan Burroughs' Twitter Page