(Last Updated On: October 18, 2020)
Saquon Barkley is one of the top running backs in the NFL today after his explosive rookie season.
In this article, we will cover his early life, relationship status, workout, net worth and everything else you would want to know about him.
Let's get started.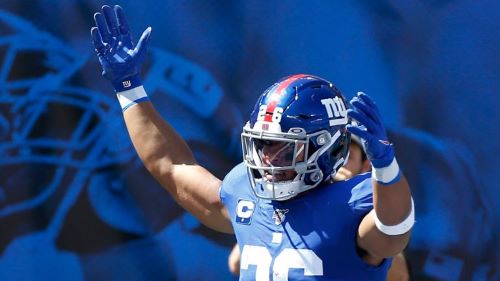 Saquon Barkley Bio:
Height: 6'0″
Weight: 234 lbs
Born: February 9, 1997
College: Penn State University
NFL Team – New York Giants
Related: Herschel Walker Bio, Workout and Diet Plan
Saquon Barkley Early Life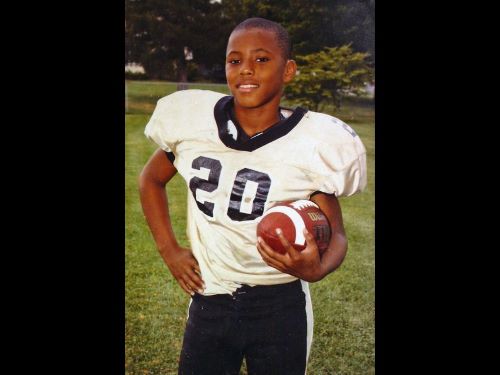 Saquon was born in the Bronx of New York City and grew up as a massive New York Jets fan. His favorite player was Jets running back Curtis Martin.
Saqoun's father, Alibay, was a pretty good amateur boxer and Saquon is the nephew of Iran Barkley who was a well-known boxer in the 1980s and was a WBC Middleweight Champ after defeating Tommy Hearns in 1988.
During his youth, Saquon's family moved from the Bronx to Bethlehem, Pennsylvania so they could be in a safer and more suburban environment.
Saquon would attend Whitehall High School where, not surprisingly, he was a standout football player. He also excelled at basketball and track and field where he set the school record for the 100-meter dash with a time of 10.90 seconds.
At Whitehall Barkley rushed for 1,856 yards and 31 touchdowns his senior football season and was a 4-star recruit. As most of you know, he would end up attending Penn State University to play football in college.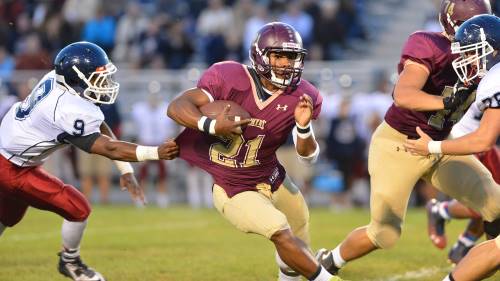 College Years
Saquon didn't take long to get going once he got to college. In just his second game of his freshman year, he ran for 115 yards and would go on to run for 1,076 yards and seven touchdowns in his freshman season and would be named 2nd team All-Big Ten.
His sophomore season he picked up right where he left off and then some. He would rush for 1,496 yards and would be named the Big Ten Offensive Player of the Year. He would establish himself as a force at running back in the Big Ten and across the country.
He would continue to dominate his junior year racking up 1,271 rushing yards, 632 receiving yards and another 423 yards from kickoff returns.
His junior year he was named an AP First Team All-American and would also win the Big Ten Offensive Player of the Year award for a second time. He would also go on to win the Paul Hornung Award which is given to the college football player who is judged to be the most versatile player in college football.
He would forgo his senior season at Penn State and declare for the NFL but in just 3 seasons at Penn State he set records for:
Most rushing yards by a Freshman – 1,076 yards
Most rushing yards by a sophomore – 1,496 yards
Most total yards in a single game with 385 yards
Most career rushing touchdowns – 43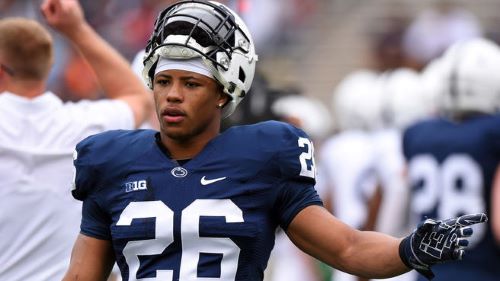 Saquon Barkley Professional Career
Saquon was drafted with the second pick overall in the 2018 NFL draft by the New York Giants.
He would go on to be an absolute beast in his rookie NFL season. In just his second NFL game he set a Giants franchise record for the most catches in a game with 14. By the time the season ended he had set the NFL rookie record for most yards from scrimmage for a rookie with 2028. He also set the record for the most 100 yard games for a rookie with 12 and also set numerous Giants franchise records.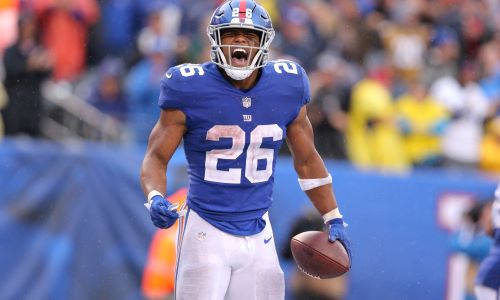 Once the 2018 season ended Saquon Barkley was named the Pepsi Rookie of the Year as well as the AP NFL Offensive Rookie of the Year. He was also elected to the 2019 NFL Pro Bowl, not bad for his first season in the NFL.
His 2019 season has picked up where he left off, he started off by rushing over 100 yards in his first 2 games. He would sprain his ankle in the third game and would be out 4-6 weeks.
Saquon Barkley Girlfriend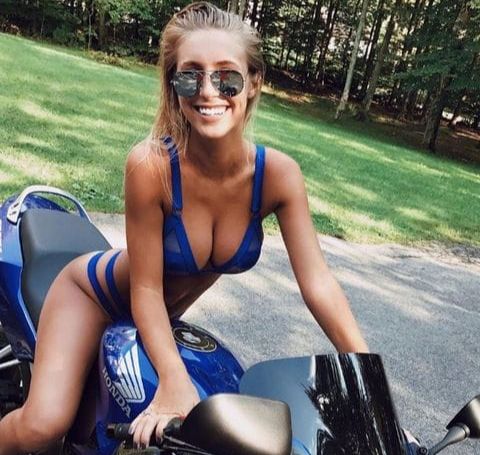 Saquon has been in a long term relationship with Anna Congdon. The couple met at Penn State University and started dating in January of 2017. They have been together since.
Anna Congdon is a former high school standout basketball player, she is believed to be currently enrolled at Penn State where she is studying to get her nursing degree according to answersafrica.com.
Anna has a rather large Instagram following where she posts photos of her stylish outfits, vacations and her family.  And when I say family I mean her, Saquon and their daughter Jada Clare.
Jada Clare was born on April 24, 2018, just 2 days before he was drafted by the New Your Giants, talk about a life-changing time for Saquon and Anna.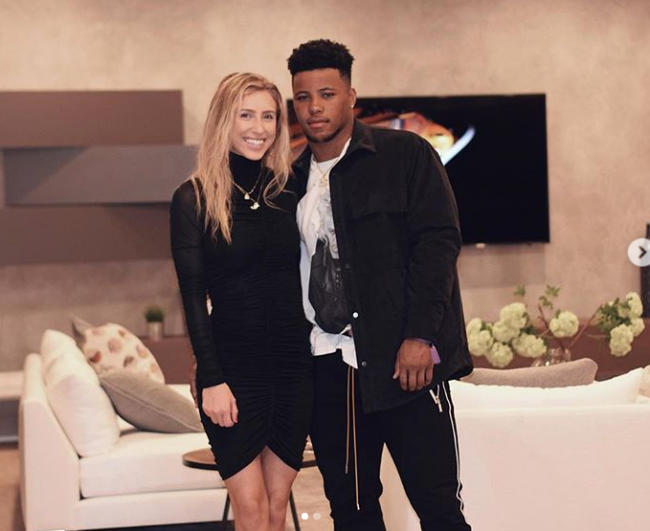 Saquon Barkley Workout
For those of you that don't know, Saquon is an absolute beast in the weight room. He has been since his days at Penn State where his strength was legendary.
Back in 2017, Barkley set a Penn State football weight room record with a 405 lb power clean that went viral.
Then there is also Saquon hitting 525lbs for 5 reps on the back squat. Not too shabby…
As if Saquon's clean wasn't impressive, here he is squatting 525 for 5 reps this morning pic.twitter.com/fa3nYA6joi

— Chance Sorrell #58 (@Chanman158811) June 30, 2017
He also went BEAST MODE at the NFL combine benching 225 lbs for 29 reps which ties the NFL combine record for running backs.
???@PennStateFball RB @Saquonb21 (@MikeMayock's #1 RB)… 29 reps in the bench press!

?: @NFLNetwork #NFLCombine pic.twitter.com/UsrNpe4UZV

— NFL (@NFL) March 1, 2018
As for Saquon Barkley's workout, you likely won't find it anywhere on the internet (we didn't and we really looked hard) it is also likely constantly evolving.
You can be sure his workout uses a lot of:
Bench and incline presses with both the barbell and dumbells
Squats – The back squat along with other squat variations
Cleans – Hang cleans and power cleans are some of the best power exercises out there
Chin-ups and pullups
Rows and other pulling exercises
Below is another video with various Saquon Barkley workout clips that will give you a better idea of what his workouts look like.
Saquon Barkley's new workout routine is next level ? ? ? #GiantsCamp pic.twitter.com/yEYpzQCqGe

— MSG Networks (@MSGNetworks) July 29, 2019
Related: Ultimate Guide for Training Football Athletes
Saquon Barkley Net Worth
Forbes has Barkley ranked as the 93rd highest-paid athlete for 2019 saying he will make $25.80million dollars.
He is currently the 5th highest-paid running back in the NFL and he signed a contract last year that pays him $31.2 million over 4 years.
He also benefits from playing in New York City where he can get numerous endorsement deals and added exposure. He already has deals with Visa, Pepsi and Toyota.
Forbes has his football salary listed at $21.3 million for 2019 plus another $4.5 million in endorsements.
If you think he is going to blow it all you would be wrong, he plans on saving most of it.
"When I declared for the NFL draft, and kind of realized where I was going to be drafted, I was like, 'You know what? Kind of want to follow the Marshawn Lynch method. I don't want to touch that. I want to invest it, put it in the right peoples' hands, and learn as I continue to make investments. And just live off the endorsement deals." Barkley says.
Lucky for him he is already making more than enough from his endorsements to live off of, no matter how long his football career lasts Barkley should be set for life when it is all said and done.
Overall it sounds like he has a pretty good life.
References:
https://en.wikipedia.org › wiki › Saquon_Barkley
https://www.forbes.com/profile/saquon-barkley/#5f705a1d7394
https://answersafrica.com/anna-congdon-biography-facts-about-saquon-barkleys-girlfriend.html