(Last Updated On: May 24, 2022)
Gnarly Performance Greens is, without a doubt, the best-tasting green superfood we've ever tried. Its Blueberry Acai and Lemon Mint powders are super yummy and eliminates a common pain point in taking greens- the icky flavor and the gh' aftertaste.
Does Performance Greens by Gnarly Nutrition do well in other superfood aspects though? Let's find out more in the Performance Greens review.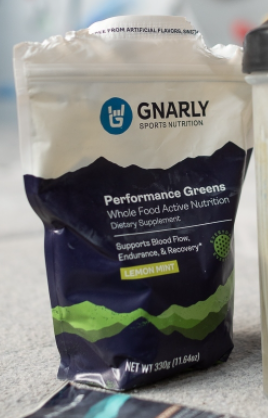 Who is Gnarly Nutrition?
Team Gnarly is made up of nutrition professionals dedicated to grit, messy triumphs and pushing through failure. The company's passionate about empowering athletes from the inside out using science-backed nutrition and natural, transparent ingredients.
Gnarly Nutrition has quite the selection of products for bodybuilders and athletes, with Performance Greens being one of them. It's billed as a hole food active nutrition' supplement for those looking to plug in their daily nutritional gaps.
What we like about Gnarly Nutrition is their dedication to transparency and utilizing whole and natural ingredients on just about every product they have. Furthermore, the brand has NSF Certification, which means there's no banned substances, heavy metals or pesticides.
Last but not least, the company is dedicated to sustainability, with programs in place for less plastic use. Instead of plastic tubs you'll see steel cans, which have a higher recyclability score and boast a long life cycle.
Related: The 11 Best Green Superfood Powders on the Market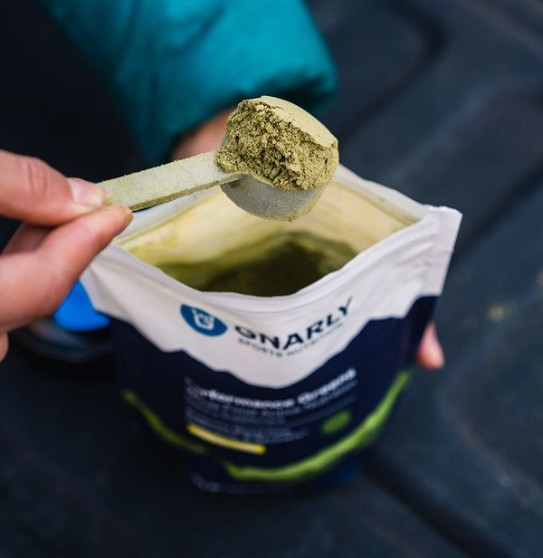 Who is Gnarly Performance Greens For?
Traditionally speaking, green powders are for boosting nutrient intake and work similarly to multivitamins. However, instead of isolated compounds, you get a spectrum of whole food ingredients that work better in the long term.
The most immediate application of Performance Greens is for everyday people who want to get more of the good and healthy stuff. In reality, it's very difficult to get all the important nutrients in a week, let alone a single day. We have things to do, and chewing half a dozen or so fruits, vegetables and others is simply not possible. Protein shakes, smoothies, and juicing can help to a degree, and now supergreens are in the mix.
Athletes and bodybuilders can get the help they need to meet their RDI of vitamins and minerals. Although there will be quite a lot on your plate, e.g., protein shakes, pre-workouts and specific products, we recommend you save a place for multivitamins, or in this case, greens.
The good thing about supergreens is that you can shop for specific products and ones that cater to what you need. You can get a wide-spectrum supplement or one that has testosterone boosters for vitality and stamina. Or, you can get immune support or a green that's made for better gut health. The key to doing this is to read the label and find out what you'll be getting in the ingredients list.
You rarely find people who don't want to be healthy, and if you have the budget then you should definitely consider greens such as Gnarly Performance Greens. Almost everyone can benefit from taking it daily, and especially those who want a significant health boost.
Ingredients in Performance Greens
Performance Greens packs quite the list of ingredients, ranging from vitamins to plant-based components, probiotics and extracts. What we like about Gnarly is how they put everything in a long list of supplement facts and even managed to include the DV, or daily value as well.
In the vitamins and minerals department you get iron, calcium, pantothenic acid, biotin, folate, niacin, riboflavin, thiamin, chromium, manganese, copper, selenium, zinc and magnesium, as well as vitamins B6, K, D, E, C and A. There's protein (albeit only at 2g) and dietary fiber at 3 grams. The calorie count per serving is 50 in total.
For the plant-based components, you get organic tomato, kelp, carrot, broccoli sprout, parsley, barley grass juice, kale, spinach, alfalfa sprout, freeze-dried coconut water, oat grass, wheat grass, spirulina and chlorella.
Rounding out the rest are organic cayenne, black pepper extract, ginger root, flax seed, chia seed, turmeric, Asian ginseng, reishi mushrooms, cordyceps, tart cherry, pomegranate and beetroot. There's also a billion CFU of Lactospore for probiotics.
Athletes and bodybuilders will like the fact that Performance Greens has strength- and performance-boosting ingredients in the form of ginseng, reishi, cordyceps, tart cherry, pomegranate, beetroot and omega 3s. As long as we're on the subject of training here, you might as well know that you can take the supplement in the morning just before you train to experience maximum benefits. Furthermore, you can take it multiple times a day and with bodybuilding products such as protein shakes, among others.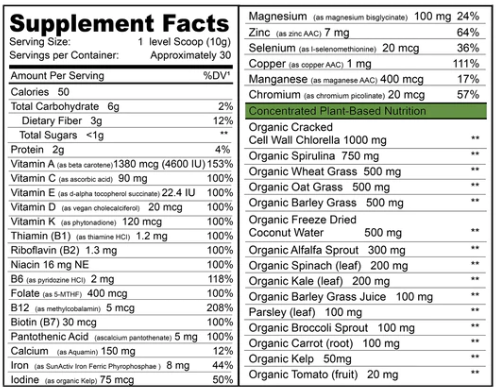 Benefits of Gnarly Performance Greens?
Plugs in Nutritional Gaps
The benefits of green powders are in full display with supplements like Performance Greens. It can help bridge the missing elements in your diet, particularly essential vitamins and minerals, dietary fiber and prebiotics.
Performance Greens can give you a healthy boost and shore up some of the things you might be lacking, nutrition-wise. This applies to nearly every aspect, from gut health to inflammation and energy, as well as the digestive system and physical stamina and strength.
All-Natural and Organic Sources
What we like about Performance Greens is how all its ingredients are sourced from organic and whole foods. The brand didn't just include everything they could and call it a day- they made it so that those who take it are getting significant nutrients in effective doses.
You're not likely to find turmeric, tart cherry, ginseng and probiotics in a single green powder supplement but Gnarly Performance Greens has all these, and more.
Wide Spectrum of Health Boosting Ingredients
Supergreens cover all bases to an extent. The truth is, your body does not generate some vitamins by itself and thus you'll need to get it another way. Gnarly knows this and puts in several of them so you won't have to go out of your way to eat a certain type of food.
Wide spectrum doesn't always work as intended but Performance Greens is a notable exception. The brand's success lies in whole ingredients and attention to detail.
Can Be Mixed with Other Supplements
Performance Greens is also one of the few greens that can be mixed with other workout supplements. You can kill two birds with one stone by having your multivitamins mixed in with your protein shake, and the synergy is sure to give you a performance boost in the gym as well.
What's noteworthy is that the taste of the supergreen is enough to cover unflavored protein and whey powders, as well as pre-workouts so it won't be as difficult to drink.
Easy to Drink and Appealing to the Taste Buds
Both Blueberry Acai and Lemon Mint are exceptional in the taste department. Gnarly has done an excellent job making their superfood powder enjoyable and easy on the palate.
The two flavors each have their own distinct taste, and if you want to switch it up every now and then that's perfectly fine. The taste is a benefit in itself as you'll look forward to drinking it and won't likely miss a day.
Any Side Effects?
Performance Greens can be had multiple times a day, but too much will naturally lead to unwanted adverse effects.
Ingredient wise, it will be best to check the label and look out for potential allergens. Some people are allergic to wheatgrass or green tea extract, so you have to make sure they're not in the green supplement you're buying.
Performance Greens is rated free of GMOs and heavy metals, as well as artificial compounds and fillers. Lastly, you should follow instructions on the label to prevent overdosing and stay within daily value to reduce the risk of over-nutrition.
Price on Gnarly Performance Greens
Performance Greens by Gnarly is reasonably-priced, as you can get a 30-serving bag for $43.45 or lower if you subscribe. You also get perks such as free shipping on orders $45 and above, tiered discounting and more.
The same applies to 5 stick ravel packs', which costs $8.75 and $7.88 if you sign up.
How Does Performance Greens Taste?
Gnarly deserves all the praise it can get especially after getting a taste of the Performance Greens in Blueberry Acai and Lemon Mint.
It's natural to assume that all green powders taste bitter and leave a grimy aftertaste, but it wasn't the case with Performance Greens. Instead of the anticipated bitterness, the flavor was exactly as advertised- Blueberry was blueberry and Lemon was lemon (with a hint of mint).
In comparison with other green foods there's really no other product that can match it in the taste department!
Pros and Cons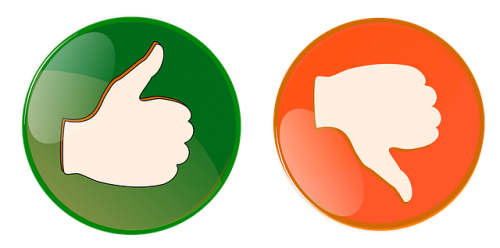 Pros
Best-in-class taste and flavor variety
Shores up all nutritional gaps nicely
Comes from organic and whole foods; no GMOs and artificial compounds
Cons
Sign-ups for extra discounts
Conclusion
Gnarly Greens does an impressive job of showing the industry what a green superfood powder should look like. In terms of ingredients and dosage there are very few that can beat it, but then Performance Greens edges them all out in the taste aspect.
It's a green superfood we'd wholly recommend you try for a significant nutrition boost.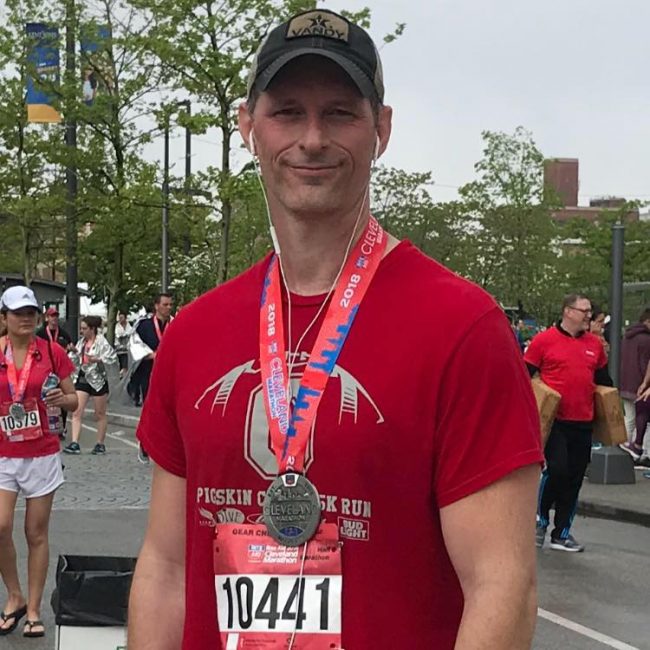 Ryan is a former college wrestler and lifelong fitness fanatic. He has run half marathons, done mud runs, placed in body transformation contests, coached wrestling and now coaches girls soccer. Not to mention he has also tried literally hundreds of supplements over the years and has a vast and thorough supplement knowledge. He has written for Muscle & Strength, Testosterone Junkie, The Sport Review and other publications. He is also the editor in chief of this website. Feel free connect with him on his LinkedIn page below.