(Last Updated On: March 6, 2019)
Protein is one of the most important nutrients for the body. It is often referred to as a body-building nutrient, thanks to the fact that it is responsible for most growth and development in the body. Although proteins are essential for everyone, they carry an even higher significance in the lives of bodybuilders and weight lifters. It is only by consuming enough protein that you will experience noticeable muscle growth and a more defined physique.
Proteins can be sourced from both plants and animals. However, those who source all their proteins from plants often miss out on some essential amino acids, and this can have a negative overall effect on their well- being. One way to prevent this is to consume a plant-based protein shake that contains all the necessary amino acids. Here are the benefits that come with consuming vegan protein powders and the very best powders to try out.
Why Use Vegan Protein Powders?
Most people often find it difficult to consume enough protein from their diet. If you often feel as though your meals are lacking in this essential nutrient, then you will do well to start consuming a vegan protein powder shake. Additionally, preparing the shake doesn't take much time. In fact, you can prepare it in just a few minutes and be on your way with a protein-packed meal in hand.
But the benefits of vegan protein powders go beyond convenience. If you are trying to lose weight, consuming the powders will go a long way in helping you achieve your goal. This is because proteins improve satiety and take quite a long time to be digested. This means that you will remain full for long, which ultimately leads to the consumption of fewer calories and weight loss. Additionally, the protein powders are themselves not high in calorie count, and this is certainly good news for those trying to shed off some weight.
Vegan protein powders can also prove to be invaluable to athletes, sports people and those who work out a lot. This is because they promote the healing and repair of muscles, which improves post-workout recovery a great deal. Moreover, because vegan protein powders are plant-based, they tend to be free from allergens such as gluten, which makes them safe for consumption by all.
Related: Best Grass-Fed Whey Protein Powders
The Best Vegan Protein Powders
These are the top 5 vegan protein powders on the market today:
1. Organic Vegan by Transparent Labs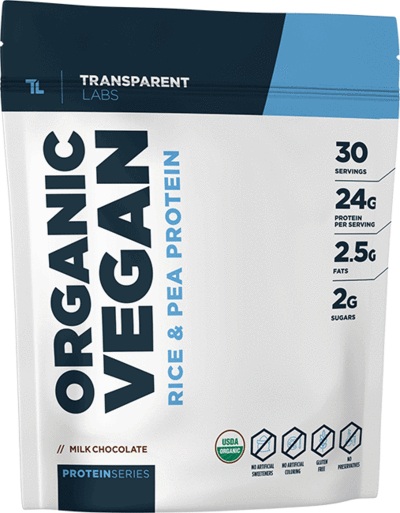 This product certainly deserves a place among the best due to its superior quality. It is 100% vegan, which can be easily verified because Transparent Lab goes into great detail to show just how much of each ingredient is contained in their products. Not only that, but the company only uses the highest quality ingredients, and is also USDA Organic certified, thanks to high standards of purity and transparency. The product is made from two main ingredients: rice and pea protein. The exact ratio of the ingredients is 2:1 rice to pea protein. It also contains organic cocoa powder, which is full of antioxidants and a great source of iron.
One of the greatest pros of this product is that it contains more than enough heavy protein that is rich in fiber. If you are looking to lose weight, then this is definitely the product for you. This is because the heavy fiber will help you feel full for longer. Additionally, the protein will take long to get digested, and this increase in satiety will certainly help you eat less. Moreover, the product contains absolutely no artificial flavors or sweeteners. It also doesn't contain any gluten or soy, both of which are known to cause allergies and intolerance. It comes in two main flavors, vanilla, and chocolate. They both taste great and the consistency is beyond reproach.
On the downside, however, the product seems to contain only proteins. While this is alright since it is labeled as such, it would certainly be great to have some other nutrients in the powder. Including vitamins and minerals such as sodium would improve the product a great deal. Nevertheless, this is arguably the best plant-based protein powder on the market.
Website: .transparentlabs.com
2.Nuzest Clean Lean Protein Powder
This organic vegan powder is manufactured by Nuzest, a renowned company based in Australia. The powder has three main ingredients: vanilla bean, pea protein and thaumatin, a protein that is sourced from the Katamfe fruit. Thaumatin also doubles as the natural sweetener in this product, and it is a whopping 2000 times sweeter than sugar. The product comes in a number of flavors such as Wild Strawberry, Rich Chocolate, Creamy Cappuccino, Smooth Vanilla, and Just Natural.
One of the perks of this protein powder is that it is not acidic. It has a PH of 7.8, which makes it alkaline. If you suffer from stomach acidity especially after consuming proteins, then this is just the product for you. Additionally, the product has no artificial fillers, sweeteners or flavors, and neither does it contain soy and whey, both of which are well-known allergens. It also has good consistency and will not form lumps even when mixed with plain water.
But that is about as far as the pros of this product go. Although it comes in different flavors that have rather enticing names, many people complain that the product has a chalky taste. Additionally, it is possible to smell the peas sometimes, and this can be a huge problem for some people. Moreover, the product is quite expensive, which can be a put off for many people. Although thaumatin seems to be the star ingredient in this product, conclusive research about its effects on people is lacking, which is quite risky.
Website: nuzest-usa.com
3. Sport Premium Protein by Vega
This product is specifically meant to be used by those who are high up the fitness ladder, although others will find it just as useful. It contains proteins sourced from peas, organic sunflower seed, pumpkin seeds, and alfalfa protein. Other key ingredients in the product include turmeric and tart cherry, both of which boost post-workout recovery and have strong antioxidant properties. It also contains back pepper, which makes it easier for the body to absorb the nutrients from other ingredients. A healthy dose of probiotics is also contained in the product to further enhance post-workout recovery.
Like other vegan protein powders of its caliber, this one also doesn't contain any artificial additives. It also promotes the healing and repair of muscles very efficiently. It is also devoid of whey and soy, both of which are known to cause allergies.
On the flipside, this product has been shown to contain dangerously high amounts of heavy metals, specifically lead and arsenic. This caused an uproar around the country, and many people stopped consuming the product. Additionally, the product has an unpleasant chemical taste which makes it revolting to some. It also rather pricey and has no return policy, which should count as a red flag for the product.
Website: myvega.com
4. Raw Organic Protein by Garden of Life
This product is made with 13 raw sprouted proteins and contains all the essential amino acids. It is meant to promote post-workout recovery as well as help you build muscle. In addition to the proteins, the product also contains the fat-soluble vitamins A, D, E and K. It also has probiotics that help to boost digestive health, as well as enzymes to promote your overall well-being.
One of the best things about this product is that the protein is sourced from raw ingredients. This means that no proteins get denatured by heat, which in turn ensures that you get plenty of this critical nutrient. Additionally, the product is Non- GMO verified which only goes to prove that it is totally organic. It also doesn't contain any artificial flavors or sweeteners, and it is remarkably easy to digest. The product is also relatively cheap.
On the negative side, a serving of the product contains very few calories, which means that this hardly counts as a meal replacement shake. Also, its flavors such as vanilla and vanilla spiced chai often induce cravings, and you may end up consuming more calories than you should. Some of the products were also once recalled from the market due to Salmonella poisoning, and this didn't sit too well with a majority of the users.
Website: gardenoflife.com
5. Optimum Nutrition Gold Plant-Based Vegan
This is yet another premium vegan protein powder by a reputable company, Optimum Nutrition. The proteins are sourced from brown rice, peas and Sacha Inchi proteins. The product contains all the essential amino acids as well as Vitamins b12 and C. It doesn't contain any artificial flavors or sweeteners and provides you with adequate proteins to help you meet your required daily intake.
The product is however too sweet for many people's liking. Worse still, it has terrible consistency and you have to keep stirring it if you don't want the water to separate from the powder. Additionally, the product contains Soy, which is a well- known allergen that many companies try to keep away from.
Website: www.optimumnutrition.com
Conclusion
If you are looking for a great vegan protein powder, look no further than this list. All of these products will help you consume enough proteins, and the best part is that they are all plant-based proteins. In particular, be sure to try out the Organic Vegan powder by Transparent Labs. This product contains all the essential amino acids and has absolutely no artificial additives. The company also employs a total- transparency policy, which means you will know exactly how much of each product you are consuming. Finally, the product produces the required results, from helping with weight loss to enhancing bodybuilding. It is simply the very best vegan protein powder on the market.