(Last Updated On: May 15, 2020)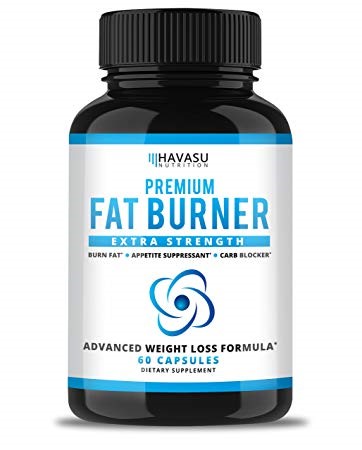 Havasu's Premium Fat Burner is a weight loss supplement that is created by Havasu Nutrition, a renowned health supplements brand. The company is based in Florida and offers a variety of different products through its online store. According to the company owners, quality and transparency are at the forefront of everything they do.
Their premium fat burner comes complete with claims that it can give you extra strength, boost your energy levels and increase your metabolism while keeping your hunger pangs at bay.
Make no mistake:
Some fat burners have shown good results when it comes to reducing overall body fat and promoting weight loss. However, those special few have been tried and tested by thousands of happy customers worldwide.
Can Havasu's Premium Fat Burner give you that edge in order to elevate energy levels and trigger your body's natural fat burning ability?
We've unpacked this product to see if it really is the holy grail when it comes to male and female fat burning.
What is Havasu Premium Fat Burner Extra Strength?
The Havasu Nutrition Premium Fat Burner is a weight loss supplement that is manufactured by Havasu. It's a fat burner that is claimed to:
Provide extra strength
Increase body energy levels
Block carbs
Suppress appetite
Support a healthy metabolism
Havasu claims that this fat burner is third-party tested and that they have the necessary documentation to prove it. To be honest, we would have expected this as a minimum requirement with any diet supplement, so we didn't find this fact particularly impressive or out of the ordinary.
Who is Havasu Premium Fat Burner Extra Strength Designed for?
Havasu hasn't really placed a "gender restriction" on their premium fat burner. This means that both men and women can use it for weight loss.
However, the packaging is perhaps more aimed at the older end of the market. If you compare the packaging with some of the most popular bodybuilding supplements, you will definitely see that the design is a little less exciting.
If anything this product is packaged up like a bog standard vitamin or cod-liver oil supplement.
But at the end of the day, the packaging isn't really our main concern…
What really matters is whether the fat burner can work for you regardless of whether you're a man or a woman.
Havasu Nutrition is designed for individuals who suffer from a sluggish metabolism and often struggle with portion control, calorie restriction, and exercise.
To find out if it's effective we'll need to take the lid of the capsules and take a look inside…
Ingredients in the Havasu Premium Fat Burner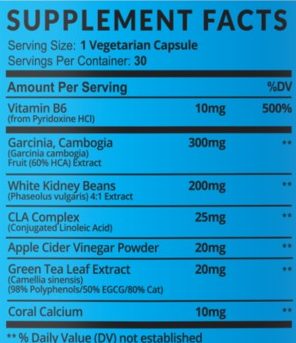 We know that companies are particularly clever when it comes to marketing their products. They will tell you that their formula only contains the best ingredients. But behind the scenes, their product isn't really worth a dime.
Our first impression of Havasu Nutrition is that this isn't one of those products. It definitely includes some quality ingredients! But then there do appear to be a few missing too.
Let's review the ingredients according to the science:
Garcinia Cambogia 
Garcinia cambogia extract has been heavily marketed for weight loss over the past few years.
The fruit is said to be a very good source of Hydroxycitric acid which is thought to help in with appetite decrease. Hydroxcitric acid is said to inhibit an enzyme known as citric acid lysase and plays a vital role in the synthesis of fatty acids, also known as lipogenesis.
In 2012, the Critical Reviews in Food Science and Nutrition acknowledged that Garcinia Cambogia does play a crucial role in metabolizing fat due to its HCA (hydroxycitric acid) compound.
To determine the effectiveness of Garcinia Cambogia Extract, the Journal of Obesity reviewed a number of clinical trials. The data collected suggested that those who took a Garcinia Cambogia Extract had experienced a significant weight loss effect compared to those who took a placebo.
Green Tea Extract 
Green Tea has been labeled as "the healthiest beverage on the planet."
From slowing down aging due to its powerful antioxidants to reducing body weight, especially stubborn belly fat, Green Tea is a truly incredible compound.
Green tea contains a small amount of caffeine, which can aid fat burning and improve exercise performance. But perhaps the most powerful fat burning compound in green tea that we should be focusing on is Epigallocatechin gallate (EGCG).
EGCG a type of catechin, the main antioxidant in green tea that has been found to boost metabolism and boost the effects of certain fat burning hormones
EGCG promotes fat burning by that inhibits the breakdown of the hormone norepinephrine. Norepinephrine is a hormone that triggers the breakdown of fats in the body. The amount of the hormone norepinephrine increases when the enzyme is inhibited, which of course leads to reduced body fat and overall weight reduction.
Green tea has been repeatedly found to increase fat oxidation, both during exercise and rest, leading to the burning of more calories.
Green Tea is perhaps the most impactful ingredient in Havasu's Premium Fat Burner, unfortunately, they only use a puny 20mg dose, not near enough to be effective.
Apple Cider Vinegar Powder
Apple Cider Vinegar is a powerful home remedy that has been used for decades in the treatment of a wide range of ailments. Nowadays, it has caught the attention of weight watchers as some studies have cited its potential in reducing overall body weight.
But are these claims true?
Well, there could be some truth in these claims as various animal research studies suggest that the acetic acid in ACV may lead to weight loss by improving metabolism,  reducing insulin levels, reducing blood sugar levels, reducing fat storage in the body, burning fat, and suppressing appetite.
That's probably why Havasu felt that ACV deserved a spot in their premium fat burner.
But it isn't all rosy with Apple Cider Vinegar:
Do you know that the weight loss benefits of ACV are only short-lived? Well, results from a Japanese study showed that obese individuals who consumed Apple Cider Vinegar daily for approximately 12 weeks experienced a reduction in their overall body weight, but once they stopped taking it, their weight returned.
White Kidney Beans
As a carb or starch blocker, White kidney bean extract has been found to promote healthy weight management.
The idea behind this extract is that by blocking the action of the digestive enzyme known as alpha-amalyase, the breakdown of starch into sugar is ultimately prevented. The resulting effect is reduced blood glucose levels, lower energy intake, reduced insulin levels, and reduced rates of body fat storage.
While White Kidney Beans extract does seem like a great addition to Havasu Premium Fat Burner Extra Strength, its effects are not as pronounced as those of Garcinia Cambogia and Green Tea extract.
Conjugated Linoleic Acid (CLA)
Conjugated linoleic acid is a naturally occurring fatty acid commonly found in meat and dairy products. It also happens to be a popular dietary supplement that is sold with claims that it can assist people to lose fat and reduce body weight, and also retain lean muscle mass.
But does science feel the same way about CLA?
Unfortunately, no.
Human studies show that Conjugated Linoleic Acid only has modest weight loss benefits.
A comprehensive review of 18 well-researched human studies looked into the effects of CLA supplementation on body fat reduction and weight loss.
Subjects who supplemented with 3.2 grams of CLA every day only lost an average of 0.11 extra pounds per week as compared to placebo.
Other studies have looked into its long-term effects on weight loss in humans and sadly, the results aren't that impressive. In general, CLA has no significant benefits on fat and weight loss, even when used alongside exercise.
Missing Ingredients
Honestly speaking, these Havasu Fat Burner Pills could have been more effective if they included natural ingredients like Turmeric. Curcumin, the primary antioxidant in Turmeric, is known to mitigate the inflammation associated with obesity, in addition, it can boost thermogenesis, preventing the formation of new fat cells.
Reviews on Havasu Premium Fat Burner Extra Strength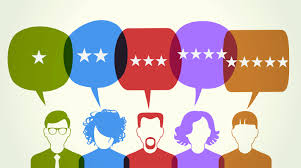 The reviews for all of Havasu Nutrition's products are quite positive. In general, many of the company's customers seemed quite happy. However, when we checked on Amazon many of the 5-star reviews lacked detailed which was concerning.
Quite often brands on Amazon give away thousands of free bottles in exchange for positive reviews. We wouldn't recommend buying a product unless there are genuine before and after photos or customer videos to support the product's claims.
That said, for some people, the Havasu fat burner did help them shed a few pounds. To others, buying the Havasu Premium fat burner was a total waste of money.
Like this customer who said:
'This product didn't give me results. Fortunately, they honored the moneyback guarantee and gave me a refund'.
And another:
'Didn't work and took over 3-weeks to arrive'.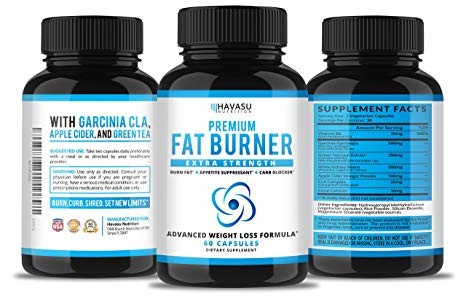 Side Effects with Havasu Premium Fat Burner
From our research, we couldn't find many consumer complaints concerning Havasu Nutrition and side effects.
However:
This doesn't mean that it is 100% safe for you to use. The fact that we are not sure about the strength of each of these ingredients should be a cause for concern. For example, we've seen earlier that Apple Cider Vinegar and Conjugated Linoleic Acid may be potentially unsafe.
All the same, consult with your doctor before using this fat burner.
Pros and Cons of Havasu Premium Fat Burner Extra Strength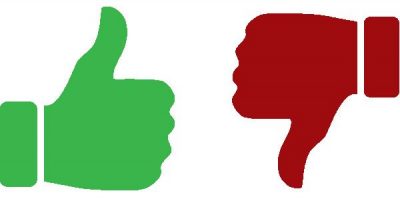 Pros
Includes popular weight loss ingredients such as Garcinia Cambogia and Green Tea
Helps increase testosterone levels
Cons
A few negative reviews
Some of its ingredients like ACV and CLA may be potentially harmful
Doesn't really offer "extra strength" – Underdosed ingredients
Weight loss results may be short-lived- once you stop taking the supplement
Will Havasu Premium Fat Burner Extra Strength Work for You?
After putting this Premium Fat Burner through its paces, we can conclude that some of the ingredients may aid with fat loss. However, overall it doesn't really measure up to some of the top brands out there.
Havasu Nutrition's Premium Fat Burner pills may potentially help you achieve your weight loss goals. But if you're a woman looking to lose that nasty abdominal fat then this might not be the best fat burner for you.
Honestly, Havasu will probably only help you achieve short-term weight loss. As for long-term results, you're better off without it.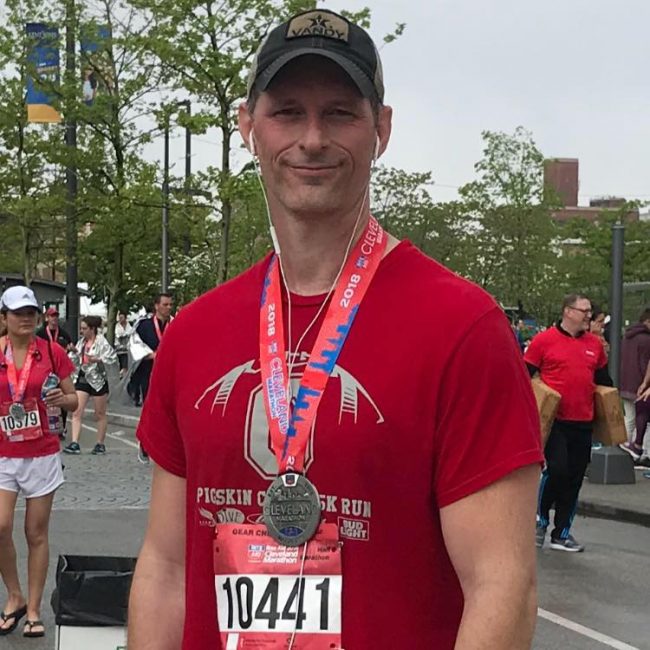 Ryan is a former college wrestler and lifelong fitness fanatic. He has run half marathons, done mud runs, placed in body transformation contests, coached wrestling and now coaches girls soccer. Not to mention he has also tried literally hundreds of supplements over the years and has a vast and thorough supplement knowledge. He has written for Muscle & Strength, Testosterone Junkie, The Sport Review and other publications. He is also the editor in chief of this website. Feel free connect with him on his LinkedIn page below.
Sources:
https://www.sciencedirect.com/science/article/pii/S0003392816302955?via%3Dihub