(Last Updated On: May 15, 2020)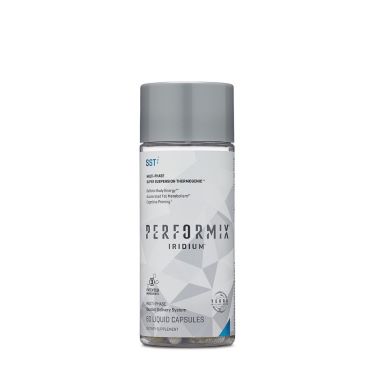 Performix Iridium SSTI is a premium fat burner and nootropic pill marketed through supplement giant GNC. It is made by Performix, a popular US-based nutrition company behind some of the more premium-priced weight loss supplements on the market today.
This product is available at $79 for just 60 capsules. With one capsule costing well over $1, it is completely natural to expect a lot from this weight loss formula.
Performix SSTI claims to offer a quick solution for those who wish to burn fat while improving their cognitive performance as well. Consequently, the product is supposed to be popular among professional athletes, however, this doesn't mean it cannot be taken by the average Joe as well.
We decided to do a comprehensive review of the Performix Iridium SSTi to see if it's really as effective as they say. We will explore how the product works, its ingredients, pros and cons, as well as what other customers are saying about it.
In the end, you will be able to decide whether the supplement is right for you, or whether you would be better off investing your money elsewhere.
The best weight loss products for women on the market.
Related Article: Top Rated Fat Burners for Women
What Is Performix Iridium SSTI?
Most people who take supplements do so because they want to gain some kind of advantage.
It could be that they want to increase their reps in the gym, or maybe they are looking to encourage their body to burn fat more quickly. Sometimes it may just be to improve their overall energy.
Whatever the case, the question to ask is whether Performix Iridium SSTi can actually help in any one of these areas?
Performix Iridium is relatively unusual when it comes to the majority of supplements in this space.
That's because it claims to do two jobs at once:
Help you lose weight
Boost your brain's performance
The weight loss benefits are apparently yielded through a number of different proprietary blends, including a ballistic energy mix. The brain boosting properties come from the inclusion of ingredients like Cognizin.
How Does Perfomix Iridium Fat Burner Work?
As earlier indicated, the Performix Iridium uses a blend of the highest quality natural ingredients to offer rapid and targeted fat loss.
By boosting your body's metabolism, the theory is you will be able to lose more calories than normal without putting in any extra effort. Increased metabolism should eventually lead to faster weight loss, provided your caloric intake is lower than normal.
Most people believe that products like these will always lead to significant fat burn, but unfortunately, this doesn't always happen. In fact, like many other weight loss pills out there, it doesn't work independently. So, it's more like a weight-loss aid (which is basically what all supplements in this category are).
Related: Best Fat Burners for Men
Performix Iridium Fat Burner Ingredients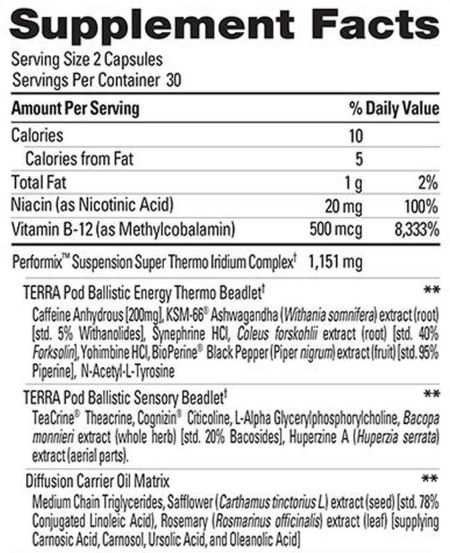 Performix contains 3 separate proprietary blends. One for energy, another for fat burning and the final one for mental performance. Kind of like 3 products in one. But is it a jack of all trades and master of none?
We are not particularly impressed with the fact that the product uses a proprietary blend instead of giving the actual dose of every single ingredient. This makes it a bit hard to judge the efficacy of the product.
Notwithstanding, let's investigate the major ingredients used.
Caffeine Anhydrous (200mg)
Caffeine is obviously one of the most popular ingredients in this sector. That's because it is one of the best-studied ingredients in the health niche. It seems there is a definite connection between caffeine and body weight, some studies show that caffeine can stimulate thermogenesis and suppress appetite thereby leading to weight loss.
However, when taken in excess it could bring about some disturbing side effects like increased blood pressure, insomnia, nervousness and so on. For this reason, it is good that Performix clearly lists the dose as 200mg on the label.
Synephrine
Another notable stimulant you will find in Performix SST is Synephrine, a bitter orange extract.
Synephrine is commonly used for various health purposes, including treating fungal infection, weight loss and improving athletic performance. The extract occurs in salt form which makes it very easy to absorb into the body.
Some possible side effects include headache and increased sensitivity to the sun.
Synephrine is often used together with caffeine in weight loss supplements for rapid metabolic rate. However, there are also reports that the combination might lead to increased risk of high blood pressure.
Safflower Oil
Safflower oil is basically a byproduct of the safflower plant, an annual broadleaf from the Asteraceae or Compositae family. The oil has a variety of uses including cooking, painting, hair conditioning, medicine and others.
Some research reports that substituting safflower oil for other oils in a dietary supplement can help with the overall cholesterol intake. This is because the oil reduces the low-density lipoprotein (LDL) cholesterol of the body.
This doesn't necessarily mean that safflower oil itself can cut down cholesterol. However, since you need to consume fewer calories than the amount you burn in order to lose weight, taking a carrier oil like safflower oil in moderation can help you achieve that.
Safflower is not to be taken by pregnant women or people with bleeding problems.
Rosemary
Rosemary is one of the more recently discovered herbs that is believed to delay hunger. This may be connected to its carnosic acid content, a substance that prevents the development of fat cells.
A research carried out by a Nestle Research Center on mice shows that Rosemary extract can inhibit weight gain by delaying fat digestion. As a result, people who consume the extract may feel fuller.
Yohimbine
Yohimbine is derived from an African tree known as Yohimbe. Although some studies have linked Yohimbe for weight loss, none of them has been conclusive.
Cognizin
Cognizin can be considered one of the few so-called 'nootropic ingredients' that may just work, it has been clinically tested to help with mental focus, energy, and recall.
Black Pepper
It is very common to see black pepper featured in small amounts in dietary supplements like this as it can help with increasing the bioavailability of other ingredients in the supplement. This may make it easier for the body to fully benefit from the essential vitamins and minerals in the product.
Side Effects with Performix Iridium SST
It is very common for weight loss supplements to be laden with stimulants. This often leads to many side-effects for users.
In a product like the Perfomix Iridium, the caffeine content can be a source of worry for some people. More so, the interaction of caffeine and Synephrine may hold some potential side effects.
200mg does sound too much in fairness.
That said if you are sensitive to caffeine make sure you consult with your doctor before taking Performix Iridium SSTI or any other supplement for that matter. Even when you eventually start taking it, discontinue use immediately if you notice any dramatic change in your body.
Performix Iridium Fat Burner Reviews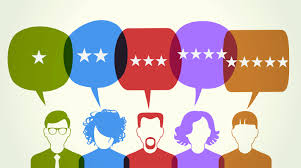 It is always a good idea to look up reviews when purchasing any supplement for the first time, especially when you are paying up to $79 for it.
In order to really find out what people are saying about the Performix Iridium SSTI fat burner, we decided to look at various online resources to get a general picture.
From what we discovered, there were mixed opinions on the efficacy of the product.
Many users reported having experienced a small energy boost, while others who combined the supplement with cardio exercise and a healthy diet said they had great results. Others complained of a lack of results as well as side effects associated with caffeine.
Always bear in mind that supplements are not there to offer a quick fix or do the work for you, you will need to remain dedicated if they are to be of any benefit.
Missing Ingredients
 Without doubts, Performix Iridium features some good ingredients, but we still feel it could have been better if it contained a few more substances commonly found in products like this.
A good example is Chromium which helps in normalizing blood glucose concentrations.
Keeping blood sugar in check is very important when it comes to maintaining a healthy diet by reducing your sugar cravings.
Another ingredient we would have loved to see is Glucomannan which is known for its cleansing effect on the bowel and appetite suppressing properties.
It is also disappointing to see choline missing from the list. Choline helps with normal fat metabolism, and lack of it in the body could result in a build-up of fat and cholesterol in the liver.
Will Performix SST Help You Lose Weight?
We believe with a low-calorie diet and good exercise regime, the Performix could give you a small advantage in your weight loss goals.
However, the large price does make us question whether you are getting optimal value for money. The fact that the majority of ingredient doses are hidden from view makes it even harder to establish if this product is worth the money.
The best female fat burner supplements
Pros and Cons of Performix Iridium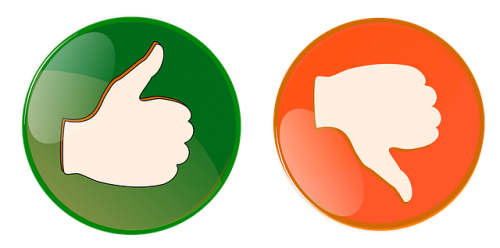 PROS 
Easily absorbed into the body
Can improve cognition
May boosts energy levels
CONS
Expensive
We think it's underdosed
Prop blend is not well understood
Performix Iridium SSTi Price
As earlier indicated, the Iridium SST is a premium price supplement. In fact, it may actually be the most expensive option in its category.
At the moment, 1 bottle of the supplement costs $79.99, and this comes with just 30 servings and 60 capsules overall.
Apart from GNC, the product can also be obtained from Amazon.
Conclusion on Performix Iridium
Unfortunately, the inclusion of proprietary blends means you will be very much in the dark when you buy this product.
Will you get a bang for your money? Maybe, maybe not. It is a gamble that may pay off, but this will depend heavily on your overall lifestyle.
What we can see is that Performix focusses nearly exclusively on stimulants, so if you are looking to kickstart your body goals with a reduced appetite you may not be in luck.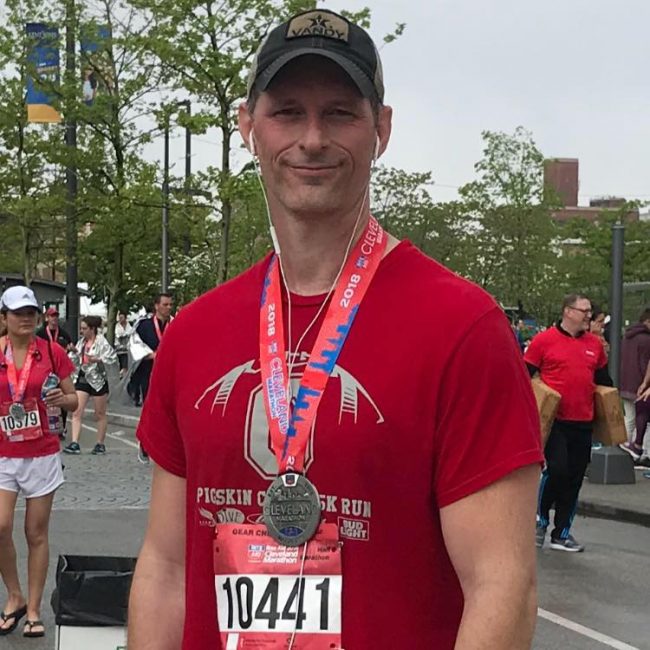 Ryan is a former college wrestler and lifelong fitness fanatic. He has run half marathons, done mud runs, placed in body transformation contests, coached wrestling and now coaches girls soccer. Not to mention he has also tried literally hundreds of supplements over the years and has a vast and thorough supplement knowledge. He has written for Muscle & Strength, Testosterone Junkie, The Sport Review and other publications. He is also the editor in chief of this website. Feel free connect with him on his LinkedIn page below.