Working out at home has its luxuries.
You don't have to deal with the typical gym weirdos, waiting for sweat-covered equipment, terrible music or the creepy gym locker rooms.
With your own home gym, you can listen to your own music as loud as you want, wear whatever you want, workout whenever you want.
For gymgoers having a gym at home is the ultimate freedom. But which home gym should you choose?
That's what we are here to help you with. Let's get started.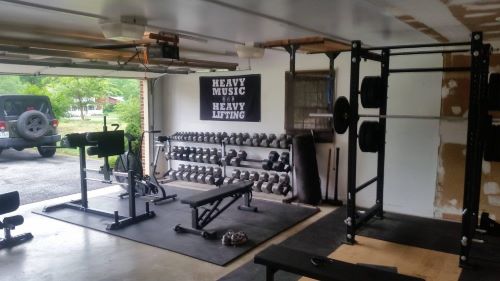 Types of Hope Gyms
There are several different types of home gyms out there. You can get anything from a power rack to a single stack machine to a multi-station beast of a gym that will handle all of your needs.
Personally, I prefer the power rack type set up since it allows you to have more of a true weightlifting experience than you would get from any other type of home gym.
Not everyone has room for a rack style set up though, but no matter what your situation is there is likely a home gym on this list to fit your budget and the space available in your home or garage.
Related: The 10 Best High-End Treadmills 
The 10 Best Home Gyms For Weightlifters
These are the best home gyms for people that like to lift weights, you won't find The Total Gym or any of that wimpy stuff on this list.
 #1 W-4 Garage Gym by Rogue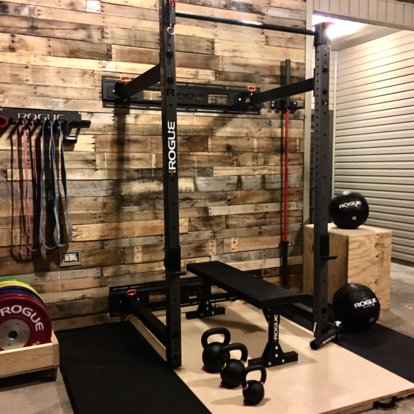 Topping off our list of the best home gyms for weightlifters we have what most weightlifters would consider their dream home gym with the Rogue Garage Gym.
Whether you are a CrossFitter, Olympic lifter or just someone who likes lifting free weights this bad boy is the one for you.
For your benching, squats and pull-ups the W-4 Garage Gym can come with a wall-mounted rig which is totally badass. This bad boy bolts to the floor and wall so it is extremely stable and can handle the heaviest weights you can throw at it without worrying about it shifting, wobbling or collapsing.
Other options include weight storage units, landmine unit, kettlebells, Rogue Games Box, gymnastic wood rings, the bench, med balls, weightlifting bars and just about anything else you desire.
The nice part is, it is fully customizable. You can buy the parts you want and skip the stuff you don't. It's all up to you. If you have a large budget you can create a really badass home gym, if you have a smaller budget you can still make it work and you can even buy the equipment piece by piece.
Overall if you are looking for a home gym that is high quality, strong, durable and gives you the ability to hit the weights like the animal that you are then this is the W-4 Garage Gym is for you.
Pros
Fully customizable – buy what you want, skip what you don't
High quality that equipment that can take whatever you can throw at it
Made in the USA
Gives you a true free weight experience
Free shipping when you buy a rig
Cons
Takes up a decent amount of room, not everyone has room in their garage or basement for something like this
Website: www.rogue.com
#2
FORCE USA G-3 All-in-One Trainer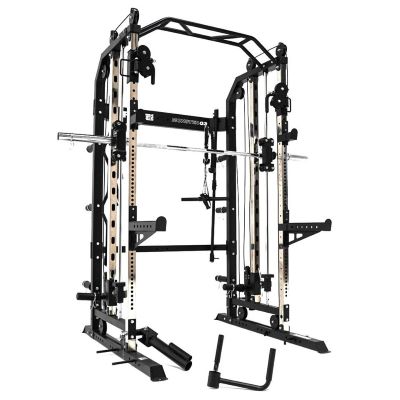 Next up we have one of the more heavy-duty home gyms on the list with the G3 All-in-One Trainer from Force USA.
This beast combines a power rack, smith machine, and a cable pulley system into a strength machine that is compact but versatile.
It also comes with a chin area with multiple grips so you can always get the perfect angle.
The pulley system includes all of the different handle attachments you will ever need including a close grip row handle, v-handle, push bar, tricep pulldown rope, ankle strap,  nylon strap handles and more. The cable system uses 6.2mm nylon coated mil-spec aircraft quality cables are tested to 2,000lb and has 46 height positions, They are much higher quality than you get with most home gym pully set-ups.
This machine may only take up a small area but you can complete over 75 different exercises, perfect for a garage basement or even a spare room
The only thing we don't like about this home gym is that there is no bench for it so you will need to buy that as well if you want one.
Pros
High-Quality Construction and materials
75 different exercises available
12 Attachments included
Compact
Effective pully system
Cons
More expensive
Leg press plate and lat pulldown seat cost extra
Shipping is extra
See this home gym on ForceUSA.com
#3
MiM USA Hercules 1001 Full Gym Set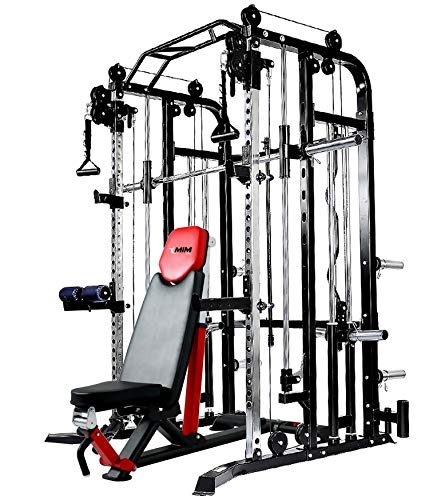 Next up we have the MiM USA Hercules 1001 Full Gym Set. This is another really nice setup you will want to consider.
This home gym is a beast that gives you the ability to do just about anything you would want to do in the weight room.
It has a rack for you to do squats, bench press, military presses, shrugs and much more to give you a complete free weight experience.
On top of that, you get a Smith machine for those how are looking for greater control and stability. Cables for rowing, pulldowns, flyes and anything else you can dream up. There is even a plate attachment that allows you to do leg presses and a landmine press attachment. There is almost nothing you can't do with this machine.
The only negative with this gym is that the assembly can a while since there is a lot to it but in the end, it is totally worth it.
Pros
Gives you a free weight experience along with a Smith machine
Cables for pulldowns, tricep pushdowns, cable curls and much more
Leg press plate attachment
Free shipping
Excellent reviews
Allows you to do hundreds of exercises
Cons
Assembly may be lengthy
More expensive
See this product on Amazon
#4
Marcy Smith Cage  Total Body Training Home Gym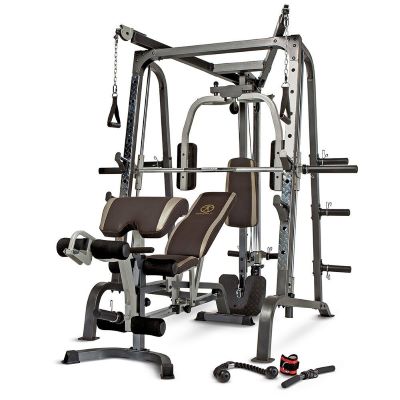 Next up we have the Marcy Smith Cage Workout Machine Training Home Gym. This one is another really nice selection that is on the less expensive side.
This machine features the rack so you can do squats and bench press in the regular free weight style and it also includes a Smith machine as well a pulley system for triceps pushdowns, rows and the like.
The bench does come with the machine and so does the preacher curl attachment. Everything you see is what you get.
This machine is also easier to assemble than comparable setups so you shouldn't be at it forever like you are with some of them.
On the negative side, the pulley system has received some bad reviews for not being very smooth or just not functioning correctly.
Pros
Inexpensive
Rack for lifting free weights
Sturdy construction
Includes bench, preacher curl attachment
Cons
Pulley system has received negative reviews
See more about this product on Amazon
#5
Body Solid Series 7 Smith Gym Package With Weights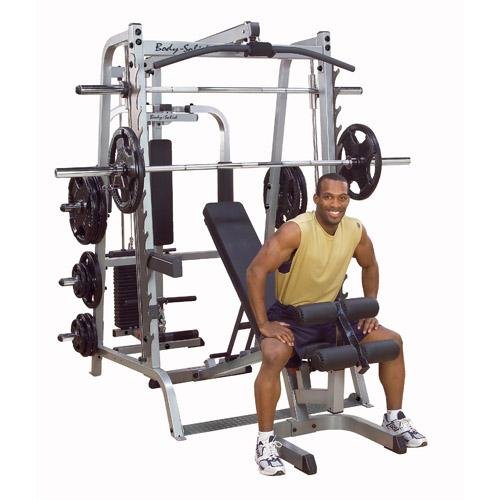 The Body Solid Series 7 Home Gym is next up on our list. 
This weightlifting machine is not only less expensive than others, but it comes with an adjustable bench, 400 pounds of plate weights (which most other machines don't), a lat pull-down system, and weight racks.
This machine does take up more room but is more stable with its A-frame design. The bench also folds up, instead of pulling it out! Although this very happy man does not come included, the Body Solid Series 7 Home Gym does great at getting its job done, and done well.
Pros
Free shipping
Weight set included
Bench included
Sturdy design
Cons
Fewer pully exercises that other home gyms on the list
Negative reviews on the pully system
See this product on Amazon
  p;
#6
ICON Fitness Weider PRO 8500 Smith Cage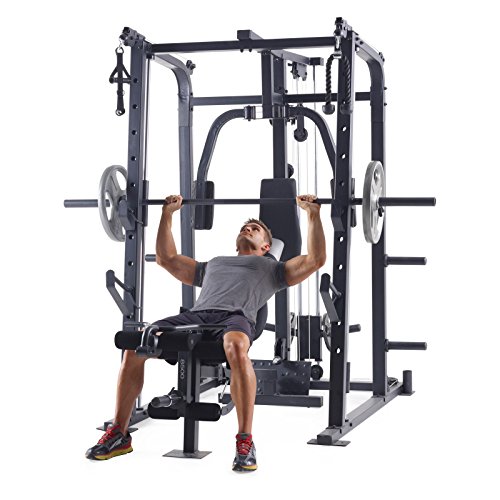 The ICON Fitness Weider PRO 8500 Smith Cage is next on our list and this one is a bit easier on your wallet than some of the others on this list.
This home gym gives you the free weight experience of the rack as for free weight bench press and squats and the like and it also has the Smith machine as well.
It also has 2 pulley systems for pulldowns and cable curl and all that jazz.  Just like most of the other machines on this list.
This cage has a weight capacity of 300 lbs so if you are a big beast who plans on squatting 500 lbs you might want to skip this one.
The pulley system on this one also has negative reviews which is common for the home gyms.
Pros
Less expensive
Bench included
90-day warranty
Cons
Bad reviews on the pulleys
300 lb weight capacity
See this home gym on Amazon.com
#7
Marcy Pro Power Rack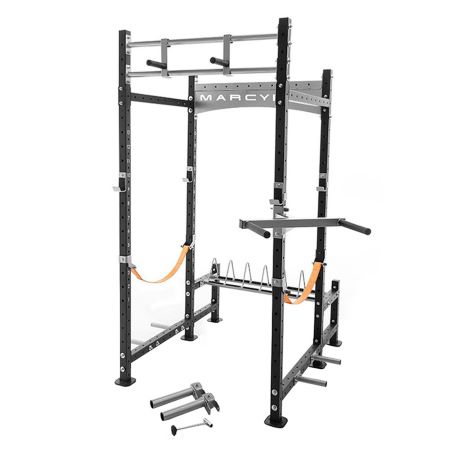 The Marcy Power Rack is a bit more simplistic than many of the home gyms on this list but there is nothing wrong with that. Sometimes it is better to keep it simple.
This beast allows you to do all of your free weight exercises from heavy squats to shrugs to the bench press and beyond. It boasts a highly durable steel frame reinforced with a powder coating, guaranteeing its ability to withstand intense use.
This cage also features a station for doing dips and chin-ups as well.
On the negative side, this gym does not have a Smith machine or any cables but if all you are looking to do is lift free weights this will work just fine and the price is right too. Also, there is no bench with this rack so you will have to buy your own.
Pros
Less expensive
Safety system (straps) included
Sturdy build
Easier to put together
Dip station
Cons
No Smith Machine
No cables
Bench not included
See more about this home gym on Amazon
#8
Valor Fitness BD-7 Power Rack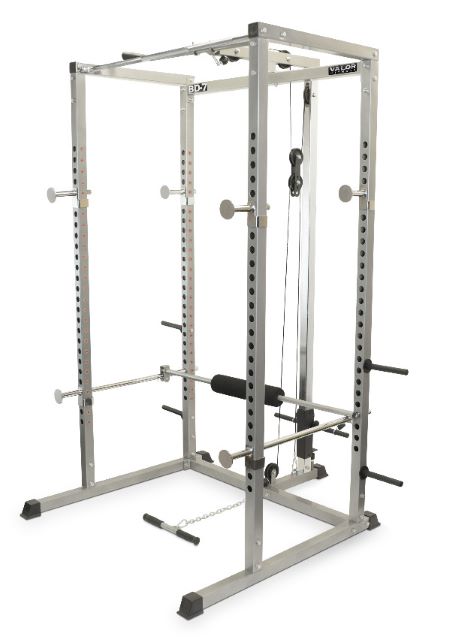 The Valor Fitness BD-7 Power Rack is another nice selection for those of you who are looking for something basic.
This rack allows you to do all of the free weight exercises you would expect and it also comes with a lat pulldown attachment as well.
It is a nice, solid construction that is made from 2" x 2" 12-gauge steel. It also has a max capacity of 500 lbs so you know it is tough.
This one does have some negatives which is why it isn't higher on the list. The pulley system has some pretty bad reviews, one reviewer noted it seemed a bit wobbly and some said it came with parts that were missing. Some also noted the pulley system got in the way during certain exercises.
This one has a nice price but it isn't perfect. If you are buying it for the lat pulldown feature I wouldn't bother.
To be clear, most reviews are good but it does have some noted flaws.
Pros
Low in price
500 lb weight capacity
Simple design and assembly
Cons
Pully system is not good
Some say it is wobbly
No bench included
See this home gym on Amazon
#9 Bowflex Blaze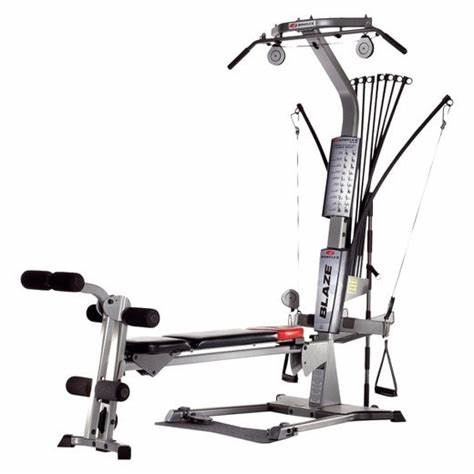 The Bowflex Blaze is a great home gym for those who live in an apartment or don't have much free space available.
The Blaze offers you over 60 exercises to work your entire body, it also comes with 7 workout programs for you to follow.
This machine even has a sliding seat rail that allows it to become a rowing machine so you can do cardio as well.
It also folds up small for easy storage so it takes up even less room when not in use.
On the negative side, the Bowflex Blaze is not a true free weight experience. It also only comes with 210 lbs of resistance which may be low for some people, you can order it with 310 lbs or 410 lbs of resistance but it will cost more.
On top of that, the rods lose their resistance after a while and need to be replaced. Also, the assembly can be a pain in the butt.
Pros
Compact, doesn't use much room
Folds up for easy storage
Features over 60 exercises
Can be used to do rowing for cardio
Cons
210 lb resistance may not be enough for some
Not a true free weight experience
Rods lose resistance and need to be replaced
See the Bowflex Blaze on Amazon
#10 Competition Package by Again Faster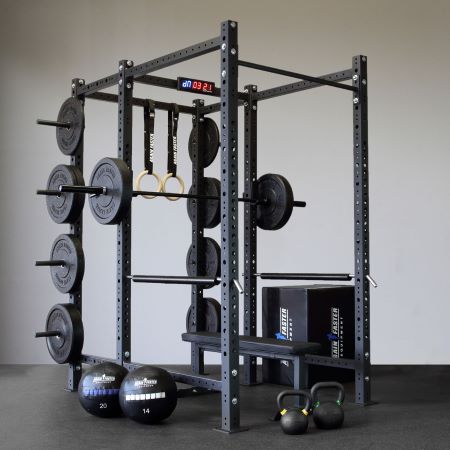 Rounding out our list of the best home gyms for weightlifters we have the Competition Package from Again Faster.
This package includes the power rack, 350 lb bumper plate weight set, heavy-duty flat bench, plyo box, med balls, kettlebells, a speed rope and more.
If you are into CrossFit this is another good option for you to consider along with the Rogue Garage Gym.
The shipping is free with this package which is nice because there is a lot to it.
On the negative side, you can't customize what you get with it like you can the one from Rogue, it's all or nothing.
Another negative is that this one takes up a significant amount of space that many people just don't have.
Pros
Everything you need in 1 package
High-quality equipment
Made in the USA
Weights included
Cons
Not customizable
Uses a significant amount of space
Website: againfaster.com/Competition-Package/
Best Home Gyms for Weightlifters Wrap Up
We have given you 10 great home gyms for you to consider. Each of them has its strengths and weaknesses but they all have something great to offer.
We prefer the W-4 Garage Gym by Rogue for its true free weight experience and the fact that it is fully customizable. After that, there are many other great gyms on the list with a wide array of pricing but you will surely find something for your budget.
Once you get one of these gyms set up in your home or garage you are likely to never have a gym membership again. Enjoy!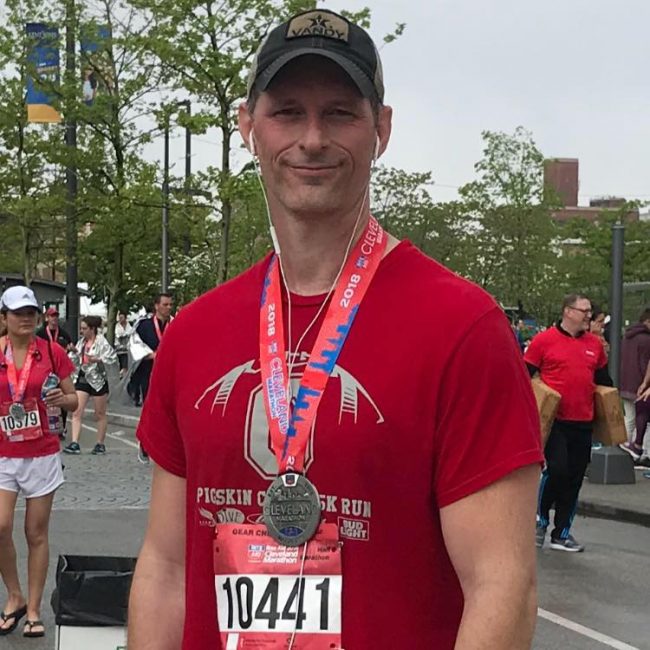 Ryan is a former college wrestler and lifelong fitness fanatic. He has run half marathons, done mud runs, placed in body transformation contests, coached wrestling and now coaches girls soccer. Not to mention he has also tried literally hundreds of supplements over the years and has a vast and thorough supplement knowledge. He has written for Muscle & Strength, Testosterone Junkie, The Sport Review and other publications. He is also the editor in chief of this website. Feel free connect with him on his LinkedIn page below.