(Last Updated On: September 7, 2022)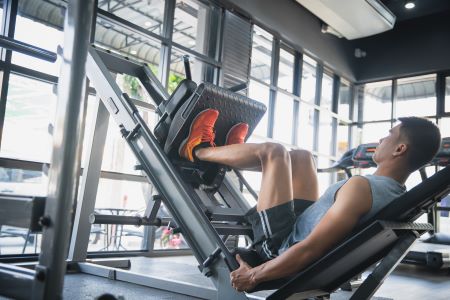 A typical home gym setup usually involves dumbbells, a bench press, a treadmill and a power rack, among others.
But wait, how about gym equipment that tackles an oft-forgotten but essential aspect of training? That's right- we're talking about your lower body. Squats will usually do the trick, but squats can be hard on the lower back and are difficult if you have a leg injury.
The immediate answer to your problem is a leg press machine. It's a great piece of equipment since there's very little chance of injury, and you won't need to focus on your form. You get maximum gains when you invest in a leg press machine.
That said, here are the 11 best leg press machines for home gyms right now.
Quick List: Best Leg Press Machines for Home Use
See below for details about each machine.
The 11 Best Leg Press Machines for Home Gyms
These are the top leg press machines on the market for your home gym. No matter what you are looking for in a leg press machine you can find in this list.
Best Leg Press Machine Overall
Ultimate 45 Degree Leg Press Hack Squat Combo by Force USA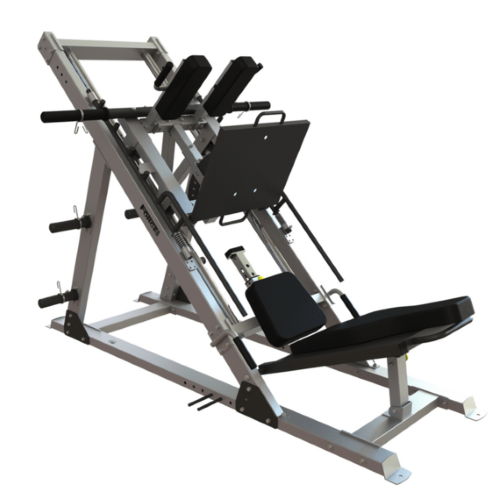 There isn't any other leg press machine we can think of that matches the Ultimate 45 Degree Leg Press Hack Squat Combo in terms of build, versatility and value for money. It's truly deserving of the tag 'best overall', and you'll see why in a minute!
It's not just a two-for-one, but actually four different machines in a single package. You get a leg press, calf raise, forward thrust and a hack squat within an optimized 45-degree angled design, which makes your leg day super productive. You'll have a solid and stable lower body as the foundation for your dream physique.
The machine targets the calves, hamstrings, glutes and quads. You'll need all of these muscle groups to be strong and serve as your base for strength training. What we love about the Force USA Leg Press is that it's easy to use, and transitioning from one machine to another only takes several seconds, thanks to the simple pop-pin adjustment on the footplate and back pad angle. You can focus on bringing your most and not waste any time trying to convert it to the one you want.
The combo machine is also perfectly safe to use and has features that allow you to train to muscle failure without worries. Safety rails on the sides and adjustable catch stops prevent the carriage from crashing down and causing injuries. A lower frame and band peg positions offer greater resistance in conjunction with Super Bands (optional).
The machine is sleek, sturdy and made from 13GA Steel Construction, with reinforcements on stress points and joints. It can accommodate both standard and Olympic weight plates and houses storage holders near the bottom of the base. Every purchase comes with a lifetime structural warranty direct from Force USA.
Pros
Commercial quality at a reasonable price
Band pegs included
Reinforcements and safety features are welcome additions
Includes attachment for calf raises
Has a 1000 lb weight rating
Cons
---
Related: The 15 Best Power Racks for Home Gyms
Best High-End Leg Press Machine
Rogue Iso Leg Press 35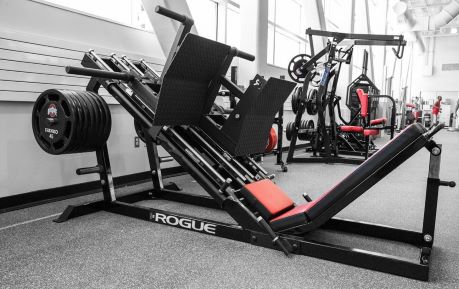 If you want a one-and-done, high-end leg press machine then there's no better product than the Iso Leg Press 35 by Rogue. Everything about the machine screams absolute class and superb attention to detail, and you can proudly add it to your home gym collection and get some oohs and ahs from your friends and fellow athletes or gym enthusiasts alike.
Rogue pulled out all the stops on its Iso Leg Press 35, which is a powerhouse in its own right. To spare you the trouble, each unit comes fully assembled and ready to go. It's a premium machine that weighs around 700 lbs and boasts a maximum weight capacity of 2,475 lbs. Not only will it meet all your lower body lifting requirements, but it also stands the test of time and work as well as when it first arrives on your doorstep.
Diving into details, the heavy-duty equipment has unilateral and bilateral aspects and can accommodate every size and experience. There's a total of 4 weight pegs, and the design includes adjustable spring safety stops and lumbar seats, as well as stainless steel posts for storage, linear ball bearings and a diamond tread foot deck that can be angled according to your preference.
It's a professional-grade leg press machine in the US, and an improvement over traditional machines. The Iso Leg Press 35 gives you the flexibility of being able to do single and double leg exercises on true weight resistance of 60 percent. What we like is the solid construction, thanks to the quality steel finished with texture black powder, a foot deck for added traction and a medium gloss black finish to tie it all together.
The experience is as you'd expect. On paper, the specs already sound excellent but then it's a whole new level when you put your feet on the pedal and start pushing. All in all, if you have the money and want nothing but the best leg press machine then we wholly recommend this beast!
Pros
Sled moves like a dream
Back seat allows for multiple adjustments
Maximum weight capacity at 2,475 lbs
Ample storage for weight plates
Made in the USA
Cons
Heavy and immovable
Long delivery times
---
Best Vertical Leg Press Machine
Verticle Leg Press by Titan Fitness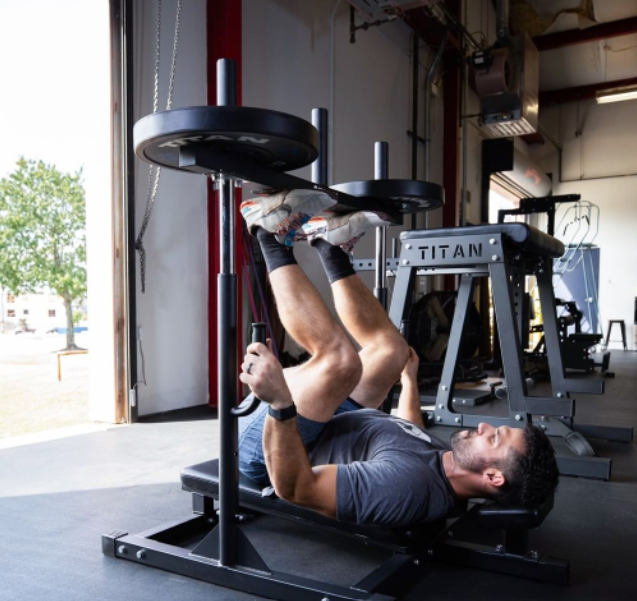 Vertical leg press machines are good for two things. One, it saves more space than your standard leg press equipment, and two, you get an isolated and higher intensity lower body workout in the process. If you like the idea of what we're saying then we'll point you to the best one out there- the Titan Fitness Vertical Leg Press Machine.
This leg press machine is built really nice and tough and has a nifty design so you can make the most of every lift. It features a dual post design where you'll be able to train both legs and feel the burn on each of them. We absolutely love how our backs were firmly set and how the machine puts all the force in the legs for a better quality of workout. Speaking of weight, the top sports a tri-horn where you can put 45 lb Olympic plates, and underneath those is a footplate with diamond etchings for added traction and stability.
What's good about Titan Fitness is that they have free shipping on their products, and you can avail of financing options if things are a bit tight. The addition of rubber grip handles for getting up and settling in is a nice touch. You'll probably need to put in some lubricant while assembling, and time and again for maintenance purposes. Still, the 11-Ga steel and 400 lbs maximum weight capacity should provide lower leg workout service for a long time.
Pros
Less Expensive
Space-saving and doubles workout intensity
Can fit in 45 lb Olympic plates
Dual post design works both feet
Cons
Only rated for 400 lbs
Can be cumbersome to get into and out of
---
Related: 13 Best Exercises for Strong and Athletic Legs
Best for Small Spaces
Compact Leg Press from Force USA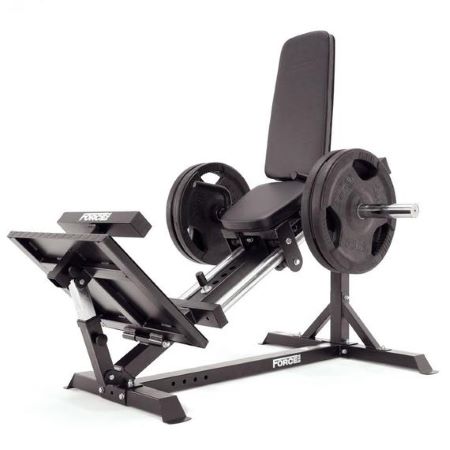 Don't give up on your dream of a strong lower body just yet- you can still set up a nice leg press machine even if you live in a condo or apartment. Force USA has your back with its Compact Leg Press equipment, a nice product with full-sized features!
With dimensions roughly the size of a large wheelchair, the leg press machine can be situated anywhere, whether in a room or the basement. It's only about 65 inches deep and 52 inches wide and yet provides a killer leg workout.
The most noticeable thing about this leg press machine is its generously sized footplate, which measures 23 x 20. This allows you to change feet placement, e.g., wide, closer or turned at an angle so you can target different muscles accordingly. It's solid, provides a nice tactile feedback, and feels relatively stable throughout. The machine works on people of all sizes, even those that are 6'6 in height, and the track is worth writing home about.
Force USA has built its leg press machine to withstand the rigors by giving it a heavy gauge rolled steel material, a structure that can support weights of up to 660 lbs and has a lifetime warranty. You'll be able to do calf raises and standing leg presses without worrying that it will break in inopportune times.
By default, the machine wouldn't be able to work out of the box for many. You'll need to make some adjustments after assembling to get the optimal height, footplate angle and back pad. What we like about this leg press machine is how easy things are in terms of fine-tuning. If you've worked with a leg press before you'll be right at home, thanks to the pop-pin mechanism and strategic safety pin positioning.
Rounding out the details are ripstop mesh on the back, commercial-grade upholstery, eco-friendly powder coat and ergonomic grip handles for assistance. It's also worthy to note that assembly is a snap and you'll be pushing in less than 30 minutes.
Pros
Hover-Glide technology for smooth motion
Upholstery is sturdy, firm and comfortable
Ultra-wide footplate deserves special mention
Excellent reviews
Made with heavy gauge rolled steel
Cons
---
Related: The 7 Best GHD Machines on the Market
Best Leg Press Machine on Amazon
Bodycraft F660 Leg Press/Hip Sled
Interestingly enough, the best leg press machine you can buy on Amazon isn't the cheapest. Bodycraft's hack squat slash leg press combo wins the 'best on Amazon' by a wide margin because it's good at what it does- turn your lower body into a force to be reckoned with!
The machine's heart and its greatest feature has to be the industrial-grade linear bearings. The ingenious design allows you to push further and exercise to exhaustion without worrying about the system failing. You get a consistent performance every time you step in. Premium material means it can take a beating and keep on working throughout its lifetime.
If adjustability and utility is your concern, then this leg press machine is for you. Starting with the adjustable squat shoulder pads, the lower and upper footplates and removable calf block, you'll feel as if the machine was made specifically with you in mind. It doesn't take long to acclimate to the leg press and focus on your workout rather than work the kinks out of the equipment. Operating it is easy- take out the 3″ calf block or use the donkey squat pad to do calf raises and squats, or use different angles on the footplates depending on what you want to achieve. Grips on both sides let you gain support and add to the overall stability.
For the price, you're getting a premium machine. It can support a maximum weight of a thousand pounds, and the back pad even has lumbar support to prevent spine compression. Speaking of which, all the pads are stuffed with high-density foam and double stitched, so they won't easily come apart.
Weights are loaded under the carriage and save extra space. Shipping is free, and there are financing options if you're in a bind.
Pros
Combines a hack squat and leg press in one
Industrial grade linear bearings last a lifetime
Available on Amazon
Cons
---
Best on a Budget
Plate Loaded Linear Hack Squat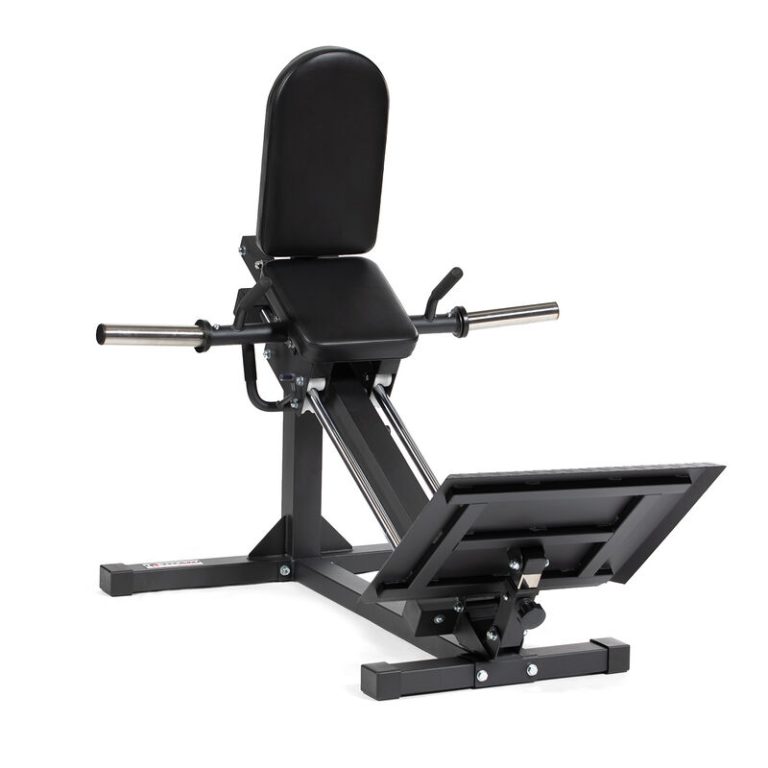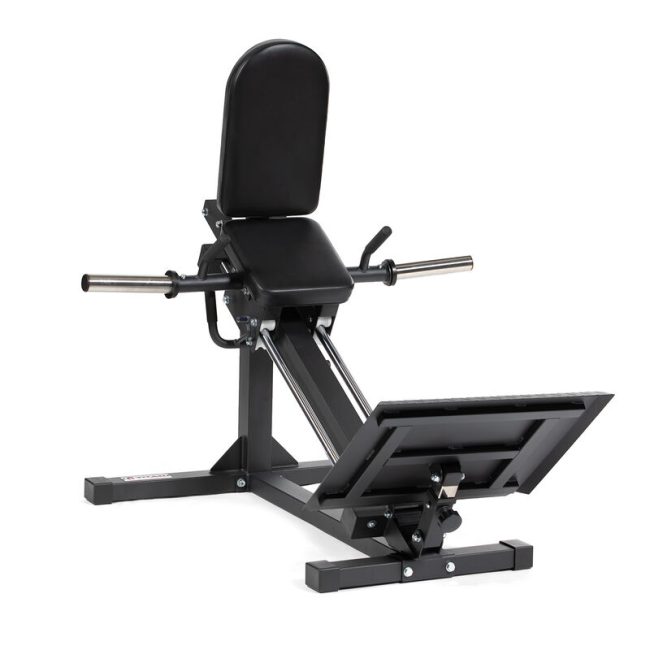 Titan Fitness' hack squat machine is a no-nonsense product that caters to the budget-minded. We were pleasantly surprised by its sturdiness, usefulness and the way it performs. It's great, operates smoothly and is a shining example of leg presses done right!
The Hack Squat Machine measures 45.5 inches in height and 60 inches in length and can accommodate any frame or size. Getting in, we were impressed by how easily adjustable and comfortable it is and how you can grab the handles.
This leg press machine can hold 2-inch Olympic weight plates through its dual post, along with two more as storage. Everything is constructed using high-quality steel, and it actually feels rigid and very durable for a leg press of its price. The footplate isn't extra wide but it is marked and textured so you won't accidentally slip out under immense force.
What we like about the hack squat machine is how it delivers on all fronts sufficiently. Granted, it can only do hack squat but that should be enough to build essential lower body muscles. The product itself comes with a 1-year warranty and there's financing if you need it. Oh, and you get free shipping and the option to have it delivered straight to your doorstep.
Pros
Good value for money
Solid steel construction
Olympic weight plates supported
Cons
On backorder when this article was written
Quality isn't as high as others on the list
Only a 400 lb weight capacity
---
Best Horizontal Leg Press Machine
Body-Solid LVLP Leverage Horizontal Leg Press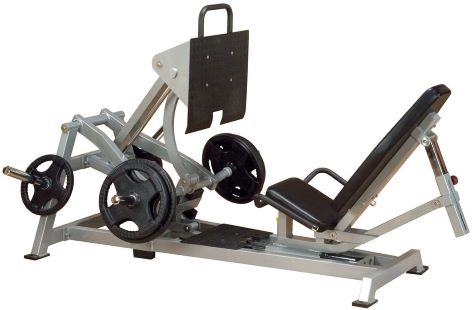 Body-Solid's commercial-rated leg press is a fine specimen of what horizontal machines should be. You get an impressive list of features and get the lower body workout you need right in the comfort of your own home.
Granted, horizontal leg press machines take up more real estate but with that comes benefits such as extra comfort and optimized weight resistance training. If you're willing to part with some of your garage or basement space then you'll find this leg press machine to be excellent value for money.
The structure where you rest your back is fully adjustable so you can be as specific as you want for total body alignment. The mainframe is made from solid 11 gauge steel and finished with a powder coat finish in metallic silver to give it that extra longevity. It will look good months or even years after you put it down and maybe even longer. After all, it's commercial rated which means it can take enormous amounts of punishment.
Getting down to the brass tacks, the sled is handled by sealed bearing pivots and a direct drive press system, which translates very well when put to the test. Performance is buttery smooth, and we like how presses have more lift to them, and there's no snag whatsoever. These quality of life additions may seem minor but you'll come to appreciate them over time.
This leg press machine isn't a one-trick pony, either. You can change your foot position on the self-aligning and pivoting footplate to accommodate various motions and to ensure you're doing it right. There's also a built-in weight plate holder for storage but Olympic weights are not included.
Overall, the quality of the build and how it's used will delight those who intend to hammer out a solid core and lower body. You can push the Leverage Horizontal Leg Press Machine hard depending on your routine and it will still be ready and perfectly serviceable on your next leg day!
Pros
Commercially rated for extra durability
Linear bearing carriage and direct drive system works like a dream
Back and upholstery are adjustable and double stitched
Cons
Has a larger footprint compared to traditional leg press machines
Above average in price
Available at FitnessFactory.com
---
Best for Heavy Lifting
Rogue Iso Leg Press 35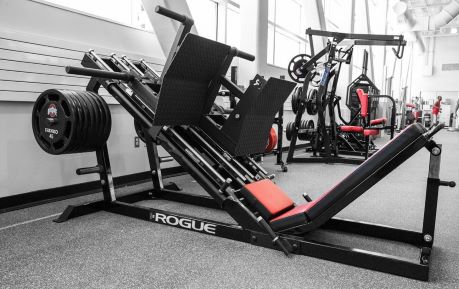 Rogue's Iso 35 already has garnered the "high end" award from us, and now it's won the 'best for heavy lifting' category as well. Truth be told, we weren't able to find any other leg press machine that can boast the maximum weight limit as Rogue's product.
If you've read our 'best high-end leg press machine' you'll know that the Iso 35 has an amazing weight capacity of 2,475 lbs. However, it isn't a matter of just building a leg press that can withstand thousands of pounds of weight- it has to be stable and have the right safety measures in place, something that Rogue was able to do.
So, let's begin with the material and structure. Rogue has opted for one of the best ones around and built this leg press machine using USA steel and an impressive MG black finish. The locking handles, spring stops, weight pegs and foot deck get treated to a textured black powder coating that gives it that added grip. Then, you can bail out knowing full well you won't get injured, thanks to the spring safety stops and multi-angle diamond tread deck.
There's also the fact that you can train both your legs separately in concentrated sessions so you can achieve what you want with laser accuracy. There are two pegs for weight and two posts for storage purposes, along with upholstery that's just as tough as the rest of the machine.
Rogue has made a true standout leg press for those who want and can take the punishment. A word of advice, though- each unit is shipped fully assembled, so you'll want to prepare in advance. It's immovable as a tank, guaranteed to last a lifetime and will definitely be your best friend when it comes to core and lower body development!
Pros
Total load capacity of 2,475 lbs
Bilateral/Unilateral leg press function
Practically lasts forever
Made in the USA
Cons
Moving it may prove to be difficult
Well above average in price
---
Best Cable Machine Leg Press
Body-Solid Pro Select Leg Press Machine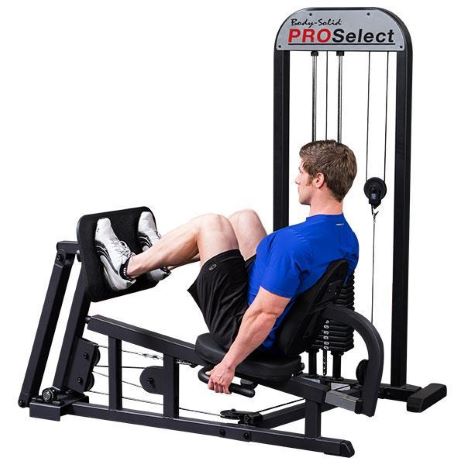 Cable machine leg presses, like the horizontal leg press, present an interesting wrinkle when it comes to developing your lower body. More specifically, you tend to feel the most consistent resistance as you complete movements, and they're gentle on the ankles as well. If these things sound good to you, then read up on why we recommend the Pro Select Leg Press Machine by Body-Solid.
The Pro Select is one of the best around, mainly because of the quality of life changes made on the bearings, beam design and press plate. All these things combine for a lower body workout like no other, and we guarantee you'll be raring to come back for more.
The commercial-grade machine sports finely-tuned pillow block bearings, thus eliminating loose weight and gives you smoother movement throughout. The press plate nicely rotates downward and forward to give you the ability to target your glutes, hamstrings and thighs. Lastly, the double beam offers a 2:1 ratio and constant resistance. Oh, and the press plate is covered in rubber and has extra wide and large dimensions so you won't ever slip or worry about injuries.
You can choose to get the 310 lb weight stack (optional) at an extra price. Honestly, this leg press machine has very little competition, and they're not half as good as the Pro Select Leg & Calf Press Machine.
Pros
Commercial grade bearings and materials
Easy on your ankles
Oversize footplate is excellent
Easily one of the best cable leg press machines out there, including commercial machines
Cons
Only goes up to 310 lb weight resistance
Less versatile than other machines on the list
Available at FitnessFactory.com
---
Best Leverage Leg Press Machine
Pro Clubline Leverage Horizontal Leg Press by Body-Solid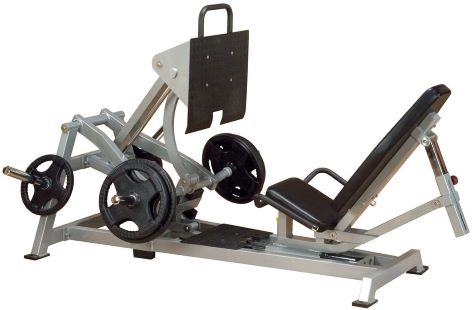 Body-Solid's domination in our best leg press machines speaks of the brand's quality and commitment to its customers. It seems that they did it once again, this time with arguably the best leverage leg press product in the market!
Leverage leg press machines are exactly that- they are angled and made in a way that you feel like you're doing free weights. More than that, you get a greater degree of control compared to just doing it without equipment.
The leverage leg press machine's components work together to form a cohesive whole. What we like about it is how it's solidly built, and stepping into the machine and doing lower body exercises almost feels like an afterthought. It's well-designed and intuitive, which means you won't take more than a minute to figure things out.
The extra-large footplate sits in front and has an anti-slip coating for maximum tread and grip. On the back end, you'll be supported by the DuraFirm upholstery which is nice and thick. It strikes a fine balance between comfort and performance- you won't feel like it's too soft nor too thinly padded that it pokes you in the back. Force can be evenly applied at the right muscle using the pivot on the footplate as well as the hand grips located on the side.
As far as longevity is concerned you have nothing to worry about. The mainframe is steel and coated with powder to stave off scratches. It's great for both home and commercial use, so feel free to work it as needed. All in all, this leg press machine is a worthy purchase.
Pros
Large pivoting footplate
Mimics free weight training perfectly
Extremely durable and commercial rated machine
Cons
Gray coating can wear out over time
Available at FitnessFactory.com
---
Best Leverage Squat Machine
Body-Solid Leverage Squat Calf Machine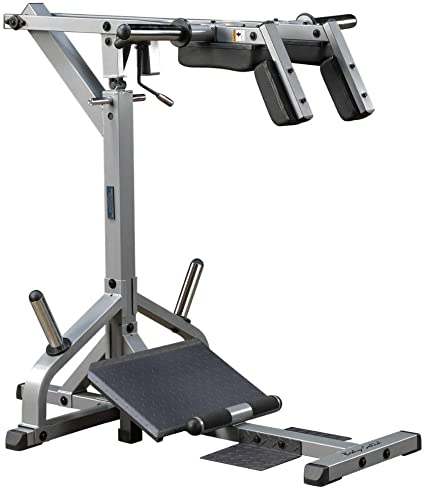 Are squats your bread and butter when it comes to developing your lower body? If that's a yes, then we say you get the Leverage Squat Calf Machine by Body-Solid.
Yes, it's a specialized machine but it's the best one out there. It gives you the ability to train with up to 800 lbs. or more and is built to handle heavy loads with ease, thanks to its heavy-duty mainframe that comprises 12 gauge, high tensile steel and 4-side welding. It's an absolute beast that's capable of just about anything you can throw at it, squat-wise.
Body-Solid has done an excellent job with the rest of the machine. The footplate has that familiar diamond pattern and is set to an optimized 20-degree pitch, isolating your glutes and quadriceps. What's different is that instead of a square you get a round calf raise block to eliminate painful edges and provides a deep stretch simultaneously. You can finally focus on blasting those leg muscles and toning them to the shape you want!
All that weight is bound to come crashing down, which is why Body-Solid has put in a pair of spring-loaded lockout handles. They're within easy reach and can save you from the occasional mishaps.
For comfort and stability you get DuraFirm back and shoulder pads which are made extra thick and shaped to conform to the leg muscles. What we like about this leg press machine is how we could load it up and get maximum results for the time spent.
Pros
Can accommodate weights of up to 800 lbs and more
Unique round calf raise block and 20-degree pitch footplate
Heavy-duty construction and welding
Cons
Bulky, not a space-saving machine
Available at FitnessFactory.com
How We Decided
Durability
Investing in a leg press machine is no small matter, and we believe that the costs should justify an equipment's lifespan, which is dictated by how durable and tough it is.
So, when it comes to gym equipment we look to the gold standard- steel. It's the best material out there, and it's heavy but that's a plus since we're looking for overall stability as well.
Powder coating is nice as it staves off scratches and premature damage. Extra reinforcements give a product extra brownie points, as are extended warranties and similar offers. At the end of the day, we want our leg press to stand the test of time.
Reviews
Online reviews usually sway a casual buyer's opinion, and we're okay with that. In fact, a significant percentage goes to how good a leg press machine is according to those who have already bought and used it.
There has to be consistency on what customers are saying for a product to get merit. Are people saying it can accommodate their size when it's advertised as such? Then it's all well and good. We want our leg press equipment's advertisement to be real and not just a bunch of nice-sounding words put together.
Price
Price is another must-look factor when it comes to selecting the best leg press machines in the market. What we're aiming for is a good balance of price and feature- if it's expensive, the leg press machine has to offer a lot and it should be made from premium materials.
Price and branding go well together. Companies such as the ones above tout heavy-duty materials and commercial construction, and we'd gladly give up our money for quality any day.
However, there's a certain limit to how expensive or how cheap a leg press machine is, and those that fall into those categories don't make the cut.
Manufacturer Reputation
It's fairly simple- the more popular and proven the manufacturer, the more attention we give. Brands like Force USA, Body-Solid and Rogue always get the nod because they have a solid history of producing great machines.
Types of Leg Press Machines
You may have noticed many different-looking leg press machines out there and wondered what the difference is between them. Here is a brief guide to the types of leg press machines you may encounter at your gym.
The 45-Degree Leg Press Machine
This is probably the most common type of leg press machine you will see at a commercial gym. With these machines, you are positioned with your back against the back pad while your feet are up on a footplate that's at a 45-degree angle. You can load the sled with Olympic plates to suit your needs.
If you are ever on social media and see some clown doing way too much weight on the leg press machine for views, it's typically this machine.
My two favorites are this type of leg press and the vertical leg press.
The Dual Purpose Leg Press/Hack Squat Machine
You might see this type of machine and think it looks a bit like a 45-degree leg press machine, but with a couple of key differences. For one, the footplate on these machines is usually adjustable so that you can change the angle to target different muscles.
These machines also have back support that can be adjusted to turn the machine into a hack squat machine. In leg press mode, you would load the sled with weight as usual and press it away from you.
To use it as a hack squat machine, you would adjust the back support so that it's in place to support your back and then load the weight onto the sled. You would then squat down as if you were doing a regular hack squat.
If your gym has one of these machines, it's a great way to change up your leg workouts and target different muscles.
Vertical Leg Press Machine
You don't see these as much as you used to, but I really like them. The vertical leg press machine is an excellent choice for those who have limited space and are looking to get some exercise. It's also good if you want an alternative that doesn't take up much room or can be used when other equipment isn't available because of its stability compared with lying down on the floor while using most machines.
Doing vertical leg presses also just hits a little differently on the quads and glutes, not to mention it is easy on the lower back.
The Seated Leg Press Machine
This type of machine is similar to the 45-degree leg press machine, but you are seated instead of lying down. The advantage of this machine is that it takes some of the stress off your back.
The downside is that you may not be able to handle as much weight because you are sitting upright. These machines are also a bit more expensive than the others.
Leverage Leg Press Machine
The last type of leg press machine is the leverage leg press machine. These are typically found in home gyms or garage gyms.
They work by you putting your feet on a footplate and then pushing down with your legs to move a weighted sled. These machines can be adjusted to change the angle of the footplate, which changes the targeted muscles.
Leverage leg press machines can be a great choice if you want to save space and money. However, they can be a bit more challenging to use than other types of machines. Personally, I am not a big fan of them.
Why Have Your Own Leg Press Machine?
A leg press machine is a worthy addition to any home gym because it presents several benefits.
One of the selling points of a leg machine is how it can isolate a specific muscle in your lower body, such as the glutes, hamstrings or quads. Not only that, but a good leg press machine effectively eliminates bad form and the risk of injury, thereby giving you the greatest muscle growth potential.
They're great for beginners and those who may have been injured before. The safe and correct movement makes for excellent assistance work and doubles as supportive equipment.
Wrap Up
We hope we've eliminated the tediousness of having to look for the right leg press machine for your specific needs with our guide. Just refer to our best in category and you'll have made an informed decision and a great purchase!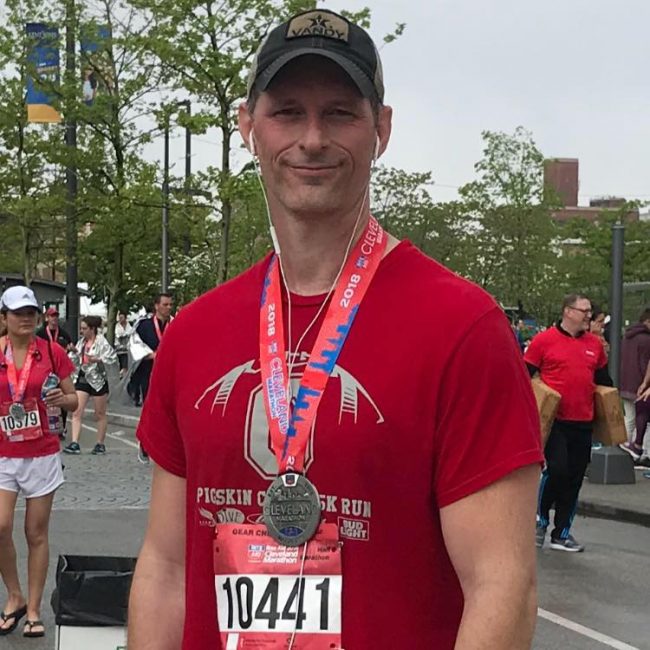 Ryan is a former college wrestler and lifelong fitness fanatic. He has run half marathons, done mud runs, placed in body transformation contests, coached wrestling and now coaches girls soccer. Not to mention he has also tried literally hundreds of supplements over the years and has a vast and thorough supplement knowledge. He has written for Muscle & Strength, Testosterone Junkie, The Sport Review and other publications. He is also the editor in chief of this website. Feel free connect with him on his LinkedIn page below.