(Last Updated On: March 13, 2019)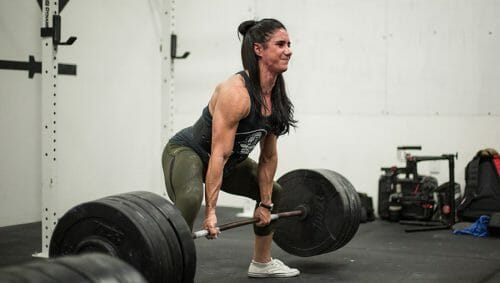 Steffi Cohen is a powerhouse. That you could probably guess from the title of the article.
Steffi is obviously a powerlifter but she is also an accomplished soccer player having player division 1 college soccer at San Diego State and also being on the Venezuelan National Soccer Team as a teenager.
On top of that, she has a BS Exercise Physiology and Sports Medicine and is a certified strength coach.
She holds the APA Deadlift World Record with 402 lbs at a 123lbs, but she is quite a bit stronger than she was when she set that making that record old news.
Steffi has said on several occasions that her main goal for 2017 was to deadlift 4 times her bodyweight, an impressive feat that very few have accomplished. Multiply your own bodyweight times 4 and see if your max deadlift is anywhere near that.
With a few months left to spare in 2017, she accomplished her goal at the WRPF's Boss of Bosses IV powerlifting meet lifting a mind-bending 484 lbs raw at 121 lb bodyweight which earned her the 123 lb Women's All-Time Raw deadlift world record.
Like most dedicated athletes though she wasn't satisfied, she set a new goal of hitting 500lbs, a goal she accomplished rather quickly.
Below is a video of her hitting a 501 lb deadlift at 121 lb bodyweight.
Yeah, she's strong. She also has a bench press of over 200 lbs and a squat of over 400 lbs to go with the incredible deadlift strength.
Below you can see a video of her squatting 365 lbs for 5 reps.
165kg/365lbs x 5 Today marks the beginning of the Hybrid Powerlifting comp prep for @jesseburdick's Reebok Record Breakers in November. . Let's get strong together. Sign up today @hybridperformancemethod
And here is a video below of her hitting 195 lbs for three reps on the bench press.
We forgot to mention she can also clean and jerk like a beast too. Below is a video of her doing a clean and jerk with twice her bodyweight at 220 lbs for 2 reps!
And for your viewing pleasure here is a video of her doing a no-legged rope climb followed by 15 pull-ups. Not bad.
There you have some of Stefi's most impressive lifts including an incredible deadlift that is more than 4 times her bodyweight. At the rate she is going she will likely to have more records soon. Is a deadlift 5 times her bodyweight possible? The way she is going I wouldn't rule it out.