(Last Updated On: June 17, 2022)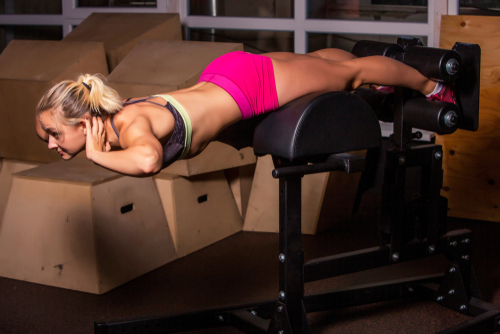 GHDs or glute-ham developer machines may seem like a piece of niche equipment but they're actually pretty good. Aside from the obvious use of training your hamstrings, glutes, and posterior chain, GHDs can be your go-to equipment in lower body workouts.
Although there are not too many products out there we managed to find the best glute-ham developer machines available today. These 7 GHDs below each have their own strengths and can complete your home gym setup nicely.
Best Glute Ham Developers: Quick List
See below for details on each model…
7 Best Glute Ham Developers
These are the 7 best glute ham machines on the market today. No matter what kind of GHD machine you are after, you will find it here.
Best GHD Machine Overall
Commercial Glute Ham Raise Developer by Force USA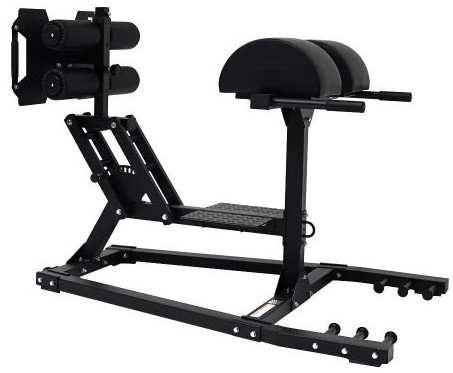 Force USA has managed to create a near-perfect GHD machine with the Commercial Glute Ham Raise Developer. It manages to accommodate a wide spectrum of heights and was specifically manufactured to withstand thousands of hours of use.
For those who want a great glute-ham raise developer, we'd recommend this product. Aside from being one of the safest equipment to use when training your spinal erectors, the structure is heavy enough to lend maximum stability and support. Heavyweights will especially love the heavy gauge steel tubing, heavy-duty construction and ultra-wide tubing as it allows them to work out without worrying about falling off or losing their balance. The 'commercial' tag isn't just for show- it's tough, made super durable, and can accommodate daily punishment from 3 to 5 people.
The GHD machine by Force USA effectively trains your hamstrings, lower back, core and glutes, with emphasis on abdominal contractions. The reinforced frame is always a nice plus, but we absolutely love how easy making adjustments were due to the ergonomic knobs. A simple pull-and-move mechanism is all that's needed, then you're off doing reps without breaking the pace or routine.
We like how Force USA has included band pegs for those who want to see results in a short time. More resistance equals a tougher session, but that means greater rewards. The solid construction works in conjunction with the increased load here, and all in all the machine offers a wide range of training intensity for users regardless of skill or size.
Force USA has pulled out all the stops, even in the machine's padding and upholstery. You get DuraCore high-intensity padding as well as VorTex rip-stop vinyl upholstery that's reinforced by a mesh backing. Last but not the least, the price tag seals Force USA's product as one of the best glute ham machines you can buy today!
Pros
Commercial grade in all aspects
Innovative adjustable pivoting arm accommodates variable heights
Band pegs add intensity and workout depth
Solidly built piece of equipment
Cons
Foot plate seems too thin
---
Best GHD Value
Rogue Abram GHD 2.0
We really have to hand it to Rogue for producing a glute-ham developer that ticks all the right boxes and manages to not be as expensive as the high-end models. For this reason, we gave the Rogue Abram GHD 2.0 the 'best value' award in our list of the best glute-ham developer machines.
The Abrams 2.0 is an upgraded version of the original and is an improved machine in every which way. It seems that Rogue has listened to its customers and made some fine adjustments, particularly how the crossbar is lower for easier mounts and dismounts, and a more intuitive adjustment mechanism that won't snag or lock.
What surprised us most was how the Abrams 2.0 was heavy and yet still was easy to move around and set up. This is because of the inclusion of wheels and strategic handles that let you port it anywhere in the house.
The GHD has undergone a redesign in terms of front handles, base and bolt-together mechanism. The machine's vertical position and horizontal alignment are optimized for peak training outcome and works for everyone, whether you're a bodybuilder, CrossFitter, athlete, or an average bloke. Materials used are premium, with everything manufactured in Columbus, OH and US steel 11-gauge tubing, footplate, and heavy duty pads. All these details combine for maximum stability and construction unlike any other!
A swing-arm technology makes changing the equipment's setting a snap. There are 10 lock-ons to choose from, and it allows you to tweak to your heart's content to find that sweet spot. The roller pads are generous and have a 3-inch gap between them and the foot placement, which means they can adapt to a wide range of motion.
Rogue makes staying in their ecosystem a benefit to consider. Add-ons and recommendations to the Abrams 2.0 include the Rhino Belt Squad, the Echo Bike and Z Hyper. The brand itself is reputable, and their shipping speed is legendary. You can expect your Abrams 2.0 to arrive at your doorstep sooner than expected.
Pros
Roller wheels and handles make for surprising portability
Features quick adjustment mechanism via swing-arm technology
Made by Rogue and in the US
Rogue Monster Swing Arm makes for easy and quick adjustments
Cons
---
Best GHD on a Budget
Glute & Hamstring Developer by Titan Fitness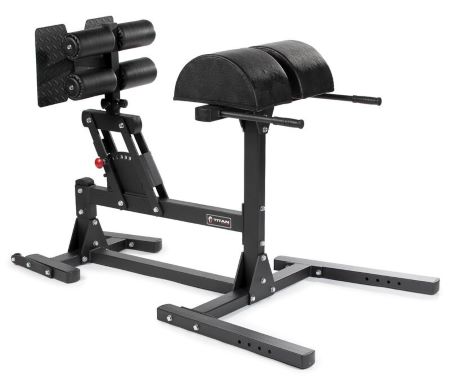 Only have several hundred dollars to spare for a glute and hamstring developer? No problem. You'll find the Glute & Hamstring Developer by Titan Fitness to be more than adequate for your lower body workout. The machine's specifications and low cost of entry put it high above the rest of the budget offerings in the market.
Titan Fitness has crafted a serviceable G&H developer that can work out the hard-to-reach lower body areas. You won't have any issues integrating it into your daily routine and finding a spot for it in your garage gym.
Heavy-duty steel construction is painted a unifying shade of black, and the base is wide and stable enough that you won't worry about tipping over. Like the Abrams 2.0 the Glute and Hamstring Developer has built-in wheels so you could move it anywhere you wish.
Working out is enjoyable and the quality of life isn't too shabby either. We like how it has extra-wide pads for comfort, and we felt very little sitting fatigue even during extended periods of time. Adjustment range should suffice to accommodate everyone but the tallest individual, and even then there's plenty of wiggle room.
Customer reviews are mostly positive, with emphasis on the developer striking a great balance between price and functionality. You probably will have to look at it twice to make sure the price tag isn't a misprint, but the reviews speak for themselves.
The only compromise is a smaller footprint and not as wide an adjustment, and the machine can use a few more weights for stability. However, you can expect the Titan Fitness Glute & Hamstring Developer to be the maximum bang for the buck!
Pros
Mostly positive reviews online
Good value for money
Built to last
Cons
Serviceable; doesn't have extra bells and whistles
---
Related: 11 Best Leg Press Machines on the Market
Best High-End GHD
ELITEFTS GHR – Pro Glute Ham Raise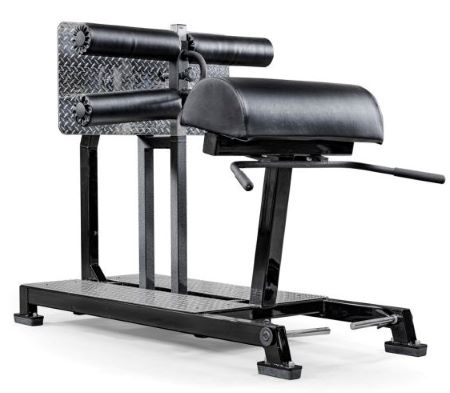 Not looking to pull any punches in getting the best glute-ham machine? We've got just the thing. The Pro Glute Ham Raise by EliteFTS stands proud as the leader of the pack', thanks to several notable improvements, additions and quality of life changes that are sure to delight athletes and bodybuilders.
The G3 has been improved with a wider base, the inclusion of band hooks and linear bearings for easy adjustments. The GHD now gives you the ability to complete Russian Twists, Side Bending Torso Training, One Leg Back Raises, One Leg Glute Ham Raises, Bilateral Leg Lifts, Back Raises, Wide Stance Glute Ham Raises and Glute-Ham Raises with absolute impunity!
But that's not the end of it. The pads can be tilted at an angle and unlock additional movements, such as Preacher Curls, Upper Back Stretching, Standing Ab Work, Standing Incline Dumbbell Presses and Standing Inclined Tricep Extensions. Needless to say, EliteFTS' GHR is your end-all glute-ham machine because it offers the widest selection of lower back movements out there.
Working the PRO GHD is a joy, and there's very little wobble from start to finish. What we love about the machine is how you can incorporate bands into the built-in hooks and increase the intensity to gain greater results. Also, the pad may look oversized but it's a welcome change from most GHDs, and it works great and doesn't interfere with the movement.
Last but not the least, there's the matter of customization. Since you're already paying this much, shouldn't you have a say on your GHD's color? Luckily, EliteFTS has thought about this and offer their glute-ham equipment in Black, Red, White, Blue, Green, Orange, Gray, Purple and Yellow. The same goes for the pad color. Regardless of style, you're sure to have a premium GHR machine that stands the test of time!
Pros
Offers more movements than other glute and ham developers
Has band hooks for greater workout intensity
Comes in several color options
Heavy-duty foot plate
Cons
High-end model means a high price tag
---
Best Compact Glute Ham Developer
Rogue 3×3 Echo GHD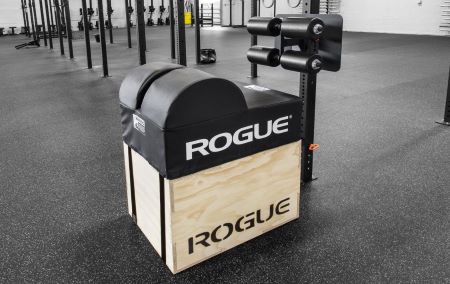 In a genius move, Rogue went completely outside the box (or is it inside?) and came up with the 3×3 Echo GHD. It's a space saver glute and ham developer that works quite well, and you can use your existing plyo box or get the Games Box to complete your GHD setup.
Practically speaking, the GHD machine only occupies the space where you put the plyo box on. All you have to do is strap the pad to the Games Box, install the roller on a 3×3 Rogue Monster Lite upright, and you can go to town and develop your core and lower body muscles. Rogue has made its straps non-slip and has a gripper fabric so the unit won't slide all over the place.
Along with the smaller footprint the 3×3 Echo can be stashed easily when you're done. Setup only takes about a minute or two, and you're assured of top-notch US craftsmanship and materials. You can purchase an Echo Stabilizer Kit to reduce rocking and unwanted movement during use and mount it to a wall or a Monster Lite upright for a nominal fee, but we don't feel that it's a must-buy because the original setup is already relatively stable.
With the 3×3 Echo, you'll be able to do several ham and glute movements, including sit-ups, Russian twists, hip extensions, ham and glute raises and back extensions, to name a few.
The 3×3 Echo GHD is portable in a way that you can unlock the straps and roller, then move the box to another location in your house before setting it up again. This is a nice plus for those who are concerned about space and those whose home gyms are nearly filled with other equipment.
What we like about the Rogue Box GHD is how the leg rollers and pads are thicker and denser than other products, and this brings a level of stability to your workout.
Pros
Portable and easy to assemble
Pads are nice and thick
Compatible with most plyo boxes
Cons
Not all-inclusive; needs additional purchases, e.g., the Games Box
Foot pad needs to be attached to a power rack or bolted to the ground
---
Best GHD on Amazon
Glute Ham Developer from Ader Sporting Good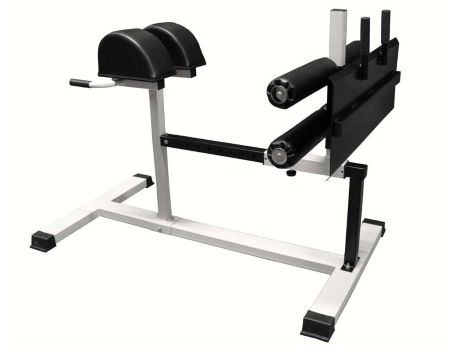 Finding a good GHD on Amazon was an exercise in frustration. Truth is, we were on the verge of giving up and crossing out this category altogether, but that would be a disservice to those who shop exclusively on the e-commerce platform.
So then we settled on the 'best' of what Amazon had, which is the Glute Ham Developer Machine from Ader Sporting Goods. However, let us give you a word of advice- it's not really as good as the other ones in this list, and we're not fans of the brand either.
The bench looks like it could accommodate small- to medium-sized individuals, and the hyperextension bench is for adjusting to different heights. Unfortunately, those who are above 6 feet will find it a bit cramped even with the bench fully extended. To compound matters, the base doesn't necessarily encourage trust as we found the wobble to be unnerving. The machine almost tipped twice, and that was when we realized that the GHD machine wasn't a good buy.
Construction was raggedy even when we tightened every moving part and bolt, and it could probably serve as a temporary gym equipment until you can buy a better one. Or, you can completely skip out on this piece of equipment and get the Titan Fitness Glute and Hamstring Developer instead. It's pound for pound better than this and you get a whole lot more in terms of value for money!
Pros
Available on Amazon
Cheap
Cons
Construction is sub-par and wobbles a lot
Made overseas
Returning it is a hassle
Mediocre reviews at best
---
Related: The 15 Best Power Cages on the Market
Best Floor-Based GHD Machine
Rogue Floor Glute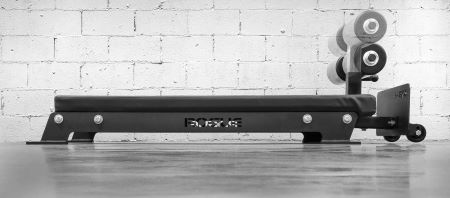 It's compact, portable, and offers an alternative to traditional GHD machines. It's made by a respectable brand and thus equals excellent value. You'll like the Rogue Floor Glute in many ways, including how it allows you to perform glute ham raises with minimal risk of injuries.
The whole floor-based equipment measures only 62 x 24 inches and can fit virtually anywhere in your home. GHR is an essential tool in any athlete or bodybuilder's routine since it can increase strength, speed, and core stability. Moving is easy as there are two wheels built into the machine- just hoist one end up, let it roll to your desired location, and put it down.
What we like about the Floor Glute is how the rollers can adjust to six different heights for customization purposes. The working area is big enough to accommodate even large-sized individuals without having to get outside the pad. Adjusting is a cinch and it only takes a few seconds once you get the hang of it.
Construction is top-notch and as expected of a brand like Rogue. The whole structure is made from US steel- laser-cut steel plates and footplates and 11-gauge steel for excellent stability. You can comfortably do Nordic raises and glute ham raises without wobble as the platform is laid on the ground.
If you're dead set on a ground GHD for your glute-ham raises, then it's definitely the Rogue Floor Glute that should be at the top of your list. Setting it up the first time should set you back less than an hour, and after that, it's smooth sailing all the way.
Pros
Floor based means greater stability and zero wobble
Leg roller can be adjusted to six different heights
Easily transported
Made by Rogue
Cons
Not as versatile as the other models
---
How We Decided
Our 'best overall', Force USA Commercial GHD has made the decision-making process easier since it has all the good things a GHD machine can have, including manufacturer reputation, durability and price.
Our top 7 best glute ham machines list reflects these aspects, and then some.
Reviews
Instead of putting in hundreds of hours sifting through a haystack of glute and ham developers, we decided to wise up and filter the best products by customer reviews.
Then, we worked each GHD to the bone until we developed a feel for them, including what we liked and what we didn't. From there, we compared our praises and gripes with people who already bought it.
Mixed reviews didn't get a lot of traction. Also, for every pro and con that customers listed, we ran a simulation on how it could happen. The same goes for sites that host mostly perfect reviews- we debunked and left the fake ones out to get to the best.
Price
A GHD may be a versatile and oft-used machine, but its price should be fair. After all, you'll still need to have room in your budget to complete your garage gym.
Price can equal value for money- a glute and ham developer can be relatively cheap and still be an excellent buy compared to overpriced equipment that does the same.
When looking at the price factor, you'll have to think- is the product too expensive or is it just right? Why is it so expensive? It could be better materials, more features or after-sales support.
Durability
Durability and price go hand in hand. It's okay to spend a few more hundred dollars if that means you get premium construction and a GHD that's built to last.
When looking at durability, several things come into mind. First, there's the material used in the structure, as well as the padding. It has to be reinforced or have the 'heavy duty' or 'commercial' tag. We also checked out user reviews online to see if it stood the test of time and was still functional a week, month or years after it was first purchased.
Manufacturer Reputation
It's important to buy gym equipment from reputable brands instead of no-name enterprises. This is because you get after-sales support and gain the ability to claim a warranty, return or speak with someone when something goes wrong.
Manufacturer reputation is a straightforward factor when picking the right GHD machine for your needs. In the case of a glute & ham developer, it's Force USA, Rogue, EliteFTS and Titan Fitness.
Related: The Best Home Gyms for the Money, Bodybuilding and More…
What to Consider Before Buying
Space
Not everyone is blessed with enough space that they can cram all the gym equipment they want and call it a day.
Before shopping, consider where you're going to put the machine. If you live in a condo or apartment then you should get the ones that have a smaller footprint, like the Rogue Floor Glute or the 3×3 Echo. On the other hand, the Commercial GHD by Force USA is worth every inch of space you can get.
Budget
Or, how much can you afford to spend on a GHD machine?
It's okay to overspend a few hundred dollars if that means getting more out of it. You can try the Glute & Hamstring Developer by Titan Fitness, the Rogue Abram 2.0 or our best overall, Force USA's GHD machine.
Versatility
The more versatile a GHD is the more you'll be able to use it. When choosing one, try to see how it can be adjusted to accommodate different heights and positions, as well as movement.
Versatile means a glute and hamstring developer can go above and beyond simple lower body workouts. If it has built-in hooks for band straps then you'll have a more useful machine, for example.
Weight
Weight may seem to be a non-factor, but it's actually important in two ways. One, the heavier the machine the more stable it is, and the less wobble you get. Two, it won't be as easy to move, which can prove to be troublesome if you're a bit short in the real estate department.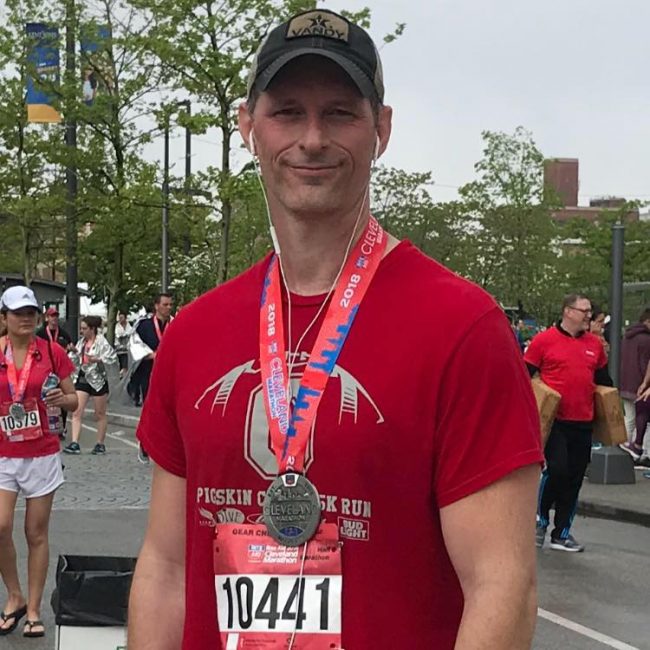 Ryan is a former college wrestler and lifelong fitness fanatic. He has run half marathons, done mud runs, placed in body transformation contests, coached wrestling and now coaches girls soccer. Not to mention he has also tried literally hundreds of supplements over the years and has a vast and thorough supplement knowledge. He has written for Muscle & Strength, Testosterone Junkie, The Sport Review and other publications. He is also the editor in chief of this website. Feel free connect with him on his LinkedIn page below.