(Last Updated On: May 25, 2022)
Squat racks are one of the most essential pieces of gym equipment for any home or commercial fitness space.
Whether you're a beginner looking for an affordable and reliable option to get started with your weight lifting, or a seasoned athlete in need of something more heavy-duty, you'll want to make sure that your squat rack is high quality.
Finding the best squat rack on the market can be difficult, luckily we have done the leg work for you.
Without further ado, here are the best squat racks on the market.
Quick List:
Best Squat Racks and Stands on the Market
These are the best squat racks on the market today. No matter what type of rack you are looking for you will find it here.
SM-1 Squat Stand by Rogue
Best Squat Rack Overall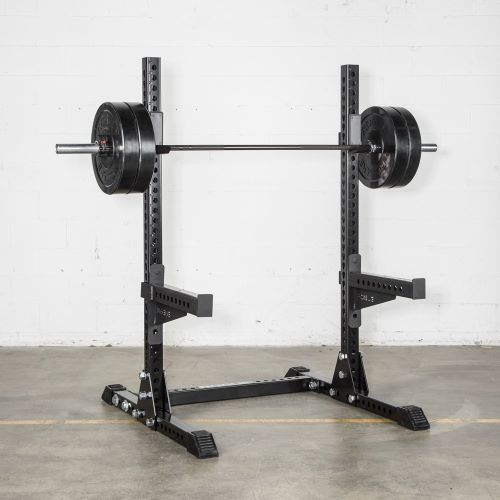 Website: RogueFitness.com
The SM-1 Squat Stand ticks all the right boxes in our books, earning the title of 'best overall'. It's super versatile, has an impressive weight capacity and the price tag is very attractive too!
Undergoing a redesign has made the Monster Squat Stand 2.0 better than ever. It serves a fine balance between power racks and squat stands, which means you won't have to buy one or the other when you spring for the SM-1. What's impressive is the fact that it gets more use due to being more dependable and has a smaller footprint than most, which makes it an ideal home gym equipment for apartments and those who have room to spare.
Let's get down to the nitty-gritty. It has a maximum 1,000-pound weight capacity, which means you can max out as long as you like and not have to worry about anything. Aside from the standard rubber feet for stability, you get a bolt-together base featuring triangle plates. It's the smallest of the Monster Series lineup but it still manages to keep up with the rest, thanks to the eleven gauge steel uprights, 1″ fasteners and bolts, a complement of Monster J-cups and a keyhole design to fit in the rest of your attachments.
Best of all, the hardware is made in the USA, and features US steel. You'd be hard-pressed to find anything like it, and for this reason, it's earned a place in our best squat racks and stands list.
Pros
Maximum weight limit of a thousand pounds
US steel and superb toughness
Has new keyhole pattern to accommodate more attachments
Cons
Is not compatible with pull up bars
Squat Stand with Pull-Up Bar by FringeSport
Best with a Pull Up Bar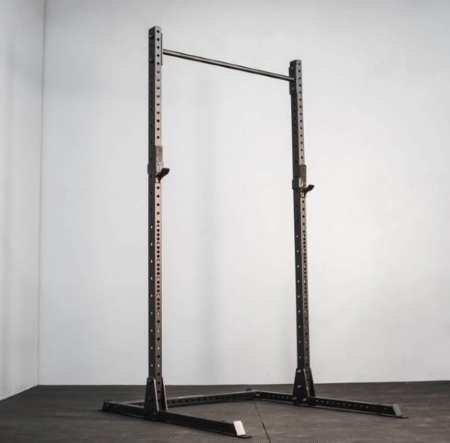 Website: Fringsport.com
If you are looking to get a chin-up bar with your rack then the FringeSport Squat Stand is the perfect equipment for you. We love how solid the stand is when we swung from it- the rack barely moved even when the user in the heavy spectrum.
With an 8 foot ceiling as the minimum, you should be able to comfortably do as many pull-ups as you want. It's relatively compact as well, with a 48 by 48-inch footprint but with support for customization and additions, including landmines and spotter's arms, among others.
It's difficult to find fault with the hardware. You get 2 by 3 11 gauge steel tubing, the prerequisite J-cups, skinny or fat pull-up bar options, a more stable base with triangle plates and West Side hole patterns.
Transition speed takes the cake, with floor press to pull-up and squats to bench only taking a few seconds. The Squat Stand and Pull-Up Bar is sure to be a staple in your home gym!
Pros
Rock-solid foundation and material
Has support for skinny and fat pull-up bars
Can take 2×3″ accessories
Cons
No number marks on the holes
Related: The 15 Best Home Gyms on the Market
Myrack Folding Power Rack by Force USA
Best Folding Squat Rack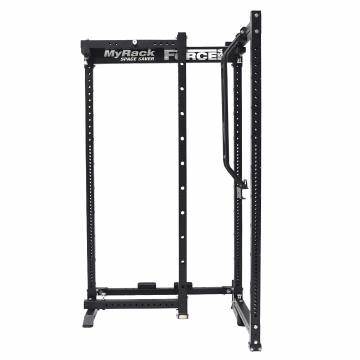 Website: ForceUSA.com
Most folding squat racks in the market have a reputation for being a bit on the unstable side, but this isn't the case with the Myrack Folding Power Rack. In fact, you'll be hard-pressed to believe that you're working out with a folding variety once you try it!
So, what's Force USA's secret to making a quality squat rack? Engineering prowess with a capacity to accommodate up to 2,000 lbs. of weight. It's modular, which means that it's very customizable in terms of how you want the squat rack to work.
The rack can equip ten different attachments, including safeties, J-hooks, landmine rows, a monolift and dip handles, to name a few. Among them, you can carry out dozens of configurations to suit your workout needs.
What we like about the Myrack is that it doesn't need to be wall-mounted and retains a full-rack function. You get industrial-strength construction in 12 gauge steel, details such as numbered adjustment points and a fold-away design for easy and convenient storage.
Why settle for folding half racks when you can get twice as much use in a full folding rack? Force USA's Myrack is the first of its kind, and arguably the best of its kind as well.
Pros
Has an amazing 2,000 lbs. weight capacity
Very convenient and perfect for tight spaces
Works with ten different attachments
Cons
Only available on the manufacturer's website
Related: Best Glute Ham Machines for Home Gyms
Rogue RML-690C 3.0
Best Power Rack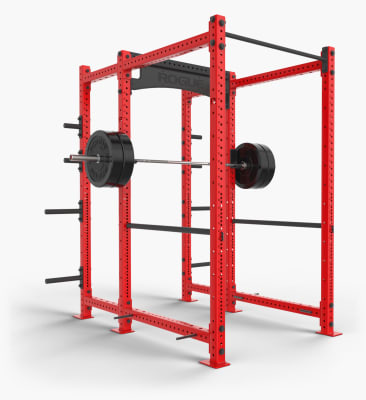 Website: Roguefitness.com
If you're looking to buy the best power rack, then we'd definitely recommend the RML-690C 3.0. It beats out the competition by having three unique features- Monster Lite compatibility, Rogue construction and exclusive color finishes.
You can pick from Numbered or Standard upright types and interesting color options, including Rogue Red, Bright Blue, Bright Green, Dark Blue and Gun Metal, among others. Once assembled the power rack looks very impressive and you'll be motivated to work out more than ever!
Going back to Monster Lite compatibility. The RML 690C has the ability to be fitted with add-ons (sold separately), with popular ones being the Slinger, Long Plate Storage, Safety Spotter Arms and the Matador. Mix and match so you won't have to buy any other equipment and still experience a complete workout every single time.
Since it's built by Rogue you can be sure that the power rack will last forever. The footprint may be a bit large at 80″ by 53″ but every inch is packed with function, and you're sure to get your money's worth. The rack can accommodate several users regardless of weight, height and preference. Last but not least, you get the respected Rogue Lifetime Warranty for added peace of mind.
Pros
Fully customizable using Monster Lite add-ons
Cool color finish options available
Heavy-duty hardware for maximum durability and stability
Gives you a home gym that will make your buddies jealous
Cons
Related: The 15 Best Power Racks on the Market
One Piece Squat Rack 2.0
Best on a Budget
Website: GetRXd.com
Yeah, we know how life is a bit tough nowadays and how you may not have a lot of money to spend on a squat rack. Well, there's really no reason to use it as an excuse so you could slack off because GetRX'D has exactly what you need.
The One Piece Squat Rack 2.0 is the embodiment of value. It's only a bit over a hundred dollars and yet it's built solidly and allows you to complete semi-heavy squats and WODs with confidence. If price is an issue then we'd recommend you get this first!
The One Piece Squat Rack accommodates a max weight of 500 lbs. and gives a bit of room for maxing out. Since it's a simple machine the footprint is negligible and you'll be able to fit the rack easily anywhere in your house.
Rounding out the essentials are 2-inch hole spacing, padded and wider bar holders and rubber reinforcing at the corners. Upright height can be adjusted anywhere between 36 to 66 inches with a metal pin.
GetRX'D proves that you don't need to drain your wallet to get tough gym equipment with the One Piece Squat Rack 2.0.
Pros
Awesome value for money
Max weight stands at 500 lbs.
Wide bar holders
Cons
Rogue RML-90 Slim Rack
Best for Small Spaces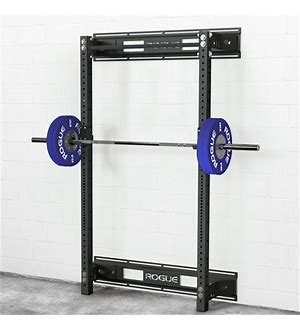 Website: RogueFitness.com
Rogue continuously pushes the boundaries of home gym equipment, and this time they did it with an ingenious wall-mounted setup and named it the RML-90 Slim Rack.
The whole thing takes only a fourth of space compared to traditional racks. Granted, you'll need to have the right conditions, e.g., installing it with wood studs or in a concrete wall and hardware that can support the aggregate rack weight, etc. but if you meet all these things then you'll have a superb rack that's ready whenever you are!
The Slim Rack combines two Monster Lite uprights and includes the requisite UHMW plastic for floor protection, Monster Lite J-cups, West Side hole spacing and a texture black finish. All the materials are guaranteed made and sourced in the US and Canada, and are thus rated top-notch according to gym equipment standards.
Installing the RML-90 may take a bit of time but then you're free to customize it however you like. There's the pull-up bar, Rogue Stringers, a Crossmember mount and more. That's a lot of options for a rack that only takes a max 15 inches of real estate.
The RML-90 Slim Rack definitely fills a niche for those who want to maximize their space and still get the workout they need at home.
Pros
Only 15 inches deep
Installation is quick and easy
Compatible with Monster Lite attachments
Cons
Galvanized Titan Guillotine Squat Rack and Pull-Up Bar Combo
Best for Outdoors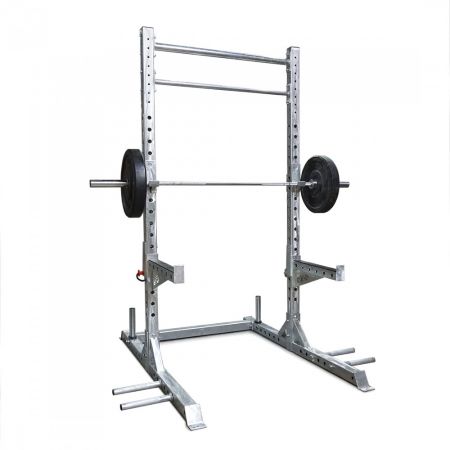 Website: GetRXd.com
The Titan Guillotine is a literal monster in terms of workout and exercise potential. Have a huge space to fill with home gym equipment and money to burn? Buy this baby and you probably won't have to buy another piece of hardware again!
GetRX'D offers the Titan Guillotine in three variants- the 7'10", 9′ and 12′ models. With one hardware you have a pull-up station, dip station, bench station and squat station.
What we love about the Guillotine is how solid and stable it feels, thanks to the 245 lbs. base and 4′ by 6′ footprint. We could work around it all day and never feel the hardware give or wobble. It comes with plate storage, standard and fat pull-up bars and heavy-duty spotter arms, as well as the requisite J-cups and sections where you can anchor the hardware to the ground.
The price may be a bit on the unsavory side, but it makes sense since you're getting a versatile squat rack, pull-up bar combo and a bench press station in one. Each of these will cost you hundreds and rack up the bill in the thousands if purchased separately, and they'd take up a whole room if you're not careful.
That said, nothing beats the Titan Guillotine by GetRXD for those who want to set up an outdoor gym. It's galvanized for extra toughness and can withstand the elements for a long, long time.
Pros
Built to thrive in outdoor environments
All-inclusive rack with pull up combo, dip station, bench press and squat rack
Extra heavy base and stable footprint
Cons
Related: The 11 Best Leg Press Machines for Home Gyms
Body Champ Two Piece Set Olympic Weight Bench with Squat Rack
Best Bench with Squat Rack Combo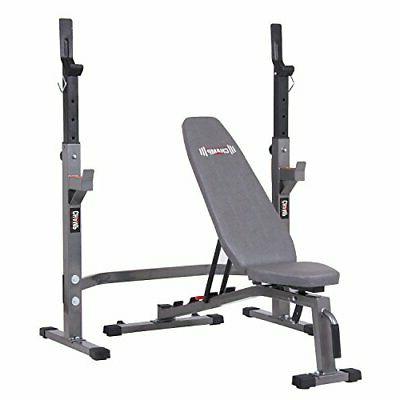 Available on Amazon.com
Let me give you a piece of advice- if possible, buy a squat rack and a bench combo so you can spend more time on workouts. This sets you up for a good fit, and you won't have to adjust ever so often because the bench and rack come from two different brands.
Case in point- the Body Champ Two Piece Set Olympic Weight with Squat Rack gives you a one-two punch that fits perfectly together. The color scheme complements each other, and you can easily transition from one movement to another seamlessly. Again, less time spent fiddling means greater muscle growth and better results!
First, the bench is independent from the rack and features up to two seat cushion settings and five back pad adjustment settings. Then, the standalone squat rack offers two catch sets- for decline, incline, and flat positions and an upright or standing position. Body Champ has even made things easier and safer by adding extra hooks and a no-pinch catch mechanism.
Maximum weight is set at 300 lbs. for the weights and 300 lbs. for the user, which should be adequate for daily use. It's the only bench and squat rack combo you'll need!
Pros
Versatile and offers several position settings on bench and rack
Has transport wheels and lever for easy storage
No more micro-adjusting
Cons
300 lbs. limit is closer to 250 lbs.
Not the most stable rack on the list
HulkFit Multi-Function Adjustable Power Rack Exercise Squat Stand
Best Squat Rack on Amazon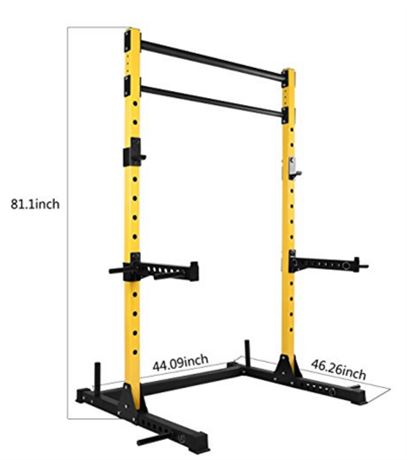 Website: Amazon.com
The reason why we gave the 'Best on Amazon' award to the HulkFit Multi-Function Power Rack is simple. It beats out the competition in terms of price and value. There is also the quality of life improvements that you'll appreciate once you get a few sets going.
Sporting an H-shape base makes the HulkFit more stable than it looks. The heavy-duty steel frame can accommodate max weight of 500 lbs., which should be more than enough for most people. The hardware includes J-hooks, weight plate holders and a pull-up bar, which can be adjusted at different heights.
What we like about the power rack is how it's easy to assemble and has number coding for the J-hook positions. The equipment held itself together from start to finish, and there wasn't a hint of wobble altogether. It's a more than capable home gym equipment that should see plenty of use day in and day out.
Pros
H-Shape base and weight plate holders for max stability
Supports up to 500 lbs.
Includes a pull-up bar and J-hooks
Cons
Shoddy packaging can mean premature scratches
Sunny Health & Fitness Power Zone Half Rack
Best Half Rack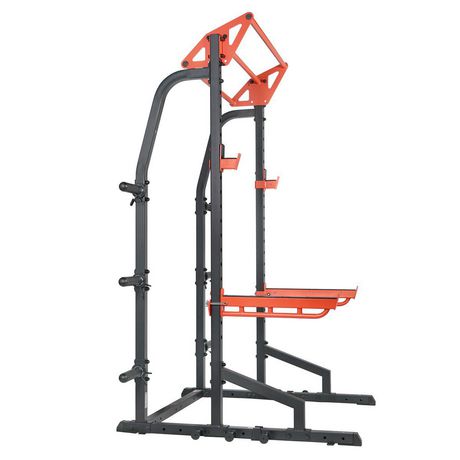 Available on Amazon.com
This bad boy is loaded with high-quality additions that make it the best half rack out there for the money. This beast can handle whatever you would throw at a full-size power rack and not even flinch. You'll be even more astounded with its superior sturdiness and stability compared to other products in the market.
Sunny Health & Fitness has managed to make their heavy-duty half-rack able to carry an impressive 1,000 lbs. max weight, which means you can push with confidence knowing your hardware can take it. 2 by 2 inch steel pipe construction, as well as six separate weight plate holders lend a degree of stability and practicality. There's even an option to bolt the half-rack to the floor if you managed to make it wobble (which takes superhuman effort)
Add a lat pulldown attachment and the Power Zone will become your new favorite rack. It's superb home gym equipment through and through!
Pros
Max weight capacity at 1,000 lbs.
Half rack with squat and power rack capabilities
Can last a lifetime
Cons
How We Decided?
Price
Price is always a deciding factor when buying a squat rack, unless you're one of those people who think money is no object. Even then, the most expensive squat rack isn't always the best, although they're still better compared to the cheap ones on the market.
So, going back to price. Your list narrows down to what you can afford, and thankfully there are plenty of options from respected brands. We didn't just choose the most expensive and did away with it- we looked at the features that came with the price tag and found a good balance between the two.
Reviews
Trust in the community and you'll never go wrong. Reviews are equivalent to word-of-mouth advertising in online form. However, we didn't just blindly chose the ones that had the highest 5-star reviews due to the fact that they could be tampered by fake ones.
Good reviews indicate a good product, but there's really more to it than that. Even the best gym equipment will have a con, but it's usually just a matter of preference or a small niggle. If it's a deal-breaker, then we'd look at another squat rack.
Manufacturer Reputation
This one's easy- would you rather buy the same equipment from a popular brand, perhaps one that you've tried before or a company you didn't know existed until now?
Manufacturer reputation goes hand-in-hand with reviews. You can't really trust a company that has bad reviews regarding its products. In the same vein, a particular product of theirs may have a lackluster rating but in the end it's still better than a no-name company with untested hardware.
Footprint
Room efficiency is the name of the game for home gyms. Since we all have to deal with a limited amount of space, it makes total sense to pack in as much use as possible per inch. This means hardware that offers the same level of stability in a more compact form gets the nod than others.
Footprint becomes an essential deciding factor for those who are living in an apartment and in cases where you can only dedicate a spot in your room or basement for it. Be careful, though- stability shouldn't be sacrificed for a smaller footprint no matter how enticing it may be.
What to Look for Before You Buy a Squat Rack:
Weight Capacity
A squat rack is basically useless if it keeps tipping over. It's frustrating not being able to max out your load just because you didn't read the hardware specifications.
When shopping for the best squat racks you'll need to take into consideration the weight capacity. This is usually displayed in 'weight capacity" and in pounds. So if you're maxing 500 lbs. then it's probably safe to say you need something greater than that.
Stability
Stability is a tricky factor to gauge, mostly because you wouldn't know until you've tried it out in person.
However, there will be some indications on how stable a squat or power rack can be, namely the material used and the engineering that goes behind the equipment.
Don't just settle for claims that their equipment is 'super stable'. Look for actual proofs, such as an H-shape base, triangle reinforcements and increased base weight, for example. Then, browse the reviews to see if customers are happy with their purchase.
Height
Height refers to two things- the max height of the equipment and the height of the person it can accommodate. The former is important for when you have a small room ceiling, while the latter is for doing pull-ups and standing lifts.