(Last Updated On: June 28, 2022)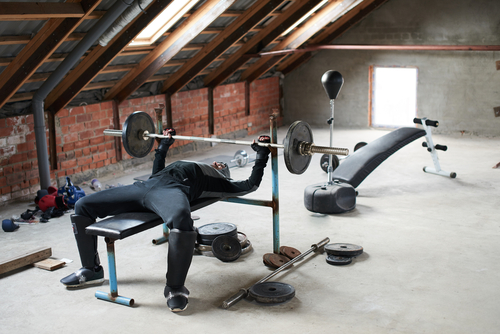 The Olympic bench, for many people, is the centerpiece of their home gym. After all, it is where the biggest and baddest upper body lifts happen.
But with so many different options on the market and many junky ones, it can be tough to decide which one is right for you.
Lucky for you, I spent over 70 hours researching and using the best benches on the market today.
Based on quality, price, and features, here is a list of the top Olympic benches for home gyms.
Best Olympic Benches for Home Gyms
Rogue Monster Lite Competition Bench
Best Olympic Weight Bench Overall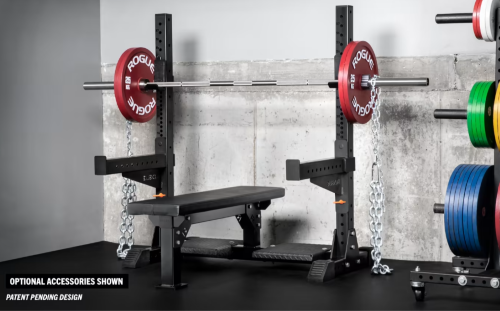 The Rogue Monster Lite Competition Bench is one of the highest quality Olympic benches on the market, bar none.
This bad boy features a 3×3″ 11-gauge steel frame with Westside hole spacing with laser cut numbering.
You can choose between the standard pad, or you can get the Competiton Pad or the Thompson Fat Pad. Both of which are thicker, taller, and broader.
There are also extra options like a spotter deck, band pegs, and spotter arms. Unfortunately, they all cost extra. The spotter arms might be a good idea if you like to bench alone.
The bench also has a weight capacity of 1,000 pounds and comes with a lifetime warranty, so you know it will last.
Pros
Extremely high quality
Lots of customization options
Can handle a lot of weight
Made in the USA
Cons
Above average in price
Extra options cost extra money
---
Competition Bench And Squat Rack Combo by Titan Fitness
Best Bench and Squat Rack Combo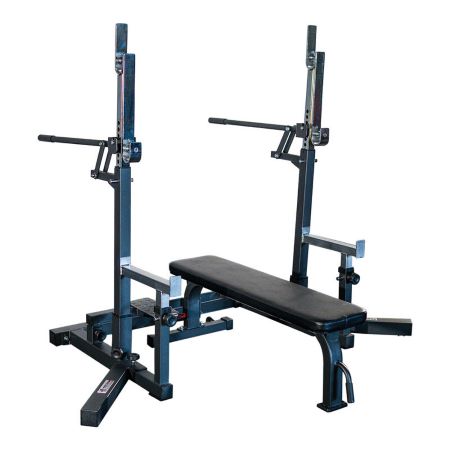 The Titan Competition Bench and Squat Rack Combo is not just a great addition to any home gym, but it's specifically designed for lifters who want the biggest lifts.
This fully adjustable machine allows you to customize the height on the spotter arms and the j-cups for both benching and squatting.
The bench is easy to remove when it comes time for squatting. Simply unlock the safety pin, roll the bench away from the rack, and raise the J-hooks and spotter bar height and you can go from bench to squatting in no time flat.
Much of this bench and rack is made with 11 gauge steel, and it has a weight capacity of 1,000 pounds, it also has a powder-coated finish to prevent rust.
On the negative side, the rollers or made of steel and can scuff your barbell. It also only has a 1-year warranty.
Pros
Heavy-duty construction
1,000-pound weight capacity
J-hooks and safety spotter arms included
Free shipping
Quickly switches from benching to squatting
Cons
No incline available with bench
Rollers may scuff your barbell
1 Year Warranty
---
Rogue Monster Westside Bench
Best High-End Olympic Bench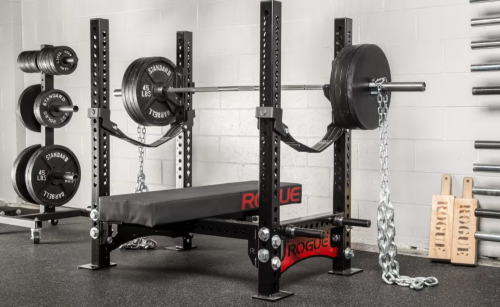 Looking to get the best of the best? With the Monster Westside Bench from Rogue, you will have the best bench in town, even better than the benches at your local gym.
This bad boy comes with all the bells and whistles, including Monster Sandwich J-Cups, Monster Strap Safeties, Spotter Decks, and plastic-coated Monster pins for band work. It also comes with weight storage for plates.
It also comes with the extra thick and wide Thompson Fat Pad standard and it has a 7-gauge steel spine for maximum support with minimum flexion.
This bench has a weight capacity of 1,500 pounds and is made from 3×3 11 gauge steel with Westside hole spacing. It comes with a standard pad or you can upgrade to the Fat Pad for added comfort.
This bench is pretty large and bulky; it weighs 342 lbs when fully assembled, so it won't be easy to move.
That said, this is an excellent bench that you will love and will make your friends very jealous.
Pros
Made from heavy-duty steel
1500 pound weight capacity
Adjustable height
Comes with weight storage
Standard or Fat pad available
Made in the USA
Cons
Large and bulky
Not easy to move once assembled
Expensive
---
Bench Press Rack by Titan Fitness
Best Olympic Bench Value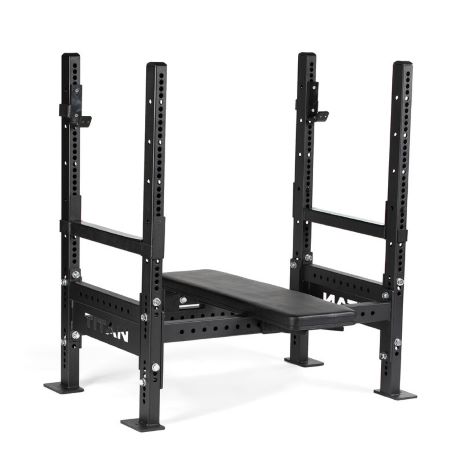 I know, this bench looks a lot like the bench above that was the "Best High-End Bench."
The main difference is this bench is A LOT cheaper, like one-third of the price!
This beast uses 2×3″ 11-gauge steel uprights and has a 1000lb weight capacity. It comes with the standard pad, but you can upgrade to the Hefty Bench Pad, which is sold separately.
The bench uses Westside hole spacing with small increments, and it has laser-cut Titan side panels which look sharp.
It comes with a pair of handed HD J-Hooks with inserts that will protect the knurling of your barbell. It also has a pair of flip-down safeties for your protection when performing heavy lifts without a spotter.
Shipping is free, which is always nice.
This bench is not as nice as the Rogue Monster Westside Bench above, but it is still really cool and will save you a lot of money.
Pros
Great value
Ships free
1000 lb weight capacity
Westside hole spacing
Cons
---
Olympic Incline Bench with Weight Racks by Elite FTS
Best Olympic Incline Bench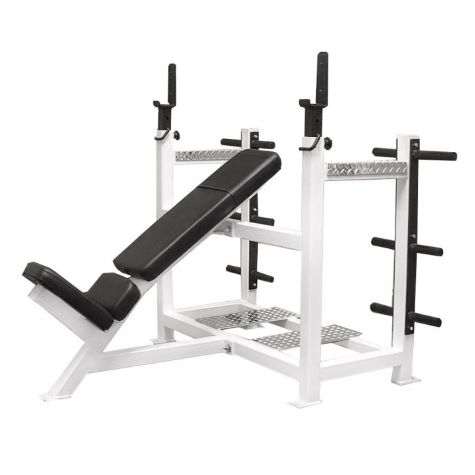 Looking for a good Olympic incline bench? The Olympic Incline Bench with Weight Racks from Elite FTS is a solid selection.
The frame is available in 9 different colors, and you can even choose from 9 different colors on the pad as well.
It is a solid heavy-duty 2.5″ x 2.5″ powder-coated frame that won't have you rocking back and forth like grandma's kitchen table. The weight rack adds ample weight storage and even more stability behind the bench, it also gives you a landing spot if you happen to go up and over the j-hooks when trying to rerack the weight.
This beast also has adjustable j-hooks to give you the perfect lift-off height no matter how long or short your arms are.
Pros
Heavy-duty construction that is stable
Frame and pad each have 9 colors to choose from
J-hooks are fully adjustable
Excellent spotter area
Ample storage for weight plates
Cons
Expensive
Long shipping times
---
Power Tower With Bench
Best Weight Bench on a Budget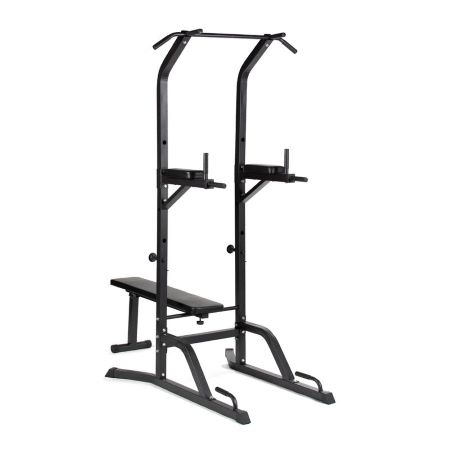 Don't have much money to spend but still want a good bench? The Power Tower with Bench from Titan Fitness is a great option. Not only is it the least expensive bench on the list, it is also the most versatile.
This piece of equipment is excellent for hitting the upper body as it allows you to do bench presses, pull-ups, dips, leg raises, and more, all at a very affordable price.
The pegs can be adjusted to 3 different heights so you can find a comfortable setting no matter how long your arms are.
The frame is made from 2×2″ tubing, and the bench is made from 1.5″ x 2″ tubing.
If you have room for the 86″ height of the tower, this could be a good bench that is easy on the wallet. They also have free shipping, so there are no added expenses.
If money is tight, this bench is a good option that offers a lot of versatility.
Pros
Inexpensive
Shipping is free
Allows you to do multiple exercises
The frame is made from heavy-duty tubing
Cons
The tower is tall and might not fit in some rooms
Weight capacity is only 350lbs
Narrow pegs on the bench could interfere with grip
Stability could be an issue
---
Body-Solid Best Fitness Adjustable Olympic Folding Weight Bench
Best on Amazon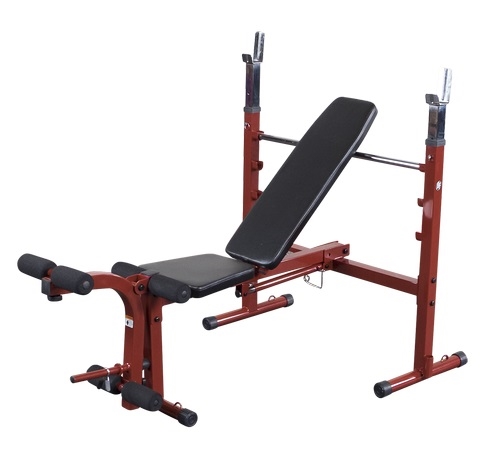 In total honesty, benches from Amazon are lower on the quality scale than the ones above. That said, they are easier on your wallet, and you can order them really easily through Amazon.
The Body-Solid Best Fitness BFOB10 Adjustable Olympic Folding Weight Bench is one of the better Olympic benches on Amazon.
This bench is made to fold up flat for easy storage and is ideal for those without a lot of room.
The backrest can be adjusted to 4 different positions so you can perform incline presses as well. It also comes with a leg developer, although the quality on the leg developer is a bit iffy.
While it doesn't have the weight capacity or the sturdiness of some of the other benches, it is still a good budget option.
Pros
Folds up flat for easy storage
Multiple adjustable positions
Comes with leg developer
Inexpensive
Cons
Low weight capacity
Not as sturdy as some other Olympic benches
The quality of leg developer is questionable
---
Body Champ Olympic Weight Bench
Best Bench with Preacher Curl/Leg Developer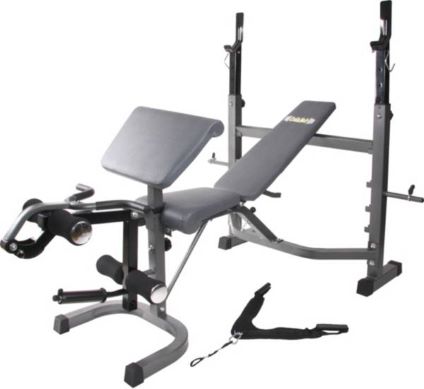 We are back with another weight bench from Amazon, the Body Champ Olympic Weight Bench, with Preacher Curl, Leg Developer.
This bench also has an adjustable backrest, so you can do the incline presses and flat bench presses on the same machine.
On the negative side, this bench only has a 300lb weight capacity, and they didn't make it clear if that includes the bodyweight of the person using the bench. I seems like it does, though, which really limits it.
There are no spotter bars with this bench so if you are lifting heavy, you are going to need to find someone to spot you.
Also, the back is adjustable, but the seat itself is not, which can be a pain.
Pros
Adjustable backrest
Comes with preacher curl and leg developer
Inexpensive
Cons
Low weight capacity
Not as sturdy as some Olympic benches
Seat not adjustable
---
Fatty Comp Flat Bench from FringSport
Best Flat Utility Bench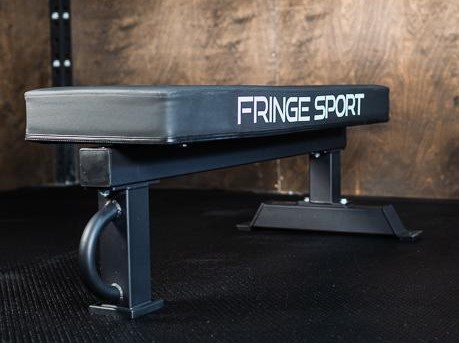 Fringe Sport's Fatty Comp Flat Bench is so good it comes in two variants- the Standard 12″ pad and the Wide 14.5″. Both are constructed just right and come with several features that make them the best utility flat bench out there.
This workout bench has a thick 3″ cushion that delivers comfort and support even when lifting the heaviest dumbbells. The pad is also made with non-slip vinyl so you don't have to worry about sliding off while lifting.
The frame is made with thick heavy-duty steel, and the workout bench comes with a 1000 lb weight capacity, so you know it is tough.
This bench even has free shipping, and the assembly is super easy.
The only drawback to this bench is that it doesn't have any adjustment options, but it is an excellent option if you are just looking for a flat bench.
Pros
Thick 3″ cushion
Can support up to 1,000lbs
Small footprint
Lightweight and easy to move
Cons
---
Related: 11 Best Weight Benches on the Market
AB-5100 Adjustable Bench from REP Fitness
Best Adjustable Bench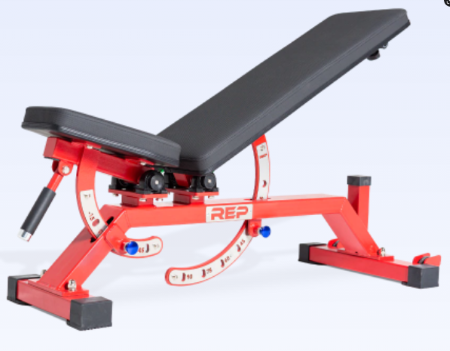 The AB-5100 Adjustable Weight Bench from REP Fitness is the best adjustable bench on our list. This bad boy is the cream of the crop when it comes to adjustable benches.
This bench is made using 11 gauge steel and has a weight capacity of 1,000lbs. The frame is also available in 3 colors, black, blue, and red.
The back pad can be adjusted to 7 different positions, from 0 to 90 degrees, so you can find the perfect angle for any exercise. The seat pad also adjusts to 5 different positions. The pop-pin adjustment makes changing the angles a piece of cake so you can get back to workout out.
The vinyl on the padding is slip-resistant, easy to clean, and durable, so it will last.
This bench also comes with grippy rubber feet to add stability and protect your flooring. Lastly, there are wheels at the back end of the bench, which makes it easy to move it around.
Overall there isn't much not to like about this bench.
Pros
Weight capacity of 1,000lbs
8 different adjustment positions
Small footprint
Cons
---
How We Decided
To help narrow down our list of the top Olympic benches, we considered a few things.
Quality
We only wanted to include benches made from high-quality materials and had a good build. That said, the Olympic weight benches at the top of the list are better quality than the cheaper models on Amazon.
Weight Capacity
We looked for benches with a weight capacity of at least 300lbs, preferably more. Many of them have a 1000 lb weight capacity which will be more than enough.
Price
We wanted to include a mix of high-end and budget options. The Olympic weight benches at the top of our list are on the higher end, while the ones towards the bottom are more budget-friendly.
Features
We looked for features like adjustable backrests, leg developers, and preacher curls. These features add versatility to the bench and make it more useful for a home gym.
Reviews
We looked at reviews from a variety of sources to get an idea of what people who have actually used the benches think of them. The Olympic weight benches at the top of our list have the best reviews.
Other Considerations
We also considered things like warranty, weight capacity, and adjustability when making our decisions.
Who should get an Olympic weight bench?
An Olympic weight bench is an excellent addition to any home gym. If you are looking for a versatile piece of equipment that can be used for a variety of exercises, an Olympic weight bench is a good choice. Of course it allows you to perform the bench press but you can also use it for many other exercises like 1 arm rows, seated dumbbell exercises, step-ups, hip thrusts and much more.
If you are on a budget, some lower-priced options are on our list. However, if you have the budget for it, we recommend going with one of the higher-quality Olympic weight benches at the top of our list.
Why Use an Olympic Weight Bench?
Olympic benches are far superior to a standard weight bench of the past with the narrow posts to put the weight on. The Olympic benches are much more stable and made with more high-quality steel than those wimpy standard benches.
Olympic benches can also be more versatile and have more added features like weight storage, spotter bars, thicker padding, and more.
Plus, if you are lifting any kind of weight, you will most certainly want the Olympic bench. In my opinion, the Olympic bench is the only bench, standard benches are junk.
Final Word
Olympic weight benches make great additions to home gyms, and there are a few factors you should consider when purchasing one. We've highlighted the key features to look for, as well as some of the top Olympic weight benches on the market today. So whether you're just starting out or are looking for an upgrade, we hope this article has helped you find the perfect bench for your needs.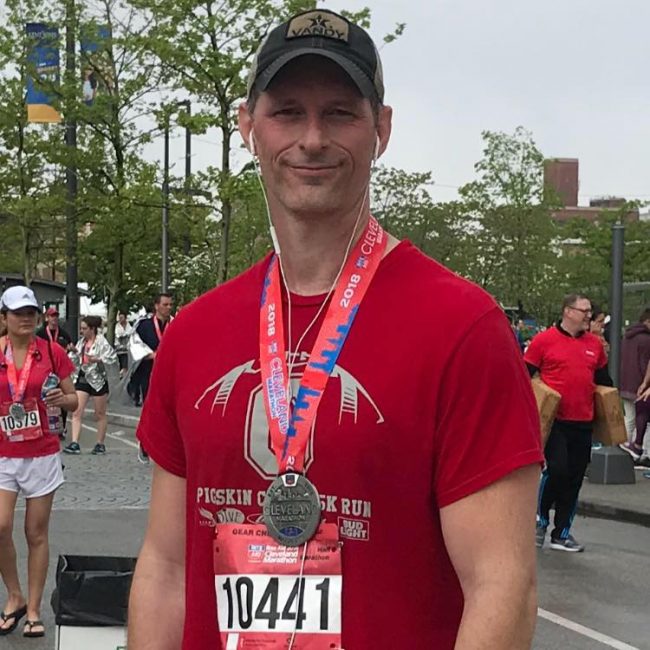 Ryan is a former college wrestler and lifelong fitness fanatic. He has run half marathons, done mud runs, placed in body transformation contests, coached wrestling and now coaches girls soccer. Not to mention he has also tried literally hundreds of supplements over the years and has a vast and thorough supplement knowledge. He has written for Muscle & Strength, Testosterone Junkie, The Sport Review and other publications. He is also the editor in chief of this website. Feel free connect with him on his LinkedIn page below.