(Last Updated On: June 17, 2022)
A bench is a bench is a bench, until you're tasked with finding the best bench for your home gym. Things then get further complicated when you're met with a dozen options and configurations.
To simplify your hunt for the right gym bench, we've compiled a 'best of the best' list that includes products across every category. Want a solid and dependable flat bench? How about a multi-use bench that has a leg developer or squat rack?
We've also added a what to look for' section so you can do a deep dive and find exactly what you're looking for. So, without further ado let's head to the main event!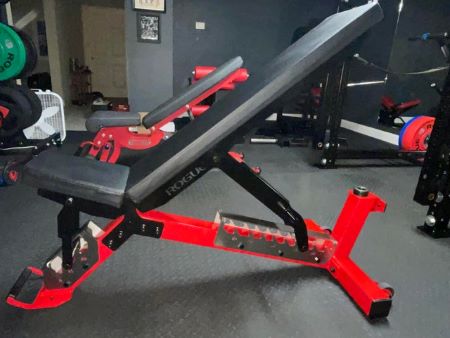 The Best Weight Benches For Home Gyms
We have determined the Fatty Comp Bench to be the best flat weight bench and the Rogue Adjustable Bench 3.0 to be the best adjustable bench. That said there are cheaper options along with other style benches to choose from. No matter what you are looking for there should be something for you on this list. See below for details on each.
Fatty Comp Flat Bench from FringSport
Best Flat Weight Bench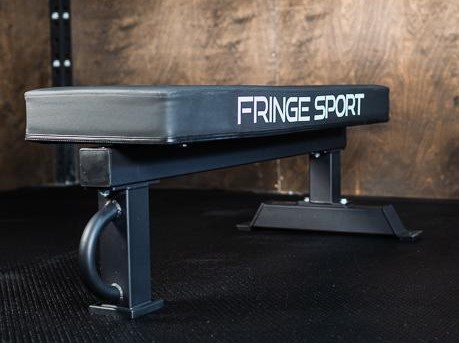 Fringe Sport's Fatty Comp Flat Bench is so good it comes in two variants- the Standard 12″ and the Wide 14.5″. Both are constructed just right and come with several features that make them the best in class.
The main difference between the two is the function. Standard is for the general lifter, while Wide is for powerlifters. There are two things that we absolutely love- the bench's tubing thickness and the perfect foam seat. You can rely on the padding to provide the support you need to complete your movement with the right amount of comfort.
The Fatty Comp Bench allows for a variety of use, including incline push-ups, hip thrusts, step-ups and more. You get a heavy-duty non-slip vinyl pad and a weight capacity of up to 1,000 lbs. We give plus points to ease of assembly, as it only took 15 minutes to get everything down and start working out.
Fringe Sport has a great proper bench in their hands, and it wins 'best bench for your home gym', hands down. Oh, and don't forget that you can set it down, move it around and stash it virtually anywhere you please once you're done.
Pros
Base support is extremely well-made and thick
Padding is just the right amount of comfort and support
Comes in two variants- Wide and Standard
Cons
No color option but black
Available at: FringeSport.com
Force USA Light Commercial Flat Bench
Best Flat Weight Bench for the Money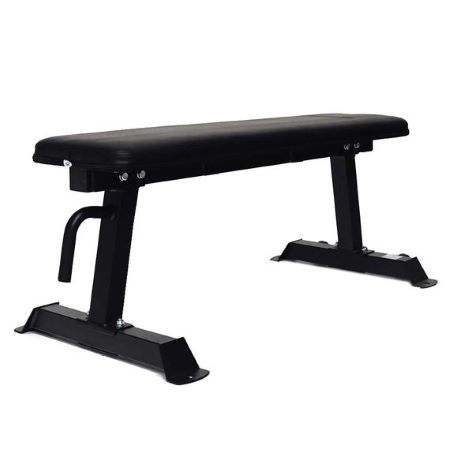 If you're in the market for a premium flat weight bench for less then we have the perfect product for you. It's made by one of the best home gym brands in the world, and that aspect shows itself well in terms of build quality and performance.
The Light Commercial Flat Bench sports a super-strong frame that can hold up to 811 lbs in total. You can rely on the bench through any kind of barbell and dumbbell training, no matter the weight or intensity. What essentially stood out for us was how the vinyl upholstery is made from VorTex material and is backed by rip-stop mesh to ensure you get the maximum use of your utility weight bench.
We also like the high-density foam padding for firmer support and a powder-coated frame that's made with the environment in mind. With a brand like Force USA, you're sure to get your money's worth, and every purchase is backed with a lifetime structural warranty.
The Light Commercial Flat Bench is widely available on several online platforms, but it's best to head to the official site so you have a number of convenient payment options and even a buy now pay later 0% APR.
Pros
Best bang for the buck
Impressive commercial-grade upholstery and rip-stop mesh reinforcement
Works very well with most barbell and dumbbell exercises
Cons
Pay by Bitcoin or cryptocurrency not available
Available at: ForceUSA.com
Rogue Adjustable Bench 3.0
Best Adjustable Weight Bench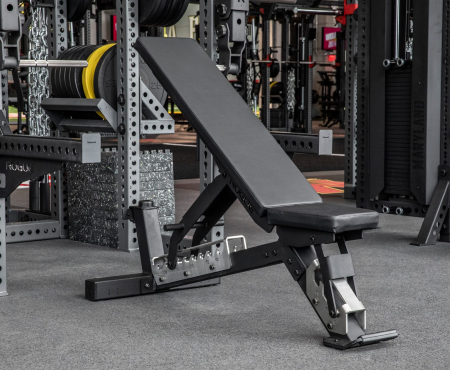 Adjustable home gym benches don't get any better than this. The Rogue Adjustable Bench 3.0 is tough, rock-solid and comes in a few color configurations, too.
Version 3.0 is looking like the best adjustable bench yet, with upgrades in the design, seat positions, incline and frame. Where its predecessors had issues with the cost of shipping, you get a bolt-together mechanism that only charges you a minimal parcel amount.
Rogue has made its bench adjustable in every form, so much so that it can accommodate any bench training type and all athletes. You can adjust from 0 to 85 degrees, or position it 10 different ways, and seat settings can be made to assume a 0, 15 or 30-degree angle. What we like is Rogue's attention to detail, particularly the 1-inch gap between the seat and back pad to eliminate the disjointed issue on incline and arm movements and presses.
The frame is thick and super stable, thanks to a 3×3 11-gauge steel frame within a retractable mechanism. There's also an upright storage stand built right in, and rubber padding for floor protection and for eliminating skids or wobbles.
In terms of customization you can choose from two versions- Standard, which gives you texture black powder coating, standard wheels and gloss frame colors of MG Bright Blue, Rogue Red or Black; or Stainless, which gives you brushed Stainless Steel, premium rubbers wheels and frame colors of MG Bright Blue, Rogue Red or Black. Additionally, you can pick either a Standard vinyl pad or a Premium textured foam pad for grip and added texture.
Pros
Adapts to any size individual and training requirements
New adjustment arm mechanism makes switching easy
Comes in Standard and Stainless, and Standard and Premium Vinyl and Foam Pad
Cons
Available at: RogueFitness.com
Related: Best High-End Home Gym Equipment
Incline Bench V2 by Titan Fitness
Best Adjustable Weight Bench for the Money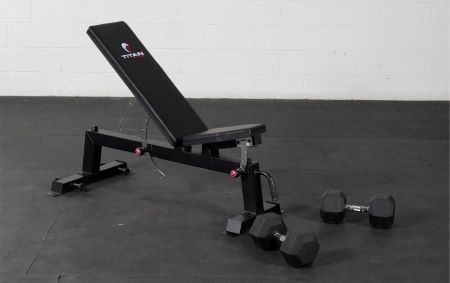 Titan Fitness has always been on-point regarding its home gym equipment, and its adjustable bench, the Incline Bench V2 is a classic example of the quality you can expect from the brand.
Much like the Rogue Adjustable Bench 3.0, the Incline Bench has undergone several improvements, notably the adjustment to make the seat height lower and the base design to make it more stable.
Let's get down to the brass tacks. In terms of adjustability, the back can be positioned seven different ways, while the seat can be positioned three different ways. You can make the Incline go upright, at an incline or completely flat to accommodate various movements, and they even managed to put in pegs so you can perform band exercises.
The price is what sets the Incline Bench V2 apart from the rest. Aside from being adjustable, this bench is portable, and in that regard, it takes a slight hit in the max weight capacity (at 650 lbs).
Pros
Superb value for money
All-around home gym bench that can accommodate different movements
Has rear wheels and front handle for moving around
Cons
Available at: TitanFitness.com
Marcy Flat Utility Bench
Best Weight Bench on Amazon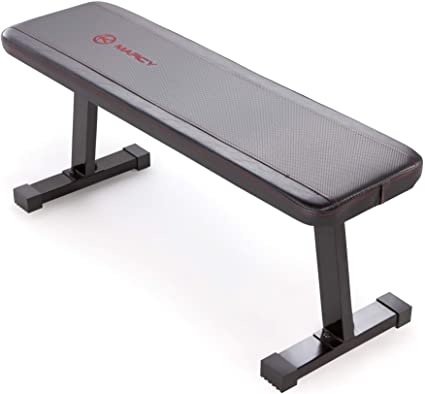 There's not a lot of good quality benches on Amazon, but then we chanced upon the Flat Utility Bench by Marcy. An affordable price tag, solid base, and decent boxed upholstery and high-density foam make it our go-to recommendation should you decide to shop on Amazon.
With the utility weight benches, you can add a power rack, smith machine, free weights, or exercise bands and go to town. For stability, you get a heavy-duty steel frame that's powder-coated to ensure years of use, coupled with non-slip rubber caps and a fixed construction design. What we like is the branding sewn across the boxed upholstery, with stitching and reinforcements in the middle part.
While the bench itself may not be able to handle the heaviest weights or the most punishing lifts, it does a serviceable job when it comes to everyday workouts. Couple that with Prime discounts, free shipping, easy assembly and you have a bench that should give you good mileage down the road.
Pros
Available on Amazon
Heavy steel tube on fixed design equals good stability
High-density foam won't wear out anytime soon
Cons
Weight capacity 600 lbs (person and weight)
Lower quality
Available on: Amazon
1000 SuperMax Weight Bench
Best Budget Foldable Weight Bench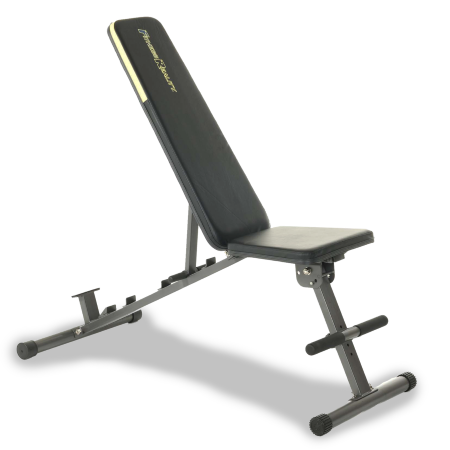 Want the best features in a workout bench but only have a hundred dollars or so to spare? It seems like Fitness Reality has pulled a rabbit out of its hat with the 1000 Super Max Weight Bench, which gives users a satisfying workout each and every time.
Let's start with the fact that the 'Super Max' in the title is true to its word- the bench can accommodate up to 800 lbs, largely due to its unique triangular structure and tubular steel frame. As for user height, the rests are wide and spacious enough that a 6'4 individual will have no trouble performing basic and complex movements.
Fitness Reality has added a few bells and whistles, mainly in the form of leg stabilizers that hold everything down as you lift or shift and an adjustable front leg that can be positioned two ways. You can assume a decline, flat or incline or any of the 12 positional options available to you.
What we like about the 1000 Super Max Weight Bench is how it's ultimately portable. It's foldable and takes about half its original size for easy storage, and the included transportation wheels make it easy to move from one room to another. Once assembled, you won't ever need to take it apart again.
Pros
Greater mobility and portability than other standard benches
Can accommodate a max weight of 800 pounds
Sports a unique triangle support structure for optimum support and strength
Ideal for apartments and small spaces
Cons
Less padding than the others
Available on: Amazon
Force USA MyBench
Best Bench with Preacher Curl and Leg Developer
Looking to get more out of your workout developing your quads, and biceps? Then you'll need a leg developer and bench that can accommodate preacher curl movements. Fortunately, there's a machine that can do exactly this- the MyBench equipment from Force USA.
Having three machines in one product is incredibly efficient, and to this end Force USA delivers. The bench itself is adjustable, with the backrest setting itself to six positions while the seat can be adjusted to three. You can assume a decline, incline or flat stance easily and in just a few seconds.
What we like is how the shark tooth design is basic and yet it's intuitive and easy to use. Also, it's worthy to note that the leg developer and preacher curl tools are attachments, which means you can leave them off and you have a solid adjustable bench for other exercises. The whole thing can accommodate up to 705 pounds in weight, and with a Force USA product, you get a lifetime structural warranty as well.
As for construction, you'll be pleased to know that it's built for commercial settings, with powder coated frame, high density and gym-quality foam padding and commercial-grade upholstery. Long tears and rips are prevented by rip-stop mesh, and all these things come at no additional cost.
Those who want their bench to be versatile will want to shortlist the MyBench from Force USA. It's three workout stations in one, after all.
Pros
A leg developer, adjustable bench and preacher curl in one
Shark tooth mechanism for easy and quick bench adjustments
High-quality padding and ripstop mesh for added durability
Cons
Only available on the manufacturer's website
Available at: ForceUSA.com
Related: The 15 Best Home Gyms on the Market Today
Rogue Monster Westside Bench
Best Olympic Bench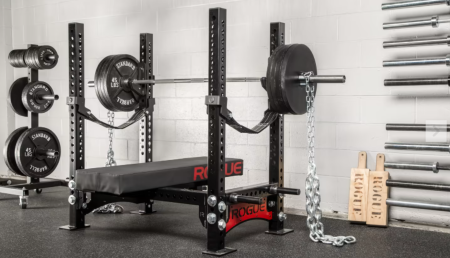 The Rogue Monster Westside Bench is a beast of a bench, sporting multiple configuration options in the padding department. The bench rack is versatile, tough as nails, and always ready when you are. No matter how much weight you are bench pressing, this bad boy can handle it.
You get a 53×34 inch footprint that's mostly made of 11-gauge steel, with double reinforcement serving as the spine of the Thompson Fat Pad. In case you're wondering, the Westside Bench is a collaborative effort between Westside Barbell and Rogue. Pedigree-wise, it's a Monster Series 2.0 power rack with some added features.
Sitting or lying down on the pad presents a premium feeling of control. Back support is pronounced with just the right amount of flex under pressure. On the uprights, there are 2 inch numbered holes at the back and front for height adjustments and laser-cut keyholes for your other Rogue equipment. For safety, there's the spotter decks for missed lifts and the usual array of accessories, including Monster pins, Spotter Decks, Monster Strap Safeties and Monster Sandwich J-Cups.
Bench height is adjustable in 2-inch increments, and everything is shipped together using a bolt-together design. Aesthetics are pretty nominal, with the Rogue branding emblazoned in red at the pad and a contrasting black near the base.
This Olympic weight bench is a very nice piece of equipment, it is pricey, but you will love it.
Pros
Construction and durability is unmatched
Adjustable bench height and excellent Fat Pad
Rogue branding equals top-notch support
Storage for weight plates
Cons
Available at: RogueFitness.com
Related: 10 Best Olympic Benches for Home Gyms
Competition Bench and Squat Rack Combo by Titan Fitness
Best Olympic Bench Squat Rack Combo
Hit two birds with one stone with the 'best in class' bench and squat rack combo by Titan Fitness. Competition-grade equipment is always a plus in our books, and the fact that you can customize it in several ways makes it a standout winner.
Starting things off is a 17.5-inch bench set within a tripod design for maximum stability and proper positioning. The footplates are worthy of mention as they're diamond plated and made from steel material. If you ever need to de-attach the Olympic weight bench, you can just pull the safety pin and roll it out to do other movements.
What we love about the Competition Bench is the quality of life improvements, such as the J-Hooks in the bench and squat section for a more precise workout and bar positioning. What's more, the Spotter Bar, Squat J-Hook and Bench Press J-Hook height are adjustable to allow for customized squat and bench movements per individual. A partner can utilize the adjustment arms and spotter deck footplate.
The equipment comes with assembly instructions, and you'll be able to get it all together in an hour or two. You won't have to worry about durability since the 11-Ga steel structure is coated with paint to slow down rust and corrosion. All in all, a worthy buy for those looking for a solid squat rack combo.
Pros
Competition-grade standards and specifications
More customizable and adjustable than other barbell rack combos in the market
Easy to assemble
Versatile strength training setup
Cons
Rack height adjustment mechanism could be better improved
Available at: TitanFitness.com
Related: The Best Power Racks on a Budget, High End, for Low Ceilings and Much More…
Finer Form Semi-Commercial Sit Up Bench Elite
Best Weight Bench for Sit-Ups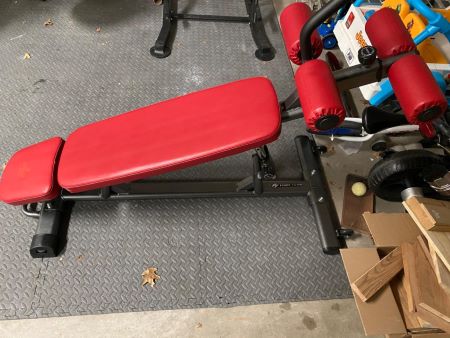 Sit-up benches are a dime a dozen, but the Semi-Commercial Sit Up Bench Elite caught our attention because it's a complete package when you buy it. Quality shines on every feature, from the material to the backboard and rollers.
Everything except the padding is made from high-strength reinforced steel tubing, which makes every movement and workout a worry-free affair. If strengthening your core is of the utmost priority, a sit-up bench is a must-have. The best part is that it doubles as an inclined bench and it only takes up a relatively small footprint in your home gym.
The bench's ability to accommodate sizes from 5′ to 6'7″ is a pleasant surprise, and it can hold a maximum weight of 660 lbs. 3 level adjustable rollers make it easy to make the angle optimal for your frame and body type and without the dangers of your head hitting the ground. Plus, you can make it harder or easier based on your conditioning.
The sit-up bench is understandably heavy, and it comes in two colors- Black or Red. You also get free shipping and a risk-free money-back guarantee.
Pros
Heavy reinforced steel makes it ultra-stable
3 level adjustable rollers for various workout angles and inclines
Supports up to 660 pounds
Can be used as a decline bench
Cons
Foam padding may be too thin for some
Available on: Amazon.com
Escape Fitness Deck V2.0
Best Multifunctional Bench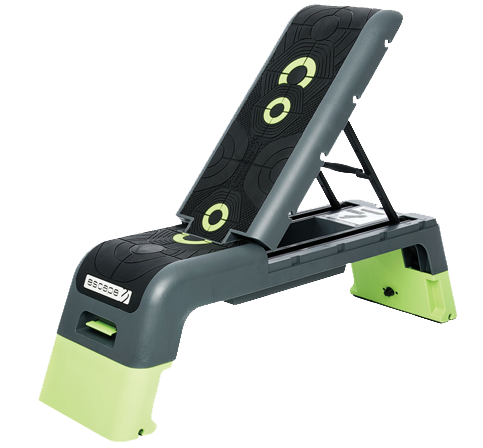 If you're constantly switching between disciplines and workouts and need a bench that's as versatile as you are, then this is for you. The Deck V2.0 can be changed in 16 different ways and cover most, if not all, workout requirements. For this reason, we think it's the best bench for multifunctional purposes.
The all-in-one machine serves both novice and pro fitness enthusiasts alike. You can turn it into a plyometric box, stepping platform, weight bench or resistance tube, or have it set to ramp mode and various incline and decline heights. The brand is even nice enough to give you dozens of ideas on how you can maximize their product via the Escape Your Limits app or its official YouTube channel.
The top of the platform sports a rubber surface for those non-slip contacts. Lift the backrest, and there's an integrated storage space for your small gym equipment. Afterward, you can just tuck it under your bed or in a closet.
The Deck V2.0 is made from a combination of plastic and alloy steel material and comes in a sporty black and green colorway. Max limit for the bench is set at 375 lbs.
Pros
16 unique configurations to cover nearly all workouts
Has built-in storage and adjustable backrest
Is sure to get plenty of use
Cons
Available on: Amazon,com
What To Look For In A Home Bench
With such a huge lineup of available weight benches available in the market, buying the exact one you need can be a problem. It's recommended that you sit down, take your time to think about what you want a bench for, then browse through our list. Each one is designed to fill in a niche and are guaranteed the best bench for your home gym to serve a particular function.
Dropping down further, you'll want to take a look at the most important features, notably weight capacity, how durable the vinyl is, foam padding, size and height, how stable it is, ease of assembly, shipping and warranty.
Size
Size caters to the individual- a home bench may be perfect for a tall guy but might be too big for a petite lady. Most manufacturers will list the bench's dimensions, with some detailing who the equipment is meant for.
Conversely speaking, a big bench will usually cater to big individuals and can accommodate a higher max weight capacity. However, it does take a lot of space. You'll want to strike a good balance so you can do the exercises you want without compromise.
Related: FID Adjustable Bench by Force USA Review
Foam Density
Foam density is also a matter of preference, but there's a fine line between providing enough support and making the user comfortable even during extended reps.
Most manufacturers will list the type of foam they use in the padding, and if it's commercial-grade or high density. How thick it is also plays a role in cushioning and support- having a nice and thick pad to rest on is certainly better than feeling the metal structure on your back while trying to lift.
If you plan on lifting some serious weight you should look at weight benches with thicker foam for better comfort.
Weight Capacity
Powerlifters will want to check out the maximum weight capacity of a bench before they spring for one. The thing to keep in mind is that the information listed will cover both the user and the weights they're carrying. So, for instance, a 200 lbs user lifting a weight total of 50 equals 250 lbs. It's usually listed in the product description.
Warranty
Every piece of workout equipment you consider should be covered by some form of warranty, especially if it's gym equipment you intend to use for a long time.
Different brands will have different coverages, but the rule of thumb is such that the more popular or reputable the brand the longer or better their warranties are.
Shipping
Shipping is mostly a question of cost. However, depending on the type of bench, e.g. Olympic barbell rack combos and those that have attachments, such as a leg developer and preacher curl might come with extra fees.
From a consumer's point of view, shipping should be reasonable and shouldn't cost more than a hundred dollars or so. In this case, it's best that you review the checkout cost before clicking that' Buy Now' button.
Assembly
Assembly can be an aspect when deciding on the best bench for home gyms. When you're by yourself or have other obligations you'll want something that can be easily assembled and using minimal tools. Flat benches are easier to assemble than adjustable weight benches because they don't have an incline mechanism. That said it doesn't take a rocket scientist to put together an adjustable bench either.
Height
Height is the same as the size category- you will have to do an estimate and see if you could fit on the bench and do the movements you intend to do.
Weight benches will have the height details listed, and you can check user reviews and see if the taller or shorter customers had no problems using the equipment.
Stability
The worst weight benches will prove to be so unstable that it would disrupt your workout. Fortunately, all the weight benches in our list have stability features so you can complete reps and exercises without worries.
To check how stable a bench is, you'll want to look at the material of the structure, any added support, and its maximum supported weight. Additionally, it shouldn't be too light that decline positions have a danger of toppling.
Vinyl Durability
Similar to couches, a bench is inevitably ruined if there's a tear or hole in the upholstery. The first thing that would probably wear out would be the vinyl, so it has to have reinforcements or technology that would prevent tearing.
The best home gym benches will have ripstop mesh backing and thick vinyl material so it won't tear anytime soon. If there are any reinforcement features, then you can expect the equipment to last longer.
Bottom line…
The best adjustable benches and flat benches have quality vinyl that is durable and also isn't so slippery that you go flying off the bench when you have 100 pounds in each hand.
Do You Need A Weight Bench For Your Home Gym?
If you plan on doing any weightlifting, then there is a pretty good chance you will need a bench. The bench allows you to do upper body exercises like bench presses, dumbbell presses, shoulder presses, seated curls, single-arm rows, lying tricep extensions, flys, incline exercises and much more. You can also use it for lower body exercises like Bulgarian split squats and step-ups. It will easily be one of your most-used pieces of fitness equipment
You don't need the most expensive bench out there, but you will get what you pay for; cheap benches won't last under heavy use. At a minimum, I would go for our "Best for the Money" picks if you plan on using the bench a decent amount.
How Much Should A Weight Bench Cost?
That all depends on how heavy duty you need it to be. Also, the adjustable benches are more expensive but they allow you to do more exercise. That being said, you should be able to find a decent bench in the $150-$250 range. I know your first instinct is to go to Amazon and see what they have. They will have cheaper benches but the quality will be substantially lower. You have been warned.
Wrap Up
I hope the reviews in this post have helped you decide on your next home gym bench purchase. If you think of anything else that may be helpful to others, don't hesitate to share it with me in the comment section below. Thanks for reading!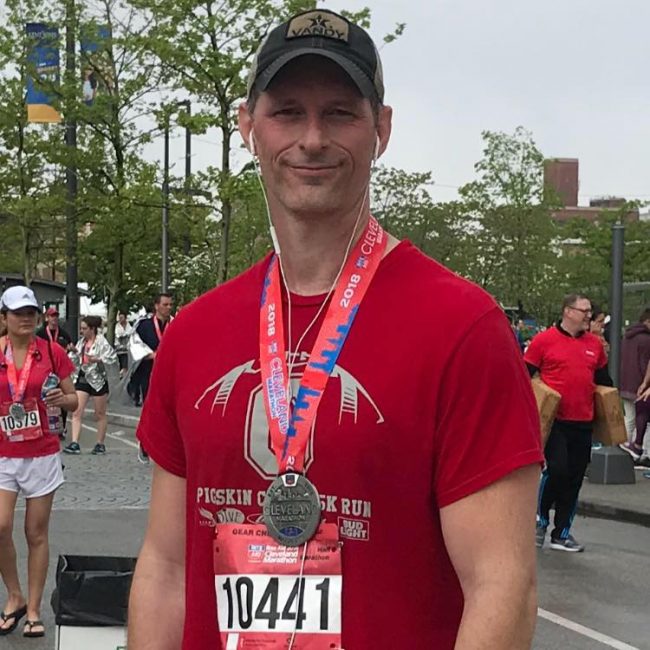 Ryan is a former college wrestler and lifelong fitness fanatic. He has run half marathons, done mud runs, placed in body transformation contests, coached wrestling and now coaches girls soccer. Not to mention he has also tried literally hundreds of supplements over the years and has a vast and thorough supplement knowledge. He has written for Muscle & Strength, Testosterone Junkie, The Sport Review and other publications. He is also the editor in chief of this website. Feel free connect with him on his LinkedIn page below.