(Last Updated On: March 26, 2022)
There is no question that having a home gym can be incredibly beneficial.
Not only do you have the convenience of working out without having to leave your home, but you also save money on membership fees.
But if you're looking for the best fitness equipment, you don't have to skimp on quality- in fact, there are a few high-end pieces of home gym equipment that are worth the investment. Here are some of our favorites.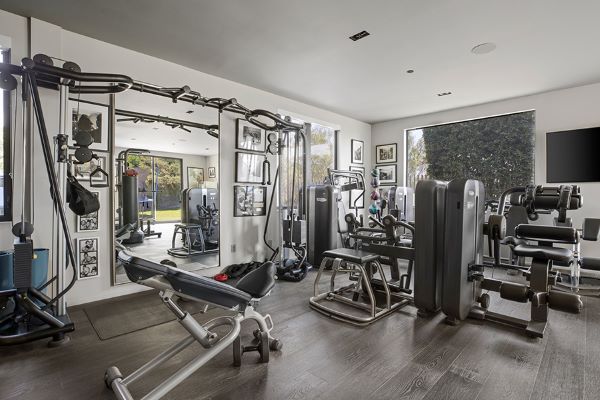 Best High-End Home Gym Equipment
G20 All-in-One-Trainer from Force USA
Best All-In-One Machine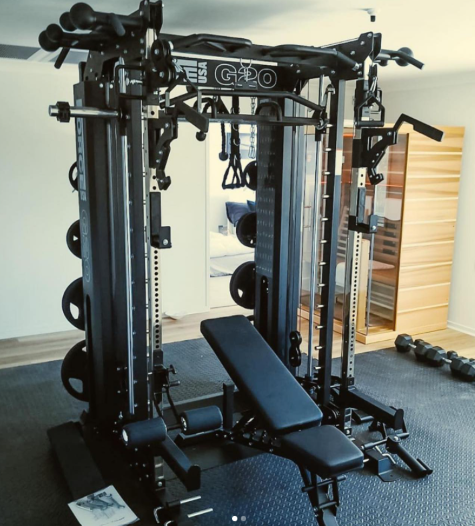 If you are looking for the ultimate all-in-one home gym machine, the G20 All-In-One-Trainer by Force USA is the perfect choice.
This bad boy allows you to perform over 400 exercises all in one machine. The G20 has 11 different stations, including:
Power rack

Smith machine

Leg press

Lat pulldown

Core trainer

Suspension trainer

Low row

Calf Raise

Versa pad

Pull-up station

Functional Trainer
This beast also has dual 289 lbs weight stacks and a dual cable pulley system featuring a 1:1 pulley ratio that is smooth as silk.
The G20 also has 29 attachments, such as J-hooks, monolift, landmine, and leg plates. The walkthrough design makes it easy to transition from one movement into another. You can use up to three stations simultaneously using the machine. Still, suppose your heart desires more resistance than this comes equipped with. In that case, we recommend adding on Force USA Super Bands, which will limitless possibilities when working out in various ways.
The G20 All-In-One-Trainer weighs in at 1525 lbs and is shipped to you in 4 wooden crates. It comes with assembly instructions and all the tools needed to do it yourself. Or you can use their third-party assembly services who will put it together for you.
Overall, G20 is a tremendous workout machine with so much to offer that I could spend the entire article writing about it, click on their website, and see for yourself.
Pros
Over 400 exercises in 1 machine

Engineered for Full Commercial Use

Uses heavy-duty 11 Gauge Structured Rolled Tubing

Built-in exercise chart

Sealed Smith Machine bearing pulleys make it smooth as silk
Cons
Does not come with a bench

Large footprint
Related: Best Home Gym Equipment on a Budget
Fatty Comp Flat Bench from FringeSport
Best Flat Weight Bench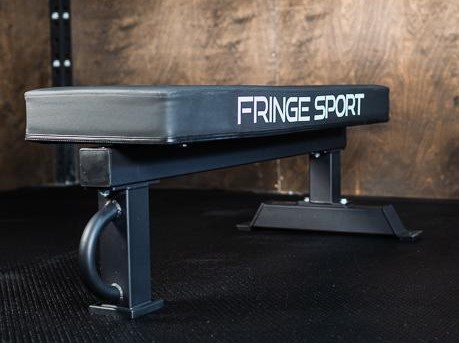 There's no denying it. The Fatty Comp Flat Bench is one of the best in its class. It comes with a 12″ Standard variant and a 14 5″ Wide model that is well made. The standard is for the traditional lifters out there, while the powerlifters will want to go with the wide model.
This bench's best and most noticeable feature is the thick foam they use for superior comfort. If you are doing heavy dumbbell presses, you will be glad they have that extra padding.
We also love their heavy-duty non-slip vinyl. There is nothing worse than slipping off a bench with a set of heavy dumbbells because the manufacturer used cheap vinyl.
This bad boy also has a weight capacity of 1000 lbs, not that you will ever need it to hold that much weight, but it's nice to know if it is made to handle that kind of a load.
This Fatty Comp Bench was also easy to assemble, earning extra points.
Last but not least, we like the fact that it has a single post in the front with a handle which makes it easy to move around as needed.
Pros
4″ thick padding for extra comfort and support

Thick base is strong and well made

Shipping is free
Cons
Only available through the manufacturer's website
Related: Best Weight Benches for Home Gyms
Rogue Adjustable Bench 3.0
Best High-End Adjustable Bench
If you are looking to get an adjustable bench, then the Adjustable Bench 3.0 from Rogue is the easy choice.
This bench is built solid as a rock and it looks so good some may consider it a piece of artwork.
The newest version of the adjustable bench is the best one yet, with upgrades in design and positions as well. Its predecessors had issues due to too high shipping costs for such an expensive product. You get a new mechanism that only charges users according to parcel size.
The Rogue Adjustable Bench 3.0 offers a variety of adjustments to accommodate different types and needs. For example, it can be adjusted from 0 degrees up 85-degree angles and 10 different positions for your comfort level on whatever exercises you plan on doing with this piece. We also love how close they've got their seat gaps so there's no more discomfort when moving around during pushing/pulling motions since 1 inch separates them completely, eliminating any chance of awkward spots happening while using it.
The frame is made with a thick 3×3″ 11-gauge steel, and it comes in 3 different colors plus, you can choose between stainless or textured. There is also an option to get an upgraded pad with a better grip and more durable than the standard pad and vinyl.
Overall this is a great bench to add to your home gym, if you are debating between the flat bench and the adjustable, I would go with the adjustable bench because it is more versatile.
Pros
Super high quality

Stainless steal option

Made in the USA

10 adjustable seat back positions
Cons
Rogue Monster Westside Bench
Best High-End Olympic Bench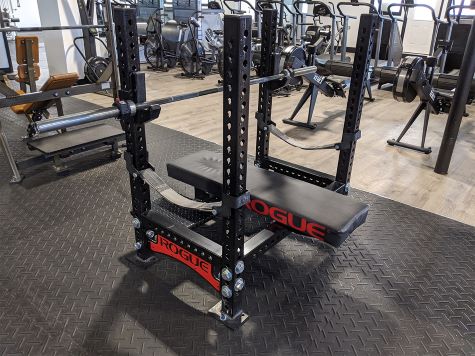 You will see Rogue's equipment peppered throughout this list. All of their equipment is high-end and really top-notch so it's no surprise.
We go with Rogue again for the Olympic Bench. Their Monster Westside Bench is another really great piece of equipment that will easily give you the best bench on the block and even a better bench than you will find at a commercial gym.
This beast is made using 3×3″ 11-Gauge Steel. The bench comes standard with an extra-wide Thompson Fat Pad to promote scapula and shoulder health and provide superior comfort.
All orders come with the Monster Sandwich J-Cups, Strap Safeties, Spotter Decks and plastic-coated pins for band work.
Pros
Commercial grade

Thompson Pad adds extra comfort

Extra posts for weight storage

1″ hardware

Made in the USA
Cons
Bench weighs 342lbs, not easy to move if needed

Only comes in one color
Rogue RML-690C 3.0
Best High-End Power Rack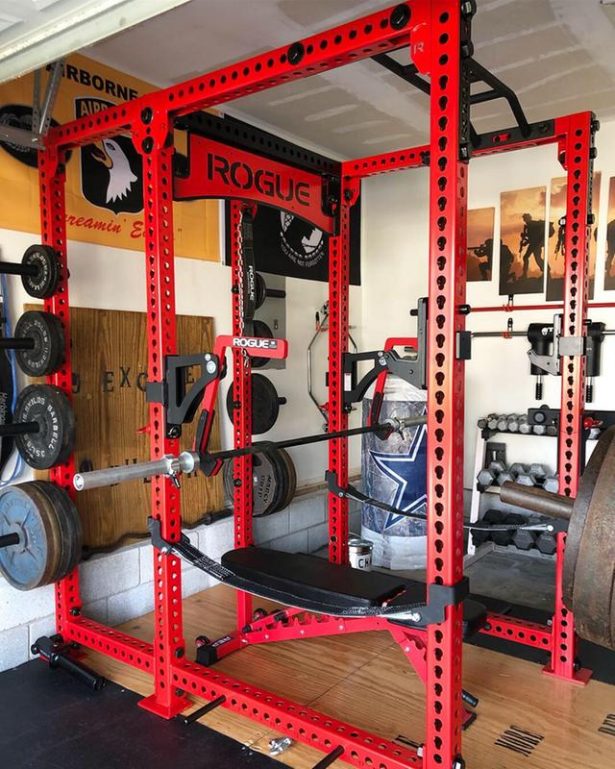 A good power rack will likely be the centerpiece of your entire home gym, so if you want to go high-end, this would be a good piece of equipment to do it with.
We went with another Rogue product on this one. The RML-690 3.0 is an impressive beast that definitely deserves a spot on this list.
This rack by itself is impressive; then, when you add in all the options, it becomes something special.
This bad boy has too many add ons and attachments to the list, but you can see all of them here. Some of our favorites include the monolift system, Cal Trolley and Lever Arm Kit, safety spotter arms, various pull-up attachments, and the trolley & lever arms.
The RML-690C 3.0 is made using 3×3″ 11-gauge steel construction using 5/8″ bolts. There is a concrete anchor kit, but most people probably won't need to anchor this rack. The rack itself weighs in at 530 lbs, so you will likely be fine without anchoring it unless you are throwing around some serious weight.
Pros
Tons of attachments and upgrades are available

Made in the USA

Comes in 11 different colors

Built strong enough to handle the heaviest weights
Cons
Related: Best Power Racks for Home Gyms
MyRack Folding Power Rack
Best Space-Saving Power Rack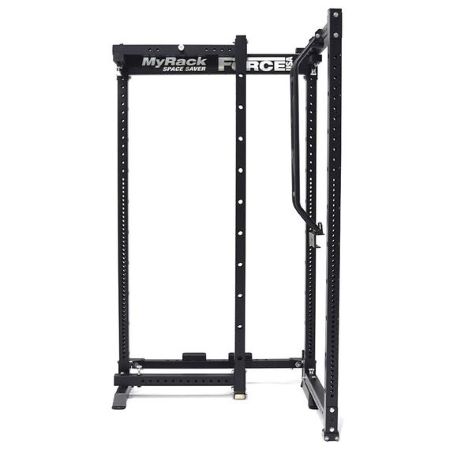 I get it, the power rack above was awesome, but you need something smaller. No worries, we've got you covered.
The Myrack Folding Power Rack from Force USA is perfect for people who want a great rack but don't have a lot of room for it.
The sides of this rack fold in when not in use, so it takes up almost no space.
Setting it up easy, simply unfold the legs and place in pull-up bar across the top, pop a few pins, and you are done. The entire process takes less than 30 seconds.
You might be thinking that a folding power rack can't hold much weight, but you would be wrong. This rack is a 2000 lb weight capacity, which is more than you or anyone else will ever need.
This rack also has 10 different add ons and attachments like the landmine, dip station, and monolift system. Check out the video below and see for yourself.
If you are short on space but still want an awesome power rack, then the Myrack Folding Power Rack is excellent.
Pros
Folds almost flat against the wall

2000 lb weight capacity

10 attachments and upgrades available
Cons
Rubber Hex Dumbbell Pairs by Rep Fitness
Best High-End Dumbbells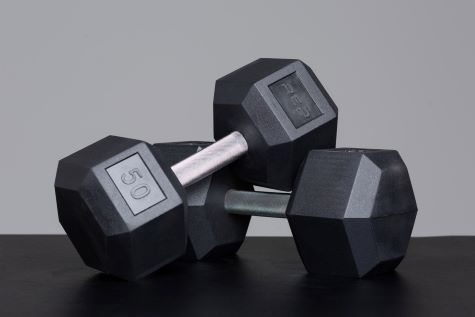 Is there even such a thing as a high-end dumbbell? It's debatable.
The Rubber Hex Dumbbells from Rep Fitness are really nice, though.
You might not know this but brand new rubber-coated dumbbells are seriously stinky. Lucky for you, Rep Fitness uses no odor rubber coating so you won't have to spend time googling what you need to do to get rid of the putrid rubber stench.
They feature fully knurled handles that deliver maximum grip no matter how heavy you go.
The rubber coating protects your floors and other surfaces, while the hex design keeps them from rolling all over the place.
Trust me, you don't want to get stinky dumbbells from someone else, go with the ones from Rep Fitness
Pros
The rubber coating doesn't stink

No-slip grip

Rubber coating protects surfaces
Cons
Many weight selections are not in stock
NÜOBELL Adjustable Dumbbells
Best High-End Adjustable Dumbbells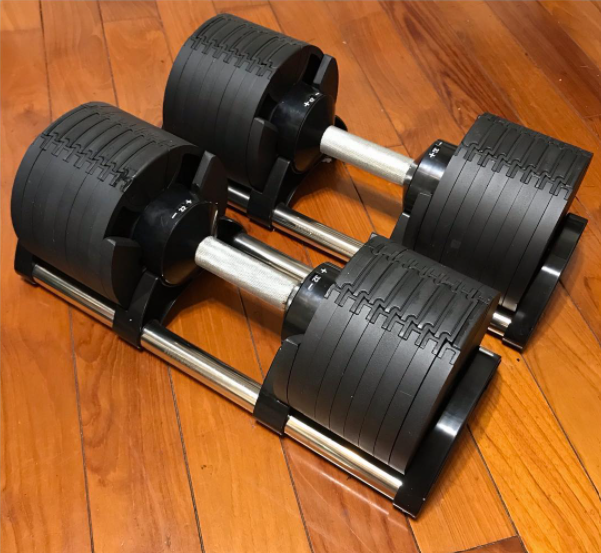 Adding adjustable dumbbells to your home or garage gym is a great idea since you can replace an entire rack of dumbells with just one set of adjustable dumbbells. This makes them less expensive overall, and they save a ton of room.
If you are looking for a great set of adjustable dumbbells, the NÜOBELL 80 LB Adjustable Dumbells are a great choice.
NÜOBELL, created by SMRTFT in Sweden, is a new and improved adjustable dumbbell that uses real metal weight plates for a more natural feel. This design also has no worries about durability since they're machined from solid steel.
These bad boys are available in 50 lb and 80 lb models and are adjustable in 5 lb increments. Selecting the weight you want is done simply by turning the hangle.
You can get an optional stand for these dumbbells that holds both the 50 lb and the 80 lb models.
Pros
Available in 50 and 80 lb versions

Steel construction, not plastic

Has a real dumbbell feel, unlike other adjustable dumbbells
Cons
Stand for the dumbbells is an extra $185
Powder Coat Kettlebells from Kettlebell Kings
Best High-End Kettlebells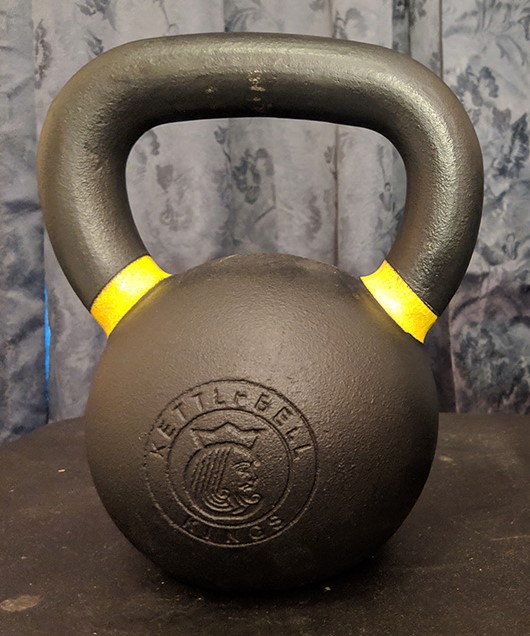 All kettlebells are not created equal. There are actually many different kinds as well. If you are looking for the best kettlebells overall, the Kettlebell Kings is the place to go. Particularly their Powder Coated Kettlebells.
If you are looking for a durable kettlebell, these are perfect. These Powder Coat kettles have been made from a single iron cast so they will last longer than other models that have handles attached with welding dots because it makes them more prone to breaking easily in certain positions.
The powder coating on a kettlebell makes for the perfect gripping surface when you're sweating, which means that it will hold chalk better than any other option like matte or e-coat.
These kettlebells also come with a lifetime warranty so if anything should happen, they will replace your kettlebell.
Pros
Made from a one iron cast

Superior grip
Cons
Shipping is extra on all orders under $150
Available at KettlebellKings.com
The Pyrros Bar by Rogue
Best High-End Barbell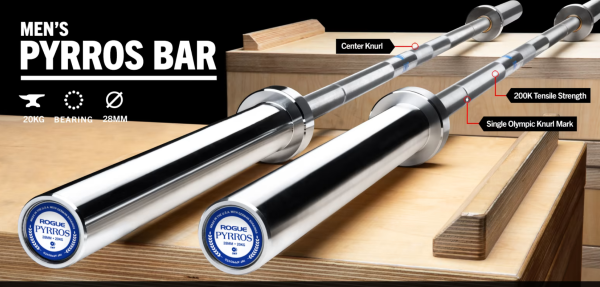 You might think all barbells are the same, all they have to do is hold the plates on. It's not that easy, though. Cheap barbells have bad grip and even worse durability. Trust me, I've had one.
Rogue makes a ton of different barbells, and the Pyrros Bar is the best bar made by them or anyone else out there right now.
You won't have to worry about durability or grip with this bad boy. This bar has stainless steel sleeves and shaft, along with a slightly more aggressive knurl and a more controlled spin to help you feel more in tune with the weight.
This bar can handle Olympic lifting, powerlifting and bodybuilding lifts without crippling the bar and sending ball bearings flying everywhere.
The Pyrros Bar is an IWF Certified barbell and it is available in your choice of chrome-plated or stainless steel. The all-stainless Pyrros Bar is the top-end 28mm barbell that Rogue has in production.
If you are looking for a top-end barbell the Pyrros bar is an excellent choice.
Pros
Has a unique knurl texture

200,000 Tensile strength (it's strong!)

Approved by Greek weightlifting champ Pyrros Dimas
Cons
It's a lot to spend on a barbell
Force USA Rubber Coated Olympic Plates
Best High-End Olympic Plates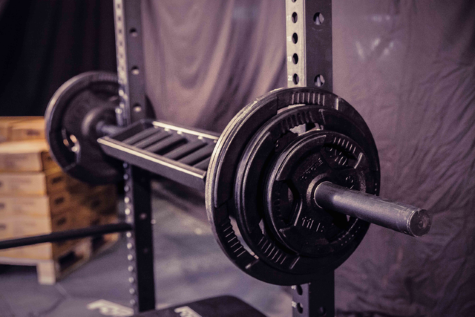 If you are looking for some really nice Olympic plates I would recommend the Rubber Coated Olympic Plates from Force USA.
These plates feature a tri-grip design that makes them easy to pick up, carry and load on the barbells. The rubber coating also protects your floors and other equipment.
These plates are also Class A's international rating for commercial fitness clubs and home use.
They're one-piece forged construction, meaning they provide ultimate safety and quality. Giving you peace of mind.
Pros
Rubber coating protects flooring and surfaces

Tri-grip handles make these plates easy to pick up and carry
Cons
Not all weights are always in stock
Competition Bumper Plates from Rep Fitness
Best High-End Bumper Plates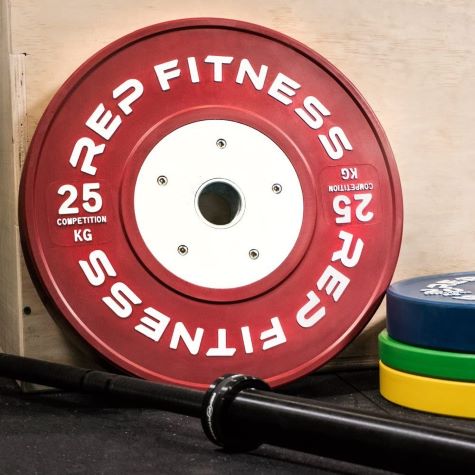 Many people think all bumper plates are the same. Unfortunately, they aren't. Durability and bounce rate are significant issues.
The Competition Bumper Plates from Rep Fitness are a cut above the rest. These plates use a patented design for the inner collar piece, which increases durability.
While most bumper plates use a single solid steel disc on the inside that ends up coming apart from the rubber during use. Rep Fitness uses a patented extra inner steel ring and connecting method, leading to increased durability.
The Rep Fitness Competition Plates are also low bounce so you don't have to worry about the weight bouncing back up and whacking you.
These bad boys also feature raised lettering and are color-coded by weight. They even come with a 5-year warranty, so you are covered if anything happens.
Pros
Uses patented technology to fro steel ring design and rubber connection

Low bounce rate

Factory tested to over 30,000 drops.
Cons
They don't always have all of the different weights in stock
7.8 AT Treadmill by Horizon Fitness
Best High-End Treadmill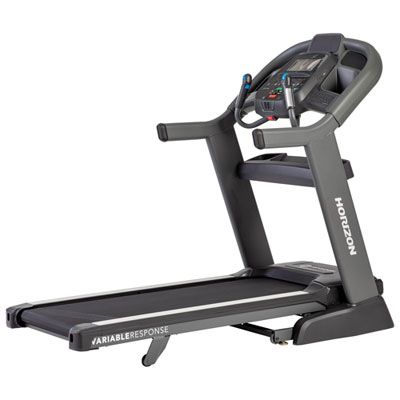 The 7.8 AT Treadmill from Horizon Fitness is everything you could want in a treadmill.
This beast has a mighty 4 horsepower motor that allows you to change speeds and incline quickly and easily. It goes up to 12 mph and has a max incline of 15%.
The QuickDial technology allows you to adjust the intensity of your workout by simply pressing on a roller, which provides more intuitive control than buttons. With only minutes, it is easy for beginners as well as experienced exercisers alike who want an effective session without spending too much time adjusting equipment or settings.
The 7.8 AT treadmill comes with bells and whistles such as integrated speakers, Bluetooth 4.0, rapid charge USB port, and multiple device placement so you can see your run metrics without any obstructions.
This bad boy also has Zwift and fitness streaming app compatibility along with a variety of workouts at your fingertips.
Pros
22″ x 60″ running deck is roomy

Bluetooth enabled

375 lb max user weight

Strong and responsive motor

Free curbside delivery
Cons
Available at HorizonFitness.com
Platinum Club Series Upright Bike
Best High-End Exercise Bike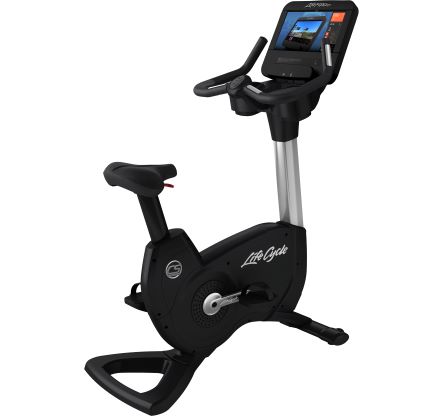 If you are looking for a high-end bike like those that can be found at most health clubs, then Life Fitness' Platinum Club Series Upright Bike is just what you're searching for.
It's no surprise that this premium exercise bike comes with all of the comforts and amenities you could want. It has an HD console that links to your phone to stream Netflix, Pandora or Life Fitness on Demand while following along during workouts with instructors if needed.
This bike has up to 42 workout programs that you can follow, or you can also create your own.
This high-end exercise bike also offers heart rate monitoring, adjustable pedal straps, a comfort curve seat, and resistance controls to easily adjust workout intensity.
Overall this bike delivers everything you could want in a home exercise bike and then some. You won't be disappointed.
Pros
Health club quality and durability

Made in the USA

Superior comfort

Large HD console

Measures calories burned
Cons
Shipping costs extra and can be very slow
Best High-End Rowing Machine
Row HX Trainer by LifeFitness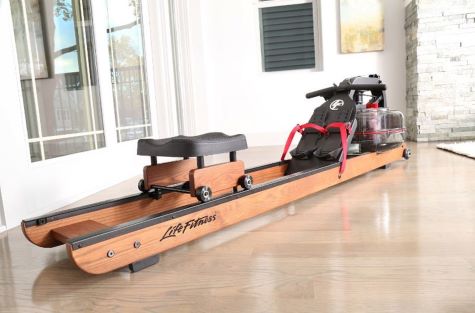 The Row HX Trainer is an excellent choice for those who want a rowing machine that doesn't take up too much space and has a beautiful wood grain finish. It also performs exceptionally well, making this one of the best rowing machines out there.
The water-type rower uses Fluid Technology, which means every stroke simulates the real thing. Close your eyes, and you'll almost believe that you're training outside. As for resistance, the Row HX has an adjustable dial that changes the resistance without adding water.
Thanks to its elegant design, the Row HX is a sleek and stylish rower that can be easily moved from room to room as you see fit. Tempered steel with natural wood gives this extraordinary piece of equipment an extra touch of beauty, making it perfect for any space, whether at home or outside.
The Row HX is a fantastic piece of equipment that will help you get into shape. It has the backing LifeFitness, known for its long-lasting products and excellent customer service. The only downside we can see here would be the cost.
Pros
Self-installation is easy

Uses water for a natural feel

Elegant design

Compact
Cons
Dog Sled 1.2 by Rogue
Best High-End Weighted Sled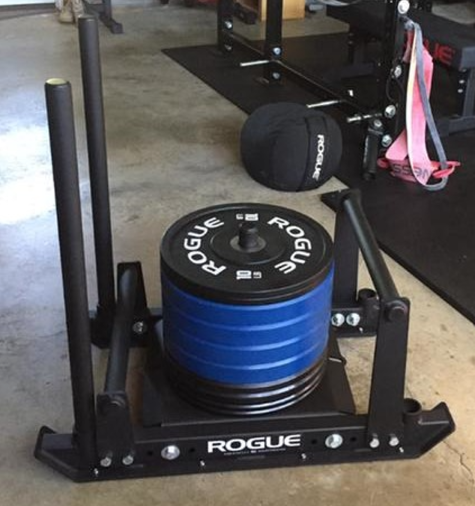 A nice weighted sled is a solid addition to your home gym. They may all look the same, but they're not.
The best weighted sled out there is the Rogue Dog Sled 1.2.
By itself, the sled is nice, but where the Dog Sled 1.2 really stands out is with all the attachments and options that go with it.
This bad boy has 12 attachments and accessories. Some of our favorites are:
Wheelbarrow Attachment – converts the sled into a weighted wheelbarrow

High Bar and Low Bar – Bar attachment of different heights for pushing the sled

Plastic Skis – Protect the surface you are pushing the sled on and make pushing the sled smoother – DEFINITELY RECOMMENDED.

Wraparound Rail Kit – Allow you to change direction when pulling the sled without detaching the harness rope

Lawn Boy – Makes pushing the sled like pushing a weighted lawnmower

100′ pulling rope with eyelet – Allows you to pull the sled to you with the rope, which will fry your back muscles
The nice part is that you can choose which attachments and options you want and skip the ones you don't.
This sled is also made in the USA, which is rare nowadays and nice to see.
Pros
Excellent user reviews

Easily breaks down for storage

Built heavy-duty
Cons
The attachments aren't cheap
Available at: Roguefitness.com
Öppen Deadlift Bar by Eleiko
Best High-End Trap Bar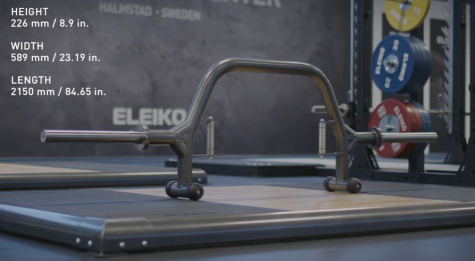 The Öppen Deadlift bar from Eleiko isn't just an excellent trap bar; it is also a piece of engineering artwork.
The bar features an open design that allows you to do exercises like lunges, farmer's walks, and split squats without hitting your legs on the bar.
This design also allows you to tip the bar up on its side for easy loading and unloading.
The bar is also rackable and it features a generous sleeve length of 16.34″, giving you ample room for as many plates as you need even if you are using bumper plates.
Pros
Engineered in Sweden

Stands on its side to easily load and unload

5-year warranty

Excellent knurled grip
Cons
Website is tough to operate
Why You Should Have Your Own Home Gym?
A home gym can save you time, money, room and it is just more convenient
Time is an important aspect here. If you have to go all the way to a public gym, then some factors could be affecting you. One of them is the fact that many people would rather use their car than walk or cycle for exercise because they are lazy or too caught up with other things happening in their lives.
Then if you do go by car, traffic could also be something affecting your workout time which may give you less time to work out altogether. So having a good old-fashioned home gym would be highly beneficial so that you have no excuses not to exercise.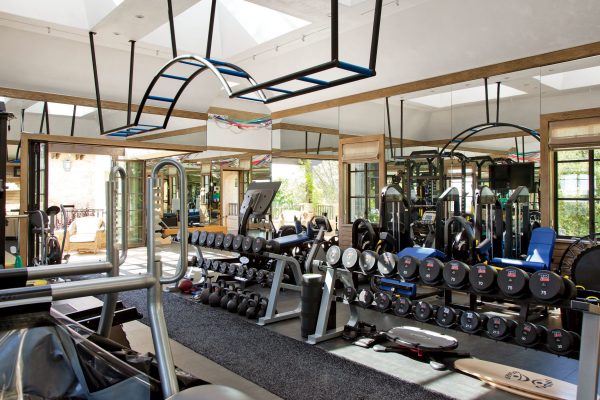 Another thing I want to talk about is money. Public gyms are on the junky side, while private ones could sometimes be too pricey. So a home gym filled with luxury fitness equipment is an excellent alternative for you to reach your fitness goals. The fact that you can workout in the comfort of your own house is even better.
Then, we have room. If there isn't enough space to exercise such as dance or lunges, how will people do them? Instead, they won't decide to go to the gym, but if they had their home gym set up, this wouldn't be much of a problem anymore.
Another advantage is that everyone has one place where they always go and spend most of their time (home), so it just makes sense for you to have your own gym in your home. You can listen to music, watch television or catch up on the latest news all while working out because that's what matters. There isn't much more than people want so why not give them everything they need?
Finally, having a gym would be extremely convenient, and I do mean this. People always complain that there is no time or place when you could easily turn it into an after-dinner activity to get fit and healthy. Having a home gym is perfect for those who quit going to the public gyms because of being too tired from work! So here comes a great alternative with no excuses needed.
The Equipment We Recommend Starting With
If you are just starting out with your home gym, I would recommend you start off with about 4 or 5 pieces of exercise equipment. These are::
Olympic Bar
Plates
Weight Bench
Power Rack
Exercise Bike
Just those five things listed above will give you a solid home gym, especially the power rack, which will easily be the centerpiece.
These will allow you to do pretty much any barbell exercise along with some cardio on the bike.
After these five items, some dumbbells would be next in line, preferably some of the adjustable dumbells but even if you can get just a couple pairs of regular dumbbells, that will go a long way.
Of course, if money is no object, you can go all out and get everything on the list for the complete home gym. You can then consider yourself the king of all home gyms. Feel free to invite me over too.
Wrap up
If you're looking for high-end home gym equipment or are simply curious about what the best quality fitness machines might be, this blog should have given you some good pointers.
The market is flooded with options and it can be difficult to know which equipment will last better, provide a great workout experience, and fit your budget. I hope that this list will help narrow down your search so that you can find the perfect equipment to suit all your needs.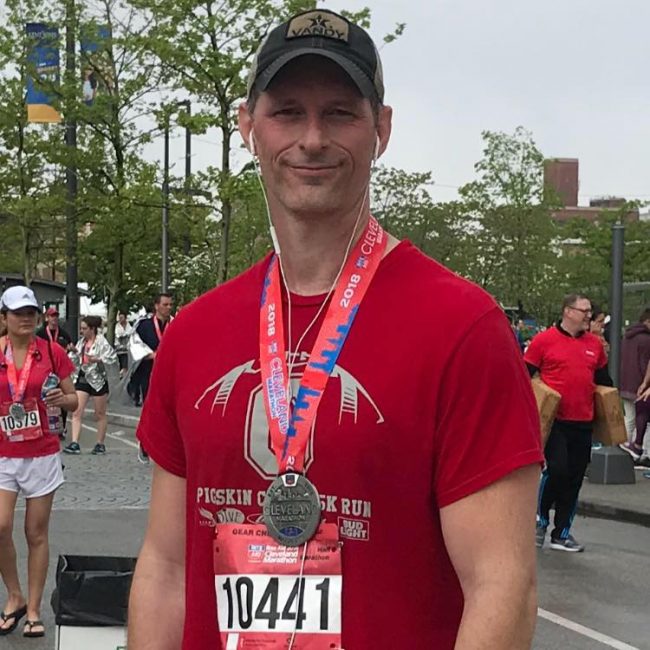 Ryan is a former college wrestler and lifelong fitness fanatic. He has run half marathons, done mud runs, placed in body transformation contests, coached wrestling and now coaches girls soccer. Not to mention he has also tried literally hundreds of supplements over the years and has a vast and thorough supplement knowledge. He has written for Muscle & Strength, Testosterone Junkie, The Sport Review and other publications. He is also the editor in chief of this website. Feel free connect with him on his LinkedIn page below.