(Last Updated On: August 9, 2022)
While the fitness world is littered with tons of different devices that people swear by, there are only a few tools you need for a stellar body. And while certainly there's something to be said for push-ups and bench presses, those only work on a single set of muscles.
The ideal way to truly maximize your fitness gains while in your home gym is with a good cable machine.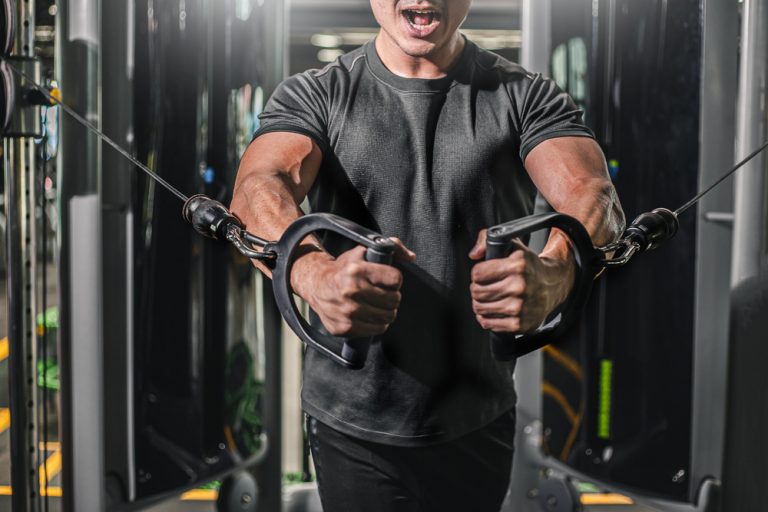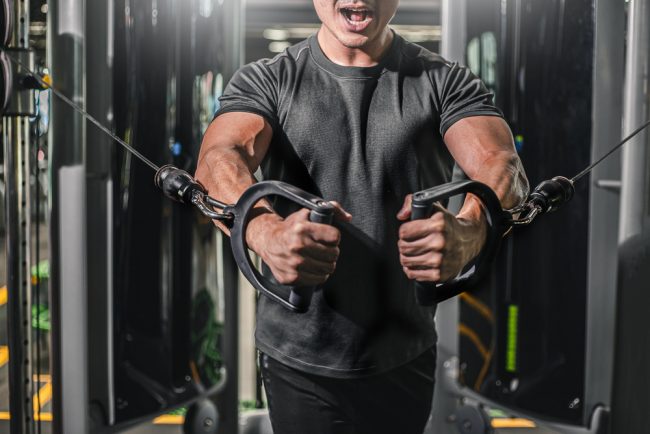 Cable machines offer a level of versatility and variety that no other fitness machine or device can. Not only does it offer a plethora of different ways to strengthen certain arm muscles (as well as most upper body muscles in general) but it also works to strengthen your core. Ultimately, if there's one major fitness machine to add to your home gym, it is a cable machine.
Below, we're going to go over 11 of the best cable machines out on the market to date. We'll get into their strengths, weaknesses, and ultimately why they are something every fitness and gym enthusiast should strongly consider including in their home setup.
11 Best Cable Machines For Home Gyms
Force USA G3 All-In-One Trainer
Best Cable Machine Overall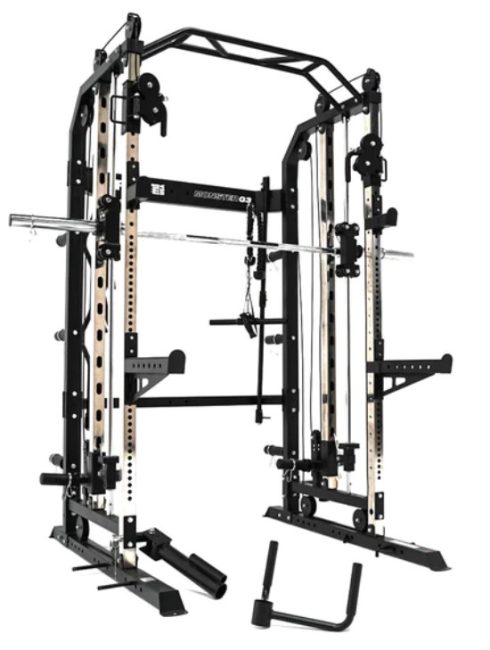 Originally known as the Force USA Monster G3, the Force USA G3 is one of the Force USA All-in-One catalogs of top-tier home gyms. And while there are others on the list that are larger and more expensive, the G3 excels at being the perfect starter home gym option for just about anyone. Not only is it the most unique of the different Force USA options, but it is also arguably the most versatile – both in user ability as well as combination movements.
Physical Description
The Force USA G3 immediately presents itself as a visual sight to behold. Fitted with just about everything, the G3 is perfect for just about anyone interested in getting their body into peak physical fitness without having to head to their local gym. Weighing in at 992lbs, this machine is incredibly durable, able to handle just about anything without stressing or straining.
It has an exterior height of 87 inches with an interior height of 85 inches. Similarly, its exterior width and depth are 80 and 55 inches while its interior width and depth go out to around 43 and 34 inches, respectively. All in all, it's a fairly tough, rugged, and capable gym device that truly means it when it says that it's "all-in-one".
Features
When it comes to the various features offered by the G3, when comparing it to almost any other option on this list, there's no competition. Whereas many of the other stellar machines and home gym options can offer 10, 15, or even 20 different exercises and features, the Force USA G3 blows all of those out of the water with at least 75 potential exercises available. Not only that, but the home gym machine is plate loaded while having 5-in-1 strength training options. These include Power Rack, Functional Trainer, Smith Machine, Chin Up Station, and Core Trainer.
Power Rack
The Power Rack is ideal for weightlifters and bodybuilders, using heavy-duty rolled steel tubing that has been coated and treated for added longevity and durability. It comes with several J-Hook adjustment points so that just about any person can use it, regardless of strength, height, or how far you plan to push the weight up or down.
Functional Trainer
The Functional Trainer is the cable crossover feature, allowing you to perform well over 75 different exercises from here alone – including things like chest, shoulder, arm, back, and core exercises. The cords aren't weight stacked, so you won't be doing any presses with them using weights, but you can do just about everything else.
The cables are 6.2mm and nylon-coated, tested against over 2,000lbs of pressure, meaning that they aren't going stretch, snap, or strain no matter how hard you pull. And when you remember the fact that the entire trainer is nearly 1,000lbs in and of itself, you know there's not going to be any accidental tip-overs. Even if you were strong enough to cause an issue, each cord has steel alloy thimbles that end in machine-sealed clamps, further improving their safety usage.
Smith Machine
The Smith Machine comes with a fixed barbell that can hold upwards of 772lbs, putting it well within Olympic-level weighted plates. What's more, it does all of this without any bending or groaning under the weight, meaning it can easily hold that level of weight with virtually no problem.
When you're done, re-racking is similarly a simple matter, as you can set them in any height position needed. The rollers are commercial-grade with smooth and natural-moving rails that include a lock-and-release mechanism so you can pump hard while on your own or without a spotter.
Chin Up
The Chin Up and pull-up station is ergonomically designed with a 771lb weight rating, meaning you can add several additional pounds to your body without worrying about any warping or chafing of the metal. The station has multiple grips including the classic knurling grip, wide grip, underhand grip, overhand grip, narrow grip, pronated grip, hammer grip, and various other grip movements.
Core Trainer
Lastly, the core trainer feature includes an attached landmine station that is ideal for just about any torso rotations, offering a ton of upper body exercises, whether with or without the optional barbell inclusion.
All in all, the Force USA G3 is the one-stop shop for all gym and fitness needs, and is something just about any gym goer will find themselves using in one way or another. While probably a bit much for people that are just getting started, if you're an avid gym rat or someone seriously trying to increase their lifts, there aren't that many other options that can get the job done.
Specs & Dimensions
Height: 87 inches
Width: 80 inches
Depth: 55 inches
Pulley Ratio: 2:1
Weight Training Capacity: 992lbs
Weight Rating (Smith Machine): 772lbs
Functional Trainer Weight Rating: 2,000lbs
Drawbacks
As far as drawbacks are concerned, the Force USA G3 doesn't have any. Arguably one of the only big areas where it's lacking is its inherent advanced nature. While it won't be too much of a problem for people that are already well-versed in home gym setups, people looking to just start may find that the G3 is far too overwhelming and intimidating for them. From its assembly to the amount of space required, if you're not willing to invest in this machine, it's probably not going to be the right option. If you are, however, there's very little that isn't impressive about this masterpiece.
Pros
Does Just About Everything. Seriously
Has A 2,000lb Weight Rating
Has A Ton Of Storage For Weights
Offers Plate-Loaded Resistance
Can Be Used To Perform Easily Over 75 Different Exercises
Cons
You're Going To Need A Good Amount Of Space (Flooring & Ceiling)
Assembly Process Can Be Complex
May Feel Overwhelmed If You're Not An Experienced Weightlifter Or Bodybuilder
---
#2. Rep Fitness FT – 3000 Compact Functional Trainer
Editor's Choice – 2nd Best Cable Machine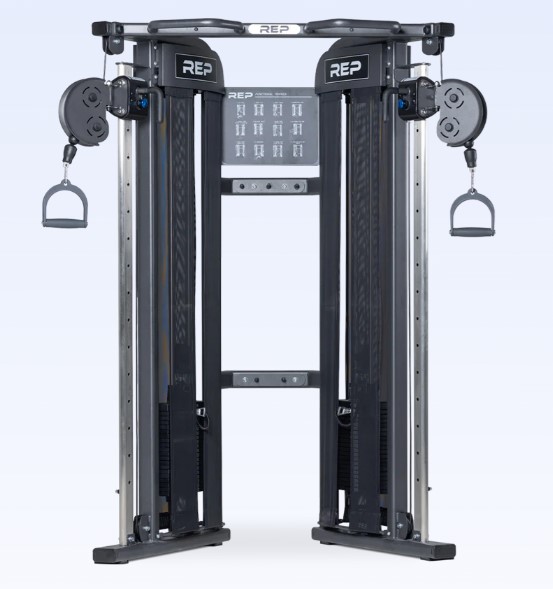 Though it's hard to come after everything offered by the Force USA G3, the Rep Fitness FT-3000 is hardly a slouch, coming with several crucial benefits all on its own. Pulling primarily from its wide variety of options as well as its dual weight stacks and various cable positions, the FT-3000 offers a ton of value to just about any fitness goer. And while it may not reach the same people as the G3, that may not be such a bad thing.
Physical Description
The Rep Fitness FT-3000 is, while technically considered "compact", a bit on the larger side, especially if you've already got a few other pieces of equipment taking up space in your home gym. Still, it's not so big as to be overbearing, especially when compared to many more commercial options out there.
Its frame is made up of 2 pulley systems, both of which are connected to several weight stacks. These pulleys are fiberglass-reinforced with the handles being made from a urethane material. This material is great for ensuring a firm and solid grip, especially when dealing with much heavier weights. In this case, the FT-3000's pulleys each have an individual weight of 180lb with a 2:1 pulley ratio.
Speaking of weight, the FT-3000 has an overall weight of around 770lbs when fully assembled (410lbs without the weight stacks added). With a weight that high, it's pretty unlikely you're going to experience any wobbliness or insecurity as you're going through your reps.
In terms of overall dimensions, the trainer has a 78-inch height, a 53-inch width, and a 34-inch depth. Because its depth is only 34 inches, you won't have to worry too much about getting it through doors or along hallways unless your place is especially small. This cable pulley machine is also coated in a double-layer powder coating that ensures it is resistant to most cuts and dings.
Features
As earlier mentioned, the FT-3000's most interesting aspect is its weighted stack pulleys. Here, they each are 180lbs, while running on a 2:1 ratio. This ratio essentially means that you're only pulling half of the weight with your strength, the other half being leveraged by the pulley itself. This means that you're pulling around 90lbs for either arm and while that may not be especially impressive for high-end athletes, if you're just starting or haven't yet progressed into bodybuilding or heavy weightlifting, that should be more than enough.
In addition, the FT-3000 also comes with a magnetized weight selector pin. This just makes it easier to select your weight without worrying about it jamming or slipping out at the last second. The cable machine is also compatible with pretty much any type of handle or accessory replacement, regardless of the brand. This means you can reuse any of your old handles from previous machines or take on even nicer ones if you're interested.
Lastly, for those that need a bit more handholding (no shame, we all gotta start), this cable machine has a center placard that lists out around 12 of the 15 different exercises and exercise positions available. This means that pretty much anyone can use the machine, regardless of their current skills or overall ability.
Specs & Dimensions
Weight: 770lbs
Height: 78 inches
Width: 53 inches
Depth: 34 inches
Cable Travel Length: 81 inches (6.75ft)
Pulley Ratio: 2:1
Max Load – Total: 180lbs (90lbs with 2:1 pulley ratio)
Min Load – 10lbs
Drawbacks
Like the Force USA G3, the FT-3000 doesn't have all that many downsides. As mentioned earlier, despite its name including "compact", you're going to want to set aside a wall just for it, as including a lot of other things may end up with things getting cramped. Similarly, while it doesn't need it, it would have been nice if there were a few more included attachments. Currently, it's just a couple of handles and that's it. Again, they aren't needed (especially since the one they do have is really good), but you'd think that they'd throw in a couple more considering how universal the attachment port is.
Lastly, while 90lbs is certainly great for the vast majority of people, if you're already pretty big as it is, and are looking for a more bodybuilder frame, you'll be better checking out the G3 or G15 home gyms. For everyone else, however, the FT-3000 will do pretty nicely.
Pros
Acts As A Complete Gym
Comes With A Great Warranty (Lifetime For Frame / 10yrs For Parts)
Relatively Simple To Put Together
Very Durable & Long-Lasting
Best Cable Crossover Machine on The List
Quite Versatile
Cons
Size Is A Bit Much If You Have Other Gym Equipment
While Versatile, It Could Have More Attachment Options Included
May Not Offer A Challenge For Bodybuilders Or Weightlifters
---
#3. TITAN Fitness Cable Crossover Machine – Plate Loaded
Best Cable Machine on a Budget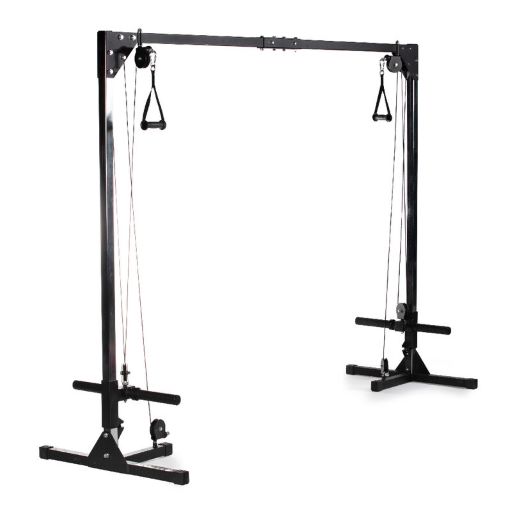 The TITAN Fitness Cable Crossover Machine is one of the better ones for those who don't have a large budget but want to get started. No, it's not on the level of many of the other more impressive options on this list, but when you consider its price, you realize that you're getting the same value for money, if not a bit more!
Physical Description
From a physical standpoint, the TITAN Fitness Cable Crossover Machine isn't especially large or bulky. It's designed with the intent of offering a dynamic upper body workout for those that are just starting out and with a fairly basic understanding of performance. The machine is 3 feet wide alone either side with several weight plate sleeves that come up to roughly 9.75 inches in length. This means you'll be able to move with more than enough room around you to keep from bumping into anything even if you have a couple of other items in your gym.
In terms of dimensions, the Cable Crossover Machine is around 83.5 inches in height, 113 inches wide, and has a depth of 36 inches. Its weight sleeves are 9.75 inches long, while its diameter is 49mm. It has a total weight of 110lbs, while its cable weight capacity can hold upwards of 220lbs on either side. This is due, in no small part, thanks to its 2-inch steel tubing, which greatly strengthens it against hard tugs and pulls. You'll still need to make sure that it stays plate loaded to keep from falling over, but outside of that, it shouldn't be too much of an issue.
Features
When it comes to TITAN's Cable Crossover Machine, it's not going to perform like many of the more capable home gym cable machines on this list. What it does offer, however, are reasonably durable materials at an affordable price. As such, you can expect to do many of the standard pulley exercises (provided it's sufficiently plate loaded to prevent falling over). In addition, the Cable Crossover also includes a pull-up bar, allowing you to do various chin-ups along with cable pulls and chest presses.
Again, so long as your expectations are managed, this is a great first step for many people, as it doesn't take that long to put together and it can easily work alongside several other pieces of gym equipment to give you a full-body workout, all without breaking the bank.
Specs & Dimensions
Weight: 110lbs
Height: 83.5 inches
Width: 113 inches
Depth: 36 inches
Cable Weight Capacity: 220lbs
Drawbacks
All in all, the TITAN Fitness Cable Crossover Machine doesn't pretend to be anything more than it is, a useful addition to a person's home gym rather than the all-in-one option all on its own. And while that's admirable, it doesn't mean its flaws aren't visible. Not only is it fairly stunted in terms of variety, but it's also not the most durable option. With a weight of 110lbs, it needs to be plate loaded, as anything else could easily end up with you falling over when doing any pulley exercises or using the pull-up bar. Even if you have it loaded, the cable capacity is only around 220lbs, meaning larger people looking to lose weight will need to drop several more pounds before risking it.
That said, provided everything else is in order, TITAN's Crossover Machine is certainly nothing to sneeze at or completely disregard.
Pros
Very Affordable
Great For Beginners
Plate-Loaded, Meaning You Won't Have To Worry About It Potentially Falling Over While Exercising
Easy To Jump Into And Use
Not Particularly Overwhelming
Cons
You Get What You Pay For – Not The Most Durable Option
If Plate Loaded Weights Aren't Present, It Could Fall Over
You Will Need To Buy Weight Plates If You Don't Have Any
---
#4. Rogue CT-1 Cable Tower
Best Cable Machine For Small Spaces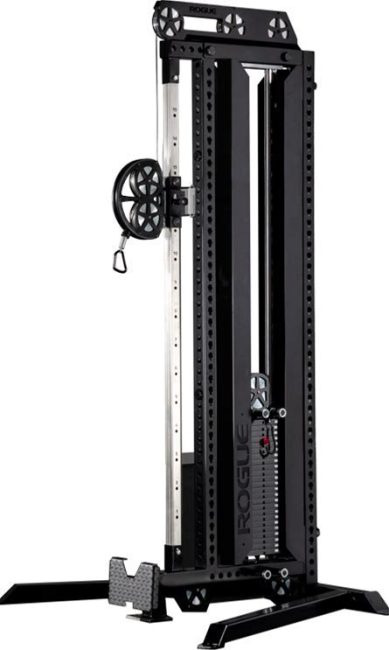 The Rogue CT-1 Cable Tower, while not particularly feature-filled, excels primarily in its relative size. Compared to many other options on this list, provided you've got a high ceiling, the CT-1 can fit just about anywhere. Not only that, but it manages to use its length so impressively, that you'll consider checking it out just to play with its surprisingly varied options.
Physical Description
The CT-1 Cable Tower, as the name implies, is very much a tower first and a home gym tool second. Standing at a full height of 9 feet tall, the CT-1 has a spatial footprint of only 60 inches wide and 55 inches in depth. Interestingly, it's hardly light on its feet, with a weight of well over 650lbs. This is primarily due to the 11-gauge steel that is used to make this machine up. Coming in as 3 inches by 3 inches, it's durable enough to not have any worries about metal bending or chafing, or any wear and tear for that matter.
Features
In terms of what this cable machine offers, its biggest claim to fame is the fact that its full length can be adjusted along the different column points for a whole host of different exercises. This can vary from more simplified curls and pushdowns to more advanced exercises like full rows or cable crossovers.
In addition to the standard cables, the CT-1 also offers a single-handed weight stacked pulley. This pully goes up to 250lbs. Like the standard cable features, by switching the handle out, you can perform numerous different exercises based on the weight you're using.
All in all, this is a great device and perfect for anyone with not a lot of space but is interested in improving their arms, core, or quads.
Specs & Dimensions
Weight: 650lbs
Height: 108.5 inches (9 feet)
Width: 60 inches
Depth: 55 inches
Max Load: 250lbs
Adjustable Height Positions: 16
Drawbacks
The Rogue CT-1 Cable Tower, while a very great addition to your home gym, does have a few drawbacks that are worth considering. The first main one largely deals with the fact that you'll need to bolt the machine into the floor. They have a mounting option, but that's going to cost extra. In addition, this cable machine doesn't have many options the same way that others on this list do. Still, what they offer with the small amount of wide space is very impressive and worth it if your home gym is already crowded with a few other items.
Pros
Very Sturdy & Durable
Takes Little Space In Home
Easy For Beginners To Jump Into
Very High Quality
Cons
Assemblage Could Be An Issue For Beginners
Doesn't Have As Many Options Compared To Others On This List
Check Price at RogureFitness.com
---
#5. TITAN Fitness Tall Wall Mounted Pulley Tower V3
Best Budget Cable Machine For Small Spaces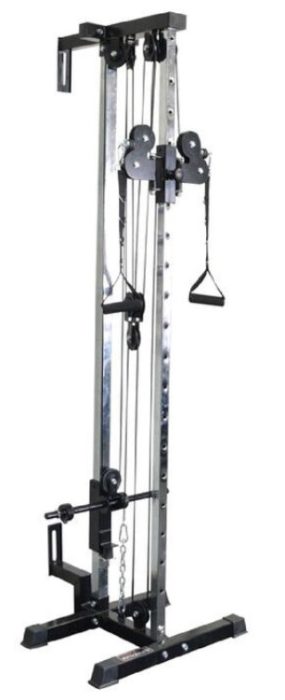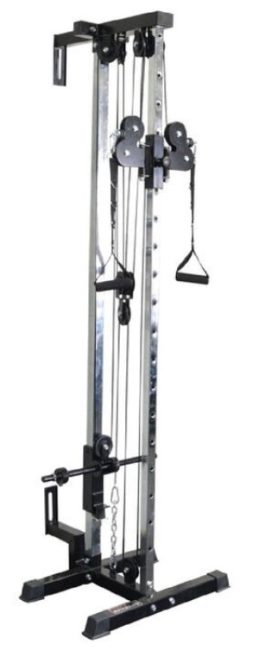 The sister device to the TITAN Fitness Cable Crossover Machine, the TITAN Fitness Tall Wall Mounted Pulley Tower V3 presents itself as an even more affordable option while making for a great addition to someone's current home gym setup. Like the Cable Crossover, the Pulley Tower V3 is much more durable than one would expect, given its price, and grants surprisingly varied in terms of the different exercises that can be performed.
Physical Description
The V3 is an all-steel frame that is coated with scratch and nick-resistant powder. It has an overall height of 84.5 inches while weighing only 75lbs. The cable machine's space footprint is only around 27 inches by 25.5 inches with an overall depth of 26.5 inches. Unlike the Crossover, the Pulley V3 isn't weighted down with plates but is instead wall-mounted. This gives it that same sense of security despite its overall light weight.
Features
The V3's main points of pride are, like the Crossover, rooted in its affordability as well as its relatively small space footprint. Compared to other pulley systems on the market, the V3 isn't exceptionally large and instead focuses on supplementing an existing home gym rather than doing it all on its own.
Outside of the initial aspects, this wall mounted cable machine also is noted for having access to 18 different adjustable positions for the pulley, opening up a variety of different exercises based on the person. Unlike the cable crossover machine which had a fairly low weight capacity for the athlete, the V3's pulley and mounted aspects work together to greatly increase that number to around 350lbs.
Specs & Dimensions
Weight: 75lbs
Height: 84.5 inches
Width: 27 inches
Depth: 25.5 inches
Cable Travel Length: 7 inches
Max Weight Capacity: 350lbs
Drawbacks
The V3's biggest drawbacks are largely reminiscent of the weaknesses shared by TITAN's Cable Crossover Machine. As with that machine, its low price makes it not nearly as durable as some of the other options (despite having a higher weight capacity) while the number of exercise positions, while surprisingly varied, still isn't going to be on the same level as something like the CT-1 or the G3.
In addition, while the steel itself isn't too bad, the pulley wheels aren't particularly made with good quality, being made with a cheap plastic material that causes a bit of friction compared to the other pulley's more smooth and free-flowing pull. Again, it's not enough to say that there isn't any benefit to the V3, but it's certainly not the best choice if you have the money for something else.
Pros
Very Competitively Priced
Doesn't Take Up A Ton Of Room
Plate-Loaded, Meaning It Can't Be Moved If The Weight Is High Enough
Cons
It's Not Super Quality
You Need Your Own Weight Plates
Plastic Pulley Wheels Have Too Much Friction When Used (Likely To Break)
---
#6. Force USA G15 All-In-One Trainer
Best High-End Cable Machine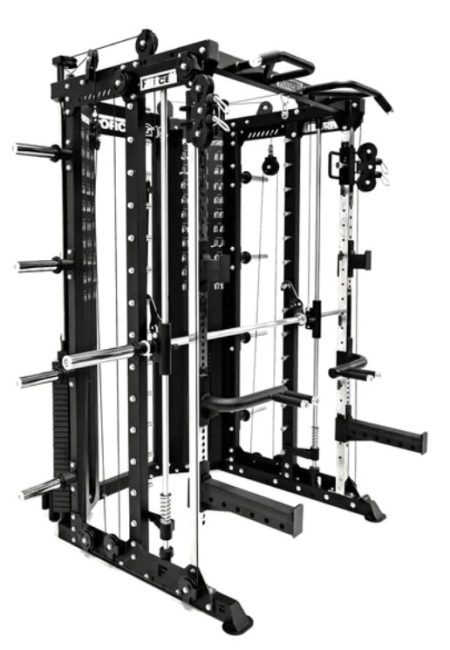 One of the newest additions to the Force USA lineup, the G15 All-In-One Trainer takes virtually all of the things that make the G3 such a stellar home gym device and brings in several inclusions that make it that much more incredible. For example, while it still retains its 5-in-1 strength training, the G15 also includes two dual integrated weight stacks, each with 285lbs available. Ultimately, if you were a fan of the G3 but wanted to add some of the different features found in the FT-3000, the Force USA G15 is definitely worth your attention.
Physical Description
In terms of its physical breakdown, the G15 shares many of the same things as the G3. As an example, its frame is made with 11-gauge steel at 3 inches by 3 inches, making it virtually impossible to bend or break. It's arguably the hardest you can expect to get in a home gym, which says a lot about the quality.
This functional trainer cable machine is incredibly large and heavy, with a shipping weight that is well over 1,200lbs before being put together. It has an exterior height of 87 inches and an interior height of 80 inches. Its interior and exterior widths are 40 inches and 80 inches, respectively, while its exterior depth is 53 inches and its interior depth 50 inches. As such, you can reasonably expect to need a good amount of space in your gym if you want to bring this in. The good news is that, once you set it up, you're not going to need anything else outside of a bike machine or a treadmill.
Features
Taking the G3's 5-in-1 strength feature to the next level, the G15 now has the 8-in-1 setup, adding the Low Row, Lat Pulldown, Dip Station, and Suspension Trainer to its setup. You can also add the Vertical Leg Press and Jammer Arm if you're willing to invest in the upgrade kit. And while I didn't have a chance to check those out, I will say that most of what I've heard on them is pretty good, so I don't doubt that's also incredible additions.
Low Row
The Low Row works to improve stamina and strength by using the Lat Row Attachment. This measures 9 inches by 22 inches and features a slip-resistant surface with a black-coated finish to protect against rust and corrosion.
Lat Pulldown
The Lat Pulldown feature includes a lat pulldown bar as well as a knee holder which works to strengthen the back muscles.
Dip Station
The Dip Station is a part of the machine where there is a multi-grip dip handle that acts as an attachment that provides various exercises based on the nature of the grip, all of which work to build strength and mass in the upper body.
Suspension Trainer
Lastly, the Suspension Trainer works to provide a ton of different exercises that improve the person's core strength and endurance. For the G15 in particular, this trainer section of the machine has over 50 different exercises that can be performed, using various additional forms of resistance to improve the effectiveness and versatility of the workouts.
Additional Benefits
In addition to these immediate feature benefits, this functional trainer cable machine comes with several additional benefits for the gym goer. Its most immediate difference from the G3 is the inclusion of the dual integrated weight stacks. Both are set at 285lbs with a pulley ratio of either 2:1 (push half the weight) or 4:1 (push a quarter of the weight). This is an incredible option, as it makes even the more intense exercises more attainable for beginners and intermediates, though fans of the full weight will likely stay with the power bar and the free weights.
Specs & Dimensions
Weight: 1,200lbs
Height: 87 inches
Width: 80 inches
Depth: 53 inches
Pulley Ratio: 2:1 & 4:1
Weight Rating Capacity: 992lbs
Weight Rating (Smith Machine): 772lbs
Functional Trainer Weight Rating: 2,000lbs
Max Load Weight Stack: 285lbs (2:1 = 142lbs) / (4:1 = 71.25lbs)
Drawbacks
Just as there wasn't a lot that could take away from the G3, there's similarly not too much that takes away from this bad boy Ultimately, the one area where it may be an issue is in its price. While I do think it offers more than enough to justify its cost, I just as easily imagine that most people who aren't professional athletes getting scared off by its sticker price. Still, if you've got the money and want the best of the best, this is it.
Pros
Incredibly Durable
Offers 2:1 and 4:1 Pulley Ratio For Weightlifting
Takes All The Good Things From The G3 And Builds On It
Includes Weight Stacking
Has A Ton Of Additional Features
Cons
Expensive
Its Additional Upgrade Options Are Expensive Also Expensive
Related; Best Cable Machine Exercises for Muscle and Strength
Related: Best Home Gyms on a Budget, High End and More…
---
#7. XMARK Functional Trainer
Best Cable Machine on Amazon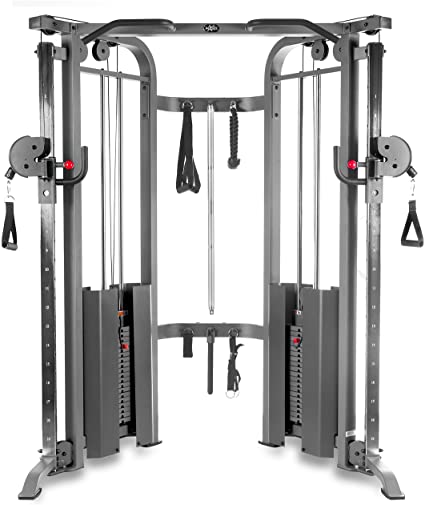 Also regarded as the XM-7626, the XMARK Functional Trainer is an incredible device both on and off Amazon. Made adjustable for pretty much any user, the XM-7626 offers a near limitless number of training and fitness opportunities. What's more, it does that with 200lb dual weight stacks.
Physical Description
Made with 11-gauge 2 inches by 3 inches steel, this cable machine is impressively built using customer-grade steel material, making it very durable and solid. Not only that, but its pulley system is incredibly smooth, ensuring you don't deal with any friction or straining on the cables, offering as close to true isolateral movement as possible.
The cable machine has an 83-inch height along with a 65-inch width and a 43.5-inch depth. Its dual stack weights come up to 200lbs, with each weighing around 10lbs. This cable pulley machine also hosts several different straps, with the longer ones being about 17 inches while the shorter ones being 8 inches.
Features
An awesome option for those that want something that is high quality and accessible to just about everyone, the XM-7626 prides itself on being highly versatile, offering something for just about everyone. While free-weight fans aren't going to get the same enjoyment as everyone else, if you are a fan of isolated training, this is likely the machine for you.
In addition to the dual 200lb weight stacks, the Xmark Functional Trainer cable machine also has a pull-up and chin-up bar as well as a pair of 8-inch hand straps along with numerous other interchangeable straps to ensure you get the best workout possible.
Specs & Dimensions
Height: 83 inches
Width: 65 inches
Depth: 43.5 inches
Long Bar: 42 inches
Cable Range: 81 inches
Max Load Weight Stack: 200lbs
Drawbacks
Compared to many on this list, there isn't a lot that the XM-7626 can do wrong. Is it perfect? No, but most of what it offers is pretty great. The only areas that seem to be an issue are the setup time and the pricing. Similarly, 200lbs may potentially be not enough for those that are trying to see massive gains. That said, for most people, a raw 200lbs is likely more than enough for an isolated workout.
Pros
Has A Dual Weight Stack Of 200lbs
Impressive Build Quality
Grip Handles Feel Exceptional
Cables Extend A Good Distance
Cons
Price May Be A Tad High Just For Isolateral Workouts
Pretty Large & Heavy
Can't Increase Weight Stacks
---
#8. Bowflex Blaze Home Gym
Best Bowflex Cable Machine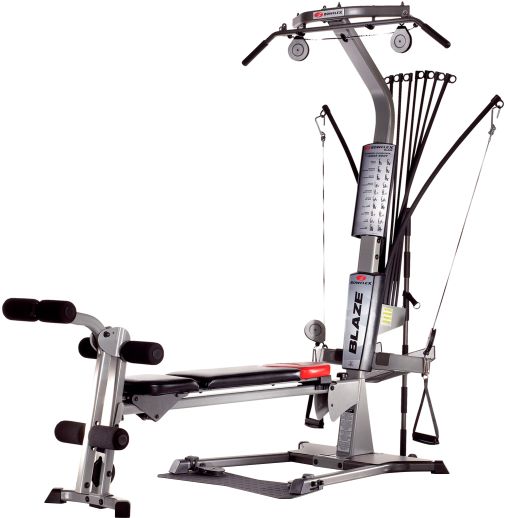 We've all remembered the Bowflex. They are one of the original pioneers in this space and the Bowflex Blaze Home Gym makes a point of showing that they are still a very viable and impressive company all these years later. Offering a myriad of impressive features, the Bowflex Blaze makes a point of gearing itself for beginners that want to quickly get to work without having to put together some giant machine.
Physical Description
Noted for its easy assembly, the Bowflex Blaze is quite light, with a weight of 195lbs. It also has a height of 83 inches, a width of 38 inches, and a depth of 90 inches. The machine is made from a frame metal material, with its power rods made up of composite nylon. The home gym option has a max weight capacity of 300lbs with a 5-year warranty for the frames and a lifetime warranty for the rods.
Features
As with all other members of the Bowflex family, the Bowflex Blaze makes a point of using its nylon rods to create an aerobic rowing experience. This works to improve both the physical strength as well as one's cardio simultaneously, with the rods having varying degrees of resistance based on which is hooked up. As a result, there are a variety of different exercises available (roughly 60). The rods have a resistance that normally caps at 210lbs, but can be upgraded to 410lbs at an extra cost.
Specs & Dimensions
Weight: 195lbs
Height: 83 inches
Width: 38 inches
Depth: 90 inches
Weight Rating Capacity: 300lbs
Power Rod Resistance: 210lbs (410lbs upgradeable)
Warranty: Frame (5yrs) / Rods (Lifetime)
Drawbacks
The Bowflex Blaze has some great benefits to it that are uniquely attuned to this list. However, it also has a few downsides. The biggest areas where it is the weakest deal with the fact that it is meant for the more casual athlete, more as a way to get toned or lose a bit of stubborn body fat. For bigger individuals (fat or muscle) this won't be that compelling.
Pros
Great For Beginners And Casual Fitness Goers
Very Easy To Set Up & Get Started
Not Too Strenuous For Most People
Great Way To Add Some Muscle While Doing Cardio
Cons
Not Great For Those Trying To Gain A Lot Of Muscle
Inaccessible For Larger People, Whether Fat Or Muscle
210lbs May Be Too Low A Cap For Some
---
#9. MAXPRO Fitness: Cable Home Gym
Best Portable Cable Machine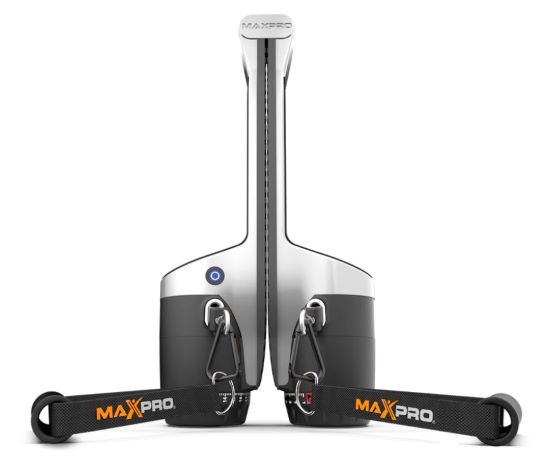 Certainly one of the more unique options on this list, the MAXPRO Cable Home Gym is, without a doubt, one of the best portable home gym options on the market to date. Both innovative as well as lightweight, the machine allows you to replace your gym experience just about anywhere, meaning you always have access to a full-body workout.
Physical Description
Unlike pretty much any other fitness device out there, the Cable Home Gym fitness system is a small unit that you either have on you or carry with you. When you're ready to get a workout, you simply unfold it and either stand on it or connect it to a doorway. It weighs around 9lbs and acts as a form of weighted resistance band.
Features
The MAXPRO fitness system works as essentially a form of resistance training similar to a cable machine or resistance bands. With it, you can perform various exercises without any additional materials. These exercises include things like curls, squats, fly curls, and even boxing. The system uses concentric exercises that focus on increasing your strength as opposed to just growing your muscles.
In addition to the system itself, you also get several wrist straps, a door mount, several bars, and various other items which all help to improve your overall gains from the workout (for example, the bar can be used to help you perform a bench-press).
Ultimately, if you are looking for a new, innovative, and mobile way to do all the intense workouts you would at the gym, this is certainly worth looking into.
Specs & Dimensions
Weight: 9lbs
Number Of Exercises: 150+
Weight Resistance: 300lbs
Resistance Settings: 50
Cable Extension Length: 9ft
Concentric Resistance Per Side: 300lbs
Drawbacks
While a super fascinating device, the MAXPRO is a bit on the pricier side of things (all things considered) and the process for setting it up can be a bit more difficult. Still, when you think about the fact that you can get a somewhat similar workout compared to a full-on cable machine workout, for a fraction of the price, there are a lot more reasons to check this out than not to.
Pros
Very Small & Mobile
Resistance Can Vary Between 5 & 300lbs
Incredible Value For The Price
Very Easy To Use Once You Know What You're Doing
Cons
Still A Bit Pricey
Can Be Difficult To Use If Not Near A Door
Startup Process May Take A Bit To Understand
---
#10. Rogue Tube Bands
Best Bands To Use Instead of a Cable Machine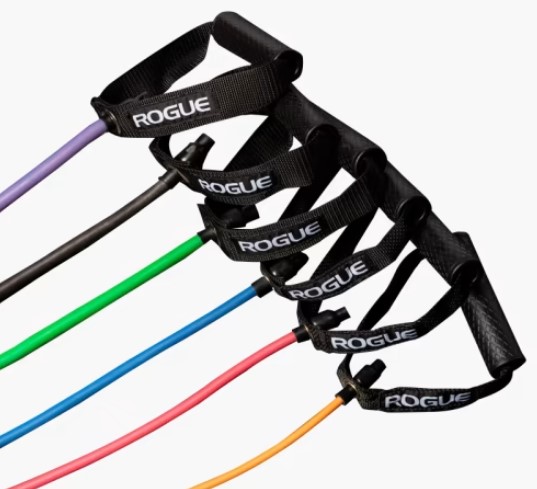 For those that want to get started with next to nothing, the Rogue Tube Bands offer many of the benefits of cable machines only with the use of the bands themselves. All of the tube bands are quality made, incredibly portable, and can give a great workout if used properly.
Physical Description
Available in an assortment of colors, the Rogue Tube Bands are resistance bands that carry a textured hand on either end. The bands are around 48 inches long and offer increasingly greater resistance the more the bands are stretched, and have a distance of 65 inches from end-to-end. Colors come in orange, red, blue, green, black, and purple, all of which have their level of resistance. They can be purchased on their own or in pairs or bunches.
Features
The Rogue Tube Bands are a great option for those that want a viable way to perform various cable exercises without needing a cable machine. In this case, there are 5 separate bands, all with their level of resistance based on their color.
Orange is the lightest, with 10lbs of resistance
Red offers light resistance, with 15lbs of resistance
Blue has medium resistance, with 30lbs of resistance
Green has heavy resistance and has over 40lbs of resistance
Black is very heavy, with 50lbs of resistance
Purple is super heavy resistance, with 60lbs of resistance
Specs & Dimensions
Material: Latex Elastic
Band Length: 48 inches
Full-Band Length: 65 inches
Resistance Range: 10lbs – 60lbs
Drawbacks
The only real major drawback to the Rogue Tube Bands is that they aren't varied enough, nor are they able to do a large number of different exercises. Not only that, but you have to either buy the ones you know you'll use or have to buy all of them. Ultimately, while this is a great option for someone on the move or someone that doesn't know where to start, I wouldn't recommend this as a definitive option for anyone trying to gain massive muscles – at least not on its own.
Pros
Super Affordable & Inexpensive
Very Mobile
Varied Enough That You Can Progress Based On Your Skill
Super Simple Concept Compared To A Cable Machine
Cons
Doesn't Give The Same Level Of Fitness As Cable Machine
Doesn't Offer Much Once You Exceed 60lbs
Not A Lot Of Exercises You Can Do
Check Price at RogueFitness.com
---
#11. Tonal Home Gym
Best High-Tech Option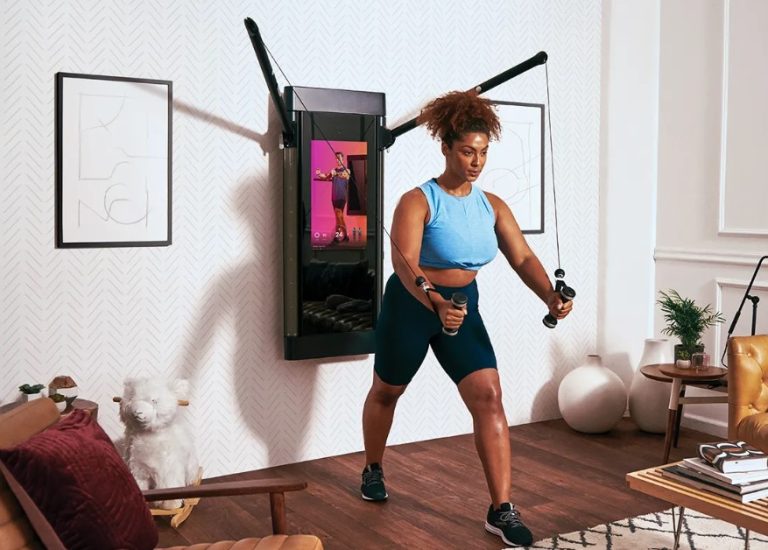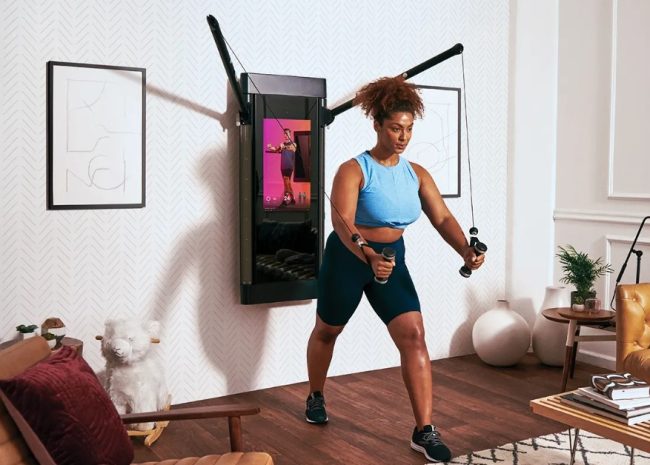 Last on our list is probably one of the more well-known and advertised home gym options out there. The Tonal Home Gym, pretty much comes out as a surprise hit, especially for those of us that were skeptical that such a computer-based high-tech option could do all the things laid out for it. Is it better than something like Force USA's G3 or Rep Fitness' FT-3000? Not quite. Still, it's an incredible option and worth your time if you're interested in using a more compact device on the high-tech side of things.
Description
The Tonal Home Gym's biggest claim to fame that gives it more attention compared to other cable machines out there is its high-tech options and inclusions. Things like 3D sensors, virtual training options, and adaptive feedback systems all work as an added benefit to improving your performance. This also means that it does a fair bit of thinking for you, deciding what weight works best for what exercise. I found this to be surprisingly helpful, though I can imagine others feeling a bit annoyed at not being able to test what works best for them first-hand.
This wall mounted cable machine comes with 17 various body sensors that are used to determine your form, speed, and technique while also offering you tips on how to correct yourself and your posture. This also includes things like the smart bar and smart handle, both of which also have various sensors to help with your performance. And what's crazy is that this isn't even half of it. There are also determining which exercises you should and shouldn't do based on the previous day's workout as well as muscle readiness. It even has numerous zones (red, yellow, green) which let you know which muscle area needs more rest to recover compared to others. Ultimately, while it's very helpful, it's also a bit hindering since you don't have to think for yourself, but instead, let Tonal do all the thinking for you.
From the physical side of things, this wall-mounted cable machine is quite compact and easily movable. Since it uses electromagnets, it doesn't need to take up nearly as much space. Simply throw it on a wall and lay the bench under it, and you have a small smart tv resting area that most could be put in pretty much any room, no matter its size, which is something no other home gym machine can say.
Specs & Dimensions
Weight: 770lbs
Length: 50.9 inches
Width: 21.50 inches
Depth: 5.25 inches
Cable Travel Length: 84 inches (7ft)
Max Load – Individual Side: 100lbs
Max Load – Total: 200lbs
Downsides
As it pertains to the ultimate drawbacks of the Tonal Gym, there are as many points against it as there are points for it. For example, while it's incredibly effective on space, that's only in terms of width (and there are some questions even there). While virtually any room can technically fit this machine, you need a wall that's long enough to fit it while also having 7 feet of space on either side. It's possible to get modifications, but they can only do so much, so you have to keep that in mind based on your square footage and how you have your house set up.
In addition, certain walls won't work even if they are large enough. If, as an example, you live in a brick-walled home, where they are very thick, you'll need to have a way for the wall mount to be held to the wall via a stud build-out. This isn't going to be the case for everyone, but it was the case for me, and it would have been a very expensive option if I had to use this in my home. Generally, this is only for older homes though, so if your house was built any time from the 80s on up, you shouldn't have any issues.
Pros
While Initially A Bit Overwhelming, The Touchscreen Is Fairly Intuitive & Easy To Use
No Clanking! You Can Use This Without All The Noise, Especially When Syncing Blue-tooth Headphones
Offers A Variety Of Classes & Customized Workouts Specifically For Your Body
Takes Up Very Little Space
Looks Great Visually, As If You're Stepping Into The Future
Cons
Price Is Pretty Prohibitive For People Just Getting Started
Walls Must Be Tall Enough & Meet Installation Requirements (Or It Can Get Even More Expensive)
---
How We Decided on the Best Cable Machines for Home Gyms
There are a few things we took into consideration when choosing the best cable machines for home gyms. Let's break them all down.
Durability
First, we looked at durability. A quality machine should be able to withstand years of use, so we made sure to only include options that had good reviews and were made with high-quality materials. If you are going to be spending a good amount of money on one of these machines, you want it to last.
Features
Next, we considered features. The best machines will offer a good variety of exercises and workout options so that you can get the most out of your machine. Some also come with additional features like built-in workout programs or the ability to connect to online workout communities.
Price
Of course, price is always a consideration. We made sure to include options at a variety of price points so that there is something for everyone.
Reviews
Of course, we looked at reviews. We only included machines that had mostly positive reviews from users. After all, what good is a machine if it doesn't actually do what it's supposed to do?
Warranty
Lastly, we considered the warranty. A good warranty will give you peace of mind in knowing that your investment is protected. You don't want an expensive cable machine with a wimpy warranty, so we only included options with great coverage. Most cable machines that are worth their salt have a solid warranty.
Footprint
The size of the machine also comes into play; some cable crossover machines can be quite substantial. Efficient and compact units were given extra points.
Conclusion
These are some great recommendations for you if you are looking for a quality cable machine to use in your home gym. All of the machines on our list are high-quality and will help you get the most out of your workouts. We hope that this article has helped you find the perfect cable machine for your needs. Thanks for reading.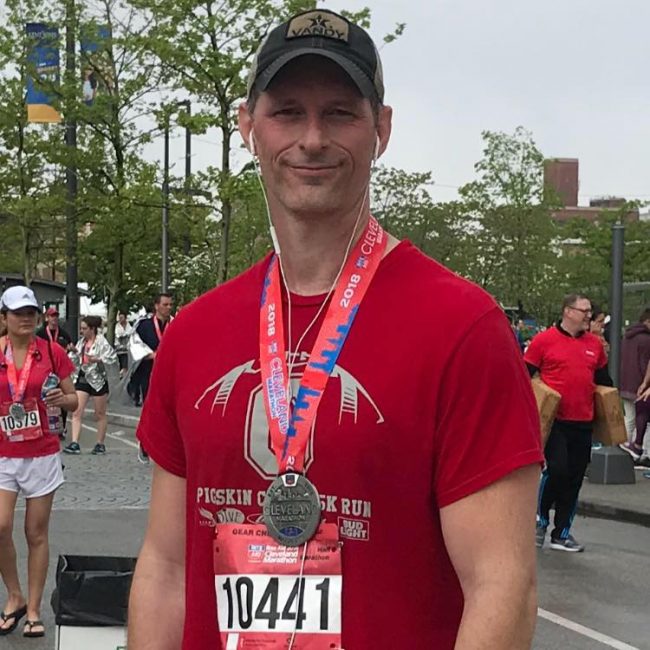 Ryan is a former college wrestler and lifelong fitness fanatic. He has run half marathons, done mud runs, placed in body transformation contests, coached wrestling and now coaches girls soccer. Not to mention he has also tried literally hundreds of supplements over the years and has a vast and thorough supplement knowledge. He has written for Muscle & Strength, Testosterone Junkie, The Sport Review and other publications. He is also the editor in chief of this website. Feel free connect with him on his LinkedIn page below.