(Last Updated On: September 1, 2022)
Looking to change up your cardio with something new?
A Ski ERG Machine can be a great place to start.
They can deliver a great cardio workout that is less boring than your traditional treadmill or elliptical machines that tend to bore people to death.
In this article, we will go over what the ski erg machine is and what the best ones on the market are.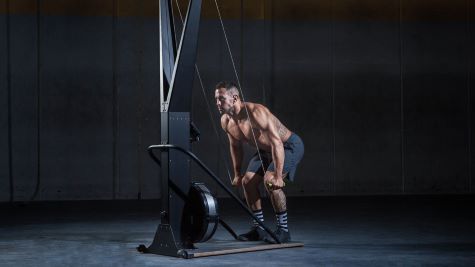 What is a Ski Erg Machine?
The ski erg machine is a type of cross country skiing machine that focuses mainly on the arm motion you would use if you had poles in your hands during cross country skiing.
That said the ski erg machine isn't just for cross country skiers. They are pretty common nowadays in CrossFit gyms and in most commercial gyms as well. Their popularity is growing as an alternative form of cardio compared to the traditional treadmill and whatnot.
You generally can't go for an hour on the ski erg like you can the treadmill or exercise bike though. The ski erg is more of a tool.
Related: Best Rowing Machines for Home Gyms
Benefits of the Ski ERG Machine
The ski erg machine has its benefits over other cardio machines in that you don't really use your legs when operating it. You can even do the ski erg machine while seated.
This is great for athletes and other people with leg injuries who want to get to get in a cardiovascular workout but can't due to their injury.
The ski erg is also great for people who are tired of other cardio machines and are looking to try something new and different.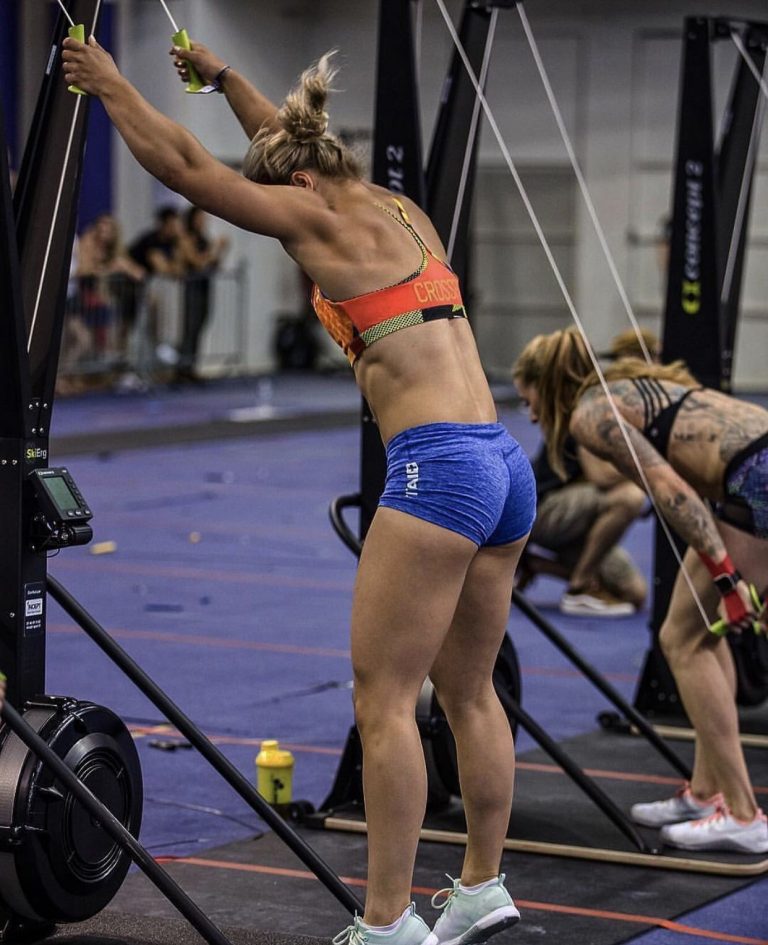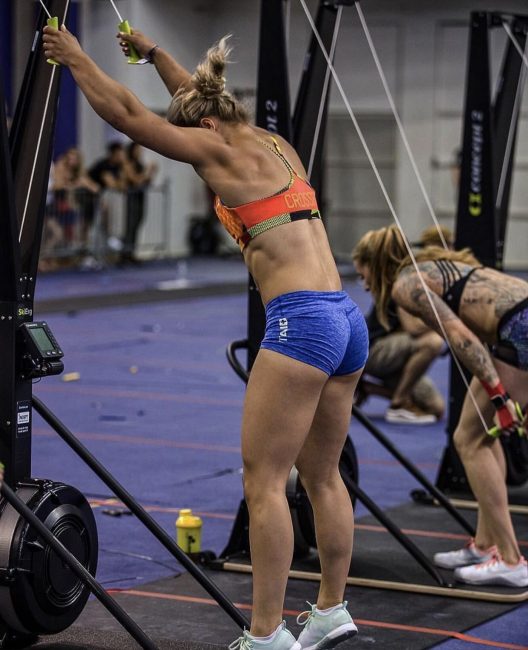 The Best Ski Erg Machines
These are the 5 best ski erg machines on the market today.
#1 Concept 2 SkiERG
Best Overall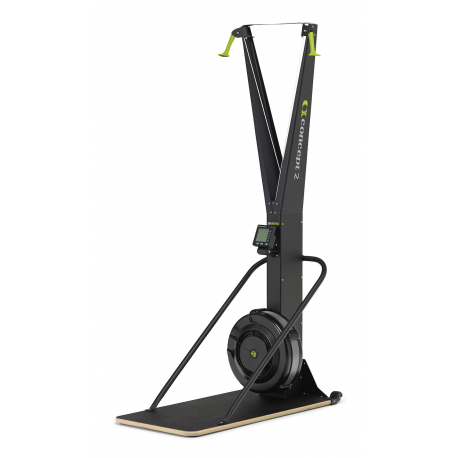 The Concept 2 SkiERG is by far the most popular ski erg machine on the market.
I would say if you have seen a ski erg machine in the past it was most likely this one.
The Concept 2 Skierg is the most popular because of good marketing and the fact that it's a really good machine.
This machine adopts the flywheel resistance they have on their rowing machine along with the PM5 Performance Monitor that tracks more stats than you will ever need.
The Concept 2 simulates the movements of real cross-country skiing with both double-pole as well as the classic alternating arm technique so you can do whichever you prefer.
This is the best machine overall, that is why it is so popular. That's why we have it at the top of our list.
Pros
Most popular ski erg by far
Reasonably priced
Solid warranty
Assembled in the USA
Cons
Available at: RogueFitness.com
#2 Xebex Ski Trainer
Best Ski Erg on a Budget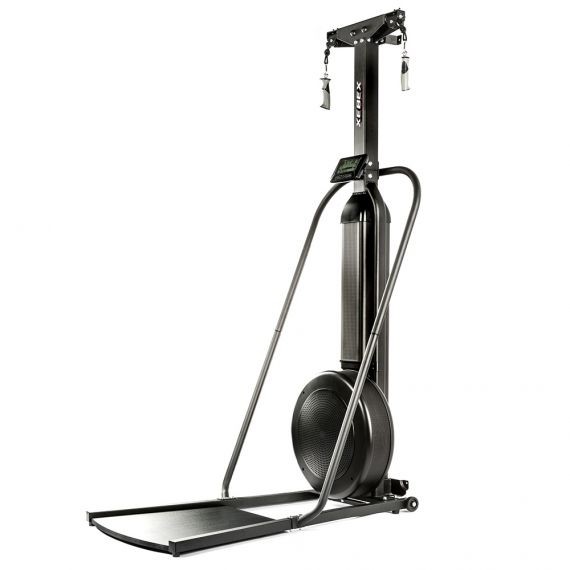 If you are looking for a good ski erg for less money the Xebex Ski Trainer would be a good option.
It isn't much less than our top choice but you can save a few bucks and still get a quality machine.
The Xebex Ski Trainer has 16 levels of console controlled resistance along with preset programs to give you some nice variety.
It comes with equipment to mount it to the wall or you can buy the floor stand to make it free-standing.
Made for novices as well as experienced athletes, this bad boy delivers high quality at a lower price.
There are cheaper ski erg machines out there but the quality on those is suspect at best.
Pros
Less expensive
Delivers preset programs and 16 levels of resistance
Wall mounting equipment included
In stock
Cons
Website: GetRXD.com
Related: Best Air Bikes for Athletes
#3 Water Resistance Ski Erg by First Degree Fitness
Best High-End Ski Erg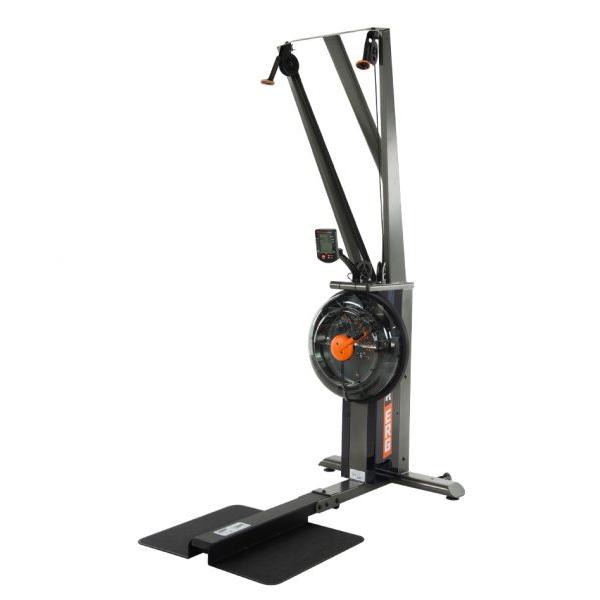 If you are looking for something high end then the FluidPowerERG by First Degree Fitness could be for you.
This erg is different from the others on the list in that it uses fluid resistance rather than air resistance like the others on the list.
The fluid delivers1` a more consistent load than you get with the air resistance flywheel and it delivers even resistance throughout the movement no matter how fast you are going.
You can do single and double-handed movements along with single side double hand diagonal chopping movements.
This machine is built heavy duty and is commercially rated. The frame has a 10-year warranty along with a 5-year warranty on the tank and seals.
The console is Bluetooth ready with power graphs and all the stats you could want.
The only downside on this one is the price. It is about 3 times the cost of the Concept 2. OUCH! Overall though it could be a nice addition to your home gym.
Pros
Uses water resistance
Built for heavy-duty use
Solid Warranty
Cons
Website: TracFitness.com
#4 Air Ski Erg by Rally Fitness
Floor Stand Included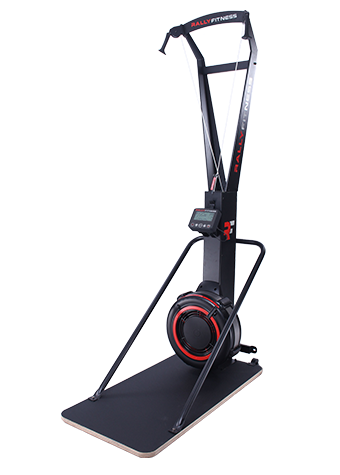 The 2 machines top machines will have you paying extra if you want a floor stand. The floor stand is included with this one.
It also has infinite levels of air resistance and a nice LCD panel to track your workouts.
This unit comes with all equipment and tools to mount it to the wall or stand.
You might be wondering why this one isn't our best budget option, it's because this unit isn't the quality of the unit above.
Pros
Floor stand included
LCD screen to track workouts
Less expensive
Cons
Website: RallyFitness.com
Related: The 9 Best Vertical Climbers on the Market
#5 Ski Exercise Machine by MEETGG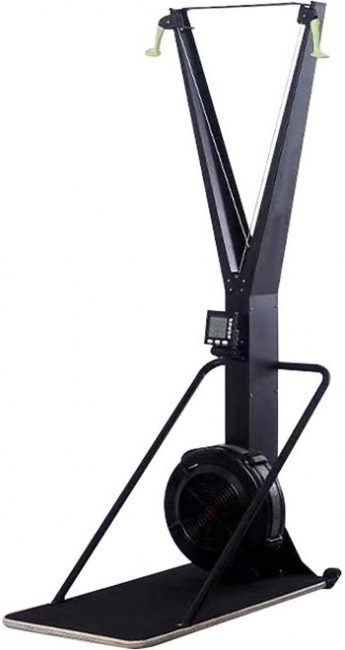 We round out our list with the Ski Exercise Machine by MEETGG.
I'll just be honest, I wouldn't buy this one if I were you.
It seems like a knock-off that was made in China and it's also way overpriced.
How did it make the list?
We made it a top 5 list, didn't realize it would be so hard to find a five that are decent.
So basically this one is just filling in our fifth place on the list.
I wouldn't buy it.
Pros
Cons
Expensive
Made overseas
The whole thing looks shady
Ski Erg Workouts
Now that we have told you what the best ski erg machines are let's give you some workouts you can do rather than just aimlessly going hog wild on the machine.
Workout 1 – Ski Erg HIIT
6 rounds
10 calorie ski sprint
Rest 90 seconds
HIIT can get you shredded, why not do it with the ski erg machine?
Related: HIIT Workouts to Blast the Fat Off
Workout 2 : 100 Meter Sprint
Strongman Eddie Hall did this one in 13.1 seconds which is a world record. It doesn't sound that hard but it is, I have tried it and wasn't even close to his time, mine was about 20 seconds. See if you can comes closer to that time than I did.
Below is the video of him breaking the record.
View this post on Instagram
Workout 3: Richie (CrossFit Workout)
2 rounds for time
500 meter Ski Erg
20 Burpees
20 Wall Ball Shots (20/14 lb)
500 meter Row
25-minute time cap
Workout 4: 30 on/30 off
10 Rounds
Ski for 30 Seconds
Rest for 30 Seconds
Workout 5: 30 Minutes
This one will take some time to build up to. Be patient, you'll get there.
Workout 6: Tabata Ski Erg
8 Rounds
20-second ski sprint
Rest 10 seconds
The thing about Tabata workouts is, they look easy on paper, not so much in reality.
This is because 10 seconds of rest isn't near enough to recover from a 20-second sprint. Many people can't even finish this type of workout if they are doing it correctly.
How to Use the Ski Erg Machine
While it looks simple, there is some technique that goes into using the ski erg machine.
Just winging it can lead to bad form or having your triceps be on fire after just a minute of skiing, like mine were when I first started using a ski erg.
You need to get your lats, abs and ribcage engaged rather than just your arms. It also shouldn't look like Micheal Phelps doing the breath stroke when you are doing it either
Below is a good video that shows exactly what you should be doing and is a lot easier to understand than a written description.
https://www.youtube.com/watch?v=uOWeEd_hZcQ
Conclusion
These are the 5 best ski erg machines on the market. There really isn't a lot to choose from out there and we had trouble finding a 5th ski erg to complete the list.
The Concept 2 is easily the best choice but may not be in stock, the Xebex Ski Trainer is a decent alternative that is a little less expensive and is in stock as I am writing this article. The third pick is nice but really expensive, in all honesty, those are probably the only 3 on the list I would consider buying.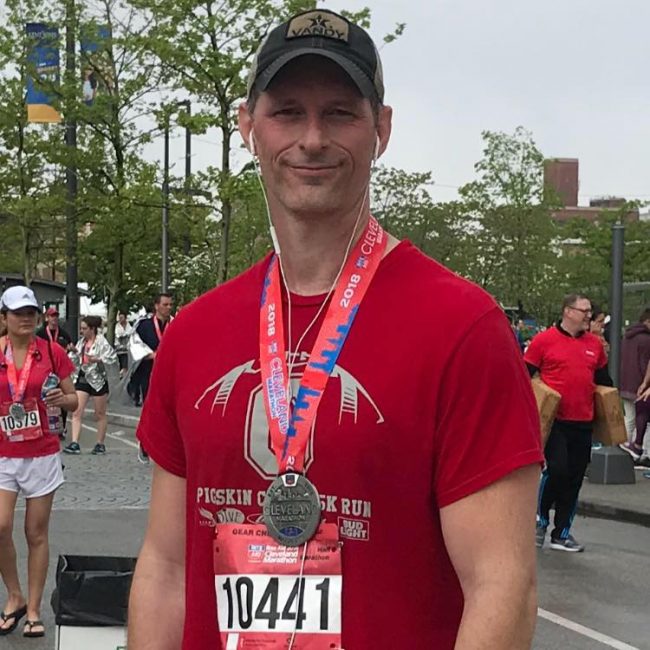 Ryan is a former college wrestler and lifelong fitness fanatic. He has run half marathons, done mud runs, placed in body transformation contests, coached wrestling and now coaches girls soccer. Not to mention he has also tried literally hundreds of supplements over the years and has a vast and thorough supplement knowledge. He has written for Muscle & Strength, Testosterone Junkie, The Sport Review and other publications. He is also the editor in chief of this website. Feel free connect with him on his LinkedIn page below.