(Last Updated On: March 1, 2022)
Having your own indoor exercise bike can be a great luxury.
You can bike whenever you want, no matter what the weather is doing outside.
You can also wear whatever you want and listen to your favorite music while you workout in the comfort of your own home.
Personally, I have my exercise bike set up in front of a tv with surround sound. I put on a decent movie and can pedal for an hour or more and the time just flies by.
There are many different styles of exercise bikes on the market, no matter what kind you are looking for you will probably find something to fit your needs on this list.
Best Exercise Bikes: Quick List
See below for in-depth details on each bike.
15 Best Exercise Bikes for Home Use
These are the 15 best exercise bikes on the market today. No matter what kind of bike you are looking for you will find it here.
C1 Lifecycle Exercise Bike
Best Exercise Bike Overall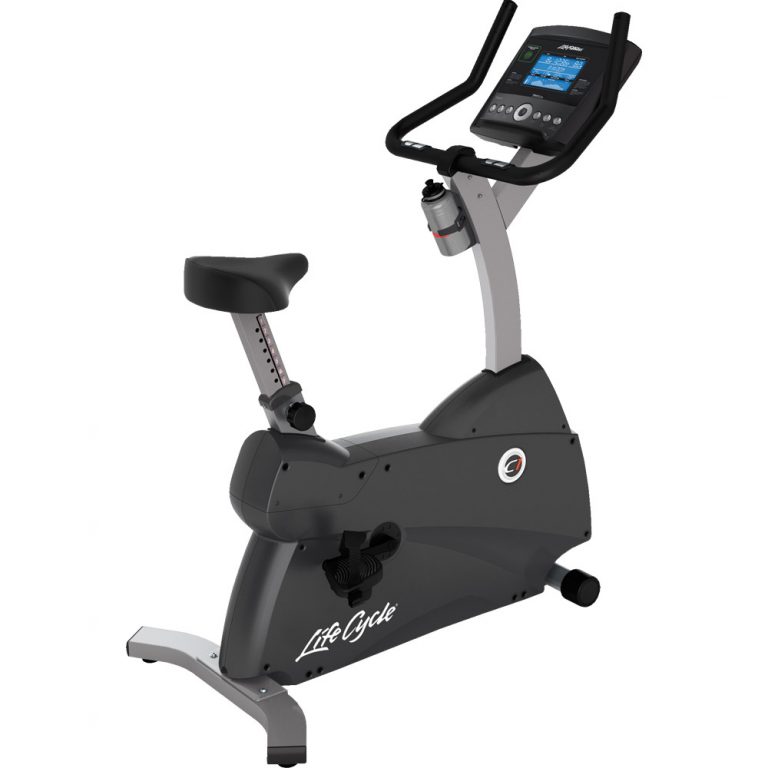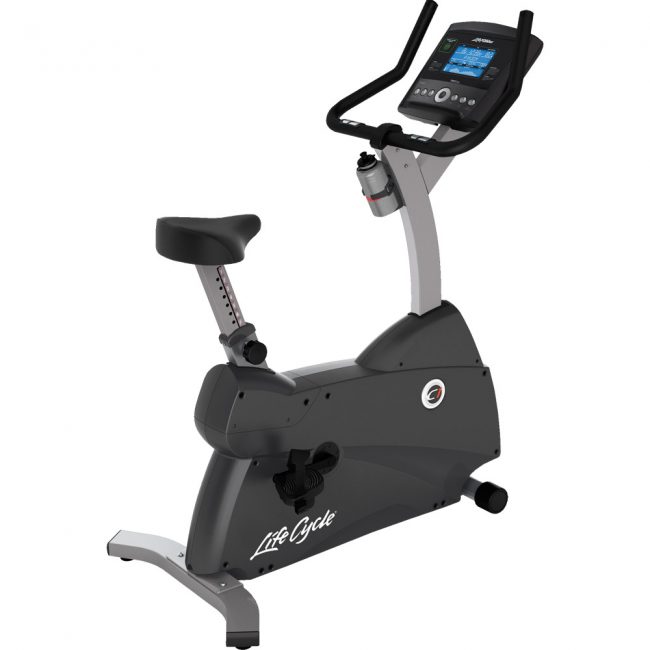 Available at Lifefitness.com
If you are looking for the best exercise bike for home use overall then the C1 Lifecycle Exercise Bike by Life Fitness is for you.
It has everything you are looking for in an exercise bike. It's a nice combination of comfortable, quiet, and lightweight.
Get it with Track Connect and it will monitor your breathing, heart rate, pace and all your other workout stats.
You can even create your own workouts and upload them to the bike, this gives you endless possibilities to keep your workouts fresh and to keep you from getting bored with the same couple of workouts over and over.
Many reviewers noted that the C1 is quiet, easy to use and comfortable.
The C1 is also made in the USA which is another bonus. On the negative side, the shipping can take 6-8 weeks and they charge you $199 for shipping which seems a bit excessive.
Pros
Comfotable and quite
Customizable workouts
Made in the USA
Cons
Expensive
Shipping takes a long time and costs extra
Related: The 15 Best Treadmills for Home Use
Sole SB900
Best for Under $1000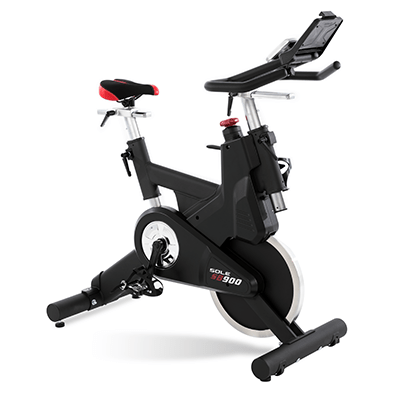 Available at SoleFitness.com
If you want a nice exercise bike but don't want to spend more than $1000 then the Sole SB900 is perfect for you.
The SB900 is simply the best light commercial/home use bike at its price. This bad boy features a backlit LCD display with full workout data including heart rate, RPM, Time, kCal, distance, speed and more.
It comes with a 48 lb. chrome-plated flywheel and magnetic braking provide the smoothest ride. On top of that, they use an Eddy Current Magnetic Resistance which makes switching gears and resistance easy.
The seats and pedals are fully adjustable for maximum comfort and the heavy-duty frame is as durable as it gets.
On top of all that you even get free shipping. There truly isn't much not to like about this bike.
Pros
Commercial quality without the price
Smooth ride
Bright, backlit LCD display displays real-time workout data
Very durable
300 lb weight limit
Cons
Only available through the manufacturer's website
YOSUDA Indoor Cycling Bike 
Best for Under $500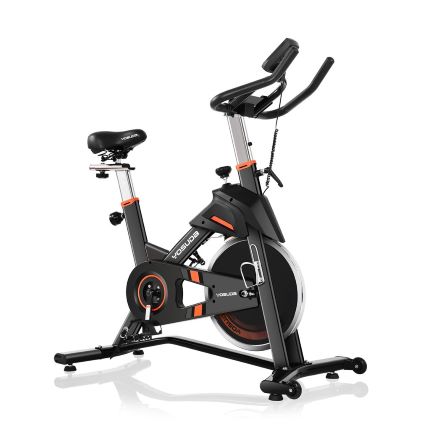 Available on Amazon
For those looking to get a quality bike for under $500, the YOSUDA Indoor Cycling Bike is the best option.
This bad boy features a 40lb flywheel and a silent belt drive for ultra-quiet workouts. It also features an LCD monitor that tracks your time, speed, RPM, distance, calories burned and odometer while you ride which is nice because many bikes under $500 don't give you an LCD monitor of any kind.
While most on this bike reviews are positive some reviewers note missing or incorrect parts on when it arrived for assembly as well as it not being the highest quality. It does have a 4.5-star rating on Amazon though so most were happy with the purchase. It isn't as high in quality as the more expensive bikes on the list though.
Pros
Cheap, well under $500
Includes LCD to keep all your stats
Quiet ride
Cons
Made in China
Not the highest quality
1260SR Recumbent Magnetic Exercise Bike
Best Recumbent Bike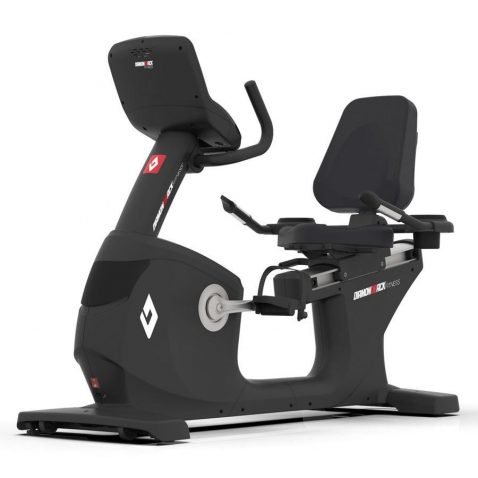 Available at DaimonbackFitness.com
The 1260SR Recumbent Bike from Diamondback Fitness is the top choice among recumbent bikes.
This bike has top-notch comfort and luxury that allows you to work without joint or back pain.
The 1260SR offers 32 levels of resistance and 15 workout programs along with Bluetooth speakers and a wireless heart rate receiver.
The User-friendly LCD tracks all of the stats you could ever need including output, time, distance, calories burned, RPM, speed, and heart rate.
On top of all that it also has Bluetooth to connect with any app and wearable technology to make your data tracking simple. It also works with Zwift, Rouvy, Myzone, and SPIVI.
Pros
Ultra comfort seat with a quick-release handle for easy adjustments
Free Shipping
Money-back guarantee
350 lb weight limit for users
Cons
Assembly may require 2 people
NordicTrack SS2i Commercial  Studio Cycle
Best Spin Bike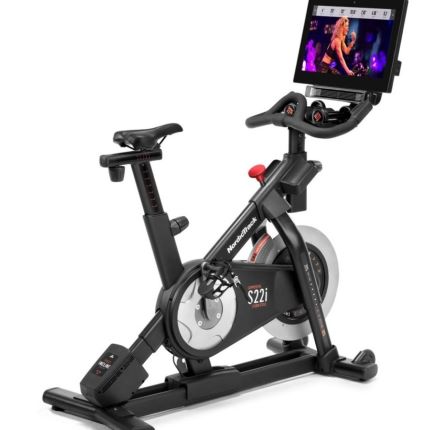 Available on Amazon
The NordicTrack Commercial S22i Studio Cycle is the best studio bike on the market.
This bad boy includes a 1-year iFit family membership which allows you to create up to 5 profiles that can access every workout, studio and trainer.
You can follow your iFit Trainer on the extraordinary 22-inch Smart HD touchscreen with enhanced graphics and wifi. It also allows you to access your workout stats with the swipe of a finger.
The bike uses an inertia-enhanced flywheel that is super durable and is ultra-quiet so you can even workout while the family sleeps and not have to worry about disturbing anyone.
Pros
1 year of iFit Family included
Awsome LED Screen
24 digital resistance levels to imitate the natural terrain of your iFit workout
Commercial quality in your own home
Cons
Sole LCB Upright Bike
Best Upright Bike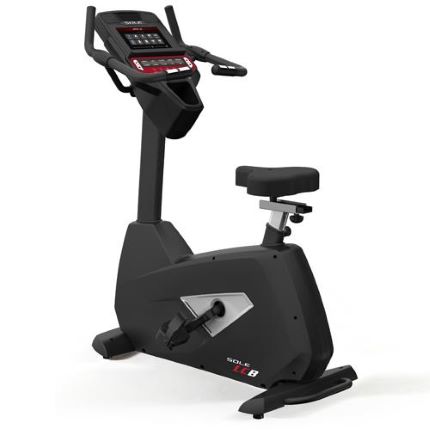 Available at SoleFitness.com
The LCB Upright Bike by Sole is the best upright bike out there right now. And the best part is, it's not crazy expensive like some of the other good upright bikes out there.
This bike features a 10.1'' LCD screen that provides real-time progress monitoring of every important stat you can dream of. It also has Bluetooth that allows you to seamlessly sync your bike to your fitness apps.
The LCB also has 6 pre-set programs and 40 levels of resistance.
On top of all that it even has a 30-day money-back guarantee if you don't like the bike. No worries though, you will definitely like it!
Pros
Good price
High quality
Free shipping
Cons
Related: Best Elliptical Machines on the Market
Rogue Echo Bike
Best Air Bike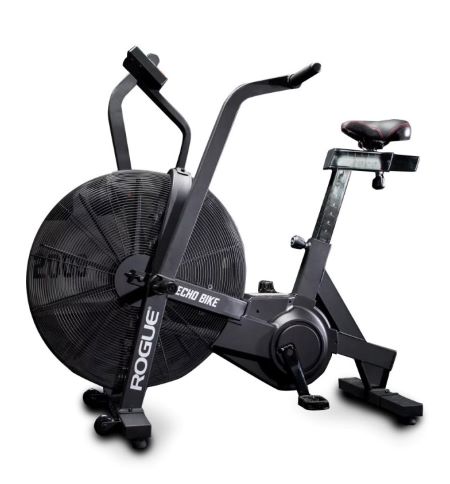 Available at RogueFitness.com
Air bikes can give you a killer whole body workout and the best air bike on the market these days is the Rogue Echo Bike.
This bike is seriously heavy-duty and can handle anything you will throw at it. The quiet, belt-driven fan delivers a smooth and consistent ride.
It also has a battery-powered LCD which means you can take it outdoors and do your workouts wherever you want. It can easily be moved to another room, outside, or stored away with the polyurethane wheels at the front.
The console isn't flashy but tracks intervals, distance, calories burned, heart rate, and more, which is all you really need.
The Rogue Echo bike offers a superb ride that is quieter than most other air bikes, as far as air bikes go, the Echo Bike is the cream of the crop.
Pros
Heavy-duty build
Smooth ride
Transportable
350 lb weight limit for users
Cons
Related: See the Best Air Bikes on the Market Today
Platinum Club Series Upright Exercise Bike
Best High-End Bike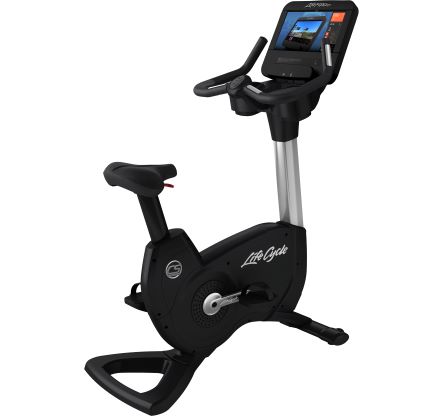 Available at Lifefitness.com
If you are looking for a high-end bike like you find at most health clubs then you should check out the Platinum Club Series Upright Bike by Life Fitness.
As you would expect with a high-end bike this bad boy has all the comfort and amenities you could ever want. It comes with a 21 inch HD console that can link to your phone and it allows you to stream Netflix, Pandora or Life Fitness on Demand so you can follow along on workouts with instructors.
This bike also has up to 42 workouts for you to follow along with 8 custom workouts with limitless user profiles
The health club quality and durability tell you that you can use the heck out of this bike and it will keep on ticking.
The Platinum Club Series also offers heart rate monitoring, comfort curve seat, adjustable pedal straps and resistance controls to easily adjust workout intensity.
Basically, this bike has everything you would want in an exercise bike. Trust me, you won't be disappointed.
Pros
Health Club Quality
21 inch HD Console
Supreme comfort
Made in the USA
Cons
Shipping is slow
Shipping costs $200
Related: Best Luxury Home Gym Equipment
DeskCycle
Best Desk Exercise Bike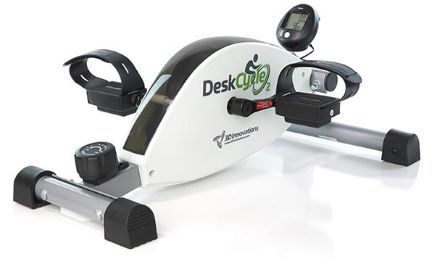 Available on Amazon
I bet some of you reading this didn't even know there was such a thing as a desk exercise bike. Well, there is, and the DeskCycle is the best of the best.
The DeskCycle allows you to quietly exercise while you work, watch tv, play video games, read or just about anything else.
The LCD display tracks your speed, time, distance, and calories. It also comes with 8 levels of resistance.
It even comes with an app so you can track your progress and you can also upload steps to your Fitbit.
On the negative side, the DeskCycle or your chair may slide if it is used on a slippery floor. Carpet is recommended or they give you a strap to tether it to the chair.
Pros
Tracks stats on LCD and the app
8 levels of resistance
Cons
Slides on slippery floors
Exerpeutic Heavy Duty Foldable Exercise Bike
Best Folding Exercise Bike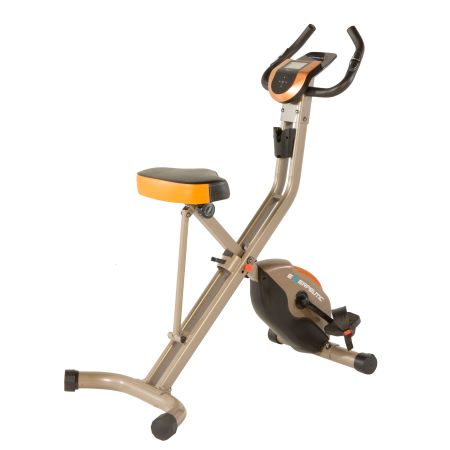 Available at Amazon.com
For those of you who don't have much room for an exercise bike the Exerpeutic Foldable Evercise Bike is a perfect option.
You can fold this bad boy up and put it in your closet when not in use. And just because it is foldable doesn't mean it isn't heavy-duty, this bike can hold up to 400 lbs which is the most of any bike on this list.
It has an 8 level Magnetic Tension control system so you can adjust your workout to be easier or more difficult.
The LCD screen also gives you all of the stats including calories burned, distance, time, speed, scan, pulse and odometer.
This bike also ships fast and has free delivery. On top of all that it is also the cheapest bike on the list.
Pros
Features large and comfortable seat
Folds up for easy storage
Great reviews online
Holds up to 400 lbs
Cons
Doesn't have any custom workout programs
Related: 10 Best Rowing Machines for Home Gyms
IC7.9 Indoor Cycle by Horizon Fitness
Best Peloton Alternative on a Budget
Available at Horizon Fitness
Looking for something like the Peloton but without the price. The IC7.9 by Horizon Fitness is a great alternative.
The IC7.9 lets you stream and live rides in the comfort of your home at a fraction of what you would pay for a Pelaton or even the Nordictrack
This bad boy has an aluminum flywheel with magnetic resistance for seamless transitions. it also features a precision resistance lever for fast and easy changes in intensity.
The negative on this bike is that you need your own tablet to stream classes and you need to find the classes to stream yourself, the nice part is there is no paid subscription for classes.
Pros
Way cheaper than a Peloton
Aluminum flywheel with magnetic resistance
Secure tablet holder
Cons
You need a tablet to stream classes
Sole R92 Recumbant Bike
Best Home Exercise Bike for Older Adults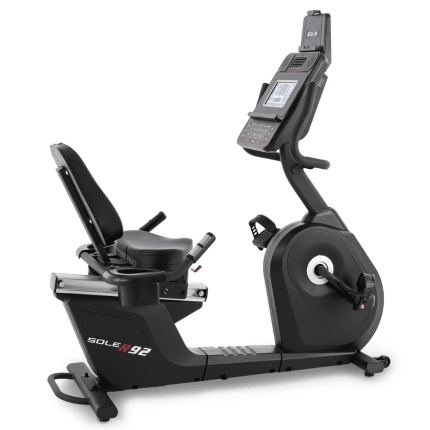 Available at SoleFitness.com
If you are an older adult looking for a comfortable bike then the recumbent bike would be the way to go. And when it comes to recumbent bikes the R92 is as good as it gets in terms of comfort.
The padded seat is adjustable for maximum comfort and the design help promote good posture while you workout.
This bike comes with 10 different preset programs that range all the way from beginner to advanced. You can ack all of your workout stats on the LCD and there is a wireless chest strap for accurate heart rate and breathing measurements.
If you want to exercise in comfort, the Sole R92 is the way to go.
Pros
Superior comfort
Tracks all stats
Good price
Heavy-duty steel frame
300 lb user weight limit
Cons
Can't stream videos on the LCD display
Schwinn 170 Upright Bike
Best Exercise Bike on Amazon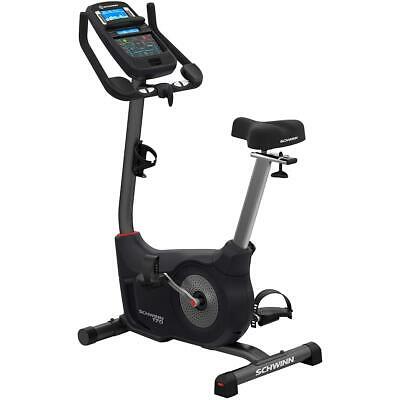 Available on Amazon
If you are looking to buy a bike on Amazon then Schwinn 170 Upright Bike would be our top choice.
This bad boy comes with everything you could want in an exercise bike. It has 29 workout programs, an LCD that tracks all of your stats, a heart rate monitor, padded contour seat and you can even ride this bike on virtual courses using the Explore the World app.
On top of all that it even comes with free delivery, what's not to like?
Pros
Reliable manufacturer
Comfortable seat
Bluetooth connectivity to track stats on your phone
Reasonable price
Cons
Not the greatest customer support
BARWING Exercise Bikes Stationary Bicycle
Best on a Budget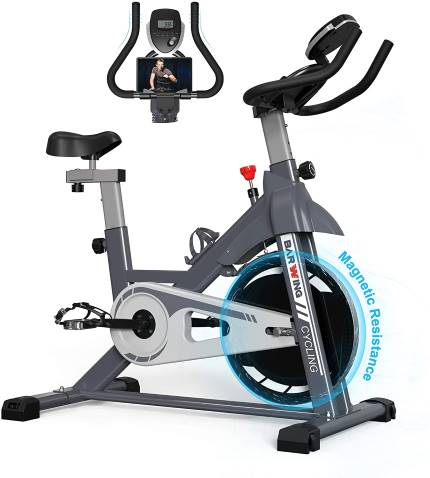 Available on Amazon
If you are in a serious money crunch but you still want a decent bike then the stationary bike from Barwing could be the one for you.
It comes with a magnetic resistance and belt drive system for a smooth riding experience as well as a wide range of resistance.
This bad boy tracks your time, speed, distance, calories burned and odometer on the LCD screen. You can also place your phone on the tablet holder and enjoy your favorite shows or movies as you pedal away.
Shipping is free and it comes with a 1-year warranty and 24-hour customer support.
For the price, this one is an excellent deal.
Pros
Inexpensive
Comes with a 1-year warranty
Free shipping
Cons
Doesn't have any workout programs
Not the highest quality
How We Decided on the Best Exercise Bikes
Reviews
We scoured reviews online to make sure we picked the best of the best. Nothing with poor reviews made our list no matter how good the bike looked or how well it was marketed.
Price
Let's not kid ourselves, price is important. No one wants to get ripped off or feel like they paid too much. If it's a nice bike but overpriced we took points off for that. Everyone wants to feel like they are getting good value, especially when making expensive purchases. That's we made sure all of the picks on this list are solid value picks.
Manufacturer Reputation
Another thing we looked at is manufacturer reputation. It's not the biggest factor on our list but it is definitely a factor. If a company has a reputation for making quality products that helped them. But it's not everything, there are some lesser-known brands on the list as well.
Durability
No one wants to buy an exercise bike and have it break down in just a few weeks. You want a solid bike that will last you a long time, hopefully, many years. If we found that a bike just wasn't durable to be on the list then it didn't make the cut.
Customer Service
Customer service is also important, especially nowadays. No one wants to buy a bike and then have something go wrong and not be able to get a hold of anyone and be stuck with a bike that doesn't work. We tried to make sure they all had high-quality customer service, one or two may have slipped through the cracks though. On the Nordictrack pick, we noted that their customer service was sketchy.
Wrap Up
There you have it. The best exercise bikes for home use on the market today. No matter if you are looking for a spin bike, recumbent bike, upright bike or even a bike to use under your desk while you work, you will find it here. Let us know if we missed any high-quality bikes in the comment section below and we will check them out.