(Last Updated On: December 29, 2021)
Having your own treadmill is quite a luxury. You can run/walk whenever you want. No more having to worry about bad weather or Covid filled gyms. You can even stream workouts right to your treadmill in the comfort of your own home.
The problem is finding the right treadmill for you.
Start looking and soon you'll discover there's more than meets the eye when it comes to buying the right treadmill for your home. There's a dizzying array of sizes, features and hardware choices available, and it's more than enough to make you quietly close your browser and lie down whimpering in a fetal position.
There, there. It's okay- I've done the research for the best treadmills for home use. The list is nicely categorized for what you may need, e.g., want a curved treadmill, or a machine that's for the seasoned runner? Money not an object? How about one that can accommodate a computer?
Take a look below at our quick list of the best treadmills for home use: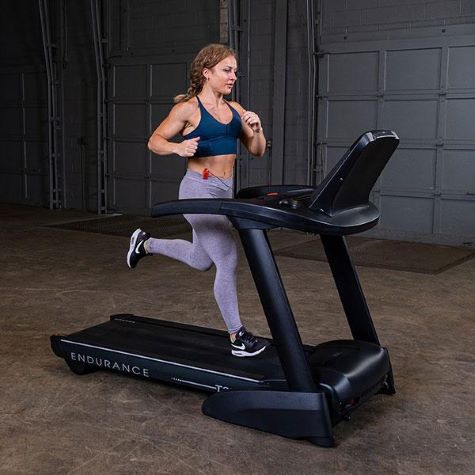 15 Best Treadmills for Home Use
These are the best treadmills for home use on the market today. No matter what your specific needs are, you will likely find something on this list.
Sole F85
Best Treadmill Overall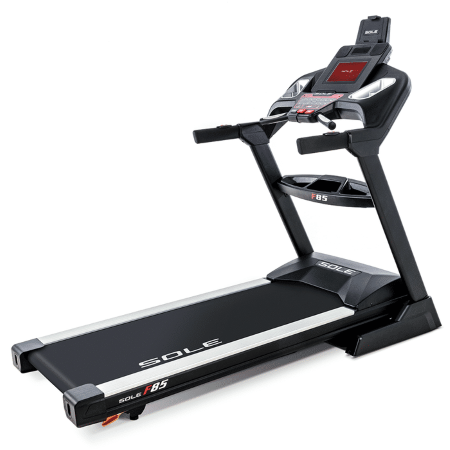 Sole F85 threads that perfectly fine balance between feature and durability, and gains my respect as the best treadmill you can have in your home gym. There isn't a weakness I can think of, and the price of entry is super attractive!
Where do I begin? The F85 can accommodate any type of cardio workout, from beginner speeds to advanced rigorous training. Accompanying the machine is a powerful 4HP motor that maxes out at 12 miles per hour.
Underneath are large rollers that operate quietly enough that you can put it in the bedroom and your partner won't be disturbed as you run your pace. Speaking of workouts, you can choose from pre-set workouts and view pertinent data via a sizeable 10.1-inch touch panel tablet.
All those features make the F85 best in class, but the machine doesn't stop there. Some of the notable bells and whistles include Bluetooth speakers, a tablet holder, a USB port for charging devices and a folding deck design so you can easily store it after use. Heavy-duty steel frame and a relatively compact footprint make it a worthwhile investment and one of the best treadmills on the market.
Pros
4HP motor and 15 incline levels
Cushion Flex Whisper Deck for softer footfalls
Has all the extras of a high-end treadmill
Cons
Not the most compact treadmill around
Website: SoleFitness.com
Related: The 9 Best Vertical Climbers on the Market
XTERRA Fitness TR300
Best Folding Treadmill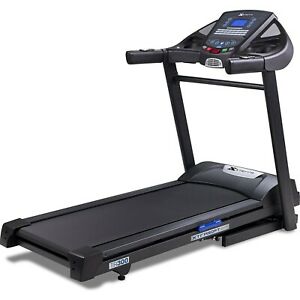 If a folding treadmill is a must but you don't want to compromise on features, then try out the TR300 by XTERRA Fitness. Footprint is reduced to nearly half when stashed and you still get a full-sized treadmill workout, which is very impressive!
The TR300 is built for athletes and made to take a beating. What I like about it is the spacious 20 x 55-inch running area and the XTRA shock absorption deck that makes exercising feel like you're walking on clouds.
Motor is sufficient at 2.25HP, and you get 10 levels of incline across 24 preset programs. Speed is maxed out at 10 mph, and data is displayed via a 5.5 inch LCD display up front and center. Oh, and speaking of comfort the handlebar controls are a nice touch- you get easy access to change workout intensity and eliminates having to reach for the console.
Rounding out the features are a built-in speaker, an audio jack, a cup holder, transportation wheels, a cooling fan and hand pulse sensors. It will serve you well even if you're living in a condo or an apartment.
Pros
Superb folding and storage design
Wide and spacious running surface
24 preset programs and manual override
Cons
Weak cooling fan
300 lb weight capacity
Available at Amazon.com
Activate Series by LifeFitness
Best High-End Treadmill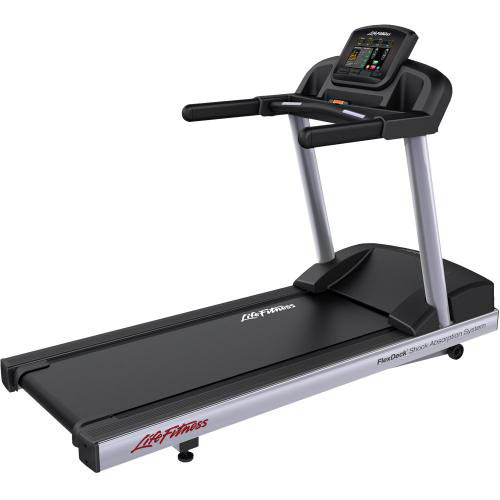 If you come to me asking what the best high-end treadmill in the market is, I'll definitely point you to the Activate Series. Money not an object? Sure. Once you try this thing of beauty you'll never go back to vanilla treadmills ever again!
Activate Series treadmill is a one-and-done deal for people who want to exercise on a premium machine. Everything about the treadmill screams quality, including the things that matter most- quiet operation, spacious walking/running surface and less stress on the joints.
The treadmill supports users up to 400 pounds, and the 3HP motor maxes out at 12mph. You get a max incline of 15 percent depending on your preferred intensity.
A nice addition to the package is the TV add-on, which allows you to watch entertaining content straight from your treadmill. The handlebars house a heart rate monitoring sensor so you can keep track of your cardio data.
It's big, bad and like the Energizer Bunny, keeps on going. You'll love the running experience the moment you set foot on the Activate Series.
Pros
Premium quality materials through and through
 TV add-on for extended entertainment option
FlexDeck Shock Absorption System is a must-try
Cons
No pre-set workout programs
Website: LifeFitness.com
Related: Best High-End Treadmills
Sole F63
Best Treadmill for Under $1000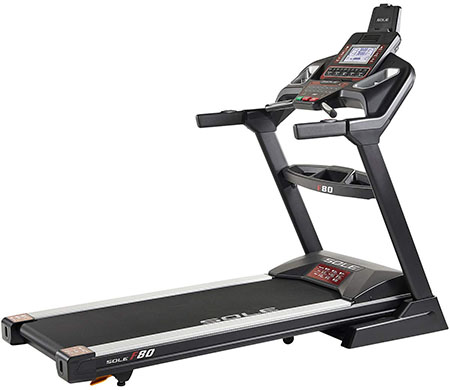 At the other end of the spectrum, if your budget dictates your treadmill selection then you won't be disappointed with the Sole F63. It's just a hair under the $1K mark and has a pedigree from one of the most reputable brands in the business.
Like the Sole F85 you get the Cushion Flex Whisper Deck for lesser joint impact, a USB port for charging, Bluetooth audio speakers and a tough, heavy-duty steel construction. It also has the easy assist folding deck design for convenient storage.
Workouts can range according to your preference. The hefty 3HP motor can produce max speed of 12mph, and combined with 15 incline levels you'll be sure to find a setting you'll like. Sole Fitness has a vaunted roller system that produces free motion so there won't be any snags even while shifting pace.
Rounding out the specs are the handlebar adjustment technology and integrated entertainment systems for when you need a distraction. The F63 is sturdy and can guarantee a nice workout at home each and every time!
Pros
Excellent value for money
Compatible with FitBit, MyFitness Pal and SOLE app
Built-in cooling fans
Cons
Side rails are a bit short
Website: SoleFitness.com
ADVENOR Treadmill Motorized Treadmills 3.0 HP
Best Treadmill for Under $500

Got only 500 bucks to spare for a home treadmill? No problem, the motorized treadmill from ADVENOR saves the day!
The budget machine has a capable 3HP motor that can churn out a respectable max speed of 8.7 mph on 3 incline levels. It can accommodate up to 220 lbs. on its 17-inch running width. An anti-shock system keeps the impact manageable and lowers the risk of a knee injury. All things considered, your money stands to go a long way.
There are a few niceties thrown in the package. For instance, the 64 pre-set workout programs that can accommodate a range of fitness goal and physical condition. A 5-inch backlit monitor displays data such as body fat, program, calories, distance, pulse, speed and time.
Additionally, the motorized treadmill has an easily foldable design and wheels for transporting to and from rooms. The deck lowers gently and allows for hands-free unfolding. I personally like how there are pulse sensors for heart rate tracking and controls built in the handrail for stopping. All in all, a good and solid buy!
Pros
Foldable and has transport wheels
Good 3HP electric motor
64 pre-set workout programs
Cons
Doesn't excel in any one aspect
220 lb user weight capacity
Available at Amazon.com
Related: The 15 Best Home Gyms on the Market
Related: Best Budget Home Gym Equipment on the Market
Sole TT8
Best Commercial Treadmill Quality Without the Price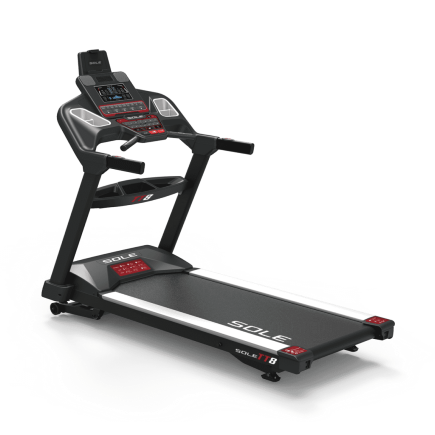 I understand how sometimes you miss the old treadmills back at your local gym. Well, you don't have to anymore because Sole puts them right in the comfort of your own home.
The TT8 is designed for 'serious runners' and has the specs to back up that claim. You get more options compared to a conventional home treadmill at a price that won't break the bank.
For starters, the TT8's dual motors continuously push 4HP to the machine and maxes out at 12 mph. Incline and decline options are included so you can put yourself through the paces without compromise. You also get the vaunted Cushion Flex Whisper Deck technology Sole is known for.
Commercial-quality means the treadmill can accommodate up to 400 lbs in weight. Once you step up to the treads you'll feel the difference via smooth transition and whisper-quiet operation.
Sole has added creature comforts in the form of side controls, a USB port for charging, an integrated tablet holder and Bluetooth speakers, and a 10.1 inch LCD screen.
Pros
Commercial-grade technology and materials
15 incline and 8 decline levels
The 4HP motor is seriously powerful
Rated 400 lb user weight capacity
Cons
Website: SoleFitness.com
Woodway Curve FTG
Best Treadmill for HIIT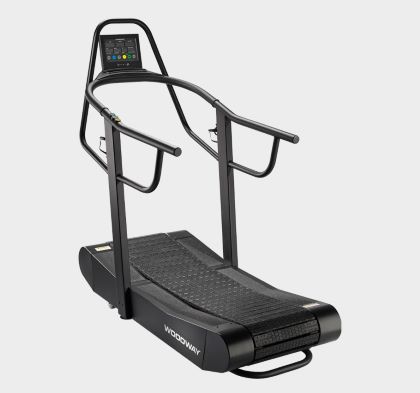 Woodway's treadmill has HIIT enthusiasts screaming for joy. The curved trainer machine offers a manual resistance mechanism, allowing you to work as hard as you want and achieve optimal results.
What does manual speed and incline mean? To put it simply, you control the pace at which you run. It's like running outdoors on the road- you have the freedom to run as fast as you wish, except you're indoors and using a treadmill.
The 130-degree curve may seem strange at first but then your body will naturally adapt to the machine as you walk or run along. The bio-mechanically correct handrail will literally and figuratively hold your hand as you adjust and work on a pace that suits you. The angle also reduces Achilles strain and won't likely injure you even at the fastest possible run.
The Curve FTG may operate in manual mode but there's a smart aspect to it. ProSmart gives each user a customized experience using biofeedback, periodization and pre-programmed workouts. What's more, you'll learn how to correct and adjust your gait via the STRIDELAB, an analysis software that measures and provides instant feedback on your run. It's your best friend for weight loss, rehabilitation and HIIT in one!
Pros
Manual treadmill mechanism for optimal HIIT training
Curve reduces strain and promotes proper gait
Handrails support bio-correct pulling and pushing position
Cons
Takes a while to get used to
Expensive
Website: Woodway.com
FreeMotion i11.9 Incline Trainer
Best Treadmill with Incline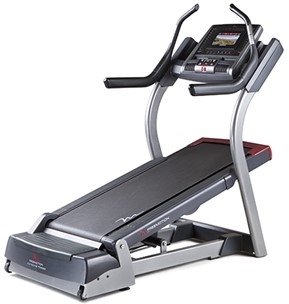 You want incline? This machine's got serious incline. A -3 percent decline is good for conditioning the muscles you use in everyday life, but the kicker here is the +30 percent incline for your glutes and quads.
Now I know what you're thinking- 'that 30 percent incline has to be supported by a powerful motor' Well, FreeMotion has included a lift motor that can push out up to 1,500 pounds of force for stability and reliable deck movement.
Adding to the mix is a full-color touch screen that displays the iFit app. Here, you'll be able to see relevant workout details or activate built-in programs that you want. Controls are easy to read and very accessible for beginners- all you have to do is step up and go!
Pros
Incline range of -3% to an industry-leading 30% incline
Easy access controls and ergonomic grips
Compatible with the iFit app
Cons
Available on Amazon.com
Related: The 10 Best Rowing Machines for Home Use
Trueform Trainer
Best Curved Treadmill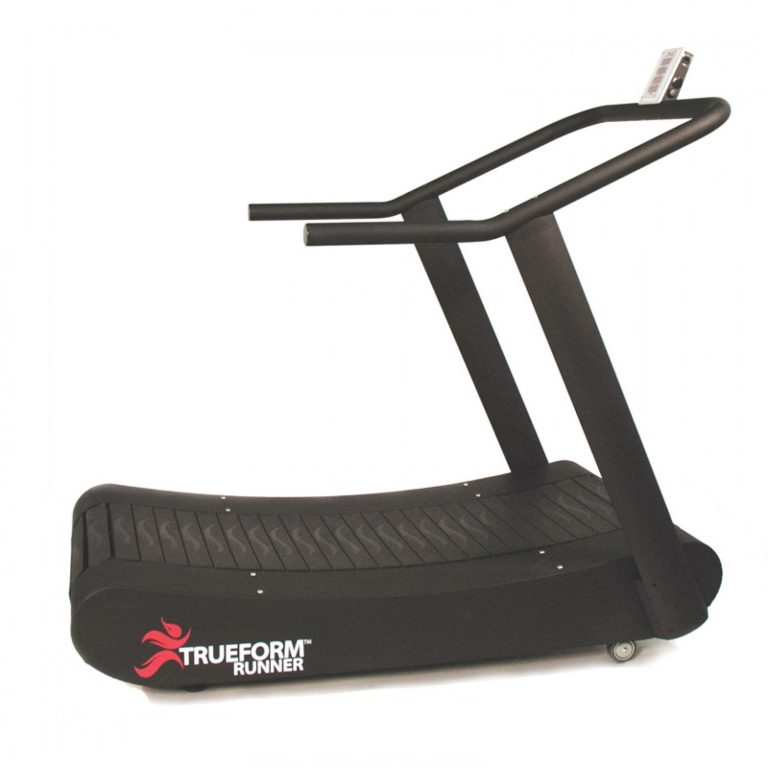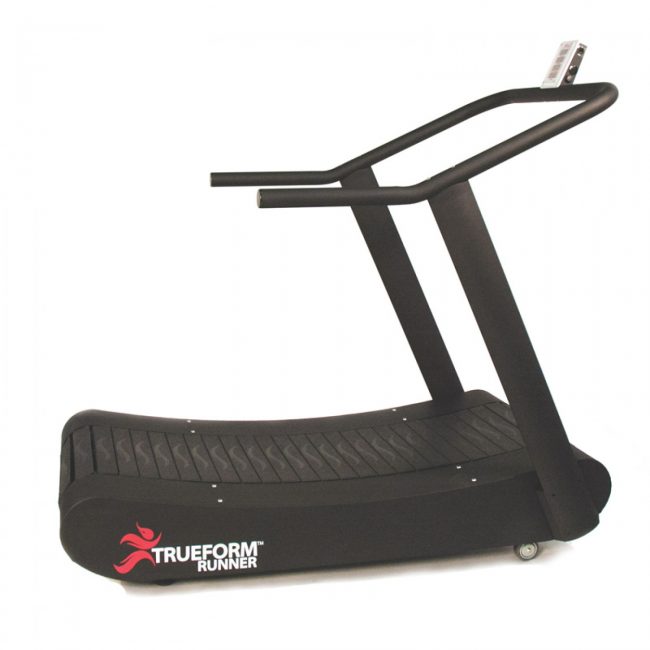 Trueform Trainer is a no-frills curved treadmill that won't distract you from your fitness goals. All the good stuff is found inside the machine, which translates to a premium curved running experience!
What's the hype about curved treadmills anyway, you ask? A lot. It may seem unnatural to run in a curved platform at first, but then you'll find that it's actually better in terms of safety and control.
The shallow curve promotes user safety for speed, i.e., you won't ever feel like you're walking, jogging, or running too fast. Underneath is a buttery smooth Responsive Belt Technology set within a heavy-duty plate steel and welded frame for superior stability. It can hold a person up to 500 lbs so you don't have to worry about the treadmill toppling over.
Trueform Trainer's included display is simple but it does display relevant workout data, including your heart rate, time elapsed, distance, speed and pace. You can choose from pre-set modes or make it faster or slower with the corresponding buttons. The handles are right beside and around you so you won't have to fumble around when you took a bigger bite than you could chew!
Pros
Shallow curve for ultimate safety
Built to last a long time
Optimal handle position
Cons
LCD display may be too simplistic for some
Website: RogueFitness.com
Horizon 7.4 AT
Best Treadmill with Zwift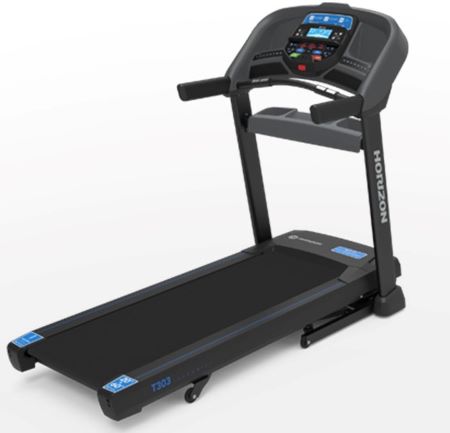 Buying a home treadmill doesn't have to mean you run alone. If you're a gamer sort of individual who wants to compete with others, a treadmill with Zwift compatibility is a must-have.
The Horizon 7.4 AT is the perfect home treadmill for Zwift players. I find connecting to the app is faster compared to other machines so you can join virtual races seamlessly. The 8.25 inch LCD display connects through tablets and phones so you can see what's going on as you run. Also, you can run other apps such as Peloton or iFit as well as entertainment apps such as YouTube, Netflix and Spotify, among others.
Zwift support aside, the 7.4 AT offers quick precision control via the QuickDial technology for incline and speed adjustments. A 3.5CHP motor puts out a max speed of 12mph, and the frame is foldable for convenient storage after use.
On top of it all, you get a rugged frame and a spacious running surface with a lifetime motor and frame warranty. The 3-zone cushioned deck softens footfalls and makes you run or do HIIT workouts for a longer time.
Pros
Advanced Bluetooth for Zwift, Peloton and streaming fitness apps
One step hydraulic folding
Has the Sprint 8 HIIT program
Cons
Available at HorizenFitness.com
NordicTrack Commercial Series 1 Year iFit Membership
Best Treadmill on Amazon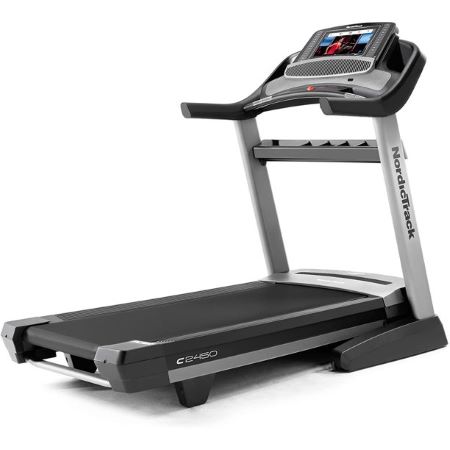 After looking at the NordicTrack Commercial Series 1, I see why Amazon customers love it- the treadmill is priced reasonably and offers several quality features you won't find anywhere else!
NordicTrack has a reputation for producing high-quality machines, and the Commercial Series 1 is no exception. If you're a fan of the iFit app then all the more reason to buy it.
The highlight of the Commercial Series 1 is easily the 10 inch HD touchscreen. iFit workouts and trainers come alive in the expansive screen, and the machine automatically adjusts to the speed as well as the incline or decline depending on the workout.
Max speed of the Series 1 is at 12 mph, handled by the SMART Response Motor. The incline can be set up to 15 percent and 3 percent on the decline. Oh, and the user capacity is rated at 300 lbs, not too shabby.
Pros
Comes with 1-year iFit membership
State of the art 10-inch interactive HD monitor
Programs range from endurance runs to HIIT workouts
Cons
iFit membership auto-renews; requires credit or debit card
300 lb user weight capacity
Available on Amazon.com
Goplus 2 in 1 Folding Treadmill
Best Treadmill for Apartments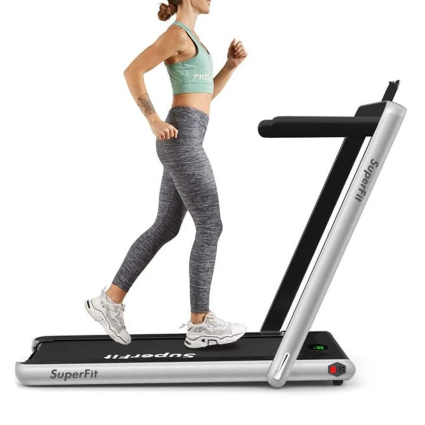 Now I know I said that the TR300 by XTERRA is the best folding treadmill, but if you're really pressed for real estate then the Goplus 2 in 1 Folding Treadmill should be first in your list.
2.25HP may be a bit underpowered, but that's the cost of reducing the overall footprint. Fashionistas, take note- the Goplus can be bought in several color options, including Champagne, Red and Blue.
Now on to the main attraction. The 2 in 1, in this case, is the dual setup for different training needs. In its folded state you can jog or walk at a respectable 1 to 4 kph pace; however, in its handrail state, you should be able to run at a max speed of 12 kph. The motor has both noise-reducing and shock-absorbing aspects which is a good thing for when you or your partner wouldn't want to wake up to a racket in the morning or evening.
When not in use the Goplus can be folded down and slid under a couch or a bed. There are built-in transport wheels for when you need to push it from the living room to the bedroom. The Goplus 2 in 1 comes with a remote for adjusting speed and stopping, a phone holder and a Bluetooth speaker for listening to music or podcasts.
Pros
Superb folding design
Color options available
Can be used right out of the box
Cons
Available on Amazon.com
Horizon Fitness 7.8 A
Best Treadmill for Advanced Runners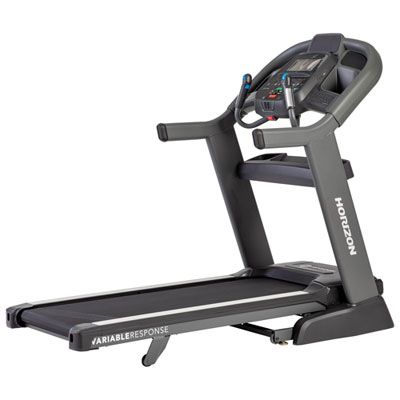 Experience a better run with the 7.8 AT from Horizon Fitness. It's billed as the 'ultimate runner's treadmill', thanks to an excellent motor and deck combo, Zwift and fitness streaming app compatibility and a variety of workouts at your fingertips.
The display is bigger at 9.3 inches, and the motor is hefty at 4HP for up to 33 percent faster changes in incline and speed. These may not seem much but when you're focused on your run then it will matter. Being a Horizon Fitness machine it has the QuickDial technology- instead of buttons, you get a roller that controls speed and incline, which is more intuitive. A few minutes is all it takes to acclimate to the technology!
The 7.8 AT comes with bells and whistles such as integrated speakers, Bluetooth 4.0, rapid-charge USB and multiple device placement so you can see your run metrics without any obstructions. Hands down this is the best treadmill for running.
Pros
Advanced technology and design for the serious runner
Compatible with Zwift and popular fitness apps
4HP motor pushes along and offers responsive changes
Cons
Website: HorizonFitness.com
T3 Treadmill from Life Fitness
Best Treadmill for Walking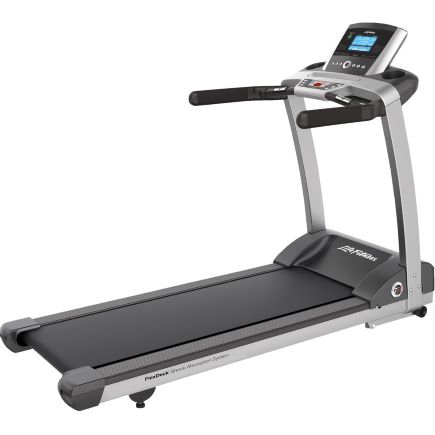 Next on our list of the best treadmills for home use, we have the T3 from Life Fitness.
It's sleek, stylish and great for when you want a sturdy treadmill that can be a walking simulator. The T3 is smart in a way that it remembers your walk speeds and intuitively caters to your pace.
I'm an advocate of safety and ergonomics in a home treadmill, and the T3 is a shining example of what companies should do. The handlebars are long and located right next to you, so grabbing it won't require an extended reach. Max speed is set at 12 mph but it's the walking experience you should focus more on.
The machine's FlexDeck Shock Absorption System elevates the walking experience. You'll love how it's similar to the real thing and yet feel as if you're walking on a smooth pavement. Heart rate is handled via a wireless telemetry system and hand sensors.
Pros
Smart treadmill that remembers your walk, run and jog speed
Flexdeck Shock Absorption System for comfortable sessions
Durable yet sleek construction
Cons
Website: LifeFitness.com
Bladez LK500WS Workstation
Best Treadmill with Desktop Workstation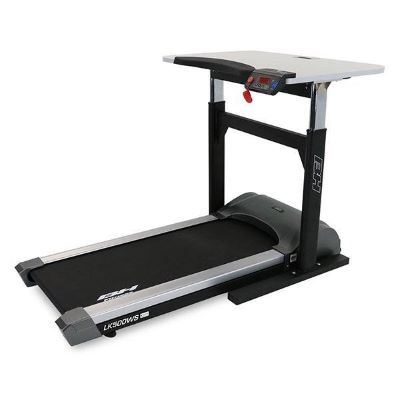 So you want to work while running through your daily regimen at the same time? No problem. The LK500WS from Bladez is what I'd recommend.
Need a spacious desk for your 17-inch computer? Check. How about stability? You got it. The machine features two height presets so you can make adjustments quickly. Plus, there are three AC outlets and 2 USB charging ports so you won't need an extension cord (and thus eliminate extra wires and cables).
Walking surface is spacious at 22 by 53 inches, and yet it's compact enough to fit into rooms and offices. Walking speed maxes out at 4mph, and underneath is a sensor that automatically stops whenever you step off or go by the side rails.
Pros
Desk optimized for proper posture
Includes 3 AC plugs and 2 USB ports
Auto shutoff mechanism
Cons
Available at FitnessFactory.com
What to Look For in a Treadmill
Motor
A treadmill's max speed will largely depend on the motor powering the machine. At first glance, it will seem like the greater the HP, or horsepower the better, but this isn't always the case.
Sure, having a powerful motor is nice and all but then you'll also need to take operational noise and smoothness, a.k.a., the 'experience' in stride. An excellent treadmill will have a motor that can chug along and won't strain under your weight, as well as technology that lets it be as quiet as it can be.
Some people will also check for response time, or the time difference between pressing a button and experiencing its effect.
Belt Size
Belt size will dictate what the treadmill is best used for. This may also depend according to your height- a 54-inch belt is suitable for someone who's 6 feet tall. If you're under that then anything in the 40-inch range should be fine. The longer your legs, the bigger the real estate so you won't feel cramped.
Furthermore, width should be considered when shopping for a treadmill. It's natural to need more space when you're bigger or have a wider girth.
Stability and Shock Absorption
Stability can be a tricky thing since you won't be able to test it out if the machine is not in front of you. However, you can base this factor by reading up on online reviews or by checking what the treadmill materials are made of. Manufacturers may also add it to their list of features in the product description.
Shock absorption is important, as it dictates the walking, jogging and running experience. One way to determine this is by seeing what kind of technology a treadmill has and how much impact it can absorb. Curved treadmills by design have the edge when it comes to shock absorption since they're optimized to go easy on your feet and joints.
Speed and Incline
Athletes and runners will usually look at the incline option and max speed before anything else. It's understandable because you don't want to be limited to a slower pace and not get the full effects of the workout.
HIIT, or high-intensity interval training enthusiasts will want a higher angle of incline to reach exhaustion faster. That said, try to aim for a good balance between the two so you'll have a versatile machine, workout-wise.
Conclusion
These are the best of the best, cream of the crop of home treadmills you can buy today. There's a treadmill for just about every purpose, from HIIT to walking and even one for multi-tasking.
So go ahead, pick the one you like and check out. Add to your home gym and soon you won't need a gym membership, or even need to go outside when you want to exercise!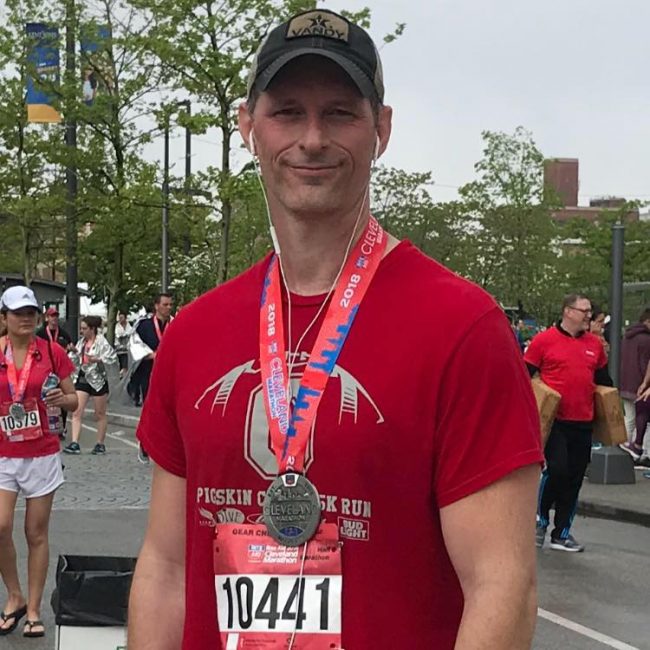 Ryan is a former college wrestler and lifelong fitness fanatic. He has run half marathons, done mud runs, placed in body transformation contests, coached wrestling and now coaches girls soccer. Not to mention he has also tried literally hundreds of supplements over the years and has a vast and thorough supplement knowledge. He has written for Muscle & Strength, Testosterone Junkie, The Sport Review and other publications. He is also the editor in chief of this website. Feel free connect with him on his LinkedIn page below.