(Last Updated On: March 1, 2022)
You know what you want the biggest, baddest high-end treadmill money can buy.
If this is the case, we're happy to oblige! Presenting the 10 best high-end treadmills that have all the features, hardware and bells and whistles that you'll ever need.
When it comes to buying a treadmill for home equipment, the adage 'you get what you pay for' rings true. Let's take a look at the advantages and benefits you can get when you get a higher-model treadmill.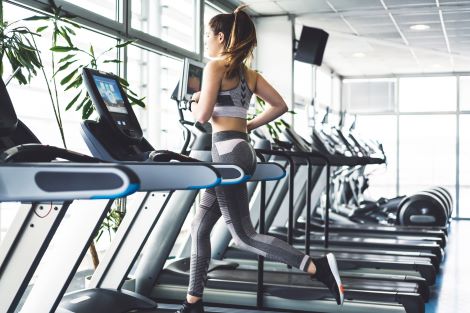 Related: The 15 Best Treadmills for Home Gyms
Why You Should Go With a High-End Treadmill
Anyone who's had a home gym will tell you that cheap won't last long and it's better to invest in premium, quality equipment.
The reason for this is simple- with a higher-priced treadmill, you can expect a level of quality from the product's component, performance and ultimately, the warranty.
First of all, you'll get a better motor and a higher horsepower. If you're really serious about training, then a higher HP motor is a must-have. You won't want to be limited by the treadmill's maximum speed, especially if you're accustomed to a quicker pace.
Then, there's the matter of durability. A low-end treadmill can only provide short mileage before a part breaks down. Your routine will be interrupted and you'll have to wait for a technician for repairs (and spend money in the process). But a high-end system should last for decades, and if they do break down then you get a superior warranty and customer service.
You'll also get better electronics when investing in a quality treadmill. A good console will provide you the data you need to push farther and allow you to press a button to start your run. Some of the high-end machines will have modern conveniences such as aux or Bluetooth connectivity, app integration and even entertainment options. Fancy a 22-inch display that shows breathtaking views? How about one that lets you browse the web or watch Netflix? With a premium treadmill, you can.
The 10 Best High-End Treadmills
These are the best luxury treadmills on the market today.
#1 TT8 Treadmill by Sole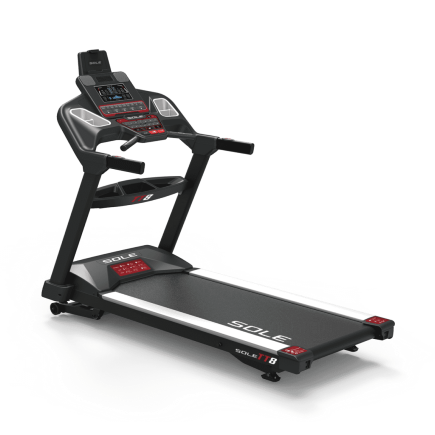 Topping off our list we have the TT8 Treadmill from Sole. This bad boy is built like a tank and can easily handle whatever you can throw at it. It's also one of the least expensive treadmills on the list which doesn't suck.
This bad boy has everything a serious runner could want starting with a 4 horsepower motor that runs smooth as silk and can go up to 12 mph with 15 levels of incline and 6 levels of decline.
There are even Bluetooth speakers built into this treadmill so you can listen to your favorite tunes without the earbuds.
The track on this treadmill is an ample 22 inches wide and 60 inches long to accommodate any stride. The track is self-lubricating to reduce the need for maintenance. The TT8s track is also a heavy-duty 4 ply track that is made of  nylon, rubber and PVC. No wonder this bad boy is rated with a user weight limit of 400 lbs.
I like a treadmill with built-in workout programs to give you some variety and the TT8 has 10 of them or you can create your own which is nice.
You get a lifetime warranty on motor and frame, 5 on electronics and parts, and 2 on labor. They even have a 30-day money-back guarantee
Pros
Stellar Customer Service
Commercial quality without the price
Heavy-duty 4 horsepower motor
15 levels of incline, 6 decline levels
Large 4-ply heavy-duty track
Cons
Large footprint
Fan is on the weak side
Available at: SoleFitness.com
Related: Best High-End Home Gym Equipment
#2 Star Trac 10TRx FreeRunner Treadmill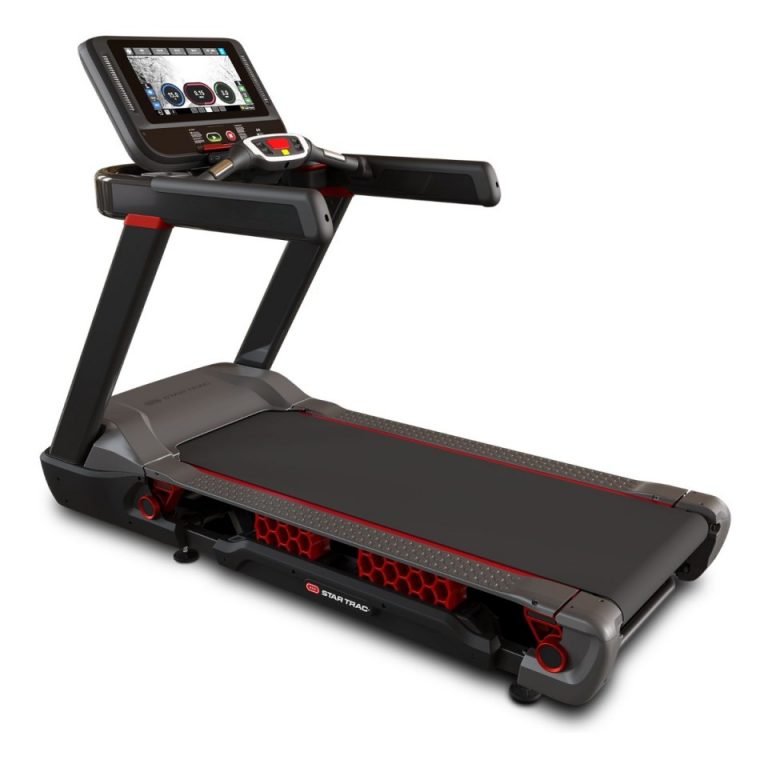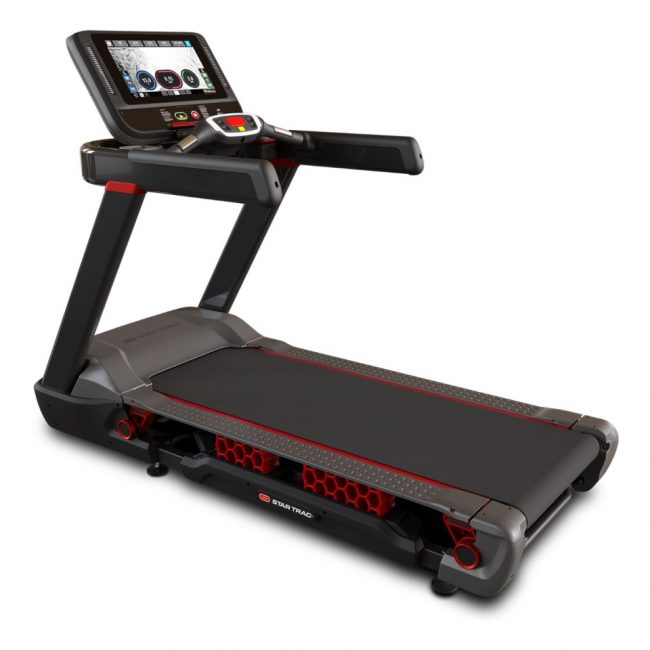 Star Trac is a popular brand known for producing sturdy gym equipment, and the 10TRx FreeRunner model is no exception. The standout feature in the FreeRunner is clearly the OpenHub console, which feels like a natural extension of the machine. The bad boy is seriously high end.
The product is powered by HexDeck technology, a hexagonal polymer suspension platform set below a durable aluminum running deck. The end result is a smooth, buttery-like experience whenever you step up on the track and hit the power button.
Then there's the Hot Bar, an innovative control panel that's built right into the treadmill. It's perfectly positioned within easy reach and gives you all the important functions you can activate with just one hand. Some of the things you can do with the Hot Bar include elevating up or down, grips for measuring heart rate and speed.
The OpenHub console connects with the Apple Watch for sharing data during and after a workout. The 8- or 10-inch touchscreen display is versatile in that it can show you fitness tracking data, Quick Key selections and even run a few entertainment apps for you. Choose a different background so you won't have to stare at a generic screen, or better yet- read the news or watch your favorite shows while burning calories and shedding those excess pounds.
While this one is very high end it also comes with a high-end price tag.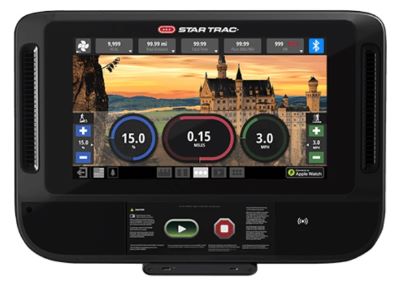 Pros
Useful Hot Bar Hardware
Unique HexDeck Technology
Top-end Consoles with Entertainment Options
Cons
Shorter Warranty Period
Bulky
Very expensive
See it at the fitnessfactory.com
#3 Activate Series by Life Fitness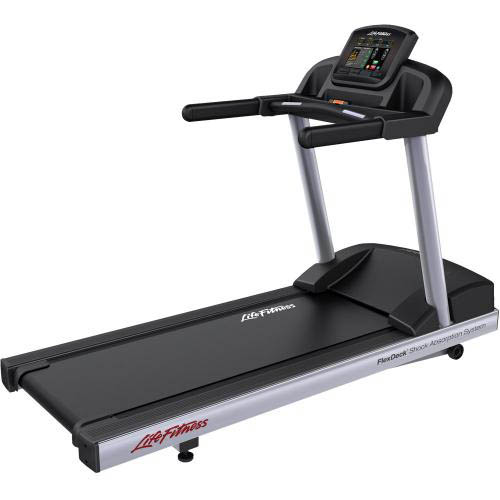 Topping off our list of the best high-end treadmills we have the Life Fitness' Activate Series which is an excellent addition to any home gym or hotel, thanks to its wealth of features and one that saves you money. You can choose between two console types- the 'Track' or 'Go' the moment you buy the unit.
The 'Track' display is designed for serious athletes who wish to import third party workout programs. The 'Go' console is for the rest of us, containing a total of 13 pre-set workout programs which include HeartSync, goal-oriented, advanced and classic. You can save up to two different profiles and save your favorites for easy access or use the QuickStart for your preferred running, walking or jogging pace.
Other than that, the Activate Series console connects to iOS and Android devices for workout tracking and enhanced fitness options.
In terms of performance, the Activate Series Treadmill works like a dream. A MagnaDrive Motor System provides the muscle with 3HP of quiet energy even when you put the incline to a max of 15 percent.
The Activate Series shines in the cushioning department. Runners get less fatigue due to the LifeSpring shock absorbers working beneath the track. Plus, you get to choose from 3 different firmness levels to help reduce the chances of injury and to improve overall endurance.
Also, the treadmill has a surprising feature up its sleeve- the Energy Smart technology, which monitors and reduces electricity draw by as much as 90 percent. The motor adjusts to your weight and runs more efficiently, saving you more money in the long run.
Each purchase comes with Lifetime Warranty on the cushioning and frame, 10 years on motor, 7 on mechanical and electrical parts and one in labor.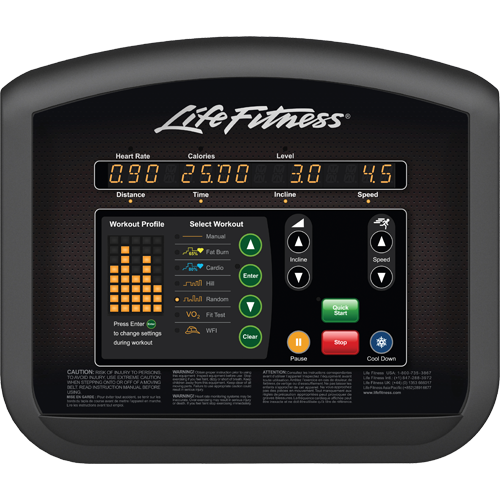 Pros
Less Expensive than some on the list
Energy Saving
Fantastic Impact Cushioning Technology
Great Console Selection
Lifetime Warranty
Cons
Large Footprint
TV attachment available but is extra
See this product on LifeFitness.com
Related: The 15 Best Home Gyms on The Market
#4 Platinum Club Series Treadmill by Life Fitness
Life Fitness' Platinum Club Treadmill is a superb luxury treadmill that touts several modern conveniences. You'll know that it's a top-of-the-shelf product when the manufacturers give you plenty of customization options for a workout machine you can truly call your own.
You can choose from three HD consoles, frame color and add-ons depending on what you want. The main components are definitely made of premium materials, and you get a 10-year parts warranty as well. A powerful yet unobtrusive 4HP motor runs the track, providing up to 12 mph running speed without the noise. The incline can be adjusted up to 15 percent in 5% increments.
The Platinum Club Treadmill sports one of the best tracks we've ever seen. It's superbly wide and comfortable to walk on. Even tall runners and those with extra girth won't find the 60 by 22-inch track too cramped or small for their use. Underneath are 3.5-inch rollers that reduce the impact of running on your joints and knees by as much as 30 percent.
As far as safety is concerned, you're in luck. The Platinum Treadmill has side rails and a lanyard when you need to stop abruptly. There are also contact and wireless heart monitoring equipment that can be displayed on the console display.
Speaking of which, you get a 7-inch, HD touchscreen console that can display a lot of things, including workout courses, fitness apps, the TV, internet browsing and more. You can have pre-set workouts such as distance goal, calorie burn, multiple fitness and heart rate to follow.
Pros
Amazing Customization Options
Console for Workout Programs and Entertainment
Generous Track Width
Rollers to Cushion Running or Jogging Impact
Cons
Website: Lifefitness.com
#5 Runner by TrueForm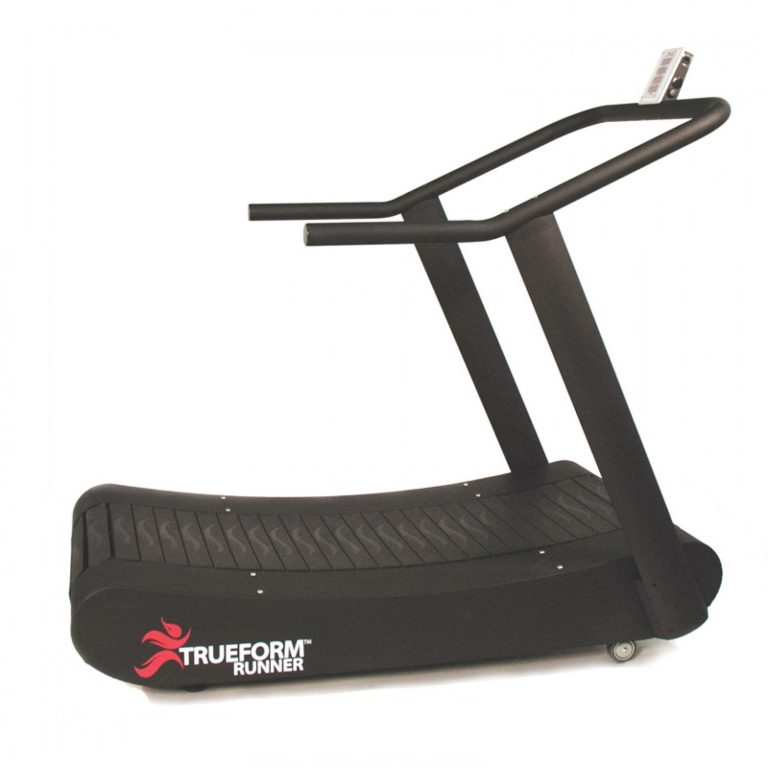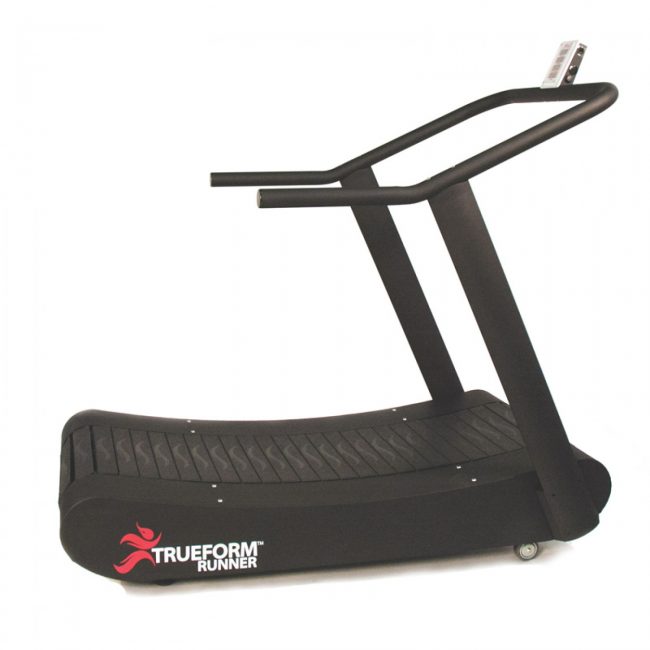 TrueForm Runner is unlike any other treadmill you may have tried before. One look at the curious shape and you may wonder how you can get to walk or run with it, much less get the tracks to move.
Runner belongs in the 'curved treadmill' category and is non-motorized as well. The speed of walking or running will be entirely dependent on your weight and pacing rhythm, which is actually safer than setting your preferred speed on the machine's console.
The nature of the curved aspect is to teach the user how to 'run right' in terms of posture, form, stride and foot dynamics. You'll need to pay attention to how you're running every time you step on Runner, or a) the machine won't work, and b) you'll have a hard time.
But once you get accustomed to it, you'll find that it provides great benefits. For one, the calories you'll burn will be greater compared to traditional flat tracks, which means you get more out of each session. Also, you can run at your own pace and make adjustments naturally and without having to press some buttons.
The absence of a motor means less maintenance. TrueForm's Runner has a durable track and rollers that can last decades more than a high-tech, mechanized treadmill system. The curved shape may take a while to get used to, but it's an excellent product as any in the market.
Pros
Highly Durable Tracks and Rollers
Less Maintenance Needed
Teaches How to Run Right
Zero Electricity Required
Cons
Has a Steep Learning Curve
No Console Display
Website: Rogue.com
Related: The 9 Best Vertical Climbers on the Market
#6 Precor TRM 445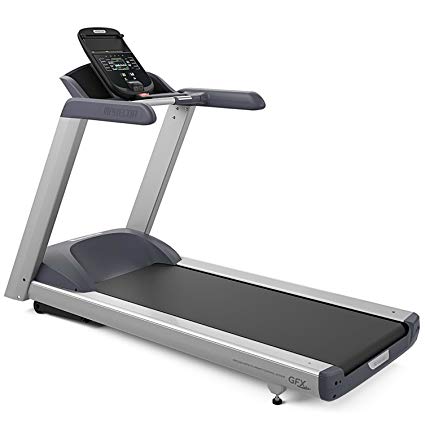 Precor TRM 445 hits the sweet spot in delivering a treadmill experience that you won't get at the gym. More specifically, it can record your stride and recommend a personalized workout, coupled with an unbeatable shock absorption system that makes jogging or running a pain-free affair.
The TRM 445's console is definitely something to write home about. You get a 7 inch LCD touchscreen that has input for audio options. Users can control just about anything from the console, e.g., changing speed, the angle of incline or decline and see workout information, etc.
Speaking of which, you get a whopping 23 pre-set workout programs that range from interval training (Be Fit), Muscle Toning (Get Toned), weight loss and distance running. You can gauge how you're doing with a built-in Fitness Test and set personal goals for motivational reasons.
We adore Precor's approach to ergonomics, and it's highlighted with the TRM 45. The Ground Effects Impact Control can make running, jogging and brisk walking easier on the knees and joints without affecting your performance. The system takes your stride into consideration and adjusts as needed for safety and superb stability.
It's also worthy to note that the deck is pre-waxed, reversible and is made to last a long time. Though a little on the short side, the track can incline up to 15 percent and decline up to 2 percent. Rounding out the list is a lifetime manufacturer warranty on frame and 10 years on the parts.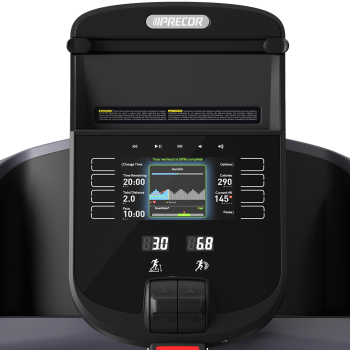 Pros
Many Preset Workouts Available
State of the Art Console
Excellent Track Impact Reduction Technology
Cons
Short Deck
No Quick Key Speed Adjustment Feature
See it on Amazon
Related: Best Elliptical Machines for Home Gyms
#7 Precor TRM 631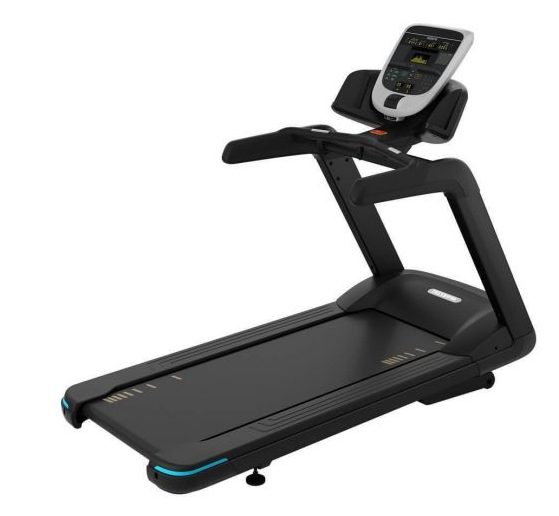 The Precor TRM 631 provides a good balance of reliability, durability and has some new features as well. Add in the P30 console and the treadmill becomes worthy of sitting in your home gym.
The manufacturer's GFX, or Ground Effects Impact Control is a progressive shock absorption system that reduces the impact on your feet, knees and joints. Aside from providing stability, you'll be surprised at how easy it is to start and continue high-impact movements and push off on the track.
Underneath the machine is a commercial-grade motor for excellent power and efficiency. Even when you're keeping a pace of 12 mph the treadmill emits very little noise.
The P30 console concentrates on delivering metrics and data that matter, and for this reason Precor designed with as few distractions as possible. But if entertainment is a must-have, then you can get the Personal Viewing System or the Entertainment Cap for audio or video options.
There's a safety lanyard you can use to bring the track to an emergency stop. The 60 by 22-inch track surface should accommodate most people, including plus-sized individuals. The touch heart rate sensors and telemetry reading via a chest strap and fixed handlebars is a nice touch.
Pros
Well-Balanced Features
Good Value for Money
Precor Brand
Cons
Entertainment is an Add-On
See it on Amazon
#8 Excel 900 Treadmill with Envision Console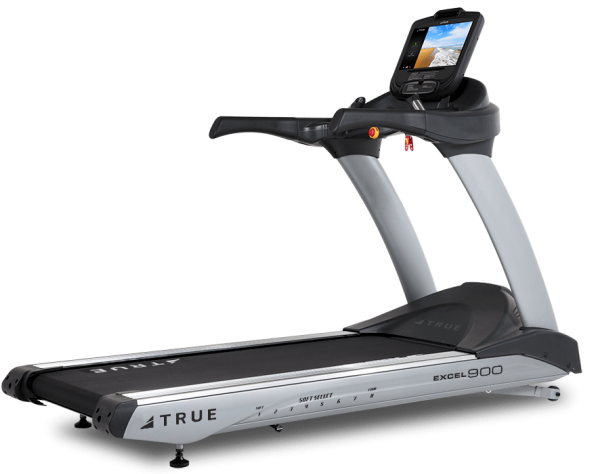 The Excel 900 Treadmill by TRUE is billed as a 'high-end treadmill' for home use. The sleek, futuristic design holds a few surprises and features you'd expect in a premium product.
There's a variety of patented technology in this machine, which we'll cover one by one. A smart program called HRC Cruise Control is designed to provide a consistent cardio workout that maintains your heart rate from start to finish. In the safety department, the manufacturers have added the TRUE Soft System to make pounding on the track a pain-free affair. You'll be able to run farther and longer without having to worry about knee and joint soreness after.
What's more, you can customize the cushioning of the track's deck with TRUE Soft Select feature. Emulate hard dirt, gravel or pavement the way you want to train. Underneath, a 4 HP Quiet Drive motor makes it easy for you to imagine you're running outside. Decline angle can be adjusted to 3 percent, while incline maxes out at 15 percent.
Let's talk about the Envision Console a bit. You can get the Envision or the Envision 9 console, which sports a 16 inch and 9-inch touchscreen display, respectively. The Envision 9 includes 34 pre-set workouts and the ability to save five of them for later use. The 16-inch model has workout programs, home screen customization, Bluetooth and app connectivity, asset tracking, Outside Interactive courses and entertainment options. You'll be hard-pressed to find a package like the Excel 900.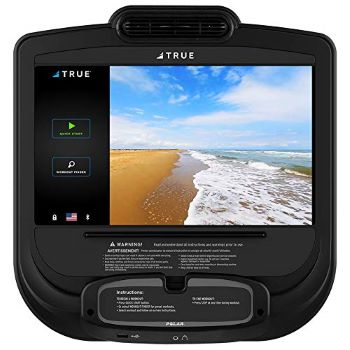 Pros
Great Immersive Console
Unique HRC Cruise Control
Sleek, Premium Design
Cons
See it at FitnessFactory.com
#9 Precor TRM 835 Commercial Series Treadmill with P30 Console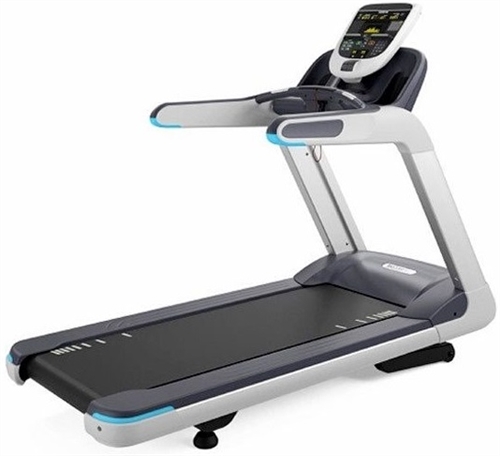 The Precor TRM 835 exceeds expectations as a high-performance treadmill. Though largely considered a mid-end purchase, the features you can get, e.g., reliability, comfort and operation are definitely premium-level.
The treadmill has a 4HP AC, or alternating current motor that can start faster than DC ones. The deck, measuring at 60 by 22 inches is generous and can accommodate anyone regardless of size. Both belt and motor are designed to last a long time even when you use it every day.
If you love running then you'll like the max speed rating the TRM 835 can achieve. At 16 mph, you'll be able to do interval and sprint running training just like outdoor sessions. There's practically zero instability and wobbling to break up your concentration and experience.
What we like about the treadmill is its ergonomic features. The machine emulates real walking and running, thanks to the Ground Effects Impact Control System and stride technology by Precor. Moreover, the manufacturer has made it so that your personal stride is recorded, to which the deck automatically adjusts. Not only does this make for a better walking session, but it's easier on your knees and joints as well.
The redesigned P30 console controls important stuff such as changing walking or running speed or incline with just a press of your finger. The LED display is bright enough so you can see everything in any angle. Along with the motion controls, you also get Numpad and QuickStart key options for easy navigation.
Precor offers 7 years on Frame, 5 on Motor, 2 on Console and Parts and one on labor.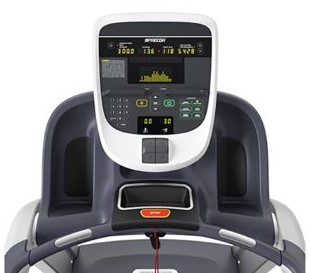 Pros
Excellent Ergonomic Design
Comes with a Variety of Workout Programs
Incline and Decline Options
Up to 16 mph Speeds
Cons
No Entertainment Options
Expensive
See it on Amazon
#10 California Fitness Malibu 12 Treadmill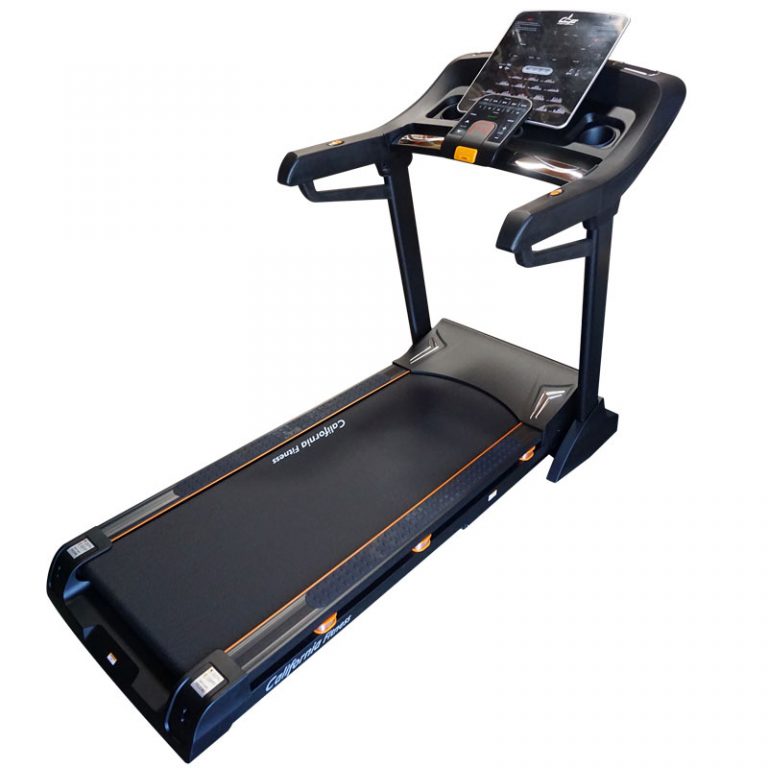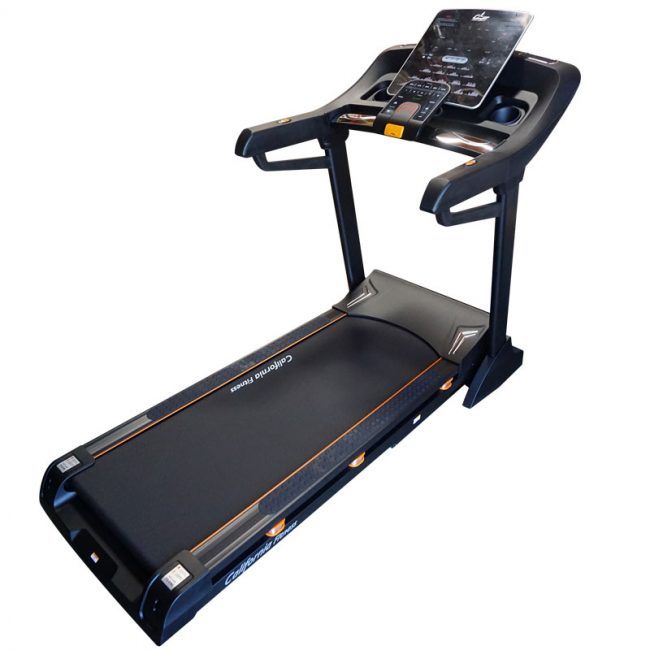 The M12 Treadmill is a flagship product of California Fitness, which promises a luxurious walking or running experience. According to the manufacturer, you'll feel like walking on air whenever you step on the track. The single greatest feature is the 8 HP Phase 3 Motor, which uses A/C instead of D/C and should be powerful enough to accommodate your preferred running speed.
Each component is designed by the manufacturer. For example, the Malibu Belt and Malibu Suspension are both uniquely available only on the Malibu brand. The orthopedic belt is thicker and more durable than standard treadmill belts, while the suspension system reduces joint and knee stress by up to 70 percent. The cushion gives you a tactile feel without the pains associated with prolonged jogging or running.
The console is a no-frills display that offers custom workout programs, a countdown mode and Quick Start mode. There's a set of shortcut keys to change speed and incline, and USB and aux ports for listening to your favorite music.
Pros
Powerful 8 HP Motor
Excellent Suspension Cushioning
Cons
See it on Amazon
Conclusion
In the end, your choice among the best high-end treadmills should be one that fits exactly what you are looking for. Weigh the pros and cons of each machine and think- will it fit your idea of what a treadmill should have?
As you narrow down your list one or two treadmills should emerge as the clear winner. Then, go ahead and click the 'Buy' button and wait for your equipment to arrive. Happy running!