(Last Updated On: March 19, 2022)
Elliptical machines are 'do it alls' that combine run, walk and climb exercises in one package. It's an essential component in every home gym regardless of size and workout scope.
As intimidating as they might sound, you can buy one and have it delivered straight to your doorstep. Instead of just choosing an elliptical product at random, though, you'll want to determine budget, features, and size before you open your wallet and commit to the purchase. Thankfully, we have a list that does precisely that and allows you to pick the best elliptical right from the start.
Benefits of Using an Elliptical Machine
There are quite a lot of benefits you can get when you set up an elliptical in your home gym. Perhaps the most significant advantage is that it's easy on the joints, an important factor for runners and those who do high-impact exercises regularly.
An elliptical can do both lower and upper body workouts, depending on your goal. You can choose to burn fat, develop specific leg muscles or strengthen your core and balance, among others.
Lastly, ellipticals are easy to use, and they do burn more calories than most gym equipment. Your cardio capacity and stamina get a nice boost every time you step up to the plate.
Best Ellipticals for Home Gyms
7.0 AE Elliptical by Horizon Fitness
Best Overall Elliptical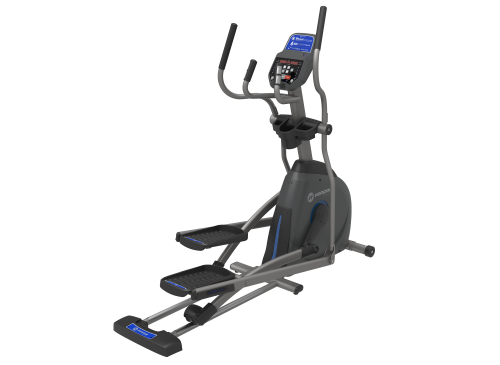 The 7.0 AE's most significant selling points are its smooth elliptical mechanism, Bluetooth connectivity, a whole lot of power incline levels, and a free training app to keep you guided and moving.
Horizon Fitness' machine strikes that excellent balance between value, performance, and the ability to sculpt your lower body to where you want it to go. Inside, you have a 23-pound, specially designed flywheel that churns out motion along with a Six-Star frame that supports the ideal body position.
What we love about the 7.0 AE is that it caters to just about every fitness level, goal, and achievement by introducing 20 levels of power incline. This means you can adjust both incline and resistance via one-touch keys and the handlebar depending on how many calories you want to lose per session, as well as how much lean muscle you want to build. Regardless of incline level and resistance, the flywheel is more than enough to handle the workloads with ease.
If you're worried that all those moving parts can result in the machine retiring early, don't. Horizon Fitness has made the 7.0 AE very durable by making the frame thicker and able to withstand daily punishment. Your home gym will get an upgrade when you introduce a quality elliptical such as the 7.0 AE into the mix!
This exercise machine comes with a free app and support for mainstream fitness apps. Integrated Bluetooth can connect to your speakers and play music when you want to get motivated and worked up. The 7.0 AE also comes with a tablet or phone holder to watch Netflix or YouTube or go with instructor-led classes.
Pros
20 power incline levels for every fitness level and goal
Smooth elliptical mechanism
Has a handy rapid-charge USB port
20 resistance levels to choose from
Better than the Bowflex Max Trainer
Cons
White glove delivery and assembly costs extra
Available at HorizonFitness.com
Sole E20 Elliptical
Best Elliptical Machine on a Budget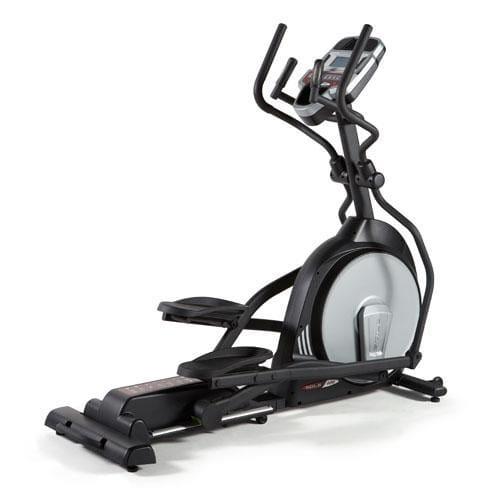 Sole E20 is the best budget elliptical machine, bar none. The machine churns out workout after workout sessions without giving up, and its slew of features make it a piece of good daily training equipment for your home gym.
Sole's elliptical product is super stable and can accommodate weights of up to 300 lbs., thanks to its heavy-duty steel frame and attached lifetime warranty. It's good enough to be considered for commercial use, which stands as a testament to the machine's durability.
In terms of elliptical action, you do have several choices. Three incline levels can be manually adjusted and provide enough challenge for users of all fitness levels. Inside is a 14.4-pound flywheel to keep things running smoothly, coupled by rear wheels for added stabilization. The resulting motion is smooth, and the wheels eliminate the side motions that are inherent in lower-quality ellipticals.
What we like about the Sole E20 is how it takes out the strain during lower body workouts and how the foot pedals are ergonomic so that it feels more comfortable than the other machines.
You also get a wireless chest strap and pulse monitors for heart rate, a tablet or phone holder for when you want to follow a workout on your device, integrated speakers for getting into that elliptical workout groove and a USB port for charging your compatible tech. The E20 comes with a 30-day free trial of Studio for on-demand classes and guided training sessions with experts.
If you've had a Sole machine before, you know that each purchase is superb value for money, and the E20 is no exception.
Pros
Great budget elliptical
Comes with 30-day Studio trial
The heavy-duty steel frame can take a punishment
3 Manually Adjustable incline levels
Cons
Bluetooth speakers are a bit on the tinny side
E5 Elliptical by Life Fitness
Best High-End Elliptical Machine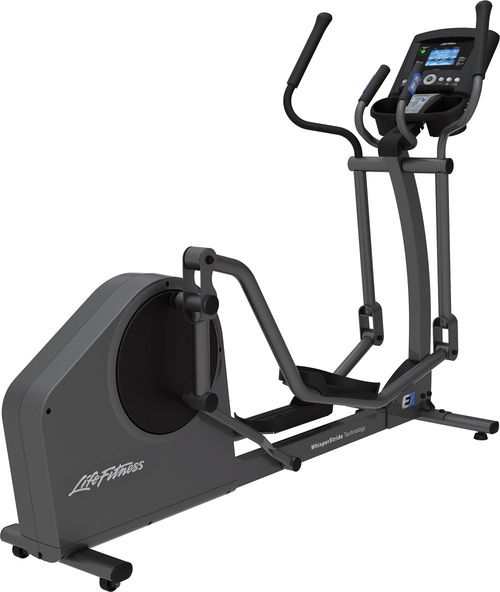 If you're looking for a one-and-done elliptical machine you can set in your home gym and not have to worry about the next ten years or so; then this is it. LifeFitness has made a versatile machine that can cater to just about every fitness level and all your elliptical whims.
LifeFitness is among the leaders in the fitness industry and has renowned products spread across cardio and strength categories. They're often used in commercial gyms and fitness facilities across the US, so you know you have a capable elliptical on your hands.
Going back, you get a cross-trainer that's sleek and sports an adjustable stride feature. It sets from 18 to 24 inches, depending on your leg length and desired workout challenge. Whisperstride technology is built-in every E5 so you can concentrate on working out instead of having to deal with noise. Stepping into and operating the machine feels very fluid and natural- motion is buttery smooth and comfortable, and we like how the resulting experience provides a more muscle-targeted session.
The E5 Elliptical is billed as a 'total body workout' machine instead of only lower body due to its design. At the front are multi-grip handles, which, when coupled with the varying stride mechanism allow you to assume different exercise motions to target other muscle groups.
Upfront is the Track Connect console and ties everything together. The display is compatible with various apps, including Apple Health, Nike, Garmin, Jawbone, Fitbit, and more. The top rack part accommodates smartphones and small tablets, while the lower is a readout zone where you can see your workout metrics.
The E5 stands at the top of the hill in elliptical machines with its advanced biomechanical technology to provide a super smooth and intuitive workout. If you have the money, you have to have this at the top of your list.
Pros
High-end machine with all the features you want
Whisperstride technology and adjustable stride combo offers a premium and smooth workout experience
Made to last a lifetime
Cons
Related: Best Exercise bikes for Home Gyms
1060ef Adjustable Stride Elliptical Trainer
Best for Small Spaces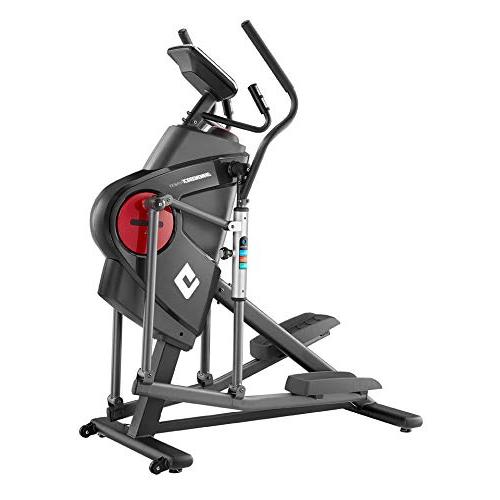 The 1060ef utilizes a unique front-load mechanism in order to save space. This makes it an excellent elliptical for those who have limited space- it's roughly only the size of an exercise bike, give or take a few inches.
The elliptical trainer does look like it too, but you have a foot pedal for operation instead of a bike pedal. Like the E5, this machine sports an adjustable stride length to accommodate a wide variety of users and different challenge levels. If you're not sure where to start, don't worry- there are 12 preset workout programs you can access via console so you can get a feel for ellipticals.
Specifically, you can adjust to 18, 20 or 23 inches using the colored buttons on the side. It's great for households where user length varies from tall to short. The engine on the 1060ef works a bit differently, too- instead of the rail and roller mechanism, Diamondback has opted for a dual spindle technology for reduced impact and friction. The result is a smooth and natural experience that mimics real walking and stride.
The console is a noteworthy mention as it's colored and readable. It has a wireless heart rate receiver, and elliptical workouts can be customized and loaded for building muscle or burning fat. While working out, it displays BMR, calories burned, speed, distance, and heart rate, among others.
Going back to the space-saving design, the 1060ef is the best elliptical we've seen that packs a small footprint. It's also lighter than most at just 144 lbs., making it the ideal home gym equipment for apartments and similar living spaces.
Pros
35% smaller and 50% lighter than your typical elliptical machine
Adjustable stride and preset workout programs
Reverse and Forward mode available
Has a weight capacity of 300 lbs
Cons
Available at DiamondbackFitness.com
Sunny Health & Fitness Magnetic Elliptical
Best Elliptical for Under $500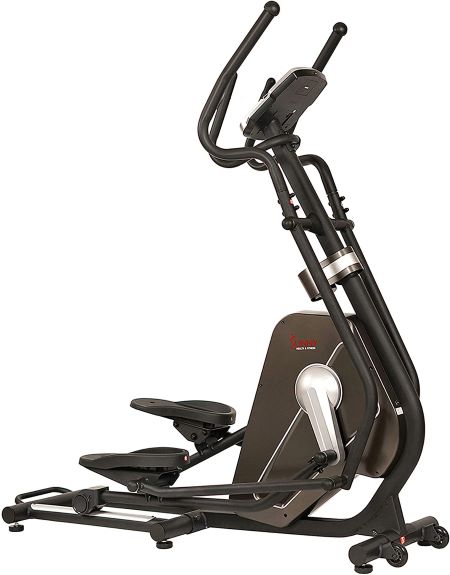 We were pretty impressed by this magnetic elliptical machine by Sunny Health & Fitness. Not only did it meet the 'below $500 mark', but it's also serviceable enough to meet your daily workout needs in your home gym setup.
Sunny Health keeps things simple with a magnet-based resistance mechanism for its engine. It sports an 8-level tension controller so you can make adjustments and meet your workout goals. You can use it to burn fat or build muscle or focus on a specific group to get gains.
We really like the Magnetic Elliptical how easy it is to mount and dismount from the machine. The foot pedals are low enough that you can step in and out without too much trouble, and the equipment is weighted at the bottom so you can put either foot and step right up without experiencing wobbliness.
The foot pedals are a nice touch, too, with anti-slip grooves. Floor stabilizers prevent swaying, rocking, and tipping and work on various surfaces such as hardwood, carpet, and concrete. The manufacturer has even added transportation wheels so you can move the elliptical from room to room or stash it in the corner.
Rounding out the details are a serviceable monitor, pulse sensors to check your heart rate and a relatively compact design. The only caveat is that it can only support up to 220 lbs.
Pros
Excellent value for money
Portable and has a small footprint
Free shipping and manufacturer warranty
16 resistance levels
Uses magnetic resistance
Cons
Gets a bit unstable when the load is more than 220 lbs
Sole E25 Elliptical
Best Elliptical for Under $1000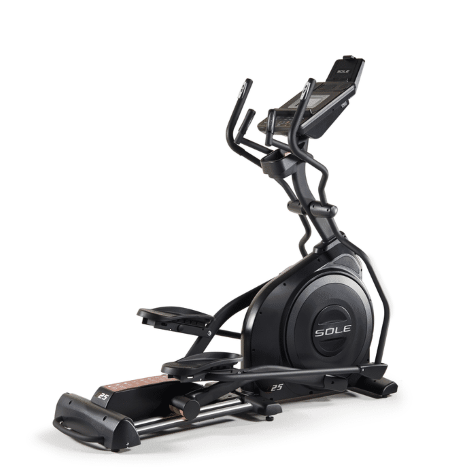 At a hair under the $1k mark, we think the E25 by Sole is the best machine for that category. It seems that we're not alone in this regard, as other review sites and people think it's the best elliptical under a thousand dollars.
So, what do you get for a grand? A whole lot of tech improvements and features. Like the Sole E20, there's a variety of resistance levels (20 in total), including inclines for that extra tough challenge. If you're one of those who push yourself to the limit every time you go to the gym, then the E25 should be a great fit.
It's also one of the quietest machines we've ever reviewed. Looking under the hood, there's a capable 20 lb. flywheel running with a high gear ratio setup and a drive system that hums even when the intensity is cranked to the max. The E25 is super stable too, thanks to the heavy-duty steel frame structure and rear wheels for extra stabilization.
All these things make for a premium workout experience. You won't likely wake up your partner or family members even when they're in the same room. The reduced wobble also allows you to focus more on your fitness goals instead of worrying about toppling over. There's a cooling fan to keep things comfortable and a built-in water bottle holder for hydrating without having to take a break.
Rounding out the details are a weight limit of max 350 lbs., integrated speakers for that added motivation, pulse monitors for cardio exercises and a USB port for charging and entertainment purposes. The addition of a free 30-day Studio trial is a plus. We find it especially helpful for beginners and first-time home gym goers so they can get the motivation they need to kickstart their fitness goals.
Pros
Comes with all technology and features to make it your only elliptical purchase
Lifetime warranty on frame and motor
Very smooth and quiet operation
Cons
A bit wobbly when the max weight of 350 lbs. is reached
Available at SoleTreadmills.com
Related: Best Home Gym Equipment on a Budget
Schwinn Fitness 430 Elliptical
Best Elliptical on Amazon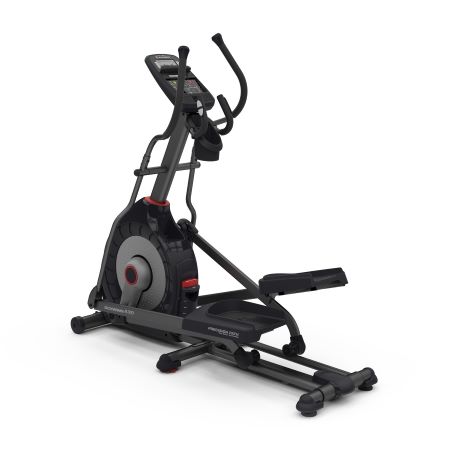 Schwinn is a brand most notably known for its bikes. However, they seem to have adapted well in the elliptical niche with the showing of the Fitness 430.
There's the familiar bicycle form that we know and love, except that the geared pedals are replaced by foot pedals that operate in an elliptical fashion. Schwinn has managed to keep the overall structure sleek and streamlined while maintaining standards pretty well.
Resistance is managed via computer and controlled in the built-in console. You can adjust workout intensity 20 different ways, and there are 22 preset exercises you can try if you want to get into the action right away. The display supports up to two user profiles for customized training experiences.
Inside the Fitness 430 is a high-speed and inertia drive system and Precision Path Foot Motion technology for smooth motion from start to finish. The foot pedals and handlebars are a worthy mention as they're designed with ergonomics in mind. An integrated fan keeps things cool and comfortable. Thanks to the integrated holder, you can easily drink from your water bottle.
Assembly is easy, and it should only take you up to 30 minutes to set everything up. The readout console is particularly helpful as it displays calories burned, distance, and time, among other things. We'd recommend adjusting the ramps and choosing the advanced fitness test or exercise programs for a true challenge.
As far as the footprint is concerned, you shouldn't have too much trouble setting it in your home gym. Connect the plug, and it instantly starts up and is ready to go.
Pros
Assembling the elliptical is easier than most
Has an exercise program and resistance level for everyone
Looks good in any space
20 levels of resistance and more workout modes than you can handle
Cons
Ordering on the official website is a bit difficult
ProForm Hybrid Trainer XT Recumbent Bike and Elliptical
Best 2 in 1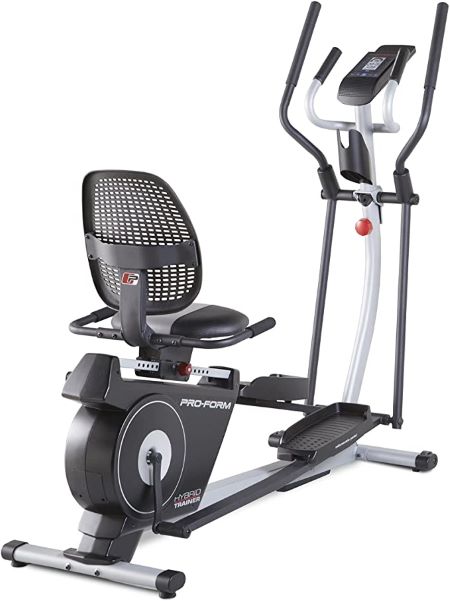 A combo gym equipment that provides two different workouts is an excellent idea. No other machine does this better than the Hybrid Trainer XT. It does the job well on both ends (as a bike and as an elliptical), and support for the iFit platform makes it a super tempting buy.
Generally speaking, ellipticals and bikes are often used separately and on different workout sessions. Still, for casual workouts, you'll find that the transition from bike to elliptical is seamless. Just move the seat as far back as it can go when you're doing elliptical exercises. Then move it upfront when you want to cycle through your cardio routine. Pull the console either up or down depending on what you want to do and you'll be able to read the display or watch content on your device.
ProForm's pivot technology allows you to step and climb or cycle naturally without any hiccups, and the foot pedals are built to withstand punishing workouts and last a long time. The same goes for the multi-position seat- it has added foam for comfort so you can blast through home gym sessions without worrying about back pain.
The jewel crown is easily the iFit integration. A purchase comes with a free 30-day trial, where you join other iFit members in guided video workouts. Once you connect to the app the Hybrid Trainer XT automatically adjusts its resistance levels to coincide with the session and make you feel as if you're really in class. Additionally, the app accommodates off-equipment workouts and interactive sessions for full-body fitness.
Pros
Two home gym machines for the price of one
Comes with iFit trial membership and integration
Get more use compared to a solo elliptical machine
Elliptical and a recumbent bike in one machine
Cons
EX-59 Elliptical by Horizon Fitness
Best Elliptical for Beginners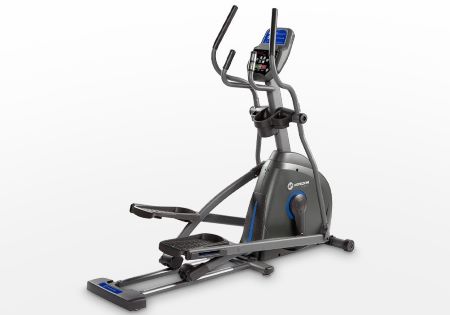 If you're entirely new to the world of ellipticals and home gyms, then you can take it slow and start with the EX-59 by Horizon Fitness. Simple controls and quick setups characterize the machine so you can ease into your fitness routine.
Setting up the elliptical shouldn't take more than 20 minutes. It contains enough features to make it a piece of reliable home equipment. The EX-59 has a Six-Star frame for optimal positioning and movement and a reliable 14.3 lb. flywheel attached to a pulley system.
Horizon Fitness further eases the strain on the back and hips by making the distance between pedals shorter. You can change resistance via one-touch keys and concentrate on the task at hand instead of having to fiddle with the controls and settings.
The EX-59 is also device-friendly and supports Bluetooth connectivity. We love how you can connect the machine's audio within seconds and be able to listen to your favorite music or TV shows on your tablet or smart device. The elliptical is best used with fitness apps and workout videos, with a rapid-charge USB to keep things going.
The stereo sound from the speakers is actually nice and has a bit of depth in it. The angle at which the tablet holder sits is well enough that you don't have to strain your eyes or make further adjustments. Stability is pretty good, but keep in mind that it can only accommodate a max weight of 250 pounds.
Pros
Easy to operate and work out on
Simple Bluetooth connectivity and intuitive console
Tighter Q factor for less strain on the back and hips
Cons
Lower max weight accommodation
Available at HorizonFitness.com
How We decided
When choosing the best elliptical machines for home gyms, we looked at a few factors. Price, durability and features were all critical, but the one deciding factor was how versatile the cardio machines were.
Versatility
For example, the ProForm Hybrid Trainer XT is an excellent option because it's two machines in one- an elliptical and a bike. This means that you get more use out of it than you would if you just had an elliptical machine. Additionally, the EX-59 by Horizon Fitness is perfect for beginners because it's easy to operate and has simple Bluetooth connectivity. Plus, its angle-adjustable tablet holder is ideal for watching workouts or TV shows while you're working out.
Price
Of course, price is always a consideration, and the machines on our list all offer great value for the money.
We hope you find this information helpful when choosing the best elliptical machines for your home gym.
Durability
All of the machines on our list are built to last, with solid frames and durable parts. So you can be sure that they'll withstand regular use for many years to come.
" src="data:image/gif;base64,R0lGODlhAQABAIAAAAAAAP///yH5BAEAAAAALAAAAAABAAEAAAIBRAA7″ alt="