(Last Updated On: May 25, 2022)
Thinking of getting an indoor exercise bike so you can maximize your training?
You can't go wrong with air bikes. They're excellent machines that can help you reach your strength or interval training goals. Compared to other equipment, air bikes present you with a virtually unlimited workout potential that scales with your level of conditioning.
In your quest to find the best air bikes online you'll be faced with dozens of products, each with its own pros and cons. You can find out which one is best for you by trial and error, or you can read up on our review of the top air bikes in the market.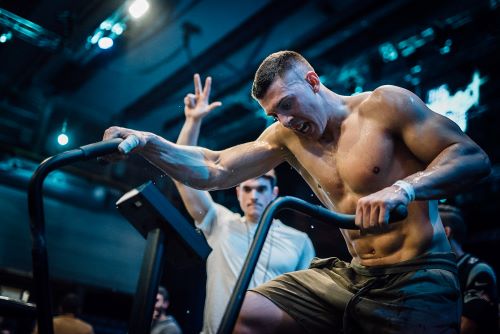 What is an Air Bike?
An air bike is a type of exercise bike that uses air resistance in its flywheel mechanism.
It's shaped and built just like an indoor bike but with a few exceptions. The handles are split and look more like ski poles than handlebars. Also, the front is dominated by what appears to be an oversized electric fan.
Other than that, you get the usual exercise bike components, e.g., the seat, pedals and a console to display workout data. Put your feet on the pedal and your hands firmly on the handle, then get the ball rolling by pushing, pulling and pumping. It's that easy!
Resistance is handled by specially designed blades. When you begin pedaling, the fans turn and create wind resistance. This mechanism is more intuitive because you're making your own resistance, which comes from how hard you're working. In essence, the more you push, the greater the resistance!
Benefits of Using an Air Bike
Full Body Workout
An exercise bike with moving handles may not sound like much compared to other indoor cycling machines, but step in one and you'll quickly learn its benefits.
Aside from the outstanding leg action, you'll inadvertently begin doing pushing and pulling arm movements that mimic rowing. This means you won't just get a lower body workout but an upper-body one as well.
For CrossFitters, an air bike is the perfect equipment for HIIT, or high-intensity interval training. More than that, you burn calories and build muscle at a faster rate because you're activating more areas.
Unlimited Training Potential
Athletes stand to gain so much by using air bikes. Each time you step up on the machine you get a customized workout, thanks to the intuitive flywheel mechanism.
Remember what we said about wind resistance and how more effort equals greater resistance? Difficulty ramps up the more you push, and you can only push for so long before you're perfectly exhausted. There won't be such a thing as 'too easy' because the bike can take what you give and give it right back!
What all of this means is you get the best possible workout for the time given, which is an essential factor in building muscle, endurance and overall performance.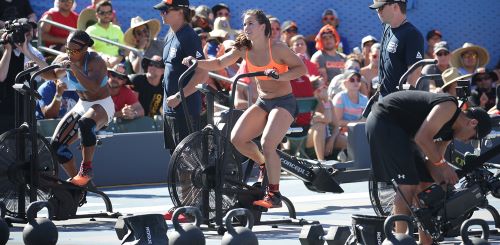 Low Risk of Injuries
An air bike is the equipment of choice for those who have sustained injuries and prioritize safety above everything else. Exercising on an indoor bike is easy on the joints and doesn't produce an impact as compared to say, running on a treadmill.
That low-impact workout isn't just for show, though. You burn calories at a faster rate and enjoy the effects of conditioning the moment you start pushing the pedals.
The 10 Best Air Bikes
If you are an athlete or a CrossFitter then these are the best air bikes for you.
1. Rogue Echo Bike
Best Airbike Overall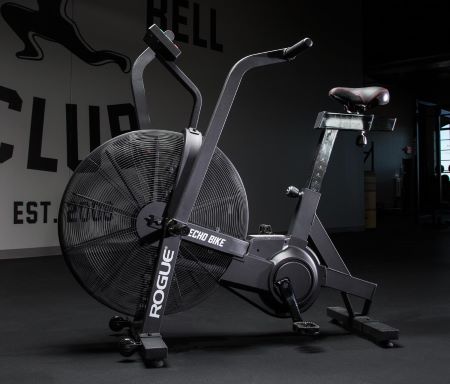 The Rogue Echo Bike gets the top spot in our list of best air bikes for athletes and CrossFit, and with good reason. It's ultra-tough, menacing and ticks off all the right boxes when it comes to training and increasing your endurance!
We could go on and on about the menacing, all-black textured powdercoat finish or the overbuilt weight limit design, but we'd rather focus on the features that make it an athlete's best friend. We like how you could go for maximum output without worrying about losing stability or balance. Air bikes are only as good as its build, and the Rogue Echo passes it with ease.
Rubber leveling feet and steel construction make way for the belt-driven steel fan, easily the best asset in the Echo. The flywheel is quite large and yet produces relatively low noise compared to other brands. Simply put your feet on the metal pedals and go as hard or as steady as you want- the air bike matches your pace easily and puts out the numbers via the LCD console display.
By default, the ride is superb and you can make adjustments to the seat to make it more comfortable. The machine can be moved to another room or stored away with the polyurethane wheels at the front. Customization is possible in the bike's pedals and heart rate transmitters. You can also purchase useful add-ons such as a wind guard (to reduce air blowback), a phone holder or a bottle cage.
Website: RogueFitness.com
2. Schwinn Airdyne Pro
Second Best Air Bike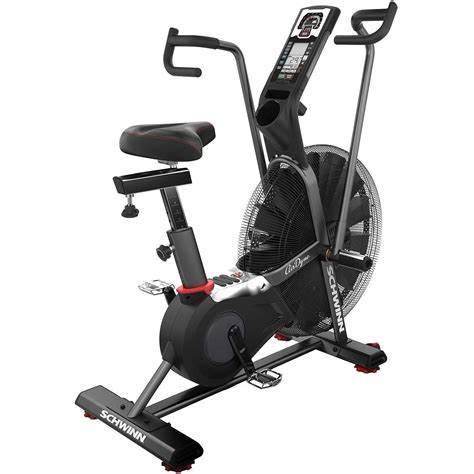 The Schwinn Airdyne Pro is one of the best-looking air bikes on the list. The red highlights, sleek curves and stylish engineering belie the machine's wonderful performance and solid flywheel mechanism.
You get a reliable air resistance system with the single-stage belt drive mechanism. The perimeter-weighted design adds a whole new experience that you only get with a Schwinn product. Step up to the pedal and you can shift your grip easily with the multi-position handles. Speaking of which, the included padded seat is already comfortable but you can choose to swap in a customized seat if you want.
What we like about the Airdyne Pro is that it's quieter than most machines even when you're pushing at full tilt. The steel body construction, solid steel cranks and super-stable base allows you to perform without worrying about premature wear and tear. The LCD display shows pertinent metrics such as speed, pulse, calories, distance and time and gives you up to 9 pre-programmed workout options that are readily accessible.
Shimano bike accessories such as saddles and pedals may be fitted in with little to no problem.
Website: RogueFitness.com
3. Assault Airbike
Best Value Air Bike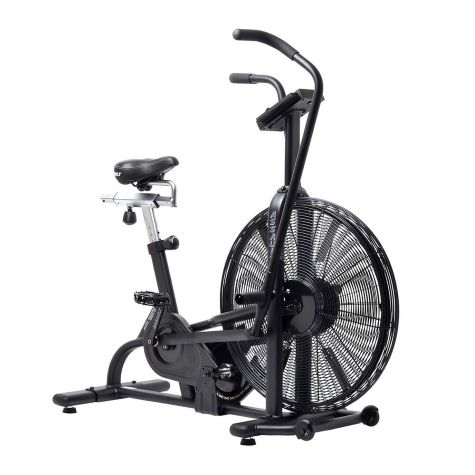 The Assault Airbike is one of the toughest and most punishing air bikes known to man. It's billed as a 'bad boy' machine that can bring athletes and CrossFitters to their knees. The build, construction and materials are geared towards standing the test of time and providing excellent value for money.
An air bike lives or dies by its flywheel mechanism, something that the Assault Airbike has in spades. What we like about the Assault model is how the fan blades capture the air and makes pedaling harder the more effort you put into it.
The bike's moving parts are top of its class, with cartridge bearings installed in all pivots and hidden away inside formed steel. For the uninitiated, the more bearings an airbike has the smoother the ride and overall experience. Assault Fitness has managed to insert twenty of these bearings in strategic sections and where they're needed the most.
If the thought of unlimited workouts appeals to you then the Assault Airbike is a no-brainer. You can pedal, push and pull on the machine and all that effort will be displayed in the front console. It can be programmed for preset intervals and can be customized based on factors such as heart rate, time, calories or distance.
Thanks to multiple seat adjustment options you can customize the ride to your heart's content. It's a solid time investment in terms of output and results!
Website: RogueFitness.com
Related: Best Home Gym Equipment on a Budget
4. Endurance FB300B Dual Action Fan Bike
Best Air Bike with LCD Display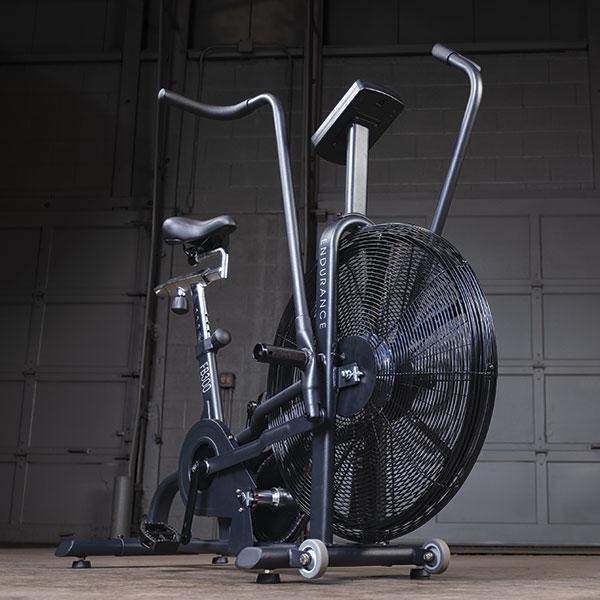 Body-Solid's Endurance Fan Bike is a well-rounded machine that caters to everyone, from amateur athletes to expert riders and hardcore trainers alike. We found the FB300 to be exceptional in high-intensity workouts and uncompromising when it comes to durability and ride comfort.
The dual action aspect comes from the 27-inch fan and 12-gauge steel movement arms that will have you conditioned in no time. One look at the heavy welded construction frame and menacing black finish and you'll know that the bike will last for a lifetime. Convenient transport wheels make moving the Endurance Fan Bike easy for stowing and storage purposes.
All that action you make will be shown on the large LCD display, including calories, watts, RPM, time, heart rate and more. On the side are preset program buttons so you can choose quickly and get right to it. The seat can accommodate up to 300 lbs. in weight and is adjustable both vertically and horizontally.
What we like about the Endurance FB300B is how stable it was when we ran it through its paces.
Website: FitnessFactory.com
5. Xebex AirPlus Performance Bike
Another Contender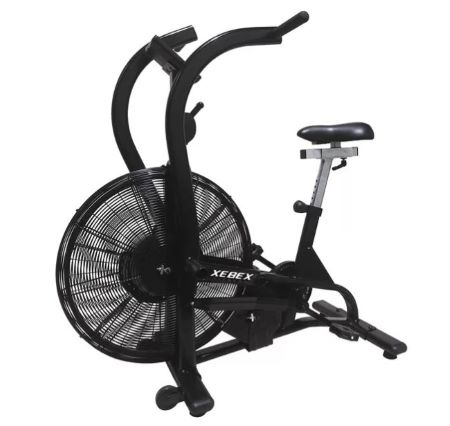 The Xebex AirPlus Performance Bike is the serious athlete's ultimate companion when it comes to training. Its best feature is easily the AirPlus technology, which combines air and magnetic resistance to produce a customizable workout each time.
The 8 resistance lever sits at the front and can be toggled depending on whether you want to improve your strength, cardio or endurance. Air bikes make you work harder the greater the effort you exert and are excellent machines for those who want to push themselves to the limit.
Xebex says their machines are more durable compared to others due to sealed ball bearings, cartridge brackets and chro-moly cranks at every joint. Moreover, the company highlights the precision bolts in the cranks and a universal ball joint instead of handlebar linkage to allow lateral handlebar movement.
All those workout data has got to be displayed somewhere. In the AirPlus Bike, it's shown at the console that sits flush in-between the handlebars. You get stats like current resistance level, as well as time, calories, distance heart rate and more. Furthermore, you can set targets or choose from pre-set HIIT routines and custom intervals so you'll feel motivated and have a goal to set your sights on.
Last but not the least, there's the ride comfort and experience. You can adjust the oversized seat forward or back, and up or down depending on your preference. The seat track lever can be slid out and away or closer to the handlebars so you can hold the bars comfortably even on long sessions!
Website: getrx.com
6. Spirit AB900 Air Bike
Upgrade Pick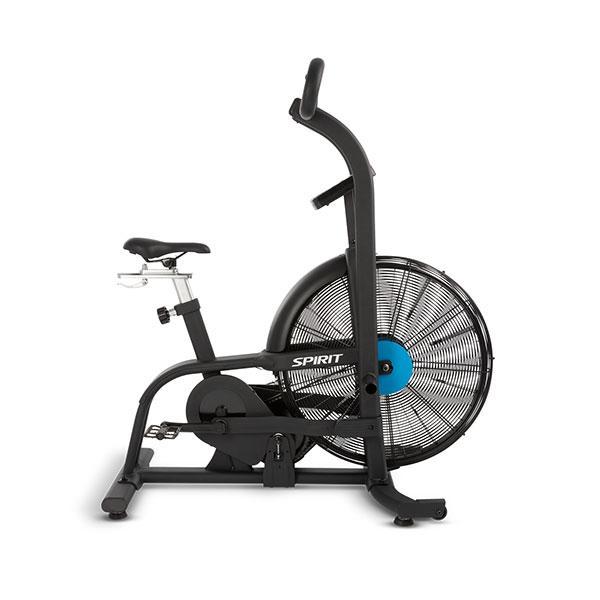 The Spirit AB900 is an upright exercise bike that features air-driven resistance for an explosive total body workout. Everything about the machine screams premium material and superb attention to detail!
First up is the AB900's flywheel mechanism driven by isokinetic resistance and a commercial chain drive system. The fixed gear aspect eliminates moving parts and makes the ride experience more consistent. If you're worried about the fan blades getting swamped by sweat and moisture, don't- there's am integrated windscreen to prevent that from happening and directs wind away from your face while you're exercising.
The built-in console is a noteworthy mention due to the fact that it does more than just display workout data. It's Bluetooth compatible and connects to the SpiritFit app so you can record and view metrics right in your smartphone. Moreover, you can track or sync workouts and seamlessly browse, chat or post on social media without missing a beat.
The machine touts extra-heavy steel gauge tubing for maximum stability and footpegs and pedals for better grip. The manufacturer has added a multi-positional aspect to the handlebars so you can shift between muscle groups as you like. Adjusting for comfort is a simple matter of moving the seat fore or aft and down or up.
Website: FitnessFactory.com
7. Assault Airbike Elite
Best High-End Airbike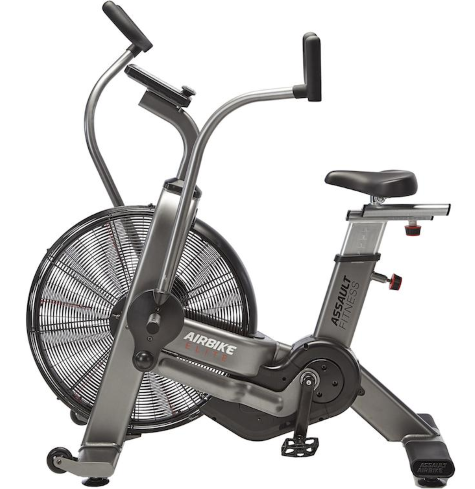 Assault Fitness has an excellent track record when it comes to exercise machines, with the Airbike Elite being proof of that dedication and attention to detail.
You may be wondering, what's the difference between the Assault Airbike and the Elite version? The Elite airbike is designed with interval training in mind, particularly increased resistance and isolation variations. The machine also has the capability of pedaling either forwards or backward, adding to your workout repertoire.
That's not all. The Elite model touts a larger seat for those who want support for lengthier sessions and a windshield addon to control the amount of breeze. The LCD display is also bigger and allows for connectivity via ANT and Bluetooth- your smartphone should be able to receive the results of your latest training in just a few seconds. The display shows calorie, distance and time programs and the newer HIIT programs for maximum burn.
Website: RogueFitness.com
8. Xebex AirPlus Expert Bike 3.0 Smart Connect
Best For Small Spaces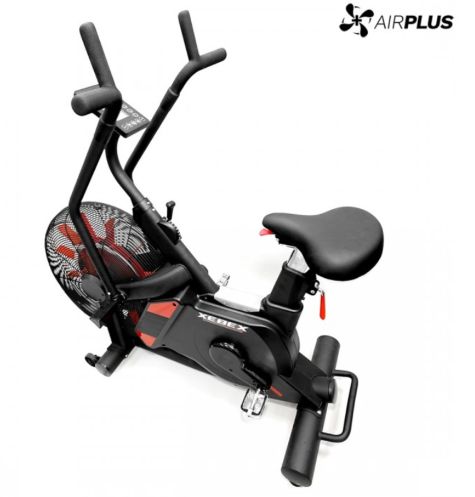 The Xebex AirPlus Expert Bike features 8 air resistance levels depending on your training specifications. You can set the lever between 1 to 8, with 1 being good for warm-ups and 8 simulating an uphill climb (and more calories burned).
Athletes will love not just the resistance system but also the smoother ride experience, thanks to the enhanced belt drive. A 190 lb. base keeps things stable and allows you to stand and use the AirPlus Bike as an elliptical machine.
What we like about the AirPlus Expert Bike 2.0 is the robust console. It's intuitive, easy to use and connects to third-party apps for tracking purposes. The console has custom and preset HIIT training modes and targets for heart rate, calories, distance and time. The 8 key measurements will always be shown on the screen with room for training program changes if need be.
The machine features Plastic Shroud technology which coats the frame and all moving parts, shielding it from sweat, moisture and premature rusting.
Website: Getrxd.com
9. Stamina Airbike
Best Airbike on a Budget

Stamina Airbike is a no-frills machine that can perform with the best of 'em. It's quiet, reliable and ready to take a good beating.
As with most air bikes, the Stamina Airbike is super easy to use. Hop on the seat, make some adjustments and begin pedaling. You can increase the wind resistance by pedaling harder or cruise on with a steady rhythm.
Stability is handled by the air bike's heavy-duty steel frame construction, wide cushioned seats, stationary footrests and leveling stabilizer caps. Your feet and hands will be secure thanks to the padded handlebars and oversized and textured pedals.
The InTouch Fitness Monitor deserves special mention. It has large fonts to show calories burned, speed, distance and time even when you're a foot or two away from the screen. Overall, a good option for budget-minded trainers and athletes!
Website: FitnessFactory.com
10. Bladez Fitness LK700FB Fan Bike
Last Airbike on the List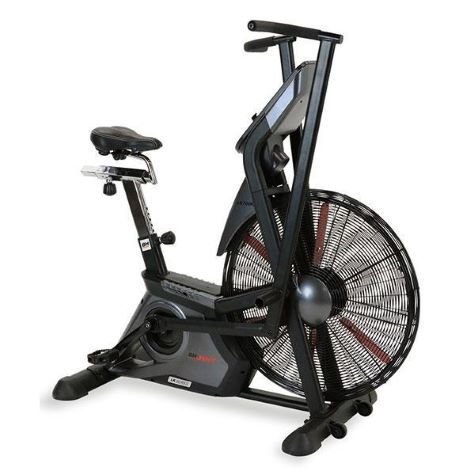 A fan bike that focuses on HIIT programs to deliver results, the LK700FB guarantees a satisfactory upper or lower body workout by pushing the pedals as hard as you can or by using the dial to control wind resistance.
Fitness Factory has designed the machine to simulate a real biking experience. As such, you'll be able to customize the fit and resistance to make it seem like you're going uphill or cruising along at a steady pace.
Console programming is excellent and can accommodate a Polar heart rate chest strap. Once it's on you should be able to read your performance metrics, e.g., intervals, RPM, watts, heart rate, calories, distance, speed and time. Non-slip pedals, a phone rack, an integrated water bottle holder and padded seating all add to the quality of life for a better ride each and every time.
Website: FitnessFactory.com
Best Air Bikes for Athletes and CrossFit Wrap Up
We have given you 10 great air bike options that would be that are high quality and durable and would be a perfect addition to your home or commercial gym. Whether you are looking for something low budget or high-end you can find it here. Do me a favor though, once you buy it don't let it sit around collecting dust, these machines are too good to meet that kind of fate.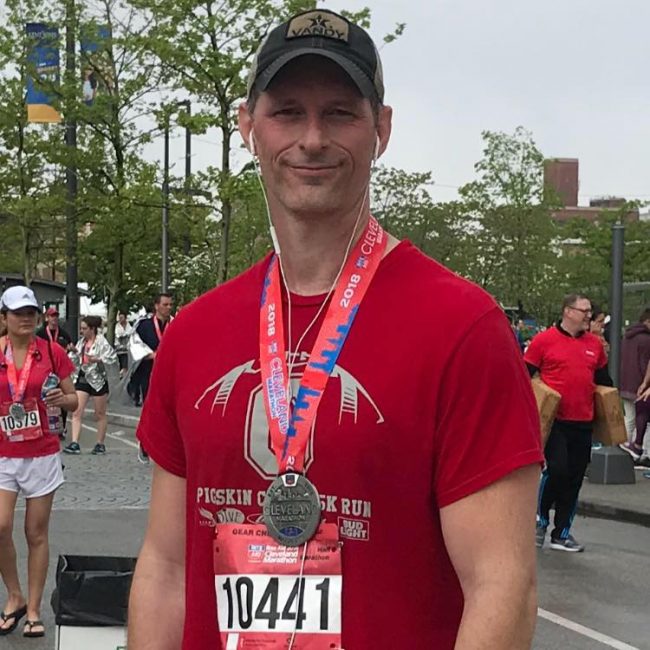 Ryan is a former college wrestler and lifelong fitness fanatic. He has run half marathons, done mud runs, placed in body transformation contests, coached wrestling and now coaches girls soccer. Not to mention he has also tried literally hundreds of supplements over the years and has a vast and thorough supplement knowledge. He has written for Muscle & Strength, Testosterone Junkie, The Sport Review and other publications. He is also the editor in chief of this website. Feel free connect with him on his LinkedIn page below.