(Last Updated On: November 2, 2021)
I've wanted one for a long time.
An adapter/trainer stand that can turn your road or mountain bike into a stationary bike.
It allows you to ride your bike any time you want. If it is snowing or raining outside, you can still ride your bike inside any time you want.
In this Alpcour Fluid Bike Trainer Stand Review. We will take a look at this bike stand and let you know if it is any good.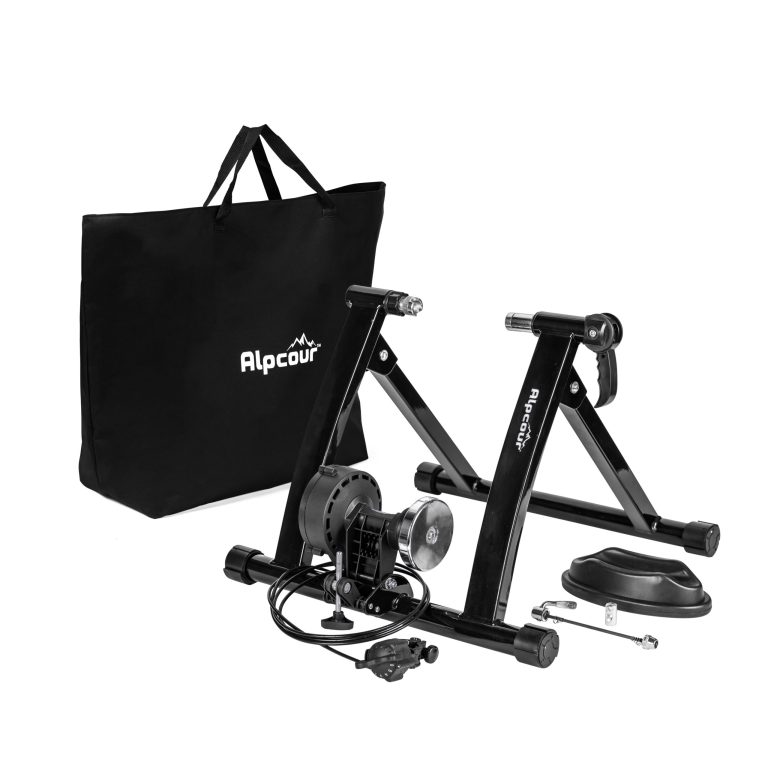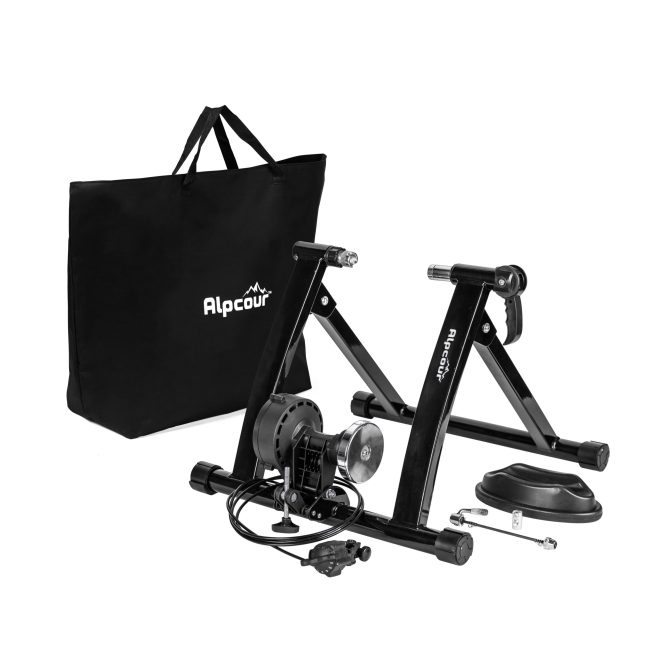 See it on Amazon.com
How I Decided on the Alpcour Fluid Bike Trainer Stand
I'll be honest, I have never used one of these before, but I liked the idea of getting a stand so I can use my bike as a stationary bike since winter is on its way.
I took a look on Amazon to see what they had and noticed that there was a VERY wide assortment of these stands. Honestly, I had no idea which one to choose.
I figured I didn't want a cheap one that wouldn't work well or last, so I automatically skipped the cheapest ones. Some were as cheap as $35; I figured for that price they weren't very good.
I also didn't want to spend a ton of money on it either; if i was going to do that I might as well just get a stationary bike. There were some that were over $1000. I think the most expensive one I saw was $1300. You better be a serious bike rider if you are spending that much.
I decided on the Alpcour Fluid Bike Trainer Stand. It was above average in price; I paid $189 for it.
It had good reviews on Amazon. However, Amazon reviews aren't all that reliable, so I took them with a grain of salt and hoped the good reviews were actually true.
I probably should have looked elsewhere to find reviews, but I just went ahead and made the purchase. I hoped the reviews were at least mostly real and that the higher price tag meant it would be decent quality.
Related: The 14 Best Exercise Bikes for Home Gyms
Package Arrival
The bike stand arrived in just 2 days which was nice, especially since I had free shipping and didn't pay extra for it to get here fast.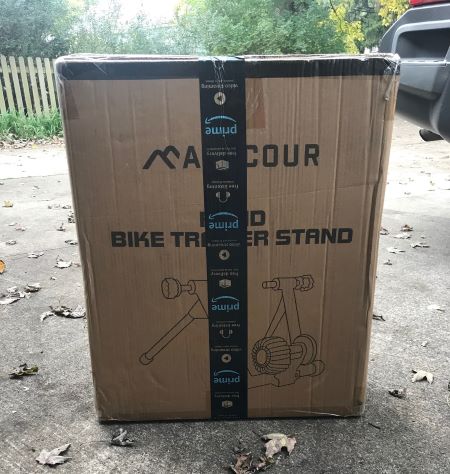 Alpcour Fluid Bike Trainer Stand

Assembly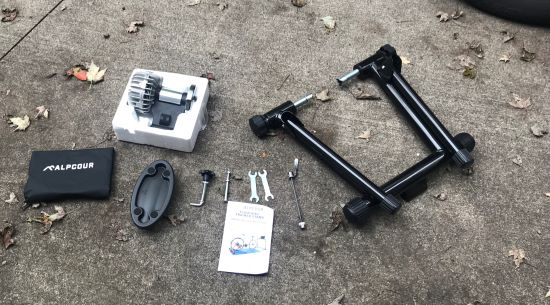 As soon as I took it out of the box, I thought to myself, "This is going to be really easy to put together. NICE!"
I had planned on it being more complicated than it was. I was all set to make a time-lapse video, then when I saw there were only a few parts to put together, I wondered if it was worth the bother.
I said screw it and made the video anyway.
Below is the video of me putting it together. The whole process took about 10 minutes in real-time and was relatively simple. Just attach the flywheel to the frame, then attach the bike to the stand. That's all there was to it.
My First Ride with the Alpcour Fluid Bike Trainer Stand
As I said earlier, I had never used one of these before, so I wasn't sure what to expect. Here are a few questions that I answered in my first ride.
How is the resistance? Is it too Easy?
This is something I was wondering about prior to the purchase. Would pedaling be too easy, like an exercise bike on the easiest level?
Luckily the Alpcour Bike Trainer Stand and flywheel provided nice resistance like you would have on the road. Switching gears on the bike would also change the resistance levels so you could make it easier or harder if you wanted.
Related: The 10 Best Air Bikes on the Market
Does it make a lot of noise?
On their Amazon Page, it says the stand has "Built-In Super Noise Reduction Eliminates Whir".
I've never used any other stands so it's hard to say if it is any quieter than other models, but I didn't mind the noise.
I rode it in my garage and had the radio on and could listen to it just fine while pedaling.
It was quiet enough that I plan on bringing it inside to use in front of the TV. I don't imagine the noise will be a problem.
How does it work with pets?
I would imagine this depends on your pet.
I haven't used it around my pets yet, but I don't think it will be a problem. Our cat will hate it and leave it alone, and the dogs will likely ignore it.
That said, I have had dogs in the past that I know it would have been a problem for.
I'd be cautious trying it out, that spinning bike wheel could seriously injure an animal, particularly the spokes.
Is it sturdy?
You would think it would be easy to topple over with just a stand on the back wheel and a tiny plate that they give you for the front wheel, but it is actually really stable.
I was never even close to toppling over when riding or getting on and off.
Does it give you a good workout?
I went for a 20-minute ride on it this afternoon and I was dripping sweat by the end. My legs were also tired as they would be from riding the bike on the road.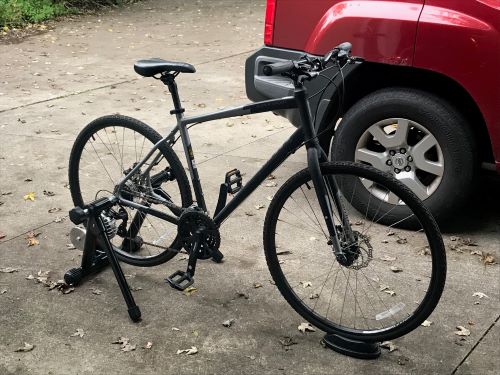 Is it worth it?
I just put it together and started using it today. But so far, so good.
After assembly and a day of use, I am happy so far. It is totally worth it to this point.
If that changes in the future, I will definitely update this article.
Conclusion
The Alpcour Fluid Bike Trainer Stand works well.
It isn't too loud, is very stable/sturdy, and provides good resistance to provide you with a good workout.
It is above average in price, but so far I am happy with the purchase and would buy it again.
See it on Amazon.com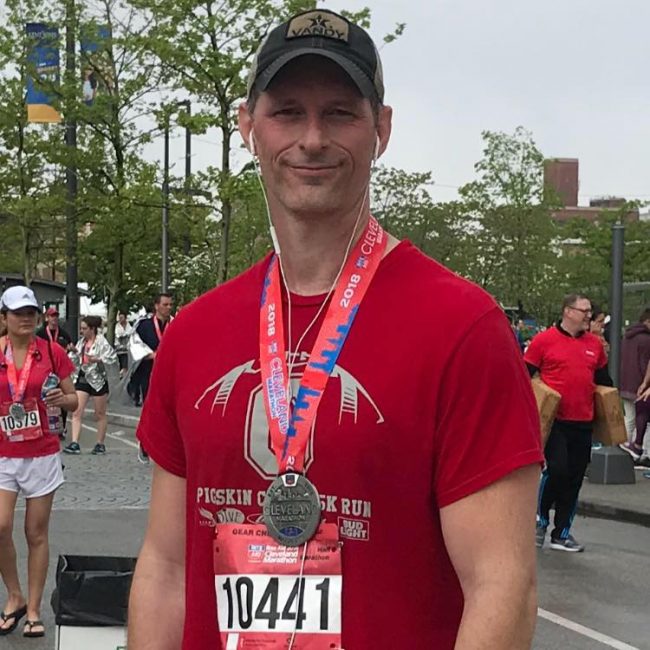 Ryan is a former college wrestler and lifelong fitness fanatic. He has run half marathons, done mud runs, placed in body transformation contests, coached wrestling and now coaches girls soccer. Not to mention he has also tried literally hundreds of supplements over the years and has a vast and thorough supplement knowledge. He has written for Muscle & Strength, Testosterone Junkie, The Sport Review and other publications. He is also the editor in chief of this website. Feel free connect with him on his LinkedIn page below.