(Last Updated On: May 25, 2022)
Rowing machines are pound for pound one of the best workout equipment purchases athletes and CrossFit athletes can make for their home gym.
You get a total body workout and engage all major muscle groups. Rowing machines give you two major benefits, namely strength training and cardio while being easy on the joints. Endurance athletes, take note- rowing regularly can increase your stamina and work capacity as well!
Best of all, a rowing machine is no bigger than a bench in terms of footprint. You can place them anywhere, and most models can be stowed away after use.
Shopping for the best rowing machines for athletes can be a daunting experience, and for this reason, we've compiled a list that can help narrow down your options.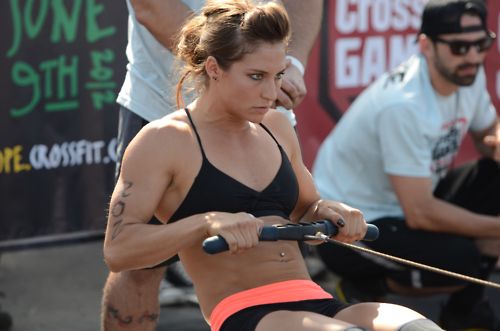 Related: Best Exercise Bikes For Home Use
Best Rowing Machines for Your Home Gym
If you are an athlete or a crossfitter looking for the best rowing machines for your home gym this list should cover it.
1. Concept2 Model D Rower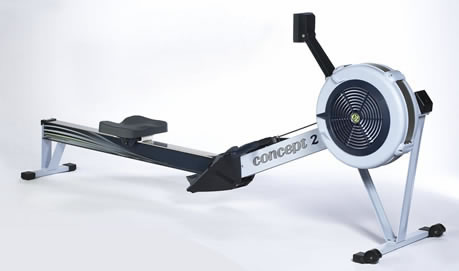 The Concept2 Model D Rower is a must-have in any athlete's home gym. The world's best-selling indoor rower is recognized by professionals as the gold standard when it comes to indoor training.
Its best feature is easily the superb engineering design and how there's no compromise in materials and construction. No matter how hard you push the Model D every day it will keep working as if it were day one!
Now, let's take a look at the individual components. The flywheel at the front simulates the rowing resistance realistically. You can adjust the spiral damper depending on your preferred stroke. A closer look and stress test reveals how the machine produces the least possible noise while maintaining a smooth rowing motion.
The included footrest accommodates a wide range of sizes. Speaking of which, we love how the handle is easy to grip and hold and allows you to better focus on training. You won't get fatigued as it's positioned at an ergonomic 10-degree hand and arm bend.
The Performance Monitor 5, or PM5 for short is another outstanding addition to the Model D Rower. It's powered by the flywheel and two DD batteries and gives the user a range of helpful data, including stroke per minute, calories, watts, pace and more. It also features a variety of workout modes and can transfer the results via Bluetooth or ANT+ technology.
This is the best rowing machine on the market, and it has been for a while now.
Pros
Outstanding flywheel design and performance
Offers a variety of workout modes via the PM5
Super easy to assemble and store
Cons
Only available in black or light gray
Website: Roguefitness.com
2. Xebex Air Rower 2.0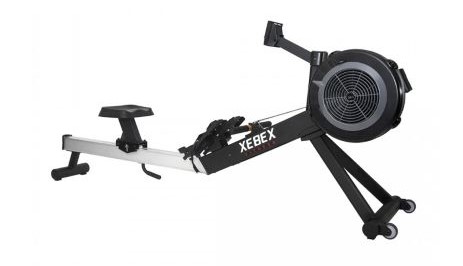 The Xebex Air Rower 2 is the much-improved successor of the previous Air Rower, with better features such as higher seat height, an advanced console and added seat and handle padding.
The first noticeable change is the elevated seat, which stands 21 inches off the ground. This means you can quickly get on and off the machine with minimal effort.
Xebex has opted to put in more padding on the seat and the rowing handle. There's also the 1-touch adjustment on the footing section. If you want a rower that's easy to move around, look no further- the Air Rower 2 folds up to half its original footprint (to 20″ in width and 2′ in length) so you can put it in the closet or in the corner after use.
This rowing machine utilizes an air flywheel mechanism that puts out the essential numbers to a robust console. Operation is fairly easy- row harder to make it more difficult and go slower to reduce resistance level. You can also adjust the spiral damper to simulate drag and water depth.
We like how the console shows your performance and progress in a straightforward manner. The high-contrast display reveals calories, spm, meters, watts, time and more. You can choose from pre-built programs in a few button presses and get rowing right away.
Pros
Less expensive
Folds to just half its original footprint
Added comfort features on the handle, footing and seat
Air resistance flywheel is intuitive
Cons
No data transfer capability
Website: getrxd.com
3. Row HX Trainer by LifeFitness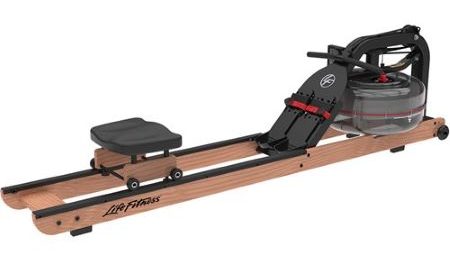 The Row HX Trainer deserves a spot in our best rowing machines list for a number of reasons. The low-slung profile, beautiful wood grain finish and premium performance all make for a wonderful indoor rowing experience at the comfort of your own home!
The water-type rower employs Fluid Technology, which means every stroke simulates the real thing. Close your eyes and you'll be hard-pressed to believe that you're not training outside. As for resistance, the Row HX has an adjustable dial that toggles difficulty without having to add or take out water.
It's relatively compact and has a smaller footprint than most rowers in the market. You can easily lift it up and bring it to the bedroom, home gym or living room as you see fit. What's remarkable is that the Row HX stands out and adds depth to any space, thanks to the elegant design and seamless melding of tempered steel and natural wood.
The Row HX is a versatile total body cardio workout machine that's worth every penny. You get the backing of LifeFitness, a brand who's known to produce long-lasting products and provide excellent support. The only caveat we see here is that it costs a few hundred dollars more, but if money is no object then by all means, buy it!
Pros
Fluid Technology feels amazing
Low-slung and stable
Eye-catching design and wood highlights
Cons
See it at LifeFitness.com
4. First Degree Cambridge Challenger AR Indoor Rower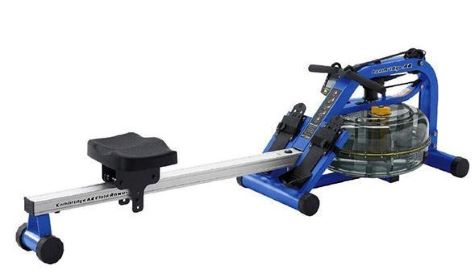 The First Degree Cambridge Challenger may be a mouthful of words, but make no mistake- this rower talks the talk and gives you an excellent workout each and every time!
The electric blue highlights on the frame and base are pure eye candy and makes it easy for you to put it anywhere. Using the machine is intuitive- simply step in, place both feet on the pedals, grasp the handle and you're off. The seat is near the base and adds to the overall stability.
Like the Row HX, the Cambridge Challenger utilizes an Adjustable Fluid Resistance with dial settings to change the level of resistance. Inside, First Degree has added baffled internals and a triple-bladed impeller to ensure a smooth catch and resistance. An improved pulley system makes recoil and tension so much smoother.
The features on this water rower don't stop there. A monitor displays essential data such as calories per hour, heart rate, watts and more. The handle is designed to prevent hand, wrist and arm strain, while the seat is comfortable and has Delrin rollers underneath. You'll be hard-pressed to find a rowing machine of this caliber for recreational or training purposes!
Pros
The tank has three top-notch features: Adjustable Fluid Resistance Technology, zero dead spots and an improved pulley system
Durable belt drive and seat rail
Nice, attractive color
Has all the bells and whistles you would want in a rower.
Cons
Available at FitnessFactory.com
Related: The 10 Best High-Treadmills
5. First Degree Viking Pro Indoor Rower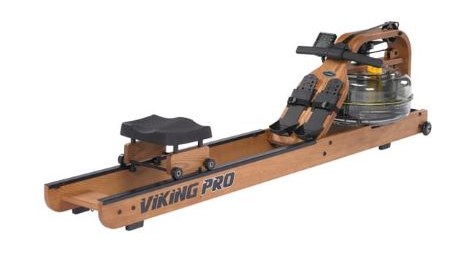 The Viking Pro Indoor Rower sports a twin tank design with Fluid Force technology for its flywheel mechanism, which offers athletes a natural feel and catch as well as zero dead spots. The experience is immersive, and users can get up to 15 percent more water resistance than other brands.
The advanced console does more than just display essential training data- it can connect to smart devices via an app and adjust settings using Bluetooth technology. You spend less time fiddling with the program and concentrate more on developing strength and endurance.
The flywheel sits near the front base of the unit, surrounded by a sturdy frame with wood highlights. Storage is a matter of putting the machine in a horizontal position and leaving it in the corner.
Pros
Fluid Force technology and twin tank design
Advanced console with connectivity options
Cons
Belt drive is less durable
Available at FitnessFactory.com
6. Spirit XRW600 Rower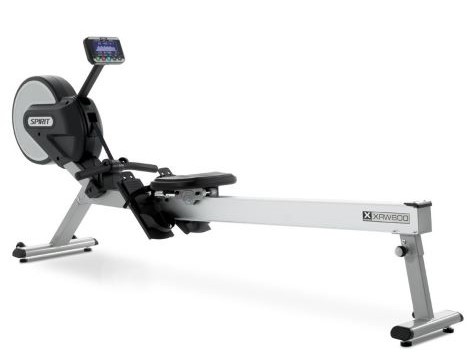 The Spirit XRW600 Rower is an airmag hybrid that uses both magnetic and air resistance in the flywheel. With that set up the machine has 16 levels of resistance spread out in ten built-in programs.
The bench section is elevated and make stepping in and out easy. While rowing, you get helpful data readouts in the backlit console. Speaking of which, Spirit has a high-res console with blue background and a variety of programs to keep you motivated.
In the comfort department, the XRW600 offers users an oversized, cushioned seats and flexible foot pedals. Big athletes won't have any issues working the machine, thanks to the generous workspace. After training, you can fold it up so it won't get in the way.
Rounding out the features is an industrial-strength handle strap, an aluminum monorail and console height and angle adjustments.
Pros
Airmag technology gives you 16 resistance levels
Oversized cushioned seats for added comfort
Cons
Cushioned seats may wear out over time
Available at FitnessFactory.com
Related: 25 CrossFit Rowing Workouts for Serious Endurance
7. Velocity Exercise Magnetic Rower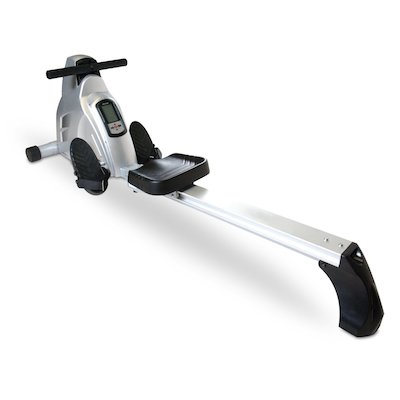 Up next on our list of the top rowing machines for home gyms we have the Velocity Exercise Magnetic Rower. This magnetic rowing machine is a silver and black rower with plenty of features. The flywheel mechanism is controlled by a powerful magnet and a DRM system to simulate resistance. Electronic tensions keep things interesting while you row your way to a fitter physique.
Lightweight yet durable aluminum make up the frame and rails. It also holds the padded seat and heart rate monitor. The LCD display shows off pertinent workout data such as time, calories burned, count number and more. Velocity Exercise has made their foot pedals adjustable for maximum comfort.
This rowing machine naturally trains your whole body while allowing you to improve your stroke. When you're done the rails can be folded to about half its original length.
Pros
Magnetic flywheel is relatively quiet
Good for rowing enthusiasts
Best budget rower on the list
Cons
Customer support is sub-par
See it on Amazon.com
8. WaterRower GX Home Rowing Machine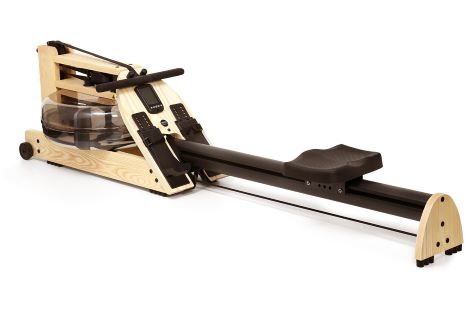 The WaterRower GX Home Rowing Machine is easy on the eyes, thanks to the eco-friendly, handcrafted premium ash hardwood material housing the flywheel, base and LCD display. The panel on the front serves as the base for the foot pedals and display.
At the helm is a water flywheel mechanism that simulates rowing through water. You'll like the wave-like sound it produces and the realistic movement needed to complete reps. Though marketed for ShockWave group classes the machine is great for home and personal use.
The GX monitor displays total calories burned, total distance and total time, as well as stroke rate to gauge your fitness goals. The package includes a ShockWave workout and Indo-Row DVD that'll guide you on the program specifics.
Pros
Unique premium ash hardwood and Danish oil finish
Has a lot of freebies with this indoor rower
Cons
Single rail is less stable
See the Waterower on Amazon.com
Related: Best Home Gyms for Weightlifters
9. RW1000 by Lifespan Fitness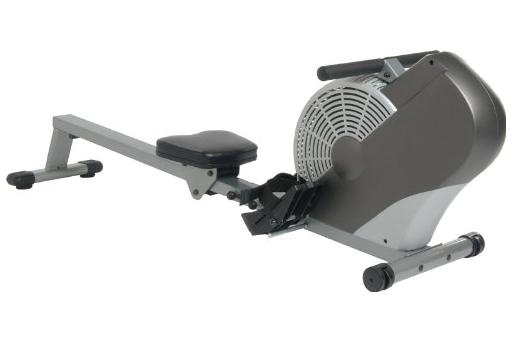 The RW1000 supports users up to 300 pounds in weight and has a 5-year, 2-year and 1-year warranty on frame, parts and labor, respectively. The solid steel frame is sturdy enough for home and commercial gym use that you won't have to worry about it breaking in the most inopportune time.
The flywheel mechanism of the RW1000 uses an eddy current drive with 5 resistance levels. It works quietly enough as not to wake the rest of the household. The intuitive console is very easy to use and has readouts for spm, stroke count, calories, time and distance.
This rowing machine is comfortable enough to ride for lengthy periods, thanks to the injected foam seat and large footrest with Velcro straps.
Pros
Quiet operation
Easy to use console
Less Expensive
Cons
See it at lifespanfitness.com
10. Stamina Avari Programmable Magnetic Exercise Rower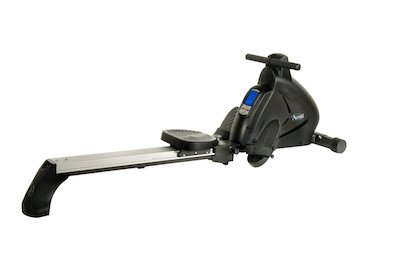 Rounding out our list of the top rowing machines for home use we have a budget-friendly rowing machine that uses magnetic action to simulate motion, the Avari Exercise Rower gives you a ton of workout benefits, which include complete lower and upper body training!
The rowing equipment can be mistaken for a futuristic snow sled due to its covered flywheel and thick base. At the front is a backlit LED display with twelve pre-set workout programs and workout data readouts, e.g., count, pulse, distance, time and spm.
The highlights of the machine include the low-slung base and super-tough aluminum rail that keeps on going even when you're all worked out. A lower center of gravity means you're more stable and able to push more in terms of effort and training.
Stamina has made sure that your hands, feet and bottom are comfortable, with foam padding on the handle, large footplates and a molded seat to address those issues. The company has even thrown in a free chest strap that allows you to monitor your heart rate and optimize your training further.
For a budget offering, this rowing machine is hard to beat. While the experience isn't as smooth as its air- and water-based flywheel counterparts, you won't have to worry about the rower conking out after years of use.
Pros
Good value for money
Durable components will last a long time
Foldable and easy to install
Cons
Magnetic flywheel can be noisy on higher settings
See it on Amazon.com
Kinds of Rowing Machines
The rowing machine is a great piece of exercise equipment and allows for an extensive workout when one has minimal space in which to work out. There are four types [listed below] that provide the same basic workout with each including an adjustable resistance mechanism. The resistance mechanism can be manipulated by the user by changing water levels/air pressure/pulling harder on the handle to increase the level of intensity of the workout.
Water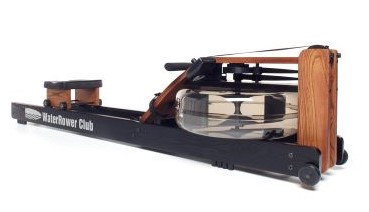 Water rowing machines simulate the tension and resistance of paddling out on the lake. Pulling the handle makes the paddles move through a container that's filled with water.
This type is best for rowing enthusiasts and those who want to enjoy their time spent on the machine. Adjusting the difficulty is just a matter of fiddling with the dial. Premium models forego the need to take out or put in water manually, thereby allowing you to concentrate on the training.
Almost all water rowers are designed to look good in just about any room or setting in the house.
Air or Flywheel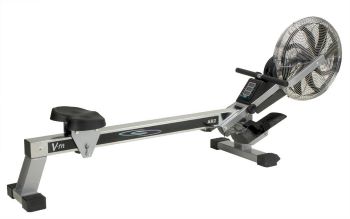 Air and flywheel rowing machines are the most prolific kinds out there. Pulling the handle works a flywheel and sends its blades spinning. It works similarly to an indoor bike that has a flywheel mechanism- rowing faster gives you more resistance and thus makes the effort harder to sustain.
Resistance is fully customizable and won't require you to push a button or adjust a knob. If you want higher intensity, simply row harder; otherwise, slowing down makes it less intense. This type of indoor rowing machine is good for athletes who want to push themselves for maximum gains.
Magnetic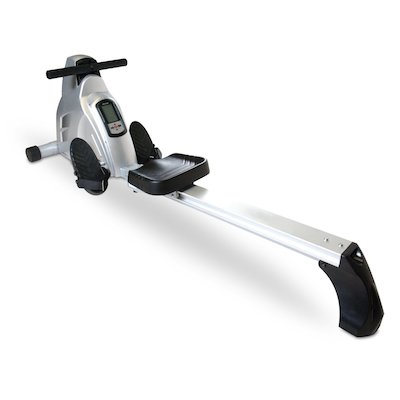 Magnetic rowing machines, or sometimes referred to as programmable rowers feature magnets on the flywheel to create resistance. You change the difficulty via a lever that puts the magnet closer to the flywheel.
Magnet-based rowers are typically cheaper but they can still be a worthy investment. The magnet mechanism makes for a less dynamic movement as it won't respond to how you pull.
There are mag-air hybrids that combine air and magnetic resistance for a greater range of programs. For those who are more about results than the experience, magnetic rowing machines may be for you.
Hydraulic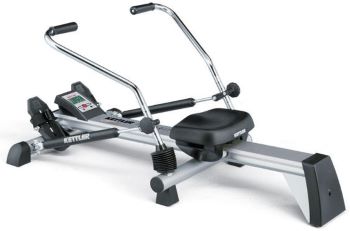 Hydraulic rowing machines use a piston mechanism to simulate resistance. Adjusting the tension is mainly done by controlling the amount of fluid or air inside the piston.
In terms of portability, they're the best of their kind. What's more, there's minimal noise when operating a hydraulic rower compared to, say a water or flywheel machine. They are also quite easy to store.
For those who have limited space and worry about the noise a rowing machine makes, a hydraulic rower is a good option that can deliver a full body workout.
Conclusion
There you have it- the top rowing machines for home gyms. Read up and buy with confidence knowing that the equipment you choose will be the one that's right for you!