(Last Updated On: March 4, 2021)
Exercise bikes are a great addition to any home gym.
In your search to find the best indoor bikes you'll be presented with virtually unlimited options, but how will you know what's right for you?
Some things such as size, ease of use and customer support will be easy to determine, but you'll also have to factor in comfort, maintenance and cost, among others.
Whether you're looking for a feature-laden bike with all the bells and whistles or something that can do the job with little to no upkeep required, we have compiled a list of the best exercise bikes in the market today. Take a look and see what each product can offer.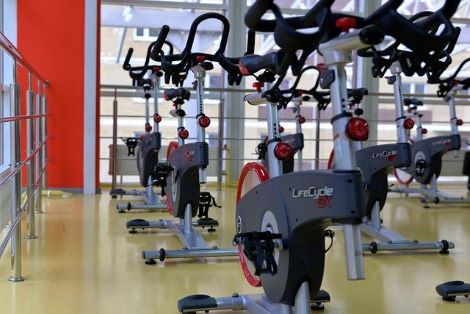 Related: Best Treadmills on the Market
Types of Home Exercise Bikes
Upright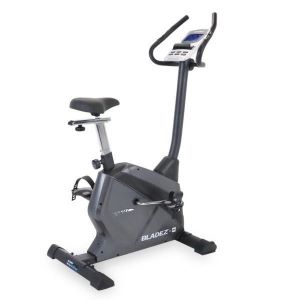 Upright bikes are perhaps the most common type of exercise bikes. They're shaped just like real bikes and have the pedal and handlebars at the same location as their outdoor counterparts.
Uprights are quite versatile and feature-packed, with adjustable seats, ergonomic handlebars and displays that show your workout data, e.g., speed, calories burned and more.
It's also worthy to note that an upright position allows you to engage more muscles compared to, say a recumbent bike. You can also assume many different riding positions depending on your style, comfort and preference.
Recumbent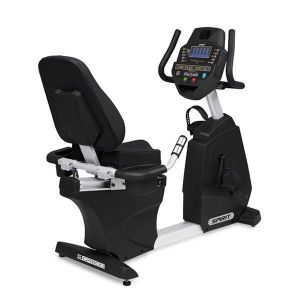 Recumbent bikes have become popular lately as they offer something a stationary upright type can never do- ultimate comfort.
Imagine reclining on your favorite couch or chair while getting the benefits of a low-impact exercise. It supports the back so you won't feel as sore and can ride for longer.
Recumbents take up larger space than uprights and can quickly invade a bedroom or a living room, for instance. However, you get a more stable form of exercise as it offers a lower center of gravity. They're typically more expensive than their upright counterparts.
Indoor Cycle Bikes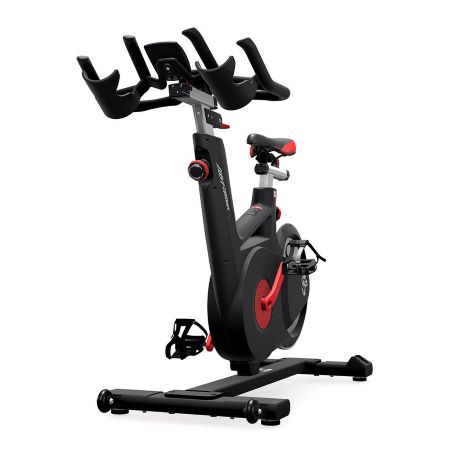 You may think that indoor cycle bikes are the same as upright ones, but this is a common misconception. The difference lies in the flywheel mechanism. They also go by 'spin bikes' which can help clear up the confusion.
Indoor cycles have a heavier flywheel that offers a simulated outdoor riding experience. Some models feature a braking system for added resistance. Uprights use magnets to create resistance, and pushing buttons can make you feel like riding uphill or cruising along a level street.
Other than that, they're both pretty similar in terms of positioning, control and muscles worked.
Air Bikes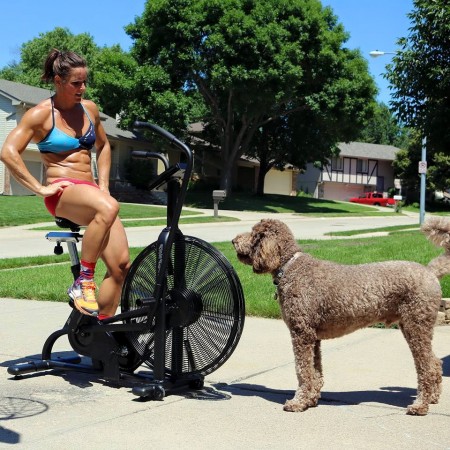 An air bike, otherwise known as a 'fan bike' has a resistance fan instead of the usual flywheel mechanism. It's unique in a way that you don't need to press buttons or adjust levers to simulate the terrain- the harder you push on the pedals, the more difficult it's going to get!
The unlimited wind resistance feature makes air bikes transcend the limitations of flywheel mechanisms. It can make your workouts more efficient as you'll need to work harder to maintain a good rhythm.
Related: Best Home Gyms for Weightlifters
Best Exercise Bikes for Home Use
No matter what type of bike you are looking for, these are the best on the market.
1. IC6 Indoor Cycle by LifeFitness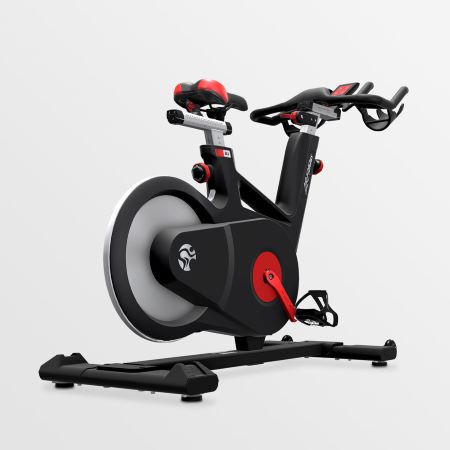 The IC6 Indoor Cycle offers an excellent balance of comfort and performance and premium, high-quality components. Whether for professional training or casual use this indoor exercise bike won't let you down!
LifeFitness ups the indoor cycling experience with exclusive features such as the Wattrate Power Meter, a full-color TFT display and a self-powered generator. Gone are the days when getting on an indoor cycling machine means an uncomfortable ride- the IC6 emulates a road bike experience with a 155mm Q Factor (the distance between your feet and pedal when you sit) and easy 4-way adjustments at the handlebar's fore/aft, handlebar height, saddle fore/aft and saddle height.
Exercise is handled and interpreted by the Wattrate Power Meter and displayed on the TFT computer screen up-front. You can easily see the training data thru Bluetooth or ANT+ technology.
The IC6 Indoor Cycle also helps you work out more efficiently, thanks to the poly-v drivetrain belt. Operation is whisper-quiet and won't disturb sleeping children or spouse even when you cycle in the bedroom or living room.
What we love about the IC6 is how you get a smooth ride each time you step up on the saddle. There are some quality of life improvements here, notably the dual-sided pedals, a special comfort sport saddle and pin-to-lock adjustments on the handlebars and seat. Last but not the least, the futuristic form factor and sleek design means you can place the exercise bike just about anywhere!
Website: Lifefitness.com
2. 510ic Indoor Cycle Magnetic Trainer by Diamondback Fitness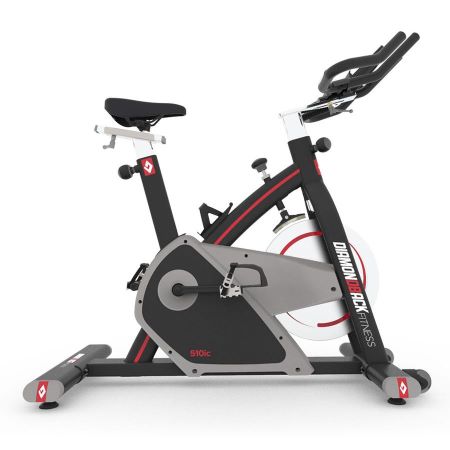 What else can we say about the rated 'Best Buy' product by Consumer Magazine for 5 years? It's one of the best indoor cycle bikes to get due to its stellar features and great value for money!
The brains of the bike has 16 resistance levels. Instead of turning knobs, you can set the level with just a button, then pedal away. Depending on your preferred intensity and duration you can transition between levels and experience gradual ease or difficulty. It's similar to going uphill or gradually sloping downhill without the jarring stops associated with run-of-the-mill bikes.
All pedaling efforts will be shown on the 510ic's LCD screen, including heart rate, distance, speed and time elapsed, among others. There are twelve workout programs and four heartrate controlled ones too.
The 510ic doesn't skimp when it comes to rider experience. It offers complete customization such as multiple adjustment settings to the handlebar fore/aft, handlebar height, saddle positioning and seat height. It even has added bonuses such as multi-position handlebars and custom bike seat support for an exercise bike you can call your own.
What we like about Diamondback Fitness' product are easy controls, customization options and premium materials. The quick-adjust options help out in multiple user scenarios and the bike runs like a dream. You can work out anytime you like, even in the morning and wouldn't wake a single soul!
Website: DiamondbackFitness.com
3. IC4 Indoor Cycle by LifeFitness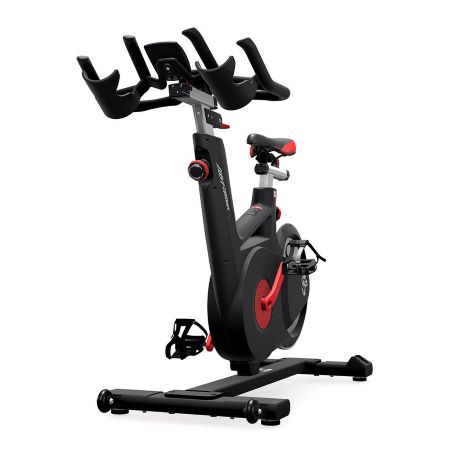 Two IC models taking up the top spot in our list of best exercise bikes? It's not a fluke, but rather a testament of how good LifeFitness products are.
IC4 Indoor Cycle is an older iteration of the IC6 but it does have a few breakout features of its own. One thing that stands out is how the bike's magnetic brake system and drivetrain and virtually maintenance-free, which means you won't have to get it serviced every so often.
Belts and resistance components are what wears out first in exercise bikes, but with the IC4 it's not the case. You get a poly-v belt that allows for improved technique and a magnetic resistance lever located just below the handlebars. The lever can be adjusted depending on your preferred workout intensity and is within easy reach.
The IC4 indoor bike will be your exercise buddy for years once you have the personal adjustments down pat. Shift the saddle height, handlebar aft/fore and saddle aft/fore until you get the most comfortable ride. LifeFitness products have that 155mm Q Factor which equals better, more efficient strokes and the feeling of riding a real road bike!
Website: LifeFitness.com
4. Spirit CIC800 Indoor Cycle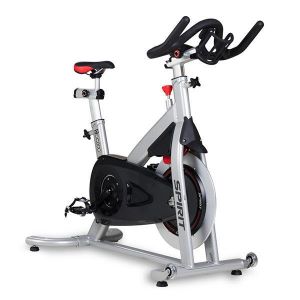 The Spirit CIC800 Indoor Cycle is termed a 'commercial' bike as it's tough, has a relatively small footprint and can maintain its flywheel resistance for a long time.
Under the hood are three key components- a 3-pc. crank, an industrial-grade Hutchinson belt and needle bearings in the flywheel axle and pedals, all working together for improved performance and durability.
In terms of quality of life, the CIC800 offers handlebar and seat adjustments, as well as the SPD dual pedal design that can significantly improve comfort and ride experience. It's also stable, thanks to a bottom bracket cartridge and sturdier connections compared to a square joint.
First-time cyclers will appreciate the quick-stop brake, the adjustable saddle and built-in water bottle holder. Aluminum posts make the CIC800 lighter than the competition. The stainless steel finish lends a premium feel that's reinforced each time you put the bike through its paces.
Spirit Fitness covers various warranties for the parts depending on whether it's for commercial or residential use. Homeowners get lifetime on the frame and 3 years for the parts, a year for wear items such as grips, end caps and toe cage straps, and a year for labor.
Available at FitnessFactory.com
5. Schwinn IC Classic Indoor Cycle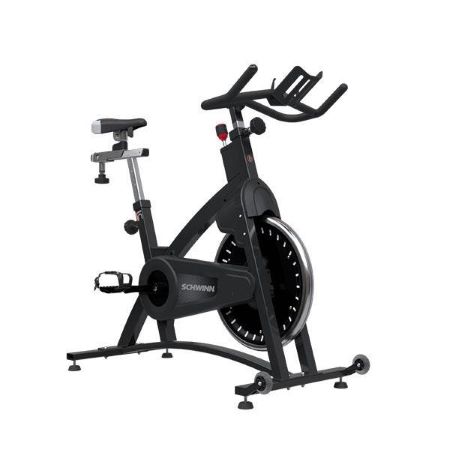 Schwinn's indoor bike looks pretty straightforward at first glance. The all-black frame and shiny flywheel offer a no-nonsense ride with unparalleled workout results. But when you check the specs and manual you'll find that the bike is outfitted with premium features no other brand can give.
Schwinn is a renowned brand, but how does it stack against the competition? The IC classic is a nod to traditional exercise bikes in form, but it actually boasts several notable tech improvements. The IC Classic has the innards of the IC Pro 20 (mainly the drive train) and the Studio 3's innovations.
The indoor bike supports the Cadence Pro console so you can get a reading on essential data such as RPM, heart rate and more. It's also compatible with Triple Link pedals for an immersive riding experience. You can place your water bottle and smartphone on the holder and mount and enjoy a narrow Q-Factor for extra comfort and efficiency.
Direct pressure brakes, heavy perimeter flywheel and a steel frame ensure you get the most out of the IC Classic. The bike can even accommodate a 6'8″ individual who may struggle with traditional indoor cycles.
See it at FitnessFactory.com
6. 1260SR Recumbent Magnetic Exercise Bike by Diamondback Fitness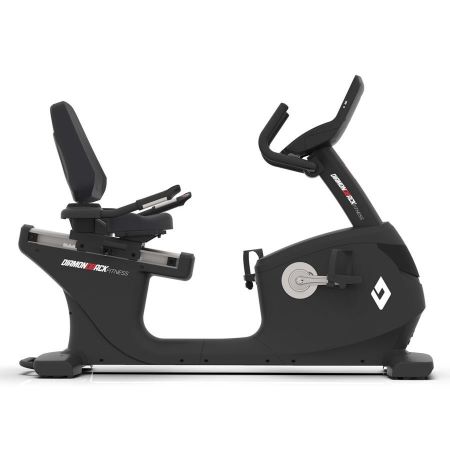 The 1260SR is one of the best recumbent bikes out there. If you have the extra budget and want to experience a comfortable ride, then it's a worthy consideration.
Diamondback touts that their recumbent bike fits people of all fitness levels, even those who have back or joint pain. Once you've made enough room for the bike in your living room or home gym then it's just a matter of stepping in and cycling away.
The smart trainer feature is worth talking about here. You get auto-adjusting resistance depending on the intensity level you choose, which means no more touching the knob or pressing a button. Speaking of which, there's a total of 32 resistance levels and 15 workout programs.
The LED console displays relevant workout data without you having to lean forward as you pedal. As always, you get important readouts such as speed, load, calories, distance, watt output and heart rate, among others. It's also compatible with wearable technology and apps like SPIVI, Myzone, Rouvy and Zwift.
The step-through frame makes it super convenient to step in and out, while front handlebars allow you to get extra assistance when you're done with your workout.
Website: DiamondmackFitness.com
7. Rogue Echo Bike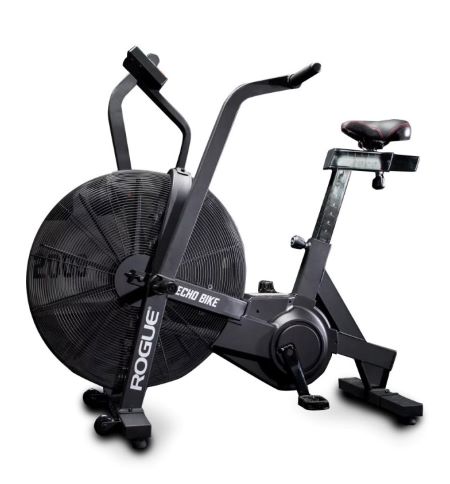 The Rogue Echo Bike is an air bike that features a huge resistance fan at the front. It's massive, heavy-duty and can take a daily beating.
The air bike is heavy at 127 pounds and can accommodate frames up to 350 pounds. Users can work the pedal and won't feel so much as a wiggle or instability, thanks to the steel construction and rock-solid foundation. The addition of wheels makes the Rogue Echo surprisingly easy to move around from one room to another.
A high-contrast LCD display shows up at the front and displays essential user data. You can choose from several modes such as Target, Calories or Intervals with just a few button presses.
Like most air bikes the Rogue Echo blasts out more air the harder you push. You can get a higher level of performance and greater rewards without having to adjust the resistance every five or ten minutes.
Website: Rogue.com
8. True C900 Recumbent Bike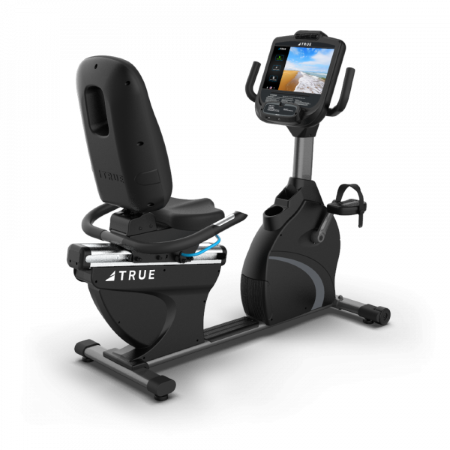 True Fitness' 900 Recumbent Bike is stylish and comes in a smaller footprint than most recumbent models. You'll be able to fit it in a studio or apartment without it dominating the space.
Optional attachments come in the form of armrests, and you get several consoles to choose from. The Envision+ Compass offers the whole package, from built-in workout programs to being able to display web and entertainment content. The Showrunner has TV capabilities in a 16-inch screen. If you don't want to be distracted you can choose the simple and functional Emerge.
A recumbent bike lives or dies by its seat, and the C900 doesn't disappoint. You get custom-molded and ergonomic bottoms that are breathable and have multiple recline settings.
Rounding out the rest of the stats are dual-sided pedals, quick-access controls, a dual-stage drive system and self-generating capabilities. Based on the specs the C900 is mainly focused on providing utmost comfort and luxuries of a high-end exercise machine.
See it at FitnessFactory.com
9. Airdyne Pro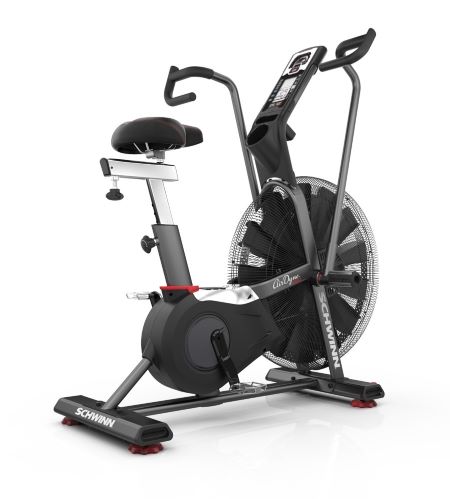 The Airdyne Pro is Schwinn's pride and joy in the air bike category. The machine is an all-purpose stationary bike that operates via air resistance technology, which means you're not assisted by magnets or flywheels as with most upright and recumbents.
Push the Airdyne Pro as hard as you can and it will still stand, ready to be used for a long time. Schwinn has managed to put in a steel body construction, solid steel cranks and a weighted flywheel design. The handles may look basic but they allow the user to get a horizontal or vertical grip depending on their preference.
Improved foot platforms allow for better push-off and reduced slip while the padded seat should provide a comfortable ride for a few hours. You can even get a customized seat clamped in via a universal rail & clamp system.
Schwinn's air bike has a drive belt system that doesn't produce too much noise and yet can challenge you enough to give you the workout you want. You can even get an air diverter tool if you don't want all that current blowing in your face.
Website: Roguefitness.com
10. Landice U9 Upright Bike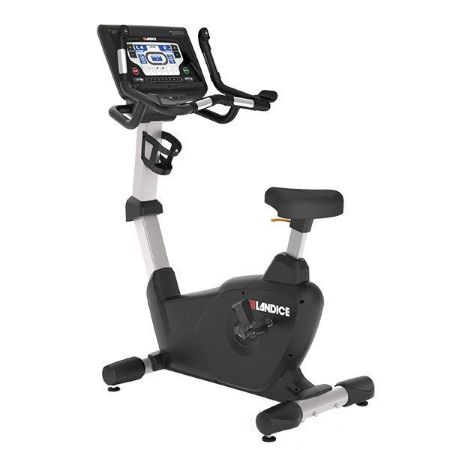 The U9 Upright Bike is a self-powered machine that doesn't require batteries or plugging in. You get a 15-lb. flywheel working a range of resistances, tempered by an Eddy magnetic braking system.
All that speed and you'll need a high-quality handlebar to stabilize yourself, and Landice answers with racing-style handlebars equipped with resistance and heart-rate controls. As for customization, you can choose between 12 height adjustment settings.
Now, let's talk about creature comforts. A versatile rack up-front allows the user to prop up a book, tablet or smartphone, while a bottle holder secures your water. The Bike Control Panel handles statistics such as calories, RPM, heart rate and more. 8 built-in programs can give you something to aim for whenever you step up on the exercise bike.
The wireless heart chest strap and the 19-inch LCD monitor Landice Vision are optional purchases.
See it at FitnessFactory.com
Conclusion
Take your time and read up on what each bike has to offer so you can get the best value for your money. The best exercise bike for you is something that can give you a great workout anytime you want and has the features to make the experience and ride a smooth one!