(Last Updated On: May 12, 2022)
While your gym bag may not be the most glamorous thing in your closet, it's probably one of the most important.
You need to have a good enough bag that will keep all your gear safe and dry and also look nice enough to carry into work or anywhere else you're going after hitting up the gym.
The best way to find a perfect match is by checking out this list of 15 bags we think are top-notch.
We've got something for everyone from fitness fanatics who go hardcore at the gym every day (hello Crossfit) to people who want a bag that looks professional when they bring it to the office.
Best Gym Bags Quick List:
See below for detailed information about each.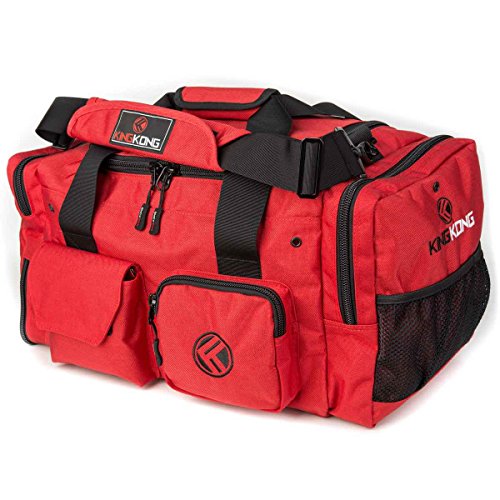 The 15 Best Gym Bags On The Market
These are the best gym bags on the market. No matter what you are looking for in a gym bag you will find it in our list below.
Best Gym Bag Overall
Plus45 King Kong Duffel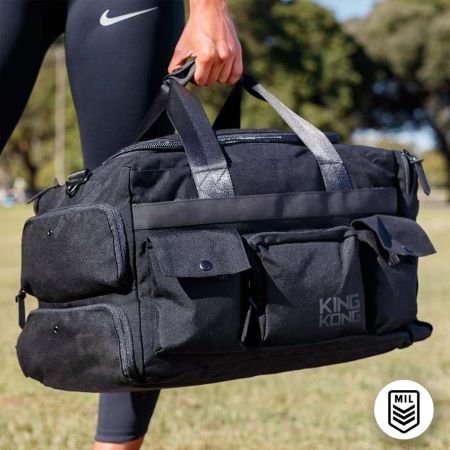 Available at KingKongApparell.com
With a brand name such as King Kong you'd expect unequaled toughness and superior dependability. The good news is that yes, the Plus45 Duffel Bag is all that and more!
Building upon their original duffel KingKong expanded on what was good and improved it even more. The gym bag sports a 1000D nylon material that's super lightweight and yet boasts superb strength. Strategic heavy-duty Hypalon reinforcements are sewn on the middle, side, and top and acts as an anchor for the handle.
The Plus45 is carry-on compatible, with nice finishes such as YKK zippers and a carbon steel buckle so you won't have to worry about rips even when on or above maximum load. It has multiple pockets and compartments, as well as dual bottle compartments for your devices, car keys and water bottle.
We love the unique dual shoe zone design as it allows you to easily swap between sports shoes and casual shoes. The Plus45 is your best all-around option!
Best Gym Bag with Yoga Mat Holder
LUCKAYA Yoga Mat Tote Bag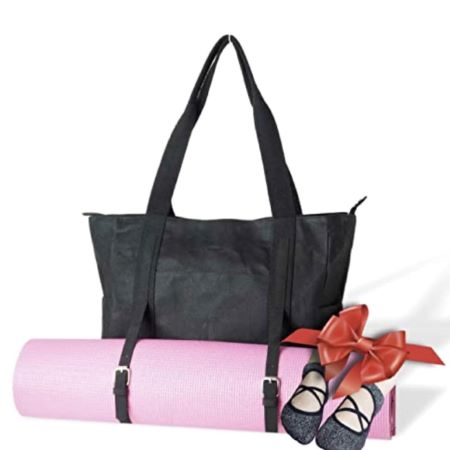 Available on Amazon
Normally a tote bag can act as a gym bag but then you'll have to carry your yoga mat separately. However, LUCKAYA has made it so that you'll be able to bring your yoga mat and still have two hands free while doing so!
A simple yet ingenious design makes this possible. At the side are adjustable straps that can hold yoga mats of any size. The bag is made from strong and lightweight material and reinforced with seams and stitching. If you think that the handle will wear down first, you'd be wrong.
The tote bag by LUCKAYA is spacious enough to accommodate all your gym gear, and there's a compartment where you can put your wallet, phone and car keys. You can fit a laptop anywhere between 13 to 15 inches in, and a metal ring can accommodate key chains, hand sanitizers and similar items.
Best Gym Bag with Shoe Compartment
King Kong Plus26 Backpack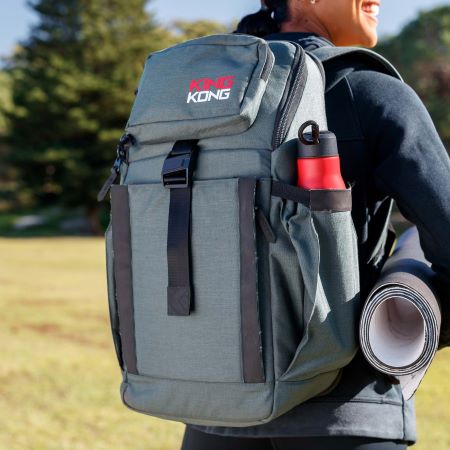 Available at KingKongApparel.com
King Kong never fails to impress, and their Plus26 will wow backpack and gym enthusiasts who want their gym shoes in the right place.
The backpack adopts an 'out of the box' idea, which pays off big! The front features an external shoe compartment where you can slip your shoes right in without having to open a zipper or latch. While this may not sound much, its utter convenience will win you over because now you can wear the shoes you want in just a few seconds.
Rounding out the details, you get a 16″ padded sleeve for your laptop, a large water bottle pocket on each side and several color options depending on your preference.
Related: Best Gym Bags with Shoe Compartments
Best Gym Bag with Laptop Compartment
Nike Brasilia Backpack
Available on Amazon
The 24L Nike Brasilia Training Backpack is unassuming, yet holds a superb feature for laptop owners and those who usually bring their work with them.
Technophiles will find a lot to like, especially when you open the pack and peer in. Everything is padded inside, and thus all electronic devices you put in will be 100% safe and secure.
The main draw of the backpack is easily its ability to hold your laptop, headphones and other small items such as charging cables, power banks and even portable solar panels. With it, you won't need to switch bags and go from gym buff to work mode or even outdoor warrior as soon as you finish working out.
The fabric is 100 percent polyester, and for carrying comfort you get adjustable shoulder straps and a padded back. The bottom panel is water-resistant, which means your devices will be safe from the occasional puddle drop.
Best Gym Bag with Wheels
REDCAMP 85L Foldable Duffle Bag with Wheels
Available on Amazon
Plan to bring all your training equipment and set up a mobile gym anywhere you please? Then you'll need the duffle bag with wheels by REDCAMP. The bag alone makes it possible, thanks to the large 85L compartment space and super durable rubber wheels on one end.
It can double as a travel bag should you wish. What we like about the REDCAMP duffle is that it can collapse and be rolled into a fraction of its size, and therefore save you space when not in use. In terms of durability the gym bag doesn't disappoint- you get reinforcements where it matters, and the material is highly resistant to tearing.
Last but not least, you get several carry options, including as a backpack, one or two-hand or just let it roll.
Best Gym Bag for Crossfit
Rogue Gym Bag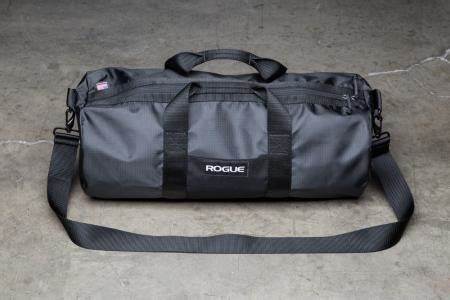 Available at RogueFitness.com
Don't let the simple product name fool you- Rogue has an excellent gym bag for CrossFitters and those who expect nothing but the best.
The Rogue Gym Bag may be non-descript but that's nothing compared to the quality and durability you'll get from a top-notch bag. The combination of 1000D Cordura Nylon, reinforced handles and straps, metal rings and YKK zipper ensures you'll get years of use and abuse.
Crossfit is a hyper-active regimen that demands plenty of energy, and the gear required to perform can rip through most ordinary bags. With the Rogue gym bag you get a durable bag with a versatile design- carry your clothes, shoes and even valuables such as your phone or tablet in the internal pocket and they won't bump together.
Best Gym Bag on Amazon
Under Armour Adult Undeniable Duffel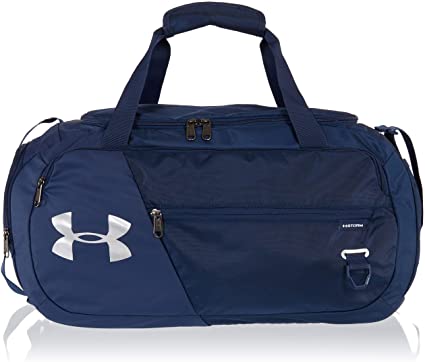 Avaialble at Amazon.com
Skip the no-name brands and head straight to Under Armour's duffel bags when shopping on Amazon. You'll want to pay special attention to the Undeniable Duffle bags, which are superb value for money.
What immediately stands out is the wide color selections that cater to every individual. You can pick combinations such as green-black, gray-black, red, purple and navy, among others.
The Undeniable duffle touts UA Storm technology, which is a finish that staves off water, dust and elements that could cause premature wear and tear. Granted, Under Armour products are a bit more expensive but when they have features like these then you can be sure that they stand the test of time!
The bag comes with all the bells and whistles you'd expect, including D-rings for attachments, vented pockets for your shoes, a padded grab handle and bottom and side panels.
Plus, the HeatGear is a nifty feature we'd love to point out. Basically speaking, it's a shoulder strap that's padded and removable and helps ease strain and stress. It's a welcome addition when you're all tired and achy at the end of a marathon workout.
Related: Best Squat Racks on the Market
Best for Team Sports
Adidas Team Issue 2 Medium Duffel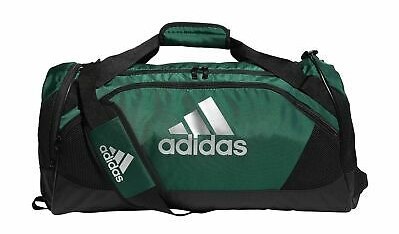 Available at Amazon.com
Score a cool-themed bag with 12 color options when you pick the Adidas Team Issue 2. It's undeniably sporty and speaks for itself, but the real gem is its multiple compartments and a water-resistant base.
The medium size is actually perfect for the occasional trips to the gym and when you need to show up at a sporting event. You won't need any other bag or storage since it can hold your essentials, your shoes and workout gear.
100% polyester material is easy to clean and won't fade even when left out on the sun. Fans of the brand will like the way the logo is emblazoned at the front, side and on the shoulder strap. Each purchase of the Team Issue 2 comes with a lifetime warranty.
Best on a Budget
GetRxd Gym Bag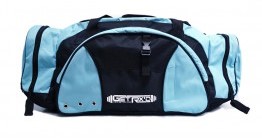 Available at GetRxd.com
Spent all your money on a new home gym and gear and forgot that you still need to buy a gym bag? No worries, we got you. All you need is the Get RXD Gym Bag and you're all set.
GetRXD is a popular gym equipment brand, and they did quite well with their gym bag product. It has all the features you'd want in a basic duffel, including metal clips for attachables, a double grip handle, multiple specialized compartments for your car keys, glasses, smartphone, wallet and others.
There's even a shoe bag, vent holes so air can pass through and shoulder straps with reinforcements. You'll be sure to get plenty of use with the Get RXD Gym Bag.
Best Gym Bag for Women
GymBunnies Fresh All Day Gym Bag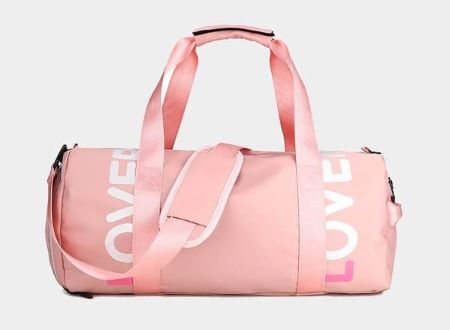 Available at GymBunnies.com
We're confident that ladies will love the LikeBunny Fresh All Day Gym Bag. Why? Because it's a perfect size and is perfect for just about any activity you'll be doing for the day. It even has the perfect number of pockets and can hold all your stuff.
The material is lightweight and breathable, which means air passes through and keeps your clothes, shoes, towels and accessories fresh. The smaller pockets are ideal for your shoes, laptop or mobile phone, and the bag works as a daily driver in a pinch.
Oh, and did we mention that it's waterproof? You won't have a ruined outdoor trip just because your gym bag accidentally fell in a puddle or got rained on. LikeBunny has a 100% satisfaction guarantee and good customer support if ever you have questions or concerns.
Best High End Gym Bag
Luxury Leather Gym Bag by B Winston Designs
Available at Amazon
When it comes to high-end gym bags there's nothing like the Luxury Leather Gym Bag by B Winston. It oozes with style, packed with details and is guaranteed to last a lifetime.
What we like about the B Winston gym bag is how it's made from 100% genuine black buffalo leather, which instantly puts it in the luxury bag department. You'll love the tactile feel as you run your hand through it, and it only gets better in time.
On each end are two external pockets with strap closures. Wide zipper, double rounded handles and an adjustable shoulder strap complete the details. It's perfect for the gym, overnights and traveling through any destination. You also get lifetime warranty on a bag that promises to stick with you through thick and thin!
Most Durable
GoRuck GR1 USA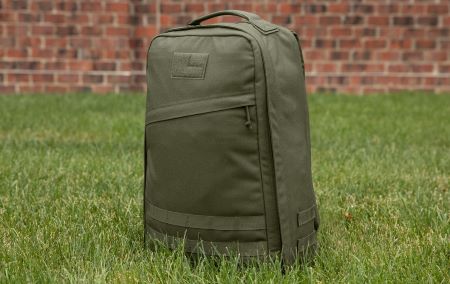 Avaiable at RogueFitness.com
The GR1 is one of the few that has the 'overbuilt' tag, which means it can go above and beyond the call of duty. It's basically a use-and-forget type of backpack, and it ages great as well.
GoRuck touts their pack as 'Special Forces quality' and synonymous with American manufacturing, and it shows in every regard. The main material is 1000D Cordura and can accommodate your gym gear easily. It even has a compartment for laptops and sensitive equipment, and internal and external pockets for odds and ends.
What makes the GR1 so tough is its rainproof characteristic, a bombproof compartment, YKK zippers and a hard plastic frame sheet. You also get 3 rows of MOLLE webbing for setting up your pack however you want.
The GoRuck GR1 has size options of 21L or 26L, and color selections such as Coyote Brown, Steel, Black, Wolf Grey and Ranger Green.
Best for the Office
Aer Gym Duffel 2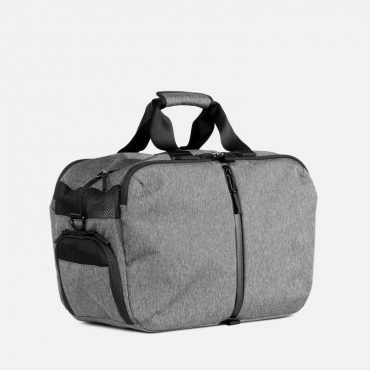 Available at Aersf.com
Most of us hit the gym after a day at the office. If this is you, you may want to invest in a gym bag that can support both work and play for absolute convenience.
We recommend the Aer Gym Duffel 2 as it offers the best of both worlds when it comes to storing work and gym essentials. For one, it's spacious enough to accommodate your laptop, planner, paperwork and others, and your gym clothes, shoes and a water bottle or two.
Plus, the Gym Duffel 2 shies away from the traditional duffel look and is stylish and functional enough for corporate settings. As for the material, it has YKK zippers, a 1680D Cordura exterior, ventilated main compartment and shoe compartment, a padded laptop pocket and multiple internal pockets for your car keys, ID, wallet and smartphone.
Best for Swimmers
Speedo Large Teamster Backpack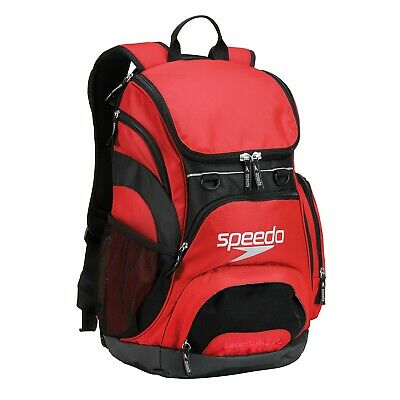 Available on Amazon
What better pack for swimmers than one made by Speedo? Their Teamster Backpack is loud, bright and has all the features you'd want when you're heading out to the pool.
It's the go-to backpack for swimmers because it caters to their every need. Take, for instance, the pull-out bleacher seat that's made of foam and allows you to sit on cold or hard surfaces as you prep. The removable dirt bag is a welcome addition so you can put your wet swimwear and keep it separate from your dry clothes.
The bottom of the pack is water-resistant, and there are side and front zip pockets for your essentials and valuables. The exterior is colorful and has a durable shell for everyday punishment.
Team colors and a shape that's reminiscent of the Pro Backpack will make it a familiar pack for those who choose Speedo as their go-to brand.
Best Backpack Gym Bag
King Kong Plus26 Backpack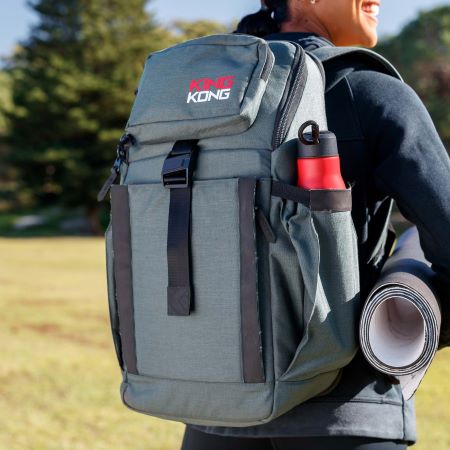 Available at KingKongApparel.com
Want your next gym bag to be a backpack? No problem. Take a look at the Plus26 backpack from King Kong- it's durable, sports enhanced functionality and features that make it a superb bag for just about every trip or outing.
The 26L capacity is more than spacious enough for your gear, clothes and a laptop or two. King Kong has that convenient front pouch compartment where you can take out or put in your shoes in two seconds flat. A mini compartment upfront can stash your essentials and smartphone.
The material is 1000D nylon and Hypalon reinforcements. You also get YKK zippers and a quick-release buckle for easy access.
How We Decided
Durability
If you're like us the first question on your mind will probably be, 'will that gym bag last a long time?'
Material, reinforcements and padding will determine just how tough a pack is, and the good thing is that these details are included in the product description.
Then, we give bonus points to those that have extra features, such as water resistance, abrasion-proof and similar characteristics.
Price
The next query to determine if a bag is right for you is the cost. Or, is the product good value for its asking price?
Except for high-end bags, the range should be reasonable. It can go higher if there are unique features but then it shouldn't be out of reach. Ultimately it will depend on your budget and how much you're willing to pay for a good pack for your gym gear.
Manufacturer Reputation
This one is easy. We lean more towards brands that have built a reputation for excellent gym bags or niche products, e.g., equipment and stuff, and favor them more than no-name ones.
Reviews
Lastly, we base the best gym bags on how many positive reviews it has online.
Other than marketplaces such as Amazon we also check the manufacturer's website and aggregate sites. Going deeper, we check the points, e.g., why did it have a low score? then compare with its plusses, e.g., good customer service, price, etc.