(Last Updated On: December 25, 2021)
Plyo boxes are easily the most versatile and convenient gym equipment available.
Don't let the minimalist design fool you- some of the best plyo boxes are those that resemble step-up boxes and organizers. They're actually genius in this regard because they allow you to train and complete plyometric activities to strengthen your core, lower body and make you faster and more explosive than ever!
If you're getting ready to buy a plyometric box, we can help. There are hundreds of different plyo boxes out there, each with its own pros and cons.
Take a look at our recommendations for the best plyometric boxes below.
Quick list for the best plyometric boxes on the market.
See below for the complete list and details about each plyo box.
Best Plyo Box Overall
Rep Fitness 3 in 1 Sof Plyo Boxes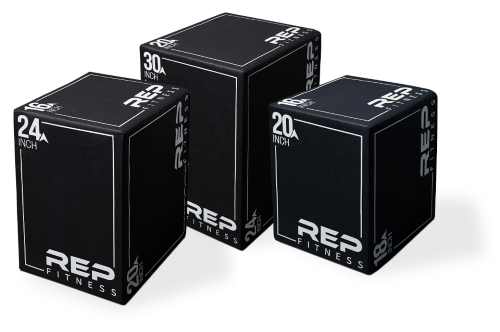 The Rep Fitness 3 in 1 soft Plyo Boxes nabs the 'best overall' spot because the manufacturer, Rep Fitness pays attention to details. It's quite an extraordinary specimen any way you look at it, from materials to construction and even how it performs.
Beginners and veteran athletes and trainers alike won't have to go anywhere else- the 3-in-1 plyo comes in several sizes, namely 20x24x30, 16x20x24 and 14x16x18. We recommend the smallest box for beginners, while for seasoned veterans we say go for the biggest!
What we truly love about it is how it's constructed and made from several materials to ensure safety, durability and performance. The base is wood that's covered in soft EVA foam, with a cover to minimize shin scrapes and for better traction. The anti-slip PVC mesh is a godsend for those who don't want to take chances, and emblazoned across the canvas are printed heights on the side they're on so you don't have to guess.
The Rep Fitness 3-in-1 foam plyo box will be ready to go where you take them, e.g., the home gym, the garage or even outside. Rep Fitness strikes a nice balance of stability and weight- you'll be able to carry them easily and won't shift unnecessarily when you're working out.
Pros
Superb wood/foam and cover construction
Comes in 3 different options
PVC mesh is splash-proof and won't fade early
Cons
Available at RepFitness.com
Related: Best Plyometric Exercises for Athletes: Plyo Workouts
Best Wooden Plyo Box
Rogue Wood Plyo Boxes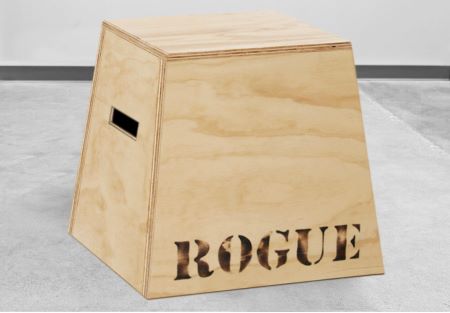 If you're looking for boxes that are the same as the ones in CrossFit competitions, then this is it. Being a Rogue brand there's no doubt that you'll get a quality wood plyo box that offers superb value for money!
The 20x24x30 box is made from a three-quarter inch thick Radiata Pine ACX, which is reinforced with an interior panel for better integrity. To prevent splinters and workout-halting concerns every wooden end is CNC machined and made to accurately fit joints for easy assembly. There's a convenient handle so you can lift it up or turn it over and get to your desired height faster.
What we like about the Rogue Wood Plyo Boxes is that it sports a 3 in 1 design and goes mid-spec to accommodate individuals of all skills and sizes. You'll be able to use the 20, 24 or 30 inch side for your plyometrics, and the pine material holds up even in the face of the toughest workouts.
Rogue recommends setting the box on a non-slip surface for maximum stability. It's hefty enough at 56 lb and can withstand a good deal of pressure when putting your weight on it. Afterward, you can easily stash or disassemble as you want.
Pros
Rounded edges and reinforced interior for safety and stability
Made by Rogue
Used in CrossFit Games
Less expensive
Cons
Not water or rain-proof
Not padded
Available at RogueFitness.com
Best Soft Plyometric Box
American Barbell Soft Plyo Box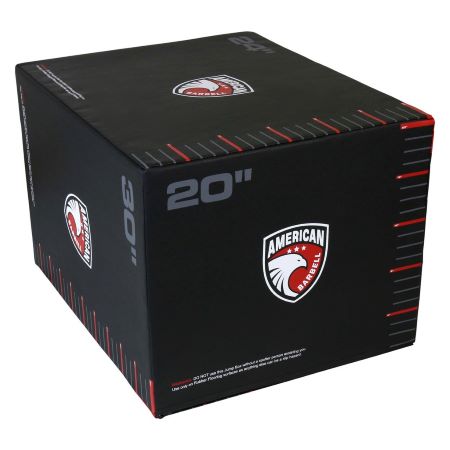 Not only does the American Barbell's plyometrics box win the best soft plyo box award but it's also a frontrunner in the 'best-looking' department due to its stylish design.
Aside from the height print on the corner you also get treated to a cool American Barbell print, and some ruling lines for good measure. Heights are in 20, 24 and 30 inches and are versatile enough to cover almost every plyometric exercise you wish to execute.
The main material of the soft plyo box is high-density foam, which is excellent in staving off injuries and scrapes. It's lighter than wood/foam combos and wood-only boxes, and you'll have an easier time flipping the box to get to your desired height.
You might be surprised to find that this foam plyo box does okay in terms of stability, but to get the most out of it we'd recommend exercising on rubber flooring, such as a mat.
Pros
Negates virtually every risk and injury
Stackable for maximum training options
Relatively lighter than other plyo boxes
Cons
Requires rubber flooring or a similar surface
Expensive
Available at AmericanBarbell.com
Best Adjustable Plyo Box
Stamina Adjustable Plyo Box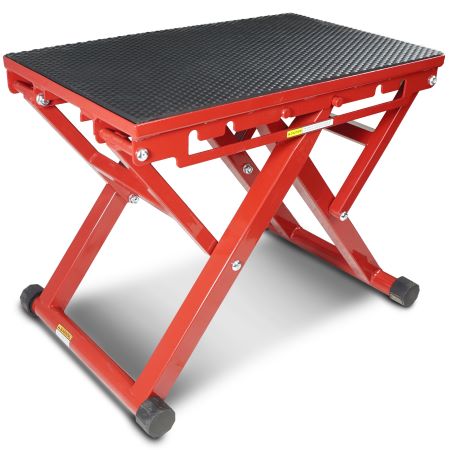 The Stamina Adjustable Plyo Box is a novel concept- it doesn't actually look like a box but it performs like one. It's an engineering marvel and allows you to customize your workouts as you'd want for maximum gains or absolute safety.
The best selling point is easily its adjustable factor that touts a mechanism similar to a folding chair or stool. It boasts not just three, but four different heights at 12, 16, 20 and 24 inches so it's made more useful than standard boxes. After fiddling around a bit we find that it only takes a few seconds to adjust and stays steady when set correctly.
Even more noteworthy is the fact that there's no need to assemble the box, and folding it down to the lowest allows you to stash it quickly under the bed or in a cabinet. It's an excellent choice for those who are living in apartments or simply don't have enough space on their homes.
The plyo box is heavy duty and can support up to 300 lbs in weight. The non-slip jumping surface eliminates all worries regarding slipping and stability. Stamina beats the competition by making their adjustable plyo box the gold standard!
Pros
Four adjustable heights
No assembly required
Heavy-duty steel and rubberized feet
Cons
More time needed when changing height
A bad landing/fall on this won't feel good
Available on Amazon
Related: Best Home Gyms on the Market
Best Resin Plyometric Box
Rogue Resin Plyo Boxes
If you're serious about training and yet want to save the world at the same time then we wholly recommend the Rogue Resin Plyo Boxes. Yes, it's made of resin, which is 100% recycled plastic and molded to withstand hundreds of box jumps and provide a plyometric experience like never before.
Rogue gives you four options on your plyo boxes- 12, 18, 20 or 24 inches, or get the whole set and pay only one shipping fee. The good thing is that Rogue packs it as flat as possible so the delivery costs are nominal. Once it arrives at your doorstep you can immediately assemble them without too much trouble. They can be stacked atop each other as well to save space in your room, garage or home gym.
Resin is probably the furthest thing in your mind when it comes to plyo boxes but Rogue has made it work. It's reinforced underneath with an arched rib pattern, while on top you get extra traction with a textured grid pattern. There are even hand slots so you can position, place and remove as needed.
As always, don't use the Rogue plyo box on smooth or hard surfaces where it might slip. It's made in the USA, embossed with Rogue branding and made to last. What's not to like?
Pros
100% compressed and recycled plastic
Stackable and comes in four height options
Easy to assemble
Cons
Highest only at 24 inches
Available at RogueFitness.com
Best Plyo Boxes on Amazon
BalanceForm 3 in 1 Plyometric Box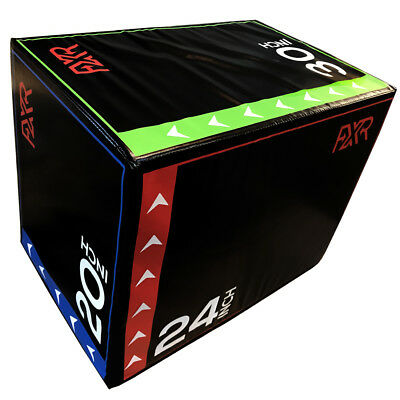 After much comparing and testing we arrived at a conclusion – BalanceFrom has the best plyometric box product on Amazon. Forget no-name brands and cheap knock-offs because they wouldn't last as long, and there's a chance that you'll get injured due to shoddy workmanship.
Pick your choice of regular 16 pounds or heavy-duty which stands at 60 pounds. We recommend the heavier box as it affords you better traction, stability and lets you do your workout without any worries, plus it will last longer.
Speaking of injuries (or its lack thereof), you'll love the soft and dense foam material that make up the whole box. The surface is coated with anti-slip material to further drive home the point. Aside from the large printed numbers that tell you how high the side is you also get color coding, e.g. the green is 30 inches, while the blue is 20 inches and the red 24 inches. Rotate to the side you want, then prepare yourself for a rewarding workout! Lastly, the reason why we picked the 3 in 1 plyo box by BalanceFrom is that it has a lot of positive reviews from satisfied customers.
Pros
Foam material is tough, sturdy and offers superb stability
Has a heavy-duty option
Nice color coding on heights
Cons
No official manufacturer website
Available on Amazon
Best on a Budget
Yes4All Wooden Plyo Box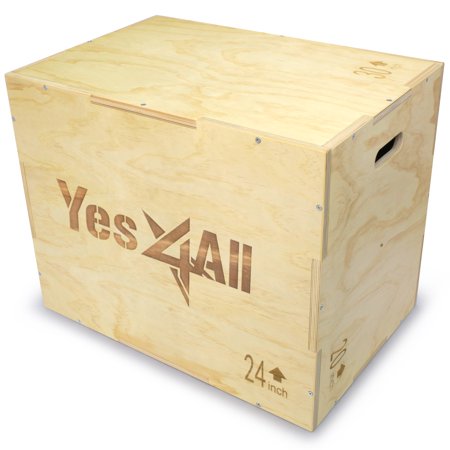 Think plyo boxes are just an afterthought in a home gym? We beg to differ. However, if your excuse is that you don't have enough money to buy a proper plyo box to round out your workout equipment, the Yes4All Wooden Plyo Box is our answer.
They come in different color options, sizes and sport a rough-and-tumble look about them. You can choose a 12x14x16, 16x18x20, 16x20x24 or 20x24x30 box depending on your fitness level and desired workout.
Assembly is easy peasy as you just have to fit the puzzle-like ends together. Pro-duty wood construction is reinforced on boxes that are 16 inches and above, and the edges are sanded off so you won't get any splinters. Wood offers a natural non-slip surface, and the manufacturer does away with additions in order to cut down the cost.
Other notable features include a poly-coated outer layer, handles on each side for convenient handling and transportation and height markings so you don't have to guess. Maximum strength construction means even heavy athletes will get to use this budget plyo box for a long time!
Pros
Easy assembly
Excellent value for money
Color and box size options
Cons
No non-slip surface
Not the highest quality
Avaialable on Amazon
Related: The 11 Best Leg Press Machines on the Market
Best Non-Slip Plyo Box
Ultra Fitness Gear Anti-Slip Wood 3-in-1 Plyo Box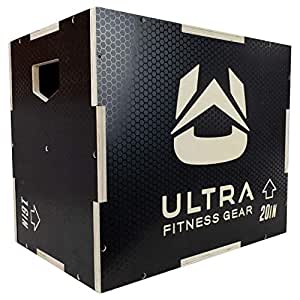 At first glance, we couldn't tell the difference between Ultra Fitness's plyo box and a high-end PC case, which speaks volumes about the box's quality and overall build. Then, we took it out for a spin and we're happy to say that it provides one of the safest workout experiences out there.
So, let's focus on the plyo box's greatest feature- its non-slip aspect. At a closer glance, it appears that the material is high-grade plywood that's textured with a honeycomb pattern and painted for aesthetics. At the front, you get an Ultra Fitness icon and the corresponding height printed on the side. Not only can it handle every plyometric exercise but it does well in CrossFit, Jump and MMA training as well.
The 3-in-1 plyo box comes in multiple sizes, including the small at 16x14x12 inch to the x-large at 30x24x20. All the boxes arrive flat and disassembled but it only takes around 15 minutes or so to get started!
Pros
Excellent non-slip surface
Variable height make for versatile training options
Fast and free shipping
Cons
Available at Amazon
Best Stackable Plyo Boxes
Stackable Foam Plyo Boxes from Rep Ritness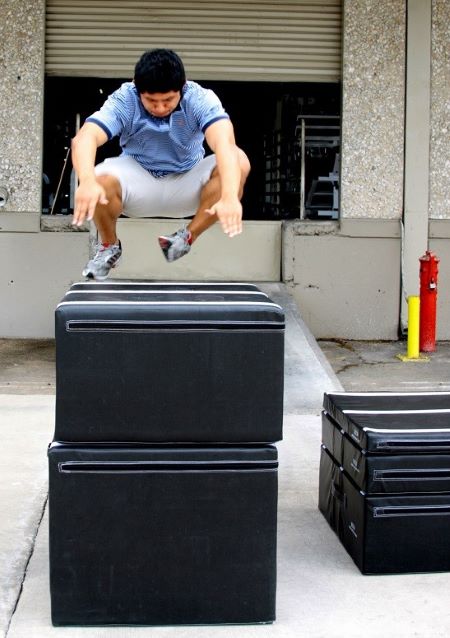 Whether as a space saver or for setting up difficult plyo challenges you'll find the rep Fitness Foam Plyo Boxes a worthy buy. Foam doesn't necessarily mean less stable and slippery- as long as you stack them properly and set them on optimal surfaces then you should be okay.
Foam also has the benefit that you won't think twice about making that jump. Even if you crash you'll come away unharmed and more determined to try again. This means you can push your limits and reach a higher plateau compared to hard plyo boxes.
The Rep Fitness foam plyo boxes come in several height options, including a 24, 18, 12, 6 and 3 inch variants. You can mix and match to create the desired height or move it around via built-in handles. High-density foam won't flatten soon even on higher weights.
Pros
Super safe, 100% dense foam material
Stackable, thanks to large velcro strips stitched in
Offers up to 60 inches of height
Cons
Available at RepFitness.com
Best for CrossFit
Rogue Wood Plyo Boxes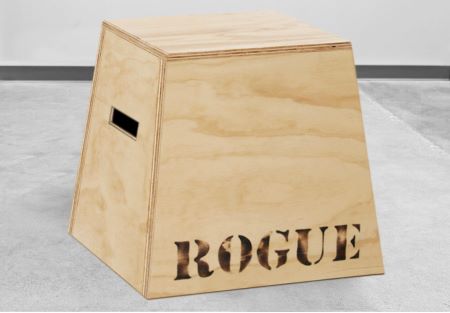 The Rogue brand practically caters to the CrossFit discipline, so it makes total sense that their Rogue Games Box is the de facto plyo box for CrossFitters who want to make the most of every training session.
It's built in the US, has a one-year warranty and the construction and material means you may never have to buy another one ever again. It's also hefty at 56 lb and has that cool signature Rogue stamping on the side.
The wood plyo box is versatile enough to carry out all CrossFit movements on any skill level. It's a good choice for everyone from beginners to serious competitors. You get a sturdy 3/4 inch Radiata Pine ACX that's CNC machined to prevent wood splinters and injuries. The sides have convenient handles so you can flip it over to your desired height in just a few seconds.
CrossFitters should make room for the Rogue Wood Plyo Boxes- it will become an indispensable tool you can use to become stronger, faster and fitter!
Pros
Tough and built to last
Solid and hefty at 56 lbs
Made in the USA
Less expensive
Cons
Not as flashy, no height indicator
Available at RogueFitness.com
How We Decided
Durability
A plyo box's durability can be largely determined by brand, material used and warranty.
You can be sure that trusted and reputable brands deliver on their promise that a box will last a long time, or when they say that it's stable. We don't want something that will break after a couple of uses, and for this reason, we really put the plyo boxes to the test.
Afterward, we ranked the boxes according to how they stood up to punishment and if they retained their shape and integrity (for foam and wood, respectively).
Price
Price isn't as simple as buying a plyo box within your budget. It has to present an extremely good value in that it's useful, versatile and something you'd be able to incorporate into your daily or weekly routine.
Price goes up depending on brand and material, but you can get ones that are decently priced and still get a good buy. In determining price we ranked the plyo boxes according to cost and cut out the ones that are too expensive and those that are too cheap.
Safety
Inherently, a plyo box isn't the safest equipment you can use to train but it must have several features that make it less risky.
A plyo box gets bonus points when the surface is optimized for traction and can relatively sit still on surfaces. It shouldn't be too light that it moves every time weight is added on, but it shouldn't be too heavy that it can topple and injure you in the process either.
Look for rounded edges, handles and anti-slip textures for the best and safest experience.
Ease of Use
Lastly, a plyo box must be intuitive and easy to use. Again, it's relatively easy to operate a plyo box- just flip it on the height you want then do your training. However, we tend to gravitate towards boxes with built-in handles and those that are numbered so you can tell which side you want to train in.
A plyo box shouldn't take too much time to switch or else you lose the moment and rhythm. It shouldn't be too complicated that you need a manual for it.
Wrap up
There you have 10 plyo boxes that will take your box jumps to new heights (pun intended). No matter what kind of box you are looking for to do your plyometric training you should be able to find something perfect for your home gym.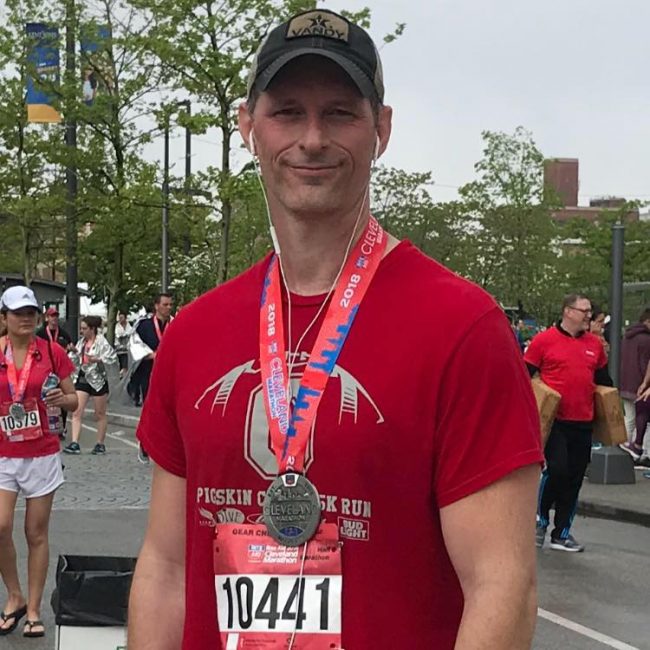 Ryan is a former college wrestler and lifelong fitness fanatic. He has run half marathons, done mud runs, placed in body transformation contests, coached wrestling and now coaches girls soccer. Not to mention he has also tried literally hundreds of supplements over the years and has a vast and thorough supplement knowledge. He has written for Muscle & Strength, Testosterone Junkie, The Sport Review and other publications. He is also the editor in chief of this website. Feel free connect with him on his LinkedIn page below.