(Last Updated On: April 9, 2022)
Mention 'home gym' in any conversation and the topics that will come up are most likely squat racks, Olympic plates and dumbbells.
But wait, aren't you forgetting something? Kettlebells are the unsung heroes that do it all. Originating in Russia, KBs have risen in popularity as versatile equipment for building strength, core, balance and many more.
To make the most use for your home gym owning a set of kettlebells is definitely a must. But collecting them isn't always easy- you could run into inferior products if you're not careful.
Also, kettlebells are not 'one size fits all' products- there are a few variations ranging from beginners to ones that provide excellent value. There's even one for small hands and if you're working with a tight budget.
Quick List:
See below for details on all of the kettlebells on this list.
The 10 Best Kettlebells on the Market
Check out our complete list of the best kettlebells broken down by category.
Best Overall
Rogue Powder Coat Kettlebell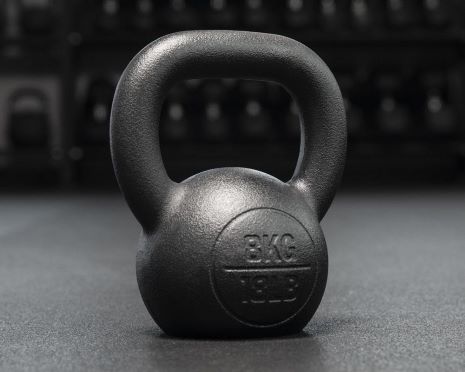 Available at RogueFitness.com
Rogue is a brand that's synonymous with quality and toughness, and their product, the Powder Coat Kettlebell does not disappoint. In fact, we even went as far as to name it 'Best Overall' as it outshines the competition by a wide margin!
What makes the Rogue Kettlebell special? It's made in the US, machined to perfection and meets the standards of the Army Combat Fitness Test. It's a fine specimen that's a shining example of the phrase 'no two products are the same', thanks to the company's impressive attention to detail.
The kettlebells are made from industrial-grade cast iron (ductile iron for higher weights and Class 30 Grey Iron for lower), which are hefty and corrosion-resistant, and also vibration-proof to a degree. They feel extremely solid and wonderful in your hands. The crown jewel feature of the kettlebell is the black powder coat that lends extra support and grip, as well as superb resistance against fading, chipping and scratches. Your Rogue kettlebells will look and feel good as new even after a few years later.
Bell dimensions vary by weight, and you'll have 11 increments to choose from. That said, there's really something for everyone, from those who want to fill in their home gym with useful equipment to serious athletes looking for the biggest bang for their buck. We stand behind Rogue and its Powder Coat Kettlebell as the first on your list when looking for the best kettlebells in the market!
Pros
Made in the USA
Has 11 weight increments with a weight range of 13-88lbs
Powder coating lends an exceptionally stable grip
A high quality, cast iron kettlebell
Flat bottom for better stability when not in use
Cons
Related: 11 Best Adjustable Dumbbells for Home Gyms
Best Competition Kettlebell
GetRx Competition Kettlebell
Available at GetRxd.com
When it comes to competition kettlebells only the best should suffice. To this end, we've got nothing but high praise for Get RX'd and their competition kettlebells, which should serve as the gold standard for all the other products out there.
The kettlebells themselves come in bright and eye-catching colors, but don't let that fool you. These bad boys are tuned to perfection and according to stringent competition standards!
The colors aren't just for aesthetic show- they're color-coded so you can pick what you need quickly and without any distractions. Pick any two and you'll be hard-pressed to find differences in diameter and size. Weight ranges from 8kgs to 40kg max and in 4kg increments, with the heaviest colored black and the lightest in pink.
A steel shell covers the kettlebells and wards off most dings and hard knocks. The color only goes up to the start of the handle, which is sanded to provide extra grip even during extended lengths. Carrying them around is a fantastic tactile experience.
GetRX'd competition kettlebells are good value for money and should be your top choice if you wish to work or train with the real thing.
Pros
Excellent diameter and size uniformity
Color-coded for visibility
Smooth handle for comfortable grip
These competition bells are avaialable in a weight range of 18-80 lbs
Cons
Best Unique Designs
Zoobells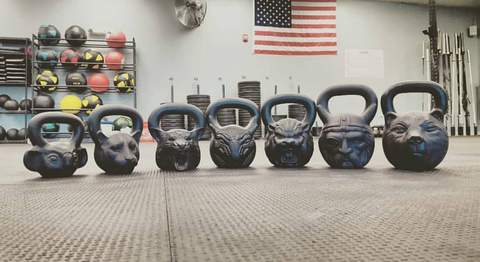 Available at Zoobells.com
The reason why kettlebells are named as such because they resemble cast iron kettles that were traditionally used in olden times. Well, what if we told you that you don't have to be satisfied with a plain and boring ball with a handle at the end? What if there was a kettlebell that can be a conversation starter?
We applaud Zoobells for taking the novel approach and offering uniquely designed kettlebells for consumers who want a bit of flair as they train. The term 'Zoobells' refers to sculpted animal 'bells that can double as art. One look at them and you'll want one for yourself!
There are seven designs in all, with most of them coming from the animal kingdom. Additionally, they all have their own weight class- for instance, the Koala is 8kgs while the Panther is 12kgs, the Dragon is 20kgs and so on and forth. The Bear stands above all others at 34kgs.
You might be wondering, 'won't the design ruin the balance of the 'bells? The answer is not really. It's the best of both worlds in detail and craft. What we love about the Zoobells is that they made the handle thicker, which means you have greater control and your grip improves over time. Speaking of which, the handle has that textured feel so you won't be in danger of mishandling and the kettlebell slipping out of your hands.
A quick peek at the manufacturer's website doesn't reveal the material or the handle finish, but the product is really more about the experience and fun working with a kettlebell that's shaped in the form of a ferocious animal. You'll never want a boring round kettlebell ever again once you've tried it!
Pros
Incredible design and detail
Different animals for different weight ranges
Made in the USA
Cons
Not as balanced as traditional kettlebells
Related: Cool Kettlebells: 9 Unique Kettlebell Designs
Best on a Budget
Cast Iron Kettlebells at Fitness Factory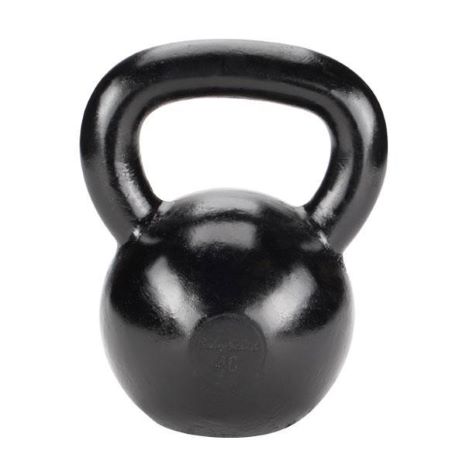 Available at FitnessFactory.com
Fitness Factory's Cast Iron Kettlebell is hard to beat in terms of usefulness and value. You get a no-frills KB in the weight of your choice and a price you can definitely afford.
Kettlebells are undoubtedly mainstays in home gyms and for athletes who want to sculpt their physique in the shortest time possible. The thing is, most kettlebells aren't adjustable, which means you'll often need to buy several to make a set and get the workout you need. FitnessFactory solves this by keeping its prices competitive.
This doesn't mean the KB is sub-par, though. The company uses a single mold casting for a solidness like no other, and generous handles so you can lift even the heavier variants sufficiently with two hands. The kettlebells also range from 5 to 100 lbs, without the 85, 90 or 95 lbs models so even beginners can dive right in.
Pros
Great value for money
Single piece casting
Ranges from 5 to 100 lbs
Perfect for all kinds of kettlebell training and kettlebell swings
Cons
Best Kettlebells for Home Gyms
Rogue Rubber Coated Kettlebell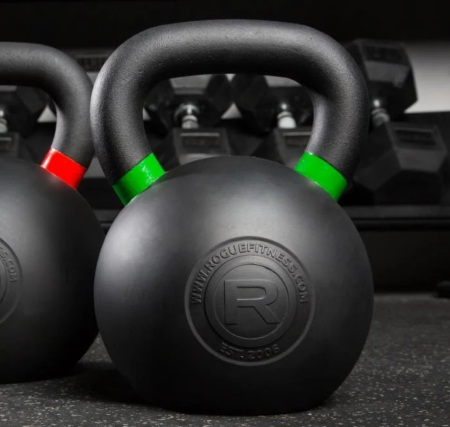 Available at RogueFitness.com
Those who are looking to build a home gym will factor in equipment longevity as a deciding point, something that the Rogue Rubber Coated Kettlebells have in spades.
So, what's the deal with rubber coating, and why is it so important? Apparently, rubber is the material of choice because it's scuff- and chip-proof. This definitely checks out in our books as we spent a long time working out with the KBs and they still look good as new.
Rogue coats the bell portion with a urethane coating for protective purposes. It's first-run iron ore and cast single-piece for an amazing tactile feel, and doesn't contain patches, plugs, or plastic cups. There's also no wobble at the bottom, and the handle is powder coat-finished for optimal grip.
These rubber-coated KBs will definitely be a welcome piece of home gym equipment. They're very useful for just about every WoD you'll need, and work out essential muscles for power, balance and stamina. Rogue makes it easier to tell at a glance the weight of the kettlebells thanks to the bright color coding on the handles.
As for the sizes, you can choose from 26Lb, 35lb, 44lb, 53lb and 70lb, and almost all of them have nice and thick powder coated handles. Being made by Rogue, you get a simple R logo at the front and lightning-fast shipping the company is known for.
Pros
Rubber coated for maximum protection
Rogue's shipping times are legendary
Superb construction and material quality
Available in a weight range of 26-70 lbs
Cons
Related: 10 Reasons Why You Should Train With Kettlebells
Best Loadable Kettlebell
Rogue Loadable Kettlebell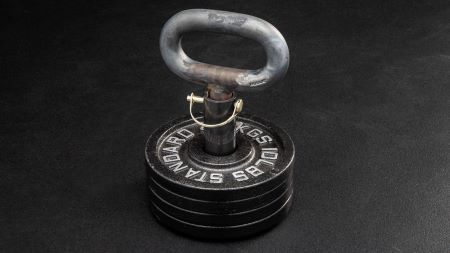 Available at Roguefitness.com
Remember how we mentioned that kettlebells are limited by their own weight and that you'll need a rack to get a full workout? Rogue solves the issue by creating a 'loadable' KB that works brilliantly with your existing Olympic plates.
Instead of the usual cannonball and handle shape you get a key-like handle, a wire lock pin and a base sleeve. Figuring out how to turn it into a full-fledged kettlebell doesn't take too much effort, either- just put the long end of the handle to an Olympic Plate (or a Rogue Dumbbell Bumper), lock it in and do the WoD as needed. For additional stability and lift, you can use an axle collar for a more tactile feel.
The Rogue Loadable Kettlebell may look like a half-baked product, but that's because it's made from bare steel. The manufacturer recommends using WD-40 for those who want a more refined look and finish. Oh, and you can latch it on a custom concrete kettlebell or an Atlas stone to get that stone lift experience.
In buying the loadable kettlebell by Rogue you save a bit of money and space in your gym. The kettlebell handle can accommodate anywhere from 25 to a hundred pounds easy, and setting it up takes only a few seconds. Just make sure to hunker down and test out what you've got first before swinging the KB and starting your session. Once you get the hang of it then you can start enjoying the best loadable kettlebell around!
Pros
Space saver
Works with an Atlas stone, Rogue Dumbbell Bumpers and Olympic Plates
Can handle a max 100-pound load
Saves money
Cons
Not suitable for some kettlebell exercises like American kettlebell swings
Best Kettlebell for Small Hands
American Barbell Classic Kettlebells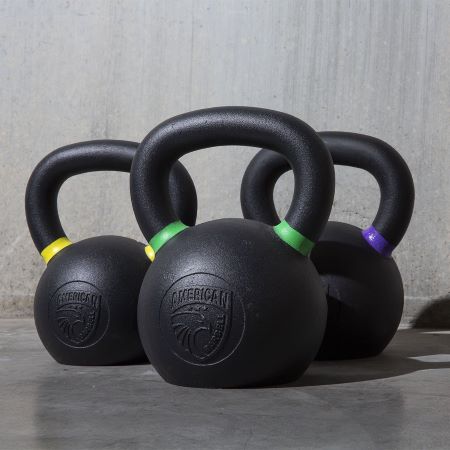 Available at AmericanBarbell.com
It may be an unintended feature but we find the American Barbell Classic Kettlebell to be perfect for small hands.
This discovery may have been an accident, but upon closer inspection, we found out why this is so. The handles are thick and offer extra space between the gaps, which is actually great for big hands as well.
Going back, the fingers work a comfortable grip every time you get to the kettlebell. It also has excellent balance so you'll be able to lift it up without relying too much on your fingers.
The Classic Kettlebells by American Barbell is made from a single solid cast iron for optimal stability. You'll be able to swing, lift and do movements with impunity knowing it won't dislocate or come apart. The handle has a remarkably smooth finish and doesn't pinch the skin or distract you from your workouts.
American Barbell touts weights ranging from 4kg to 48kg and color-coding from white being the lightest to yellow being the heaviest. It's worthy to note that handle diameter adjusts as well which is a nice touch.
It may be a small demographic but it's nice to see manufacturers like American Barbell filling in a niche. On the opposite end of the spectrum, even those that have huge hands will find these KBs to be a solid piece of gym equipment!
Pros
Great handle
Solid cast iron kettlebell
Color-coded
Cons
Related: Best Hex Bars on the Market
Best for Women
Eleiko Training Kettlebells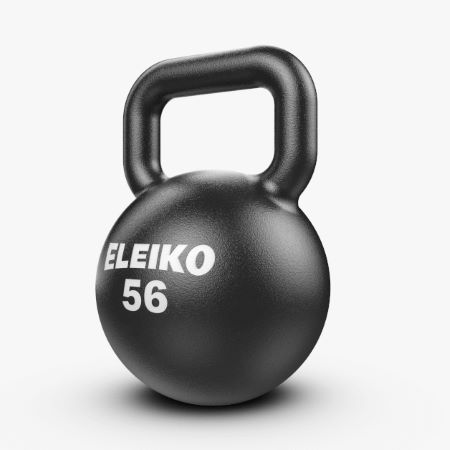 Available at eleiko.com
For ladies who want the best kettlebell money has to offer, we recommend the Eleiko Training Kettlebells. It has a few noteworthy features, including a square-shaped handle, consistent texture and gives you the ability to do a double-handed hold no matter the weight.
At first glance, the KB handles of Eleiko are somewhat geometrically wrong. After all, its lightest weight has the same size handle as its 14 or 16 kg cousins. However, there's a reason for this madness- the grip has a varying size, but it's wide and spacious enough to let you do a double hold anytime you need it.
Eleiko didn't stop there though. They also made the handle textured so it can be gripped with little to no trouble. It can hold chalk too, which is a godsend for those who can't lift without it. Also, the surface finish looks rough but it holds chalk and is resistant to high impacts.
The 'training' in the product name can translate to competition terms given how accurate the consistency is. Each kettlebell is weighted and calibrated for utmost accuracy, with only a deviation max of 3 percent. That's pretty impressive if you ask us!
Pros
Double handed hold baked in the handle
High grade and quality cast iron material
Great for women and chalk users
Cons
Best Kettlebell for Beginners
Vinyl Dipped Kettlebells from Fitness Factory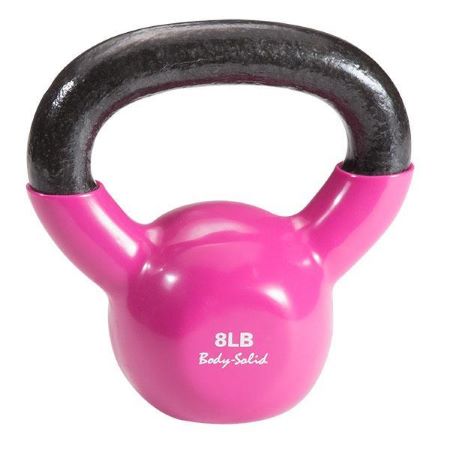 Available at FitnessFactory.com
Fitness Factory does it again, this time with a beginner-friendly set of kettlebells that ticks off all the right boxes.
The Vinyl Dipped Kettlebell Sets are a colorful collection of solid body KBs. What we love about them is that the company wasn't content with color-coding the handle- they went and literally dipped the entire ball in brightly hued vinyl so you won't have to squint to see what you need to pick up (assuming you've memorized what the color corresponds to in weight).
And if that's not enough, they also printed the weight in huge white numbers and made the handles super ergonomic. Instead of the usual oval shape, they adopted a somewhat hexagon, which is genius because it allows you to hold, lift and swing the kettlebell in more ways than what's possible. Also, the burn focuses on the arms, core and shoulders instead of your elbows and wrist.
Vinyl aside, you can choose the finish, e.g., no finish, enamel or powder coat, and each one has its own benefits. Vinyl is more suited to home use and in lighter-weight KBs, which is exactly what beginners need to get started.
Look around on the website and you'll see that Fitness Factory is offering its vinyl kettlebells in sets, including a 5-20 pound set of 6 and 5-50 pound set of 12. It's super easy to have an instant collection and eliminates the possibility of you having to scour the internet to assemble your kettlebell set.
Pros
Vinyl dipped for easy color recognition
Comes in several sets for a one-click purchase
Ergonomic wide handle available to offset stress in the wrist and elbows
Smooth handle available for sensitive hands
Cons
Best Adjustable Kettlebell
10 to 40 lb Adjustable Kettlebell by Kettlebell Kings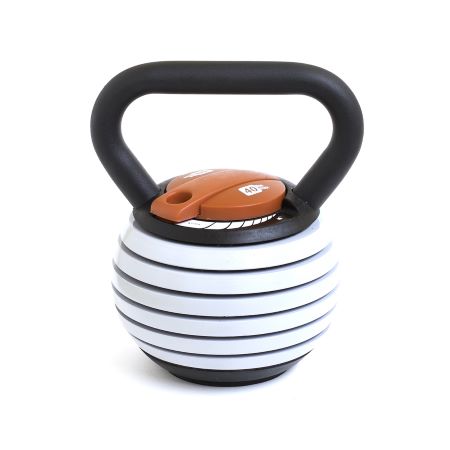 Available at KettlebellKings.com
It's hard to not get excited about Kettlebell Kings' adjustable kettlebell. After all, it's advertised as '7 kettlebells in one!', and you could save money by getting it instead of 7 different kettlebells, which would cost '$400 plus!'
Seriously though, the 10 to 40 lb Adjustable Kettlebell is a feat of innovation and engineering in a single, neat package. We also like the cool design that makes it a conversation starter no matter where it's placed in your home.
Each 'line' in the kettlebell is a weighted plate that you can remove as needed. Kettlebell Kings has made it easy, thanks to a slide lever mechanism that loosens and locks as you add and remove weights.
Kettlebell Kings has a bundled promo for those who wish to work with kettlebells and achieve a specific fitness goal. There's fat loss, muscle gain and all-around training. There's even a 'Kettlebell Fundamentals', which would be perfect for beginners.
Pros
7 kettlebells in one
Easy-adjust mechanism
You can save money and space
Cons
Best Kettlebells for the Money
Rogue Kettlebell E-Coat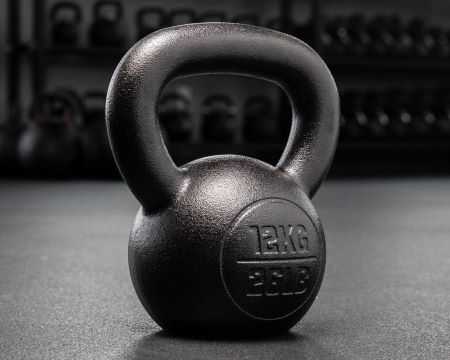 Available at RogueFitness.com
Yes, we did cover a 'best KB for budget' but this is a different category. For a KB to be considered 'best value', it has to be tough, reasonably priced and do more than its competitors. The E Coat Rogue Kettlebell does all three.
E Coat is a type of finish that has excellent adhesion properties. The layer protects your investment while allowing you to feel the casting texture. It's also glossy and easy to clean, which are always good things to look for in a kettlebell.
The Rogue kettlebell is made from ductile iron via single-piece casting. This translates to a heft that feels very solid. The manufacturer mentions how e-coat staves off corrosion while keeping the casting texture intact.
The result is a very accurate and tough kettlebell that may very well last a lifetime. Ductile iron, e-coat and gloss combine for a near-indestructible kettlebell that loves to be used and can take the punishment. At the end of the day, it'll look good as new!
Pros
Made to last practically forever
E coat technology is one of a kind
Makes for a great set regardless of skill level
Flat bottom for better storage stability
Cons
The Best Kettlebells – How We Decided
Price
Price as a deciding factor is not always an easy affair. First, you'll need to determine if the price tag is worth it- what are you getting out of the kettlebell if it's more expensive than others?
It's not about the cheapest, but rather which KB has a price that's worth its value. Adjustable and loadable kettlebells, for example, tend to be more expensive but they do save space and take the place of several kettlebells.
We also considered the material and how the KB was made and finished.
Reviews
We like to think of customer reviews as a supplementary factor that goes hand in hand with our own experience of the equipment. For instance, if we find that a certain kettlebell presents a case for tremendous value and reviews echo the sentiment, then it's what we'll choose.
Manufacturer Reputation
Manufacturers reputation can be likened to reviews, but it has its own set of factors. One way to determine if a brand is worth investing it is to see how long they've been in the business. Also, what are people saying about the manufacturer and their products as a whole?
To this end, we scoured not only the brands' main websites but their presence in social media as well. Unknown companies with sub-par kettlebells are dropped in favor of manufacturers that have a solid presence.
Durability
If it were up to us we'd like our kettlebells to last forever.
In testing for durability three things come to mind- the material used for casting, its finish or coating and any other technology that could prevent scuffs, chipping and the usual wear and tear.
A coating or finish is always a plus since it stops your kettlebells from looking worn out after just a few months. It can also help with improved grip with or without chalk. Overall, we want a kettlebell that can take the punishment and live another day!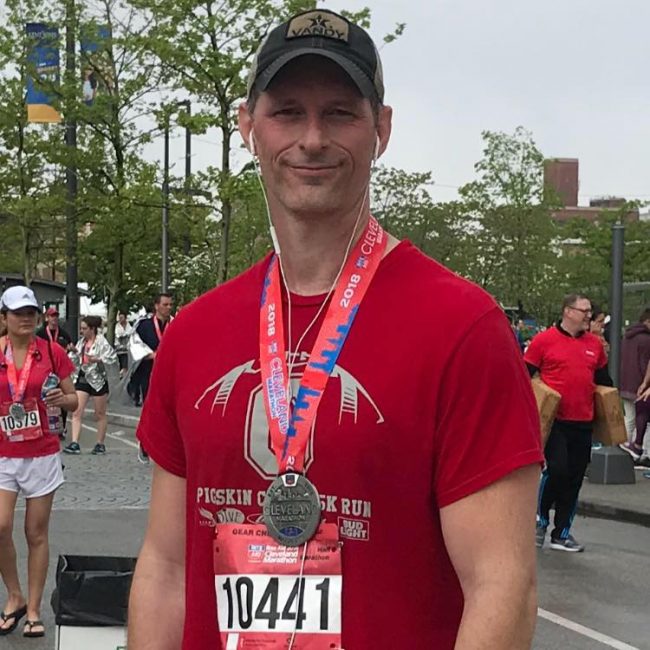 Ryan is a former college wrestler and lifelong fitness fanatic. He has run half marathons, done mud runs, placed in body transformation contests, coached wrestling and now coaches girls soccer. Not to mention he has also tried literally hundreds of supplements over the years and has a vast and thorough supplement knowledge. He has written for Muscle & Strength, Testosterone Junkie, The Sport Review and other publications. He is also the editor in chief of this website. Feel free connect with him on his LinkedIn page below.