(Last Updated On: April 9, 2022)
Dumbbells have evolved from single iron pieces with a set weight to versatile, adjustable space-saving machines.
In your search to build a home gym or something to keep you fit indoors, you'll have come across adjustable dumbbells. But what are they, and what are the best adjustable dumbbells in the market?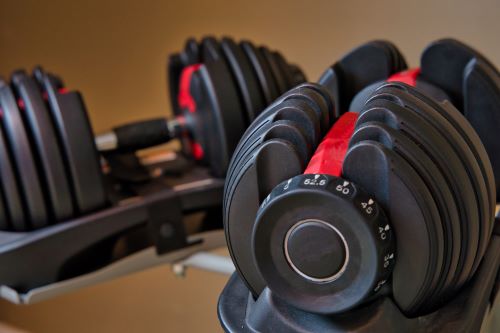 Why Use Adjustable Dumbbells?
An adjustable dumbbell is an exercise tool that works just like a traditional dumbbell. However, instead of having to buy a dozen or so static dumbbells that each have a set weight you can just buy one and adjust it so you get the desired weight you want for lifting.
The mechanism varies from one adjustable dumbbell to another. Some have easy-lock systems while others promise utmost safety and stability. We'll talk about this in greater detail when we get to the products themselves.
Perhaps the greatest benefit adjustable dumbbells bring is convenience. With one dumbbell you can complete your usual workout and at your desired weight. When you're done all you have to do is put the dumbbell back and into a corner.
Second, adjustable dumbbells offer great value for money since they're considered an all-in-one. You just buy a pair and not two of each weight class in the traditional sense. There's less hassle, ordering and you can put it away when not in use. You also won't have to purchase a huge rack for all of your dumbbells.
Best Adjustable Dumbells Quick List:
Best Adjustable DumbbellsFor Home Gyms
These are the best adjustable dumbbells on the market today. No matter what you are looking for in an adjustable dumbbell you can find it on this list.
Best Overall Adjustable Dumbbells
PowerBlock Pro Adjustable Dumbbell Set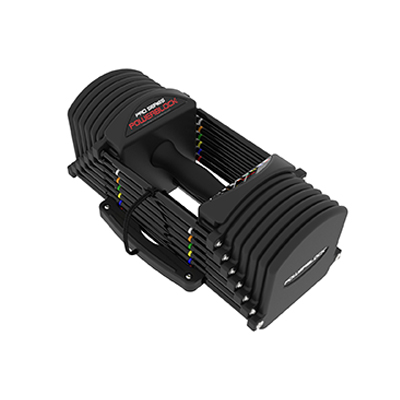 Available at RogueFitness.com
Don't be intimidated by the 'Pro' label- PowerBlock's offering is a fine specimen of what adjustable dumbbells should be, and it's great for both beginners and seasoned athletes alike.
The adjustable dumbbell is sold in pairs and looks a bit odd at first. Instead of the usual round ends you get a square block, but this adds a bit of depth as you can set it down, grab and do additional movements, including push-ups and the like.
It has a weight range of 5 to 50 lbs and at 2.5 increments, effectively replacing approximately 20 pairs of dumbbells. The weight is made of urethane-coated steel, and the contoured rubber grip doesn't get in the way of swings. As for the adjustable aspect, there's an auto-lock lever that sets weight by 2.5 lb increments until you get the desired weight. Helpful color bands on the side rails tell you how much you're pushing or pulling and are a nice addition overall.
If you think PowerBlock's finished with their Pro dumbbell then you'd be wrong. It has a plethora of accessories, including the Pro Straight Bar, the Home Rack Stand, and an Exercise Poster. Furthermore, you can get a SportBench Chin-Up Attachment to unlock a whole lot of workout possibilities.
Pros
Sold in pairs and has a weight range of 5 to 50 lbs.
Versatile and solid adjustable dumbbells
Has color bands for easy weight reference
Cons
Related: Best Home Gyms, garage gym, portable gym and more
Best Heavy Adjustable Dumbbells
NÜOBELL 80 LB Adjustable Dumbbells
Avaialable at RogueFitness.com
Heavy lifters will love the NÜOBELL 80 LB Adjustable Dumbbells because it's one of the few that can keep pace with heavy lifting routines and can stand the test of time, to boot.
What immediately stands out is that it can go anywhere from 5 to 80 lbs. in 5 lb. increments. That's 16 pairs of dumbbells in a space-saving, tough and durable equipment! Furthermore, it's made by a reputable company so you can be sure that you get what you pay for.
What separates these DBs from the rest is that it uses machined steel weight plates. Aside from capturing the tactile feel of a traditional dumbbell, SMRTFT opted to veer away from the usual selector dial and bring innovation to the table.
As for the adjusting part you just need to twist the handle to get your desired weight. Each order of the Swedish patented DBs come with two portable storage cradles.
Pros
Offers max weight of 80 lbs
Steel construction with knurled handle
Excellent lifting tactile feel
Cons
Best Adjustable Dumbbells with Stand
Bowflex Selectech 1090 with Stand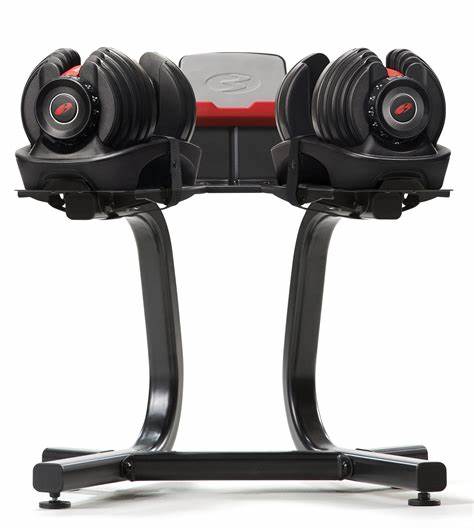 Available on Amazon
Bowflex has a serious contender in their hands when they made the SelectTech 1090. Most notable is the addition of a stand that makes storage a snap!
The 1090 DBs can go up to an impressive 90 lbs starting at 10 and in increments of 5. Whenever you need to ramp it up or tone it down, just twist the dial to your preferred weight and go.
The manufacturer pays special attention to detail, particularly the noise and lift-off. The metal plates have a molding that effectively eliminates metal-against-metal sound, allowing you to concentrate on the task at hand.
Every purchase of the SelectTech 1090 with Stand gives you access to the SelectTech app, available on both Android and iOS. It features full-body exercise programs and workouts so you can shape your abs, arms or legs as you want. Furthermore, you can go to the official Bowflex website and follow the exercises done by trainers.
Pros
Intuitive weight selection dial
Guided workouts on SelectTech app
Cons
Handle is smooth and may be slippery at times
Clunky design
Related: Best Exercise Bikes for Home Gyms
Best Adjustable Dumbbells for the Money
PowerBlock Elite EXP Series
Available at RogueFitness.com
We find PowerBlock's toolbox-shaped adjustable dumbbells the best value for your money for two main reasons. One, it gives you maximum bang for your buck due to its versatile nature. Two, you can expand the weight to a whopping 70 or even 90 lbs. with the Stage 2 and Stage 3 kits!
'Adjustable' takes a whole new meaning when you take home the PowerBlock Elite Series Adjustable Dumbbells. On its own, the pair can deliver up to 50 lbs. of weight in 2.5 increments, which should be enough for light training and beginners. Then, for serious heavy lifters and CrossFitters, you can add the Stage 2 kit to reach up to 70 lbs or go all in and get the Stage 3 kit to reach 90 lbs.
Then, you get quality of life additions with the dial lock and selector pin for adjusting to your desired weight, the side rails and color bands for easier identification and a padded handle so you can grip the DBs securely. You'll only need to buy a pair and these dumbbells will last a lifetime.
Pros
Intuitive and quick-adjusting mechanism
Worth every cent
Add-ons for more weight options available
Cons
Lifting a maxed out 90 lb Elite DB can be a bit cumbersome
Best Available with Single Dumbbell
ATIVAFIT Adjustable Dumbbell Fitness Dial Dumbbell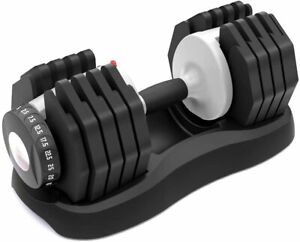 Availabe on Amazon
When all you need is a single dumbbell for working out, there's the Adjustable Fitness Dumbbell by AtivaFit.
The all-in-one adjustable dumbbell has its own rack and effectively replaces all your traditional DBs in a space-saving feature. You get a total of 12 weight settings from 11 lbs to 71.5 lbs. What stands out is the manufacturer's DialTech feature, which makes adjusting an absolute breeze. Simply set the weight with a dial turn, then execute the movement.
The ATIVAFIT DBs are great for building muscle at any level. Once you're done you can just stash it under your bed or in the corner of your home gym.
Pros
Can be bought single
Comes with a rack
Expedited delivery
Cons
Related: Best Kettlebells for Home Gyms
Best Adjustable Dumbbell Design
Select-A-Weight by Nordictrack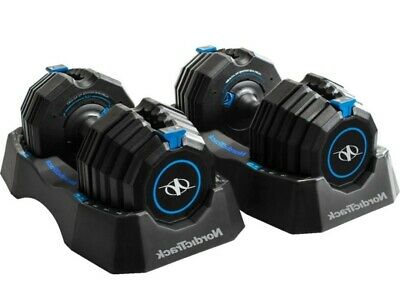 Available on Amazon
Working out with Select-A-Weight is an absolute joy. There's not a feature or mechanism we didn't like, and overall we love the way it just clicks in place and works.
The shape, adjusting mechanism and build quality is seamless and allows you to focus on what's important- making the most of every training without having to spend more time than what's needed setting up your desired weight.
The Select a Weight effectively replaces your weight set, with the dumbbells offering weight ranges of anywhere between 10 to 55 lbs in 2.5 lb increments. What's worthy to note is that the length also adjusts as well, which means there won't be any awkward carries.
Each purchase comes with a 1-year iFit family membership so you can train and follow trainers from various disciplines, such as full-body, calorie burn and more.
Pros
Easy-adjust mechanism
Durable and has a real dumbbell feel
Free 1 year iFit membership
Cons
iFit automatically renews after 1 year
Best Adjustable Dumbells on Amazon
Merax Deluxe 71.5 Lb Adjustable Dial Dumbbell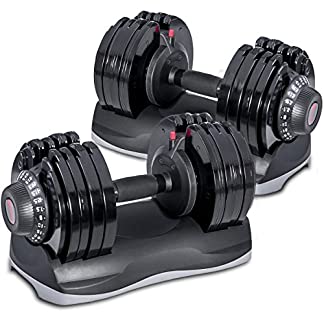 Available on Amazon
The Merax Deluxe Adjustable Dumbbell is one that we'd recommend if you want to shop solely on Amazon. It has the features you'd commonly see on good brands, and each pair comes with a 2-year warranty for peace of mind.
The weight range goes from 11 to 71.5 lbs in 5.5 lb increments. A unique dial system lets you switch on the fly so you can continue your workouts with ease. The adjustable aspect is well-pronounced here as you won't be needing to purchase a set of dumbbells. That means you can fill up the space with other equipment for a well-rounded home gym.
Rounding out the details are a fitted base, standalone weight plates and an antiskid handle for better grip. There are no other DBs on Amazon this good, which is why the Merax Deluxe gets the nod.
Pros
Intuitive quick adjustment technology
Has a 2-year worldwide warranty
Gets plenty of good reviews on Amazon
Cons
 Rubber grips can melt or crumble in the sun
Best High-End Adjustable Dumbbells
IronMaster Quick-Lock Adjustable Dumbbells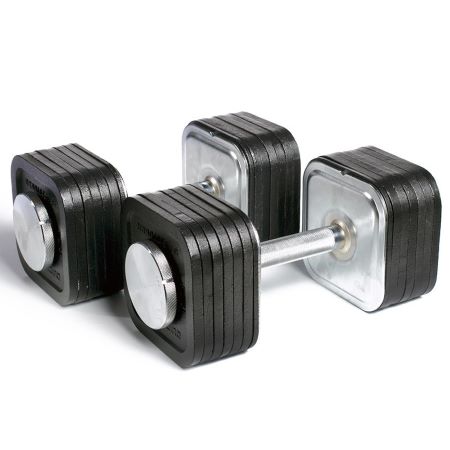 Available at IronMasters.com
IronMaster has made a premium pair of adjustable DBs that are so good you need to wait in line to get one. If you're lucky enough to have them then you'll be looking forward each time to your next workout!
So, here are the brass tacks- you get an adjustable dumbbell that ranges from 5 to 75 lbs in 2.5 increments. A Quick-Lock design lets you add and remove plates by manipulating the locking screws at the handle. It's heavy-duty and the handles are chrome-plated with knurled grips. You even get a lifetime warranty for your pair of IronMaster DBs!
High-end means you won't experience problems that plague cheap offerings. There's virtually no rattle or feeling of looseness, zero restrictions and have the feel of solid traditional fixed weight dumbbells. We dropped them on a height of 4 feet to test its durability- the DBs came away unscathed and ready for action.
So, if money is no object then you must have the IronMaster Quick-Lock Adjustable Dumbbells. No other DBs come close to this near-masterpiece gym equipment.
Pros
No rattling or looseness. Just solid DBs
Comes with a stand
Has an upgrade option to go 120 lbs
Cons
Best Loadable Dumbbells
Rogue Loadable Dumbbell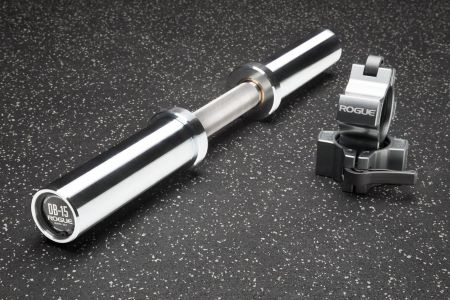 Available at RogueFitness.com
Rogue has the best loadable dumbbells that has our utmost respect. It's made in the USA and sports a stainless steel shaft with bright zinc sleeve, which equals unparalleled toughness and durability.
The item weighs 10 lbs with collars and touts a 195K PSI strength. You get a condensed full-size Ohio Bar that's been transformed into a versatile loadable dumbbell. Custom weight adjustments are possible, and you can use any standard Olympic plate for increments as needed.
Should you want to go full Rogue you can get the Rogue Dumbbell Bumpers, which are designed with the loadable DB in mind. To protect your investment you'll want to get the OSO Collars that can take the punishment and keep your loadable dumbbell in excellent condition.
Pros
Great quality loadable dumbbell
Rogue branding and shipping
Sold individually
Less expensive
Cons
Olympic plates and Dumbbell Bumpers sold separately
Can be pretty clunky when loaded with a lot of weight
Best on a Budget
Olympic Dumbbell Handle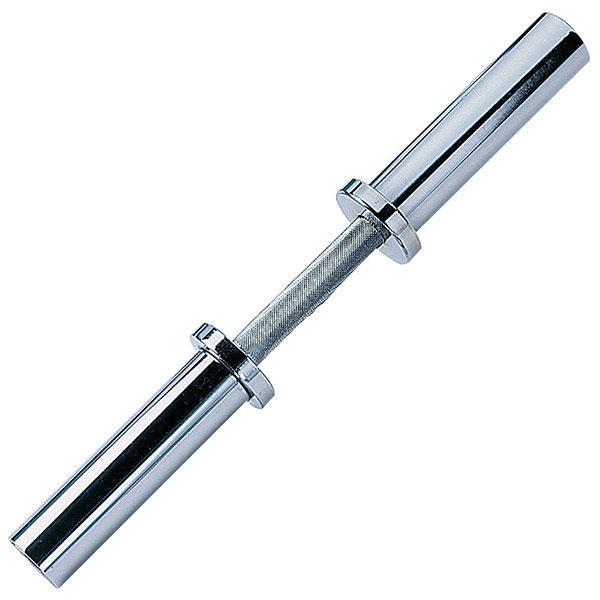 Available at FitnessFactory.com
A no-frills dumbbell handle can be your first choice when you want something that's serviceable and cheap. Fitness Factory has one that's just for you and at a price you can't ignore!
The handle is made of solid iron and chrome plated for shine and durability. By itself, it weighs 9 lbs and 20 inches long, and the knurled grip is a nice addition to any DB. Collars aren't included by they shouldn't cost a lot, but you still need those Olympic plates to complete your dumbbell set.
Every purchase comes with a 31-day price protection and satisfaction guarantee. These DB handles will surely last that long, but it's a nice gesture from Fitness Factory.
Pros
Cheapest on the list
Chrome plated and supports Olympic plates
Comes with 31-day guarantee
Cons
Best for Lighter Weight
SogaWave 25 lbs Adjustable Dumbbells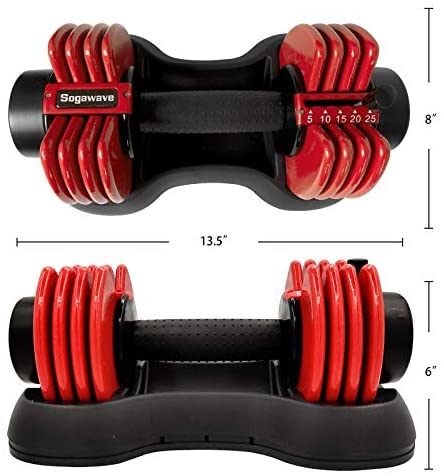 Available on Amazon
SogaWave focuses on user experience instead of adding more weights to accommodate a spectrum of lifters. Its 25 lbs adjustable dumbbells can easily replace your traditional dumbbell set, and it feels like it too!
The contoured and textured design is great for ergonomic aspects. There's nothing that got in the way even as we set it on lowest (5.5 lbs) and highest (25 lbs). The soft-grip handle works exceptionally well, giving you the support from the initial lift to follow through and finish.
Quick change is done using an adjustable button and a push-pull mechanism. Granted, it's not as intuitive but it works nonetheless. The SogaWave Adjustable Dumbbells comes with their own base for storage and safekeeping.
Pros
Has a solid lift and tactile feel
Non-slip handle
Comes with a base
Cons
Pull-push adjusting mechanism can take a while to get used to
How Did We Decide?
Ease of Use
Adjustable dumbbells are a step up over traditional dumbbells as they save you space and are very cost-effective. However, the best adjustable DBs should be similar to its counterpart in that it should be easy to use.
As such, we picked DBs that have an intuitive weight adjusting mechanism and only took a few seconds. You'll want to focus more on your training, after all.
Durability
We want our adjustable dumbbells to stand the test of time. To determine this, we look at the base material, if there's any coating and how the dumbbells are assembled.
Also, we did a drop test and checked if the dumbbells still held together. The 11 on the list passed it with flying colors.
Reviews
Every experience with a product may be different per consumer, but the general consensus largely tells you if a dumbbell is worth buying or not.
An adjustable dumbbell has to have great reviews from a lot of people. More than that, the things that matter most, e.g., the adjusting mechanism, overall feel and others shouldn't be a thing customers complain about.
Price
Adjustable dumbbell price shouldn't be too cheap, and they shouldn't be too expensive either. What we're looking for is a balance of value and features within a reasonable price range.
The better the quality of materials the more you can expect to pay. The same goes with features, design and if there are any bells and whistles attached. We also added a range of dumbbells that cater to every price point and budget.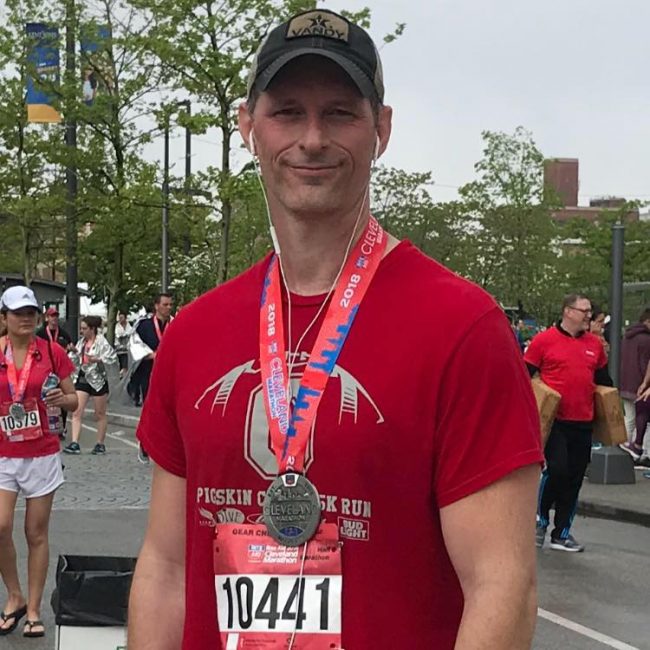 Ryan is a former college wrestler and lifelong fitness fanatic. He has run half marathons, done mud runs, placed in body transformation contests, coached wrestling and now coaches girls soccer. Not to mention he has also tried literally hundreds of supplements over the years and has a vast and thorough supplement knowledge. He has written for Muscle & Strength, Testosterone Junkie, The Sport Review and other publications. He is also the editor in chief of this website. Feel free connect with him on his LinkedIn page below.