(Last Updated On: June 24, 2021)
Kettlebells are an awesome workout tool that can train your entire body. Unfortunately, while they have gained in popularity they are still underutilized by many weightlifters and bodybuilder types.
Maybe if they were more exciting looking they would get the attention they deserve. Luckily, we have found some that are pretty awesome and that you can't ignore. Let's go over some kettlebell facts then we will take a look at these sweet designs.
Where Did Kettlebells Come From?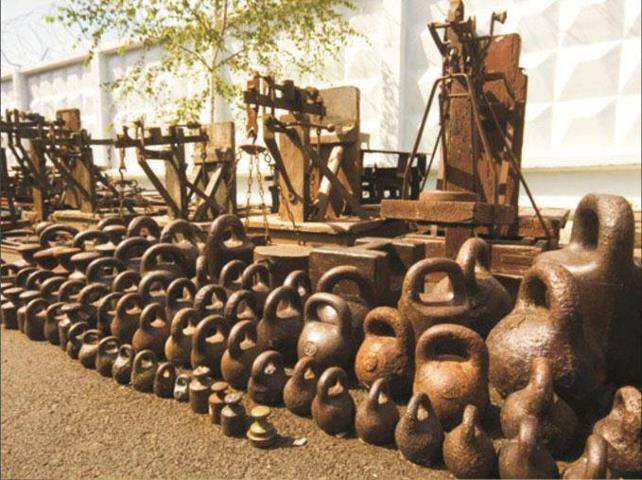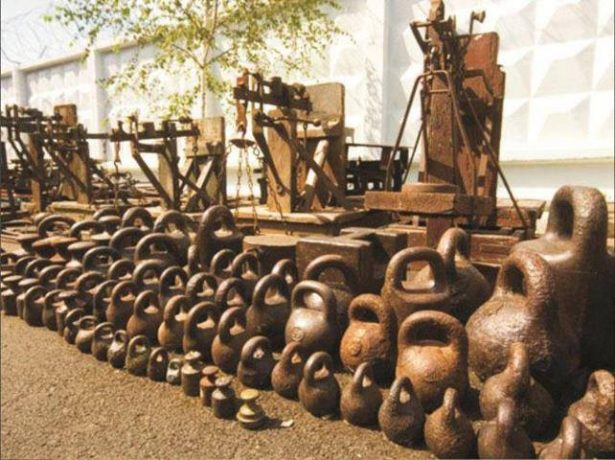 The kettlebell originated in Russia about 350 years ago, it wasn't originally used for weightlifting though. The kettlebells were originally used as counterweights for weighing goods at the market. People would throw them around for entertainment and around the year 1900 Dr. Vladislav Krayevsky, a Russian fitness pioneer began using them in for strength and bodybuilding and they slowly grew in popularity from there. Then CrossFit came along and the kettlebell popularity really exploded. Now almost every gym has a section of kettlebells, some gyms use them more than others it usually depends on what type of clientele they have and what type of gym it is.
Kettlebells of Today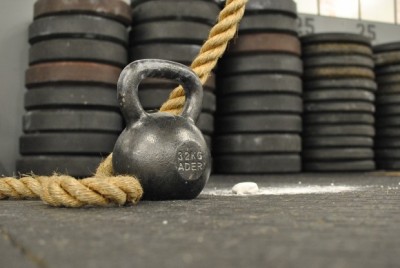 Kettlebells of today are usually a round hunk of metal with a handle. They are very versatile and there are many exercises you can and should be doing with them, much of which we have covered with our article The Six Kettlebell Exercises You Should Be Doing. As we mentioned before they are popular with CrossFitter, MMA and other fitness-type athletes but for some reason or another they have not caught on with your typical bodybuilder type weightlifter. Perhaps slowly over time, they will learn what a great tool kettlebells can be as well and learn to love them.
Why Are Kettlebells So Expensive?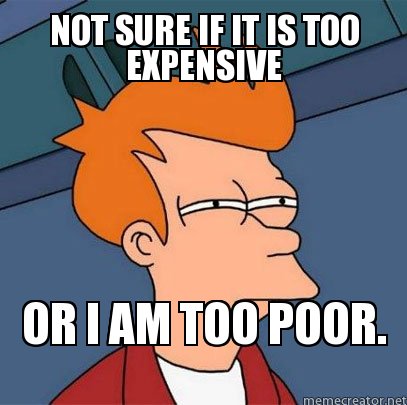 If you have ever looked into buying kettlebells before you probably looked at the price tag and simultaneously crapped your pants. There is a bit of sticker shock involved in kettlebell hunting especially if you are looking for the first time. These are typically the plain round ones too so it is basically just a cannonball with a handle on it, it shouldn't really cost that much, not to mention dumbbells of equal size are way cheaper than kettlebells are.
We scoured the internet looking for an answer and were unable to come up with any real reason why they cost so much. Our conclusion – while writing this article we found that many companies were out of stock on some sizes, this leads us to believe it is a matter of supply and demand at least when it comes to specially designed kettlebells like we are covering in this article. For your regular kettlebells, it may also be a matter of supply and demand or that they charge that much simply because they can, kind of like with razor blades and printer ink.
9 Awesome Kettlebell Designs
Ok, enough chit chat, it's time to get to check out some sweet kettlebell designs. Here are 8really cool designs that are worth the money over the overpriced cannonball design. These are in no particular order although the ones at the top of the list are more likely to be in stock and available.
#1 Zombie Bells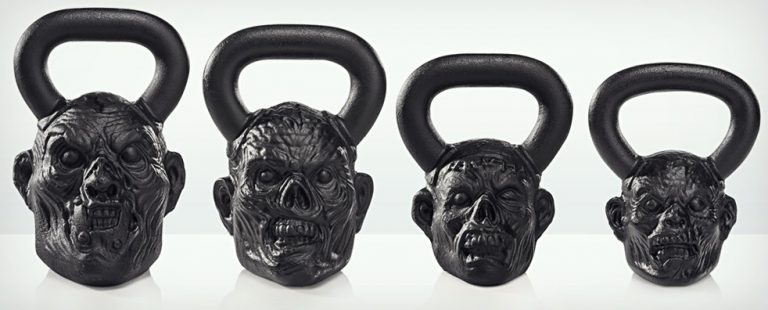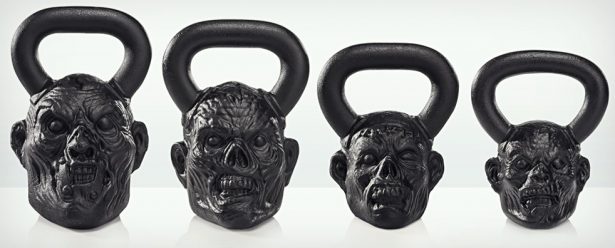 Zombie Bells are another kettlebell line-up from Onnit, this one featuring zombies, duh. Here is a list of the kettlebells and pricing:
18lb Brain Goblin Zombie $42.95
36lb Staple Head Zombie $84.95
54lb Ghost Face Thrilla Zombie $129.95
72lb Mega Dead Zombie $169.95
The good news is all the reviews on the Zombie Bells are very good and these designs are really cool especially if you are into The Walking Dead or zombie movies or just want a really cool kettlebell.
Any Negatives?
The bad news they are all sold out except for the 18 pounders. I guess they were a limited edition item that once they sell out they wouldn't be back but apparently, they sold so well that they might be making a comeback. The problem is no one knows when, not even them. You can sign up for an email notification when they are back in stock though so you can be sure to get one then whenever that may be.
Website: www.onnit.com/kettlebells
#2 Primal Bells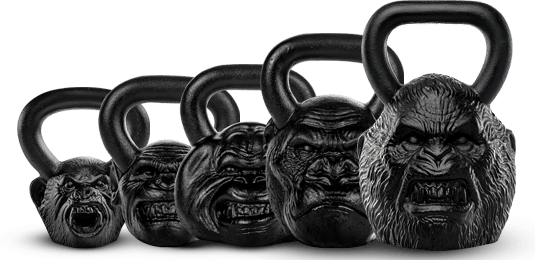 These sweet primal ape/monkey designs are made by Onnit. Onnit sells various supplements and workout gear including kettlebells and some other pretty cool stuff you don't really find in from elsewhere like these cool Captian America Shield Barbell Plates. They seem to have a problem with being out of stock though on much of their fitness items so you may need some luck in getting what you are after.
The lineup of Primal Bells looks like this:
18lb Howler Bell – $43.oo
36lb Chimp Bell – $85.00
54lb Orangutan Bell – $130.00
72lb Gorilla Bell – $170.00
90lb Bigfoot Bell –  $215.00
Let your inner ape out by swinging one of these bad boys around. These kettlebells feature extra-large handles to be sure there is enough room for your hands. Reviews on these are mostly favorable with a negative review stating the handles had sharp edges.
Any Negatives?
Aside from the possible sharp edges which I think is likely an isolated incident, the Primal Bells are currently sold out on the 72lb and 90lb kettlebells as this article is being written. Hopefully, they will be restocked soon.
Website: www.onnit.com/primal-bells
#3 Zoobells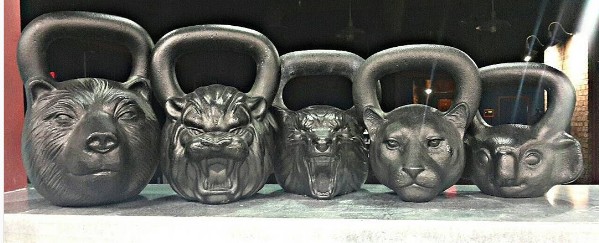 Zoobells are a really cool line-up of variously sized kettlebells using different animal heads for the different sizes. These kettlebells are all made in America and are pretty freaking cool if you are an animal lover or just want something unique or badass. Here is the full line-up:
18lb Koala bell – $54.99
26lb Panther Bell – $84.99
34lb Wolf Bell – $109.99
54lb Lion Bell – $134.99
75lb Bear Bell – $169.99
Zoobells are a smaller company in Massachusetts. They ship all over the United States and can likely ship outside of the USA but I would email them and ask, they have pretty good customer service and will do their best to take care of you. Reviews on the Zoobells look to be all favorable.
Any Negatives?
You may have trouble getting one if you are outside of the USA and outside of North America in particular.
Available at: zoobellsusa.com
#4
okpro Menace Cast Iron Kettlebell
Next up we have a really cool skull-designed kettlebell from okpro. This kettlebell is available through Amazon so purchasing it is very quick and convenient. Buyers noted that
Here is how the current sizes and pricing break down:
Shipping is $4.95 which is really cheap for something that weighs 40 lbs.
These skull bells are also covered in a black powder finish to prevent chipping & corrosion even under heavy training so they should last a very long time. It also has a nice wide handle so you won't have any trouble with the grip as well as a flat base to keep it from rolling around.
Any Negatives?
The big glaring negative with this one is that it is currently only available in the 40 lb size. That's a nice size but people need more than one option. Hopefully, they will have more sizes coming soon.
#5 Marvel Hero Elite Ironman Bells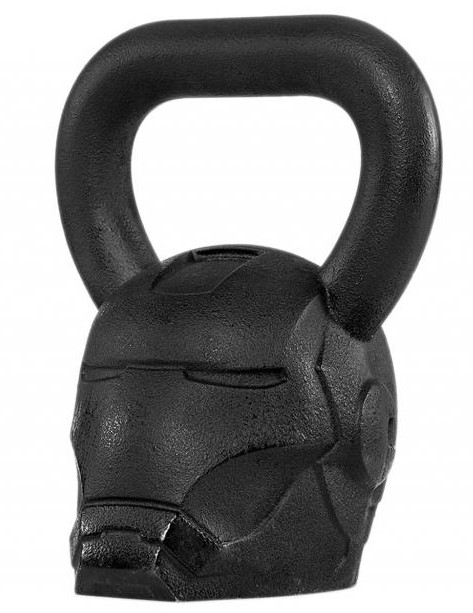 The Ironman kettlebell is a new addition to the Rogue lin-up of kettlebells. The kettlebell is shaped like the Ironman helmet as you can clearly see. This bad boy is perfectly weighted and fully functional and also features a chip-resistant coating. The smooth surface also minimizes friction with the arm and body during a workout.
40lb Ironman Bell ~ $119.95
Any negatives?
The downside with the Ironman Bells is they are only available in the 40lb size, if you want anything bigger or smaller you are out of luck. Another negative is that they are not made in the USA, they are made somewhere overseas and shipped in. Also on the downside, they are often sold out but you can sign up to be notified when they are back in stock so you can be sure to get one.
Website: Rogue.com – may not be carried by Rogue anymore
#6 IronSkulls
Ironskulls are totally badass and these are a bit unique from the other kettlebell designs on the list (even the other skull ones). With the Ironskulls you can get the kettlebell in the traditional flat black or you can get one of their custom paint designs. Also, if you have a design you would like them to use on a skull they can do that as well. These are truly unique and really cool. Sizing and pricing is as follows:
13lb Kitty Bell – $44.99 for solid black, customizing art $10-$60 extra
18lb Skull Bell – $59.99 for solid black, customizing art $15-$60 extra
26lb Skull Bell – $64.99 for solid black, customizing art $15-$60 extra
35lb Skull Bell – $84.99 for solid black, customizing art $15-$65 extra
45lb Skull Bell – $94.99 for solid black, customizing art $15-$65 extra
53lb Bulldog Bell – $109.99 for solid black, customizing art $15-$100 extra
53lb Skull Bell – $109.99 for solid black, customizing art $15-$100 extra
63lb Skull Bell – $139.99 for solid black, customizing art $15-$100 extra
70lb Skull Bell – 139.99 for solid black, customizing art $15-$100 extra
88lb Skull Bell – $169.99 for solid black, customizing art $15-$100 extra
215lb Mega Skull – $589.99 for solid black, customizing art $150 extra
They have their own custom options you can choose from depending on the size and style of the bell or you can have them do something totally custom, the choice is yours. These kettlebells are all American Made, they also have an option of getting a custom engraved plate on the back if you are interested in that option which is also pretty cool. Take a look at their website to see all the designs they have, it is fun just to look through and they have way more than we can show in this article.
Any Negatives?
The only real negative that comes with these is if you get a nice customized kettlebell you may not want to actually use it. It's like a piece of art and you might be too afraid of chipping it or damaging if you go ahead and start slamming it around. I know I would think twice about using it myself.
Website: www.ironskullfitness.com
Related: The 10 Best Kettlebells on the Market by Category
#7 BoomBells
If you come from a military background then Boombells are for you, and if you aren't from a military background you should still consider one of these because they are sweet! As you can see these are kettlebells that are shaped like grenades made by the people at Madfitter.
Madfitter was started by Logan Barton who has 11 years of active duty in the navy and is also a Crossfitter. He is also partnered with 2 other gentlemen who are military members and CrossFitters to form the Madfitter team. They are currently based in Corpus Christi, TX. They also sell some other pretty cool military-themed workout gear, the jump ropes, in particular, look pretty sweet.
Here are the available sizes and current pricing for Boombells:
18lb BoomBell – $42.95
26lb BoomBell – $58.95
35lb BoomBell – Out of stock at the time this article was written
44lb BoomBell – $92.95
53lb BoomBell – Out of stock at the time this article was written
72lb BoomBell – Out of stock at the time this article was written
88lb BoomBell – $162.95
Another cool part about BoomBells is that a portion of the profits goes to charities to help past and present service members.
Each BoomBell is painted Flat Army Green Powder Coat that is chip resistant and can take serious abuse. Order these today and make your workout "the bomb", sorry I had to say it.
Any Negatives?
3 sizes were out of stock when this article was written, seems to be a common theme among the uniquely designed kettlebell manufacturers as you will find out with the remaining options.
Website: www.madfitter.com
#8 Bob-boobs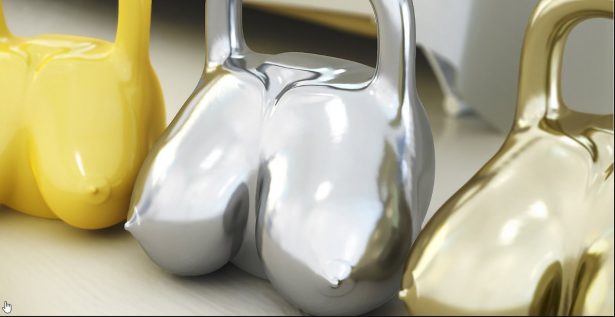 Next up we have easily the most hilarious kettlebells on the list. I mean, what guy wouldn't want to play with a set of boobs and get a workout right? I am not sure how balanced or practical these are but I really don't care, they are just too funny. Here is how they break downsize and price-wise:
35lb Bob-boob $375.00
52lb Bob-boob $435.00
70lb Bob-boob $495.00
I know what you are thinking, those prices are insane, and they are.
Any Negatives?
These have yet to hit the market though as far as we can tell. There was a big buzz about them in 2013 saying they were soon to be coming out that October but we cannot find them for sale anywhere or any info of them being sold. It seems like it never happened. They were designed by Ukraine based team at 306 Creative Communication Agency and we are not sure whatever happened with the Bob-boobs or if they may still be coming out sometime soon. We are going to contact them and then we will update the article if we find out any information. Perhaps it is only available in Ukraine and the surrounding area. Another negative has to be the price if you can ever find one.
Website: www.306.agency/breast-weight
Update 10/15/2017 – Website no longer works. You would be a miracle worker if you could get your hands on these.
#9 DemonBells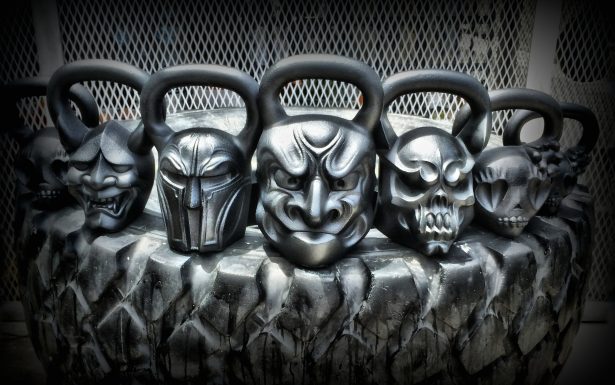 Demonbells are another really cool set of kettlebells from a company based out of San Diego. They feature different styles of demons in different sizes along with a pretty cool SpartanBell. Here are the different sizes and prices:
16lb Sugar Skull $59.99
26lb Sugar Skull $79.99
35lb Sugar Skull $99.98
35lb Hannya $99.99
54lb Daiman $124.99
54lb Spartan Warrior $124.99
72lb The Big Boi $174.99
The Sugar Skull sizes are available in hot pink or traditional black. The other styles are all done in the traditional black.
Any Negatives?
While the designs are pretty cool there are a lot of bad reviews on their website and on their Facebook page with people never receiving their product and very bad customer service if any at all. Not sure if this is still the case but I would use caution when ordering from them, perhaps see if they will take a COD so you don't end up getting stiffed.
Website: www.demonbells.com
Update (10/18/2017) – Looks like DemonBells may have gone out of business. Can't really say we are surprised.
Conclusion
These kettlebells are all pretty awesome, unfortunately, availability is not what we had hoped for on many of the designs. There are some really cool ones that are readily available though so if you like any of them you should be really happy. The price is a bit high though so if that is too much for you and you just want a regular kettlebell for a regular price you can always just go with Kettlebellkings, they have high-quality products and average pricing that will get you a great workout and leave some money in your wallet.