(Last Updated On: March 19, 2022)
Cross-training shoes encompass a wide variety of exercise and physical activities. They're somewhat the jack-of-all-trades footwear for those who wish to live an active lifestyle.
When it comes to choosing the right cross trainers, most will probably just pick their favorite brand and whatever's the latest model available. However, you'll be missing out on key features, such as level of support and how it helps you with your particular discipline, including running, HIIT and others.
Fear not- we present to you the 15 best cross-training shoes money can buy.
Best Cross Training Shoes Quick List:
See below for detains on each.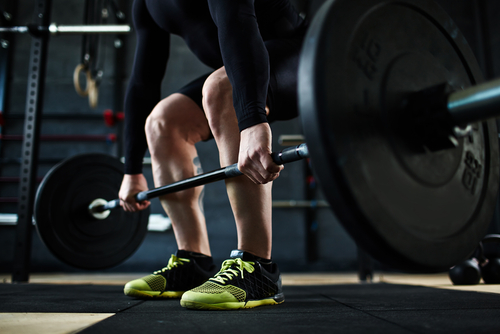 The 15 Best Cross Training Shoes on the Market
These are the best cross-training shoes available today, no matter what you are looking for in a shoe you will find it on this list.
Best Cross Training Shoes Overall
Reebok Nano X1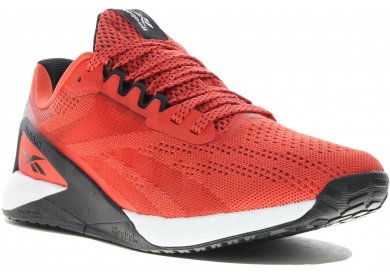 Cross-training and the Nano X1 make for a beautiful match- just about every aspect of this shoe is tailored for it. Price is a superb selling point as well, because it's not too expensive nor too cheap, and it's durable enough to let you focus on your movement without worries.
Wearability is easily the best characteristic of the Nano X1. The shoe boasts zero break-in period, and you'll swear that you're wearing old shoes if you don't look down. There's the speed chassis which is located at the heel, and energy-returning foam to give you a boost in all directions- stability won't be an issue here!
The Nano X1 comes in two forms- the Knit and the Grit, where the difference is that the Knit has a lighter and more breathable material while the Grit features a tougher exterior. Being made by Reebok, you'll be sure to have a pair you won't replace anytime soon!
Pros
Speed chassis and foam in the heel adds great stability
All-day fit with the Flexweave knit upper technology
Branded and made to last
Cons
Elevation is a bit higher
Best Cross Training Shoes for Women
Nike Metcon 6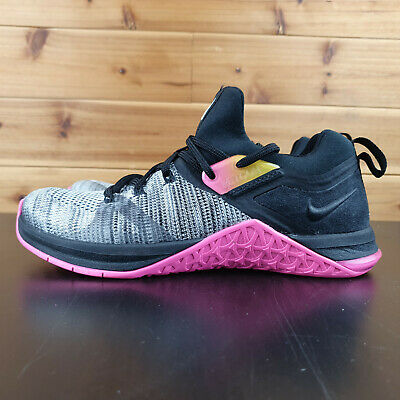 If we were to pick a training shoe for women then the Metcon 6 by Nike would be first on our list. Understandably, women's needs are different in a cross-training shoe and Nike perfectly understands this, and it's for this reason they made the Metcon 6.
Stability is a crucial aspect in cross-training, and having the right shoe can mean the difference between results and injury. The Metcon 6 has some of the widest heels available, allowing you to shift your balance on the fly and not worry about toppling over. You'll be able to do squats and weight lifts and still feel fairly grounded and able to respond in an instant.
This version is better than its predecessor, the Metcon 5 in terms of breathability. Strategically placed lightweight mesh allows for good airflow and keeps your feet cool and comfortable. Feel-wise, you'll like the soft forefoot and firm heel foam for high-impact movement and stability. It's also super durable as there's a thin layer of rubber to protect the foam, reducing training wear and tear.
Pros
Super wide heel for stability
Even lighter than the Metcon 5
Experiences less wear and tear than other shoes
Cons
Best Cross Training Shoes for Men
Reebok Nano X1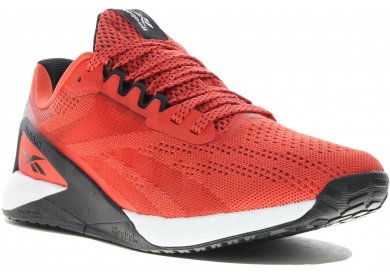 The Nano X1 hits our list twice and is great for guys who are into cross-training. You get much-needed support, breathability and a locked-in feel that's exclusive to the Nano brand.
The cross-training discipline will have you doing a lot of sudden movements and in different directions, something that the Nano X1 is capable of. High-quality energy-returning nanofoam and the bottom speed chassis makes bouncing off the ground easy, while an optimized toe shape gives you more options to use your front for stability and power.
What we like about the X1 is how there's a comfort collar that wraps around your feet snugly and gives you virtually zero break-in period. Breathability is a plus, thanks to the soft yet durable Flexweave knit upper.
You also get plenty of color options, although the others have slightly different functions (Adventure, Grit, etc.) Still, once you slip these on and run through your paces you'll feel like it's a shoe you've worn for a year or two!
Pros
Comfort collar offers a snug and comfortable fit
All-day wearability so you won't have to switch shoes mid-way
Nice and varied colorway selections
Cons
Not for running long distances
Best Cross Training Shoes with Arch Support
Hoka One One Arahi 4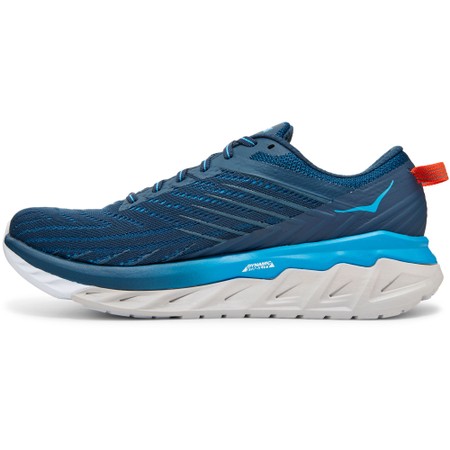 When it comes to providing arch support the Arahi 4 takes the pole position. The cross-training shoe has a low-profile cushion bed and technology that innately corrects overpronation and inward rolling.
The Arahi 4 was originally designed as a running shoe, but it works flawlessly in the cross-training department as well. Every aspect is designed for support and stability with a degree of comfort. For instance, the upper is refreshed with ultralight material and now has better structural support.
The Arahi 4's bottom features are where the shoe shines. Flat-waisted geometry and the EVA J-Frame technology stops overpronation and inward rolls without doing a hard stop on gait correction. It's worthy to note that the cushion bed is low and closer to the ground, so you feel every step in the ball and heel. However, you won't be feeling too much stress due to the meta-rocker underneath.
Pros
Superb for those with arched feet
Low-slung profile provides excellent stability in quick movements
Teaches you how to run properly
Cons
Limited stock and availability
Related:Best Running Shoes for Plantar Fasciitis
Best for Supination
New Balance Trainer 608 V5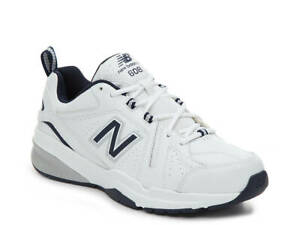 Supination is a major bummer, and when left unchecked can cause considerable pain and inadequate standing support. For those who are suffering from this condition, we recommend the New Balance Trainer 608v5, which gives you more wiggle room in Wide and X-Wide options.
New Balance went with comfort first, then style with the 608v5. The end product is a reliable and sturdy, yet comfortable shoe for cross-training purposes. First, you get the ABZORB heel pad for premium cushioning and outsole flex grooves for flexibility, then a padded collar foam and slip resistance for added grip. Strategic reinforcement compensates for supination and allows you to walk, move and run with less strain and greater comfort.
Design may be a bit basic but you get excellent supination support at an affordable price.
Pros
Several cushion and supportive features to prevent supination
ABZORB cushioning works great as a shock absorber
Doesn't scrape the ankles
Cons
Best Cross Training Shoe for the Money
Reebok Nano 9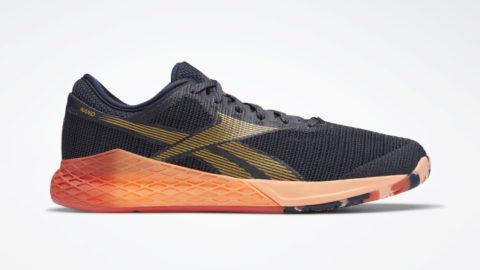 The Reebok Nano 9 is a jack of all trades cross-training shoe, and one that performs really well on a variety of movements. The brand really meant business when it became the official provider of CrossFit footwear and apparel, and the Nano 9 is a testament to that claim.
You'll love the Nano 9 where heavy lifting is concerned, thanks to the low heel drop and wide toe box. This setup accommodates a wide variety of feet and activities, from weight training to running and everything in between.
What separates the Nano 9 from the rest of the pack is the way Reebok applied its technological know-how to make it comfortable while keeping stability and durability in mind. There's the added midsole cushion, Metasplit grooves, and new foam material. A Ropero midsole wrap wraps from heel to midsole to keep the shoe serviceable even after a rugged climb.
Pros
All-around training shoe with new comfort and stability features
Extremely flexible and durable at the same time
Holds up against heavy weight lifting
Excellent workout shoes all around
Cons
Best Cross-Training Shoe for Running
Under Armour Hovr Rise II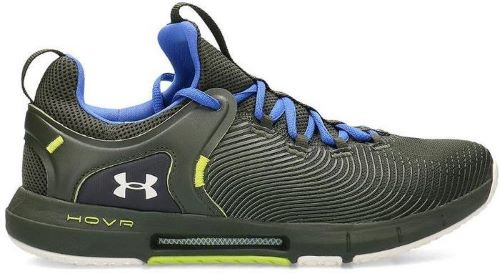 Is running a huge part of your training regimen? You'd be best served with a shoe that's primarily for running, yet flexible enough to give you support for other things. For this reason, we'd wholly recommend the UA Hovr Rise II, a fine shoe specimen with very impressive cross-training features under its hood.
The HOVR technology is easily its biggest selling point. Under Armour has created a one-of-a-kind cushioning system that returns energy through its foam, encased within a firm EVA midsole to provide explosive performance and comfort. Slipping it on and training is akin to experiencing zero gravity, and you'll tend to look down every few seconds to make sure you're wearing shoes.
Speaking of which, there's no shoelace to get tangled up on- instead, you get a stretch bootie design and an external strap to secure yourself in. A full rubber outsole helps in multi-directional movement, while a 3D printed mesh upper lends its lightweight and abrasion-resistant characteristic into the fray.
Pros
Good, shoelace-free design
HOVR technology is a must-experience
Less wear and tear, thanks to the abrasion-resistant upper mesh
Might replace your old running shoes
Cons
Bootie design can take a while to get used to
Best Cross-Training Shoe for CrossFit
Nike Metcon 6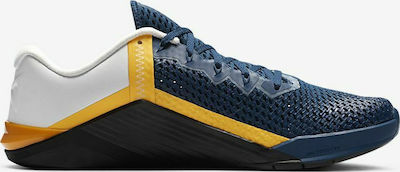 Nike's Metcon 6 deserves a special mention here mostly because it's super stable and therefore excellent for CrossFit workouts. That's the second time the shoe appeared in our list, which speaks volumes about its quality.
Unmatched breathability is the name of the game here. The Metcon 6 has managed to 'outbreathe' its predecessor with a lightweight upper mesh that allows optimal airflow within. Nike understands that every current is important, especially for CrossFitters who switch between high-intensity workouts and heavy lifting. Also, we like how the Metcon 6 is made super stable, thanks to a wide heel design and the option to insert a Hyperlift addon.
Price-wise, you'd be getting good value for money since the upper is fairly resistant to abuse, while rubber encapsulates wear points underneath. The soft forefoot for switching between high-impact movements and solid foam in the heel area are wins for CrossFitters as well.
Pros
Great breathability
Looks stylish and performs just as good
Wide heel provides exceptional stability
Cons
Not suitable for wet conditions
Best on a Budget
Under Armour Hovr Rise II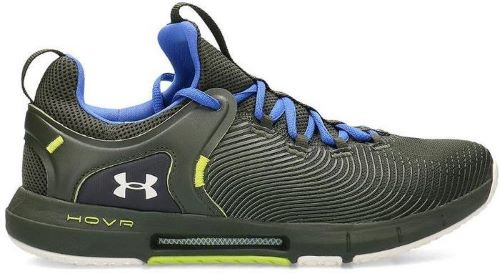 It's amazing how Under Armour has managed to keep the costs down low when creating the Hovr Rise II. Overall aesthetics and color options may be a bit lacking, but all the important points and cross-training factors are there.
The energy return you get from HOVR technology may take a while to get used to, and it's not in a bad way. You'll bounce back from every box jump, burpee and ladder drill quickly, and you'll be more agile even when doing multi-directional movements. And it's not just the inside, though- the Hovr Rise II sports a full rubber outsole to give you absolute traction on virtually any surface.
The shoe has a laceless design and instead uses a bootie fit, and a strap keeps your foot locked down during training. It's one of the best cross-training shoes for those who want a capable shoe that's priced at under a hundred bucks.
Pros
Great value for money
HOVR technology is a game-changer
Bootie design provides a super snug fit
Cons
Bootie fit might be too tight for some
Best Premium Cross-Training Shoe
Reebok Legacy Lifter II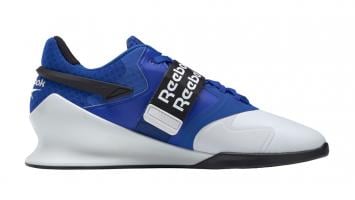 Those dedicated to their cross-training discipline will want to splurge on premium shoes, to which we have the answer. The Reebok Legacy Lifter II is the absolute best in the high-end department, sporting a level of toughness and design reserved for extreme and lengthy workouts. It caters to the casual crowd as well, with eye-catching aesthetics and top-notch visual appeal.
The Legacy Lifter II touts a TPU heel clip for maximum stability as it's intended to be used in lifting scenarios. Combined with the raised heel feature, you'll be in an optimal position to carry, move and shift as needed without missing a beat.
The shoe does away with laces and opts for a logo strap instead. Tough rubber outsole covers the exterior, while a textile material serves as the upper. It may not look like it, but wearing it gives you a certain degree of breathability and helps keep them cool and comfortable.
Reebok's shoes are extra durable and are made to age gracefully over time. Whether you are doing box jumps or rope climbs these shoes will have your back.
Pros
Killer design and aesthetics
Heel technology and TPU clip specially made for cross-training
Keeps your feet cool and comfortable
Cons
Heavier than other cross-trainers
Best Cross-Training Shoe for Weightlifting
Hylete Circuit II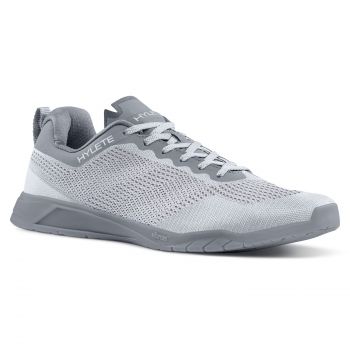 Weightlifting is a niche discipline that calls for different shoe aspects. The Circuit II from Hylete manages to hit every nail in the head due to its high-impact absorption technology and features that are centered around stability.
What separates Circuit II from the pack is its interchangeable insoles. There are three of them in total- Run, which consists of Ortholite foam and higher profile, Train, which sports a medium heel profile and Lift, which offers a 'barefoot' feel and a low-slung insole. Switching is just a matter of swapping them out according to your workout routine.
There's also the heel counter design to make your feet stay in place. The toe box is a special mention as well- weightlifters will love how they could splay out and tamp down whenever they're trying for a personal record. Externally, a revised Vibram outsole and knit fabric keeps things flexible and grippy in terms of traction.
Pros
Superb support for weightlifting sessions
Sports interchangeable insoles for lifting, training and running
Outsole design and mechanism support flexibility
Cons
Best for Outdoors
Reebok Nano X1 Adventure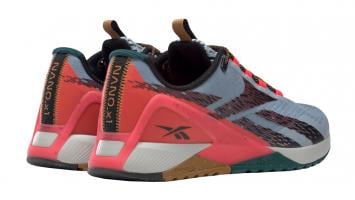 Rugged good looks aside, we like how the Nano X1 Adventure performed in a variety of training conditions, so much so that it deserves the "best for outdoors' spot in our list. It's versatile enough that you can use it indoors as well.
The Adventure receives the same Floatride Energy Foam technology that gives it an unbelievably light and ultra-responsive cushioning. If you mainly use your forefoot to start your movement then you'll find these cross-trainers to be more than serviceable. Unique lugged outsole allows for gripping most outdoor surfaces, whether it be concrete, stone or dirt.
It wouldn't be a good outdoor shoe if it can't withstand the elements, but Reebok has that in mind when designing the Nano X1 Adventure. Stretch ripstop covers the upper and makes it very durable and comfortable to a degree. Lace closure and an EVA midsole round out the shoe's features and make for a well-rounded trainer.
Pros
Outer reinforcement reduces outdoor wear and tear
Raised lugs provide excellent surface traction
Stretched ripstop is really tough
Cons
Some might experience heel rubbing
Best for HIIT Training
Nike Air ZoomX SuperRep Surge
Complete your HIIT workouts easily with the ZoomX SuperRep Surge, an endurance shoe that works on most, if not all movements. Containment support and Nike's trademark foam returns energy and keeps you moving with very little fatigue.
Rowers will have a field day with the shoes' built-in rower clip, and reinforced mesh keeps them from foot strap wear and tear. It also works very well with the treadmill and keeps you in pace, whether it's a light run or an all-out race.
Rubber treads at the bottom are optimized for maximum floor traction. What we like about it is how grounded you feel whenever you slip them on. Side arcs are there to support additional weights during strength training.
Pros
Stable without being too heavy or light
ZoomX foam energy return is a marvel
Has rower clip and rubber tread for grip
Cons
A bit bulkier than other cross-training shoes
Best Grip
Under Armour TriBase™ Reign 3 Training Shoes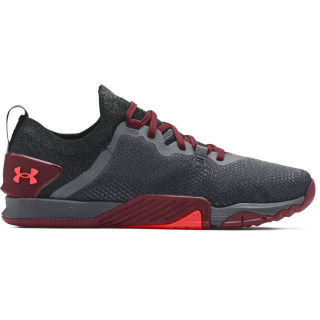 This unassuming shoe from Under Armour may be simplistic in design, but it will surprise you with its superior grip on any floor type and surface. We tested it rigorously, and we're proud to say that the shoes pass with flying colors!
Every aspect of the training shoe is made for optimal grip and stability, from its low construction to the external heel counter. What's noteworthy is the triangular base designed for maximum flex and floor contact- you'll feel 100 percent grounded from start to finish and won't have to worry about slipping or injury.
A rubber build right under the toe box gives you even more grip, and engineered traction and flex in the forefoot as well as an external heel counter round out the details. Micro G foam serves as icing on the cake and provides essential comfort.
Pros
Extremely grippy and stable
Flexible enough to accommodate virtually any movement or exercise
Made from premium material
Cons
Best for Wide Feet
New Balance Minimus Prevail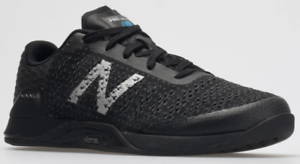 Those with wide feet, listen up, we found that the Minimus Prevail offers some of the most generous foot space, and supplements this with several quality of life features to make your training more comfortable.
Pick the 'wide' width and the appropriate size and you'll find the cross-training shoe to be a great fit. Midsole cushioning is perfect in this regard, and several reinforcements on the upper and outsole make the Minimus Prevail tough and durable footwear.
Vibram outsole works wonders in lifting, while TPU fibers on the mesh upper and an external heel counter give you much-needed flexibility. Colorways are pretty basic but you get the comfort and stability other shoes might not offer.
Pros
Best for those who have fitting issues
Vibram and midsole cushioning a good combination
Has standard and wide width options
Cons
What To Look For In A Cross-Training Shoe
Versatility
A proper pair of cross-training shoes should have enough flexibility that you can do most, if not all your movements without being seriously impeded. Versatility is actually the first thing you should look for, as you'll be doing weights, high-intensity workouts and running, among other things.
Durability
If you want to get the most bang for the buck then you'll need to take stock of how tough a training shoe is. Reinforced upper meshes are welcome here as it reduces wear and tear inherent in cross-training, e.g., climbing ropes, scuffing on heavy objects, etc.
Price
Price may depend on budget, but you can get a great pair of cross-trainers that fit the bill very well (see the Under Armour Hovr Rise II, for example). Otherwise, it's best to see if the shoe you're buying is potentially excellent value for money by reading reviews and choosing the brand you like.
Materials
When it comes to materials in a cross-trainer, you'll want proprietary foam technology, a breathable upper and outsoles that provide support. Materials dictate how flexible or supportive a shoe is, or how heavy and stable or lightweight it is.
Conclusion
There you have it- the 15 best cross-training shoes we could find today. Just pick the one that sounds right according to the best of category, or if you're still divided then we'd recommend the best overall, which is the Reebok Nano X1. Either way, you'll be sure to get your money's worth and a capable training companion that supports you 100% of the way.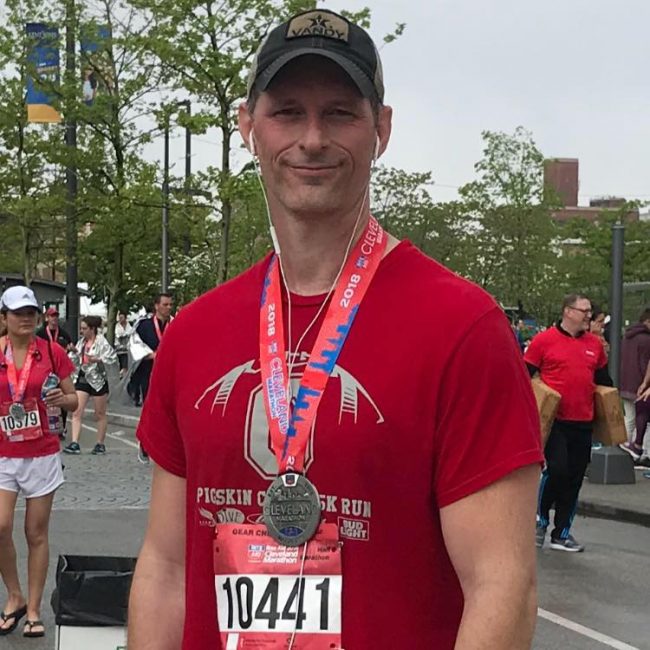 Ryan is a former college wrestler and lifelong fitness fanatic. He has run half marathons, done mud runs, placed in body transformation contests, coached wrestling and now coaches girls soccer. Not to mention he has also tried literally hundreds of supplements over the years and has a vast and thorough supplement knowledge. He has written for Muscle & Strength, Testosterone Junkie, The Sport Review and other publications. He is also the editor in chief of this website. Feel free connect with him on his LinkedIn page below.