(Last Updated On: June 27, 2021)
So, you are looking for a good bag to use at the gym. You might think that just any old duffel bag will do.
You couldn't be more wrong.
The thing is…
If your bag doesn't have compartments then your sweaty gym clothes and shoes will have everything in your bag sweaty and stinky before you even get home.
Lucky we are here to help. In this article, we will give you the best gym bags with shoe compartments and all sorts of other compartments for all of your stuff.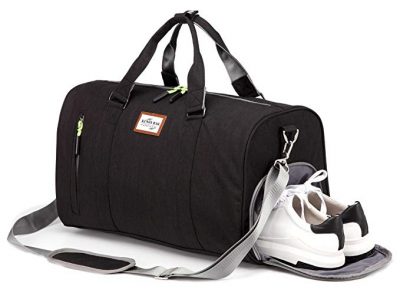 Types of Gym Bags
When people think about gym bags 99% of people think about the duffel bag. While this is the most common type of gym bag there is also the back.
These aren't the same backpacks you use for school either, nowadays many manufacturers are making gym bag backpacks that are meant to hold all of your gym gear and more.
No matter which style you prefer, we have you covered with great duffel bags and some awesome backpack bags.
Best Gym Bags With Shoe Compartments
These are the best gym bags with shoe compartments and all sorts of other compartments for you to put your gear.
#1 King Kong Backpack 2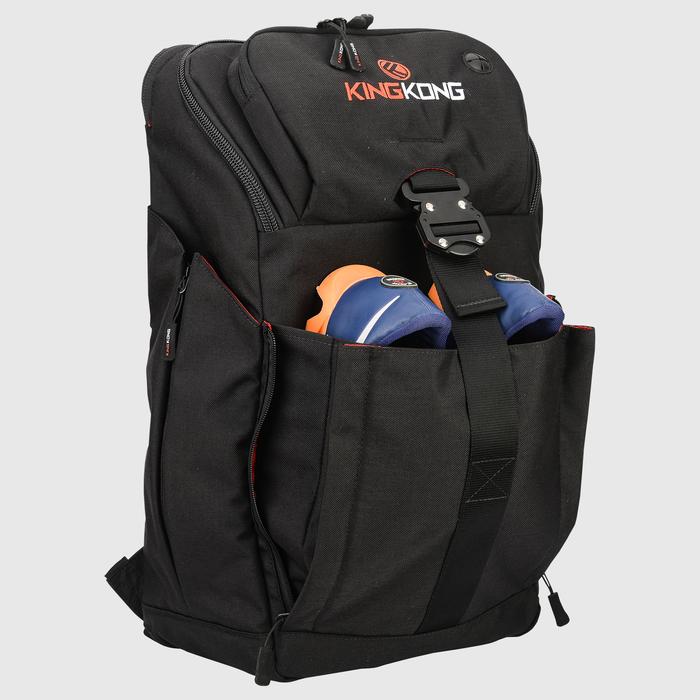 Topping off our list we have the King Kong Backpack II. This bad boy is loaded with all the bells and whistles you could imagine in a gym bag of any sort of backpack for that matter.
The King Kong Backpack II is made out of a super tough 1000D nylon that is nearly impossible to rip and is abrasion-resistant. One of our favorite features is the expandable drink pocket on the side of the bag, many bags offer smaller drink pockets that can't handle larger water bottles, the expandable pocket on this backpack can handle the largest water bottles on the market or multiple smaller bottles.
The shoe compartment is wisely placed on the outside of the bag and expands out so it won't use valuable bag space. It also comes with a strap and clasp to keep your shoes so secure that they would stay in your bag even while you wrestle a grizzly bear. The compartment also zips up close to the bag when not in use so it won't be flopping around.
Some other nice features we like
Highlights
2 Extra-large expandable pocket fits even the largest water bottles
Shoe compartment expands outside of the bag to save space inside the bag
Large zipper allows you to open the backpack like a suitcase for easy loading
Generously padded internal sleeve fits up to a 15 laptop
Top zipper compartment is perfect for knee sleeves, wrist straps, your phone and more
Interior pockets for extra storage and organization
Mini backpack also available
Any Negatives?
Expensive, while it is totally worth it, it may be out of some people's price range
Website: kingkongapparel.com
Related: The 15 Best Gym Bags on the Market
#2 Aer Gym Duffel 2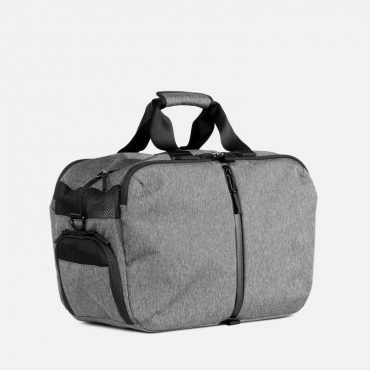 Next up we have the Aer Gym Duffel 2. This second-generation bag is another really great choice that you will be happy to own.
This bag features several compartments to keep all of your gym clothes and accessories neat and orderly. It is made from a 900D eco-dyed polyester on the exterior and features breathable pockets on the inside.  The shoe compartment is also ventilated and fits up to a size 13 shoe.  There are compartments for clean and dirty clothes so you can keep them separate.  It also features multiple internal pockets for accessories.
The one negative on this bag is that the shoe compartment is internal. This means if you have stinky shoes the stink will easily spread inside the bag. Aside from that, it is a very nice and stylish gym bag that you will be proud to own.
Highlights
Stylish
Separate compartments for dirty and clean clothes
Multiple internal pockets for accessories
Breathable pockets
Any Negatives?
Expensive price tag at $170
Internal shoe storage takes up room in the bag and may spread shoe stink
Website: aersf.com
#3 Gym/Work Pack by DSPTCH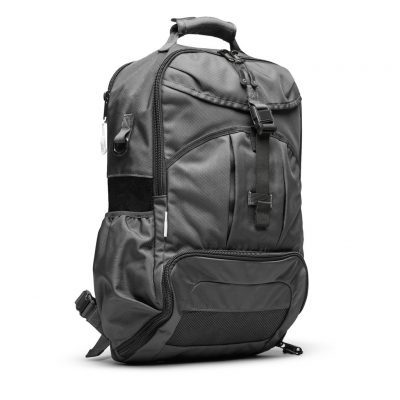 Next, we have another really nice gym bag by DSPTCH. This bag is for working professionals that also find time to make to the gym while managing their busy schedules.
This bag features a padded laptop compartment so your computer is securely protected. It also has a shoe compartment that is smartly ventilated to the outside of the bag.
The Gym/Work Pack is also lined with moisture-resistant nylon packcloth as well as ventilated panels to help reduce moisture and funky odor build up from dirty gym clothes. The exterior is also made from a tough 1680D Nylon that is both abrasion and water-resistant. It also features high-density foam shoulder straps to prevent fatigue when wearing the pack for extended periods.
This bag also features an internal shoe compartment that can fit up to a size 13 shoe. While it does offer ventilation to the outside it's hard to imagine that some shoe stink won't remain in the bag. Overall this is another really nice bag though.
Highlights
Made from extra-tough water-resistant material
Made for professionals who workout
Padded sleeve for laptop
Ventilated shoe compartment
Padded shoulder straps for reduced fatigue
Any Negatives?
Shoe compartment while ventilated is still internal and takes up room in the bag
Expensive at $198
Website: dsptch.com
Conclusion
There you have 3 great bags that for all of your gym needs including a shoe compartment. We prefer the King Kong Backpack II for its external shoe compartment, durable build, versatility and the way cool expandable drink pockets that can handle the biggest water bottles.  The Aer Gym Duffel II and the Gym/Work Pack are also great choices but they are a bit more expensive and have the shoe compartment on the inside of the bag which can take up a considerable amount of room.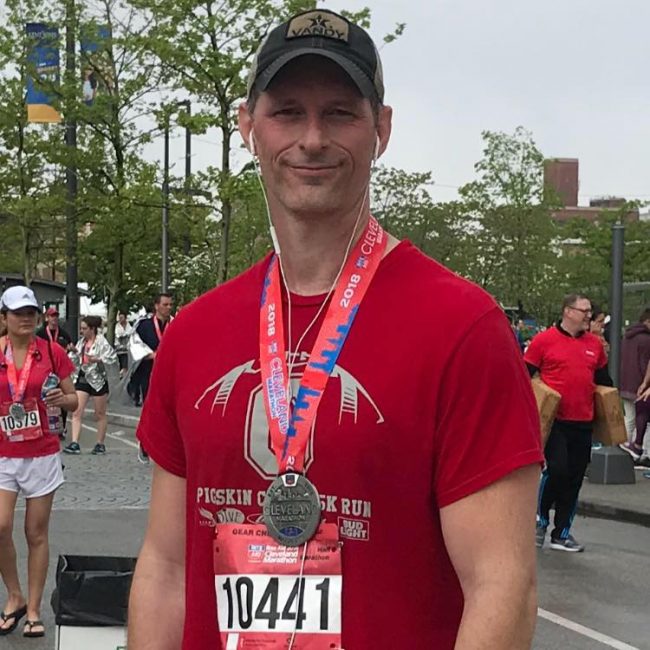 Ryan is a former college wrestler and lifelong fitness fanatic. He has run half marathons, done mud runs, placed in body transformation contests, coached wrestling and now coaches girls soccer. Not to mention he has also tried literally hundreds of supplements over the years and has a vast and thorough supplement knowledge. He has written for Muscle & Strength, Testosterone Junkie, The Sport Review and other publications. He is also the editor in chief of this website. Feel free connect with him on his LinkedIn page below.