(Last Updated On: July 28, 2022)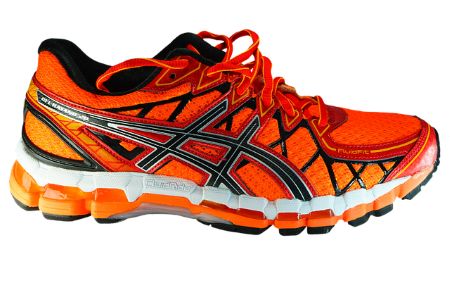 Having plantar fasciitis can be a literal pain, especially if you're the type who engages in sports and physical activities regularly.
The condition involves heel pain and marked inflammation of the plantar fascia, a stretch of tissue that connects your toes to the heel bone. Curiously enough, plantar fasciitis is more common among runners, overweight people and individuals who wear inadequate shoes.
For runners, does having plantar fasciitis spell the end for your beloved hobby?
The good news is that it doesn't. One of the best ways to address plantar fasciitis is by using running shoes that support your feet in the areas that matter most.
The 10 Best Running Shoes for Plantar Fasciitis
If your feet hurt from plantar fasciitis, these running shoes are the best options.
1. Asics Gel-Nimbus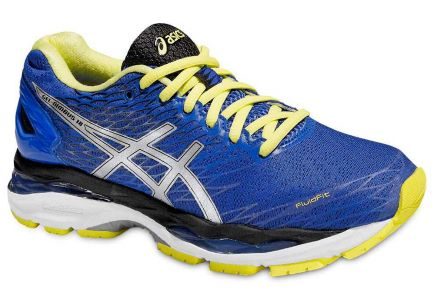 Asics has always delivered great-looking running shoes in the past, and the Gel Nimbus is no different. The brand doesn't compromise on what's inside either- you get top-notch support for heel pain when running over great distances.
Neutral and Underpronation runners will love the fact that the Gel Nimbus is one of the best shock-absorbing shoes around. Aside from the newer GEL cushioning unit in the fore and heel area, you also get TRUSSTIC technology in the shoe's arch for reduced weight, stability and product longevity.
High mileage runners will appreciate the midsole foam which disperses high impact force in the midsole. Engineered mesh upper and a superb AHAR outsole means you won't be changing running shoes ever so often.
Get the Asics Gel-Nimbus if you want a comfortable run even over great distances and a shoe that's top-rated in durability.
Pros
Excellent for Neutral and Underpronated runners
Reasonable price
Great color selection
Cons
Not recommended for Overpronated runners
---
2. Brooks Ghost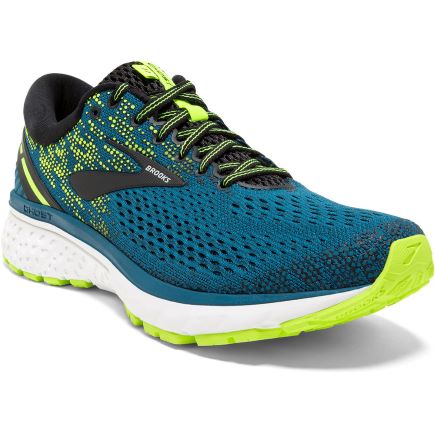 The Ghost running shoes by Brooks is aptly named because it has that 'barely there' feel. Brooks says that their running shoes have BioMoGo DNA and DNA Loft for impressive tactile response and comfort.
Look beneath the shoe and you'll find a set of shock absorbers for seamless heel-to-toe transitions. Flex Grooves ensure that your fore area gets enough flexibility to stave off foot problems and deformities.
What we love about the Ghost is that it has 3D Fit Print, which is a unique feature with the brand. A combination of structure and stretch materials are placed where they're appreciated most.
Each pair comes with a trial run guarantee, meaning you can return it at no cost if you're not satisfied within 90 days. First-timers can try it out and see if it's better than their current running shoe brand for free!
If I had to pick the best running shoes for women with plantar fasciitis this would be it. My wife loves them, great color options and a great fit.
Durability may be an issue with this shoe, my latest pair is pretty beat up for only being 6 months old. The sole is all beat up along the outside by the heal and the material around the toe area is fraying a little which is a little disappointing because the shoe is very comfortable.
Pros
Excellent lightweight materials
Has 90-day moneyback guarantee
Good fit and feel
Cons
May be too soft for some
Durability may be an issue as of late
---
3. Mizuno Wave Inspire
Overpronators don't have much choice when it comes to good running shoes, until now. The Wave Inspire series was made especially for these types of runners, with features that can ease the pain of having plantar fasciitis.
Remember what we said about toe boxes? The Wave Inspire has superior forefoot softness due to increased blown rubber. Then, Mizuno adds technologies such as the X10 for extra durability on areas that wear out faster while supplementing heel strike traction, the SR Touch for improved shock absorption and rebound, and the U4IC for midsole compounds.
It's also one of the most breathable shoes ever due to AIRmesh, Mizuno Intercool and Premium InSock. Somehow Mizuno has made a soft and comfortable structure that provides just the right amount of bounce.
On top of all that, this has been my personal running shoe for the last few years and I love it.
Pros
Great breathable material
Double Fan Wave for dynamic cushioning and support
The Overpronator's best friend
Cons
---
Related: The 15 Best Shoes for Cross-Training
4. Brooks Glycerin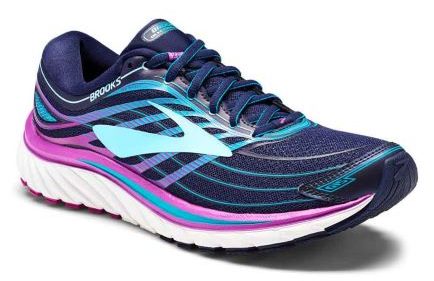 Brooks' Glycerin running shoes are tailored for maximum cushion and ride. The product has four points of interest and makes for good casual shoes when you're expecting a bit of action.
DNA Loft is the shoe's strongest point, offering incredible forefoot cushioning without loss of durability or tactile response. A plush transition zone makes heel-to-toe contact smooth and seamless. It's worthy to note that this helps ease the heel pain commonly associated with plantar fasciitis.
For those who want to get a natural running feel, you'll love the OrthoLite sock liner, which gives you extra comfort. Last but not the least, engineered mesh ticks all the right boxes, e.g., structure, breathability, and flexibility.
Brooks has always been known for outstanding support. Each pair of Brooks running shoes has a 90-day unlimited sweating or 'trial period' so you can gauge if the product is right for you.
Pros
Unbeatable softness and cushioning
Value for money
Urban design looks snappy and casual
Cons
Jack of all trades, master of none
---
5. Asics Gel-Kayano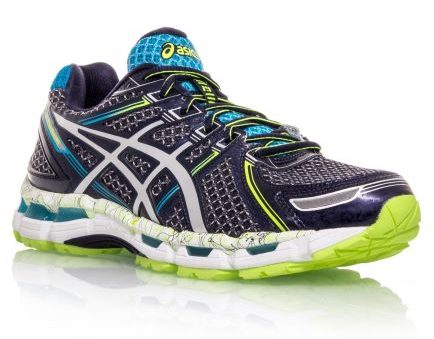 Next on our list of the best running shoes for plantar fascitis, we have another Asics product. The Asics Gel-Kayano is unparalleled when it comes to stability. Toshikazu Kayano took to nature and was inspired by the stag beetle's hard exoskeleton shell, which served as the basis for the product.
The Gel-Kayano sports a whole new support structure, combined with GEL technology cushioning. Shear deformation equals a sculpted incline for maximum impact absorption whenever your feet strike the ground at an angle. The ride is enhanced via adjusted heel geometry and FLYTEFOAM Propel technology in the midsole.
The result is a springy experience that can take your running to the next level. Among the list of running shoes, the Gel-Kayano touts durable cushioning and reliable support. Also, DuoMax reduces overpronation roll and thus the load taken by the ankle.
Pros
Has some of the best structural support you can get
Asics quality and build
Very durable
Cons
A bit heavier than other running shoes
---
6. Hoka One One Bondi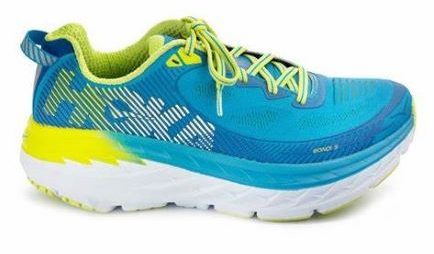 The Bondi is categorized as a 'road shoe' and is versatile in every which way. Whether you're running on concrete and gravel, or decide to go the off-beaten path and traverse on clay or grass, the level of traction and stability stays the same.
The latest iteration has a larger toe box to give you some extra wiggle space. Hoka One One describes the Bondi as a road shoe with 'squishy soft' feel and lightweight materials. One thing you'll notice is the extra thick outsole which means you won't be wearing it down anytime soon. And yet the whole shoe feels feather-light and won't weigh you down.
You get a strong tactile bounce and feel on any road surface with the Bondi. In terms of comfort and cushion, it certainly belongs in the top tier. The running shoe can double as casual footwear for when you're out and about most of the day.
Pros
Thick outsole
Very lightweight
Good design options
Cons
---
7. New Balance Fresh Foam 1080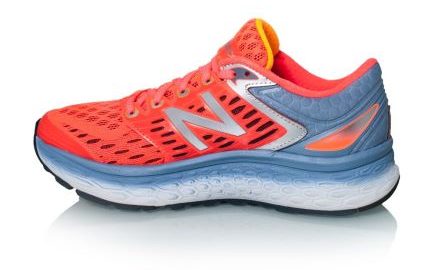 New Balance has been around the block and is a well-respected brand. Their latest running shoe, the 1080 can be bought at personalized width, e.g., from Narrow to X-Wide for that extra customization.
You'll find that Fresh Foam technology lies in the heart of this running shoe. The midsole is made of Fresh Foam and offers a greater kinetic rebound than the competition. It's premium cushioning at a very affordable price!
The midsole is thick just like Bondi with one special addition- laser engraving takes out the excess weight and adds a nice flexibility to the package. An Ultra Heel and Hypoknit gives your feet a snug fit without compromising on looks.
Pros
One of the cheapest in the list
Very lightweight and stable
Has width options
Cons
---
8. Saucony Triumph ISO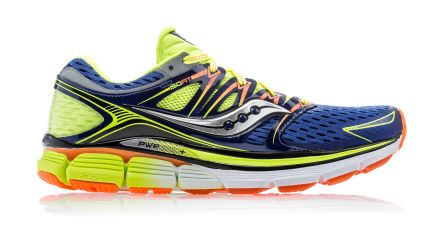 Don't let the low-slung appearance of the Triumph ISO fool you. It's a high-performance shoe that manages to tick all the boxes of running with plantar fasciitis. Heel pain is significantly reduced and you'll find yourself running greater distances than before.
ISOFIT technology and breathable mesh combine to wick away sweat and keep your feet comfortable. It's a neutral shoe with superb bounce for runners who don't want to feel like they're stepping on rocks after running for a while.
Reflective elements make it the ideal partner for night runs. The Triumph ISO is a worthy option for runners who suffer from underpronation.
Pros
Has free express shipping
Striking and colorful variants
Works well on road and track surfaces
Cons
May not be for Overpronated runners
---
9. Altra Torin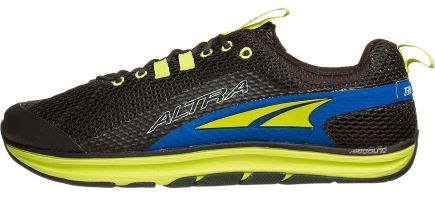 Torin is a favorite among runners as it's usually the go-to pair for long-distance marathons. You get balanced cushioning due to the fact that your forefoot and heel are the same distance to the ground, which means lesser impacts. The Footshape Toe Box is a welcome addition for those who want their toes to be limber and relaxed.
Altra has managed to map your foot's tendons and bones in the outsole technology, allowing it to move and shift naturally. The midsole is made of Quantic material and is exclusive for Altra enthusiasts.
Pros
Offers sufficient toe room
Fantastically lightweight
Responsive and comfortable
Cons
Lycra patches may feel restrictive
---
10. Brooks Adrenaline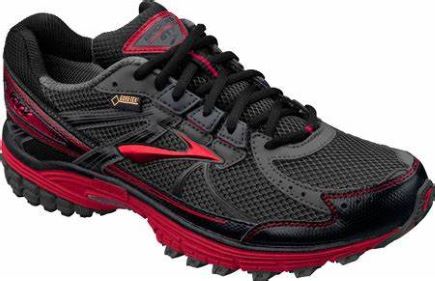 The Adrenaline running shoe by Brooks touts a new technology called GuideRails support system for responsive and ultra-soft cushioning. It keeps things low impact, especially for your knees with a couple of features- the DNA Loft and BioMoGo DNA for balanced cushioning, and a modernized fit via the 3D Fit Print and engineered mesh.
It's not every day a running shoe works to stabilize your natural range of motion, and Brooks has managed to hit that nail squarely on the head. Couple that with excellent support and a satisfaction guarantee and you have yourself a quality buy.
Pros
Innovative GuideRails system
Superb value for money
Brooks brand quality
Cons
May fall short in professional performance
---
11. Mizuno Wave Rider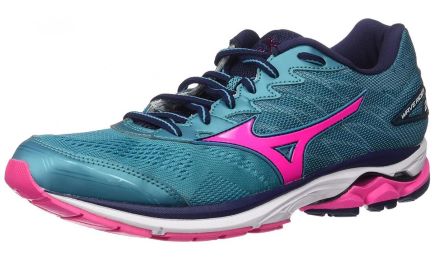 The Mizuno Wave Rider has gone through several iterations, all in the name of progress. Runners with plantar fasciitis can still go the distance with the help of this remarkable pair of shoes.
Extra cushion is added via the articulated U4icX within the heel wedge area. A new foam has been incorporated in the midsole foam for added durability tactile response. A softer collar stops irritation from sweat and prolonged running without sacrificing grip.
Mizuno's engineered mesh keeps your feet stable and able to breathe and move about. On top of that, you get a slick-looking pair of shoes that will turn heads wherever you go.
Pros
Stylish and well-designed
Good balance and durability
Has Premium InSock technology
Cons
---
What is Plantar Fasciitis?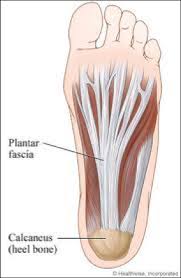 Before we get into the shoes let's talk about what plantar fasciitis even is.
The plantar fascia is a thick band of tissue that runs along the bottom of your foot. It connects your toes to your heel. It supports the arch of your foot and it needs to maintain a certain level of tension in order to do so.
If you do a lot of running, the plantar fascia can become irritated and inflamed. This can make the bottom of your foot and heel painful, especially in the morning.
There are a number of things you can do to help with your plantar fasciitis. We have covered these extensively in our article Plantar Fasciitis: Treatment and Prevention Guide, but for this article, we will be looking only at the best running shoes. And let me tell you, your shoes can make a BIG DIFFERENCE.
What to Look For in Running Shoe for Plantar Fasciitis
So, what are the elements that make a running shoe a good fit for someone who has plantar fasciitis? Take a look at the ones below.
Arch Support
When looking for the best running sneaker for plantar fasciitis it is essential to have good arch support. Arch support is a feature that can eliminate the many pains associated with foot problems, including plantar fasciitis. Moreover, it adds to the level of comfort you get especially when standing or walking for long periods of time.
In a sense, the downward pressure caused by running or standing gets evenly distributed across the arch area and adds balance and stability.
" src="data:image/gif;base64,R0lGODlhAQABAIAAAAAAAP///yH5BAEAAAAALAAAAAABAAEAAAIBRAA7″ alt="