Post updated on
Yes free so hop on them before they blow up, for those of you that are tech savvy. I have put together a list of 5 apps that can help you with your goals and keep track of all your hard work. If you're not about apps that's fine hopefully there is one or two that will change your mind. I use my phone for music and having the apps right there has helped me out. I am a firm believer in keeping track of stats, without them one cannot tell if there is an improvement or a decline in performance, strength, power just to name a few. Considering a large number of you use your phone for music to get hype or to avoid the annoying people that try talk to you between sets 😉 it's a no brainer (sometimes I just wear earphones just to be left alone). Why not kill two birds with one stone and use your phone to keep you on track. The following apps I have used for myself and clients with great success. Note they are in no particular order, the apps are available on IOS and Android models.
BodySpace app by Bodybuilding.com
With the Bodybuilding.com mobile fitness app, you can access BodySpace from your Android device and showcase your motivation and photos, track your progress, and network with other members who set, achieve, and surpass their health and fitness goals. And now, with immediate access to thousands of workout videos, nothing stands between you and your fitness success.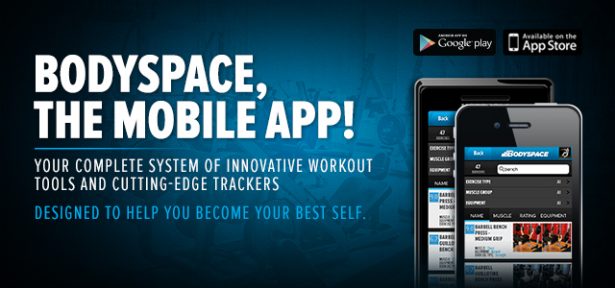 NOTE: You must have a registered BodySpace account to use this application. Don't have a Body Space yet? Download the Bodybuilding.com app now and start your free profile! You'll gain immediate access to a community of over one million members invested in fitness success.
Profile Management
Create a profile or login to your existing profile.
Networking made easy with complete access to your social news feed.
Browse BodySpace profiles.
Add or remove friends.
View, send, and receive profile comments
Android download – here
Iphone download – here
Wendler Calculator
By far my most favorite app, the Wendler program has done wonders for me, my strength gains were amazing!!!!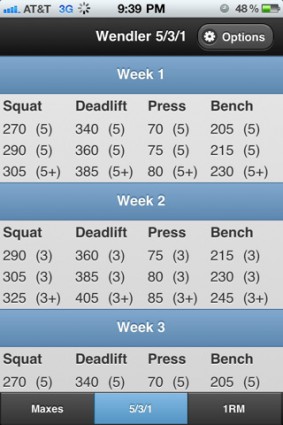 This is a simple app to do on the fly calculations for Jim Wendler's 5/3/1 program. The app is simple and easy to use, just like the program. The three main features are:
1) Calculate your 1 rep max using Jim Wendler's formula.
2) Get the weights needed for your worksets quickly and easily.
3) Find out how many reps you need to do at a given weight to achieve a theoretical 1RM.
It's small, easy to use and won't slow you down in the gym. Great for coaches who are constantly being asked in the gym to calculate 1 rep maxes and what weight their athletes are supposed to use.
Android download – here
Iphone users search app store
MyFitnesspal
Description:
 This is going to be a longer review as I feel if I could have one app this would be it!!!!! Lose or gain weight with MyFitnessPal, the fastest and easiest to use calorie counter for Android. With the largest food database of any Android calorie counter (over 3,000,000 foods), and amazingly fast food and exercise entry, we'll help you take those extra pounds off! There is no better diet app – period.
PC Magazine Editor's Choice Selection
Wired Magazine's Editor's Pick for Lifestyle Apps
Featured in the NY Times, Wall Street Journal, USA Today, Family Circle, Marie Claire, NBC, CNET, Shape, the Today Show and more.
USER REVIEWS:
"This is the best calorie counter, free or paid, and I've tried them all."
"The food database is HUGE! I've NEVER had a missing food."
"The first diet tool that has ever worked for me! I've lost 30 pounds!"
"This app takes seconds to use, it's that simple."
"Incredibly easy to use, can't believe I got mass off an app."
"This app literally saved my life."
"I can't believe this app is free! I would have paid for this."
"This is the best app on my phone. I use it every day."
WHY  I FEEL IT'S BETTER THAN OTHER FITNESS APPS
Largest food database of any Android/Iphone calorie counter – over 2,000,000 foods and growing daily
Easiest and fastest food entry – remembers your favorites, add multiple foods at once, save and add entire meals, and more. THERE IS NO FASTER OR EASIER APP THAN MYFITNESSPAL.
Fully syncs with the web, so you can log from your computer or your phone, which ever is more convenient. Plus your data is backed up online so you never lose it.
Diet with your friends – add friends and easily track and support each other's progress.
Comprehensive feature set – create your own custom foods and exercises, track all major nutrients, progress reports, customized goals based on your diet profile, recipe calculator, and more.
IT WORKS – the success of our users shows that we can help you lose weight
FOOD 
3,000,000+ food database of global items and cuisines. Updated daily.
Barcode scanner – scan the barcode of a food and easily find it's match in our database.
Track all major nutrients: calories, fat, protein, carbs, sugar, fiber, cholesterol, and more.
Frequently used foods automatically remembered for easy access.
Save and reuse entire meals.
Recipe calculator – Enter your own recipes and calculate their nutritional contents.
Add multiple items at once – NO OTHER APP HAS THIS.
Create an unlimited number of custom foods.
EXERCISE

Over 350 exercises.
Track both cardio and strength training, including sets, reps, and weight/rep.
Create an unlimited number of custom exercises.
Enter your own calorie amounts – great for HRM's or exercise equipment with calorie reports,
FRIENDS

Connect with friends and easily track and motivate each other.
MyFitnessPal members who diet with friends lose 3X more weight on average!
GOALS

Customized goals based on your specific diet profile – age, gender, activity level, etc.
Enter your own goals if you've gotten specific recommendations from a doctor, nutritionist, etc.
REPORTS 
Track your weight, measurements and more.
View charts of your progress over time for motivation.
Daily nutritional summary with all major nutrients.
View more detailed reports online at www.myfitnesspal.com.
ON THE WEB AT WWW.MYFITNESSPAL.COM
Get support and motivation from our huge community of millions of dieters just like you.
Entries are automatically synced to the web and vice versa, so you can log online or on your phone, whichever is more convenient.
Automatically post your progress to Twitter and Facebook (optional).
Note: a MyFitnessPal.com account is required to synchronize and safely backup your data. You can create your account for free within the app.
Android Users download – here
Iphone users download – here
Runtastic Running and Fitness App
Runtastic uses GPS to map and track your sports & fitness activities, such as: running, jogging, biking or walking. The Runtastic app tracks your cardio workout progress (time, distance, elevation change, speed, calories & more) to help you reach training goals. Join us and become part of a global fitness community that is fun & motivational, whether you're looking to improve your health, build up cardio endurance, or train for a marathon! Runtastic is a great fit for users of all fitness levels.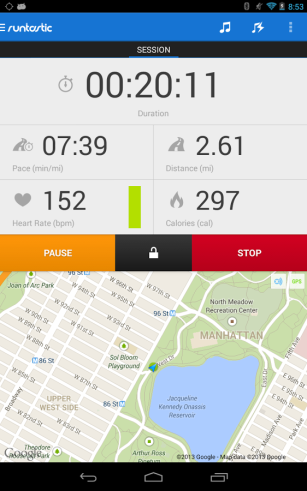 APP FEATURES (limited in LITE version)
Track workouts in real-time with built-in GPS and monitor workout progress (time, distance, speed, pace, calories, elevation, etc.)
Runtastic Earth View: Watch your workout in 3D (free Google Earth App required)
Personal workout diary & metrics
Mapping: Detailed live mapping & historic mapping of training sessions (Google Maps)
Dashboard configuration: Display preferred training statistics
Graphs: Get charts with elevation, pace, speed & heart rate info from your jog/run
Enjoy cardio workouts with integrated music player
Set goals for training time & distance
Colored traces: Track changes in speed
Integrate Runtastic activities to your MyFitnessPal account
Monthly & overall metrics for distance, number of workouts, duration & calories
Share sports activities on Google+, Facebook & Twitter
Manual entry of workouts: Add treadmill, spinning & weight lifting workouts
LiveWare™ extension for Sony SmartWatch
RUNTASTIC.COM
Save workouts to Runtastic.com & join our online fitness community. You'll get further exercise data analysis, coaching & comparisons with friends! These benefits keep you motivated while striving to reach fat burning, cardio training or overall health & wellness goals.
ADDITIONAL TRAINING RESOURCES
Choose an expert training plan & track your body statistics. Training plans provide guidance & inspiration for fitness goals, such as: weight loss, building endurance, jogging a 5k or 10k, running a half-marathon or running a marathon. Further health & fitness tips are provided by Runtastic Fitness Coach, Lunden, on the Runtastic Fitness Channel on YouTube!
RUNTASTIC WORKOUT MIX
Runtastic has partnered with Power Music – the world's No. 1 producer of workout music – to help users increase motivation, length of workout and calories burned! The first Runtastic Workout Mix is available now on Google Play.
WHO'S TALKING ABOUT RUNTASTIC?
MASHABLE: "… people are choosing instead to download Runtastic, since the company just announced it's hit 25 million mobile users. That's as much as Nike+ (11 million as of February) and runner favorite RunKeeper (14 million) combined."
NY TIMES: "I went ahead and downloaded it even though I was skeptical that it would go beyond the familiar territory of similar apps like Endomondo and RunKeeper. Like those two, Runtastic primarily maps and records your route. But Runtastic's interface has some qualities the others don't. Runtastic.com is well designed, too."
DOWNLOAD THE FREE RUNTASTIC APP NOW! You will not be disappointed.
Android Download – here
Iphone Download – here
Instant Heart Rate
Description:
The best Health & Fitness app on Mobile Premier Awards 2011 according to jury of industry experts.
Instant Heart Rate is the most accurate Heart Rate Monitor app for any smartphone and it does not need any external hardware.
Use it for optimizing your exercise and to track your progress.
Install it now and keep fit.
Accuracy is constantly tested by fitness coaches, nurses, doctors, EMTs and 5 million users like you.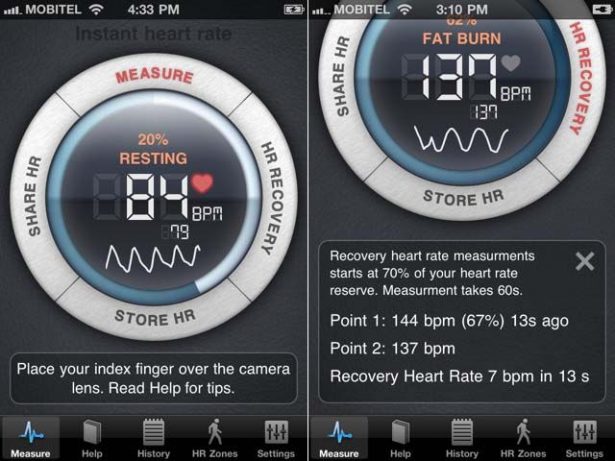 Reviews
I love this app! Its really neat cause i'm trying to get healthy-er. Five stars
I was skeptical- being a nurse I thought yah right! So I tried it at work with a monitor. It worked! Very very happy!
How it works
Place the tip of your index finger on phone's camera and in a couple of seconds your Heart Rate will be shown.
A real-time chart will show your every heart beat.
It uses your phones built-in camera to track color changes on the fingertip that are directly linked to your pulse. This is the same technique that medical pulse oximeters use. I don't know bout you but when trying to check my heart rate or a clients the old two fingers isn't practical.
Android Download – here
Iphone Download – here
And there we have it ,I hope this helps you get a step closer to what is your personal best !!!!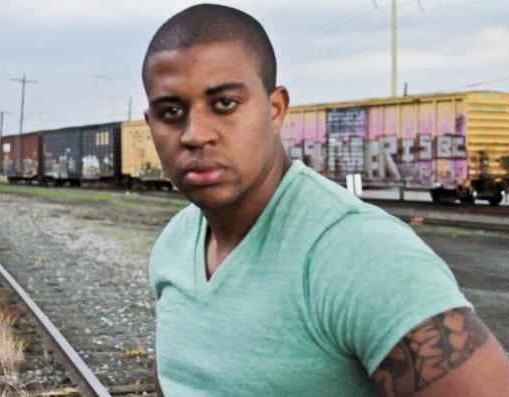 Wayne Mutata is the owner of iTrainStudio and is dedicated to helping individuals reach their health and fitness goals. As a personal trainer, nutritionist, leader, and motivator, he brings light into the Studio every day and positively influences those around him. You can follow him on Facebook at @iTrainStudio and on Instagram at @iTrainWithWayne or @iTrainStudio.Lancaster. For a free consultation, visit theiTrainStudio website!