(Last Updated On: March 26, 2022)
Weighted sled training is no joke.
If you have ever had a chance to push or pull one of these bad boys you know that it can have you out of breath in a hurry.
There are all kinds of different sleds out there nowadays and some are better than others.
Today we are going to go over the best weighted sleds on the market.
Let's get started.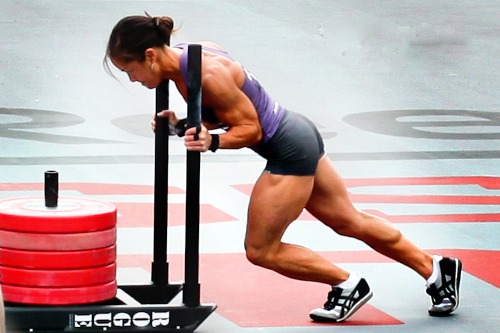 Different Kinds Of Sleds
Before we tell you what the best-weighted sleds on the market are we should quickly go over the different kinds of sleds there are out there.
Different kinds of sleds include:
Heavy pushing sleds
Sleds made for dragging
Smaller dragging sleds for sprint training – speed sleds
Sleds that convert to a wheelbarrow
Sleds with wheels (we will explain later)
Prowler sleds
Depending on what you are looking to do with the sled can determine what type of sled you need. For example, if you are going to be doing sprints while dragging a sled behind you then you will want a smaller speed sled made for sprint training. If you want to push a heavy sled you will need one that is made for that etc.
The type of surface you will be using the sled on can also affect what type of sled you will want to use. Some will work better on certain surfaces than others.
Don't worry though, no matter what kind of sled training you will be doing we have you covered.
Related: 13 Brutal Sled Workouts for Superior Conditioning
Best Weighted Sleds On the Market
These are the best weight training sleds on the market right now, no matter what kind of sled you need, you can find it here.
Best All-Around Sled –  Rogue Dog Sled 2.0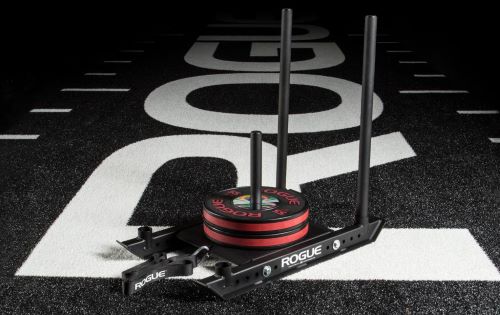 The Rogue Sled Dog 2.0 is a beast that covers almost everything you want to do with a sled.
This sled is a jack of all trades you could say, it may not look like it in the picture above but this bad boy has all kinds of modifications and extra attachments you can add to it to have it do just about anything.
Of course, you can push it like a normal sled as shown above. It also has a double handle option which is a set of parallel bars closer to the ground, See the picture below for better understanding.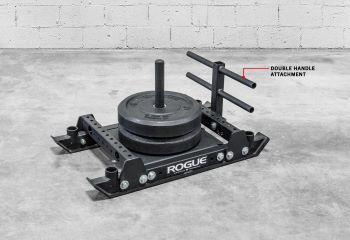 That's not all though, they also have an attachment that is even lower than the handles pictured above, it is appropriately called the "Low Bar Attachment". They also have another bar that is higher up that is appropriately named the "High Bar Attachment". Basically any height of bar you want for this sled you can find it.
You can also attach a harness to this sled and drag it, they even have a "Wraparound Rail Attachment" (see picture below) which allows you to reverse direction quickly when pulling the sled without having to turn the sled around.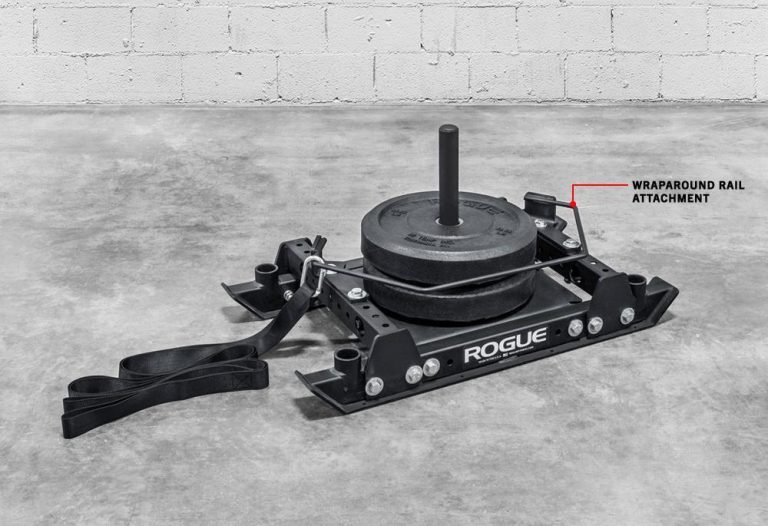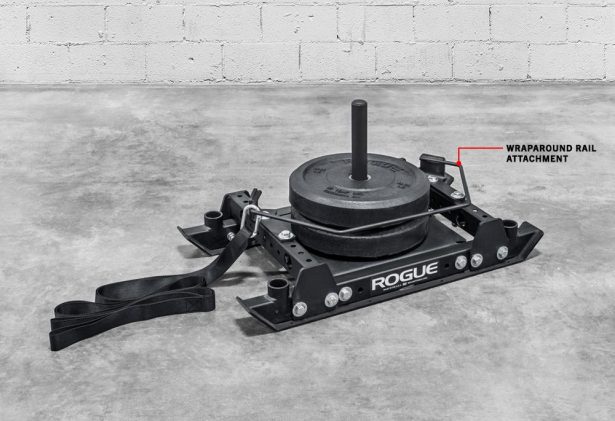 That's not all though, they also have the "Lawnboy" attachment that has you pushing the sled as if it were a heavy lawnmower. Personally, this one brings back too many flashbacks of me mowing my parent's lawn as a kid. It's probably a good workout but I will skip this one.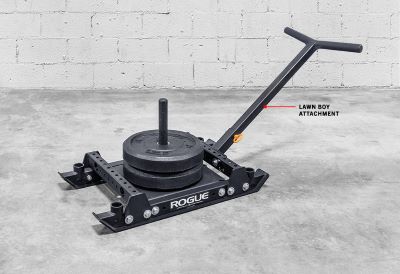 Lastly, they even have a "Wheelbarrow Attachment" where you put a bumper plate on the front to be the wheel and the poles move into different holes to in the base to be like wheelbarrow handles. If you have ever moved a really heavy wheelbarrow you know how tough it can be, the wheelbarrow sled can hold 500lbs, that's serious weight. I haven't had a chance to use one of these yet but it looks like a really cool idea and I wish my sled could do this.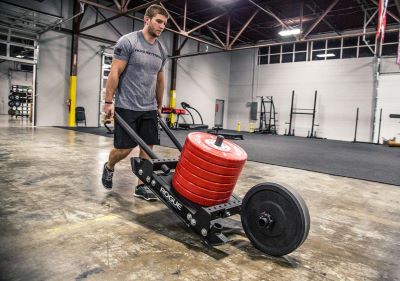 They also have a 100′ rope to pull the sled with which sounds cool and will absolutely fry your back muscles.
That finally covers everything you can do with the Dog Sled 1.2. Like I said, just about everything you can do with a sled you can do with this one.
It is also made tough and made in the USA which does matter when it comes to quality fitness equipment.
On the negative side, all these attachments cost extra money and it can really add up if you are getting a lot of them. If you decided to get all of the attachments, the pulling rope and skis you are looking at an extra $654.00 which is much more than double the cost of the sled itself. The sled alone is $265.00 as we are writing this.
Another thing you may want to consider getting is the plastic skis to protect the surface you are pushing the sled on. It all depends where you will be using it if you need the skis or not. I have the regular Echo Dog Sled which is very similar and I realized pretty quickly I was going to need the skis on the bottom because it was tearing up my driveway (I ended up making my own skis for it out of wood since the skis were on backorder due to COVID and they work decently well)
The good news is you can pick and choose what attachments you want and which ones you don't, most people likely won't get all of the attachments, some gym owners may though.
Pros
Made well in the USA
Has enough attachments to do just about anything you would want
Can be used for wheelbarrow training
Can easily be broken down for transport or to save space
Reputable manufacturer
Cons
Cost of attachments can add up fast
Not ideal for sprint/acceleration training for sprinters
Website: roguefitness.com
Related: Best Home Gyms for Weightlifters
Best Speed Sled for Sprinters – Sprint Start Sled by Powermax
Up next we have the Sprint Start Sled by Powermax. If you are an athlete looking to build your acceleration and sprint speed then this bad boy is what you are looking for.
Speed sleds are a bit different from the traditional weighted sleds. When training for speed you usually train with only 10-20% of your body weight so you need a smaller sled for that, the Rogue Dog Sled above is too heavy even when there isn't any additional weight on it.
That's where the Sprint Start Sled comes in, it is lightweight and has 2 skis with a raised area in the middle. This allows you to use the sled with the starting blocks as the skis go to either side of the blocks and the raised area goes right over it as you can see in the picture above. Obviously, most other sleds would crash into the blocks so this is a very nice feature if you plan on using starting blocks.
The only real negative with this sled would be the price. It comes in at $260.00 which seems a bit much to me for what it is. You won't find it any cheaper on Amazon either, in fact, it's more expensive on there than it is anywhere else. Shipping also isn't cheap for this because it has to be shipped via freight due to the packaging dimensions.
If that's too expensive a good alternative would be the Low Drag Speed Sled, it is another nice speed sled that is also lightweight and less expensive. It just won't work with the starting blocks
Pros
Made to be used with starting blocks
Designed for sprinters
Lightweight
Cons
Expensive
Some assembly require
Must be shipped via freight
Website: Simplifaster.com
Related: Heavy vs Light Sled Pulls for Sprint Speed
Best Wheelbarrow Sled -Khaos Wheelbarrow Sled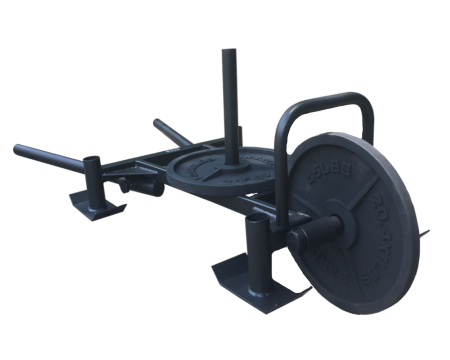 We talked about sleds that can be converted to de wheelbarrow training with our first sled. If you are looking to do that the Wheelbarrow Sled from Khoas would be the best option.
While the Dog Sled from Rogue can also be converted to the wheelbarrow, the Khoas Wheelbarrow sled is a bit cheaper and they both work very similarly.
To convert this sled to a wheelbarrow simply remove the posts and insert them through the holes at the sled's base. Then add a bumper plate to the front mount and you are good to go. You can see they have a metal plate for the wheel in the photo above, I wouldn't recommend that, bumper plates would be much more friendly to whatever surface
Of course, you can also do traditional sled pushes and drags with this sled as well.
Pros
Easily converts to a wheelbarrow
Less expensive than other wheelbarrow models
Cons
Bumper plate needed for front-wheel sold separately
Available at: oatesspecialties.com
Best Prowler Type Sled: Power Sled with Harness by Rep Fitness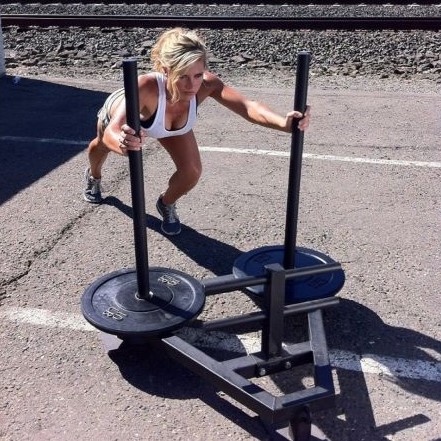 For the purpose of this article, we are calling the type of sled shown above the prowler sled. Generally, they have the three or four small skis on the bottom and 2 wider posts for pushing plus the lower handles for pushing from the other side.
I know some people like to call all different varieties of sleds "prowler sleds" but we think of the prowler as the type above.
If you are looking for a prowler type sled I would definitely do my homework, there are a lot of junky sleds out there in the prowler category particularly on Amazon.
I would not buy this kind of sled if you are going to be using it on concrete or asphalt. With only 3 small skis on the concrete, they wear out quickly and need to be replaced often. Turf would be the preferred surface with this type of sled.
Anyhow this bad boy has everything you are looking for in a prowler sled. Handles/poles on both ends, upper and lower handles. Unfortunately, the harness is extra.
On top of that, should you wear out the skis on the bottom the replacement skis are reasonably priced at $35 for a set. Others have replacements that are way more expensive or impossible to get.
Pros
Built tough
Made by reliable manufacturer
Poles/handles on both ends for easy change of direction
Harness to pull sled included
Cons
Skis will need to be replaced if used on concrete
Harness is extra
Website: RepFitness.com
Best High-End Weighted Sled -XPO Trainer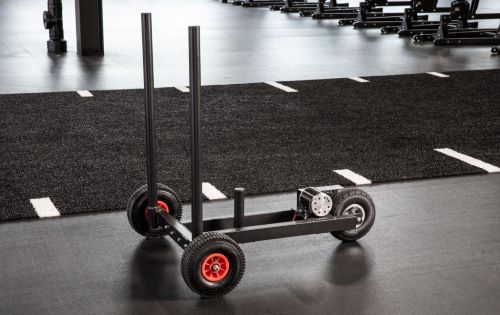 If you are looking for something high end the XPO Trainer would be the way to go.
I know what you are thinking, it just looks like a cart that you push around. That would be pretty lame, fortunately, there is more to it than that.
The XPO Trainer features a patent-pending exponential resistance curve. That means the harder and faster you push this sled the more the resistance increases. You don't even have to put weights on it (I still would though).
We also like the fact that it has rubber wheels on it which means you can use it on virtually any surface. Turf, asphalt, cement, gym floors, school hallways, carpet and just about anywhere else. Not only can it go on just about any surface, it is also virtually silent when in use.
On the negative side, the front tire on this sled is the only tire that provides resistance and the sled only weighs 40 lbs which can make it a bit unstable when pushing it hard. For this reason, I would use some weight on it just to increase stability even if the manufacturer says you don't need to.
Pros
Increases the resistance the harder it is pushed
Can be used on any surface
Nearly silent when being pushed
No weights required
Made in the USA
Cons
Can get unstable when being pushed hard without any weights on it
Expensive
See this product on Amazon
Best Sled for General Use – Echo Dog Sled by Rogue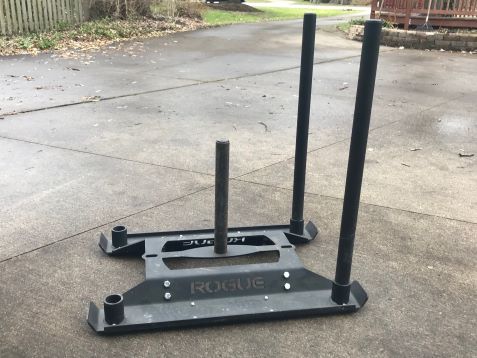 Ok, if you are just here looking for a sled for general use and want to make sure you don't end up buying a piece of crap then the Echo Dog Sled would be a good choice.
This is the sled that I personally own and it is pretty badass. If you just want a good sled you can push and pull without any of the other bells and whistles then this one is for you.
It's made solid and can be used on turf or in parking lots and driveways.
If you are going to use it on a cement driveway I would get some skis for it though or it will tear up your driveway, I learned that the hard way and made my own skis for it since they were on backorder due to COVID.
The sled assembly is really easy and can be done in about 10 minutes.
It's just a good basic sled which is probably what most of you are looking for.
Pros
Made in the USA
Easy to assemble
Not too expensive
Great for pushing and dragging
Cons
Will mark up your concrete without the plastic skis
Harness for pulling costs extra
Website: RogueFitness.com
Let's Wrap it Up
Whatever kind of a sled you are looking for you should be able to find it on this list. Weighted sleds can provide an excellent workout and be a nice training tool for those looking for a nice change of pace, a solid leg workout, some metabolic conditioning or even some speed training. Let us know if we missed any great sleds in the comment section below, I don't think we did, but it's possible.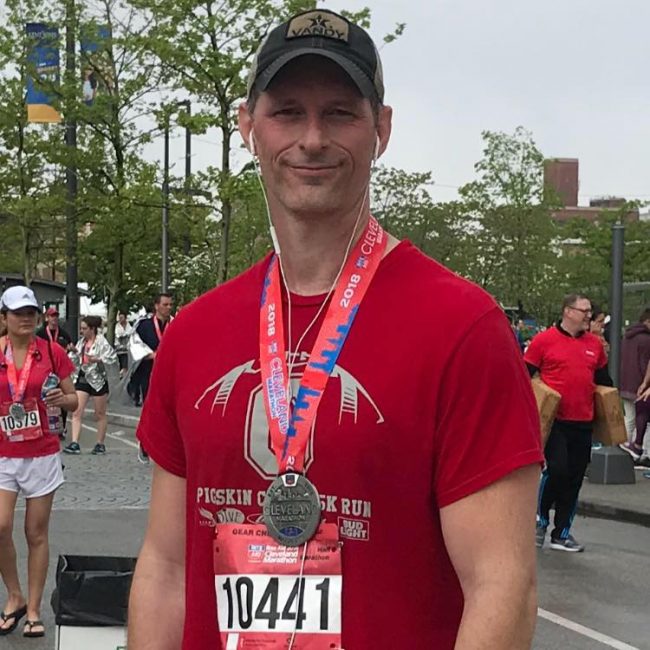 Ryan is a former college wrestler and lifelong fitness fanatic. He has run half marathons, done mud runs, placed in body transformation contests, coached wrestling and now coaches girls soccer. Not to mention he has also tried literally hundreds of supplements over the years and has a vast and thorough supplement knowledge. He has written for Muscle & Strength, Testosterone Junkie, The Sport Review and other publications. He is also the editor in chief of this website. Feel free connect with him on his LinkedIn page below.