(Last Updated On: June 25, 2022)
Weight loss isn't really all that tricky.
If you eat less you will lose weight.
Of course, that is easier said than done.
It can be really tough to overcome your hunger when your entire body is screaming at you to eat something.
Luckily there are appetite suppressing supplements that can reduce your appetite so you feel less hungry throughout the day and therefore eat less which makes weight loss a lot easier.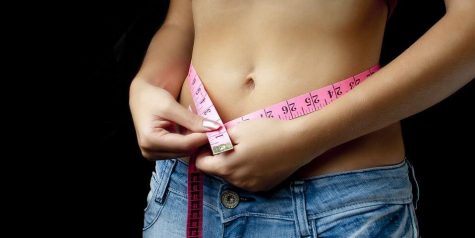 We've written this article to give you the answers to all your appetite suppressant questions. Here's what we'll cover –
What is the most effective appetite suppressant?
What are the best natural appetite suppressant supplements?
What is the best over-the-counter appetite suppressant?
What is the best prescription weight loss pill?
Let's get started with a quick look at the list:
See below for details on each as well as the full list,
The Best Appetite Suppressants
Here is our list of the very best natural appetite suppressants that work.
We have examined formulas, benefits, and the backgrounds of their manufacturers to bring you the top choices that will help you lose weight fast.
#1 Leanbean
Best Appetite Suppressant for Women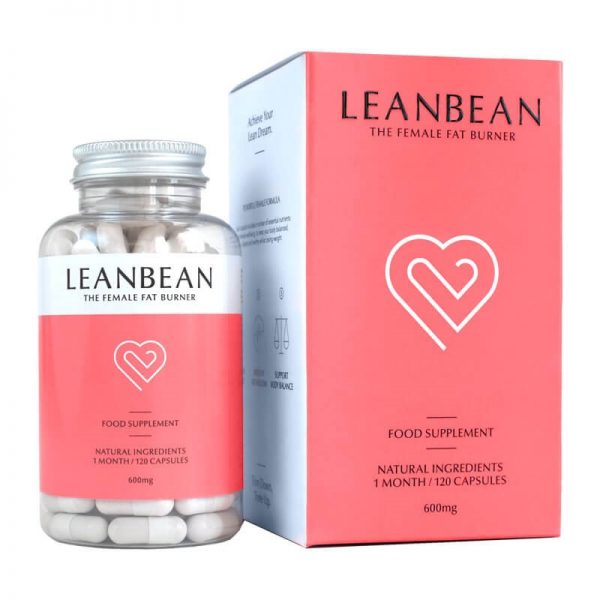 One of the strongest appetite suppressants on this list is the stand-out weight loss pill for women – Leanbean.
This top female fat burner crushes cravings and suppresses appetite to help you lose weight.
Leanbean's claims are rooted in science: Each daily dose contains the clinically proven dose of 3g glucomannan, broken down into three separate 1g servings.
What are the benefits of Leanbean?
Leanbean is manufactured by leading supplement specialists Ultimate Life.
This supplement specifically targeted towards women. In fact, it was originally created to serve the needs of female fitness models, helping them to keep in shape for their careers.
After they realized how effective the product is, it was released to the public and has proven to be hugely popular.
Leanbean has numerous benefits:
Suppresses appetite with a clinically-proven daily dose of glucomannan
Vegan friendly
Boosts energy levels
Lower stimulant levels than many other supplements
Aids your body's natural fat-burning processes
Ingredient Highlights
Leanbean contains 12 high-quality ingredients in powerful doses. The details of the formula are clearly labeled – no proprietary blends here!
Glucomannan – A clinically-proven appetite suppressant that expands slightly when consumed to make you feel full.
Garcinia Cambogia – A plant extract widely studied for its appetite-suppressing properties to control hunger,
Chromium – This compound supports your natural metabolism while balancing blood glucose levels.
Turmeric – This thermogenic raises your body temperature to encourage more calories burned at rest,
Our verdict
Leanbean leads the pack when it comes to weight loss supplements. It is undoubtedly the top appetite suppressant for women available.
It is the best because it has the most appetite-suppressing ingredients in generous doses, including a 1000 mg dose of Glucomannan.
This reduced hunger means you will eat less food, consume fewer calories and therefore lose weight. Simple and effective.
In our opinion, Leanbean is the best appetite suppressant pills on the market.
---
#2 Instant Knockout
Best for Men and Women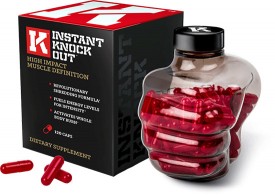 Next on our list is Instant Knockout.
These blood-red pills are designed for gym fanatics who want to cut body fat and get in shape fast.
With tough masculine packaging and powerful-looking capsules, this supplement stands out from the crowd as the best unisex appetite suppressor.
What are the benefits of Instant Knockout?
Instant Knockout is manufactured by Roar Ambition.
These weight loss pills focus heavily on helping amateur and professional athletes to lose weight. They are especially popular in the martial arts scene.
This well-designed and marketed product is a reasonably priced choice of supplement which fights hunger and cravings by boosting energy and maintaining blood sugar balance.
Ingredient Highlights
Chromium – Balances blood sugar and prevents cravings
Cayenne Pepper – Boosts energy
Green Coffee – Encourages use of body fat for fuel
Glucomannan – Expands in the stomach to make you feel full and suppress appetite
Final Judgement
Instant Knockout is a well-designed weight loss pill with an effective hunger-busting formula.
This beast uses an 1800 mg dose of Glucomannan to keep you feeling full so you eat less. It also uses Cayenne Pepper which increases your metabolism and also suppresses hunger. Along with green coffee bean and other proven ingredients.
This means you won't be hungry and your body will burn more fat while you consume fewer calories.
Related: The 15 Best Fat Burning Supplements for Men
#3 Powher Fat Burner
Best Appetite Suppressor with Glucomannan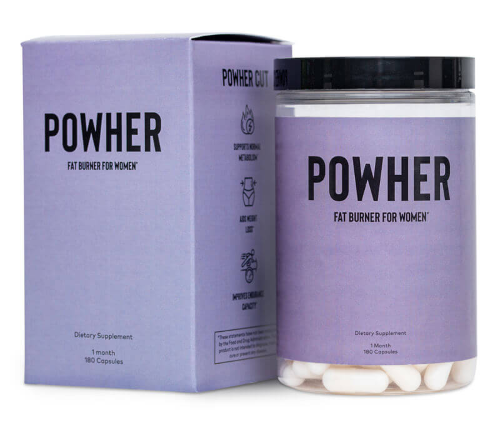 This fat burner is also built on 3g of glucomannan: The scientifically proven appetite suppressor.
Just like Leanbean, the Powher Fat Burner is designed with women in mind. There are ingredients to crush cravings and to target deficiencies that women are more prone to.
Unlike Leanbean, however, theese weight loss pills contain a stimulant hit, making it great for women who want to turbo-charge their workout.
What's the benefit?
This appetite suppressing supplement shows the same solid grounding in the latest science as Leanbean. The formula is packed with ingredients with solid weight loss credentials, and this is true right down to the dosing of each ingredient.
By delivering 3g of glucomannan in three daily doses of 1g each, the Powher Fat Burner should lead to reliable and noticeable appetite suppressing effects. Combine this reduced food intake with a longer and harder gym session, and you're on track for good weight loss results.
Ingredient highlights
The Powher Fat Burner formula contains no proprietary blends – just a handful of ingredients with demonstrable impact on weight loss. Here's a taste of what you'll find inside:
Glucomannan – We introduced this earlier, but it's important to note that Powher contains the scientifically-proven dose.
Iron – Responsible for moving oxygen around your bloodstream, iron is one of the building blocks for a healthy and active lifestyle.
Natural caffeine – A stimulant hit to power up your workout, and keep you going harder and for longer at the gym.
Choline – To support your body's metabolism of body fat, meaning more efficient transport, storage, and burning of stubborn fat for energy.
Our verdict
The Powher Fat Burner for Women is a solid weight loss supplement built around a clinically-proven daily dose of glucomannan. This is exactly the type of formula we'd recommend to people looking to eat less and lose weight as part of an active lifestyle.
What's more, these weight loss pills can be stacked with other supplements in their range: A great way to optimize your lifestyle to be more conducive to help you lose weight. There is also a 90-day money-back guarantee so there is no risk.
---
Related: Best Pre-Workout Supplements to Help You Lose Weight
#4 PhenGold
Best Appetite Suppressant Value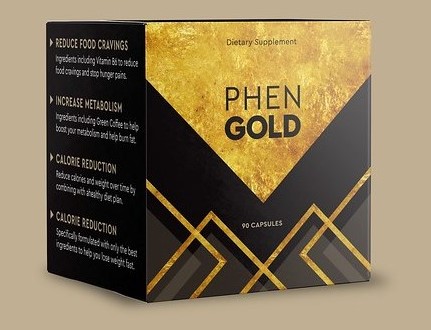 PhenGold is a weight loss supplement and natural appetite suppressant that focuses upon prolonging the feeling of satiety after a meal.
This popular supplement works to prevent hunger, while also increasing metabolism and burning stubborn fat.
What are the benefits of PhenGold?
This product works to reduce hunger and food ravings by maintaining blood sugar balance and increasing the amount of available bodily energy. It achieves this by using stimulants such as caffeine to elevate metabolism and reduce the requirement for food.
If you are looking to make your dollar go further then Phengold would be worth consideration, particularly when buying in bulk. One bottle is a bit expensive at $64.95 but they do have free shipping which the other won't do when only buying one. If you buy 2 bottles you get 1 free and if you buy 3 bottles you get 2 free. Our other top selections also offer savings when buying in bulk but none of them are this good. If you are looking to stock up and save then Phengold is a wise choice, they also have a 100-day money back guarantee so there is no risk.
Ingredient Highlights
Caffeine Anhydrous – A stimulant that boosts metabolism and increases energy.
Capsicum – Increases calorie burn and curbs hunger
Chromium – Balances blood sugar and prevents sweet cravings
Our verdict
We like how PhenGold works to suppress hunger and help you shed pounds while also working to keep energy levels up.
The combination of chromium and caffeine is a powerful way to suppress appetite and calorie intake without inducing fatigue.
You could argue that it's not as effective as our top choices, but all things considered, it's not a bad choice for someone looking for a natural appetite suppressant that works. You can save some good money with this one when buying in bulk which doesn't suck either.
---
#5 Transparent Labs Fat Burner
Best Available in Stimulant-Free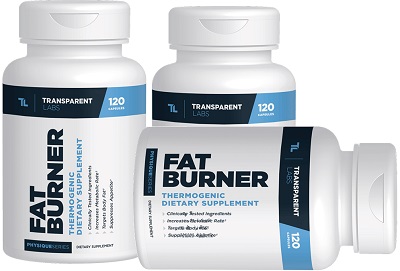 This is a hunger-busting supplement that also helps you to burn fat and maintain muscle.
It uses a clinically backed formula to help you cut down on snacking and beat food cravings for good.
What's the benefit?
This supplement is manufactured by the supplement brand of the same name.
Contained within a minimalist white bottle with a clean design, this powerful appetite suppressant uses a combination of hunger blasting ingredients to help you slim down fast.
Ingredient Highlights
5-HTP- Helps to effectively reduce appetite
Caffeine Anhydrous – Boosts energy while suppressing hunger
Our verdict
This is another top product that uses popular ingredients to suppress appetite and help you with losing weight
We are impressed with the number of ingredients and consider this product to be a great choice for those who need a powerful supplement to kick-start their weight loss efforts.
Website: TransparentLabs.com
#6 Hourglass
Best for Women Wanting a Feminine Figure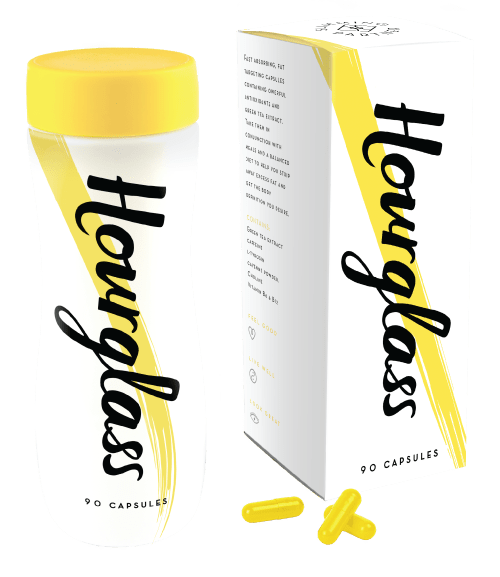 Next up, we have Hourglass.
This trendy-looking supplement is a fat burner and natural appetite suppressant designed to help you attain your dream body.
What are the benefits of Hourglass?
Hourglass contains a total of nine ingredients, including some of our top picks – while others we feel could be improved.
Ingredient Highlights
Glucomannan – Powerful appetite suppressant
Green Tea – Helps to burn stubborn fat and increase clean energy
Capsimax – Help boost metabolism and also reduces appetite
Our verdict
Hourglass is a mid-range supplement that has a selection of effective ingredients, as well as a few uninspiring ones.
This is another herbal appetite suppressant that is formulated specifically for women only and is designed to help bring out the female figure. If you are a female who is after that hourglass shape then this is another product for you to consider as it is one of the best appetite suppressants on the market.
---
#7 Nobi Nutrition Premium Fat Burner for Women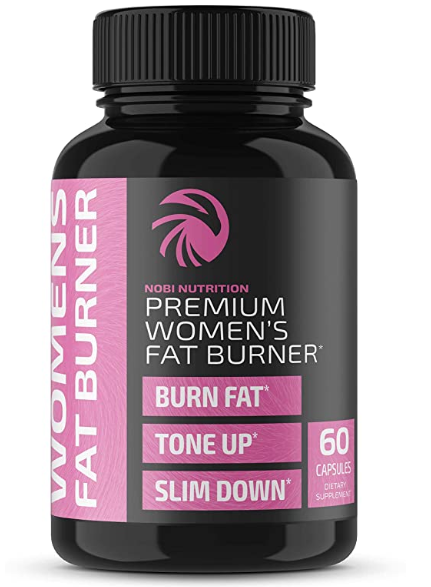 This fat burner combines carbohydrate blocking, metabolism-boosting, and appetite suppression fto help you lose weight
The formula is specially tailored for women and is designed to underpin an active lifestyle.
What's the benefit?
This appetite suppressor claims to reduce snack cravings by supporting stable blood sugar in your body. Their BHB formula facilitates fat being burned as fuel – supporting your body's natural metabolic processes and helping fat to be used more efficiently.
With 4.4 of 5 stars on Amazon from over 13000 reviews, Nobi Nutrition has a lot of customer credibility.
Ingredient highlights
BHB, or β-Hydroxybutyric acid – This compound is linked to a reduction in feelings of hunger during an active lifestyle.
Magnesium – Women are more prone to deficiencies in the key element, and Nobi offers a great way to keep your levels where they need to be.
Our verdict
Nobi is a great appetite suppressant for women looking to amplify their weight loss results. Taken as directed alongside a healthy lifestyle, Nobi contains all the ingredients needed to boost results and help you lose weight.
---
#8 Orphic Nutrition Pure Garcinia Cambogia Extract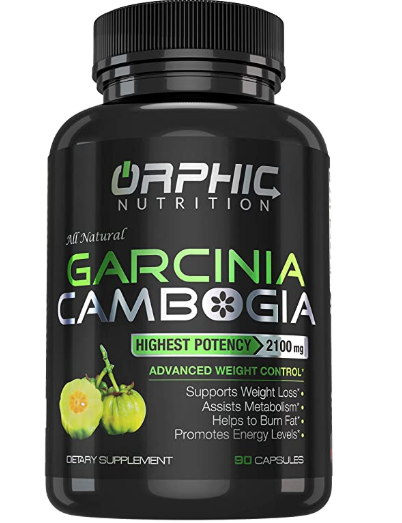 These appetite suppressant pills boast the 'highest potency on the market', with 2100mg of Garcinia Cambogia extract per daily dose.
That's 95% active hydroxycitric acid – the active ingredient in Garcinia Cambogia – per dose, an amount they claim will deliver many weight loss benefits. Let's take a look at them.
What's the benefit of Orphic Nutrition Pure?
This appetite suppressant claims to increase the levels of serotonin in your brain, and this neurotransmitter is involved in the regulation of feelings of hunger – a great way to tame persistent cravings.
People also note they felt more energized and motivated to work out when taking this supplement.
Ingredient highlights
With this appetite suppressant, the clue about the formula is in the name: "Pure Garcinia Cambogia Extract."
The only ingredient is Garcinia Cambogia, and you'll find 2100mg in each daily dose.
Our verdict
This appetite suppressant supplement is great for people who don't want tons of ingredients. With just one ingredient in the formula, you know exactly what you're getting. It's easy to research the effects and impacts of Garcinia Cambogia, and you can be confident that the results you see are from this ingredient specifically. Also, they don't have a 90-day money-back guarantee.
---
" src="data:image/gif;base64,R0lGODlhAQABAIAAAAAAAP///yH5BAEAAAAALAAAAAABAAEAAAIBRAA7″ alt="