(Last Updated On: May 15, 2020)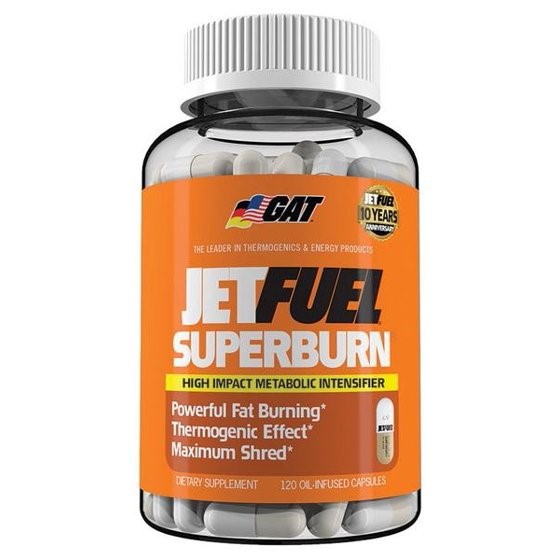 The fat burner market has been growing steadily over the past 5 to six years. Many of the 'newcomer supplements' are still trying to break into the market.
Jet fuel, on the other hand, has been around for over ten years. It has undergone several changes in both formula and packaging design. The newest version of this supplement is Jet fuel Superburn.
Like many other supplements on the market, Jet Fuel Superburn by GAT Sport is making strong claims when it comes to weight loss. But you know all about supplement companies blowing their own trumpets.
Most of the time, they overdo it.
Lucky for you, this review is going to dissect the supplement.
At the end of this read, you are going to know whether you should believe what GAT Sport is saying or if you should take their words with a whole lot of salt.
Let's dig into this Jet Fuel Superburn review.
Review: The Best Fat Burners for Women
What Is Jet Fuel Superburn?
The GAT Sport website describes Jet Fuel Superburn as an Ultra-premium fat burning thermogenic with 14 potent active ingredients. They claim it has all it takes to help you achieve all your physique, dieting and performance goals.
Apparently it's ingredients are powerful and hard-hitting and help increase your metabolism. You should also get increased brain performance to improve your motivation and concentration, which kind of suggests this product has some nootropic benefits.
One container with 40 serving goes for just $39 seems like a good deal; it is cheaper than most supplements.
But let's see if  Jet Fuel Superburn does actually work!
How to Use Jet Fuel Superburn
Jet Fuel Superburn claims to:
Give you a thermogenic effect
Increase your mental focus and acuity
Increase your metabolism and fat burning
Ensure you have high energy levels throughout the day
Help you lose more calories than any other supplement
One serving of Jet Fuel Superburn is three capsules. One container has 40 servings. You are supposed to take one serving in the morning and another in the evening. Meaning each bottle contains enough for around 3 weeks use.
Not looking like such a good deal anymore, most fat burners contain enough pills for at least a month.
If you are caffeine sensitive, you should have something to eat first and also shouldn't take it less than four or five hours before bed.
The Ingredients in Jet Fuel Superburn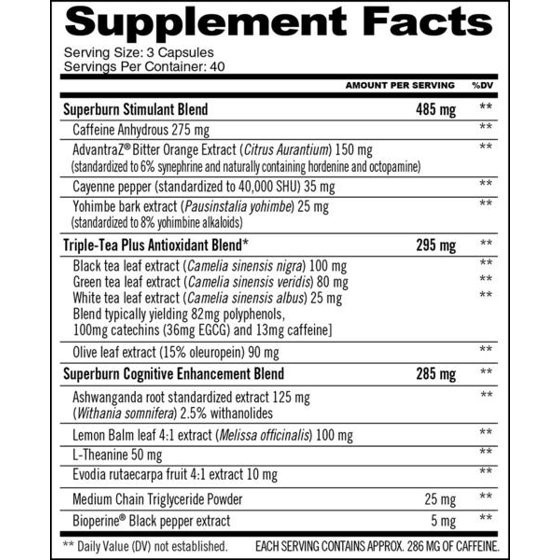 They say the proof is in the pudding, and when it comes to supplements the proof is very much in the ingredients.
This is really the only way to assess the merits of a diet pill and whether its claims stand up.
Let's find out what Jet Fuel Superburn has to offer.
Caffeine Anhydrous
Caffeine is one of the ingredients we always hope to find in a fat burner. You need the energy to work out so that your weight loss journey may be smoother.
There has been a long raging debate in the research circles about whether or not caffeine can help you lose weight or not. While many claim this natural stimulant can help you burn fat through thermogenesis, there are still a few doubts around its long term effectiveness.
That said, what isn't in question is Caffeine's ability to increase your endurance and aerobic performance. Some studies have also claimed that caffeine can work by bringing fatty acids from fat tissues and then utilize them in the production of energy. Here is a study and here is another one, sharing details of the same.
Unfortunately, while this product does use caffeine it has a very large dose that may bee too much for some at 275 mg. That is more than a Monster energy drink plus they combine it with bitter orange which is another stimulant, seems to be a bit over the top.
Related: Best Fat Burners WITHOUT Caffeine
Bitter orange
Another stimulant! There seems to be a running theme with this fat burner. Bitter orange has been found to help with weight loss when you combine it with a proper diet and exercise.
But despite its positive functions, it also contains synephrine. Synephrine can speed up the heart rate and increase your blood pressure. There are cases where it has even led to strokes and heart attacks.
Ashwagandha
This is a healthy medicinal herb. It is believed to have several health benefits. Ashwagandha has been used to help reduce anxiety and promote calm,  as it can reduce the cortisol levels in the body.
It can also be used to help reduce blood sugar levels and improve brain function. It doesn't have any significant weight loss benefits. However, since Jet Fuel Superburn has a high dosage of stimulants it might be that Ashwagandha has been included to offset their effects.
Bioperine
This is the active ingredient in black pepper. It has several benefits, but the key one is that it increases your metabolism. It also aids the absorption of nutrients into the body. We believe it is mainly here to assist the absorption of the other ingredients.
Green Tea
The most well-known feature of tea is that it is an antioxidant. There is scientific evidence to show that green tea helps boost the metabolic rate and also to increase fat oxidation. It is, therefore, a great aid to losing weight.
Green tea also has a small caffeine component which we have already seen is vital for energy when working out.
Unfortunately, the dose on the green tea is only 80 mg. Many of the top fat burners use 500 mg or more.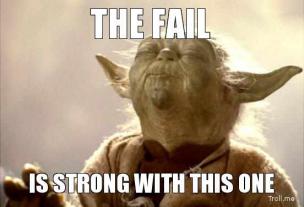 Missing Ingredients
There are a few ingredients that we do not see in this fat burner. For instance, we do not have any appetite suppressants. Let's take a look at some of the ingredients that would have made this a super supplement.
Konjac Fibre
This is one of the best appetite suppressing ingredients, and the EFSA even approves it. This is a soluble fiber that swells in the stomach when combined with water. It leads to a feeling of fullness which leads to eating less and ultimately weight loss.
Zinc
Zinc is an essential ingredient in the body as it is involved in several vital functions. They include but are not limited to the synthesis of proteins and DNA, healthy growth and development, gene expression, boosting immunity and helping wounds heal.
Zinc also helps reduce oxidative stress which enables you to exercise better and also increases the breakdown of fats.
Choline
Choline is a vital nutrient that is needed by the body. The liver only produces a small amount, and we may need to get more from food and supplements.
It is responsible for muscle movement, a healthy nervous system, proper brain development as well as increased metabolism, which is vital when looking to lose weight.
Side Effects of Jet Fuel Superburn
Jet Fuel Superburn is a new product. There still aren't many people complaining about it. However, based on the relatively high stimulant content it is very important to not exceed the recommended daily dose.
On top of this…
The GAT Sport website also warns pregnant and lactating mothers against using it. If you are planning to get pregnant, you should also stay away from fat burner products that are high in caffeine.
This also means that people below 18 years are also not supposed to use Jet Fuel Superburn.
And if you are sensitive to stimulants you need to be vigilant as you may suffer jitters, anxiety, insomnia and energy crashes after working out.
As usual, if you are on medication or have any long-term medical condition, you should talk to your doctor before taking any supplements.
GAT Jet Fuel Superburn Burn Reviews
Unfortunately, there were no reviews yet on Amazon and on the GAT Sport website at the time of writing this article.
However, other users on the web were divided between loving the product and hating it. A good majority liked that it gave them energy throughout the day without jitters.
But there were also a few who got jitters, dizziness and nausea when using Jet Fuel Superburn.
Very few of them lost weight, and if they did it appeared to be minimal.
Our guide to the best fat burner supplements for women
Jet Fuel Original vs Jet Fuel Superburn
Given the fact that both products use a proprietary blend, it is difficult to say but the overall serving size on both is relatively even. Superburn does have more caffeine than the original which is a bit too much in our eyes.
The original uses proven ingredients like Acetal l-Cartanine, 5 HTP and Guarana seed extract while Superburn uses a lot of unproven ingredients or very small doses of the ingredient that we do like aside from caffeine. Just going by ingredients alone the original looks like the better product, of course, it would be a lot easier to tell if they actually had the doses on the label rather than the proprietary blend.
That said it doesn't look like either one of them is anything to write home about.
Will Jet Fuel Superburn Help You Lose Weight?
With proper exercise and a good diet, you could well shed some pounds but I wouldn't bet the farm on it. However, for a fat burner, we would have loved to see an effective appetite suppressant to promote weight loss whilst you're not working out.
We'd also have hoped to see more vitamins and minerals, as these can be key when it comes to preventing obesity causing deficiencies.
From the few reviews we have to go at, it seems you will be energetic while taking Jet Fuel, you might be left disappointed with your weight loss results, however.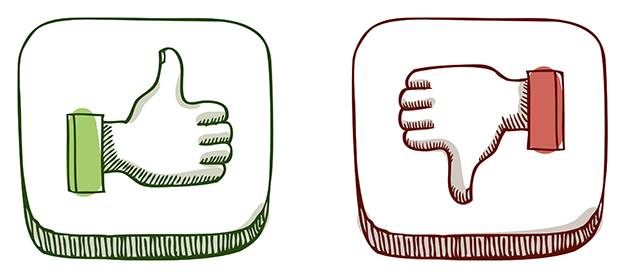 Pros
Cheap
Includes large dose of stimulants
Cons
Lacks appetite suppressants
Missing key vitamins and minerals
Proprietary blend
Low doses of all ingredients except caffeine
Summary
Jet Fuel Superburn certainly has a nice ring to it. And given the moderate price, the creators have created a respectable product.
Unfortunately, it looks like it is mainly caffeine and bitter orange with very small doses of all the remaining ingredients.
From a dosing point of view, all that is clear is that Jet Fuel Superburn includes 275mg of caffeine per serving. And when you pair that with 150mg of Bitter Orange that suggests quite a potent blend.
However, with that comes the added risk of side effects due to the high stimulant content.
Should you use Jet Fuel Superburn? We can't say for certain, but I wouldn't.