(Last Updated On: May 8, 2021)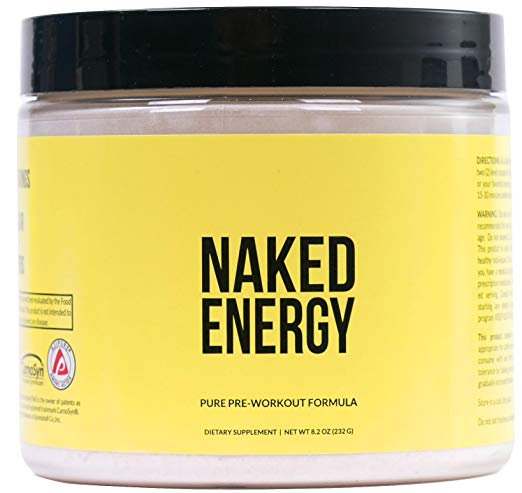 Are you in search of a pre-workout supplement to fuel your gym workout before you go? Then this might be the one for you.
Naked Energy prides itself on the use of just 10 ingredients. Its aim is to create a simple, yet effective natural pre-workout drink, avoiding the nasty chemicals and sweeteners from similar products.
This could make it a useful pre-workout supplement to provide an all-natural fuel to your workout. Coming in at just $39.99, is the price really expensive enough to be the best pre-workout out there.
This Naked Energy Naked Nutrition pre-workout review will explore the ingredients within this supplement, and those which are missing, to decide if it's worth your buck.
Related: The Best Female Pre-Workouts
What Is Naked Energy Naked Nutrition Pre Workout?
There's nothing worse than turning up at the gym without the energy to fuel you through. This is where Naked Energy Naked Nutrition pre-workout comes in. It's a powdered supplement to be taken before working out, to keep your energy sky high throughout your workout.
The aim is to provide you with all-natural, pre-workout alternatives making it safer to use. Without the usual added sugar, soy, gluten, salt, GMOs, colors, flavors, and sweeteners, It should be ideal for anyone.
The supplement is made using 10 simple, high-quality ingredients, which are designed to combine to increase your energy. This aids your athletic performance, with the added bonus of being vegan-friendly.
They have the additional option of a fruit punch flavor for anyone who fancies something a bit tastier. However, the company still stands by its ethos of natural flavorings to support your body's natural workings.
How Does Naked Energy Naked Nutrition Pre Workout Work?
By mixing it with water, and drinking it about 15–20 minutes prior to your workout, you should be able to achieve natural pre-workout energy for that added push. If you're feeling a little more adventurous, you could even mix it with almond milk, honey, and cacao powder as a nice breakfast smoothie, before dashing to the gym!
With unique packaging and 50 servings in one jar, it will last between one to two months, depending on your gym routine. At just 4g per serving, we actually think you are more likely to need 2 servings per day in order to see the desired results.
Related: Best Pre-Workout Supplement for Muscle Building
The Ingredients in Naked Energy Naked Nutrition Pre Workout
This product contains a number of ingredients that we love! Below, we have listed a few of these: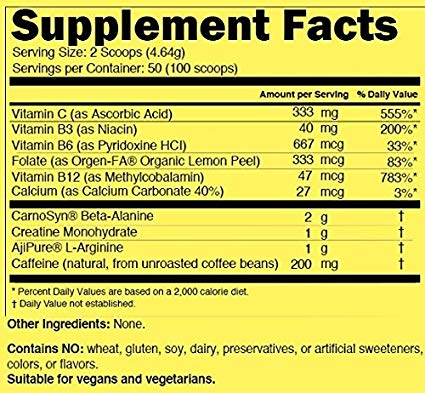 Vitamin B Complex
This comes in a number of forms and helps keep the natural healthy workings of your body up to scratch. Not only does it support your energy levels, which is vital for exercise, it also aids brain function. This ensures you maintain your focus in the gym.
Vitamin B also supports the general functioning and well-being of your cells and nerves. For example, it keeps your eyesight, digestion, red blood cells, heart, and muscles all in good shape.
Creatine
Creatine is a pretty popular ingredient, which we see in a lot of fitness supplements. It's used to aid your gym performance by increasing the gains your body achieves. Namely, it increases muscle mass and strength, so you'll see results faster.
It also has a number of health benefits, tested worldwide by scientists. Generally, these include good brain function and cell hydration, among others. However, we wonder whether it would work well for women, as it tends to cause the body to retain water, making you appear bulkier.
Caffeine
This is something we see in a lot of our favorite drinks. Added levels of caffeine can help boost your energy levels for short periods of time. This makes it ideal within the best natural workout supplements, to give you that sharp energy boost in the gym.
Folate
We are a little skeptical about the benefits of folate. Although it lessens your risk of cardiovascular disease and cancer, we don't see why this is necessary in a gym supplement.
L-Arginine
This is another of the more surprising ingredients to see in a pre-workout supplement. It's an amino acid which is said to reduce blood pressure and stimulate growth hormones. It is also said to protect against kidney and cardiovascular diseases.
Missing Ingredients
Although this product does include a fair amount of the ingredients we like, it lacks some of our favorites:
EnXtra
EnXtra is proven to be safe for consumption over long periods of time, compared to caffeine. It's made using a natural blend of plant extracts, creating an authentic energy boost. Essentially, it's used to keep the energy-boosting effects of caffeine going for longer, reducing the chance of side effects, such as jitters.
Coconut Water Powder
Coconuts are known for their properties that keep your body healthy and revived. Some even vouch for the use of coconut water to keep the body hydrated instead of spring water! Not only do they boost your energy levels in a natural and safe way, but they also help reduce blood pressure and other ailments.
Coconut water powder does just this. That's why the omission of this product in the Naked Energy Naked Nutrition pre-workout supplement is somewhat disappointing.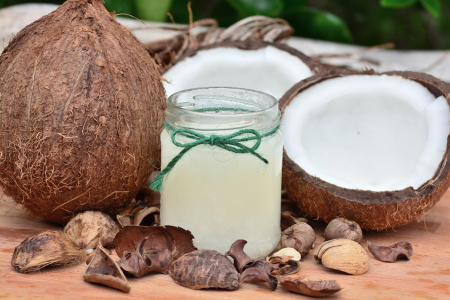 Oxyjun
This is known to increase stamina in the gym and is proven to be safe. It's known for its cardiovascular properties but, without it, Naked Energy's cost-cutting tactics are apparent.
Powher vs Naked Energy Naked Nutrition Pre Workout
As we have seen already, Naked Energy contains 10 ingredients to boost energy levels in the gym. In comparison, Powher contains 13 ingredients, which are proven to boost workout performance and aid weight loss. This is a little different to Naked Energy, which appears to focus on muscle gains over fat loss.
However, both supplements seem to favor the use of natural ingredients above unpleasant alternatives. Either way, depending on what you're looking for in terms of gains or loss, both are pretty natural.
Related: Best Pre-Workout Supplements for Weight Loss
Side Effects of Naked Energy Naked Nutrition Pre Workout
Caffeine is commonly known to increase jitters. Therefore, if you're pregnant, breastfeeding, or have anxiety, this product is not for you. The use of creatine for long periods is also not recommended.
Otherwise, due to the lack of artificial products in Naked Energy, like sweeteners, the side effects are most likely minimal.
Naked Energy Naked Nutrition Pre Workout Reviews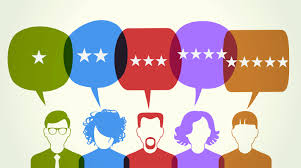 All the reviews on the Naked Nutrition website are extremely positive. Users advocate the natural ethos of this supplement and say it doesn't give them jitters.
However, they do urge you to combine it with other products in order to get what you want from it.
Some reviews also claim the taste is horrible, we have to say this is a bit of a concern. Taste is one of the key drivers in the sport supplement industry, after all how are you going to take a pre-workout every day if it tastes terrible.
See the top pre-workouts for women right now
Will Naked Energy Naked Nutrition Pre Workout Help You Lose Weight?
Although there is nothing to specifically state that this product will help you lose weight, it does probably help boost energy. This should inherently aid weight loss, if you pair it with going to the gym and eating a healthy, balanced diet.
Below are some of the benefits and drawbacks of this product: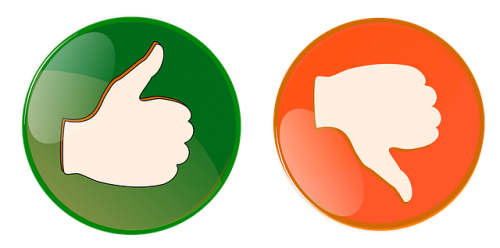 Pros
No artificial sweeteners.
No artificial flavors.
10 natural ingredients.
Cheap
Gender-neutral product.
Cons
Some reviews state it tastes poor.
Not suitable for pregnant or breastfeeding women.
The inclusion of creatine is better suited to men than women.
Review Summary
Overall, although this product doesn't taste the best, it seems that the benefits of it could outweigh this. Many customers love that it advocates a natural combination of ingredients. These days, it can be difficult to find something which increases your energy, without any unsavory additives.
Alongside this, the gender-neutral approach to their marketing means it's suitable for anyone! However, the inclusion of creatine might mean it's more appropriate for men than women. You may also need to pair it with another powder to get all the benefits you're aiming for.