Pre-workout supplements can give you the edge you are looking for in order to have a great workout. It can be a great pick me up on those days you don't feel like working out and can take you to the next level on the days that you do.
Then you combine your pre-workout with testosterone, the big daddy of muscle building hormones, and you have a combination made in heaven. Better workouts and more testosterone, I can feel more hair growing on my chest just thinking about it!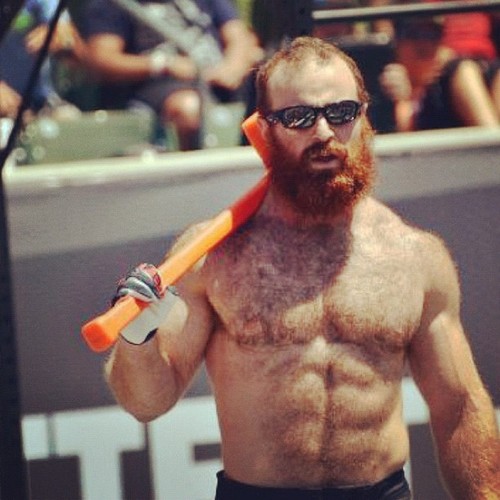 Main benefits of pre-workout supplements
Pre-workout supplements have several benefits that will give you a better workout experience. They include:
Increased Focus
Increased Energy
Increases Muscle Pump
Increase Strength
Increased Endurance
What are the main benefits of testosterone?
So now that you know the main benefits of a pre-workout supplement. What are the benefits of testosterone?
Some of the key advantages of more testosterone include:
Faster recovery between workouts
Improved lean body mass composition and strength
Enhanced feeling of maleness
Increased libido level and function
How Do Pre-Workout Supplements with Testosterone Work?
Pre-workout supplements work by increasing your energy, this means you will be more jacked up to slay the weights. No matter if you are feeling down and sluggish or ready to go, pre-workout will increase your energy so you can get a great workout.
Many pre-workouts also increase focus so you will have one thing on your mind, working out like a boss! This is great for those days you have too much going on and are distracted from the task at hand. Increase your focus and get a great workout every time.
A lot of pre-workouts will also increase your muscle pump. This is done through increased Nitric Oxide. This will make you feel like your muscles are ready to explode and make you look like a jacked beast while you are working out.
Another big benefit of pre-workout supplements is increased strength and power. This is generally either done through creatine or a testosterone complex. Creatine can be less effective in a pre-workout though because the caffeine has been shown to negate its effectiveness.
Best Pre Workout Supplement Ingredients
Citrulline Malate – This bad boy has been shown to increase strength, aerobic performance and endurance.
Beta-Alanine – This one is great for delaying muscle fatigue and giving that tingling sensation.
Creatine – Creatine is well known for increasing strength and power.
Betaine Anhydrous – This ingredient has been shown to increase muscle growth and decrease fatigue.
Taurine – This is essential for any product with Beta-Alanine because the Beta-Alanine interacts with the Taurine and without Taurine in the supplement you can get a Taurine deficiency.
Caffeine Anhydrous – Caffeine, of course, gives you the energy boost. Most all pre-workout supplements have this unless they are non-stimulant.
What to avoid in a Pre Workout
Some companies use ingredients and ways of making the supplement that you should avoid. This includes:
Proprietary Blends – This is when supplement companies mix a bunch of ingredients together and call it a blend rather than listing all of the ingredients individually with the amounts of each ingredient. It is important to know how much of each ingredient you are getting especially when dealing with stimulants.
Yohimbe – This ingredient is somewhat common, but has been linked to anxiety, panic attacks and manic episodes.
Geranium – This one is really bad. It has been shown to cause rapid heartbeat, increase blood pressure as well as increasing the chance of heart attacks and strokes. This one has been banned but still shows up sometimes, especially in pre-workouts that were made in China.
Aspartame – You probably know this from diet soda pop. It's the artificial sweetener that makes it taste sweet. It has been linked to more bad things than we can list.
Best 3 Pre-Workouts with Testosterone
We've spent a lot of time researching the ingredients, company's reputation and reading the customer reviews on the best pre-workouts with testosterone available right now. Here's the rundown:
1. PreSeries BULK by Transparent Labs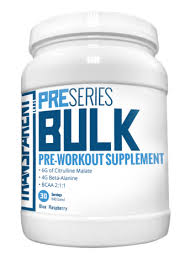 In first place on our list is a mother of a pre-workout that has only been out for a few months and is taking the market by storm. This one has received some awesome reviews and they are all telling the truth. PreSeries BULK by Transparent Labs has all the ingredients we like and then some.
PreSeries Bulk has a potent testosterone support complex to keep your testosterone at peak levels for building muscle and the other benefits testosterone offers. The testosterone complex is made up of vitamin D3, boron, and zinc, all of which have been shown to increase testosterone. They use the testosterone complex to build muscle instead of creatine because the caffeine you find in pre-workouts will negate the effect of the creatine.
PreSeries Bulk also boasts a mighty 6000 mg of Citrulline Malate as well as generous doses of Beta-Alanine, Caffeine Anhydrous and Betaine Anhydrous. We also like that there are zero colored dyes, unnecessary fillers, or harmful additives that you find in most other pre-workout supplements. They are transparent when it comes to their ingredients as the company name suggests.
PreSeries Bulk is specifically designed for those who are looking to for increased muscle mass, pump and focus when in the gym, and it delivers on all three. This product will have you ready to slay the weights like never before and give you mind-blowing muscle pumps. Overall there is nothing not to like, PreSeries BULK is truly a beast of a product that delivers every time.
Pro's
Testosterone Support Complex keeps testosterone levels high
Generous 6000 mg dose of Citrulline Malate, a proven muscle and strength builder
No dyes, artificial fillers, additives or proprietary blends
USA Made, not China
Buying more than 1 lowers the price
Great reviews
Con's
Website – www.transparentlabs.com
Related: Best Testosterone Boosters on the Market
2 Pre-Workout by Battle Ready Fuel
Up next we have another really nice choice with Pre-Workout from Battle Ready Fuel. This one is a newer pre-workout on the market and it is really loaded with a lot of effective ingredients.
Taking a look at the ingredients and this one has a lot to like. They use citrulline malate, beta-alanine, whey protein, betaine and BCAAs for muscle building. When it comes to testosterone boosting they use a nice dose of zinc, magnesium and vitamin b6, all 3 of these on our list of the best testosterone boosting ingredients and they are all effective.
Overall this supplement is loaded with 21 active ingredients designed to increase testosterone, build muscle, increase energy levels and give you a killer workout experience.
This product also ships free and has a money back guarantee if you are not satisfied so there is literally no risk
Pros
Uses 3 of our favorite testosterone boosting ingredients
Uses citrulline malate, betaine, beta-alanine, whey protein and BCAAs for muscle building
Money back guarantee
Free shipping
Cons
Above average in price
Large dose of caffeine may be too much for some (250mg)
Only available on manufacturer's website
Website: BattleReadyFuel.com
3. B-NOX Androrush from Betancourt Nutrition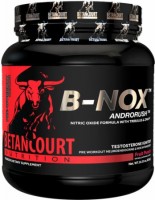 Coming in third on our list of the best pre-workout supplements with testosterone is B-Nox Androrush from Betancourt Nutrition.  B-NOX is another nice pre-workout that has gotten some great reviews.
This one features a testosterone boosting blend designed to increase muscle pump and aggression. This one can get overly aggressive meathead in to trouble so if you are one of those steer clear of this one. If you can handle it though, B-NOX will have you assaulting the weights like an absolute freak of nature with crazy focus.
This one uses three forms of creatine and beta-alanine for strength. B-NOX won't give you that tingly feeling either so if that's not your thing then this one might be a good choice. B-NOX has a variety of flavors that taste great but they use artificial flavoring to make it taste good.
Pros
Formulated for aggression (if you can handle it)
No tingly feeling
Many good reviews
8 Flavors available
Cons
Uses artificial flavor
Some may develop a tolerance to this product
Uses a blend so you don't know how much of each ingredient you are getting
Website: betancourtnutrition.com
Conclusion
So, there you have the best pre-workout supplements with testosterone. Our best choice is PreSeries BULK. With its testosterone complex and top ingredients, it can't be beaten and is the best on the market right now. We will see what the competitors do to top it.
Frequently Asked Questions:
Q: How should a pre-workout be taken to maximize its effectiveness?
A:  In terms of timing, we recommend taking pre-workout 20-30 minutes prior to your workout
Q: I am subjected to drug testing for my sport, can I take pre-workout?
A: You should be OK, but depending on how meticulous your drug-testing procedures, we recommend showing your coach or administration the product's supplement facts panel.