(Last Updated On: November 2, 2020)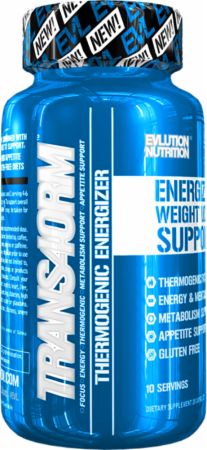 Today we are going to be looking at one of the most popular fat burners on the market in this Trans4orm review.
As you may know, a good fat burner can be a big help when it comes to losing weight and burning fat.
The thing is…
Not all fat burners are the same, not even close.
That is why we are here, to break Trans40rm down and see if it is really worth the hype or if you should try something else.
What is Trans4orm?
Trans4orm is a weight loss supplement made by Evlution Nutrition. It is designed to burn fat, increase energy, support metabolism and provide mental focus.
This product is currently the top product on bodybuilding.com when you search for fat burners.
Does that mean it's the best?
Not exactly, when you search fat burners on bodybuilding.com 4 of the top 10 selections that come back are made by Evlution Nutrition and 4 more are made by RSP Nutrition. Are these companies both so good that they make 8 of the top 10 fat burners out there? We doubt it, it seems like they get more profits from these manufacturers so they jam a bunch of them at the top search results. Some of them aren't even what we would consider true fat burners.
This review will help you determine if they really deserved to be ranked that high or it's bogus.
How Does Trans4orm by Evlution Nutrition work?
This fat burner claims to aid weight loss by adding thermogenic fat burning ingredients into your diet. Thermogenesis means that it increases your body temperature which also increases your metabolism leading to faster fat loss.
Their website claims it is "Scientifically Developed to Support Fat Burning, Weight Management, plus Deliver Natural Clean Energy & Focus"
It is intended for adult men and women looking to accelerate their weight loss and it is sold online by many different retailers.
Trans4orm Ingredients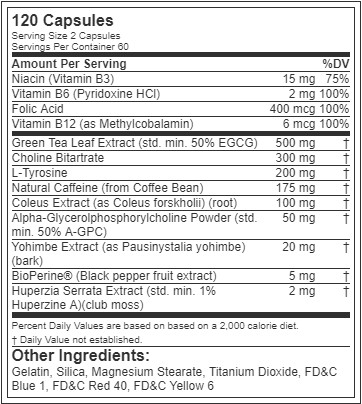 Trans4orm has 13 active ingredients which is pretty impressive, let's get to them and see how they stack up.
Niacin (15mg)
Larger amounts of niacin can improve cholesterol levels and lower cardiovascular risks. However, the jury is out on these real benefits. There are also some indications that it helps with concentration and focus which is likely why it is in this supplement.
Vitamin B6 (2mg)
Vitamin B6 helps to increase your body's metabolism and aid in the fay burning process. Trans4orm uses Pyridoxine HCl which is the purest form of vitamin B6 but the dose they use is pretty small at just 2mg, many of the top fat burners use double this amount.
Folic Acid (400mcg)
Folic acid has many benefits including treating kidney problems, it is also essential for women who are pregnant. It can also help raise testosterone levels, produce red blood cells and help form DNA.
Vitamin B12 (6mcg)
This B Vitamin helps convert food into energy. It helps you break down fat to be used for energy and also helps increase protein synthesis.
Again this dose is pretty low at 6 milligrams, many other fat burners have about double this amount in them.
Green Leaf Tea Extract (500mg)
This is one of the most popular and most effective ingredients when it comes to fat burners. Green tea has a long list of health benefits and one of those is that it increases metabolism.
Studies have shown that green tea decrease fat production, increase the breakdown of fat, and increase the utilization of glucose. Not a bad combination.
The 500mg dose of this ingredient is perfect.
Choline Bitartrate (300mg)
This ingredient is said to be a mental stimulant that helps with focus and concentrate. It has no benefits in terms of weight loss or performance.
The 300mg dose is also well below the recommended 1000mg dose needed for it to be effective.
L-Tyrosine (200mg)
This ingredient is another ingredient designed to increase focus and concentration. It makes me wonder if anyone really says to themselves "I need a really good fat burning supplement to lose weight but I also need it to help me focus and concentrate"".  Let's be honest, no one ever says that, ever.
The dose on this one is way to low for it to be effective as well.
Caffeine (200mg)
I don't really need to tell you what caffeine does but I will anyways. Caffeine gives you increased energy so you burn more calories and can have better workouts.
The 200mg dose in Trans4orm is enough to give you energy but not so much that your head explodes. That's a good dose.
Coleus Extract (100mg)
Also known as Forskolin, this plant extract is one of the newer and more promising fat burning ingredients. So promising it is often sold as a weight loss supplement all by itself.
Forskolin works by stimulating the release of fatty acids from stubborn adipose tissue.
This study, where participants were given 250 mg of 10% forskolin extract twice a day, they found that forskolin decreased fat and increased muscle mass in obese men in comparison to placebo.
Unfortunately, this fat burner only uses 100mg of Coleus Extract/forskolin which is under the minimum of 125mg required for it to be effective and well under the amount they used in the study.
Alpha-GPC 
This is another ingredient that has some cognitive enhancing properties although it has yet to be proven in humans some testing with rodents has been promising.
There are also indications it can help with the release of HGH and also increase strength and aid with muscle repair.
The recommended dosage of Alpha-GPC for athletes and bodybuilders is between 300-600mg and this product has just 50mg. Why bother?
Yohimbe Extract (20mg)
This ingredient is a plant alkaloid that has been shown to be an effective fat burning ingredient, it is also often used to help with erectile dysfunction.
This ingredient also comes with a number of side effects including panic attacks, anxiety and psychological episodes.
Luckily the dose of Yohimbe in this product is pretty small but you should still be aware.
Bioperine (5mg)
Bioperine is an ingredient that comes from black pepper that helps with absorption. Many people don't know this but many times the nutrients in a supplement will pass right through the body with much of it not being absorbed.
Bioperine has been shown to help with the rate a of absorption of these nutrients and has been shown to improve by up to 20 times what it normally would be.
This is a solid ingredient that we definitely approve of and it is dosed correctly.
Huperzine A (2mg)
Some studies have shown that taking huperzine A by mouth for 4 weeks can improve memory in older children and teenagers who complain of memory problems.
This ingredient is another cognitive/focus enhancer.
Overall we liked that they had 13 active ingredients but it seemed like too many of them were cognitive enhancers for focusing and concentration. We would prefer if they would just stick to fat burning and leave the mental focus to another supplement. There are also some missing ingredients as well, these include:
Missing Ingredients
Green Coffee Bean Extract – This extract from unroasted coffee beans which are very high in Chlorogenic Acid. It is this acid that has been shown to be helpful in activating fat metabolism in the liver.
Glucomannan – This fiber expands in the stomach to provide the feeling of fullness. Since you feel full you eat less throughout the day and consume fewer calories.
Cayenne Pepper Extract –  Cayenne pepper contains capsaicinoids which can promote weight loss through increased thermogenesis. This will both increase your metabolism and decrease your appetite, this is why so many fat burning supplement use Cayenne pepper.
Side Effects with Evlotion Nutrition Trans4orm?
When it comes to side effects with this supplement there are 2 ingredients you should be aware of, the first being Yohimbe.
While Yohimbe can be an effective fat burning ingredient it does come with some unwanted side effects that can be serious. These include anxiety, panic attacks and mental episodes. The Yohimbe dose in this product is pretty low but you should still be aware.
The caffeine in Trans4orm can also cause side effects in people that are sensitive. These side effects include headaches, anxiety, and the jitters to name a few. If you are sensitive to caffeine you may want to avoid this supplement or choose a caffeine free fat burner.
Trans4orm Price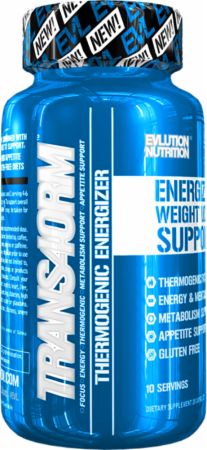 The price for Trans4orm is $29.99 for a one month supply. They also have an offer on bodybuilding.com where if you buy 2 bottles you get one free, this comes with free shipping on all orders over $50.
This price is a little lower than average when it comes to fat burners that actually work. The price is good but you would likely be better off paying more for something that is way more effective.
Trans4orm Reviews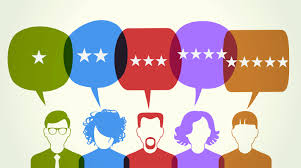 We have already mentioned that it is one of the top rated supplements on bodybuilding.com but we don't really trust that rating especially after looking at the ingredients.
We looked around for other reviews on the web and they were not nearly as favorable. In fact. the second review down the search page is a 1-star review, while we don't think it's that bad it does let you know that it's not all sunshine and roses out there for this product.
Overall this product received about a  3-star review on average which seems about right for what it is.
Will Trans4orm Help You Lose Weight?
After looking at the ingredients we find a few of them that can help with fat burning, then there are a few for focus and concentration but there really isn't anything in the way of appetite suppressant.
If your intention is to lose weight in an exercise driven way then this supplement may not be for you as the appetite suppressing properties are insufficient compared to other available weight loss aids.
Pros and Cons of Trans4orm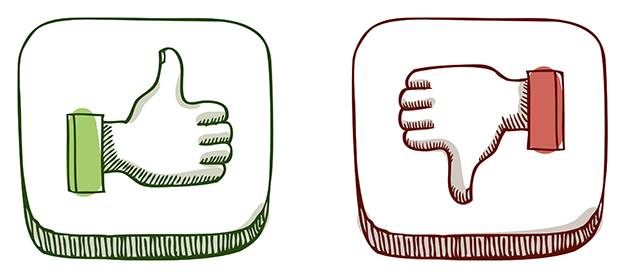 Pros
Good dose of green tea extract
Uses Bioperine for better absorption
Doesn't use a proprietary blend
Cons
Missing key ingredients
Uses too many cognitive enhancers that no one cares about and all are in small doses.
Mixed reviews
Uses Yohimbe which can have side effects
Conclusion on Trans4orm by Evlution Nutrition
Summarizing this review of  Trans40rm we'd say this particular supplement might get some minimal results with some people but it likely won't be overly effective. They are missing too many key ingredients and some of their other ingredients are in low doses. That's just not going to get the job done all that well.
They also use too many ingredients for focus and concentration. As we said earlier, no one takes a fat burner to help them concentrate and focus. It's a waste of ingredients putting those in there, people buy these weight loss supplements to burn fat, period. Please stop with these silly mental stimulants that literally no one cares about and put some more fat burning ingredients in there instead, it would be a much better product.
What's the bottom line?
This product could be better if they used more fat burning ingredients instead of ingredients for cognition. Trans4orm likely won't do much for you in the way of fat burning, any of the supplements on our list of the best fat burners would be much better.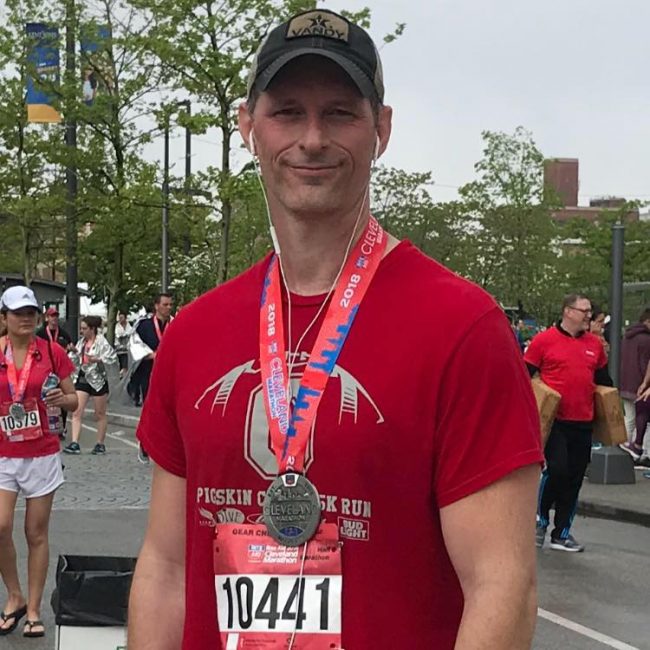 Ryan is a former college wrestler and lifelong fitness fanatic. He has run half marathons, done mud runs, placed in body transformation contests, coached wrestling and now coaches girls soccer. Not to mention he has also tried literally hundreds of supplements over the years and has a vast and thorough supplement knowledge. He has written for Muscle & Strength, Testosterone Junkie, The Sport Review and other publications. He is also the editor in chief of this website. Feel free connect with him on his LinkedIn page below.