(Last Updated On: April 13, 2021)
No matter what body type you are, every guy looks better when they are ripped, shredded and cut up. Whether you're a 150lb Thai boxer or a 250lb bodybuilder, less fat and a 6 pack looks good!
A good fat burner will help you to get there quicker and get that end result that you are looking for. If you're a former skinny guy that is conscious about losing size then don't worry, losing fat can actually make you look more muscular and bigger.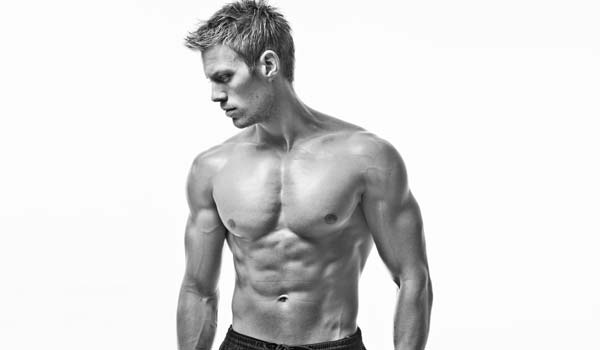 A good fat burner will help you to:
• Cut fat quicker and start seeing your muscle results
• Increase your energy levels to improve your workouts
• Get that 'finished' look that's difficult to achieve with dieting
There are three main things that you need to do if you want to lose fat and get a tighter physique. They are; eating a clean diet, using a good fat burner and keeping active.
We've already covered the diet and workouts in many other articles on our site, in this article we're going to focus on fat burners; what ingredients to look out for and what to avoid, how they can help you to get ripped faster, and we'll review and recommend the best on the market for men.
Quick Look at the 5 Best Fat Burners for Men:
See details on each product and the complete list of 15 further down the page.
How do fat burners work?
Thermogenics are the main type of fat burners on the market. These work by increasing your metabolic rate – all that means is that you are using more calories throughout the day. Even when you're sat watching TV or on the computer, your body will be using more energy/calories than normal. This is an easy and effective way for bodybuilders and athletes to get leaner, quicker.
Suppressing your appetite – some of the more advanced fat burners on the market have been formulated to help you reduce your food cravings by making you feel full, this is very useful when you're dieting and eating clean. Anyone that has been on a diet for a long period of time will know how hard it is to avoid eating high-calorie foods, especially after you've had a hard workout.
By raising your metabolic rate and helping to reduce the amount that you eat, your body starts becoming a fat-burning machine. This is why fat burners are effective and help you to lose those extra few pounds of stubborn body fat.
Related: Best Fat Burning Supplements For Women
What to look out for with a good fat burner?
Every supplement company seems to have a fat burner, some have two or three, all claiming to do the same thing – get you ripped in no time.
Try looking past the hyped-up claims and drill straight down to the ingredients – that's what's going to do the job for you.
We've looked at tons of studies and found that the most effective and safe ingredients available are the natural ones:
Caffeine – Boosts Energy so you are more active and burn more calories
Green tea – This ingredient has many benefits in the body including fat burning. This study shows that green tea increases the rate that the body breaks down fat and increases the utilization of glucose.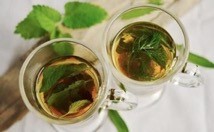 Chilli peppers – Particularly Cayenne peppers that contain capsaicinoids that promote weight loss through increased metabolism and this study found that it also reduces appetite.
B vitamins – This important vitamin is helpful when it comes to boosting metabolism and helps convert food into energy.
Glucomannan – This fiber from the konjac plant expands in the stomach and makes you feel fuller for longer so you eat less and have fewer cravings.
Green coffee extract – This extract is one of the best fat burning ingredients. It comes from unroasted coffee beans which are rich in Chlorogenic Acid. In this study, Chlorogenic-Acid was able to inhibit fat absorption and increase fat metabolism in the liver.
Forskolin – This ingredient has been shown to increase the release of fatty acids and this study showed forskolin was able to decrease fat and increase lean body mass in obese people.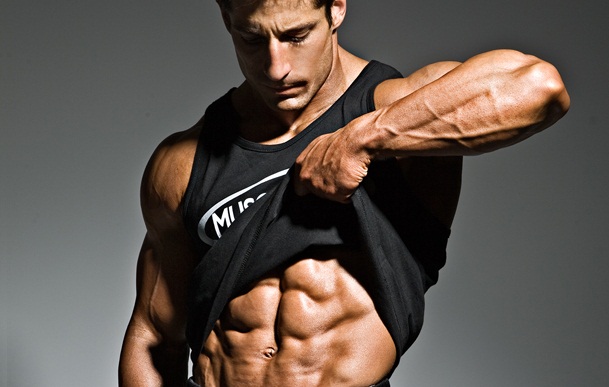 Ingredients to Avoid
Fat burners have a bit of a bad rep, a lot of men avoid them because they think they're dangerous or will give them lots of unwanted side-effects. This is true with some of them, in the past companies have used unsafe ingredients in high amounts, they can raise the heart rate too much, give you a headache, jitters etc. We advise avoiding the following ingredients:
Phentermine
Ephedra
2,4-Dinitrophenol / DNP
1,3 dimethylamylamine / DMAA
Yohimbine and Bitter orange / Synephrine are other ingredients to be careful of, they can be OK in small amounts but you should be aware.
If you have any heart, liver, kidney problems or any serious medical conditions we recommend staying away from fat burners. Always consult your doctor if you are unsure.
Avoid Proprietary Blends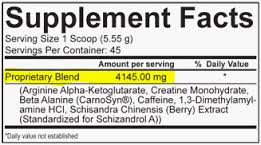 Generally, we recommend staying away from supplements that hide their formula in a proprietary blend. This is even more important with a supplement that contains stimulants, you need to know how much you will be taking each day. A proprietary blend is where they mix all the ingredients together in what they call a blend" and only tell you how big the entire blend is. Therefore you have no way to figure out how much of each ingredient is in the blend.
This is not good if you are looking to avoid side effects from certain doses of ingredients. It's also not being very transparent by the manufacturer.
Some manufacturers may do this to hide their formula from competitors but we definitely think it is something you should avoid if you can.
The 15 Best Fat Burners for Men
We've spent a lot of time researching the ingredients, company's reputation and reading the customer reviews on the best fat burners for men available right now. Here's the rundown:
#1 Instant Knockout Cut
Best Fat Burner for Men Overall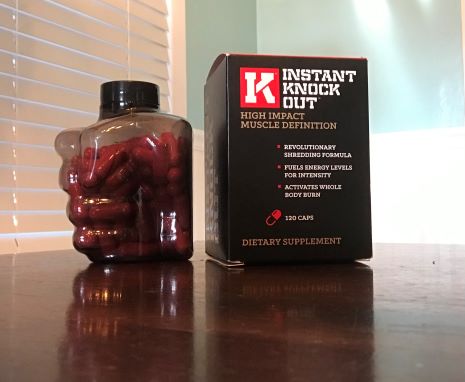 Official Website: www.instantknockout.com
This gets our top spot because it's been formulated using the latest research, contains the most amount of proven ingredients and has excellent customer reviews.
With its name, fist-shaped bottle and red capsules, Instant Knockout is a badass product. Out of all the supplements that we have ever bought and tested, this one by far looks and feels the most premium.
The website says it was originally formulated for MMA fighters and boxers to help them get cut up and ripped in time for a fight. It's literally been created to help you get fighting-fit.
Ingredients
What brought this product to our attention is the ingredients. It contains our top natural ingredients in the right amounts
The Green Tea, Cayenne Pepper, and Caffeine all work together to naturally and safely raise your metabolism throughout the day. So you'll be using more calories even when you're sitting down.
Glucomannan is extracted from a plant root, it's a dietary fiber that swells up in your stomach which helps you to feel full and suppress your appetite. This makes dieting a lot easier and helps to stop those sugar and fat cravings in between meals.
It also contains Green coffee extract and vitamin B6 and B12 to help boost energy levels.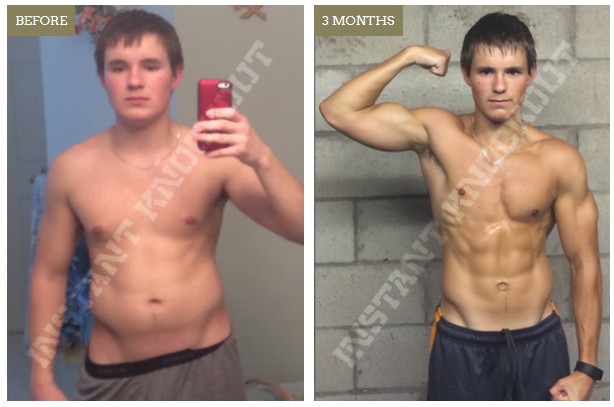 Pros
Uses proven ingredients in effective doses
Is effective at both increasing your metabolism and suppressing your appetite
Uses all-natural ingredients
Gives you energy and reduces fatigue
Cons
Not suitable for vegetarians
Only available on the manufacturer's website
Above average in price
Why it is the best Fat Burner for Men
Based on the ingredients profile, ample dosages on the ingredients and customer reviews, we strongly recommend Instant Knockout as the best fat burner for men. The combination of natural stimulants and a natural appetite suppressant makes this a perfect product for anyone looking to cut fat safely.
For more information on this product, check out our full Instant Knockout review.
#2 PrimeShred
Best to Get You Shredded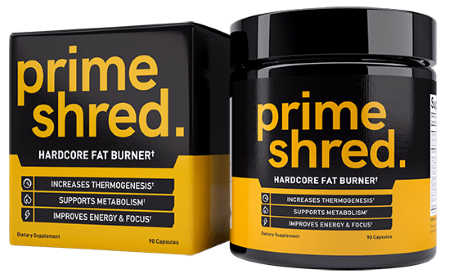 Website: Primeshred
Prime Shred is another really good fat burner. This one is designed for men and it is made to do one thing, get you shredded.
This product is well-rounded and works to suppress your appetite, increase your metabolism, and boost your energy.
Ingredients
Prime Shred uses ample doses of green coffee bean extract and green tea for increased metabolism. They also use cayenne pepper which both increases your metabolism through thermogenesis and reduces your appetite so you consume fewer calories.
On top of that, they use caffeine for increased energy and L-tyrosine which is a hormone that keeps your metabolism humming,
Prime Shred is a little less expensive than our top choice and has some really good deals when buying in bulk. You can buy 2 and get 1 free or buy 4 and get 2 free. You also always get free shipping when you buy multiple bottles.
Pros
Less Expensive, good deals when buying in bulk
Works in multiple ways including metabolism and appetite suppression
Uses proven ingredients in generous doses
Vegan friendly
Cons
Only available on the manufacturer's website
Above average in price
Why it is the best to get you shredded
Prime Shred uses strong doses of green tea extract, green coffee bean extract, L-Theanin and cayenne pepper, all of which will increase your metabolism. Cayenne pepper is a bit unique in that it also reduces your appetite as well. It also has an ample dose of caffeine that will give you a nice energy boost and have you burning more calories as well. This combination along with the right diet will have you well on your way to being totally ripped. As the name implies, it is made to get you shredded, which could be just what you are looking for.
#3 PhysiqueSeries Fat Burner and Stim-Free Fat Burner
Best Available in a Stim-Free Version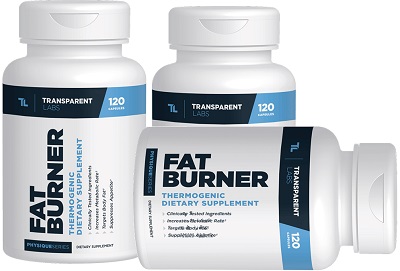 Website: transparentlabs.com – Use the coupon code TL10 to get 10% off.
Next up we have another really nice fat burner from Transparent Labs. This one is a bit cheaper than our first products but is still very effective so it could be a good choice for people looking to save a few bucks.
This is another one that has some really good ingredients and some really nice reviews. We also really like that this one has a stimulant-free version as well for guys who may not like stimulants or may not be able to handle them very well.
There are no proprietary blends, fillers or anything artificial with this fat burner. This one is as the company name says, transparent.
Transparent Labs covered all the bases and made a really nice product that easily comes in second place.
Ingredients
This fat burner features 500mg of forskolin as one of its main fat burning ingredients. Forskolin has been shown to reduce body fat while maintaining muscle. It is getting a lot of buzz right now as a newer and better fat burning ingredient and it is living up to all the hype.
On top of that, it also contains some of our other favorite stimulants – Green Tea, Cayenne Pepper, and Caffeine. These work together to naturally increase your metabolism for faster fat burning.
The stim-free version uses Acetyl L-Carnitine which also increases fat metabolism and is a non-stimulant.
This product also has a nice dose of 5-HTP to reduce appetite and keep those cravings down.
Pros
Less expensive
Coupon code TL10 saves 10%
Caffeine-free version available
Boosts metabolism and suppresses your appetite
No proprietary blends, fillers or anything artificial
Cons
Only available online
Premium-priced, but worth it.
Why it is the best that is available in a stim-free version
PhysiqueSeries Fat Burner and Stim-Free Fat Burner is a really nice, natural formula. It has mostly positive reviews out there and is a cheaper alternative to Instant Knockout or Hunter Burn. If you are looking for a stimulant-free fat burner that still has killer ingredients this would be your best choice.
#4 Burn XT by Jacked Factory
Best on a Budget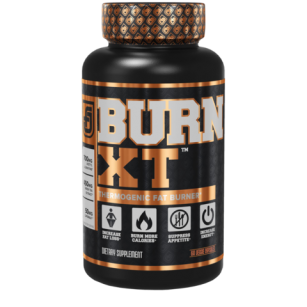 Website: shop.jackedfactory.com
Burn XT by Jacked Factory is another solid choice. This bad boy uses only 5 ingredients but all of them are good.
They use a really solid dose of Acetyl-L-Carnitine which helps release fat stores and increase cognitive function. They also use a nice 450 mg dose of green tea which is a solid metabolism booster. Caffeine, Bioperine and cayenne peeper found out the other ingredients.
We should mention that this one also has a pretty large dose of caffeine at 275 mg. Again this might be a bit much for some people.
We like that Burn XT is made in the USA in a cGMP facility. They also don't use any dyes or fillers, just the good stuff.
Pros
Uses large doses of  Acetyl-L-Carnitine and green tea extract
No proprietary blends
Made in the USA
Cons
Uses a very large dose of caffeine
Only has 5 active ingredients
Why it's the best on a budget
Burn XT has a simple formula that uses proven ingredients that will work. There are no frills or silly gimmicks with this product. Just a good fat burner that works and costs less.
#5 Hydroxycut Hardcore Elite
Best Fat Burners in Stores
Website: hydroxycut.com
Probably the most popular and well-known fat burner in America, they've been around for years and now they have an Elite version of their Hardcore fat burner.
The website says that this latest product is a super-thermogenic. It works to naturally increase your metabolism and boost energy levels.
Ingredients
The main ingredients are Caffeine and Green coffee extract – this is the natural green coffee bean before it has been roasted to make coffee. It's the high amount of Chlorogenic acid in green coffee beans that is said to reduce the amount of glucose that you absorb.
Yohimbine – this works to lipolysis, this is the breakdown of fat in the body.
Pros
Reputable name
Uses a large dose of green coffee bean extract
Boosts energy and metabolism
Cons
Yohimbine can cause unwanted side effects if the dose is too high.
Is missing some of the other key natural stimulants.
Why it's the Best That is in Stores
Hydroxycut Hardcore Elite has good customer reviews and contains an all-natural formula. You get a massive amount of 180 capsules in each bottle and the price is reasonable. The ingredients are decent although they are missing some key ingredients. However, if you are looking for one that is easily available in stores this would be your best bet,
#6 SuperHD Xtreme by Cellucor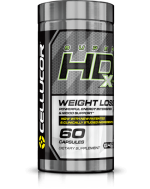 Website: www.cellucor.com
SuperHD Xtreme is made to work on 4 levels including mood, energy, definition, and focus. It's made by Cellucor and it is their top of the line fat burner they make. They also have 5 other fat burners in their line-up but this one is the best of the bunch.
Ingredients
This one has a big dose of caffeine with a 300mg dose per pill. It also features their patented Teacor which is a stimulant that studies have shown people do not build a tolerance to like caffeine and other stimulants. They also put in some Cayenne extract in here and a few other things but it looks to be mainly a fat burner based mainly on stimulants. If you have a type of sensitivity to stimulants you should probably avoid this one.
Pros
Give a good energy boost
Uses cayenne pepper to increase metabolism and lower your appetite
Works on 4 levels
Cons
This one may be too many stimulants for some people
Expensive
Conclusion
While this one does have pretty good reviews SuperHD Xtreme is definitely not the best value on the list. If you like stimulants and you don't mind spending money this one could work for you but I would spend my money more wisely.
#7 Burn by Core Nutritionals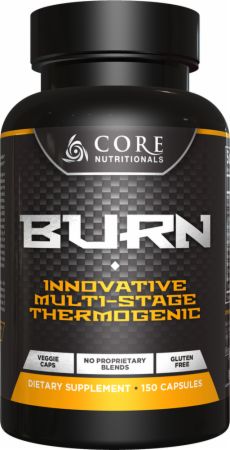 Website: corenutritionals.com
Next on our list of the best fat burners for men, we have Burn by Core Nutritionals. This one is a multi-stage thermogenic fat burner. What does that mean? We aren't exactly sure and their website doesn't really tell us.
It is made to suppress your appetite, increase your metabolism and manage body weight composition. It is unclear if those are the 3 stages though. Anyway, it does have some really nice ingredients so stages aside it is a pretty decent product.
They use some of our favorite ingredients in green tea extract, green coffee bean extract, Acetyl-L-Carnitine and forskolin all in generous doses.
They also include a large dose of caffeine at 250 mg. The caffeine freaks out there will love it but that size dose may be on the high side for many people.
Overall a pretty decent fat burner that should rev up your metabolism.
Pros
Uses proven ingredients in generous doses
No proprietary blends
Good reviews
Cons
May use too much caffeine for some people
High cost per serving
#8 Pheonix Fat Burner from Legion Athletics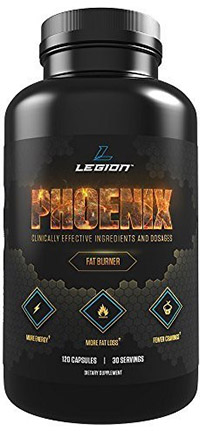 Website: legionathletics.com
Pheonix Fat Burner by Legion Athletics is another nice product.
Looking at the ingredients and we see that they use healthy doses of forskolin, 5-HTP and green tea extract. On top of that, they also use a very large dose of synephrine. Synephrine is very effective at burning fat but it does also have some nasty side effects like headaches and anxiety just to name a few so you should definitely be careful.
This fat burner is caffeine-free so if you are looking to avoid caffeine this one might be a good choice for you so long as you can handle the synephrine.
They also have transparent labeling and don't hide anything which we like. Overall not a bad choice at all.
Pros
Uses green tea extract, 5-HTP and forskolin, all proven ingredients and all in good doses
Caffeine-free
No proprietary blends
Cons
Uses a large dose of synephrine that may cause side effects
#9
Lean Mode by EVLution Nutrition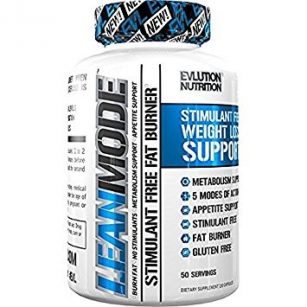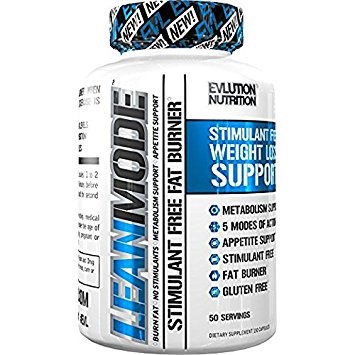 Website: evlnutrition.com
Next up we have Leanmode by Evlution Nutrition. This one ranks very high on bodybuilding.com, it doesn't rank high because it's the best though, it ranks high because they make the most money off it.
If you take a look on there, every Evlution Nutrition and RSP sports product rank at the top, suspiciously so.
Anyhow the product is decent, it's not the best for sure but it does make our list.
Leanmode does use a strong dose of green coffee bean extract along with another solid dose of Green Tea Leaf Extract and the appetite suppressant known as Garcinia Cambogia Extract. The three ingredients alone make it a decent product, just not as good as bodybuilding.com wants you to believe.
Pros
Uses strong doses of green tea leaf extract and green coffee bean extract
Uses a nice appetite suppressant with Garcinia Cambogia
Cons
Overhyped by bodybuilding.com
Only uses 6 ingredients
#10 Ripped Freak Hybrid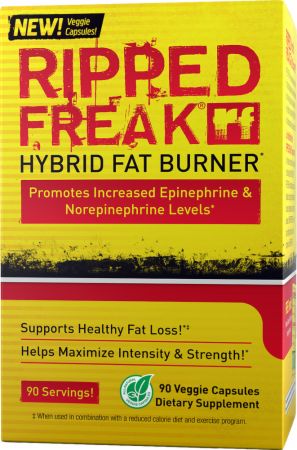 They've called Ripped Freak a hybrid fat burner because it acts in multiple ways. It works like a normal fat burner through thermogenesis – increasing your body temperature. It also contains ingredients that are supposed to support the more important fat-burning hormones in the body and it supports HSL – the enzyme that helps to break down fat.
Ingredients
Ripped Freak contains our three favorite stimulants – Green Tea, Cayenne Pepper, and Caffeine. These work together to naturally increase your metabolism. They also use  Olive Leaf Extract is said to support the fat-burning hormones in the body. On top of that, they included green coffee bean extract and raspberry ketones, two more ingredients that are effective fat burners.
Pros
Uses top-notch ingredients
Works through thermogenesis and by supporting fat-burning hormones
Good reviews
Cons
You only get 60 capsules in a bottle
Doesn't suppress appetite
Conclusion
Ripped Freak Hybrid contains a good natural formula, it has mostly positive reviews out there and is readily available. Not the best choice on the list but it is still pretty good.
#11 Quadracarn by Beverly International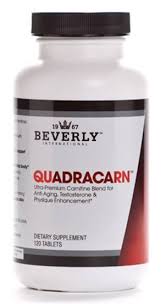 Next we have our friends at Beverly International and their fat burner called Quadracarn.
Don't let the incredibly boring label put you to sleep with this product, it is actually a decent fat burner even if it has a label design from 1987.
Quadracarn is made to work on many levels including fat burning, testosterone production, mood, energy and more. This one is a good all-around male supplement and fat burner in one.
Looking at the ingredients and they use a monster dose of L-carnitine, it actually uses 4 different forms of L-carnitine along with a leaf extract.
Pros
Made for fat burning testosterone production and more
Uses very large amounts of L-Carnitine
Cons
Not going to do squat for testosterone production
Mainly just made up of different kinds of 1 ingredient
Ugly packaging
#12 Nitraflex Burn by GAT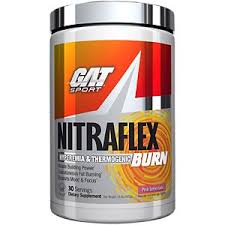 Nitraflex Burn by GAT is is next on our list. This product has a nice long list of ingredients. Some of the standouts include green tea leaf extract, cayenne pepper extract and N-Acetyl-L-Tyrosine.
This product also has the most caffeine of any product on the list so if you are sensitive to caffeine at all you would want to stay away from this fat burner.
While this product does use a lot of ingredients, some of the ones we like are in pretty small doses. The green tea leaf extract comes in at a measly 25 mg for example. That is weak.
On the bright side, it does also have some muscle-building ingredients like citrulline malate and beta-alanine so if you are looking to burn fat and build muscle this one could help.
Pros
Uses muscle building ingredients
Includes some good fat burning ingredients
Cons
Massive dose of caffeine may be too much for some people
Low doses on some of the key fat burning ingredients
Jack of all trades master of none
#13 Quadralean Thermogenic by RSP Nutrition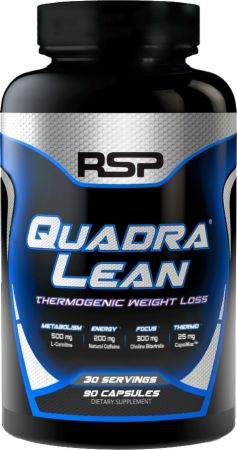 Quadralean Thermogenic by RSP Nutrition is next on our list. This is another product that is ranked way higher than it should be at bodybuilding.com.
Looking at the ingredients and we see they use cayenne pepper but the dose is only 25mg. In contrast the fat burner Instant Knockout uses 100 mg, that's 4 times as much. They do however use nice doses of L Carnitine L-Tartrate and Alpha GPC.
They also use Conjugated Linoleic Acid and grains of paradise but those are both unproven.
You can see as we make our way down the list the quality of the products definitely goes down.
Pros
Uses L Carnitine L-Tartrate and Alpha GPC
Less expensive
Cons
Weak doses on some ingredients
Not enough fat burning ingredients
#14 Ripped Juice EX2 by Betancourt Nutrition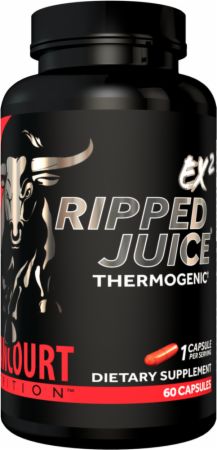 With a name like Ripped Juice, it has to be awesome right? Maybe not.
The first thing we notice with this product is that they use a proprietary blend. That's bad enough but the size of the blend is only 525 grams. That's really tiny.
In the blend, they use cayenne pepper, N-Acetyl L-Tyrosine, green coffee bean extract and caffeine. Those are all good but it doesn't tell us how much of each ingredient is in there and given that the entire blend is only 525 grams there probably isn't much of any of those ingredients,
This one had the potential to be really good but the blend and the size of the blend killed it.
If the blend were double the size that it is or larger this one could be a real contender.
Pros
Uses some proven ingredients
Cool name
Cons
Uses a proprietary blend that is way too small to be effective
#15 Shred Sport by Musclepharm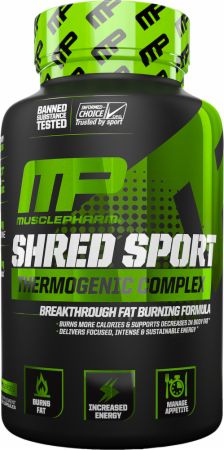 Shred Sport by MusclePharm is up next on our list of the best fat burners for men. This product comes from a well-known manufacturer who makes pretty reliable supplements as far as quality is concerned.
This product has many of the same ingredients we have been listing off in the bottom half of this list. They include the familiar names of green tea extract, cayenne pepper, and acetyl L carnitine.
This is another product that has potential but just falls a bit short. They could have made it better with some green coffee bean extract and 5-HTP. Perhaps they will see this review and take our advice, I doubt it though.
Pros
Uses cayenne pepper and green tea extract for increased metabolism
Solid manufacturer
Cons
Missing some key ingredients
Related: The Best Fat Burners WITHOUT Caffeine
How We Ranked The Best Fat Burners?
When it comes to reviewing fat burners there are a few things to looks at when deciding if a supplement is any good. This is what we look for:
Ingredients –  The ingredients are by far the most important thing to look for in a good fat burner. If the ingredients are terrible it doesn't matter who makes it how they market it. Believe it or not, there are even some companies that will purposely put out garbage supplements with next to no active ingredients in them just to make bigger profits. This is why you always need to make sure the ingredients are solid and that they are in good doses or you could get ripped off.
Dosing – Doing is also important. Sometimes a company will use great ingredients but they are all in really small doses that aren't big enough to be effective. Or they just have you taking the supplement once a day when it should really be 2 or 3 times a day for it to work effectively.
Reputation –  Company reputation isn't the most important but it can be important sometimes. It is especially important if the company has a bad reputation, then you can be a bit more skeptical of any of their products and make sure to really look them over. Of course, there are times when good companies make bad products or when companies you have never even heard of make good products. Reputation isn't the most important, but it is important.
Price – Price is another large factor. Fat burner pricing can vary greatly and the most expensive one is not always the best. Another thing to look for with the price is how many doses you get with that price. Some companies will sell their product very cheap but it only has enough doses to last a week, they do this to make their product seem less expensive when it really isn't.
Caffeine content – Another thing to consider when choosing a weight loss supplement can be the caffeine content which we have already discussed many times in this article. Caffeine doses in fat burners can vary greatly and if you are sensitive to caffeine you can be in for a real surprise if you get a fat burner that has a larger dose. Some caffeine is ok but we like to see the products stay at 150 mg per dose or lower.
Convenience – What good is finding the right supplement if you can't actually get your hands on it? Some of these supplements are available in stores like Walmart of GNC and some of them are only available online. Some companies out there also have bad reputations when it comes to shipping and money-back guarantees so we take that into consideration as well.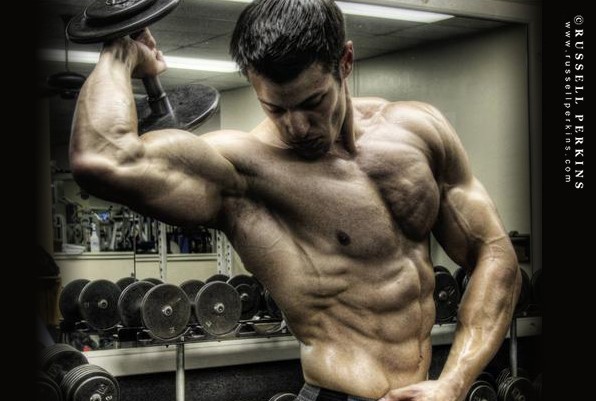 Frequently Asked Questions:
When should you take a fat burner?
If your fat burner contains caffeine you should take it earlier in the day so it doesn't keep you up at night. If you are taking a fat burner that doesn't contain caffeine you can take it any time. Be sure to read the directions of your fat burner to get the specific directions for when to take it for the best results.
Do fat burners cause anxiety?
They can if they have a large dose of caffeine, bitter orange extract or other stimulants. Some fat burners use a lot of stimulants so you want to check the label to make sure it isn't too much for you.
Fat Burners vs protein powder, which is better for weight loss?
Fat burners are the easy winner here. Protein powder doesn't do anything at all for weight loss.
What is the best fat burner at GNC?
The best fat burner at GNC would be C4 Ripped. It's not as good as any of the products above but if you must buy from GNC it could provide you with some fat burning.
What is the best fat burner for men?
Instant knockout is the best choice for men at the moment. there are new products coming out every day though so I am sure something will replace it soon.
Wrapping things up
There you have the top 15 fat burners on the market for men. We really like Instant Knockout , Prime Shred and the PhysiqueSeries Fat Burner. These three stand out as the top choices for guys looking to burn fat quickly and effectively. They have the best ingredients and reviews so you can't go wrong with either one.
Just remember you can't expect the fat burner to do all the work. You need to put your workout in at the gym and follow a good diet. Then you will get the most out of your fat burner.
References:
https://www.ncbi.nlm.nih.gov/pubmed/20089791
https://www.purdue.edu/newsroom/research/2011/110425MattesPepper.html
https://www.ncbi.nlm.nih.gov/pubmed/16545124
https://www.ncbi.nlm.nih.gov/pubmed/16129715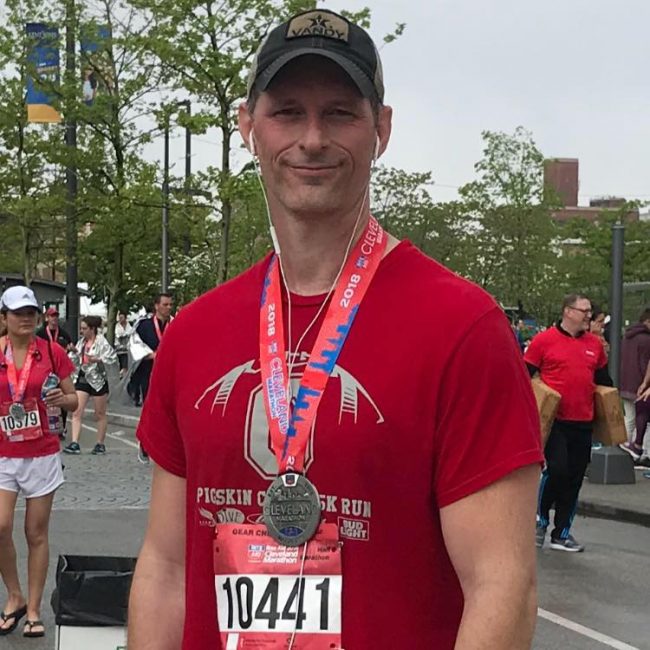 Ryan is a former college wrestler and lifelong fitness fanatic. He has run half marathons, done mud runs, placed in body transformation contests, coached wrestling and now coaches girls soccer. Not to mention he has also tried literally hundreds of supplements over the years and has a vast and thorough supplement knowledge. He has written for Muscle & Strength, Testosterone Junkie, The Sport Review and other publications. He is also the editor in chief of this website. Feel free connect with him on his LinkedIn page below.