(Last Updated On: April 8, 2022)
Here is our One XS Young You Review. We've had a close look at this supplement to see if this is a diet pill worth trying. Here we'll review the ingredients, product claims and what users are saying about their results after taking One XS. Hopefully, this breakdown should give you a better idea of whether this diet pill will have the desired impact on your body.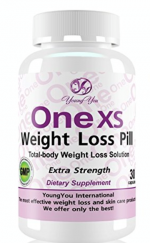 What is One XS by Young You?
The makers claim that One XS is a fast acting weight loss pill, according to them you only need to take 1 pill a day in order to see active weight loss. This makes it a little different to other diet pills out there which usually recommend regular use in order to maximize results.
At first glance One XS does appear to be one of the cheaper supplements of its type, however, this is most likely down to the small amount of capsules you get in each bottle. And whilst one capsule a day may seem convenient, we were a little skeptical that you could get a big enough dose of ingredients by taking just one pill a day.
Let's review One XS in more detail and see if it's as effective as the manufacturers suggest.
How Does One XS Young You Work? 
The point of One XS is just the same as any other diet pill – to help you burn fat. This supplement claims to deliver weight loss in three different ways, which means you would hope to see benefits with appetite suppression, speed of metabolism as well as overall energy and endurance levels.
The makers of One XS are certainly saying all the right things, they're right that the best diet pills for women are the ones that effect weight loss from a number of different angles.
The objective of a good diet pill is to give you an immediate reduction in calories by blocking your cravings, next they use thermogenic ingredients in order to help you burn off more of the actual calories you are taking in. The added energy should also ensure that you can carry on working-out whilst eating less food.
In theory, this all sounds great, whether it works or not really comes down to the ingredients included and if the doses are big enough to create fat loss.
The Ingredients in One XS Young You
As you'll already be aware One XS is a fat burner that is taken just once a day. As a result, it doesn't contain as many ingredients as we would expect to see in a top diet pill for women. Usually, we like at least ten quality fat burning ingredients in a supplement of this type. According to the label, One XS uses around 7 active ingredients. We felt this was a little low, but let's review them anyway to get a better picture of what's good and what isn't. Then we'll let you know what is missing from this diet pill.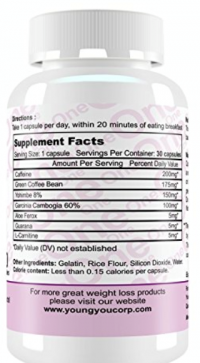 Green Coffee Extract
Green Coffee extract is a solid fat burning ingredient. It has consistently outperformed placebo pills in weight loss studies and more often than not delivers results.
It is argued that taking Green Coffee helps mimic the effects of a low-calorie diet by removing carbohydrates from your digestive tract. It was good to see this ingredient included in One XS as it's one of the more proven fat burning extracts you'll find in a diet pill.
Yohimbe 
Yohimbe is a chemical that is found in the bark of a West African tree. Whilst some studies have shown it can be effective as a diet aid, its effectiveness in supplements is very much up for debate. The reason for this is that the amount you get varies a lot and depends heavily on which part of the tree the Yohimbe comes from. Researchers found that quite a few supplements only contained around 7-8% Yohimbe, which frankly is too low for it to work. We feel that the makers of One XS missed a trick with this ingredient and should have included a more dependable alternative in its place.
Garcinia Cambogia 
This is an increasingly popular weight loss ingredient that's being used in more and more diet pills. It works to improve the culinary experience of eating, meaning you'll be more satisfied and less likely to snack on junk food. We always like to see appetite suppressants like this in the best diet pills for women. Unfortunately, it's the only true appetite suppressant that's been included in One XS which is a little disappointing.
Caffeine Anhydrous 
A regular fixture in many fat burning supplements Caffeine is certainly helpful for losing weight. Caffeine stimulates fat loss due it being a thermogenic ingredient, this means that it helps to increase your body's natural temperature.
The idea is that you overload your thyroid and drive your body to burn more fat as it cools down. Caffeine is a stimulant which may cause side effects depending on the individual using it. In general, it's safe to take but if taken in too large a dose you might feel anxious or unwell. Taking a lot of Caffeine will also make you feel more alert so it's best to avoid doing so before bed.
Missing Ingredients
With just 7 active ingredients One XS is not the most bullet proof formula we've seen. The best diet pills we've come across use more ingredients to help with reducing cravings.
Some of the most effective ones include Glucomannan and Cayenne Pepper, unfortunately, you won't find either of these in this diet pill.
As this product is aimed at women we would also have liked to see some ingredients that help manage Estrogen levels. The best of which include Turmeric and Green Tea Extract.
Side Effects One XS
Diet supplements are heavily regulated these days meaning side effects are less of a concern. This doesn't mean you should get lazy and take any old supplement though.
One XS uses some standard weight loss ingredients so for most people it should be fine. The stimulant dose is one thing to keep an eye on however as this diet pill does use quite a few, including Caffeine, Green Coffee and Guarana. If you don't like jitters then we would always suggest keeping your money in your pocket until you find a more stimulant friendly option. In terms of One XS and side effects, the only other ingredient that jumped out was Yohimbe. When ingested in certain doses Yohimbe can sometimes cause side effects such as stomach problems, bloating and dizziness.
One XS Reviews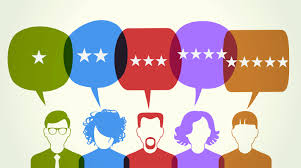 The average score for One XS was 3 out of 5 based on a large number of Amazon reviews.
From our research, we found quite a wide range of responses. We found that opinion was very much split, some customers gave it 5 stars whilst a lot of people gave it just 1.
The 5-star reviewers generally liked the improved energy and appetite suppression. Whilst those who gave it 1 star either said it didn't work or were annoyed about unpleasant side effects.
Will One XS Help You Lose Weight?
One XS has certainly got some good ingredients for burning fat. When it comes to managing your diet, however, we feel it's a little undercooked, we'd have expected more substances to control those cravings. The fact you only take this pill once a day means that the doses are also likely to be much smaller than needed.
Overall we don't think this is the best diet pill for women out there.
Pros
Some proven ingredients
Easy to use
Cons
Small servings means doses likely to be low
Missing some of the best diet aids
High Stimulants
Review Summary 
Here's where we sign off on this 'One XS Young You review'. In conclusion, this diet pill uses some well-known ingredients, but in much lower doses than we'd have hoped. The price is certainly cheap but we don't think you get enough pills per bottle for this to truly great value. If results are what you're after then we'd recommend a diet pill that requires more regular servings, this will enable you to cram in as many of the best fat burners throughout the day.
To view our best 5 diet pills for women right now visit the link below